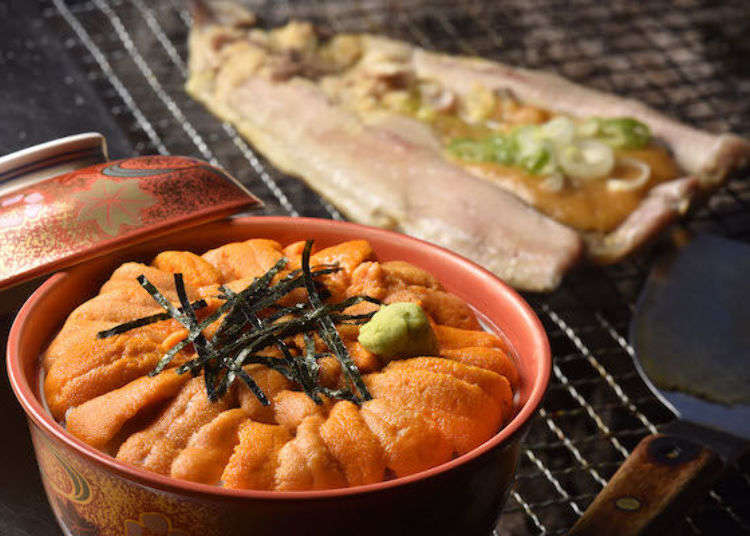 The harsh, cold waters around Rebun Island, located off the northernmost tip of Japan, produce a bounty of seafood delicacies. Uni donburi rice bowls and Hokke no Chanchan-yaki are two renowned dishes.

Sea urchin (uni in Japanese) and Atka mackerel (hokke are especially delicious as summer approaches and for which Rebun Island is especially proud.
Hokke no Chanchan-yaki: The hearth-style grilled soul food of Rebun Island
Rebun Island is situated about 60 kilometers west of Wakkanai City, the town on the northern tip of Hokkaido. Rising up out of the Sea of Japan it is a long, narrow island about 29 kilometers in length, north to south, and about 8 kilometers wide, east to west. To its south is Rishiri Island.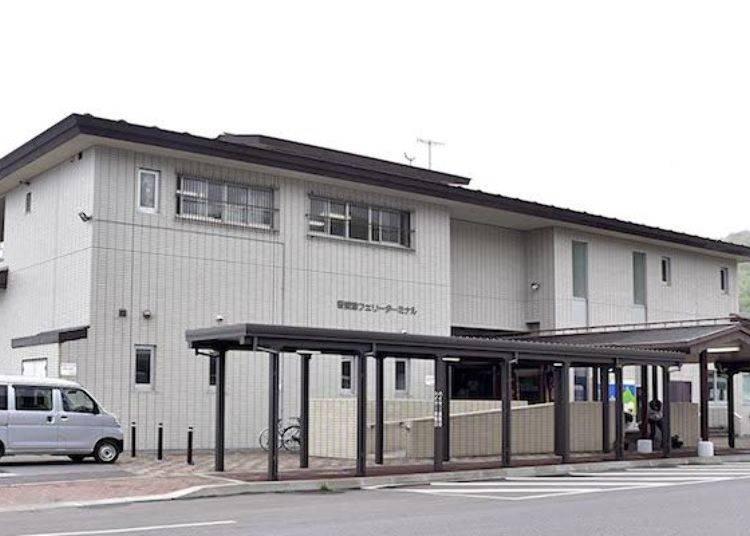 Kafukako Ferry Terminal is the only gateway to Rebun Island
The only way to get to the island is by ship either from Wakkanai or Rishiri Island. From Wakkanai, it takes a little less than two hours and from Rishiri Island, about 45 minutes.

Robata Chidori is only a four-minute walk from the Kafukako Ferry Terminal and a place you should visit at least once to experience the two gourmet specialties that use fresh sea urchin and Atka mackerel: Uni-don and Hokke Chanchan-yaki.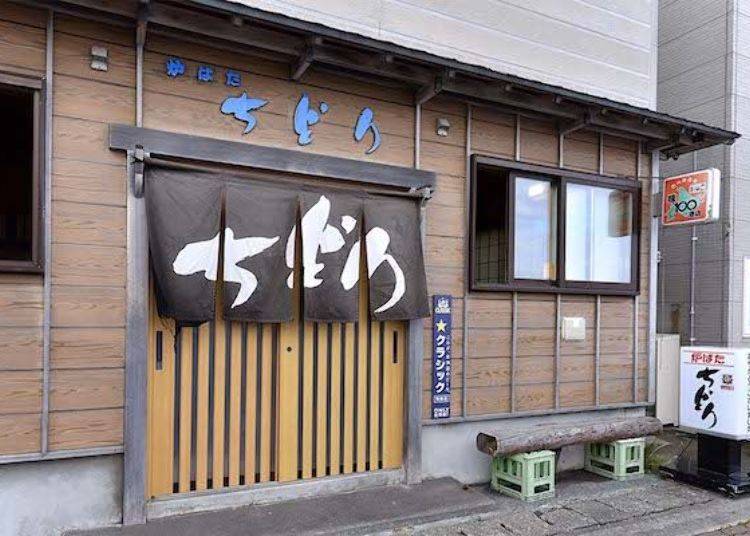 This public-house-style restaurant has been popular since it opened in the late 1940s not only for its hearth-style cooking but also for its set menus and noodle dishes. It has a tasty menu that appeals not only to residents but to tourists as well.
An interior view. Beyond the tables is a raised seating section (called koagari in Japanese) with robata (hearth) grills
We ordered as soon as we sat down at one of the hearth grills on the raised seating section. The third-generation owner, Mr. Hiroshi Nishioka, quickly came and took our order of Hokke Chanchan-yaki and placed a mesh grill on the hearth.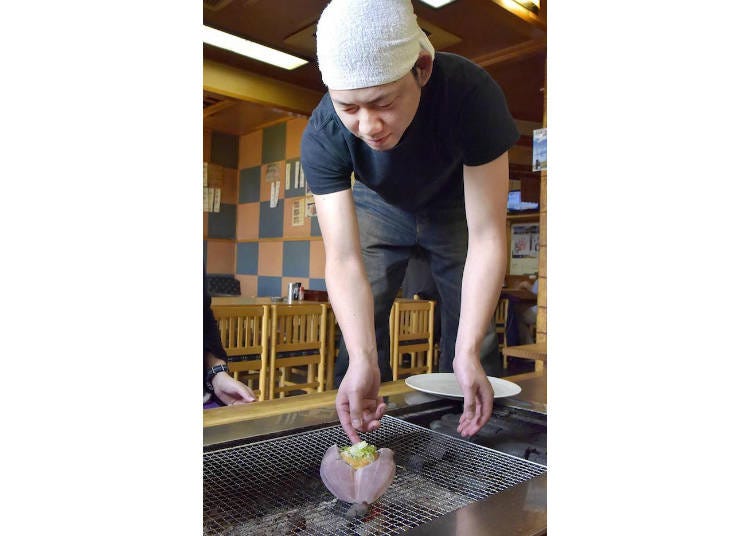 Mr. Nishioka placing a filleted Atka mackerel on the grill, skin side down
When we hear the word "Chanchan-yaki," as Japanese we tend to think of salmon grilled in the chanchan style, which is generally prepared by wrapping salmon, vegetables, miso, butter, and other ingredients in aluminum foil, which is then grilled. Still, here the Hokke no chanchan-yaki is made differently.

It is prepared very simply by putting a miso sauce and green onions on filleted fresh Atka mackerel taken from nearby waters, which are then placed on a grill over charcoal. This style was begun by the first-generation owner and has continued ever since.

Before returning to the kitchen, Mr. Nishioka explained, "It cooks from the tail, so it is best to eat it from the tail end. I'll come back when it is ready for eating."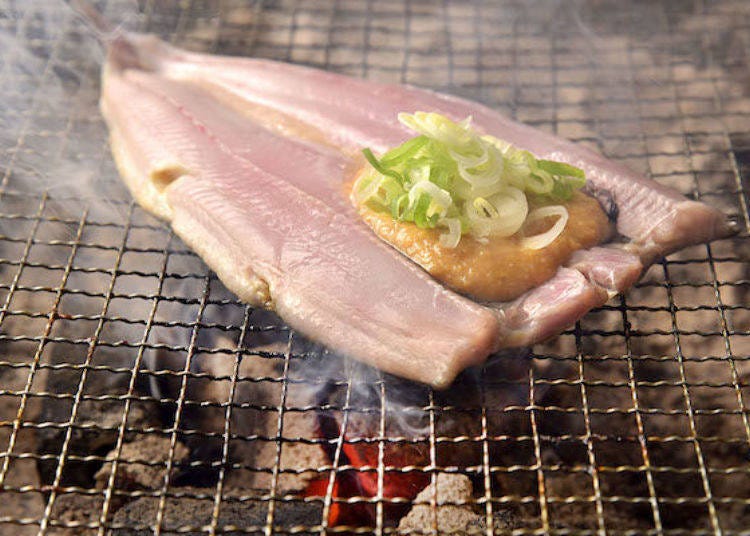 Hokke Chanchan-yaki 900 yen. The mackerel was 30 cm long!
The charcoal is prepared in just the right way so that the fish is not burned, but cooked all the way through in a short period of time.

As the fish is grilled, smoke rises, filling the air with its sweet aroma, and after waiting in anticipation for seven or eight minutes, Mr. Nishioka returns and pronounces that it is ready to eat. The fish comes away smoothly when the chopsticks are put to it. Mr. Nishioka recommended that we dip the meat in the miso sauce and green onions on top.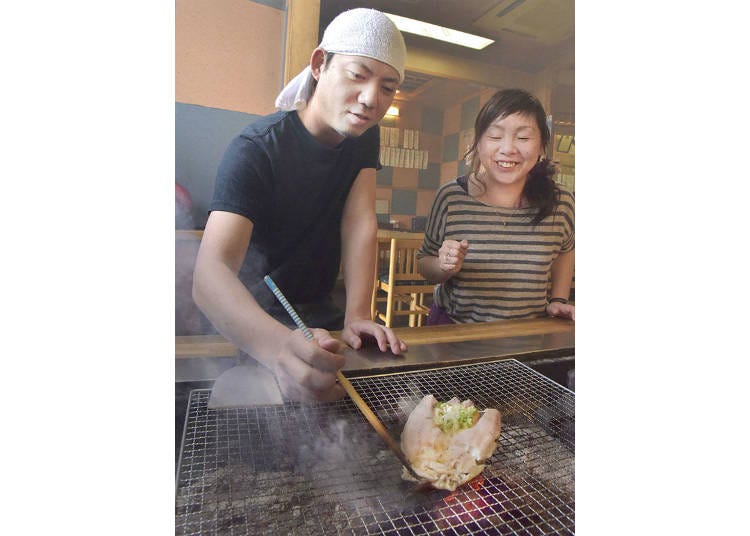 Demonstrating the best way to eat it!
Following his instructions, I lightly mixed the miso sauce and onions over the top of the fish. The meat came away easily in my chopsticks, tender and juicy, the flavor enveloping my mouth with the first bite.

The shop uses fresh Atka mackerel from early May through October. Between June and August, the fish is particularly fatty, so every year at this time, a lot of fish are frozen and put into storage for use at the other times of the year when there is no fishing.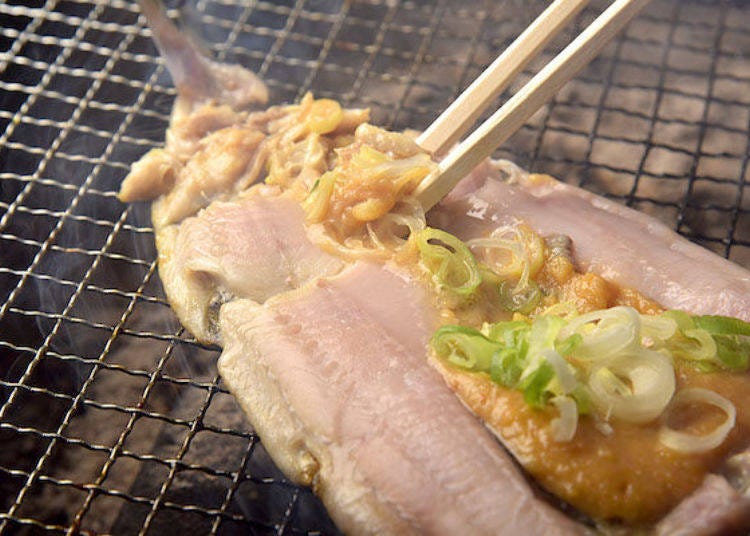 The fish cooks from the tail first and takes about 7 or 8 minutes until it is done
The miso sauce is homemade and has a slightly sweet flavor, a recipe handed down from the second-generation owner. This original miso sauce gives the dish its unique taste and is hugely popular. It is also used in the Teppo-yaki dish made from squid taken from around Rebun Island.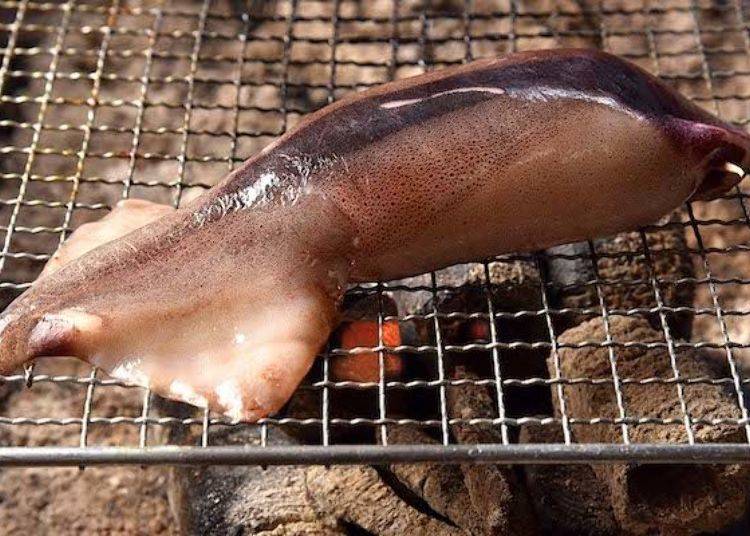 Teppo-yaki 900 yen
Teppo-yaki is made by stuffing the body of a squid with its goro (internal organs), legs, and a miso sauce which is then grilled. The miso sauce and goro give it a particularly rich flavor and one which I highly recommend.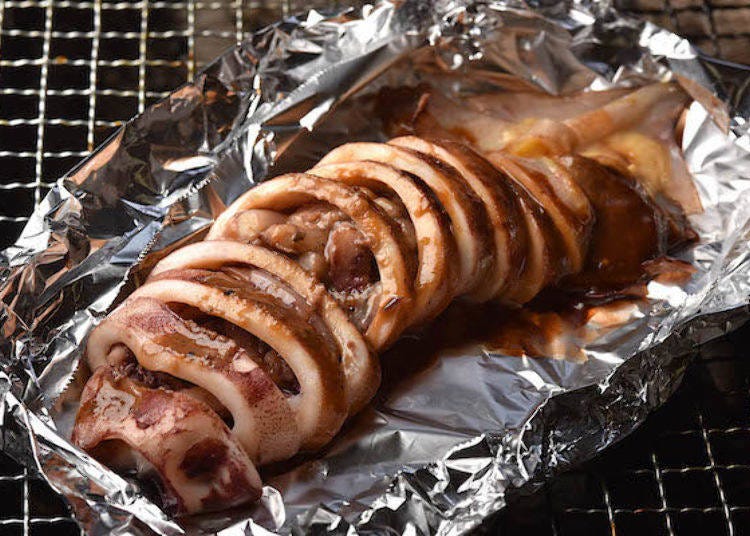 The squid is very tender and flavorful; quite delicious! It is sliced up to make it easier to eat.
Uni donburi: a magnificent bowl containing two layers of sea urchin!
The other dish we tried was the Uni donburi sea urchin bowl which is only served between June and August (it is not offered on the menu during days when there is no fishing).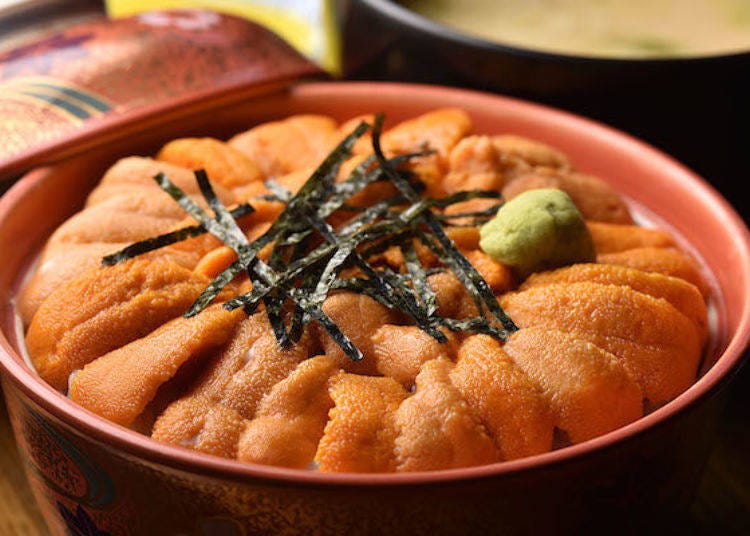 Uni-don 5,000 yen (market price)
The sea urchin of Rebun Island is the most popular of all the sea urchins in Hokkaido because of its rich flavor. The secret to its flavor is attributed to its eating Rishiri kelp, which is highly valued for the soup stock made from it.

Also, this shop does not use any preservatives, such as alum, in the sea urchin it uses, instead of preserving them in saltwater. For that reason, the pure flavor of the sea urchin is kept and thus able to be enjoyed.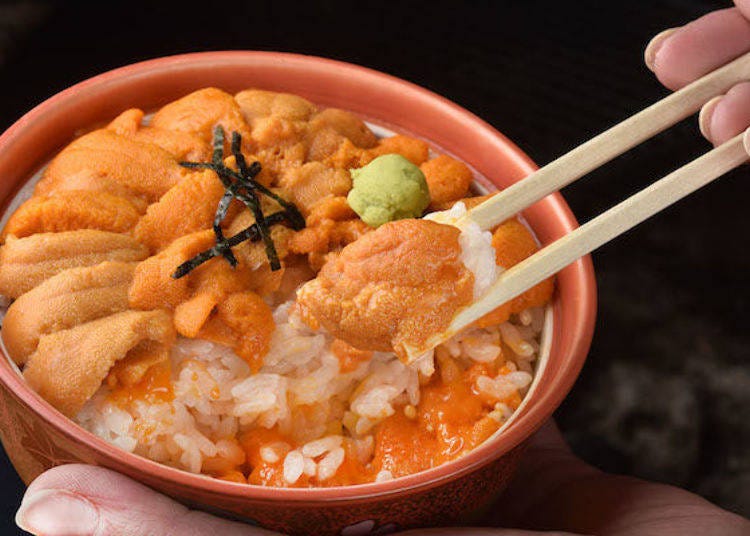 Mr. Nishioka recommended that it be eaten as is without adding any soy sauce. I thought I would at least give it a try with the first mouthful and was pleasantly surprised by the rich, sweet flavor as it melted in my mouth! Later I did add soy sauce and felt that this further brought out its mild flavor! While leisurely enjoying this dish, I was also surprised to discover another layer of sea urchin within the rice!

That's right. The sea urchin used in this Uni-don does not consist of only one layer on top, but also another layer embedded in the rice. "Sea urchin is such an expensive delicacy that only serving it on top of the bowl did not do it justice, so to provide a truly delicious eating experience, I use two layers," Mr. Nishioka explained. In terms of volume, more than 100 grams of sea urchins are used in making this magnificent dish.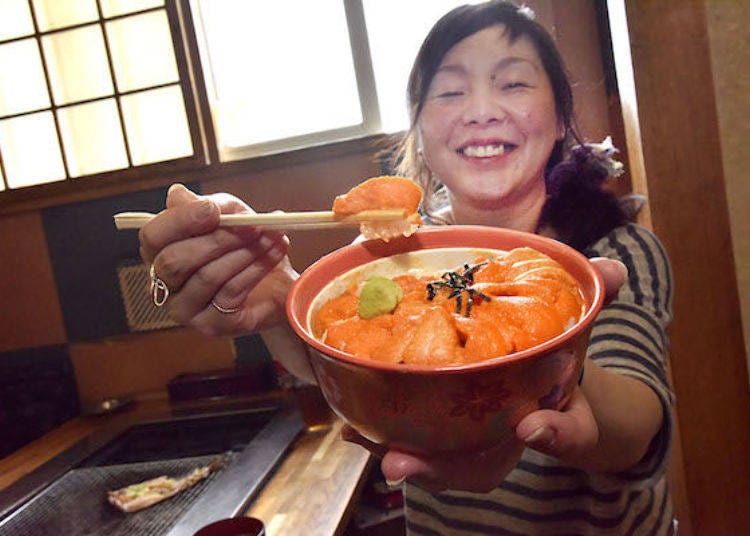 The sea urchin taken around Rebun Island is of two types: the sweet, delicate bafun uni (literally translates as "horse-dung sea urchin," because of its appearance, but also called Japanese green sea urchin) and the richly sweet purple sea urchin. This shop uses the bafun uni.

"The reason I use bafun uni, for which the season is only June to September, rather than purple sea urchin that has a longer season lasting from April to September, is because the tourists who visit prefer it. But, if asked which is more delicious, I think it depends on personal preference. Both types of sea urchin taken around Rebun Island are equally delicious!" said Mr. Nishioka.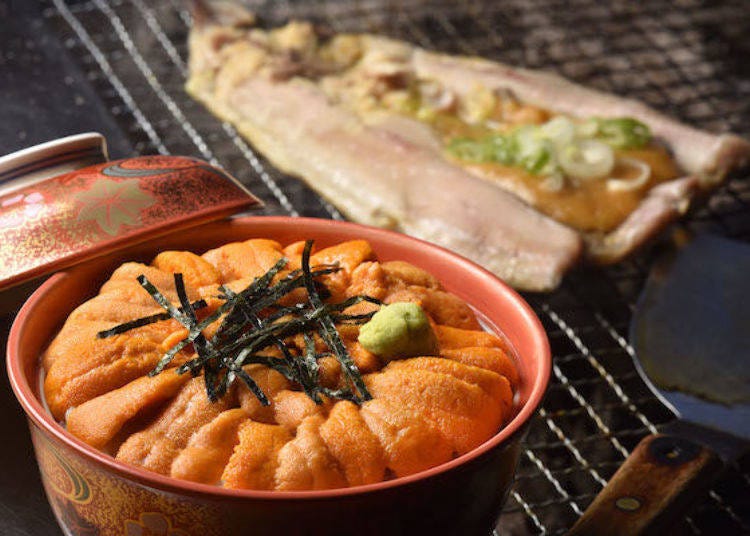 Two satisfying and filling gourmet dishes of the island best summed up in the single word "delicious"! Both are treats you will long remember afterward.

During the summer holidays, lines form up outside the shop before it opens, so keep that in mind when you visit. If you want to avoid the queues, visit between the hours of 2:30 and 4:00 p.m. A visit to Rebun Island is indeed a memorable one for those seeking a gourmet experience!
炉ばた ちどり

Address

〒097-1201 北海道礼文郡礼文町大字香深村字トンナイ1115-3/Tonnai1115-3, Kafukamura, Rebun-cho Rebun-gun, Hokkaido, 097-1201, Japan

Phone Number

0163-86-2130

Hours: 11:00 a.m. ~ 10:00 p.m. (last order 9:30 p.m.)
Closed: no set schedule
・When flying to Wakkanai: Haneda Airport to Wakkanai Airport takes about 1 hour 55 minutes; New Chitose Airport to Wakkanai Airport takes about 55 minutes.
・When taking JR to Wakkanai: Sapporo to Wakkanai (by express) takes about 5 hours 30 minutes
・When going to Wakkanai Port: Airport Connection Bus from Wakkanai Airport takes about 35 minutes; taxi from JR Wakkanai Station takes about 5 minutes; 15 minutes by walking
・From Wakkanai Port to Kafukako Port it takes about 1 hour 55 minutes; from Rishiri (Oshidomariko Port) to Kafukako Port it takes about 40 minutes; from Rishiri (Kutsugatako Port) to Kafukako Port it takes about 45 minutes (*The ferry from Kutsugatako Port to Kafukako Port only operates during the summer season)

Written by Fumi
Recommended hotels on Rebun Island
礼文島プチホテル コリンシアン

Address

Funadomari Osonae, Rebun, Hokkaido, 097-1111


Nearest Station

Bakkai Station (Soya Main Line)

Address

Kafuka-Mura Aza Tonnai40-18, Rebun, Hokkaido, 097-1201
View Map

Nearest Station

Bakkai Station (Soya Main Line)


Vacancy search, reservation

from

12,340JPY

1room, 2adults

Check with our partner site as the latest rates, rate details, and guest room requirements may vary.
*This information is from the time of this article's publication.
*Prices and options mentioned are subject to change.
*Unless stated otherwise, all prices include tax.
Search for International flights