Hokkaido uni, or sea urchin in Japanese, is the most popular gourmet seafood item in Japan's northern island. And in all of Hokkaido, sea urchin from Rishiri Island is considered to be the most delicious.

The reason for that is because these sea urchins feed on Rishiri kelp, which is a delicacy in its own right. When you visit Rishiri Island, gourmet dishes made with sea urchin are a must.

Start by trying the raw Hokkaido sea urchin bowls and then sample bowls topped with sea urchin and salmon roe; there is even a carbonara pasta made with Hokkaido uni! Here are three shops located in Oshidomari, the gateway to Rishiri Island, that we recommend.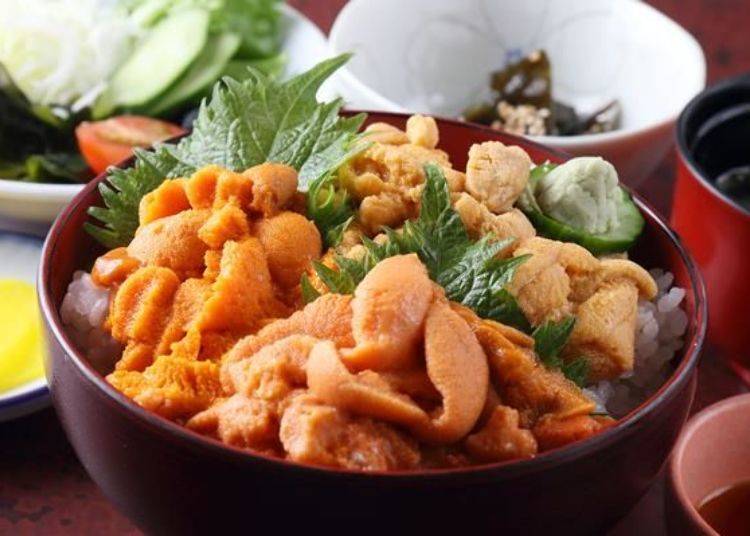 Rishiri Island sea urchins get their rich flavor from the Rishiri kelp on which they feed
Rishiri Island is located to the north of Hokkaido. The Rishiri Airport located in the center of the island is serviced by one flight a day each from the Sapporo Okadama Airport and New Chitose Airport.

But as the planes are small and have only a few seats, most visitors take the ferry from Wakanai Port which docks at Oshidomari Port on the north side of the island.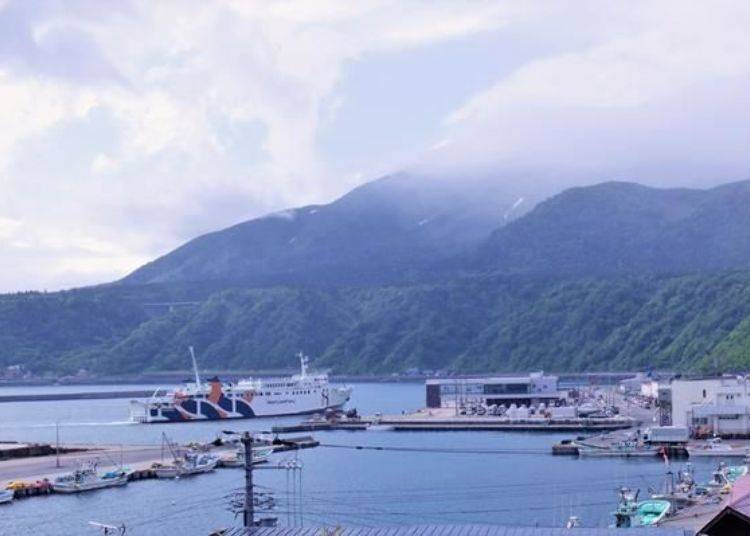 A ferry entering the Oshidomari Port. It makes three or four roundtrips a day from Wakanai between spring and autumn.
1. Sato Shokudo: Hokkaido sea urchin dishes here are exquisite!
When you visit Rishiri Island you absolutely must try the sea urchin bowl (unidon) and the best place to do it is at the Sato Shokudo facing the Oshidomari Ferry Terminal.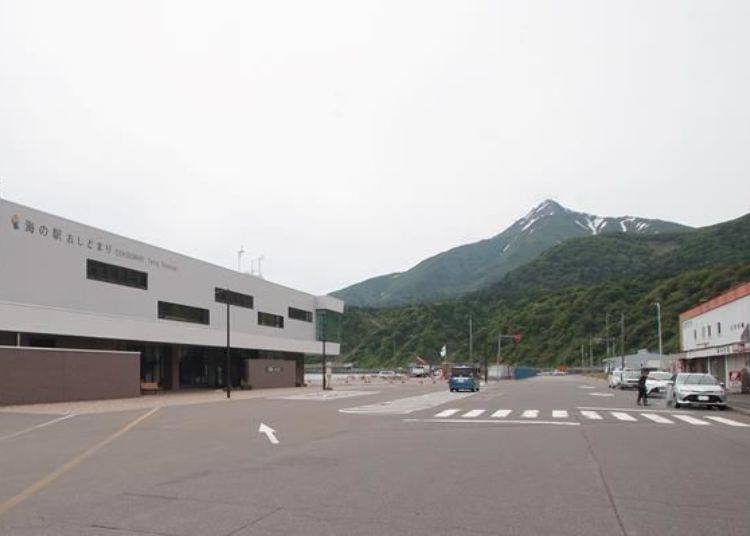 Mt. Rishiri, the landmark of the island, is in the background. The ferry terminal is on the left and a number of shops are lined up on the right. Sato Shokudo is the one at the far end.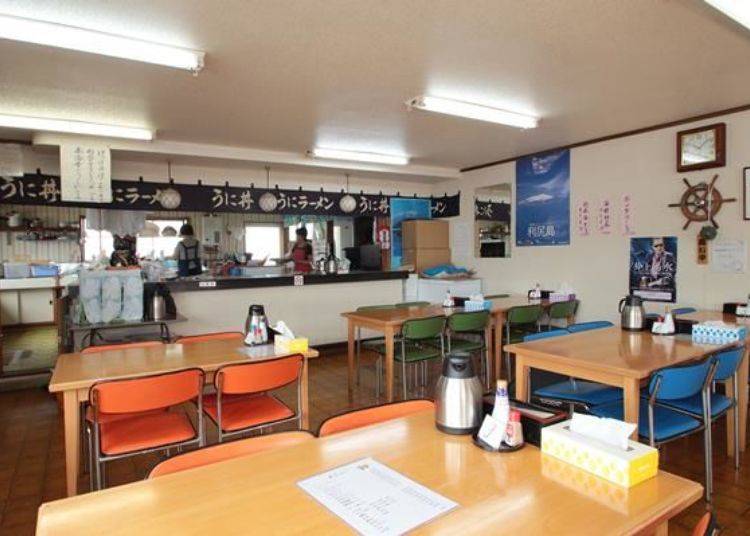 In addition to the Namauni-don [raw sea urchin bowl] (4,500 yen) the restaurant also serves Kaisen Rishiri Ramen [Rishiri Seafood Ramen] (1,350 yen) or Kaiso Ramen [seaweed ramen], dishes made with octopus, shrimp, whelk, scallops, and seaweed, all of which we recommend.
When the sea urchin fishing season is at its peak, and when prices tend to be high, the locals have found ways to ensure that they always have access to sufficient supplies.
You will probably notice that most shops list the price for gourmet seafood items as "market price".
This shop, however, does not do that and instead sets a fixed price that is clearly listed and remains unchanged whenever you visit.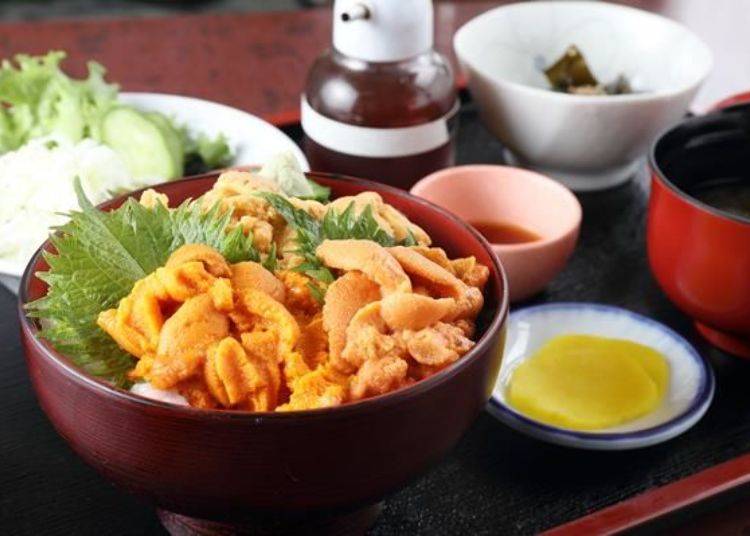 Namauni-don. It comes with salad, miso soup, a small side dish, and pickles.
The two types of Hokkaido sea urchin that you can eat on Rishiri Island are bafun and purple sea urchin. This shop will serve either both or perhaps only one of the two types depending on the day's catch and supply. Sato Shokudo has set prices that do not change with the market price which does change from day to day depending on the size of the day's catch. So, the type of sea urchin served depends on what the fishermen caught that day.
We were fortunate in that on the day we visited both types were served!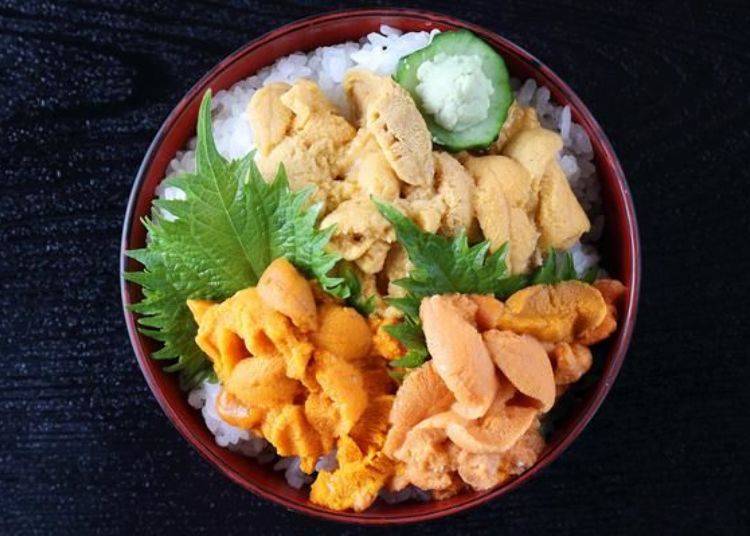 This bowl contains three types of sea urchin: female purple (pale ones at the top of the bowl), female bafun (lower right), and male bafun (left)
It's a joy to be able to eat both purple and bafun sea urchin at the same time, but to also be able to experience the difference between male and female sea urchin is truly a luxurious treat!
Both the purple and bafun male sea urchin tend to dissolve and come apart easily so for that reason are primarily used in processing. Accordingly, it is rare to find them served raw in shops around the island.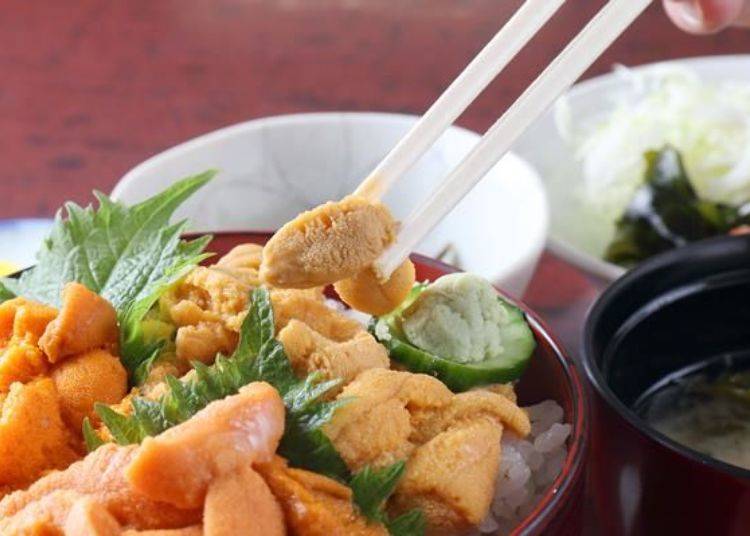 The female purple sea urchin has a grainy texture and is light, creamy,and imbued with the flavor of the sea.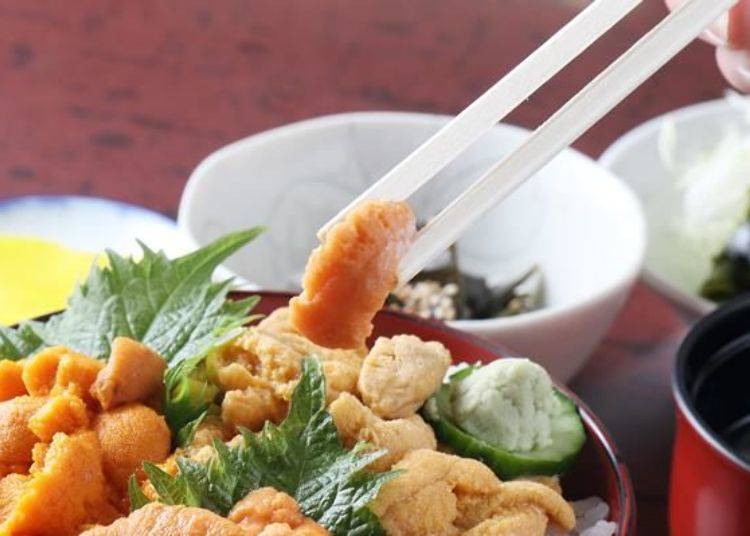 The male bafun sea urchin melts almost immediately in the mouth infusing it with its rich flavor.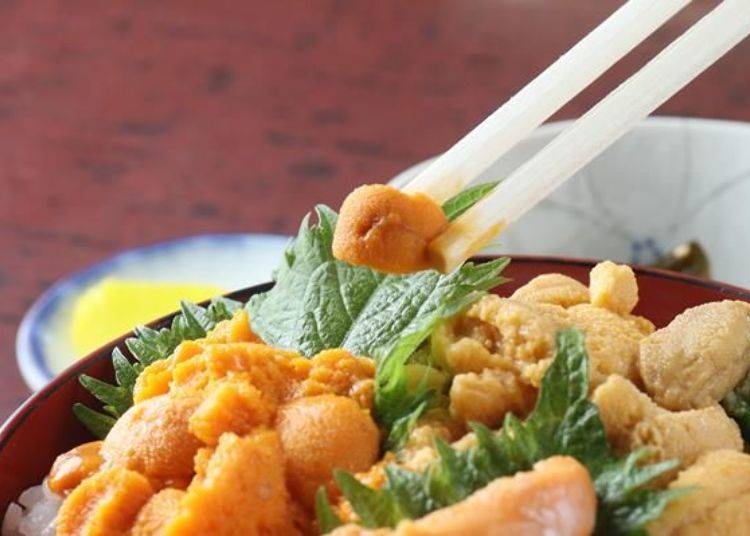 The female bafun sea urchin has an exquisite shape and color; its rich flavor exploding the moment it touches your tongue.
It's hard to say which I liked best!
Soy sauce is available, but I preferred to savor the flavor of each fully without it. The flavor of the sea urchin naturally is bolder when eaten without soy sauce.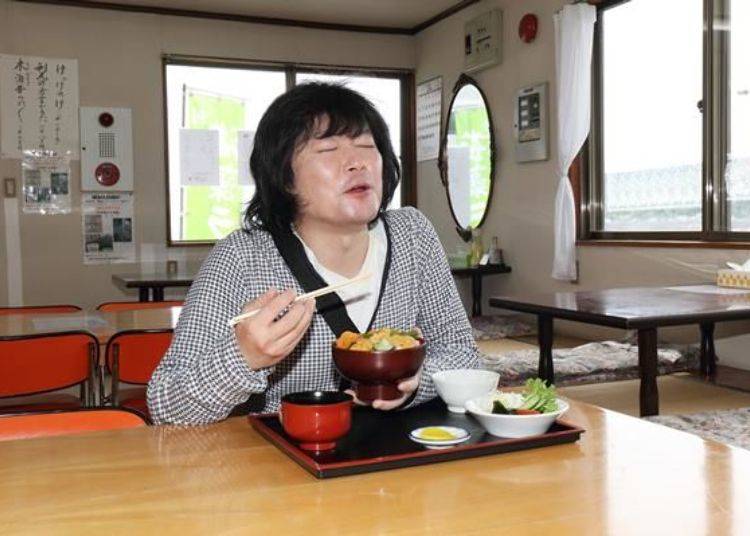 Truly delicious! I strongly urge you to try it without soy sauce!
Actually, if you think that you can eat raw sea urchin anytime you like on Rishiri Island you'd be wrong. It is only available during the sea urchin fishing season and if the weather should be so bad as to prevent setting out, the fishermen stay in port and on that day no fresh sea urchin is available. Sea urchin damage easily so for that reason they cannot be preserved for long periods of time.

In other words, whether the Namauni-don will be available or not depends on the fishermen's catch that day. There is no way of telling until that day, so it truly is a matter of luck.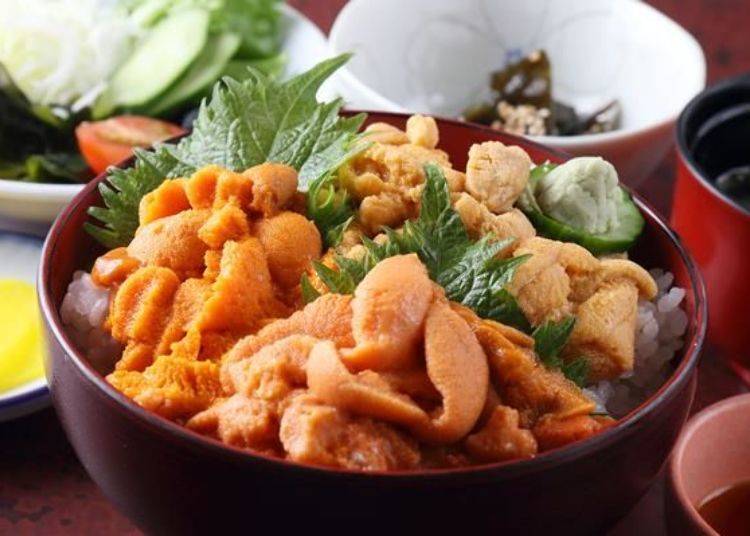 The Namauni-don is a once-in-a-lifetime opportunity
On Rishiri Island purple and bafun sea urchin are not harvested every day. Factors such as the catch quota, weather conditions, and sea conditions are taken into consideration by the local fishermen's co-op in deciding when it is possible to fish. This will pretty much determine which type of sea urchin will be available that day, if any.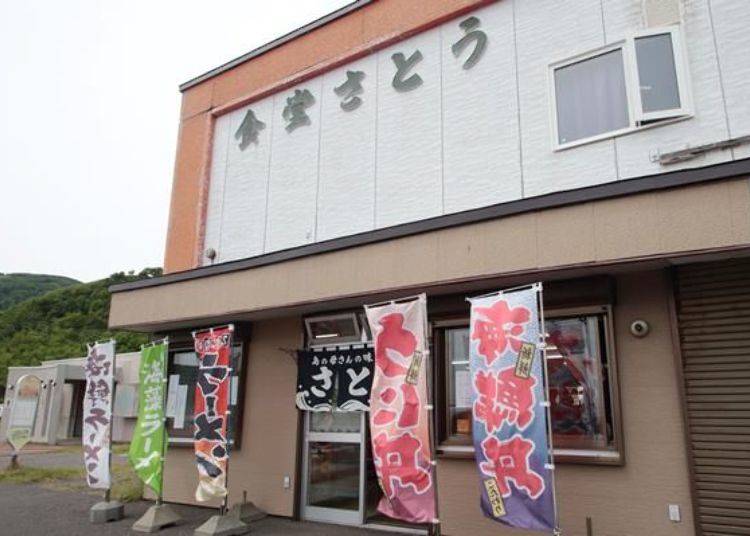 Sato Shokudo puts much effort into obtaining sea urchin so the chances of being able to have Namauni-don on the island are best here.
The sea urchin fishing season on Rishiri is from early June to mid-September for purple sea urchin and from early June to mid-August for bafun sea urchin. According to the local people the sea urchin caught in July are the most delicious.

There's no telling what type of sea urchin will be available on the day you visit, but in any case, I am sure you will have a very enjoyable time!
さとう食堂

Address

〒097-010 北海道利尻郡利尻富士町鴛泊字港町/Minatotyou, Oshidomari, Rishirifuji-cho Rishiri-gun, Hokkaido, 097-0101, Japan

Phone Number

0163-82-1314

Open: early May ~ late October
Hours: 8:30 a.m. ~ 4:30 p.m. last order (the last order time can vary)
Closed: always open during the season
2. Shokudo Maruzen: Serving the Famous Hokkaido Uni Bowl!
The next shop I would like to introduce is one that has twice won the "National Local Donburi Championship" with its Unimeshi-don, which also was put in the hall of fame: Shokudo Maruzen. This shop is located inside the Oshidomari Ferry Terminal.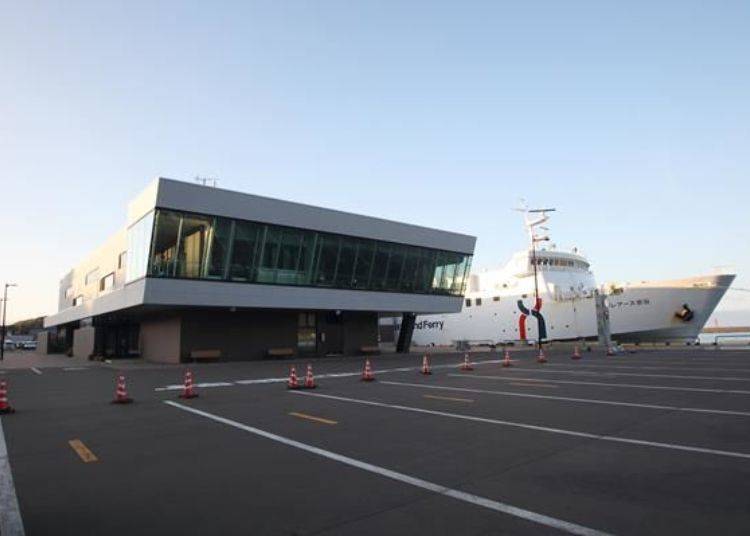 The shop is located on the second floor behind the glass facade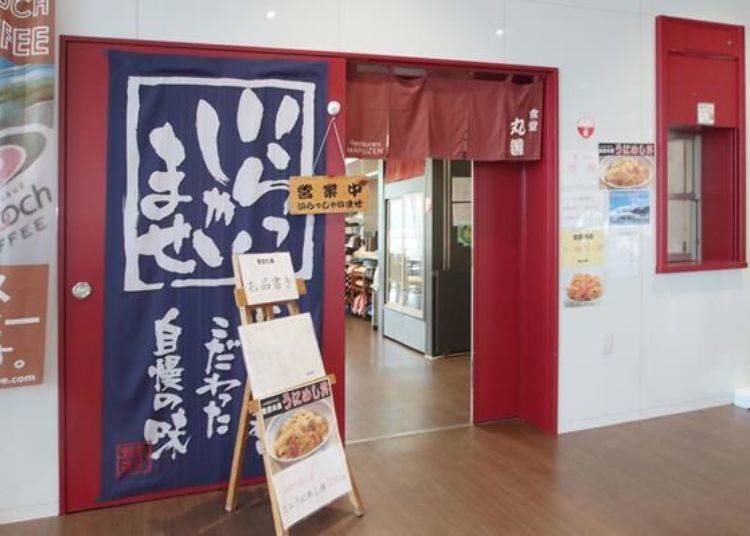 Located inside the terminal, it is a convenient place to spend time when waiting for a ship arrival or departure.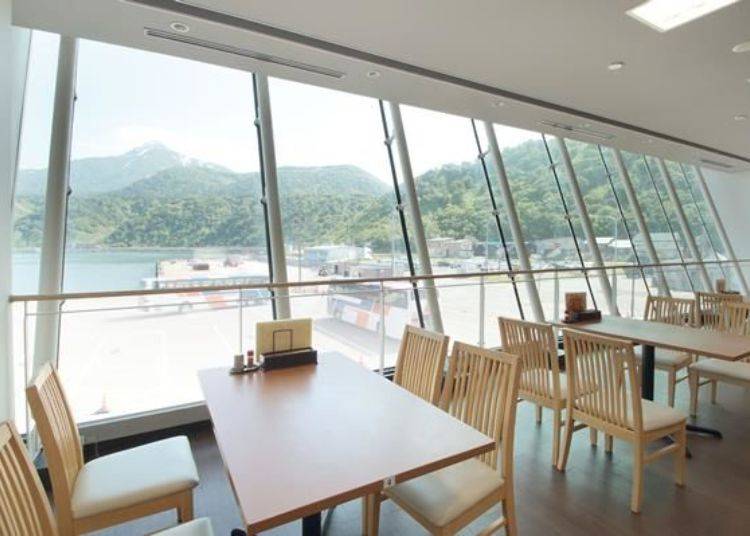 The shop offers an excellent view of the port and Mt. Rishiri in the distance. It is a very comfortable place to relax.
Unimeshi-don is a bowl dish of steamed Hokkaido uni with salmon roe piled high on a bed of rice that has been seasoned with and steam-cooked in broth.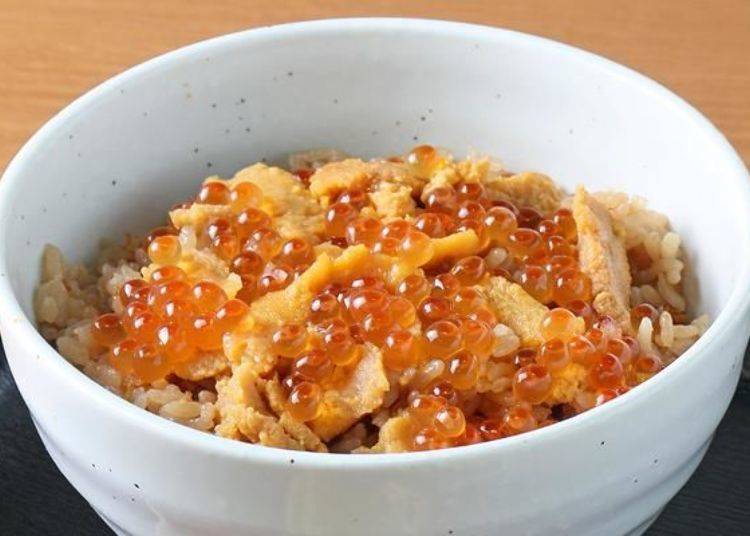 The sea urchin and salmon roe are of course delicious, but the specially prepared rice is also an incomparable treat.

The shop makes its own white soup stock made from Rishiri kelp and dried sardines, katsuobushi (dried bonito shavings), and shavings of dried frigate mackerel, similar to the broth made and served in expensive Japanese-style restaurants, for seasoning and cooking the rice.

The Unimeshi-don at Maruzen costs 1,400 yen. Served also with pickles and miso soup it costs 1,500 yen. The Unimeshi-don set meal (3 additional items and miso soup) costs 1,700 yen.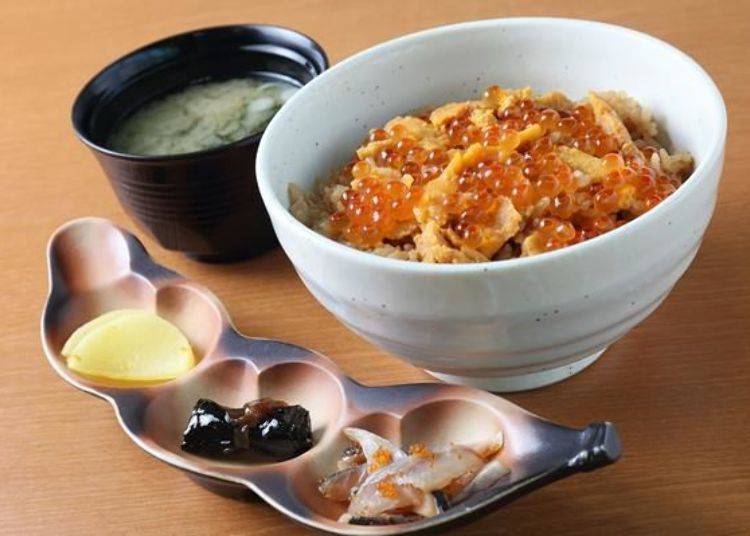 The Unimeshi-don set meal. The items served in the additional set of three vary from day to day. On the say I visited it consisted of takuan (yellow radish pickle), rolled kelp, and smoked herring.
The broth infuses the rice with flavor making it delicious in itself even without any topping.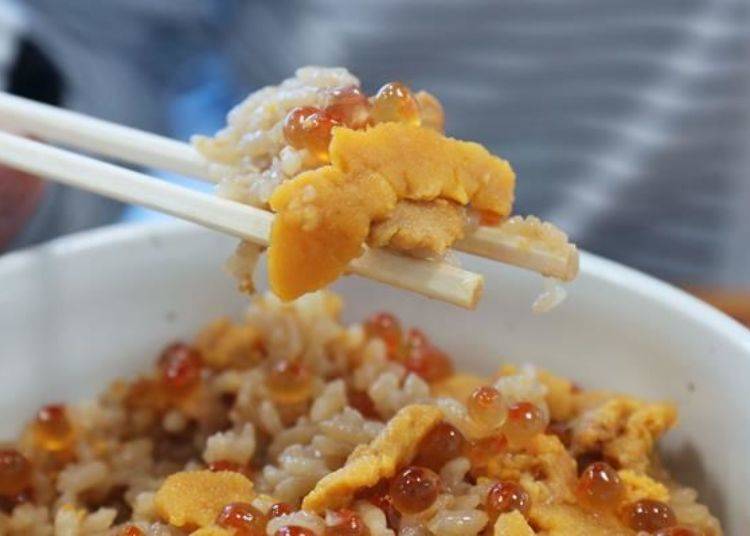 The broth-infused rice topped with succulent sea urchin and salmon roe is a gourmet's delight!
Eating this magnificent bowl dish while looking out on the sea and mountain in the distance makes for a memorable lunch, making one forget the stress of city life.

Normally the cost of a namauni-don on Rishiri Island is about 4,500 yen (at the time of this writing in July 2018), so when raw sea urchin is not available, this unimeshi-don is an excellent substitute and reasonably priced; plus, it is available throughout the year making it highly recommendable!
食堂 丸善

Address

〒097-0101 北海道利尻郡利尻富士町鴛泊字港町 鴛泊港フェリーターミナル 海の駅おしどまり2階/Uminoekiosidomari2F,Osidoritomarikouferry-terminal,Minatotyou, Oshidomari, Rishirifuji-cho Rishiri-gun, Hokkaido, 097-0101, Japan

Phone Number

0163-82-1110

Open: March ~ December
Hours: 11:00 a.m. ~ 2:00 p.m.
Closed: no set times (open almost every day in summer)
3. Tsuki Café: Offers original dishes and sweets made with raw Hokkaido sea urchin and Rishiri kelp
The last shop I wish to introduce is the Tsuki Café which is also located in the Oshidomari Ferry Terminal and next door to Maruzen.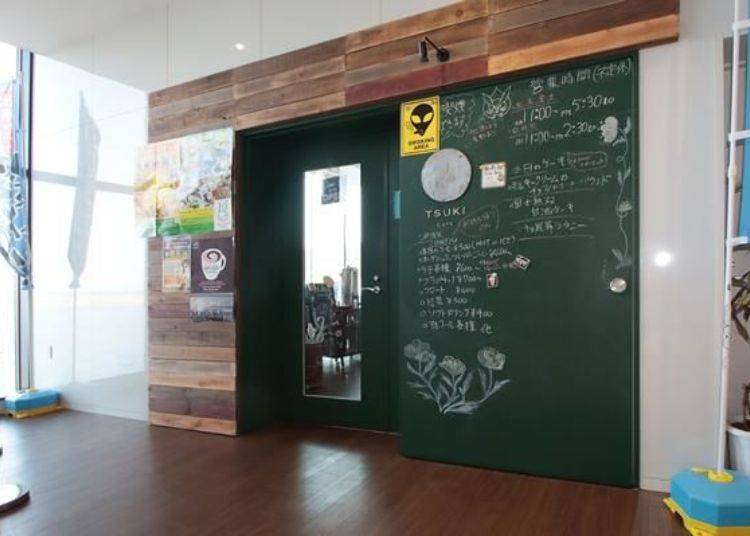 Tsuki Cafe is also located in the Oshidomari Ferry Terminal which makes it convenient for those waiting for ship arrivals or departures.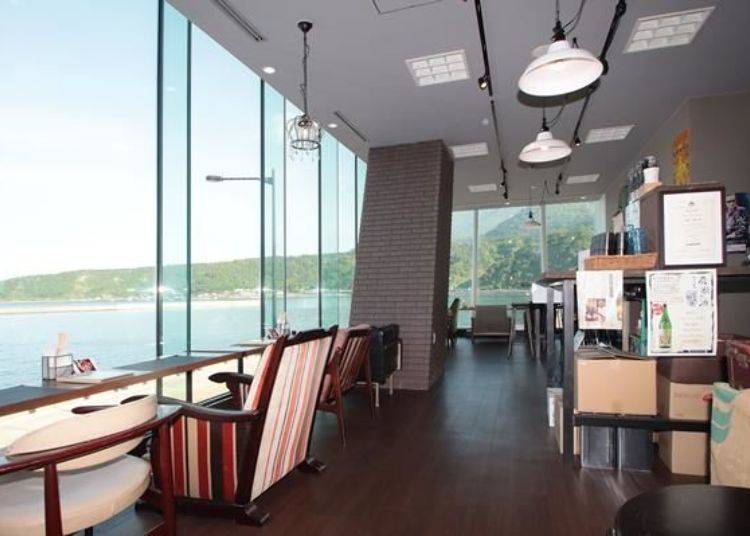 View from the interior looking out on the port and ocean
The Tsuki Café is operated by a sea urchin fisherman who creates original dishes using local ingredients such as raw sea urchin and Rishiri kelp.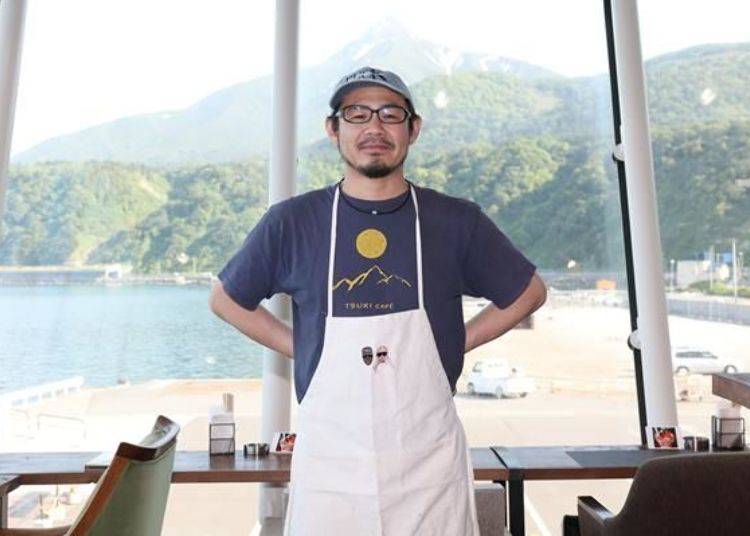 Mr. Ogata, the owner. He harvests sea urchin early in the morning during the summer and then from noon to evening manages the café.
"Namauni-don is of course delicious because the sea urchin is of the best quality. The reason I don't prepare namauni-don is because I enjoy the challenge of preparing original dishes that bring out the delicious flavor of the ingredients," explained Mr. Ogata who made oneof his recommended dishes for us.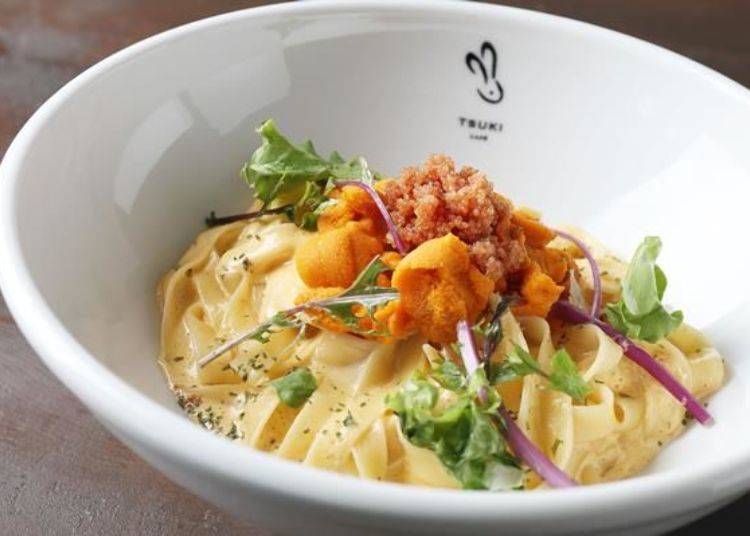 Only 10 servings are prepared in a day, so it's best to go early! Unibonara (from 2,500 yen depending on market prices).
The name Unibonara comes from uni, the Japanese word for sea urchin, and carbonara. This is not just a simple sea urchin pasta!
60 grams of Rishiri sea urchin caught that morning are used. The typical namauni-don uses about 80 grams of sea urchin, so compared with it, the Unibonara uses a fair amount of sea urchin.

Normally carbonara is made with egg yolks, but for this dish about 30 grams of raw sea urchin is used instead. The remaining 30 grams is used for topping on the pasta together with kajika no ko (sculpin roe). This is truly a magnificent dish made with local Hokkaido uni.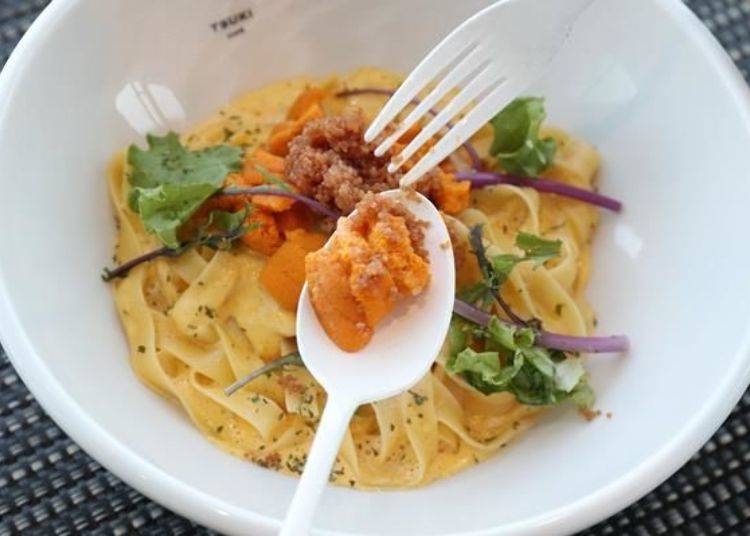 On this day it was made with bafun sea urchin. The crunchy sculpin roe is a perfect match!
The rich, creamy sea urchin sauce is mixed into the fettuccine. One bite and the flavor of the sea urchin envelopes your mouth. This dish breaks the stereotypical image of a simple sea urchin pasta and is like no other dish you may have had. Not only is it topped with fresh Hokkaido sea urchin, but the dish is loaded with it leaving a strong impression of the sea urchin flavored creamy sauce.
Keep in mind that this dish is only available during Hokkaido's sea urchin season. As with the namauni-don you are in for a treat if you can experience it.

Here is a local sweet only found on Rishiri Island.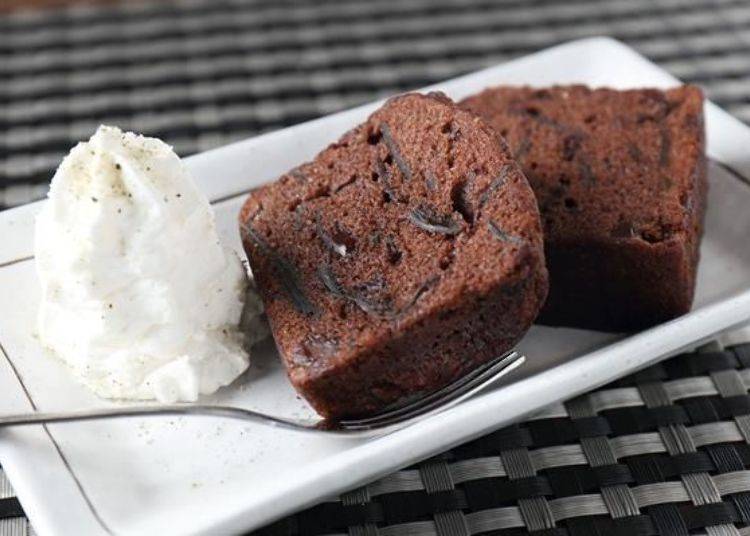 Rishiri Chokomburauni (a chocolate brownie laced with kelp) 750 yen
This original sweet is a kelp-laden brownie. It comes with whipped cream made with homemade kelp salt.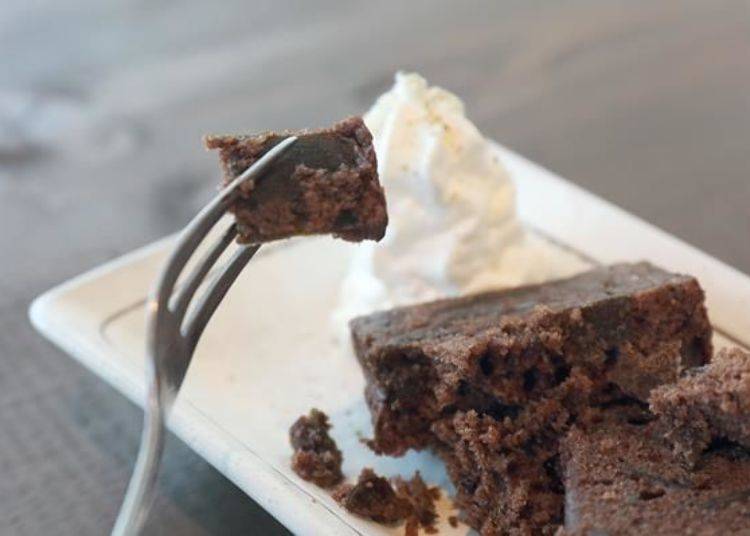 The brownie is filled with chopped kelp
I wondered if the flavor of the kelp would increase the rich flavor of the brownie. To my surprise, the kelp and chocolate were perfectly matched! Adding a dab of the whipped cream made with kelp salt further enhanced the rich flavor of the brownie. The light texture of the kelp gave further accent to the brownie. This is definitely a local sweet worth trying.
It also makes a good gift, the cost for one being 350 yen and 1,600 yen for a set of five (does not include the whipped cream).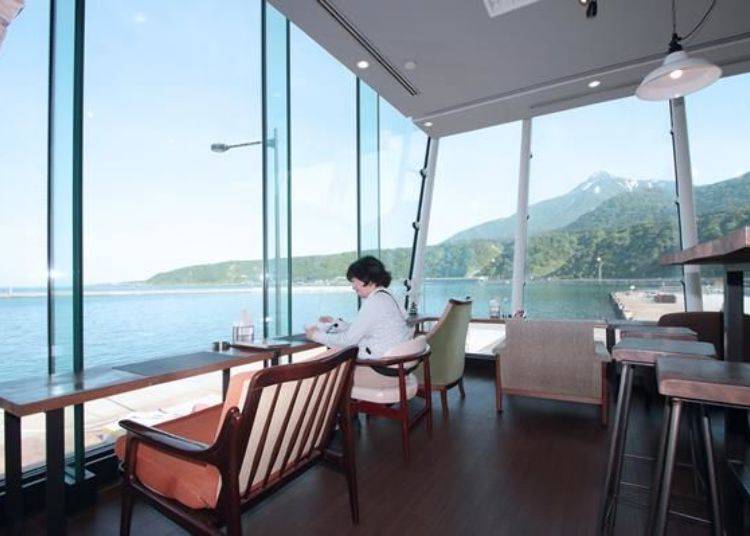 Happiness is eating the original dishes made with fresh Rishiri seafood while enjoying the majestic view!
TSUKI CAFE

Address

〒097-0101 北海道利尻郡利尻富士町鴛泊字港町 鴛泊港フェリーターミナル 海の駅おしどまり2階/Uminoekiosidomari2F,Osidoritomarikouferry-terminal,Minatotyou, Oshidomari, Rishirifuji-cho Rishiri-gun, Hokkaido, 097-0101, Japan

Phone Number

0163-85-7474

Hours: 11:30 a.m. ~ 5:30 p.m. last order (last order on Sunday, Monday, Tuesday is 2:30 p.m.)
Closed: no set days (depends on fishing), Sometimes closed between November and April
What did you think of the gourmet seafood dishes of Rishiri Island?

Rishiri sea urchins are of the highest quality because they feed on the most expensive type of kelp – Rishiri kelp. For that reason, these Hokkaido sea urchin are indeed special. I hope you will have an opportunity to visit the island and enjoy these marvelous dishes!
We also recommend these seafood restaurants in addition to those above - especially if you plan on visiting Hokkaido but can't make it up to Rishiri. Save time and hassle - book your table online today!
炭焼・寿し処 炙屋 (あぶりや)総本店

Address

ANA Holliday in Sapporo Susukino B1,Minami 5 Jo Nishi 3, Chuo-ku, Sapporo, Hokkaido, 064-0805


Nearest Station

Hosui Susukino Station (Toho Line)


Phone Number

011-530-6666

* For business names, representatives or managers, and other information, please contact the store directly.
* Time of payment (Pre-paid: On confirmation of reservation. Other than pre-paid: At time of visit.)
海鮮食堂 北のグルメ亭

Address

22-4-1, Kita-11-jonishi, Chuo-ku, Sapporo-shi, Hokkaido, 060-0011


Nearest Station

Nijuyonken Station (Tozai Line)


Phone Number

0120-004-070
Address

Minami three Higashi 1-7, Chuo-ku, Sapporo-shi, Hokkaido, 060-0053
View Map

Nearest Station

Odori Station (Namboku Line / Tozai Line / Toho Line)


Phone Number

011-558-1012
鮨 三上

Address

The 21st Keiwa building 1F,Minami 6 Jo Nishi 4-5-10, Chuo-ku, Sapporo, Hokkaido, 064-0806


Nearest Station

Susukino Station (Namboku Line / Sapporo Streetcar Yamahana Line)


Phone Number

011-532-2626
*This information is from the time of this article's publication.
*Prices and options mentioned are subject to change.
*Unless stated otherwise, all prices include tax.
Limited time offer: 10% discount coupons available now!