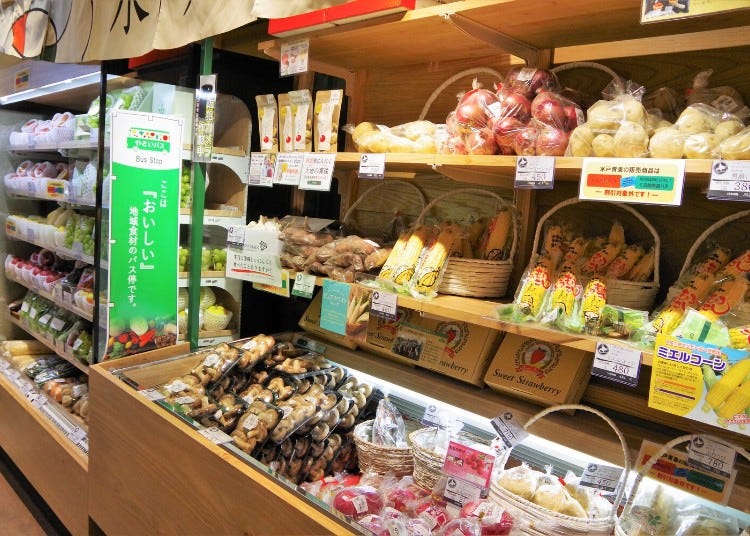 Hokkaido Shiki Marche is a select food souvenir shop near Sapporo Station. Since its opening on November 1, 2022, this spot has attracted crowds of locals and tourists alike every day. Walking around Shiki Marche, you may start to feel that you've come to Hokkaido for the sole purpose of buying food!

You'll find all kinds of goods here, from famous Hokkaido sweets to pouch meals with local Hokkaido ingredients, to alcoholic beverages and snacks. Some popular choices include the freshly-baked cookie sandwich from Sapporo Agricultural College, made in-store with red bean paste and butter, and Take-out Hotei's popular zangi fried chicken.

Read on as we introduce all you need to know about Hokkaido Shiki Marche and five recommended souvenirs you'll only find here!
Let's go inside Hokkaido Shiki Marche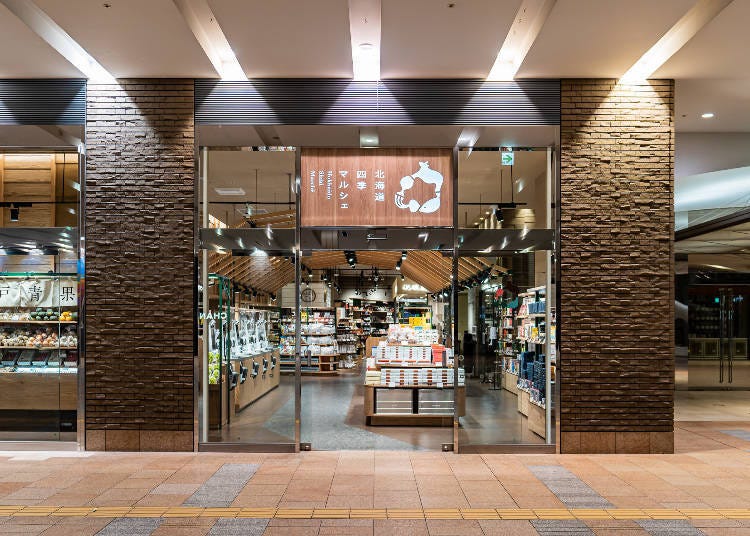 Located on the 1st floor of Stellar Place, the shop is connected to Sapporo Station. (Photo courtesy of JR Hokkaido Fresh Kiosk)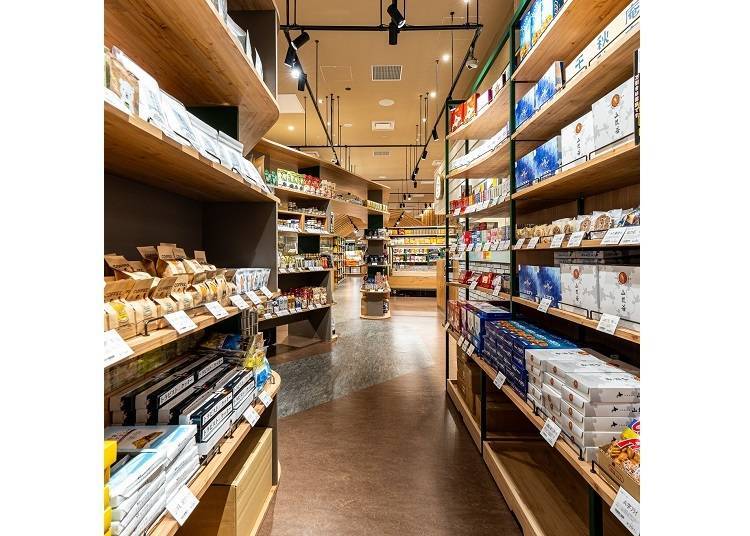 There are many products in store, from standard souvenirs to limited-edition goods. (Photo courtesy of JR Hokkaido Fresh Kiosk).
Hokkaido Shiki Marche Sapporo Stellar Place is about 80 meters from JR Sapporo Station's west exit ticket gate. It is also near Odori Park, a popular Sapporo sightseeing spot, and the downtown Susukino area, making it convenient and easy to stop by when traveling to Sapporo.

The shop's concept is "a market overflowing with the deliciousness of travel and life." The idea is that in this single shop, you'll find all kinds of favorite, carefully-selected Hokkaido products, allowing you to bring a variety of local Hokkaido delicacies right to your dinner table without having to travel all around Hokkaido to find them!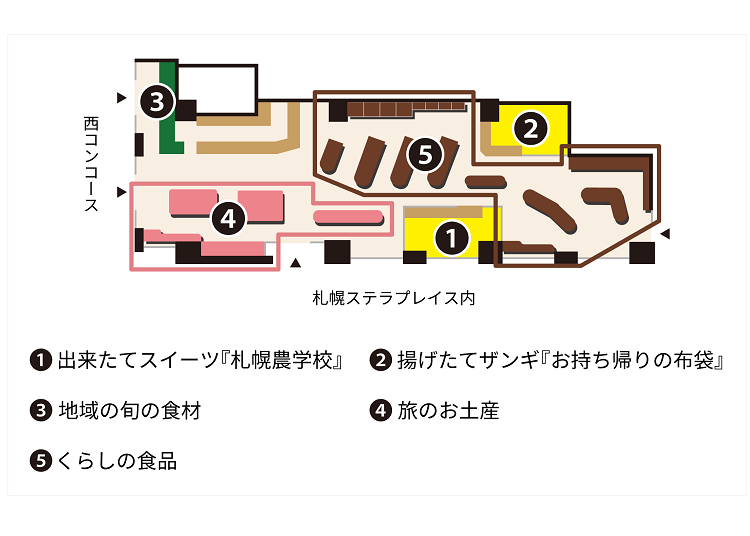 Floor map of Hokkaido Shiki Marche. The store is divided into 5 blocks (Photo courtesy of JR Hokkaido Fresh Kiosk)
The shop has two entrances: the West Concourse of JR Sapporo Station (seen on the left side of the floor map above) and the Sapporo Stellar Place (see bottom of the map).

Areas 1, 2, and 3 on the map mainly consist of product corners selling easy meals to take back to your hotel and ingredients you can use for extended stays. Areas 4 and 5 are souvenir corners with perfect gifts that fit right into your suitcase! (More about those below.)

1) Sapporo Agricultural College: Sample freshly made sweets
2) Take-out Hotei: A specialty take-out shop with freshly fried zangi chicken
3) Event space: Sells seasonal foods, including fruits and vegetables
4) Travel souvenirs
5) Daily goods

Area 4 on the map sells popular Hokkaido souvenirs, such as Shiroi Koibito and Marusei Butter Sand. Area 5 sells daily-use items and foods such as retort curry and ramen. There's also the DO3 TABLE series, with goods that can only be purchased here.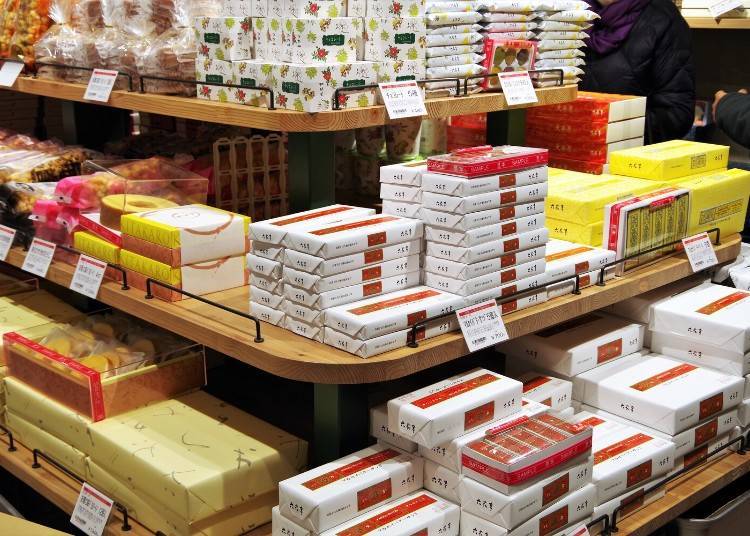 The number one spot for Hokkaido souvenirs! (And regular goods, too!)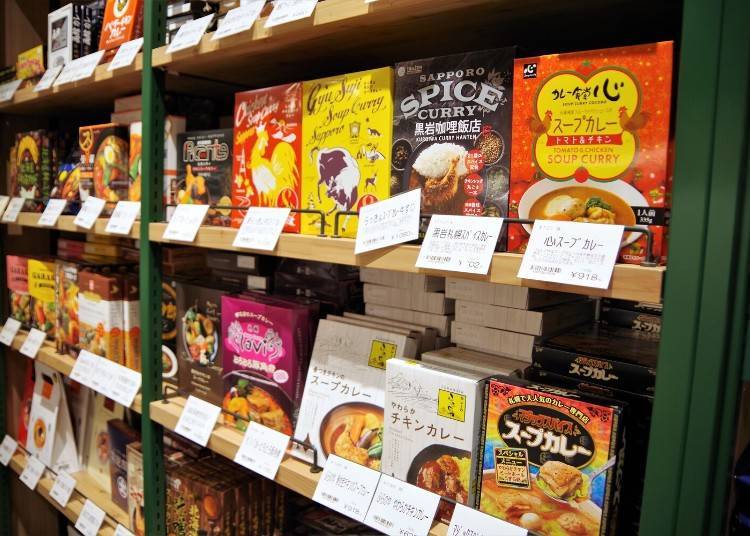 A wide variety of Hokkaido-style soup curry and ramen.
DO3 TABLE is the store's private brand, themed on three table staples: food, alcohol, and snacks. For meals, there are products to pair with your rice, such as kelp rolls and boiled scallops, canned saury, and octopus.

Some great snacks and sides to enjoy with alcohol include salmon and smoked scallops. And for treats to snack on while sipping on coffee or tea, there are dried sweet potatoes and rice crackers, amongst others. Just about everything you find here is brimming with Hokkaido food culture!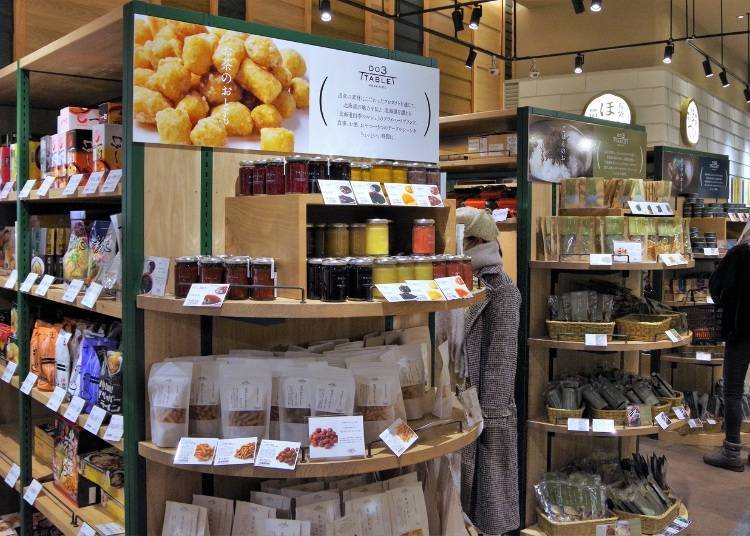 DO3 TABLE Series. On display from the front: snacks, meals, and drinks.
Highlight 1: Freshly-Made Sweets from Sapporo Agricultural College!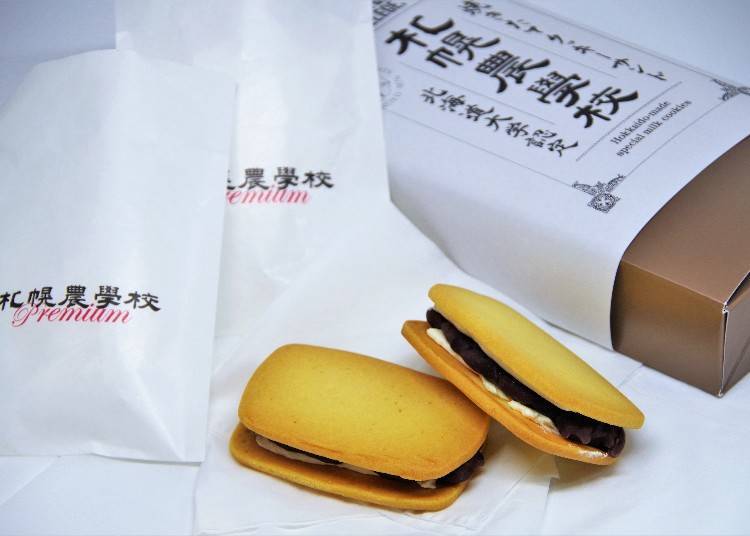 Sold as individually-packaged pieces, or in sets of five, packaged in a special box.
Sapporo Agricultural College is one of the more popular corners of Hokkaido Shiki Marche, often drawing in long lines of people. Here, you can buy freshly-baked Cookie Sandwiches with Red Bean Butter (216 yen for one, 1,080 yen for a box of 5), and Free-Range Dairy Soft-Serve Ice Cream (410 yen), made with milk from cows on their directly-managed farm.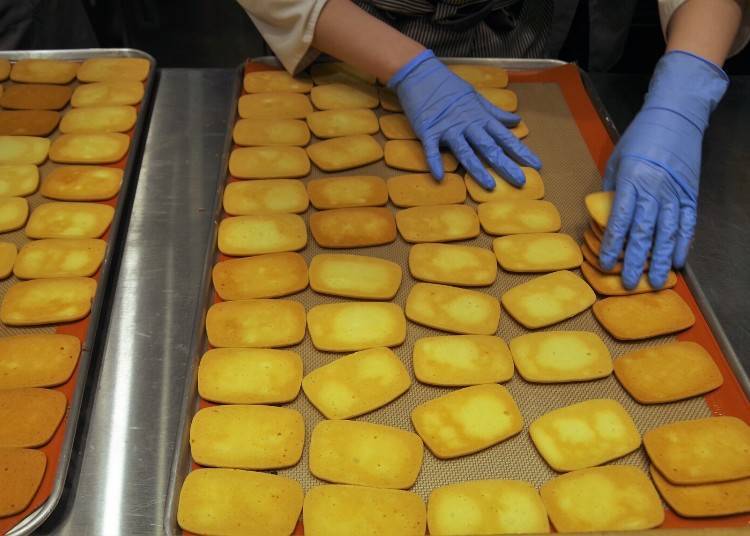 Watch how it's made, from right inside the store!
The freshly-baked Cookie Sandwich with Red Bean Butter is a confectionery made by sandwiching red bean paste (made with red beans from Tokachi, Hokkaido) in between two crisp Hokkaido milk cookies, baked in-store with Hokkaido buttercream. These fresh-baked cookies are crispy and delicious, and the butter and bean paste are rich, but not overwhelmingly sweet. The crisp outside and soft inside come together perfectly for a well-balanced treat.

However, please note that the cookies tend to soften over time. And although they are still delicious when soft, you'll probably want to eat them while they're still crispy. So please don't leave them sitting around for too long after buying them! The expiration date is three days after purchase, and they must be refrigerated. We recommend these as a snack to enjoy at your hotel or when traveling to your next destination on a long-distance train ride.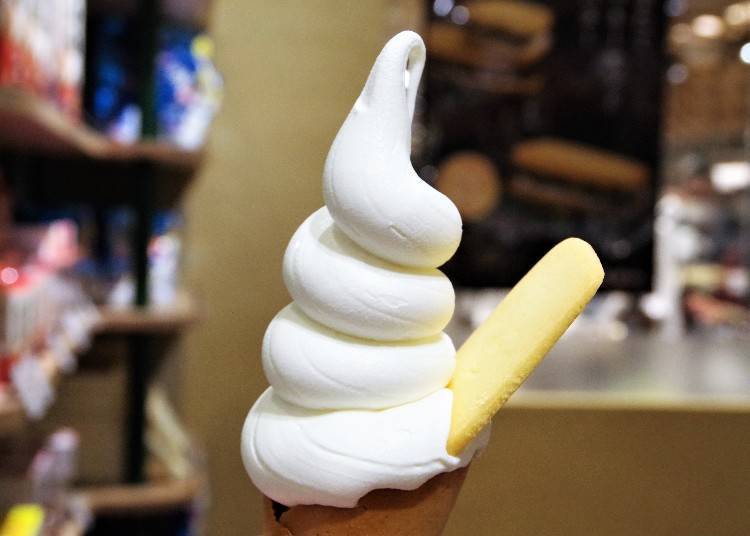 The Free-Range Dairy Soft-Serve Ice Cream includes a Hokkaido milk cookie!
This Free-Range Dairy Soft-Serve has a simple, creamy milk flavor. And although it's a soft-serve, it doesn't melt too quickly, holding its shape long enough for you to savor and enjoy it. There's also an eat-in space toward the back of the store where you can sit while eating your ice cream, so feel free to take a break from souvenir shopping to treat yourself!
Highlight 2: Hotei Take-Out Zangi - the Soul Food of Sapporo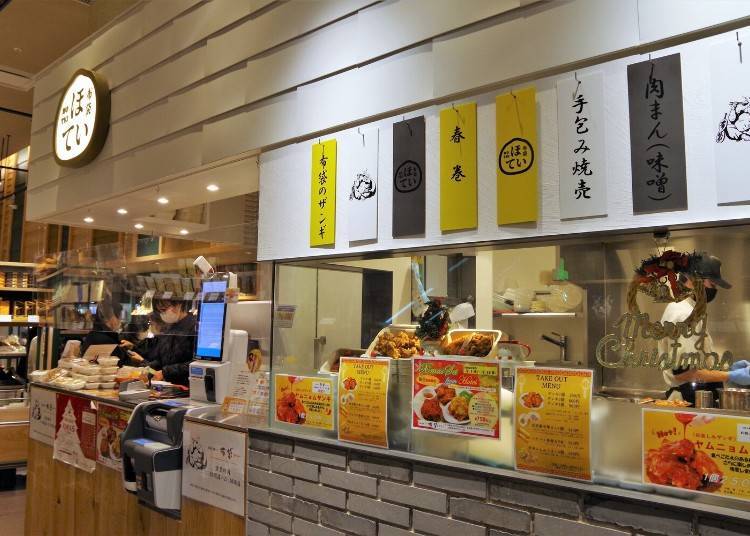 The Take-out Hotei sales corner, lined with samples of each takeout product.
Take-out Hotei is a Chinese take-out shop that's been popular amongst Sapporo locals for a very long time. Hotei has its head office in Sapporo, as well as multiple branches. Its flagship product is zangi, a soul food loved by Sapporo locals and all residents of Hokkaido. But you won't want to buy this as a souvenir. You'll want to dig into this right away as soon as you get back to your hotel room!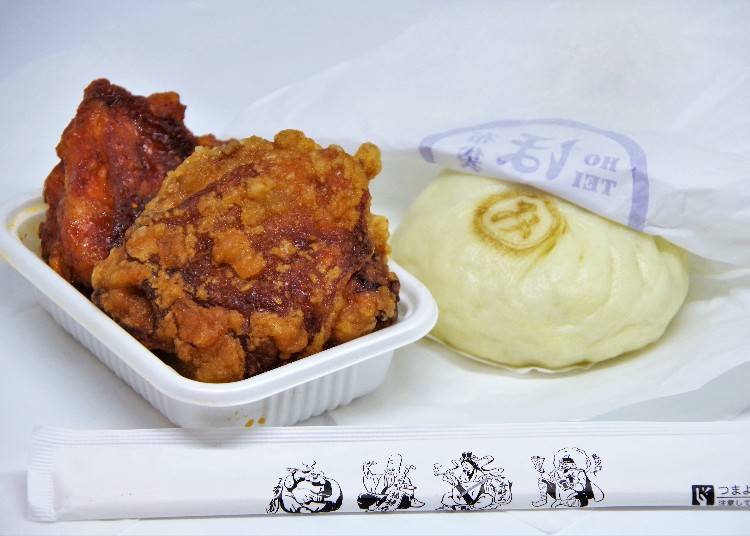 Clockwise from front left: Zangi (200 yen each), Yangnyeom Zangi (250 yen each), Homemade Chinese Steamed Buns (340 yen)
Zangi is a fried chicken dish famous for its crispy breaded skin and juicy, tender inside. Each piece of zangi in the bag is about the size of your hand, so you could say it's a rather hearty helping! The Yangnyeom Zangi is the spicy version, sold only at Hokkaido Shiki Marche.

Aside from the fried foods, the Homemade Chinese Steamed Buns are also popular, made with fluffy dough and filled with delicious minced pork. They're the perfect sides to enjoy with your zangi!
Highlight 3: Experience the Seasons of Hokkaido in the Event Space
They also sell seasonal fruits and vegetables!
The event space near the entrance sells seasonal goods from all over Hokkaido, including fruits, vegetables, and seafood. Since Hokkaido is a cold region, there's less variety of vegetables from winter to spring. However, all kinds of fruit and vegetables can be found lining the shop from spring to autumn!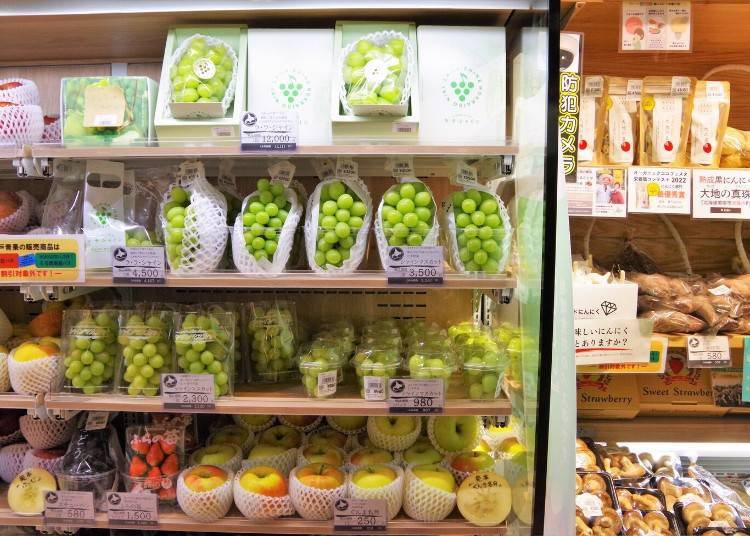 Most of the products are local Hokkaido goods!
5 Recommended Hokkaido Souvenirs
And now, we will introduce five of our top recommended souvenir ideas from Hokkaido Shiki Marche, carefully selected from their own private brand, DO3 TABLE.
1) Soft-Baked Otaru Autumn Salmon Wrapped in Kelp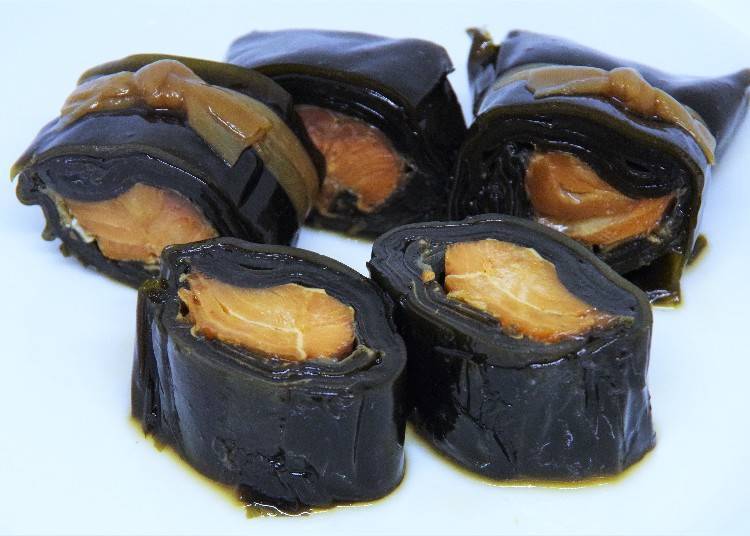 Soft-Baked Otaru Autumn Salmon Wrapped in Kelp (165g, 895 yen)
Our first pick is the Soft-Baked Otaru Autumn Salmon Wrapped in Kelp. This product is made with fresh salmon landed in Hokkaido during the fall season, wrapped in Hidaka kelp, and seasoned with a secret sauce. This product has no chemical seasonings, preservatives, or colorings, allowing you to fully enjoy the natural taste of the ingredients. It goes great with rice, as well as with alcoholic beverages such as beer and sake.

Sold in vacuum packs with a shelf life of 120 days from the date of production (when stored at room temperature), they also make perfect souvenirs! Find them in the dining section of the table corner.
2) Hokkaido Nemuro Saury Simmered in Chili Pepper Soy Sauce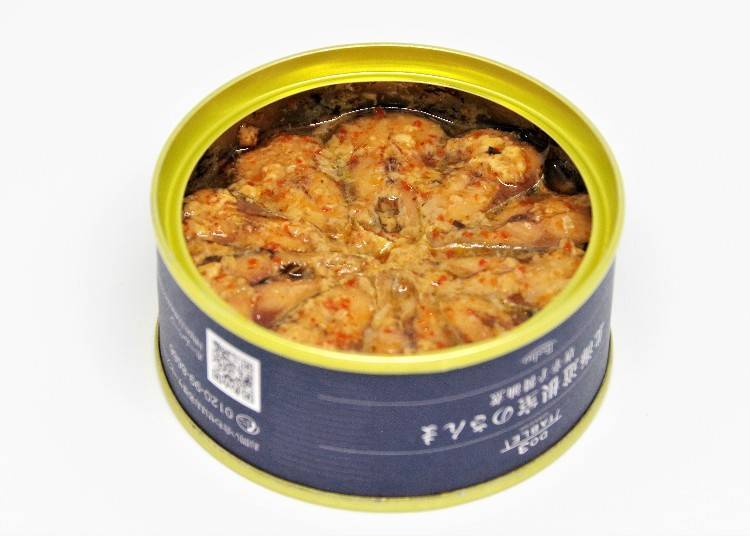 Hokkaido Nemuro Saury Simmered in Chili Pepper Soy Sauce (95g, 598 yen)
Made with fresh saury landed at Hanasaki Port in Nemuro City, located on the eastern edge of Hokkaido. In Nemuro City, as well as other areas of eastern Hokkaido, it is common to eat saury sashimi dipped in soy sauce with chili pepper. Adhering to this local custom, this canned product stays true to the traditional way of eating that has been favored by the locals for a long time.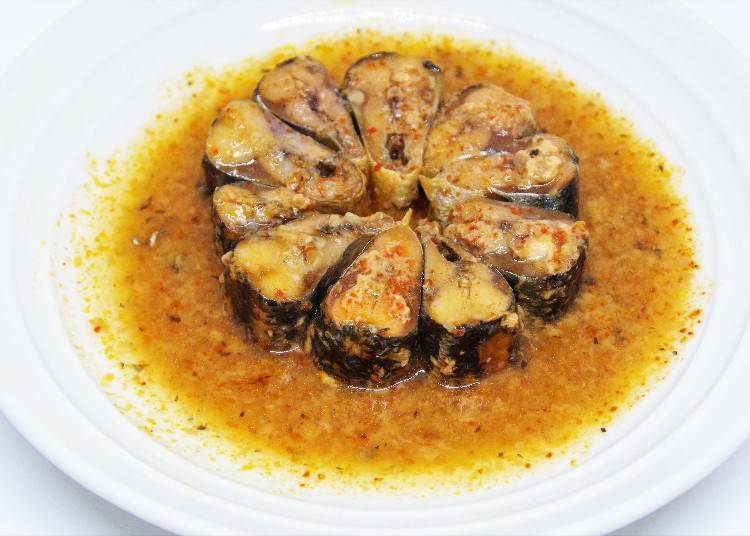 Each individual piece is packed into the can as petals, forming a flower shape called 'Kikuzume'.
You can find them in the alcohol corner. With a relatively spicy aftertaste, it pairs well with beer and sake and also makes a great side dish when eaten with rice. You can also stir-fry it with vegetables like spinach for another delicious dish option! As a canned item, it has a long shelf life of about three years.
3) Grilled Scallops with Cheese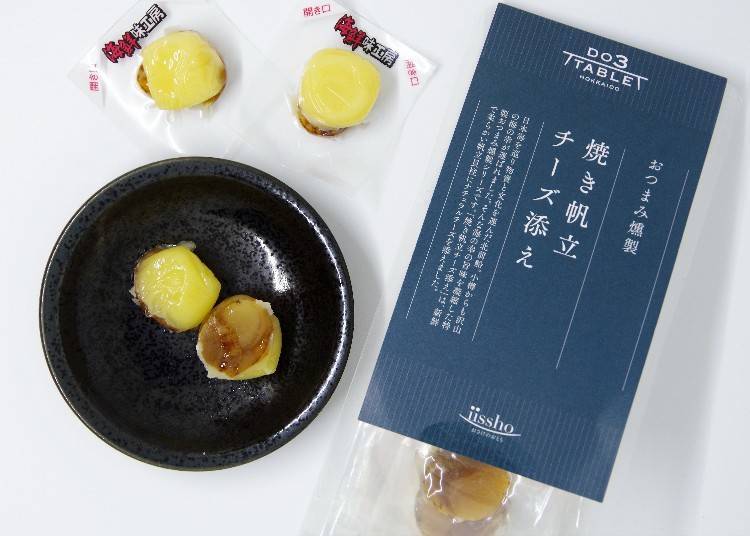 Grilled scallops with Cheese (50g, 740 yen)
This is one of several available products of the specially-made smoked snack series, sold at the alcohol corner. These soft, smoked scallops are packed with condensed flavor, and garnished with natural cheese. Each item comes individually vacuum-packed, with eight scallops per package. This snack was made for alcohol, and pairs exceptionally well with not only beer and sake, but wine and whiskey, too!

The expiration date is about half a year after production, so why not buy a bunch for yourself, and for souvenirs, too?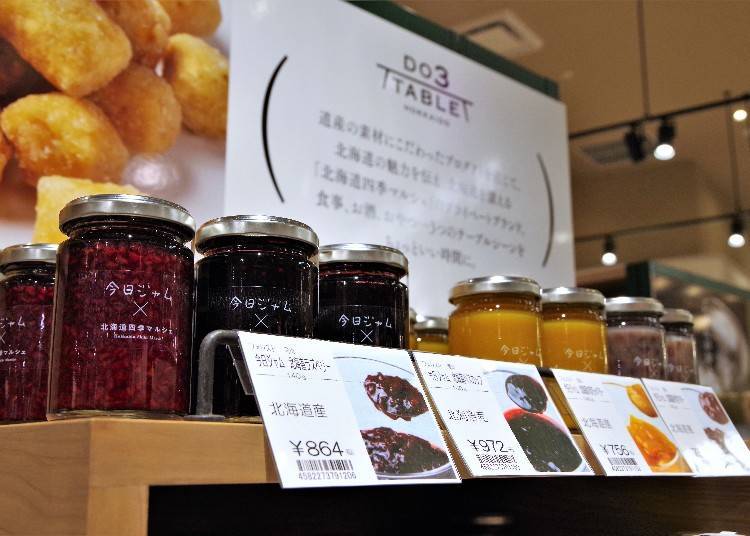 Today's Jam (140g each) / In photo from the front: Raspberry: 864 yen / Haskap: 972 yen / Pumpkin Butter: 756 yen / Red Bean Butter: 756 yen
Today's Jam is sold in the snack corner, and is a must-try for bread, yogurt, crackers, and more! This jam comes in a variety of flavors, including raspberry, haskap, blueberry, and strawberry. You'll also find products like strawberry butter, pumpkin butter, and red bean butter. They make lovely gifts, especially if you buy and arrange several varieties together.

The expiration date is one year after production, so you can definitely buy more than one, whether for yourself or as souvenirs!
5) Ripe Dried Sweet Potato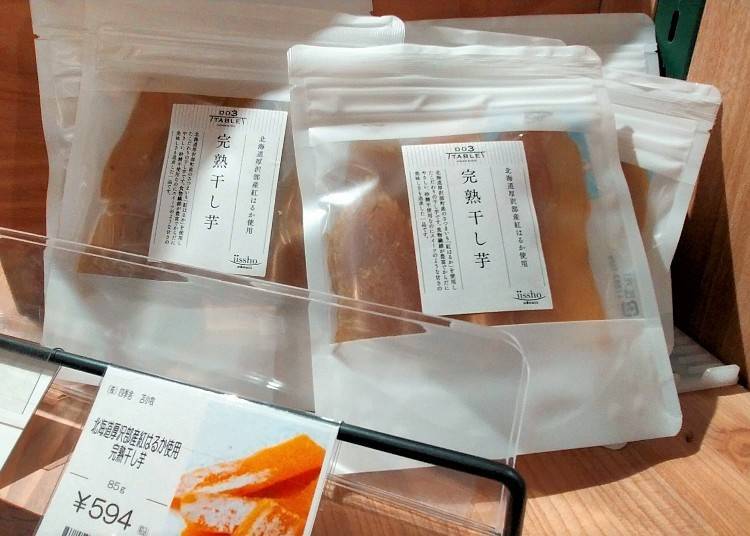 Ripe Dried Sweet Potato (85g, 594 yen)
This sweet potato snack is made with sweet potatoes of the variety, Beni Haruka, which comes from southern Hokkaido's Assabu Town. You can buy them in the snack section of the table scene corner. Although not made with sugar, it has its own sweetness and is rich in dietary fiber. We highly recommend this product for anyone who loves sweets but is also conscious of their health. To bring out the potato's natural sweetness, even more, we recommend enjoying it with a cup of tea or coffee.

The expiration date is 90 days after production when stored at room temperature.


Hokkaido Shiki Marche is packed with delicious foods from all over Hokkaido. With convenient access and a ton of items to choose from, it's also one of your best bets for souvenir shopping! Each item is produced and sold with care, and a number of them are limited goods that you won't find anywhere else. So head to Hokkaido Marche, do some souvenir shopping, and fill yourself up on delicious local foods!


Getting there
JR Lines:
1 min. from Sapporo Station

Subway Namboku Line/Toho Line:
3 min. from Sapporo Station

Multilingual support
Signs in facility are in Japanese. Some staff members can speak English.

Health & safety measures
Indoor disinfection measures taken - Sanitizer available - Ventilation measures taken - Coin trays used - Staff wear masks, gargle, wash hands regularly, and monitor body temperature - Entry declined to anyone feeling unwell - Guests are asked to wear masks
Hokkaido Shiki Marche, Sapporo Stellar Place

北海道四季マルシェ 札幌ステラプレイス店

Address

2 Chome, Kita 5 Jonishi, Chuo Ward, Sapporo, Hokkaido, Sapporo Stellarplace CENTER 1F 060-0005

Phone Number

011-209-5337

TEL:
・Sapporo Agricultural College: 011-590-4805
・Takeaway Hotei: 011-209-5757

Hours:
・8:00 a.m. - 9:30 p.m.
・Sapporo Agricultural College: 9:00 a.m. - 9:00 p.m.
・Takeaway Hotei: 11:00 a.m. - 9:00 p.m.

Closed: Open daily
Special campaign! (From November 1, 2022 - March 31, 2023)
Holders of a Hokkaido Rail Pass can receive 5% off on select products at Hokkaido Shiki Marche Sapporo Stellar Place.
See here for details.
*Some foods may be prohibited from being brought into other countries. For details, please check your country's embassy website, and be sure to follow the rules and laws of each country.

*Information in article as of December 2022. Please see official websites for the latest updates and information.


Text by: Nobuka Kawashima

English translation by Krys Suzuki
*This information is from the time of this article's publication.
*Prices and options mentioned are subject to change.
*Unless stated otherwise, all prices include tax.