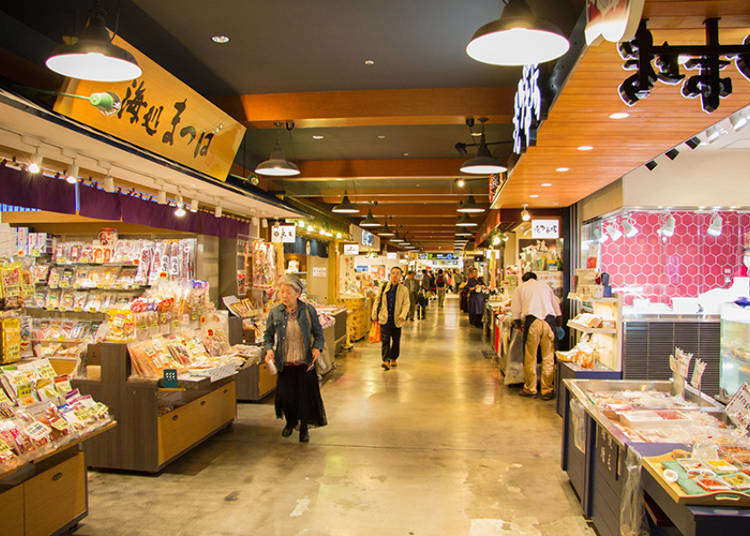 New Chitose Airport is Hokkaido's aerial gateway through which over 20 million visitors pass each year. It is also the main airport for getting to Sapporo.

Since its terminal buildings were renovated in 2011, New Chitose Airport has been transformed into a commercial complex hosting a wide array of new shopping and dining experiences. In addition, entertainment and relaxation facilities have also been added further adding to the attractions offered.

Let's take a closer look at these exciting new facilities in the terminals!
Domestic Terminal Floor 2: Shopping World - Wide Selection of Hokkaido Souvenirs
Shopping World is a spacious area in the departure lobby for domestic flights in Terminal 2. In addition to travel items, famous Hokkaido sweets and a variety of other goods are offered. The following is an introduction to some of the shops located there and what they offer.
Domestic Terminal Floor 2: Sky Shop Ogasawara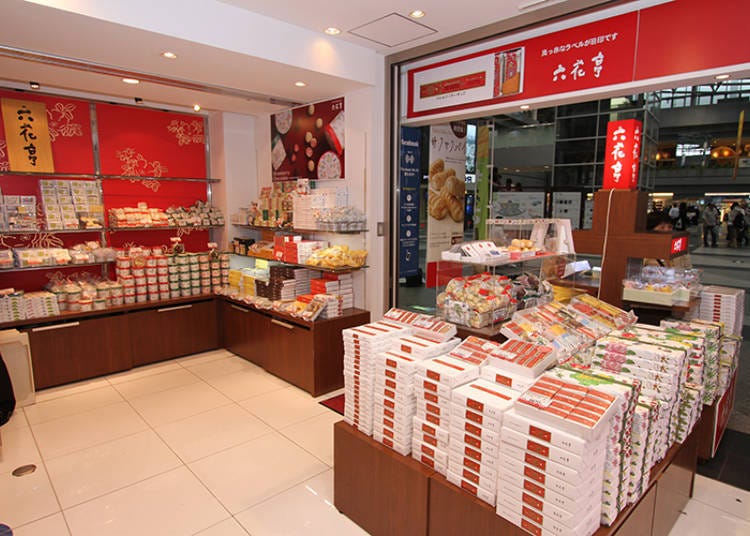 Offering one of the widest selections of Rokkatei gift items
Here are two shops offering an excellent selection of Hokkaido products located in the spacious Center Plaza of the departure lobby for domestic flights.

One is the Sky Shop Ogasawara which offers a selection of popular products manufactured in Hokkaido, such as the famous Rokkatei brand which is famous throughout Hokkaido.

This is the best place in the airport where you can sample and savor the Rokkatei Sakusaku Pie (180 yen each), pie shell that is filled with delicious cream after being ordered.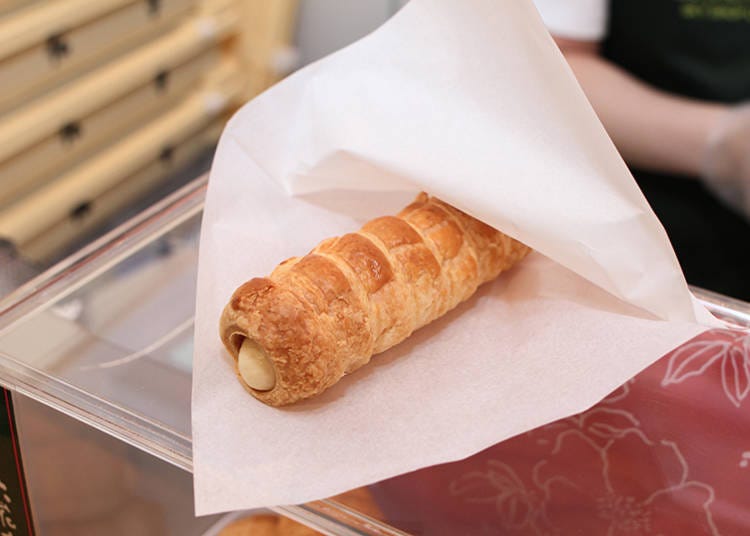 The Rokkatei Sakusaku Pie (180 yen). Filled with cream after being ordered
Manufacturers in Hokkaido actively seek to create new popular items, such as the Jagamorokoshi (777 yen for a box of 8) produced by the confectioner and boulangerie Morimoto.

Hokkaido is famous for the sweet flavor of its corn and potatoes grown in Chitose. Corn is often served grilled and seasoned with soy sauce while potatoes are roasted and then slathered in butter. Jagamorokoshi is this combination of popular flavors served in a flake-form confection having a sweet, soy-flavored taste that is quite unique.

Other popular treats are the Mero~na Burakku Sanda- (864 yen for a box of 12), offered only in summer, instant ramen packages of famous ramen shops, and Tokachi Ezo Pork Salami.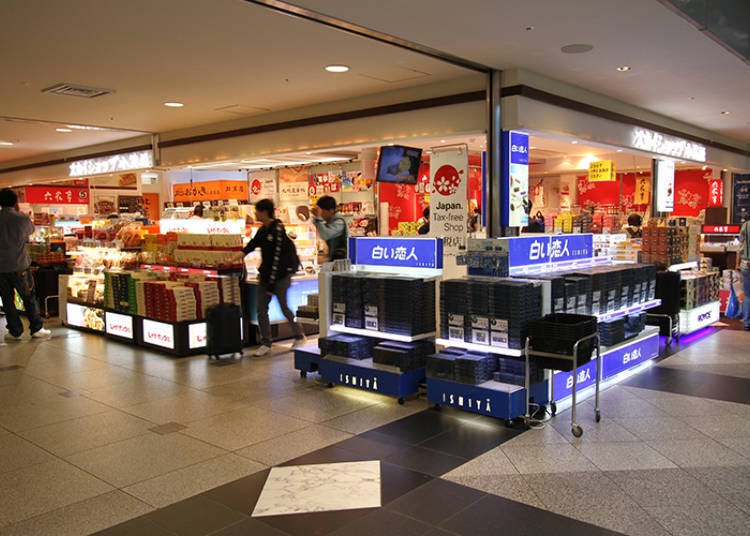 Center Plaza off the 2nd floor domestic flights departure lobby
Domestic Terminal Floor 2: Snow Shop
Ample selection of the famous Ishiya Seika Shiroi Koibito confection!
The Snow Shop offers a broad selection of popular Hokkaido gift items manufactured by a number of Hokkaido brands and is also located in Shopping World.

The Shiroi Koibito made by Ishiya Seika is very popular and limited edition items of it are offered here. Another popular item is its own original ramen which is highly acclaimed.

The noodles are made with Hokkaido wheat, and the soup has a deep soy flavor seasoned with salmon shavings. This is the Shake Bushi Ramen (540 yen for 2 servings). There is also the Hotate Ramen (540 yen for 2 servings) that has a 100% salt-flavored soup made from Hokkaido scallops.

The robot Pepper in front of the shop is also popular. When you speak to it, it will suggest the perfect item for you based on its assessment of your personality.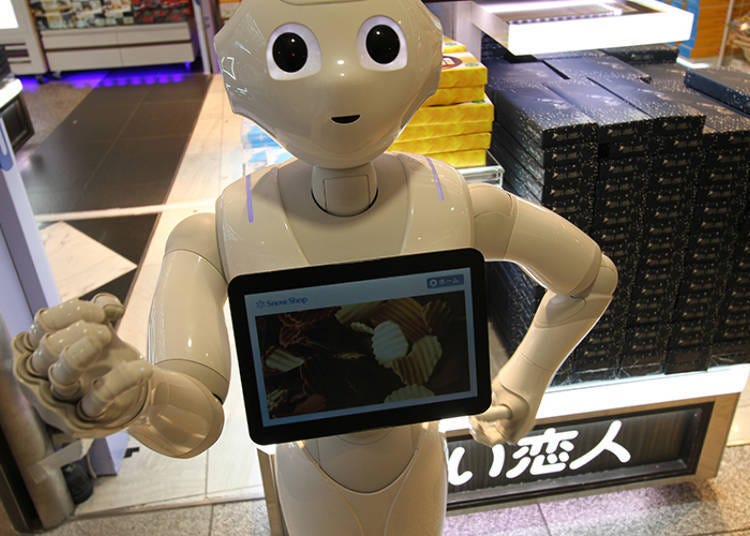 The robot Pepper will answer your questions and make selections it thinks you would like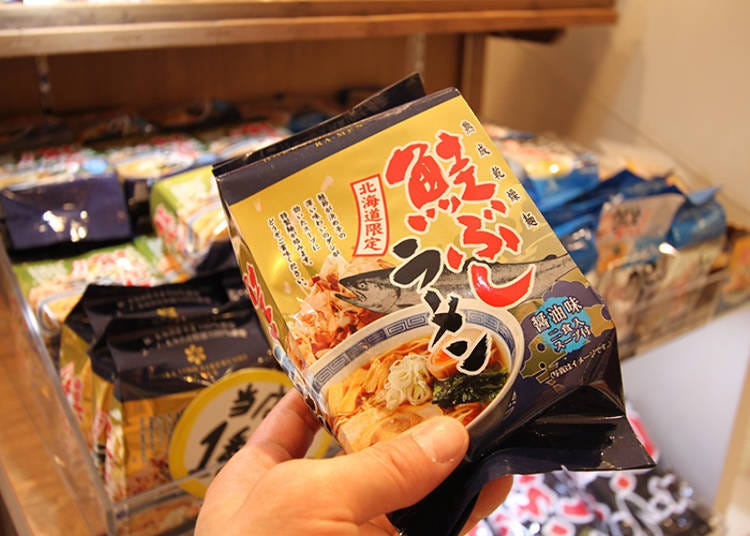 Original popular items. Shake Bushi Ramen is especially popular
Domestic Terminal Floor 2: Dosanko-sanchoku Ichiba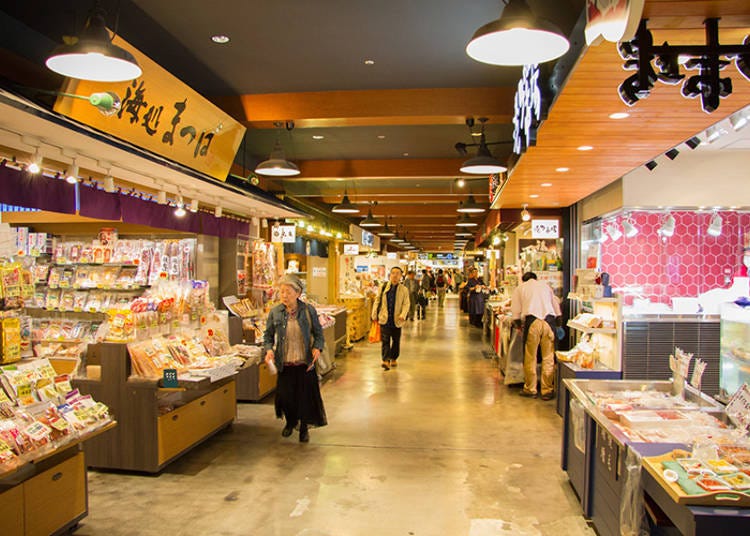 Processed foods and gift items manufactured in Hokkaido
As you go towards the International Flights connection facility from Shopping World you will see the Dosanko-sanchoku Ichiba (Hokkaido Products Direct Sales Market) which sells Hokkaido seafood and fresh products.

In addition to such fresh seafood products as crab and salmon, fresh agricultural produce such as asparagus and potatoes are offered as are other Hokkaido food products such as processed cheese and ham. There is a corner where you can sample these items. This area has the feel of an actual street market.
Domestic Terminal Floor 2: Sweets Avenue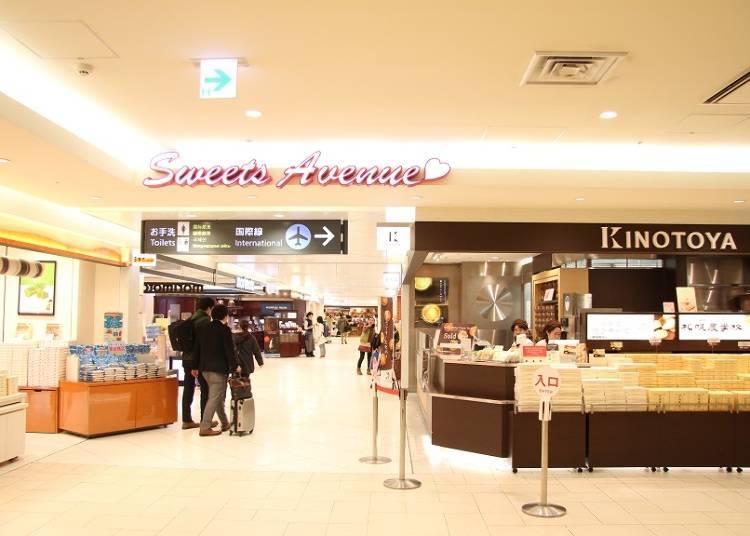 The spacious Sweets Avenue located near the International Flights connection passage in the Shopping World on the 2nd floor of the Domestic Flights terminal
Sweets Avenue is a particularly popular part of the Shopping World housing such famous Hokkaido confectionery shops as Hanabatake Ranch, Royce, LeTAO, and Snaffle's.

The Ryugetsu Sanporoku Studio located here offers the famous Tokachi confection Ryugetsu as well as its famous Sanporoku Baumkuchen cake. The Sanporoku no Kowari, a set of 5 individually wrapped bite-sized pieces (from 600 yen), makes the perfect gift.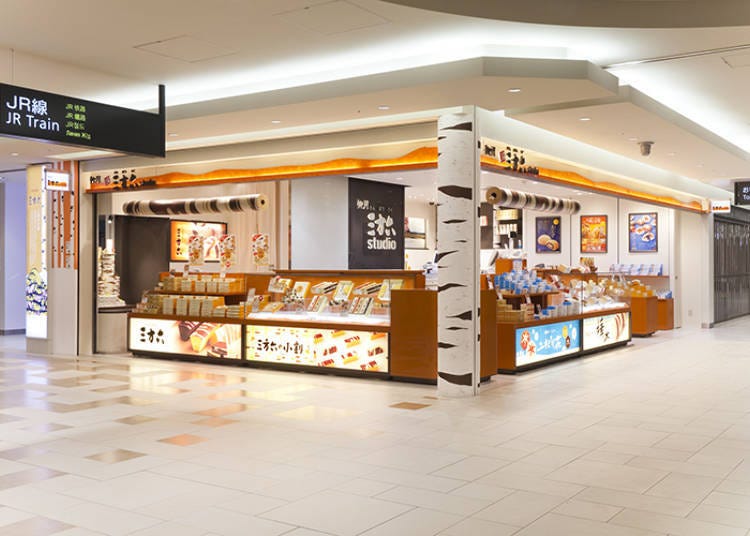 Ryugetsu, a shop long established and well known for its confections made only with the best Hokkaido ingredients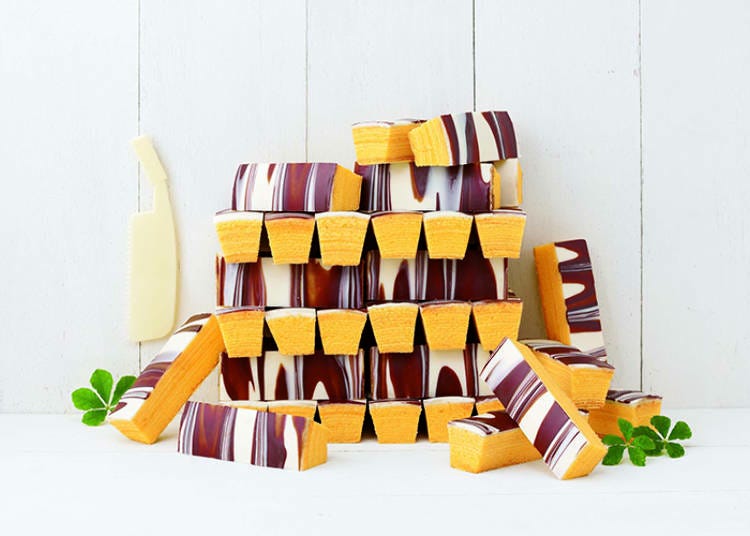 Sanporoku Baumkuchen in its distinctive axe head shape. The mixture of milk and white chocolates resemble the bark of a birch tree
The Snow Brand Parlor is also located in Sweets Avenue. It specializes in dairy products, such as ice cream and cheese that are made exclusively with Hokkaido milk and only sold here.

We recommend you try the New Chitose Airport Soft ice cream cone (390 yen). This is the only airport in Japan to house its own ice cream factory! Made with 100% Hokkaido milk and cream, the ice cream has a rich, sweet flavor that melts in your mouth and is available either in a cone or cup.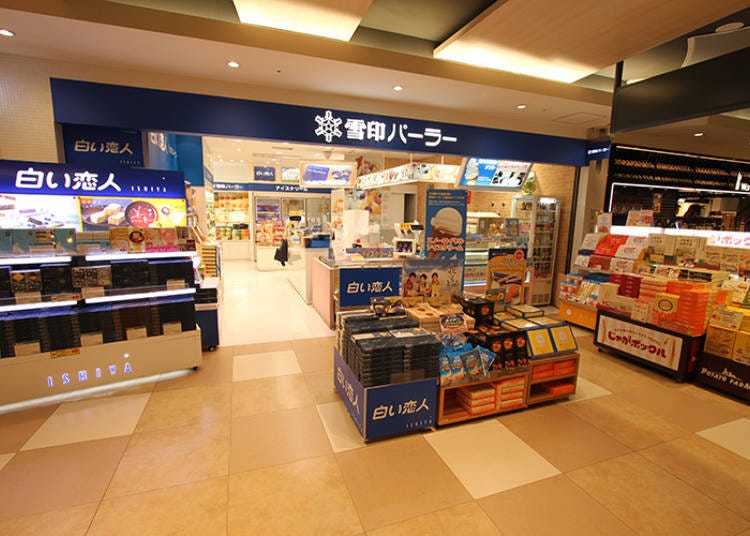 Snow Brand Parlor popular for its ice cream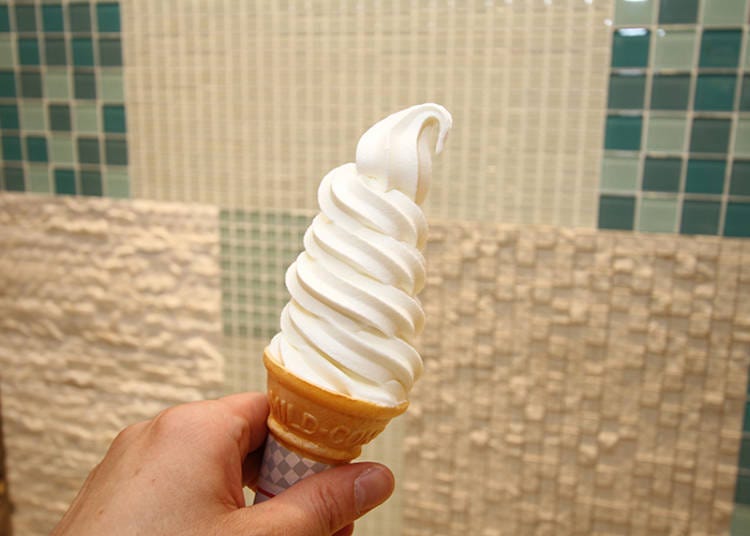 The New Chitose Airport Soft ice cream cone (390 yen) made in the factory in the airport
Domestic Terminal Floor 3: Gourmet World - Enjoy the full flavor of Hokkaido!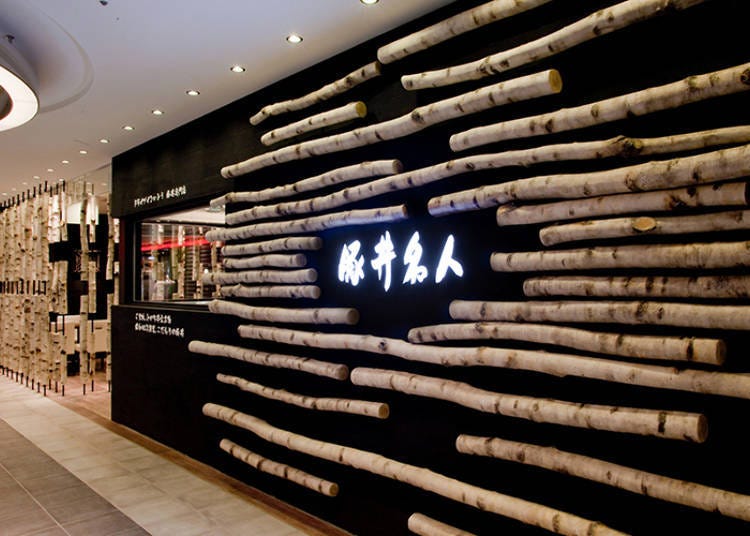 Butadon Meijin, located in Gourmet World on the 3rd floor of the Domestic Terminal, offers a selection of delicacies, famous in the Tokachi region, from its many stores throughout the prefecture
The Gourmet World on the third floor of the Domestic Terminal is lined with dining facilities. Many of the famous eating establishments of Hokkaido have shops here offering specialties for which they are renowned such as seafood bowls, Jingisukan, and soup curry.

Butadon Meijin is one such shop. The main restaurant is located in the town of Shimizu in the Obihiro area. The standard Butadon, which comes with miso soup and pickles, (972 yen) is a succulent bowl of pan-fried carefully selected slices of pork loin on a bed of rice and covered with a secret thick, sweet, and spicy sauce.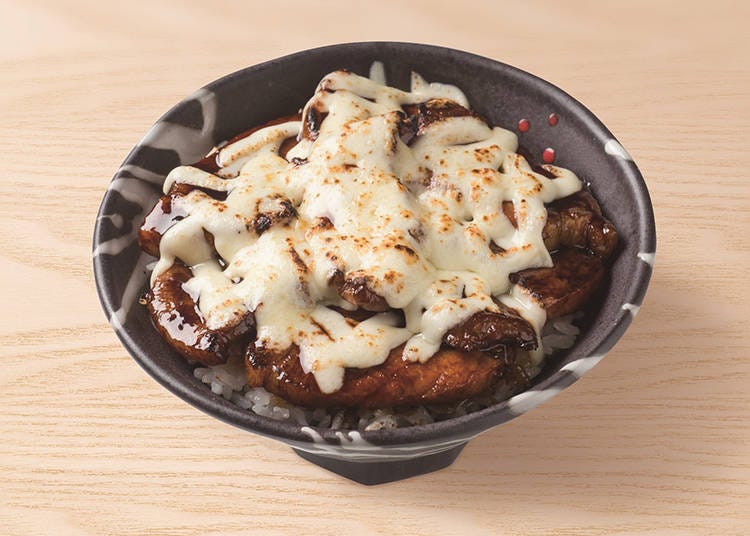 Aburi Cheese-don (1,242 yen) that comes with miso soup and pickles. Hot, fried pork topped with melted natural cheese.
The Aburi Cheese-don (1,242 yen), which comes with miso soup and pickles, is the most popular item on the menu here. The cheese and sauce are a perfect match on this broiled pork bowl.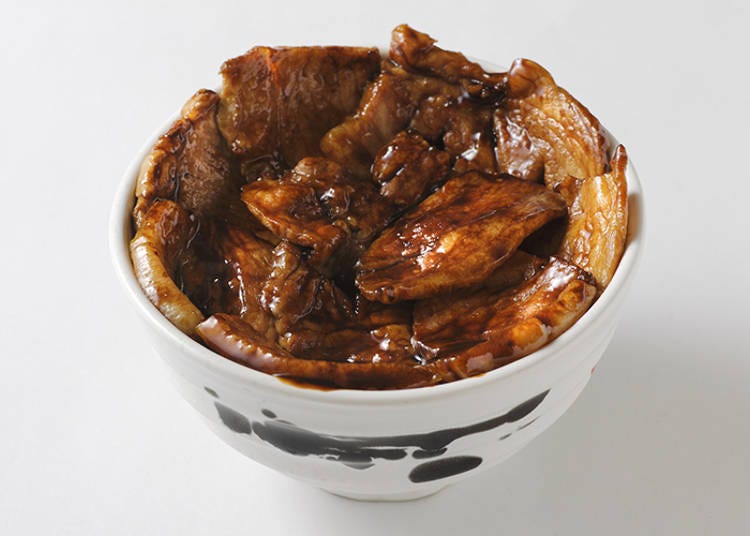 Nikumori Butadon (1,296 yen) comes with miso soup and pickles. Thick slices of pork heaped on a bowl of rice
Another popular item on the menu is the Nikumori Butadon (1,296 yen) that also comes with miso soup and pickles, containing a healthy portion of prime meat.
Domestic Terminal Floor 3: Shiden-dori Shokudo Machi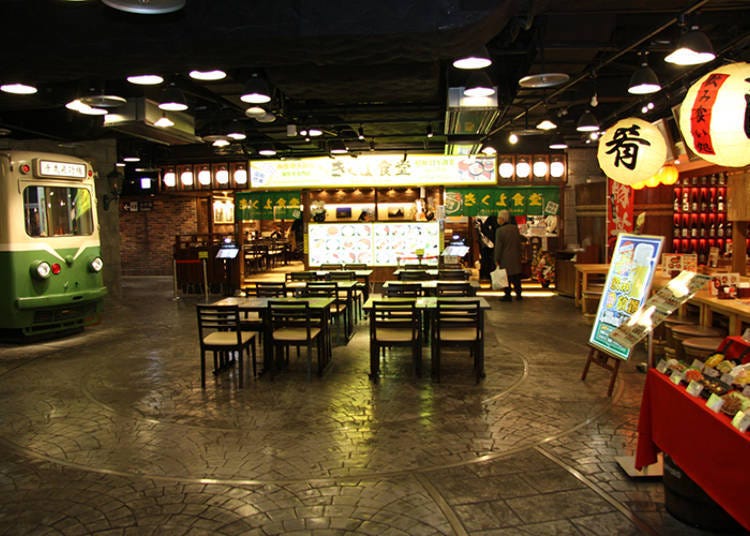 Shiden-dori Shokudo Machi (Streetcar Road Diners) reproduces the retro atmosphere of a former time. Shops in this area serve seasonal dishes using the freshest ingredients Hokkaido has to offer
One corner of Gourmet World is called the Shiden-dori Shokudo Machi offering different menus using the finest Hokkaido food ingredients.

Its cobblestone street lined with old street lamps and shops reminiscent of food stalls harken back to an older time, the centerpiece of which is an old-fashioned streetcar. You can actually board it and look at the driver's area.

Offered in these shops are seafood bowls, soup curry, and there is even a bar. Here also is a Kantaro, a rotary sushi of the same fame as the one in Hakodate.

It offers a wide selection of seafood with large portions of neta (seafood slices) served on smaller portions of shari (rice). Plates start from 162 yen. And as with a regular sushi shop, you can also order freely sushi of your preference.

Kantaro is popular with foreign visitors as well as Japanese domestic travelers.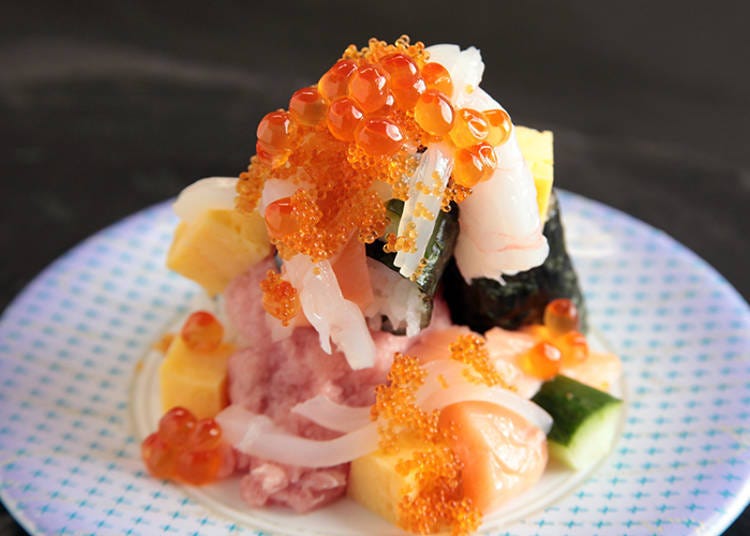 Kantaro's famous Kaiho Kobore Maki (594 yen). This sushi roll is topped with salmon roe, negitoro (minced tuna), and other types of seafood!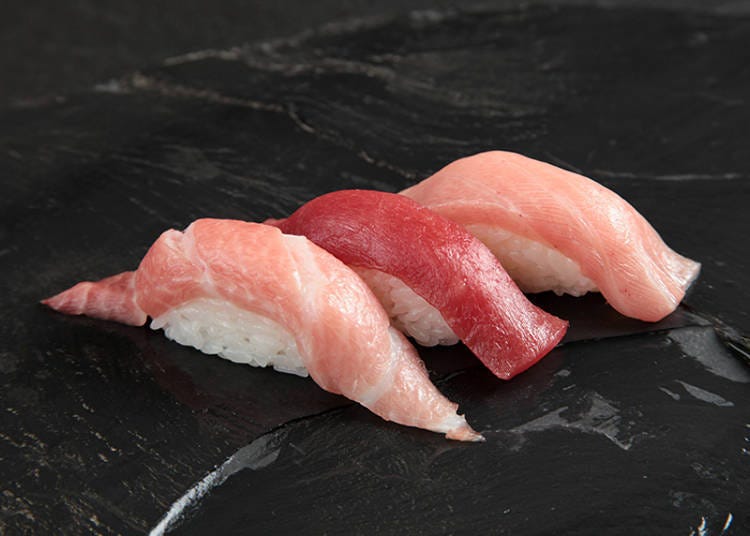 If you like tuna, try the Honmaguro Sanmi (918 yen) consisting of the three main types: otoro (fatty), chutoro (medium fatty), and akami (red meat)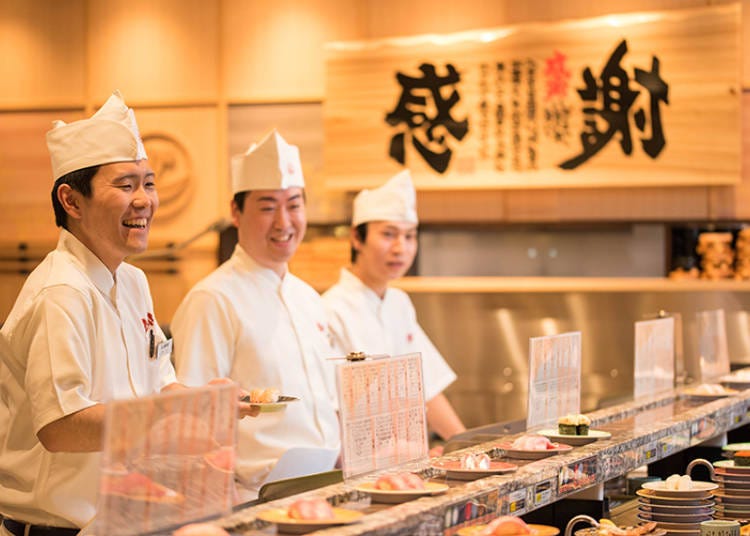 You can watch the chefs prepare the sushi either for placing on the rotary or to your specification
Domestic Terminal Floor 3: Hokkaido Ramen Dojo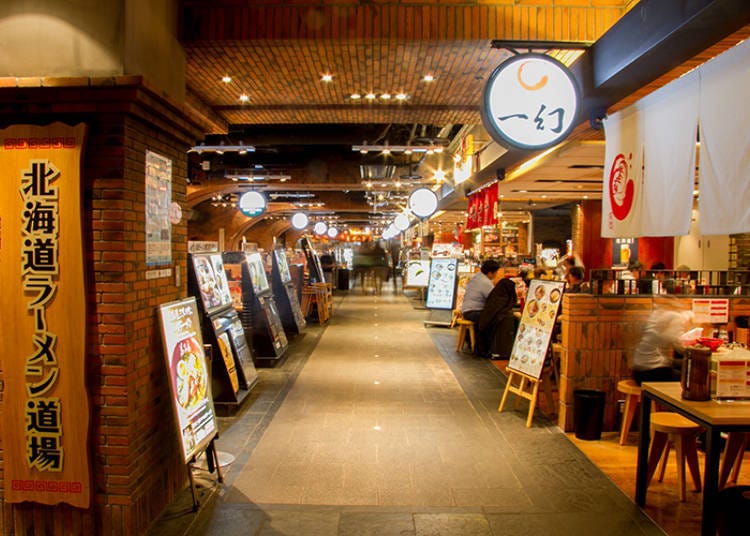 10 shops of actual ones found throughout Hokkaido, popular with diners every day
Another corner in the Gourmet World is the Hokkaido Ramen Dojo visited by many sightseers. These 10 shops include some which have been long established and others which are new, each being popular in its own right.

The Sapporo Miso Ramen Senmon-ten Keyaki is one of these. The main shop, located in the Susukino district of Sapporo, is one of the oldest miso-style ramen shops.

Naturally, its Miso Ramen (870) is very popular. The soup is a blend of three types of miso that give it a rich, deep flavor. It is the true taste of Sapporo.

Another favorite is Corn Butter Ramen (1,100 yen) which, as its name suggests, is a bowl of ramen topped with buttered corn. For Hokkaido crab lovers, there is the Kanikani Ramen (1,500 yen) that is topped with crab meat.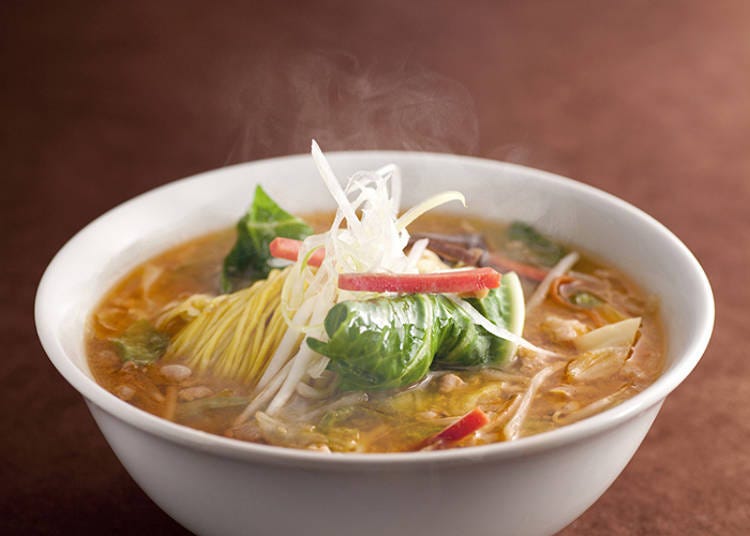 Miso Ramen (870 yen). A delightful combination of medium-thick noodles in a thick, rich miso soup – a bowl on the royal road of ramen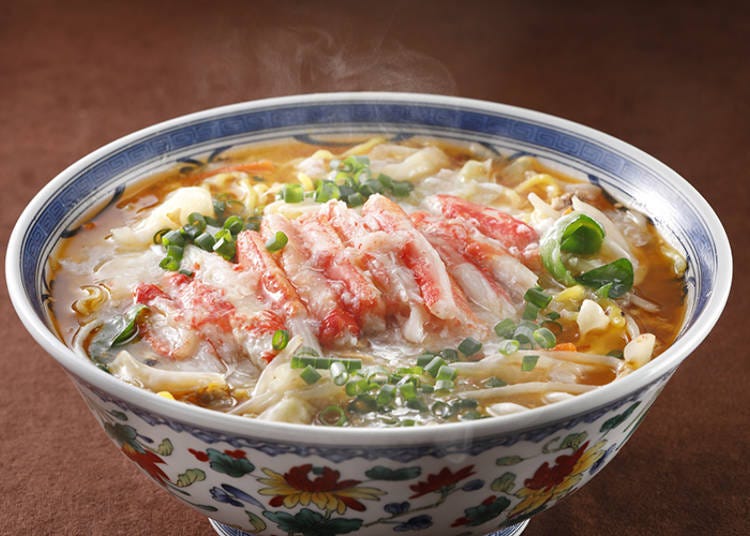 The Kani-iri Kitan no Zeitaku Ramen (1,500 yen), a bowl topped with luxurious crab meat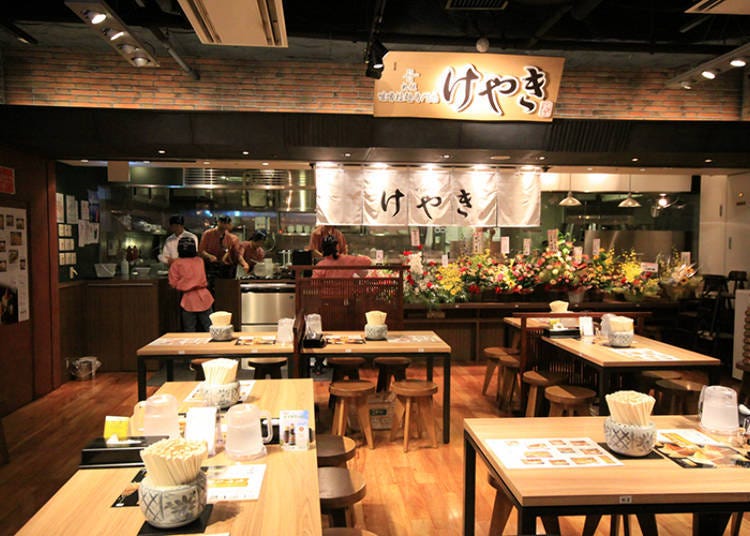 A view inside a shop after it has just opened. You can select a shop to visit after viewing its menu
Domestic Terminal Floor 3: Food Court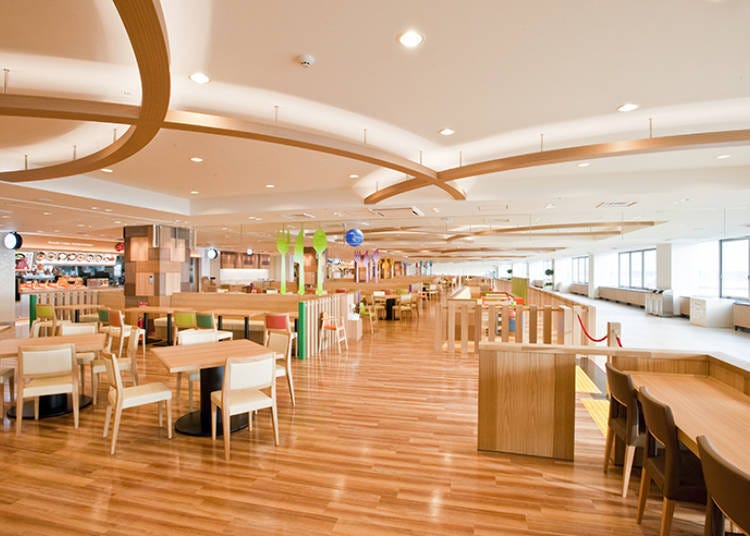 The open food court. A good place from which to view the runways through the large windows
The Food Court is between the Gourmet World and Sky Market on the opposite side. Trying to decide where and what to eat can be a time-consuming experience. When looking for something easier, the Food Court is the answer with its offering of different menus.

Here there are 7 shops offering such selections as Jingisukan, tonkatsu (pork cutlet), udon, Indian curry, and Korean cuisine. All share the same dining area.

Plus, the dining area offers an excellent view of planes landing and taking off while you enjoy your meal.

Hours: Domestic Terminal 6:20 AM - 11:00 PM; International Terminal 6:00 AM - 9:00 PM; Connection area, 6:20 AM - 11:00 PM
Address

987-22, Bibi, Chitose-shi, Hokkaido, 066-0012
View Map

Nearest Station

New Chitose Airport Station (Chitose Line)


Phone Number

0123-23-0111
Other Articles About New Chitose Airport
* Data current as of June 21, 2018
*This information is from the time of this article's publication.
*Prices and options mentioned are subject to change.
*Unless stated otherwise, all prices include tax.
Limited time offer: 10% discount coupons available now!