Where is the best place for Hokkaido dessert? About a 1-hour drive east of Sapporo, the town of Yunicho is in a beautiful farming area lying at the base of gently rising hills.

Here is located the popular ice cream shop Ushigoya-no-Ice that draws huge crowds on the weekends.

The secret to its popularity lies in the delicious flavor of the ice cream made with milk fresh from the cow and the large number of varieties offered. Equally popular is the charismatic staff! Here are some delicious looking and tasting "fun" flavors.
Ushigoya-no-Ice: The ice cream shop where it is fun to talk with the lively manager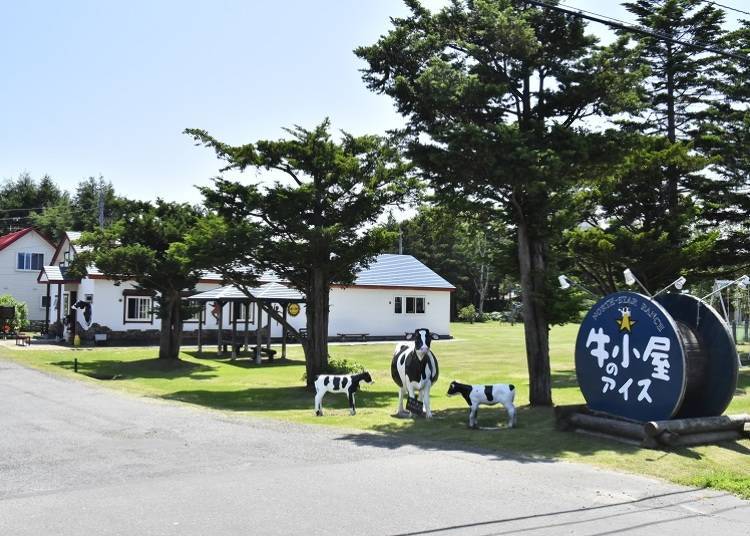 The Ushigoya-no-Ice ice cream shop is on National Highway 274 that is blanketed on both sides by fields and ranch lands. It is directly managed by the adjacent Hosoda Ranch, and since it opened in 2004, it has become a popular shop that draws many people from far and wide.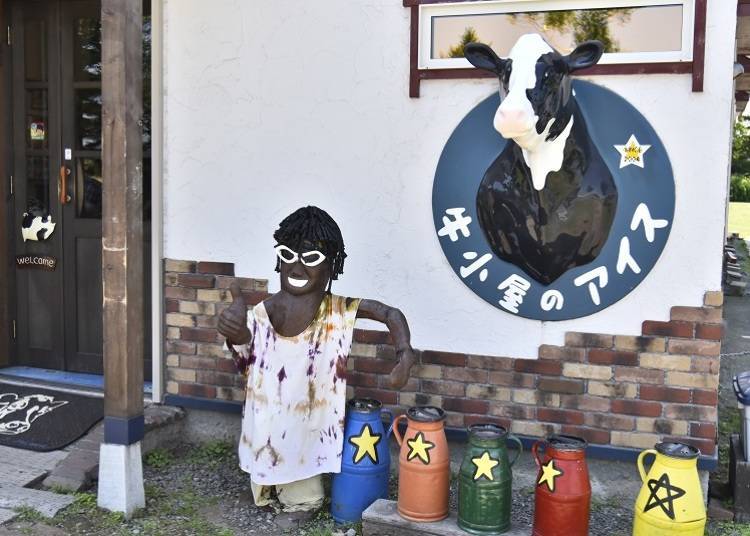 I wondered what the figure by the door meant. Stickers of the same figure were on sale inside the shop. They all seem to be modeled on the shop manager Yatchan!

"I wanted customers to be surprised by what they see, think the ice cream is delicious when they eat it, and have fun while they are in the shop," a smiling Yatchan energetically said as he handed me an ice cream.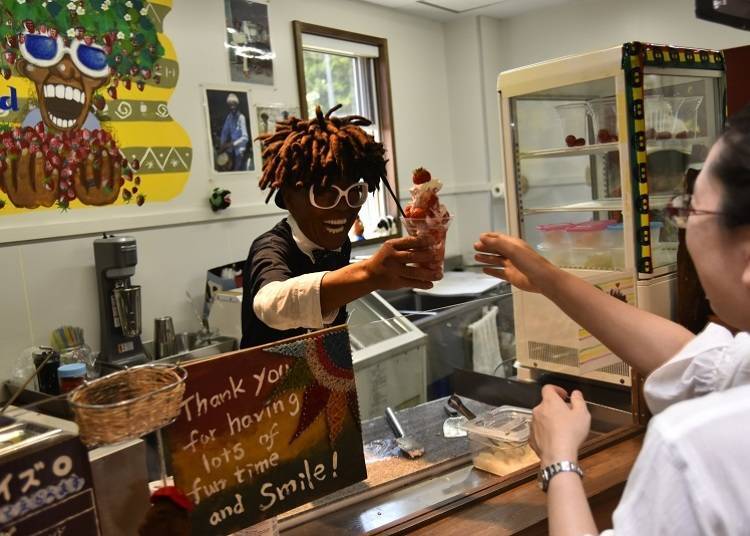 This store is the result of thinking about how to keep the ranch going for a long time. He decided that to open a specialty ice cream shop selling homemade ice cream would encourage more people to come to the ranch.

With former staff member Yatchan as the nucleus, the shop came into being and also helped give Hokkaido a new image.

"I love summer! I love reggae! So, I wanted to create that sort of atmosphere in the shop. If you come here, it will always feel like summer while you are eating our ice cream and that should make you feel great!"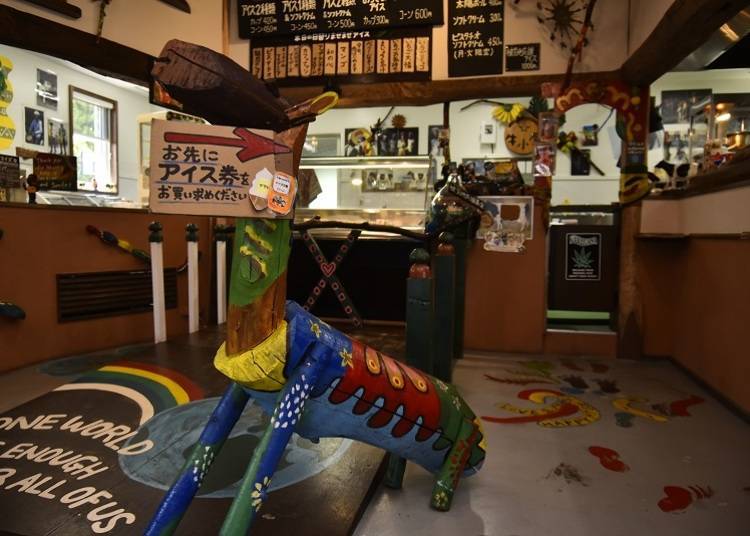 This rich menu is truly a once-in-a-lifetime experience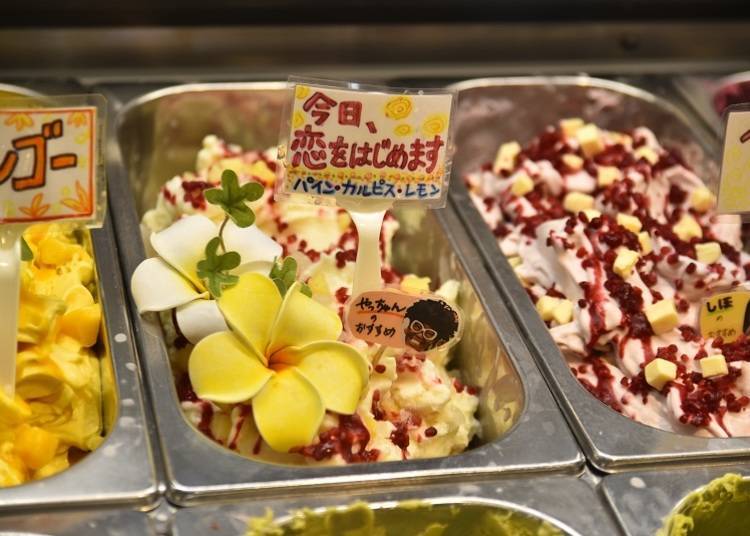 Since it opened, the shop has been a pioneer in Hokkaido in the making of mazemaze [mixed] ice cream using seasonal ingredients. In that time it has created more than 200 different varieties and every day 16 of these are offered in the shop.

On weekdays he begins making the ice cream flavors from 3:00 a.m. to be offered that day and on weekends he starts making them at midnight.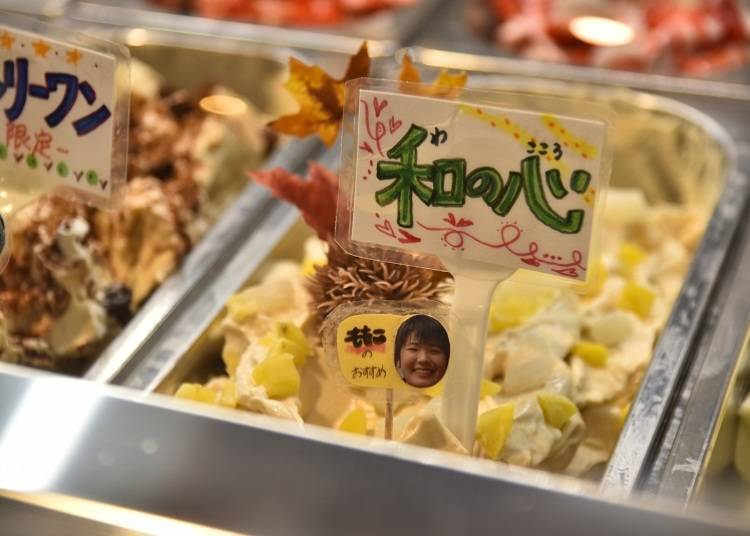 Based on the ingredients used that day in the making of the 16 types of mazemaze ice cream and in consideration of such factors as the temperature and humidity, each staff member makes a recommendation that is posted together with his or her photograph.

Every day a single type is introduced as the Only One Mazemaze and limited to just that day, however, if a customer should say that he or she would like to have it again and can think of a name for it, then that flavor will be added to the list of flavors.

So far 15 new flavors have been given names by customers and added to the list.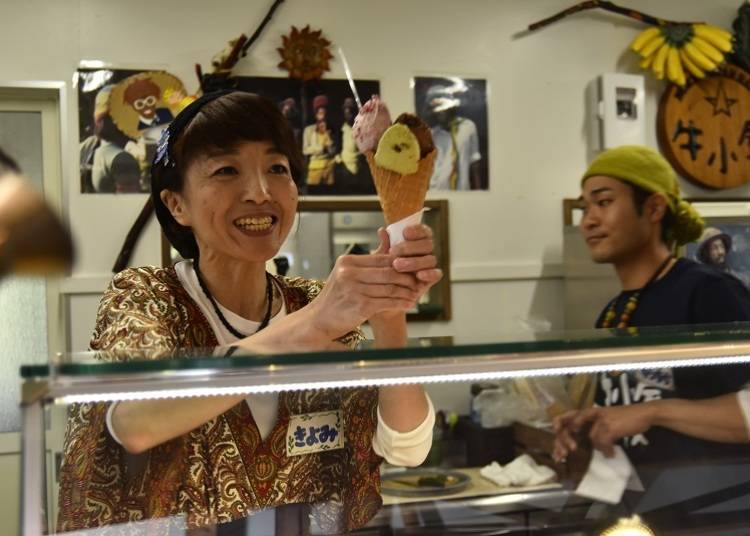 The ingredients, toppings, and the soft ice cream all mixed together create a new and different eating experience. There are a lot of strange names, but if you convey your preferences, the staff will not only describe the flavor but also give recommendations of what combinations go well with it and other points leading to pleasant conversations when deciding what to order.

What about English? Yatchan laughing admitted that it was difficult trying to explain things to foreigners, but that doesn't stop him from trying.
Two flavors of ice cream in a cup costs 420 yen and in a cone 450 yen. Three different types are served in cones only and cost 600 yen. I ordered a 3-scoop cone of the widely popular pistachio; "Today Love Begins" made with pineapple, lemon, and Calpis; and Strawberry Daifuku filled with Turkish delight.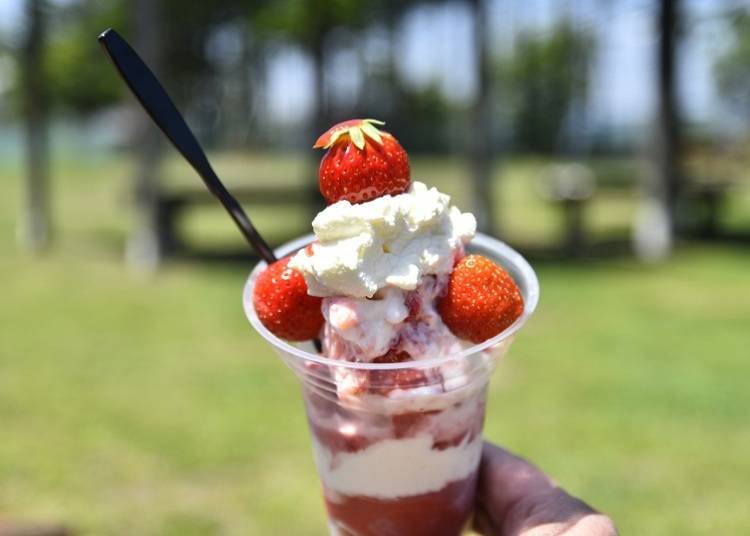 Currently there is a mazemaze limited time only parfait made before your very eyes.

On the day we visited organic strawberries freshly picked that morning from the nearby Kawashima Family were used to make a strawberry parfait that costs 950 yen.

Added to the ice cream mixed with strawberries were whipped cream, strawberry syrup, and topping; the gradation of sweet strawberry flavors had a refreshingly delicious taste.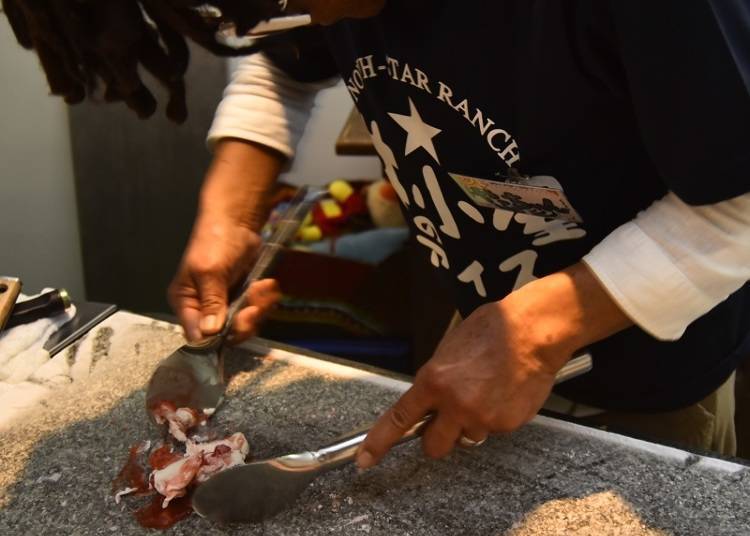 Also popular is the Milk Soft Ice Cream, 300 yen, that has a rich yet refreshing milk flavor. It was difficult trying to decide what to order.

I was told that some customers who come from far away will eat two or three 3-scoop cones before leaving. That is because this ice cream is famous for not making you thirsty no matter how much you eat.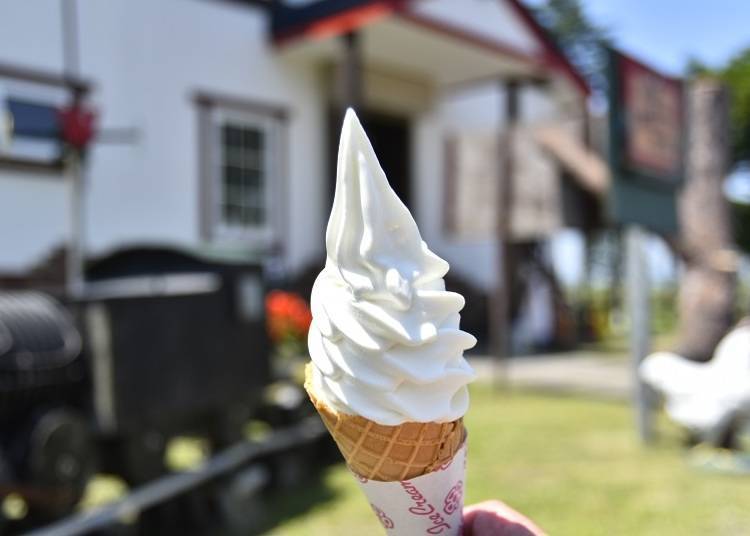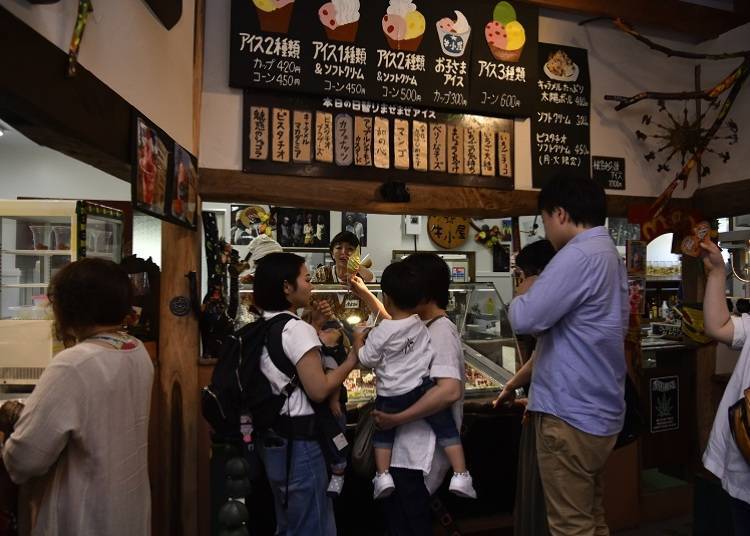 Even on weekdays, there is a constant stream of customers from the time the shop opens. On the weekends when the weather is good you sometimes have to wait 40 to 50 minutes because it is so popular! You might want to keep that in mind if you plan to visit on a weekend.

The interesting decorations and objects in the store as well as the cheerful interactions with the staff, especially Yatchan, will help make the time go by quickly while you wait.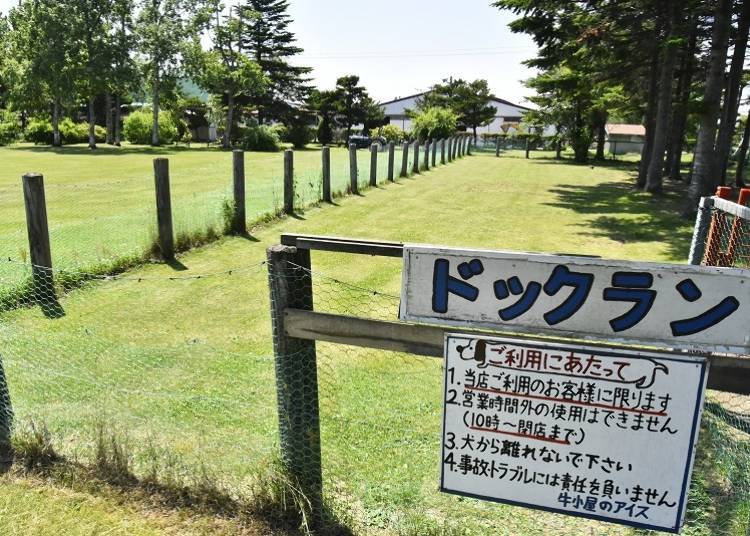 Outside the shop there are benches, a dog run, grassy space, and swings. These can be used freely by customers visiting with dogs and small children.

And being a ranch, there are of course cute calves, too! Lots of fun things await you here in addition to the ice cream. Why not take some time and drop by for a leisurely visit?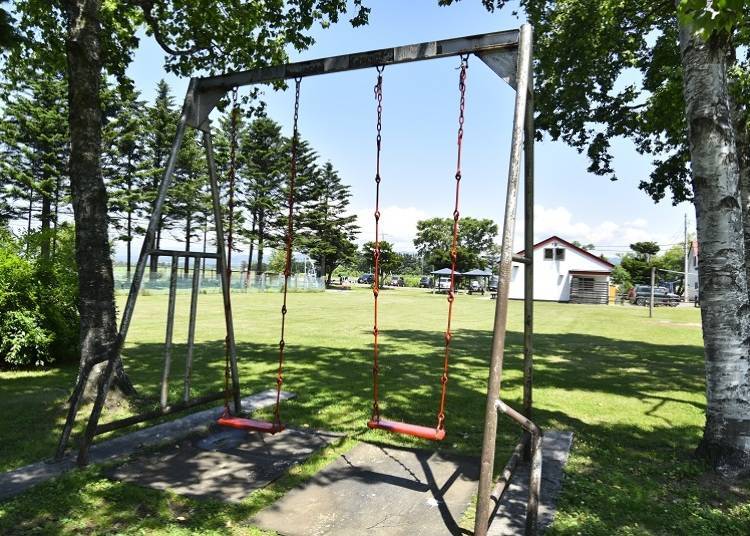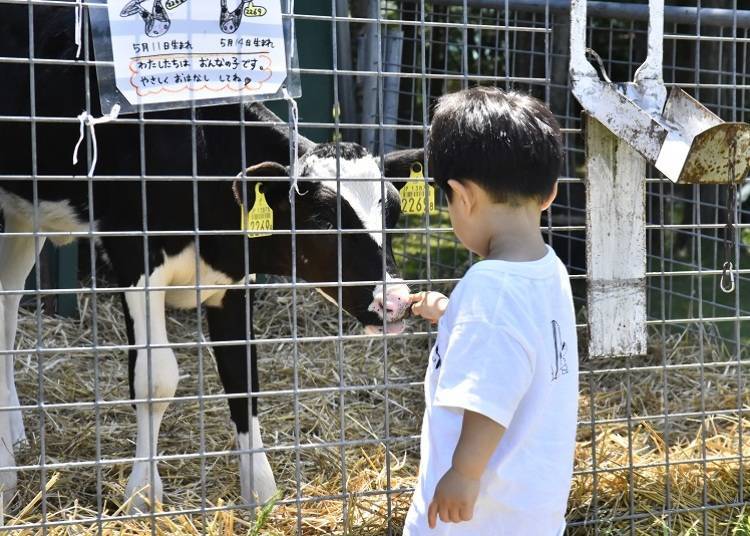 牛小屋のアイス

Address

Hosoda Ranch, 219 Nakamikawa, Yunicho, Yubari-gun, Hokkaido 069-1143

Phone Number

0123-86-2848

Open: April ~ September 10:00 a.m. ~ 6:00 p.m., October ~ November 10:00 a.m. ~ 5:00 p.m. *December ~ March closed for the winter
Closed: Wednesday and Thursday *days may vary depending on holidays such as Golden Week and Obon
Text by:minna no kotoba sha
*This information is from the time of this article's publication.
*Prices and options mentioned are subject to change.
*Unless stated otherwise, all prices include tax.