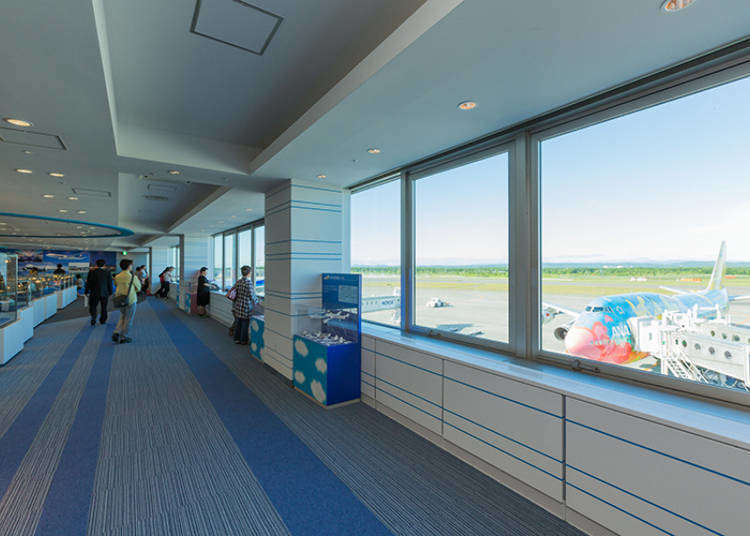 The New Chitose Airport is the aerial gateway to Hokkaido and is the largest airport in Hokkaido welcoming countless tourists annually.

This airport is so well-equipped with dining facilities, gift shops, entertainment, and relaxation facilities that it is hard to believe that it is an airport. Here are some spots in the airport we recommend.
A complete entertainment facility! Smile Road on the 3rd floor connection area
Smile Road is the corridor that runs between the Gourmet World on the third floor of the New Chitose Airport Domestic Terminal with the International Terminal and is called Smile Road.

Along this long corridor, there are a number of facilities offering a wide range of entertainment for all age groups, such as Doraemon Wakuwaku Sky Park and Hello Kitty Happy Flight. Royce' Chocolate World is very popular with children and tourists and a place we recommend you visit.
3rd floor connecting path: Smile Road / Royce' Chocolate World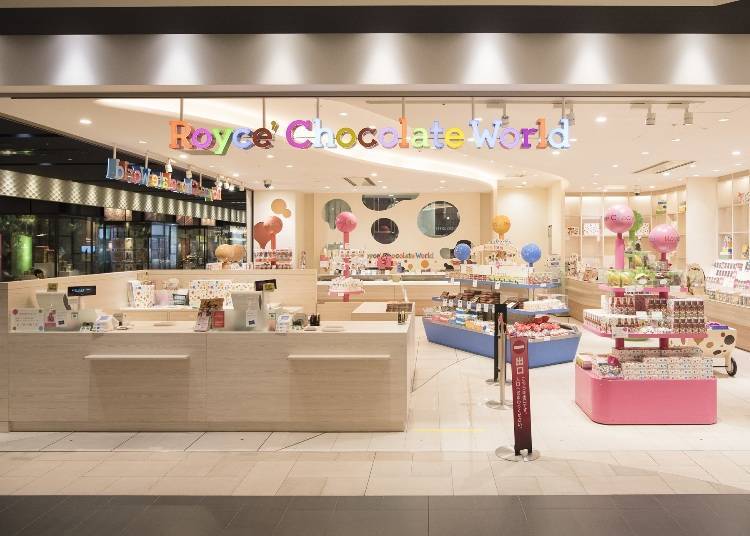 The colorful shop offers a wide selection of gifts and other items that can only be purchased here.
Shortly after entering Smile Road after leaving the New Chitose Domestic Terminal, you will be in the Sweets Zone.

In addition to a Starbucks there is a Castella cake shop and ice cream shop, and beyond them, Royce' Chocolate World. (The shop and museum are open from 8:00 AM to 8:00 PM, the factory is open from 8:30 AM to 5:30 PM, and the bakery is open from 9:00 AM to 8:00 PM. Admission is free.)

Here you can find a selection of original products as well as a museum showing the history of chocolate. You can also observe chocolate being made in the factory on the other side of a glass partition. The bakery serves freshly baked products.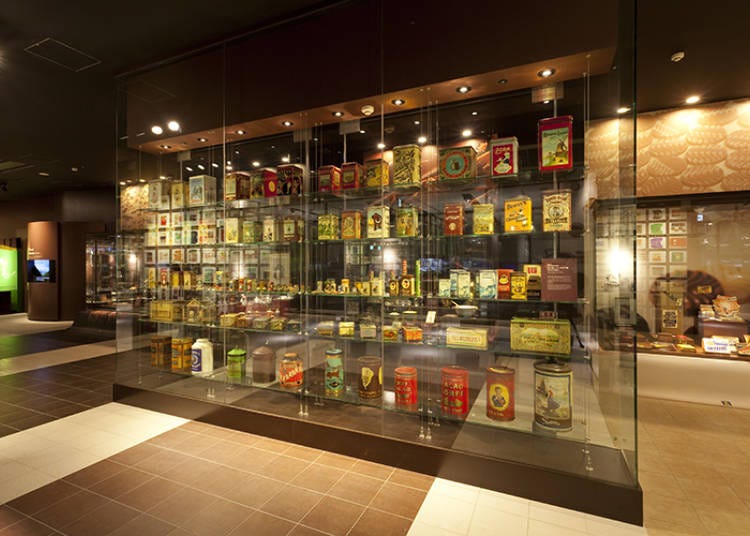 The museum displays a valuable collection of chocolate and cocoa canisters from around the world and also a history of chocolate. Perhaps here you'll learn something about chocolate you never knew before!
Adults and children alike will be transfixed watching the process in which chocolate is made into its various forms. In the bakery, renovated this year, the nama chocolate croissant (270 yen) are very popular. Other original products are also displayed, such as the cute Royce' Pop Chocolate (184 yen each) that are in the motif of animals and the Royce' Flower Chocolate in the motif of flowers found in Hokkaido (465 yen for a box of 12).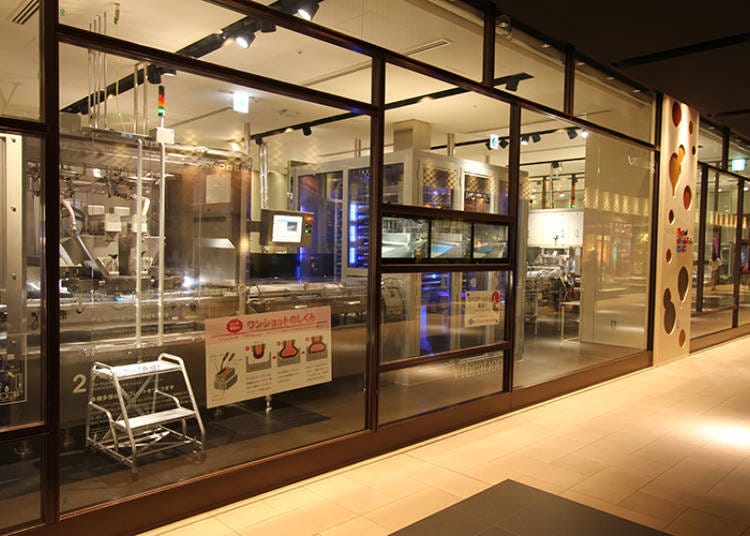 The factory behind the glass partition where you can watch chocolate being made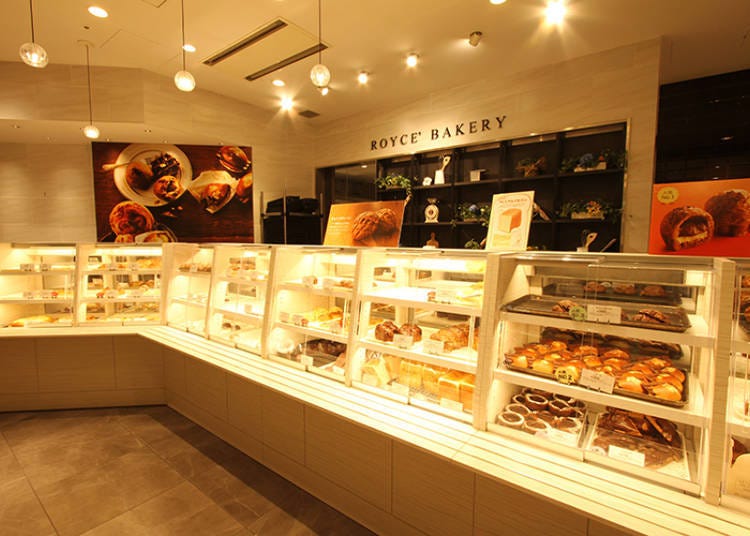 A wide selection of original Royce' bread products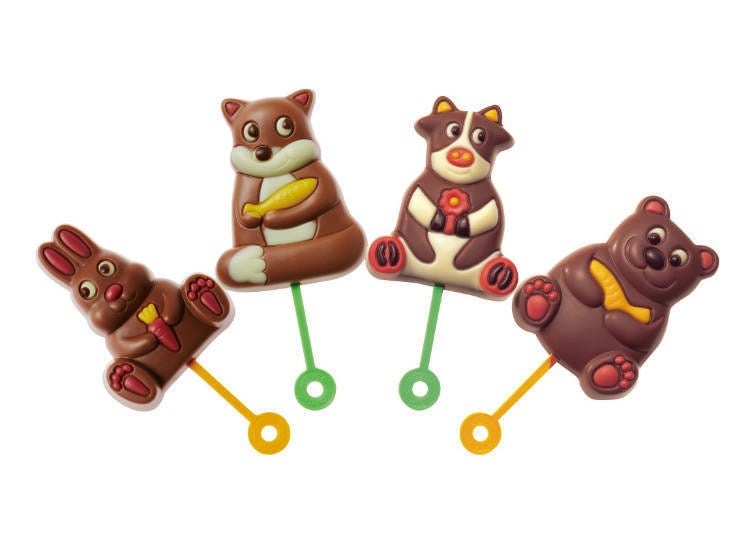 Royce' Pop Chocolate (184 yen each) use animals of Hokkaido for motifs - as delicious as they are cute!
Here are a few more enjoyable facilities you should visit in the New Chitose Airport.
New Chitose Domestic Terminal 3rd Floor: Food Court / Air Museum
The Air Museum (admission free; open 10:00 AM - 6:00 PM) is next to the food court on the third floor of the New Chitose Domestic Terminal. Here you can experience first-hand what flying is all about through a real flight simulator. There is also a corner for children where they can try on flight attendant and pilot uniforms for having their picture taken. There are also panels displaying the large tires, engines, and other parts of airplanes. There is also a display of model airplanes that give a historical perspective for aeronautical enthusiasts, be they children or adults.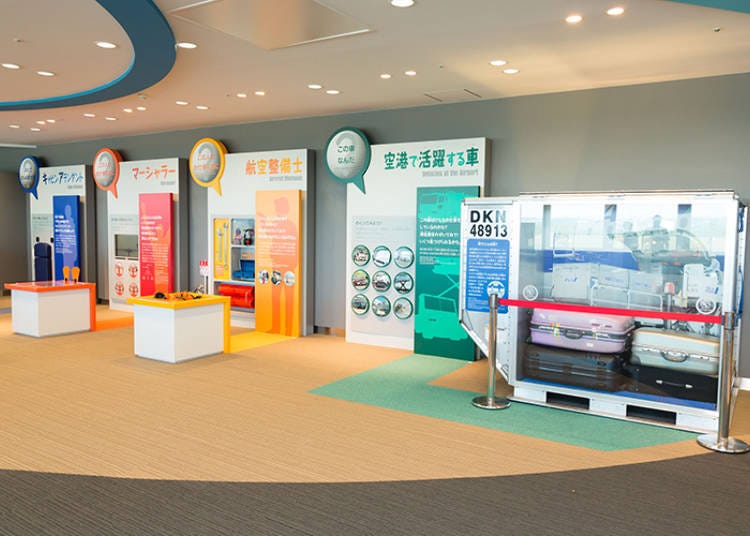 In this area you can use the actual tools and equipment that mechanics, marshallers, and others use in their work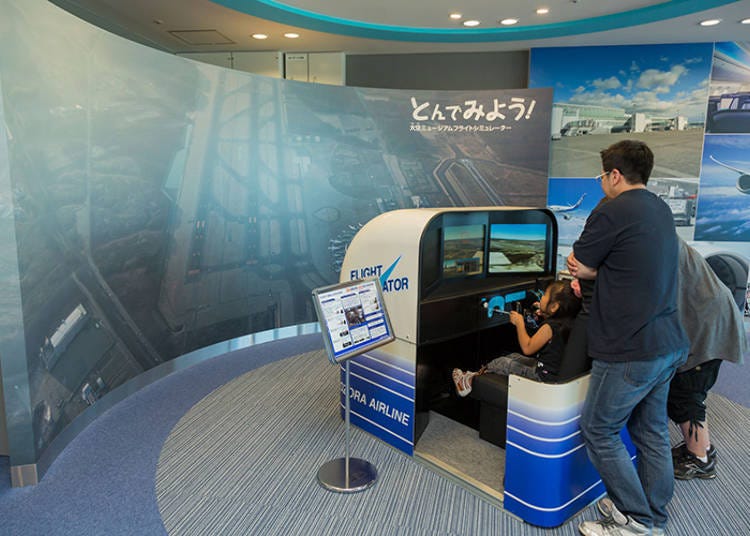 A flight simulator offering two courses (100 yen course - 2 min. 30 sec.; 200 yen course - 4 min. 30 sec.). The program simulates a flight into New Chitose Airport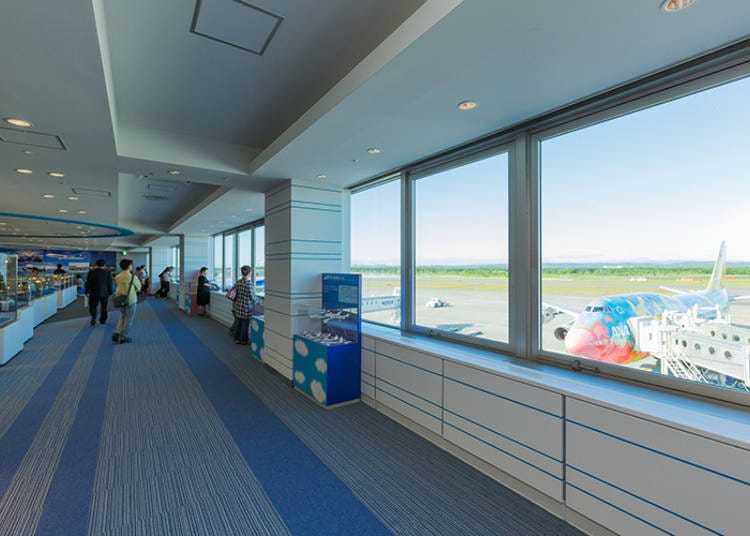 From the corridor you can view the runways and boarding bridges connected to planes
Domestic Terminal 4th floor: Oasis Park / Sora Cinema Chitose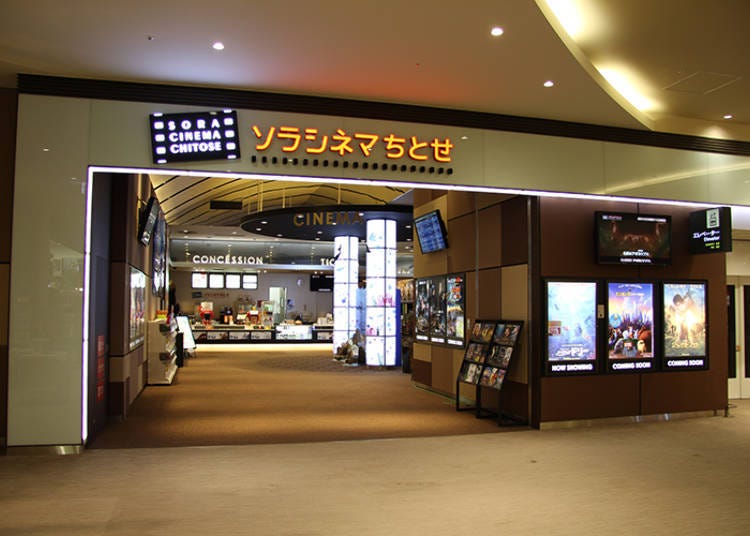 There are three screens inside. The perfect place to relax before your flight
Sora Cinema Chitose makes New Chitose the first airport in Japan to include a movie theater (general admission 1,700 yen; open 9:00 AM - midnight). It is located in the Oasis Park area on the 4th floor of the New Chitose Domestic Terminal. Both the special reclining and the standard seats have armrests. This is a place where you can relax before your flight enjoying popular family-themed movies.
Domestic Terminal 4th floor: Oasis Park / New Chitose Airport Onsen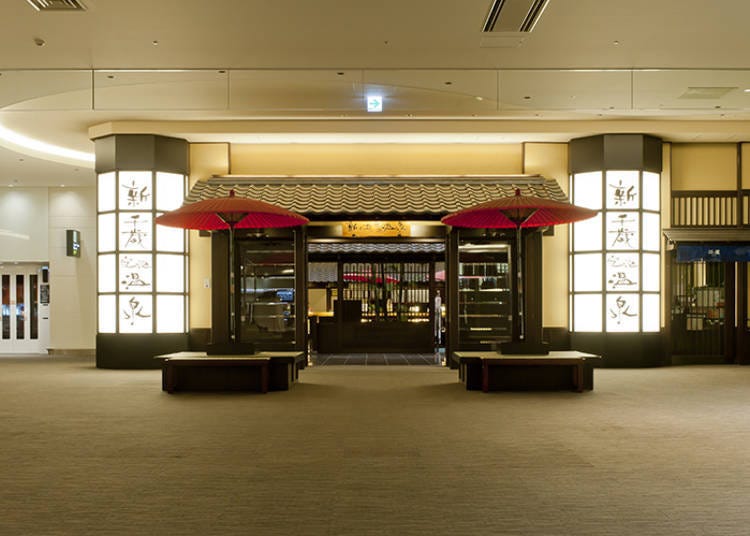 Not only can you enjoy bathing in a hot spring here, but you can also spend the night (from 5,000 yen). Located on the 4th floor of the Domestic Terminal.
There is also a hot spring bath located on the 4th floor of the New Chitose Domestic Terminal.

The New Chitose Airport Onsen (admission: 1,500 yen for adults; hours: 10:00 AM - 9:00 AM the following day; 1,500 yen late-night charge after 1:00 AM) makes New Chitose the only airport in Japan boasting a natural hot spring. The set admission fee with a special discount (1,500 yen) includes the bathing fee and bathrobe, bath towel, face towel, and facility fee.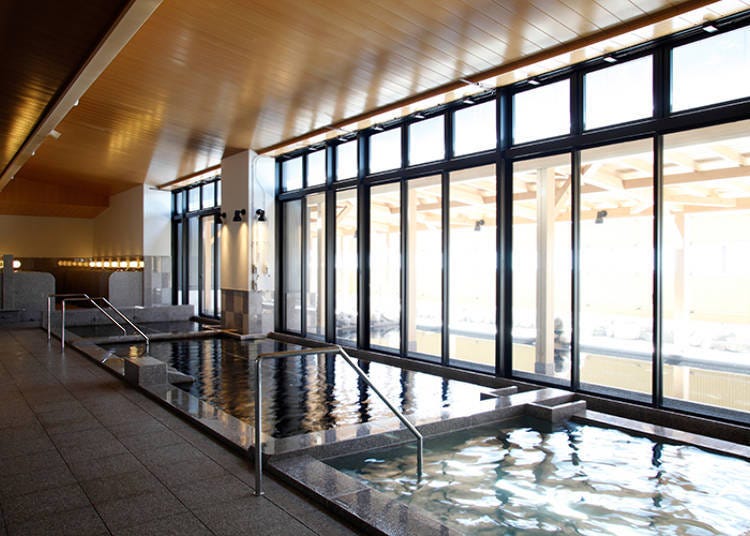 Spacious indoor baths. The baths are of sodium chloride mineral water and called "hot baths" in Japan because of their warming qualities that promote blood circulation. They are also low in alkalinity, leaving your skin feeling smooth and soft afterwards.
The baths contain sodium chloride mineral water which is noted for maintaining body temperature afterward. In addition to indoor and outdoor baths, there are three types of stone sauna (700 yen for adults) comprised of six varieties of rock as well as a regular sauna.

There is also a place to eat seasonal dishes as well as a tatami-mat rest area that can be used free of charge. Overnight accommodation is also possible enabling you to spend a full day at the airport. There is also a game plaza, an internet corner, and a corner with reading materials including manga – all designed to help you relax and rest up after a long tiring flight.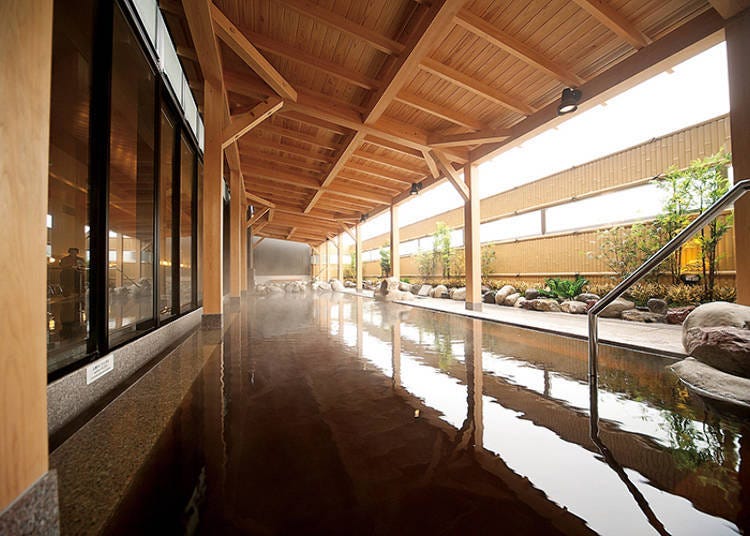 Outdoor bath with roof to keep out the rain and snow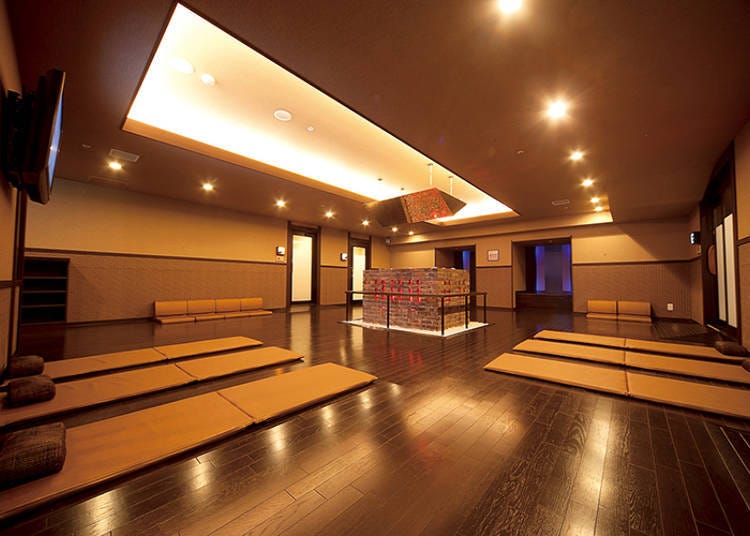 Stone sauna room where you can relax on heated stone beds; located on 4 floors. Pictured is the Maifan Stone floor.
The New Chitose Airport Terminal Building surpasses the conventional concept of an airport being nothing more than a transportation hub by providing a treasure trove of relaxation and pleasure, such as in the 360-degree panoramic view of Hokkaido's majestic natural scenery, Snow Miku Skytown, and Hello Kitty Happy Flight. In these places, you can enjoy yourself all day eating, viewing, and playing.

Hours: New Chitose Domestic Terminal: 6:20 AM - 11:00 PM; International Terminal: 6:00 AM - 9:00 PM; Connection Area: 6:20 AM - 11:00 PM
Address

987-22, Bibi, Chitose-shi, Hokkaido, 066-0012
View Map

Nearest Station

New Chitose Airport Station (Chitose Line)


Phone Number

0123-23-0111
* Data as of June 21, 2018.
Get Straight Onto The Open Road With an RV!
Want to get straight out onto the open road from the airport? RV rentals are a great way to see a new side of Japan!
Use LIVE JAPAN's promo code below to get 5% OFF your rental now.
・Promo code: LiveJapan_coupon_02
・On the "Request for a Quote" page, enter the promo code to get your discount.
*This information is from the time of this article's publication.
*Prices and options mentioned are subject to change.
*Unless stated otherwise, all prices include tax.