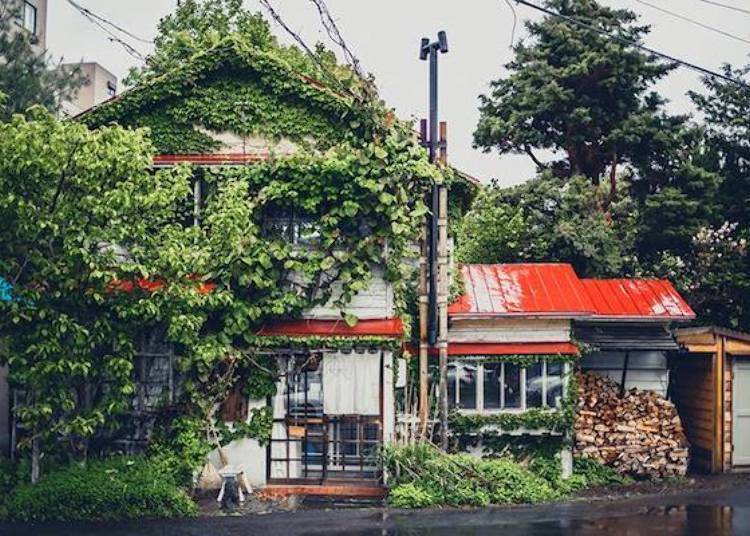 Enjoy traveling to local cafes! Allow us to introduce Atelier Morihiko, one of Sapporo's cafes that is very popular in the area.

In addition, right beside you can find an original soap store "Siesta Labo" that uses natural Hokkaido materials in their products. This location offers two unique experiences in a single visit - right after enjoying your latte!
The calm atmosphere of Atelier Morihiko
Atelier Morihiko is a cafe on the first floor of a building facing Taden Street. Access is about 3 minutes on foot from the Sapporo Municipal Subway Tozai Line / West 11th Sta. Access is also an option from Sapporo TV Tower. Head west toward Odori Park for approximately 15-20 minutes. This route will allow you to enjoy both the park and the cafe, and this path is recommended on a fine weather day.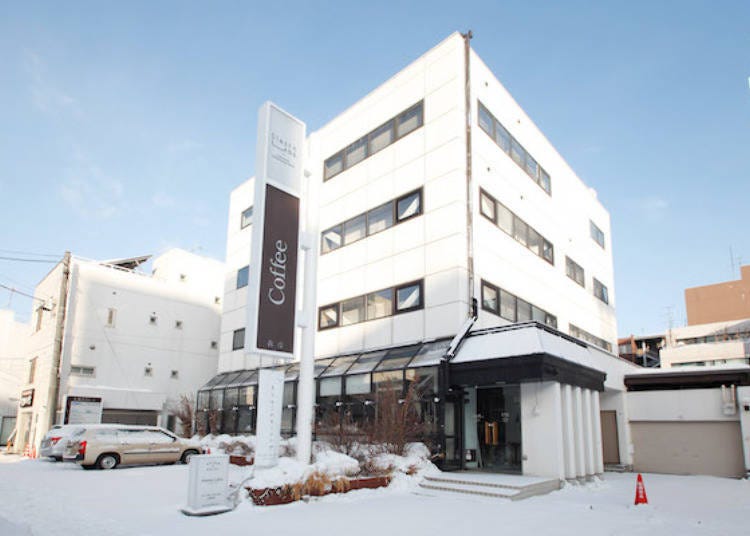 ▲The Atelier Morihiko building
The interior is a decorative white wood design creating a calm atmosphere that flows. Tables, chairs, and other items on display are collected by the owner, Mr. Kusuke Ichikawa, from schools in Sapporo. This spot has good taste and you may find yourself here for some time.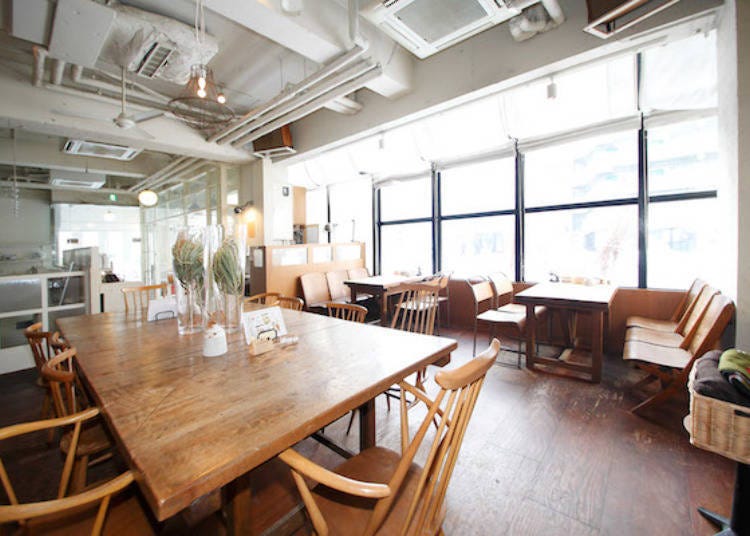 ▲ View the streetcar from the window side seating.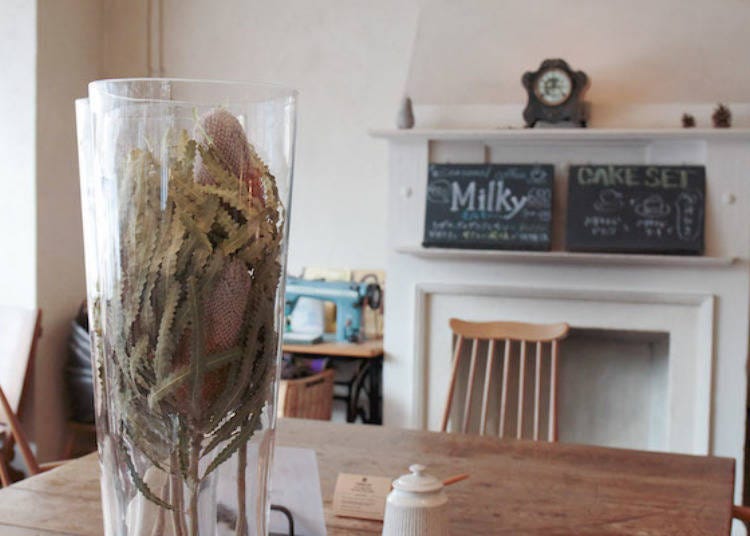 ▲ Seasonal flowers are decorated as the centerpiece.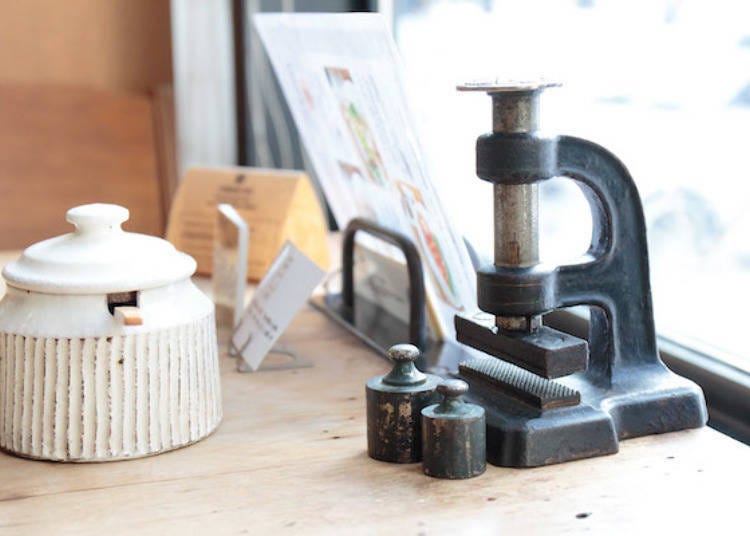 ▲Many fun and interesting items are placed all around the store for atmosphere
The main item on the menu is their roasted coffee prepared with direct heat. Flavors including sour to bitter are available.
▲ This is their Deep Mocha (680 yen, provided on weekdays only). It is a deep-roast mocha drink that goes down like hot chocolate
They always wait for the order before grinding the coffee beans and use an extraction method called Nell drip and cloth coffee filters.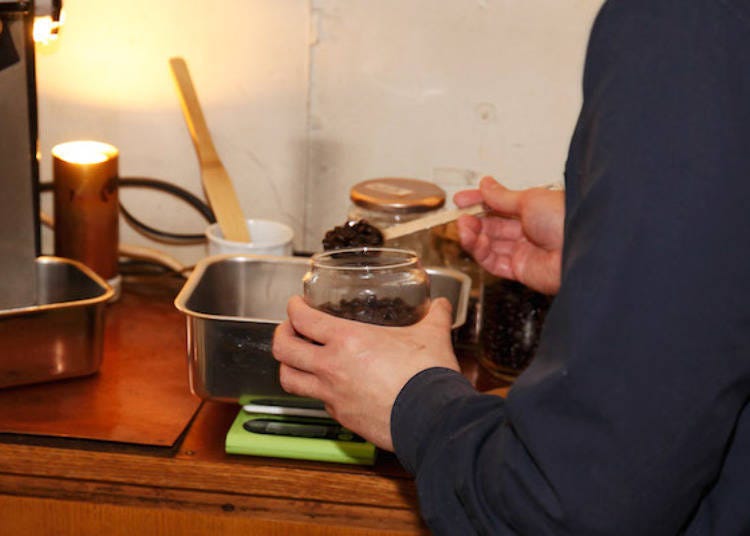 They also use a drip method when pouring hot water.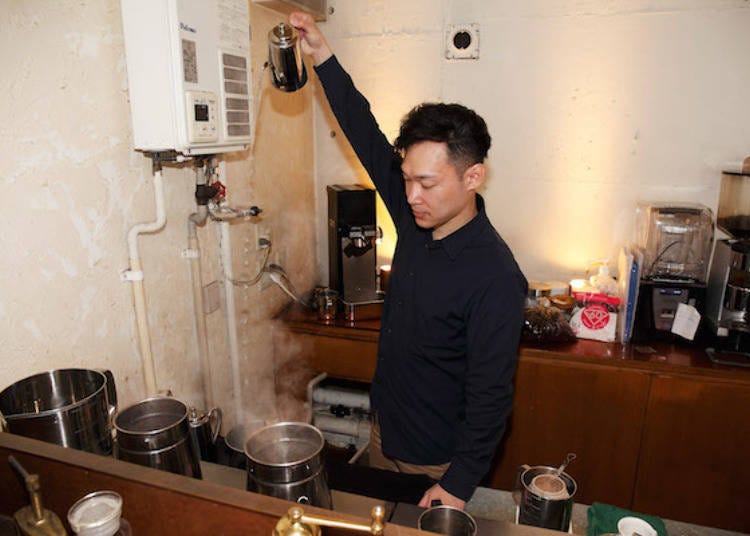 ▲ Here we see Mr. Takefumi, the manager, adjusting the temperature of the hot water to change the bitterness, acidity, and scent of coffee. He appears to alter the hot water temperature depending on the roast
"The dripping method is achieved by pouring hot and cold water to get the flavor and aroma of the coffee as you want it," says Mr. Takefumi.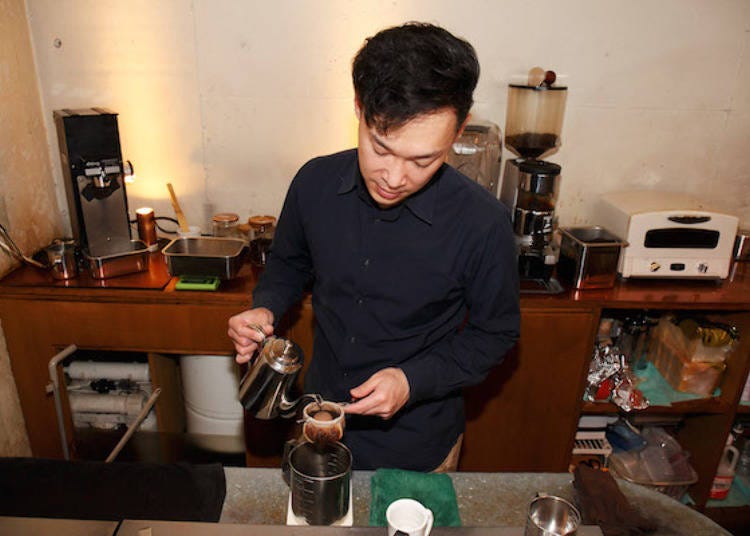 ▲Here he is using the drip infusion method
It takes time and effort, but for excellent coffee, it is necessary. Mr. Tamkefumi stated, "from the grinding of the beans the entire process does take time, so I will keep you waiting a while...," but you cannot argue with the result and will be glad you waited. The time to wait and relax is also good! Sitting at the counter, watching the coffee being brewed, reading books, or simply spacing out. Allowing the mind to relax takes the pressures out of daily life while you wait for your coffee.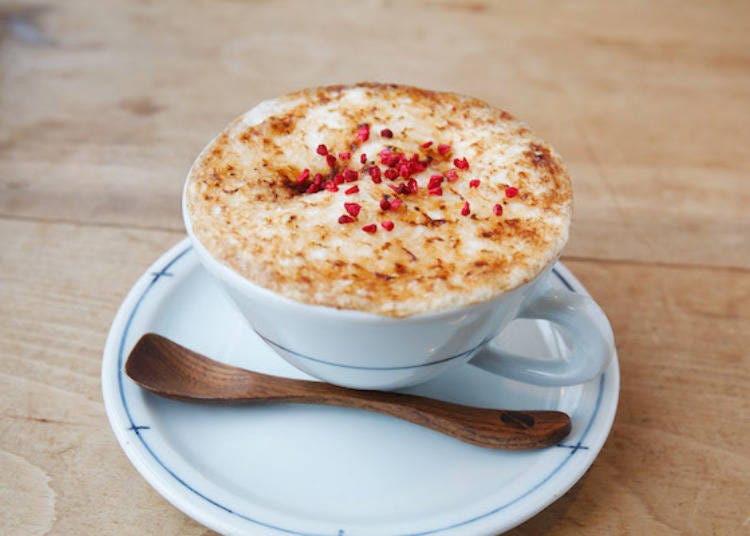 ▲ "Grilled Latte" 750 yen. The crisped caramelized topping has a wonderful smell!
There is an arrangement of coffee on the menu, and a unique "Yaki Latte" which appeared in November 2017. A nut-flavored café latte sprinkled with sugar topped on with steamed milk and then caramelized.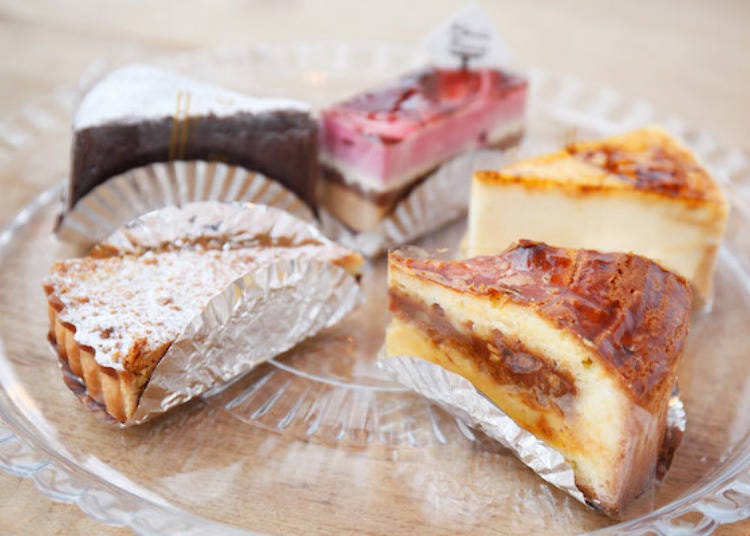 Purchasing a cake set will give you a 50-yen discount. The cakes are made in their own studio, and use Hokkaido ingredients such as wheat flour and sugar. He says that he aims for a taste that pairs well with coffee.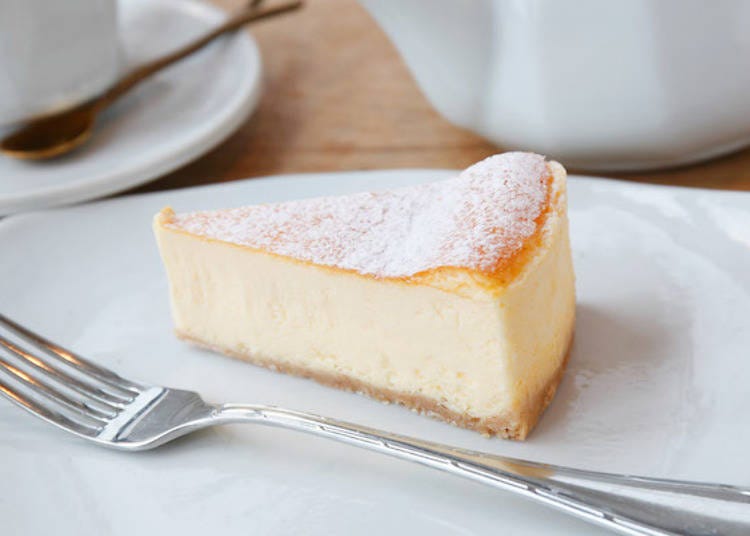 "Gateau fromage" (420 yen) which has a very pleasant taste. There is a pot service (plus 220 yen) for 2 cups of coffee served in a pot, so if you want to drink a lot of coffee, this is the way to go.

There is one more item we recommend if you can, a morning bread option, limited to weekday mornings, 8:00-11:00 try your best to make it their early!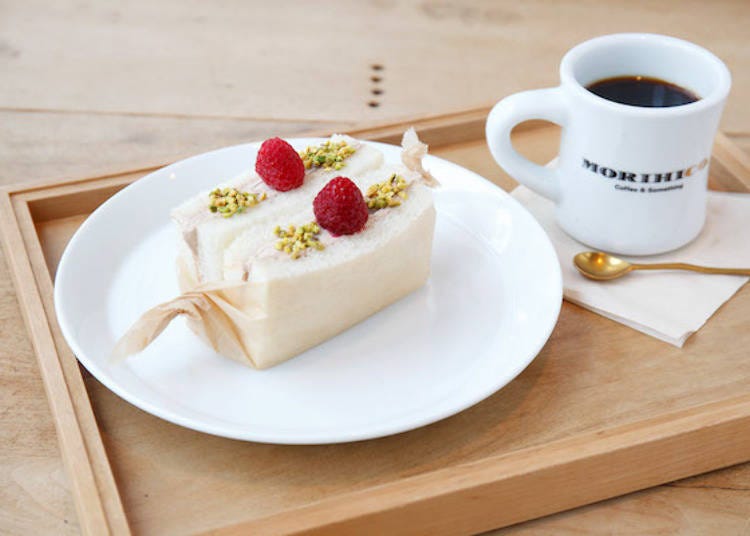 ▲ "Sweet sandwich and coffee set" 680 yen. Their morning coffee is a paper drip served in a mug.
The sweet sandwich and coffee set is known to be a popular choice because of its presentation. The sandwich is wrapped in a thin and pretty paper. Isn't it appetizing? In the bread, there is a soft sweet chocolate cream and apple candy with the toppings of savory roast pistachios and a sour frambroise.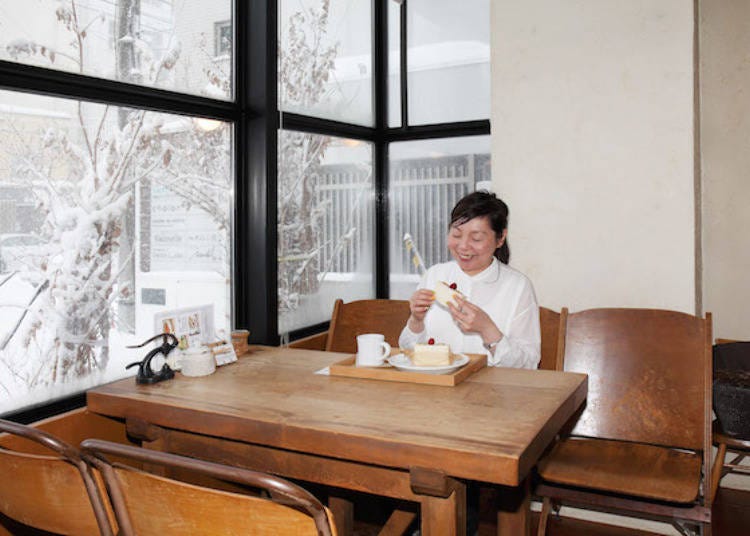 The bread used is a product of the commercial wholesale brand Okameya, a Sapporo company. Noted to be both moist and sweet.

It looks nice and tasty, and works perfectly for breakfast or brunch. It is a great start to any day.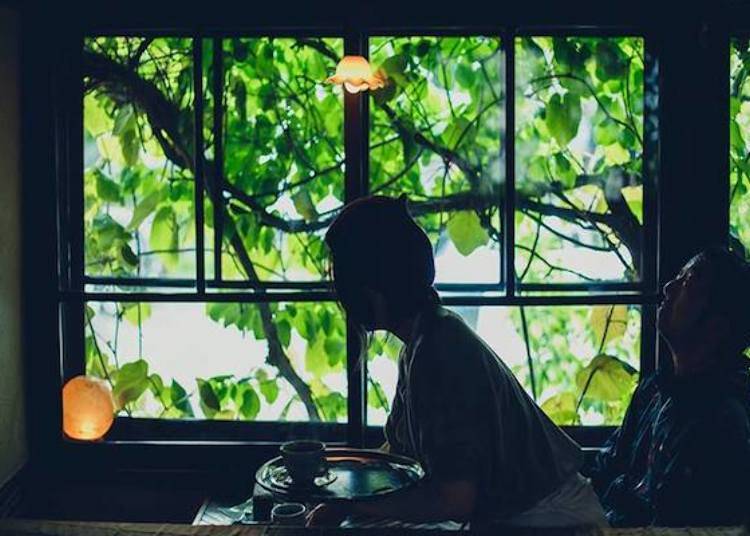 ▲ The grand opening of "Morihiko" (Photo provided by Atelier Morihiko)
When discussing stylish cafes in Sapporo, there are more to see. Morihiko has nine sister stores all around the city.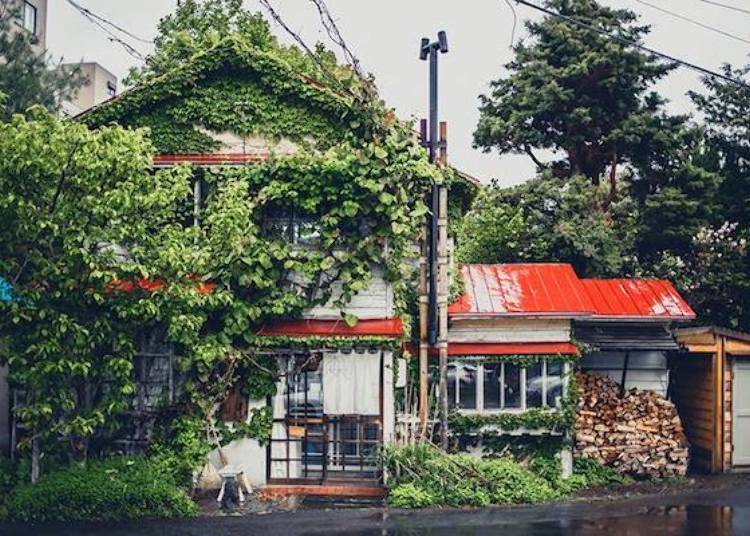 ▲ "Morihiko" located in an old residential house (Photo provided by Atelier Morihiko)
The first "Morihiko" cafe made uses an old private house standing on a small-town road in the Maruyama area. The opening of this location was a topic of discussion as the word "renovation" was seldom understood at the time.

The atmosphere is different from "Atelier Morihiko", but this is common to all the stores. All the sister stores names, atmosphere, and menus are all different and feel like a different shop altogether. The only constant is the home roasted coffee. All the stores have their own charms making it fun to explore each one!
アトリエ・モリヒコ

Address

〒060-0061 北海道札幌市中央区南1条西12-4-182 ASビル1階/AS Bld.1F, 12-4-182, Minami1-jonishi, Chuo-ku Sapporo-shi, Hokkaido, 060-0061, Japan

Phone Number

011-231-4883

Hours: Monday to Friday 8:00 ~ 22:00 (Last order 21:30) * The morning menu is available from 8:00-11:00 Last order
Saturdays Sundays and holidays 11:00-22: 00 (Last order 21:30) * No morning menu provided Closed: December 30 - January 1
Handmade original soaps from the "Siesta Lab"
After enjoying our time at the café, we went to "Siesta Lab" located next door. It is accessible from within the same building so there is no need to go outside.
▲ The inside of "Siesta Lab"
This original soap shop uses natural materials.

The soap is created using a manufacturing method called a non-heated cold process which does not use synthetic preservatives or antiseptics with the active ingredient remaining on the skin. Here they plan everything from package design and soap packaging.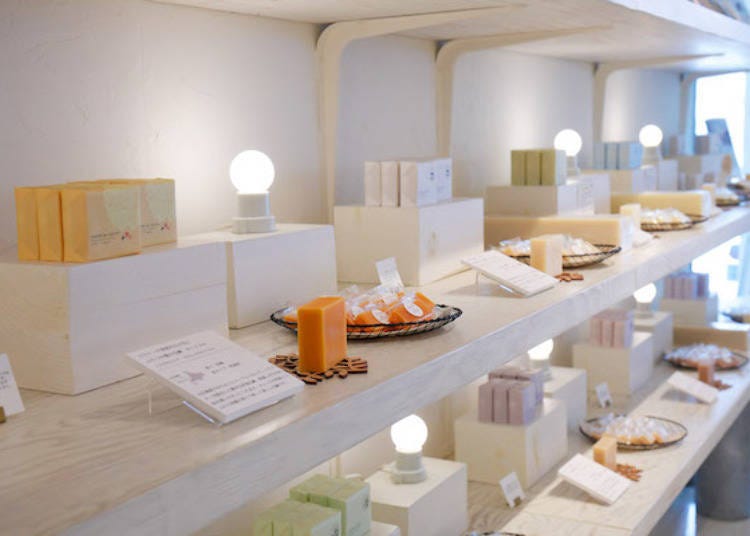 ▲ The store started with 10 original varieties of soap
There is a workshop in the back of the store where you can see the soap being made.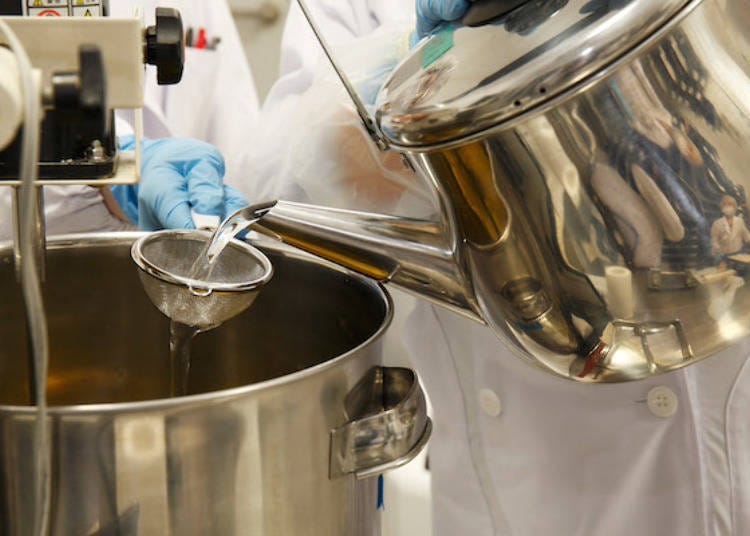 ▲ The view inside the workshop. Here we see a liquid soap base being poured
After pouring the mixed soap material into the mold, it is left for 24-36 hours where it solidifies.

They then cut the hardened soap out of the mold and then dry it separately for one month which is said to give it a softer feel.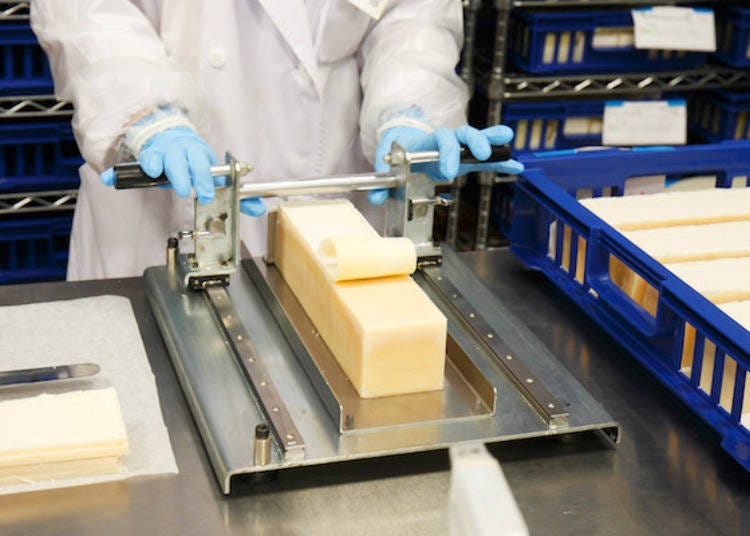 ▲ Watch the soap sliced by their original cutter
"I thought it would be nice to have a simple item that is friendly to the skin and with my experience of skin trouble I thought a cosmetic product would be good," said the owner, Ms. Ayako Tsukeshiba who spoke about her start into making soap.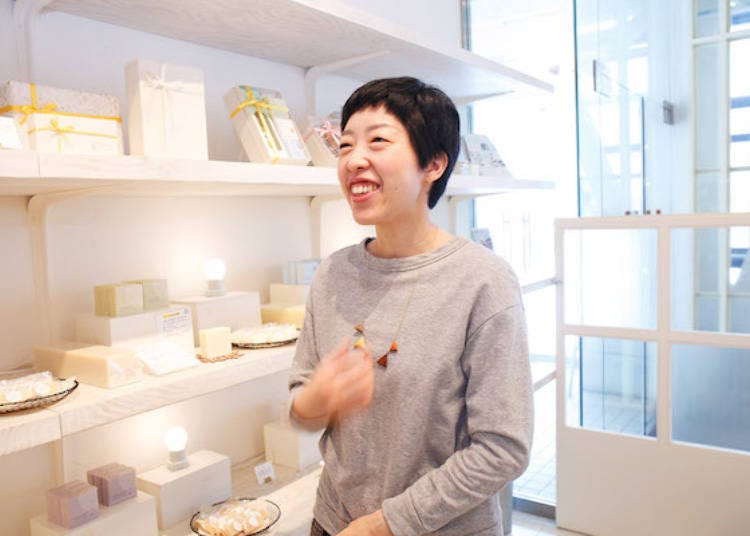 ▲Meet the Owner Ms. Ayako
"I found a book on soap making in a book shop where I would frequent to get recipe books for sweets, my hobby. When I opened it somehow, I discovered that it was similar to making sweets! ".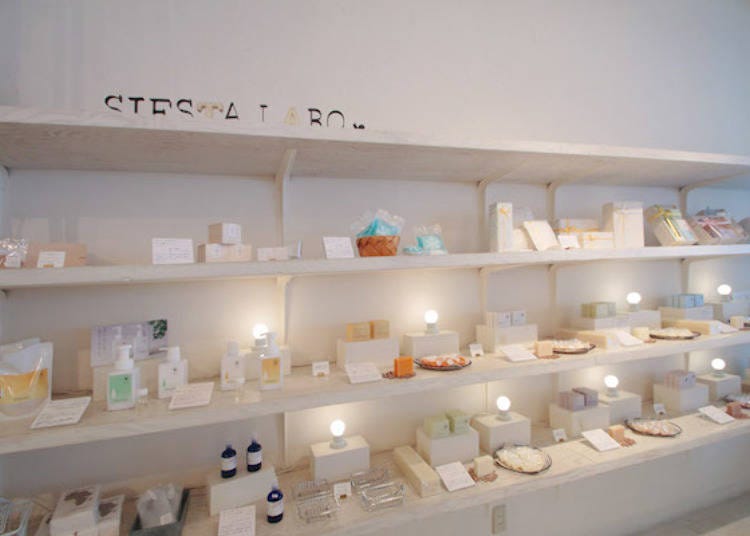 Originally a biochemistry major the first soap was created for herself, but grew into a commercialization of her product. She provides a soap that is suitable for babies, adults, and people with sensitive skin selecting natural materials and through repeated research creates soaps that combine cleanliness and moisturizing power.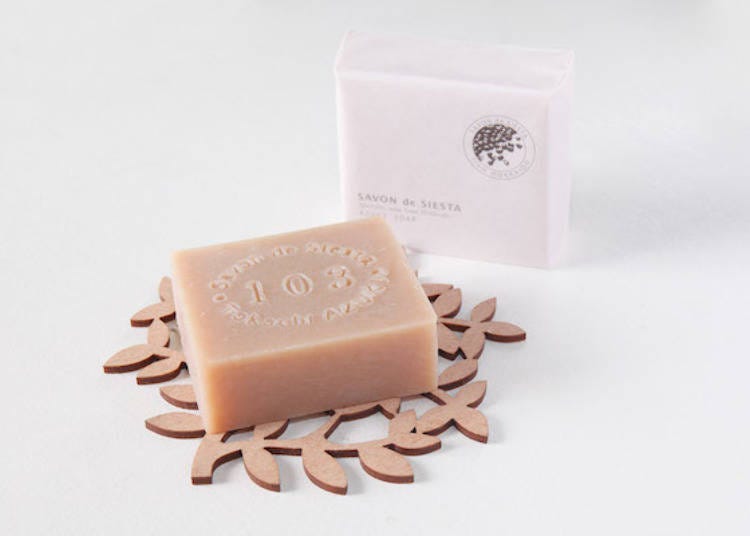 ▲ "Azuki soap" 80 g, 1,080 yen
Among her products there are soaps made using Hokkaido materials.

This "Azuki soap" uses Tokachi azuki which gives a refreshing but moist washing experience and is currently the most popular product.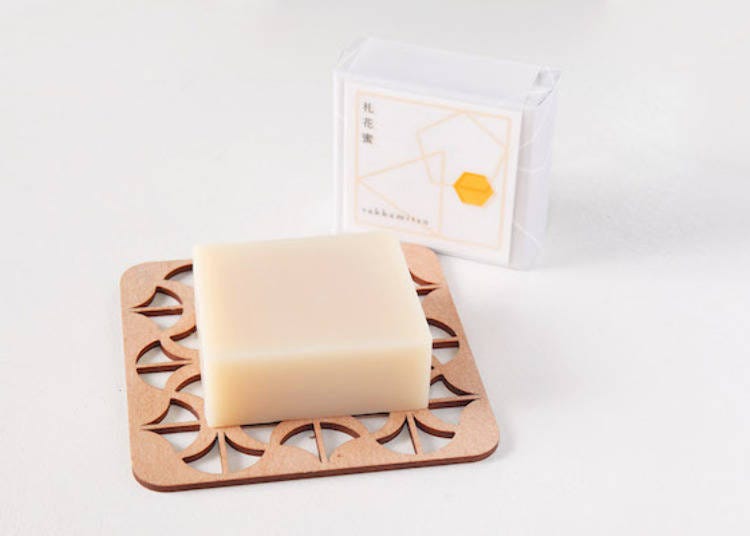 ▲ "Flower nectar (Sakka Mitsu)" 80 g, 1,512 yen
Nectar is taken from over hundred flowers from several kinds of flowers produced in Sapporo, sunflower oil produced in the sunflower fields of Nayoro and essential oils from Shimokawa. This is a limited product that can only be purchased at this store.

There is also a soap called "First snow" which is a Hokkaido limited item and Sapporo style certified product. Sapporo style certified products are products from Sapporo planning and selling utilizing resources in Hokkaido.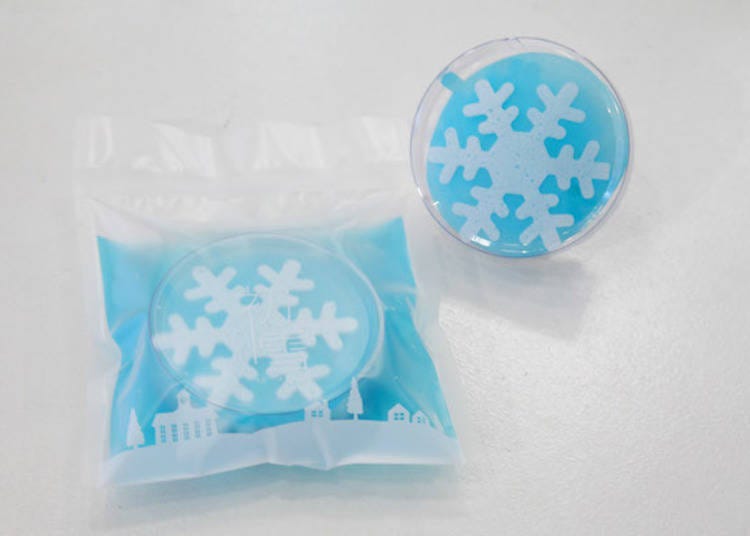 ▲ "First snow" 12 sheets included 1,080 yen
Here we express the beauty of crystal snowflakes through soap, which can be used not only for washing hands but also for facial cleansing. This product has a unique texture that feels like fluffy like snow when placed in your hand but can feel like a waste to use.
I have been coming to this store for years now as I have always had skin troubles.

I mainly use this hand cream just to moisturize my fingertips but this alone has given my entire hands a beautiful glow!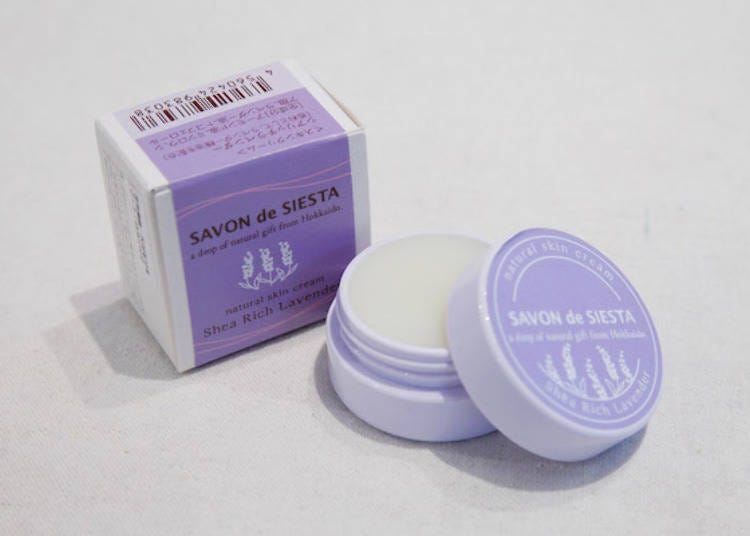 ▲ "Shea rich lavender skin cream" 9.7 g, 1,296 yen
Besides being moist and comfortable to use, the point I like is the fragrance.

This is not limited to skin creams, as they also offer soap and body oils, with the fragrance just excellent! It is a fragrance that is nowhere else, yet it keeps an exquisite balance of a strong scent that does not overpower.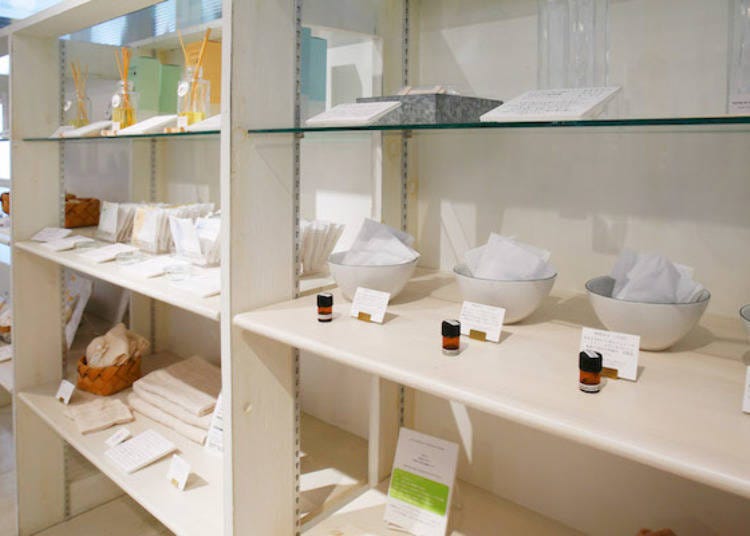 ▲ Check out their selection of fragrances and essential oils.
The owner is qualified as an aromatherapy adviser and an aroma blend designer (both of which are part of the public aid corporation in the Japan Aroma Environment Association), and when it comes to fragrance concerns, can advise on matters like when to use the product, whether it is pleasant or not and other considerations.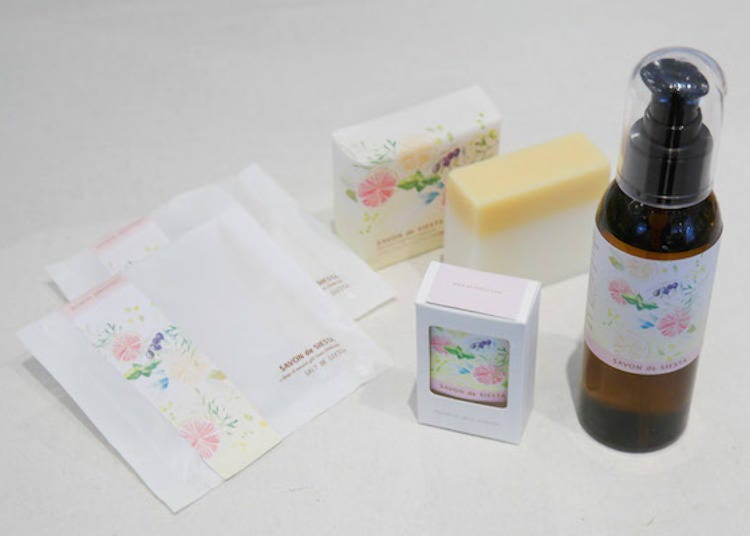 ▲ "The Refreshing Grapefruit Series." Soap 18 g, 1,512 yen, skin cream 11 g, 1,512 yen, bath salt 40 g, 378 yen, body oil 120 ml, 3,240 yen
You can also find limited items such as The Refreshing Grapefruit Series released on April 4, 2018, which makes you feel like the awakening fragrance of spring!

These products will give you energy and help with healing. These also make a great gift or souvenir with plenty of variety for a variety of friends.
Siesta Labo.(シエスタラボ)

Address

〒060-0061 北海道札幌市中央区南1条西12-4-182 ASビル1階/AS Bld.F, 12-4-182, Minami1-jonishi, Chuo-ku Sapporo-shi, Hokkaido, 060-0061, Japan

Phone Number

011-206-0710

Opening hours: 11:00-19:00
Closed: Tuesdays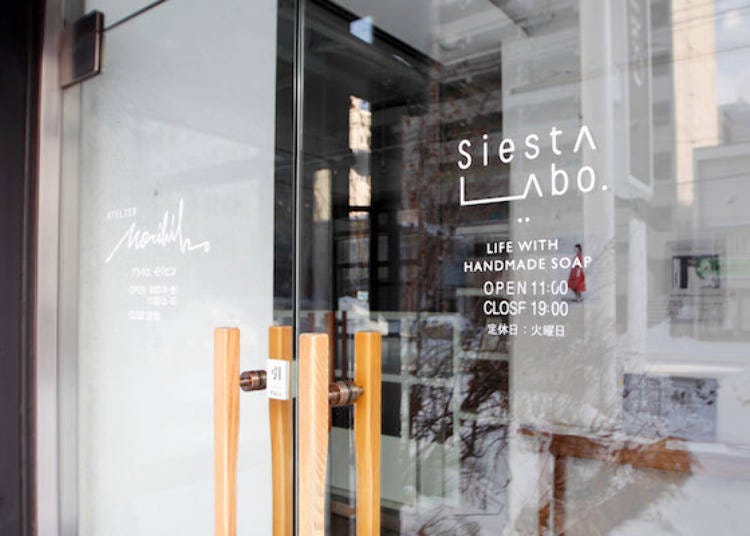 These two locations were personally recommended as a spot for those traveling with friends or even those who work in Sapporo. These two interesting stores in one location is sure to be a nice combination. Please enjoy this café and shop when in Sapporo!

* Rates and prices in articles are all tax inclusive
Written by:Fumi
*This information is from the time of this article's publication.
*Prices and options mentioned are subject to change.
*Unless stated otherwise, all prices include tax.