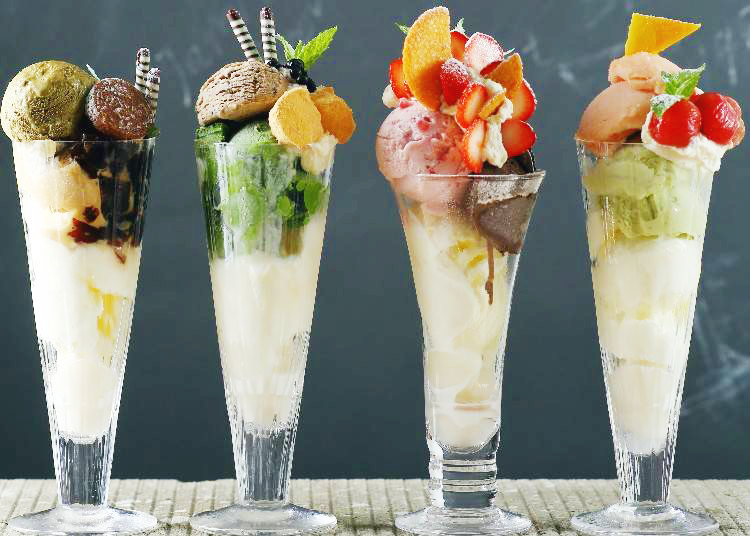 In Sapporo cafes and other stylish stores offer a variety of delicious desserts and sweets using plenty of fresh Hokkaido dairy products.

Here we'll introduce three popular and cafes in Sapporo that are easy to get to. These famous shops are the best places you'll want to drop by when you visit Sapporo.
1. Yukijirushi Parlor: Superb Ice Cream at a Famous Sapporo Cafe and Sweets Shop!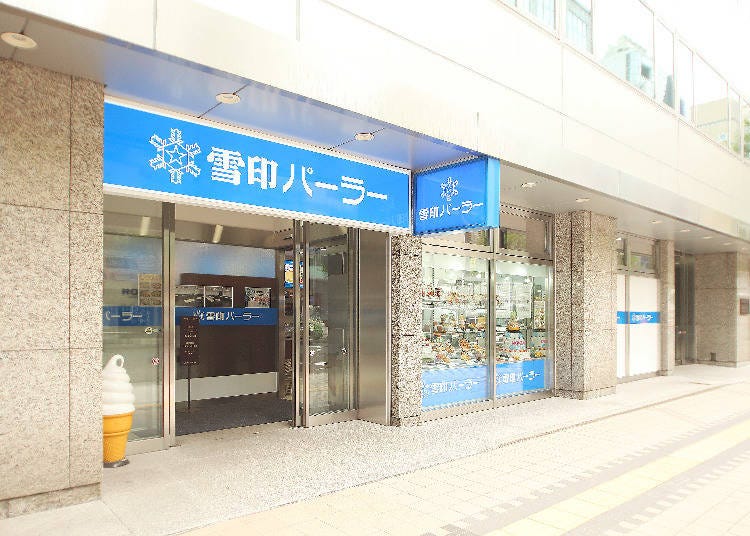 Yukijirushi Parlor is a cafe operated by a famous Japanese dairy product company Snow Brand. The popular item that attracts many people at this store is the traditional ice cream, Snow Royal.
Snow Royal Vanilla Ice Cream (770 yen, additional charge for coffee)
In 1968 Snow Brand received an order by the Imperial Household Agency to create a "supreme ice cream" for the Showa Emperor for his visit to Hokkaido.

It took Snow Brand two years to create the result, Snow Royal. Since then the ice cream has been sold at the Yukijirushi Parlor Parlor as a limited item.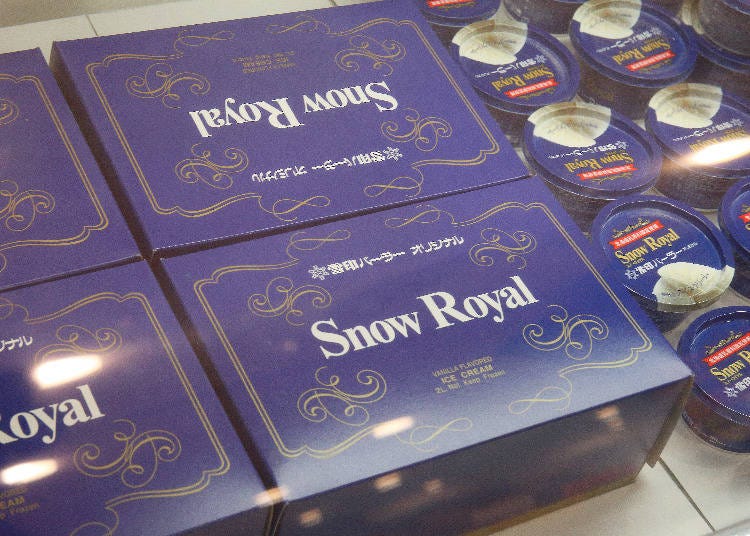 The Snow Royal Vanilla Ice Cream for gifts (1 cup 355yen, 1 box with 12 cups 5,124 yen)
The ice cream has a smooth texture that softly melts in your mouth. You can also taste the rich milky flavor of the milk, which also offers a very refreshing taste.

At the cafe section in the store, they offer coffee and powdered matcha green tea. You can also purchase ice cream in cups as gifts.
Snow Royal Cold Brew Coffee (hot or iced) set (1,190 yen). The cold brew coffee made with natural water from the foot of Daisetsuzan Volcanic Group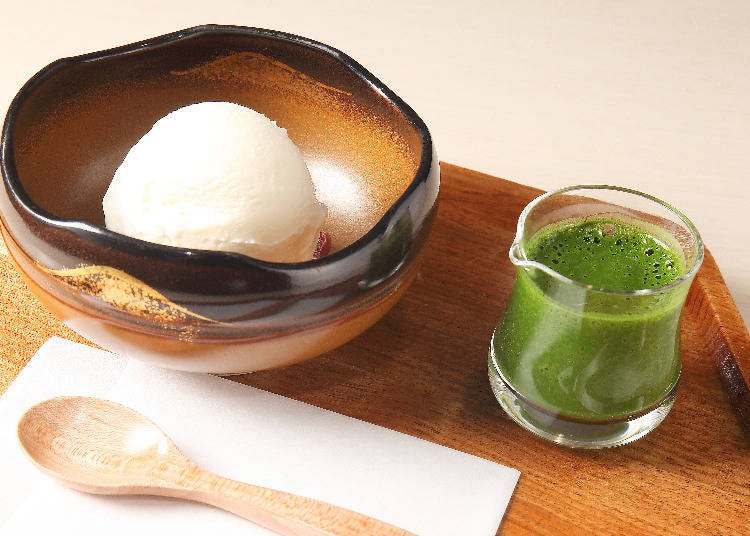 The Matcha Affogato (960 yen), popular with foreign visitors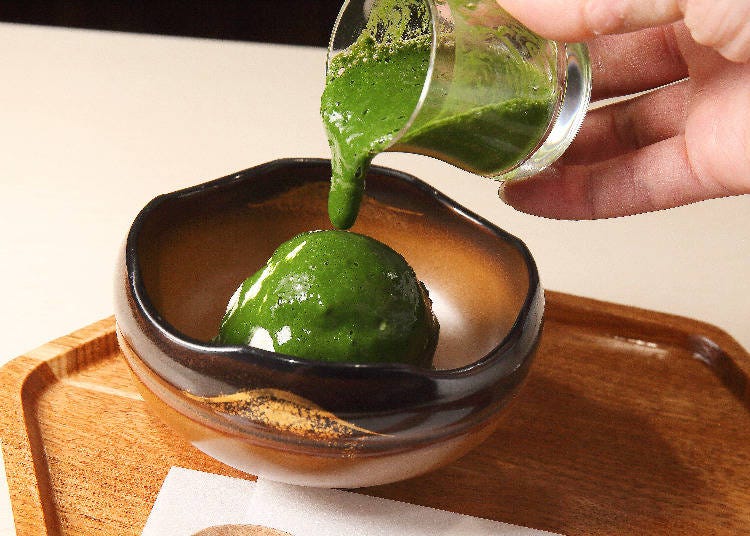 Like pouring espresso, but pouring Kintenkaku Uji Matcha on Snow Royal
Other than ice cream, they also offer parfaits and cakes made with fresh Hokkaido dairy products, plus light meals such as cheese curry and pasta.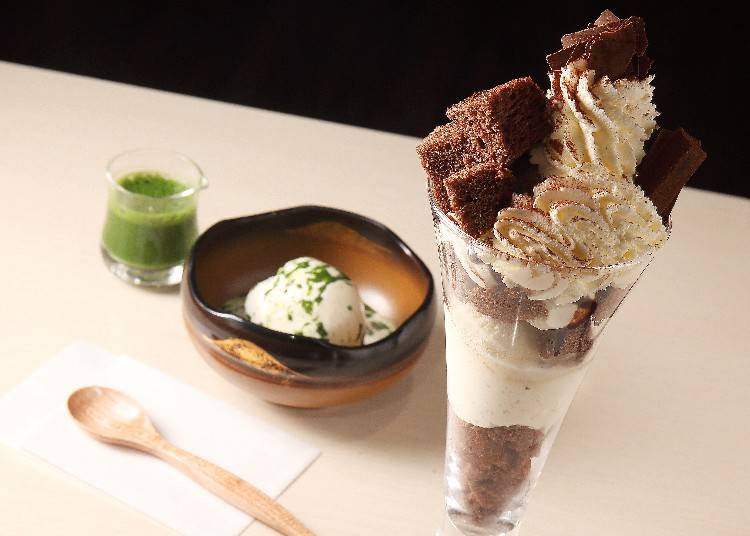 Nama Choco Tiramisu Parfait (1,430 yen), Nama Choco is a form of ganache. A parfait with tiramisu style cream mixed with mascarpone and whipped cream, and chocolate chiffon cake.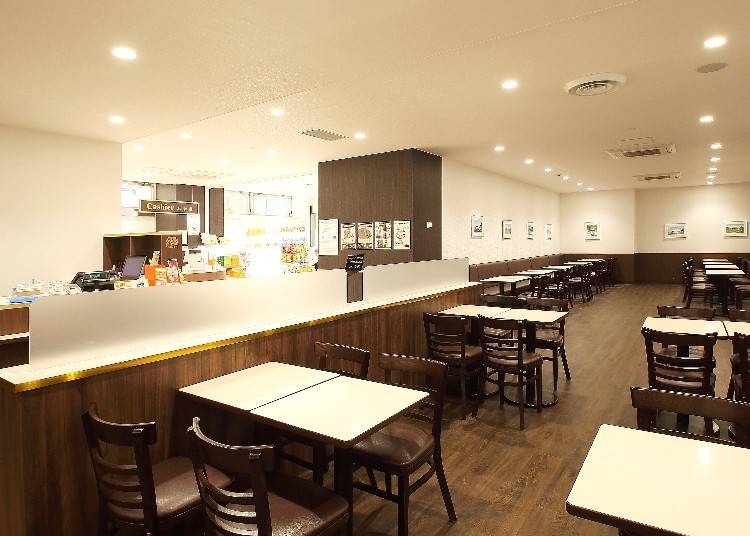 The store is spacious and you can bring in your suitcase or stroller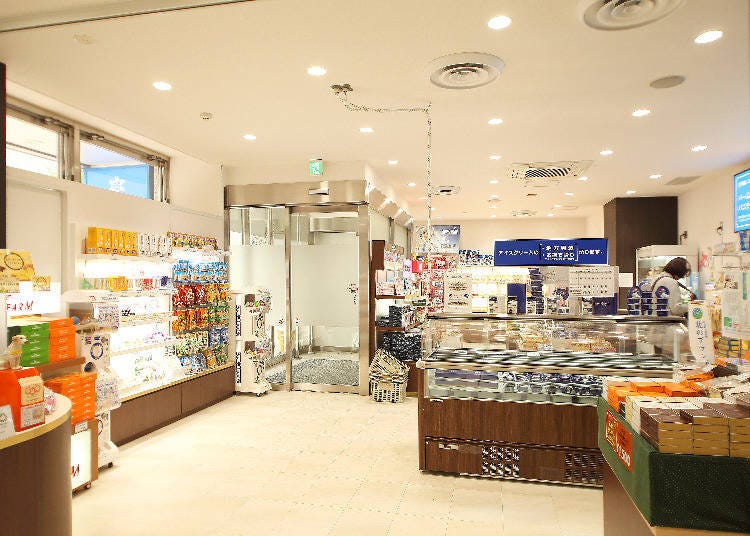 They have a souvenir and gifts section that sells different Hokkaido confections.
Yukijirushi Parlor Sapporo Honten

雪印パーラー 札幌本店

Address

〒060-0002 札幌市中央区北2条西3丁目1-31 太陽生命札幌ビル1階 / Taiyoseimei.bldg-1F,1-31West3,North2,Chou-ku,Sapporo,Hokkaido 〒060-0002

Phone Number

011-251-7530

Hours: 10 AM ~ 9 PM (last order 8:30 PM)
Closed: Open daily
Access: Five minute walk from Sapporo Municipal Subway Namboku Line – Toho Line Sapporo Station, 7 minute walk from JR Sapporo Station, 5 minute walk from Sapporo Municipal Subway Namboku Line – Tozai Line – Toho Line Odori Station
2. Ishiya Cafe: Famous Confection Shiroi Koibito's Soft-Served Ice Cream Served Here!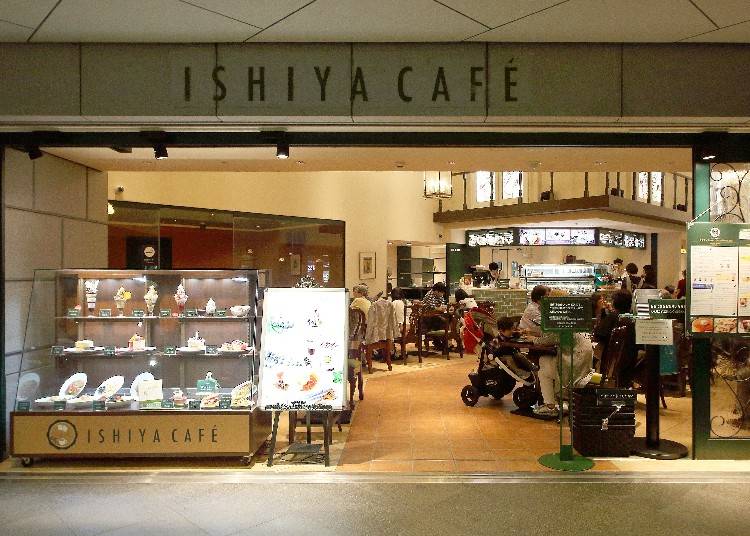 Ishiya Cafe is directly operated by Ishiya, which is one of the most famous confectionery companies in Hokkaido making Shiroi Koibito.

Shiroi Koibito is a confection that sandwiches chocolate with langue de chat. It can be purchased at department stores in Sapporo City, gift shops and airports, however, it is mainly only purchasable in Hokkaido.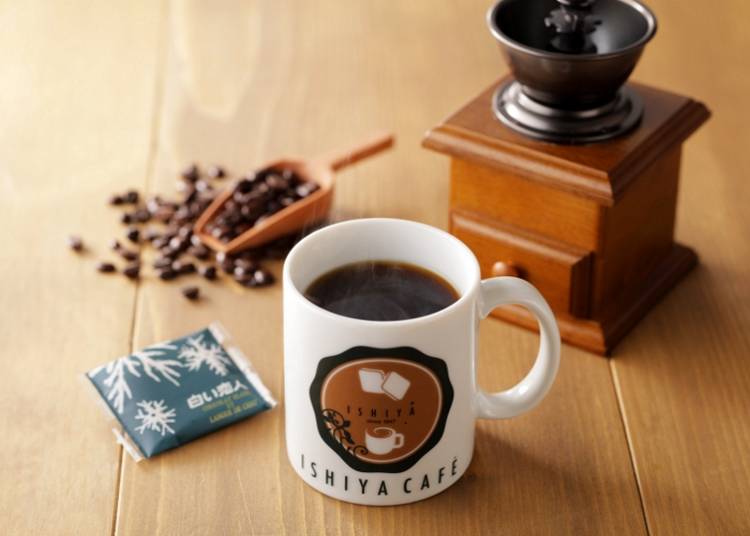 You receive a Shiroi Koibito (blue package on the left) when you order a coffee at ISHIYA CAFÉ
Ishiya Cafe is located along the Sapporo Underground Pedestrian Space.

Also known as Chi-Ka-Ho, this underground area connects Sapporo Municipal Subway Odori Station and JR Sapporo Station.

Due to its location, it is easy to access and you don't have to worry about snow or rain. There are power plugs at the counter seats and free Wi-Fi.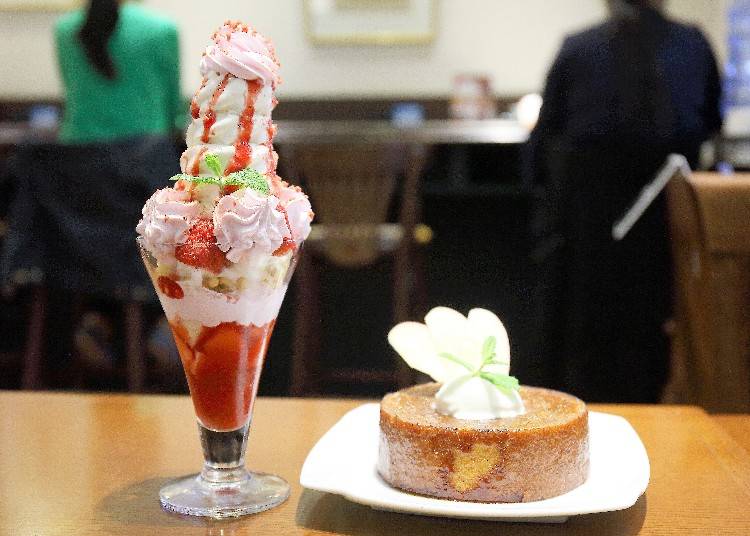 Ishiya Cafe is a British style self-service Sapporo cafe that offers various sweets, morning sets, pasta, some alcoholic beverage and snacks.

The most popular dish is the Japanese-style fluffy double pancake, each pancake has a thickness of 3.5cm.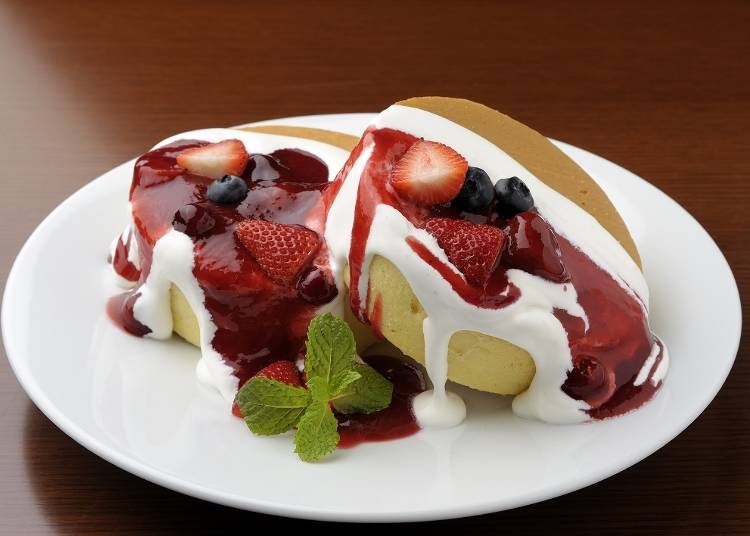 Hot Cake Berry (1,080 yen)
Don't forget about the parfait! The parfaits are made with the Shiroi Koibito white chocolate, and Shiroi Koibito Soft-Served Ice Cream made with Hokkaido dairy products, these original parfaits are only available here. There are various flavors, with strawberry being the most popular.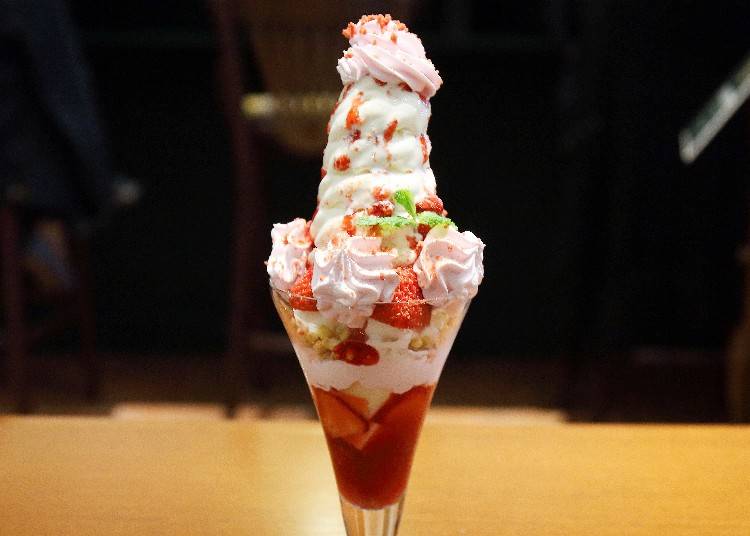 Strawberry Parfait (896 yen). The rich flavor and smooth texture of the Shiroi Koibito is amazing! *Design and ingredients will change from July 20th 2018
You can also purchase soft-served ice cream served in a paper cup (308 yen). A dish that caramelizes the popular gift Namara Butter Baum TSUMUGI with a topping of Ishiya premium ice cream. A filling dish to share with 2 to 3 people.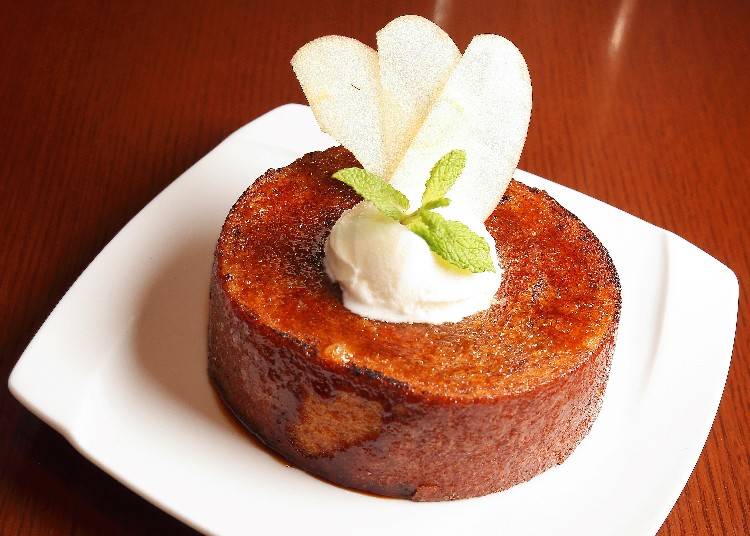 Caramelized Namara Butter Baum TSUMUGI (1,620 yen, 1,890 yen with 1 drink, 2,106 yen with 2 drinks)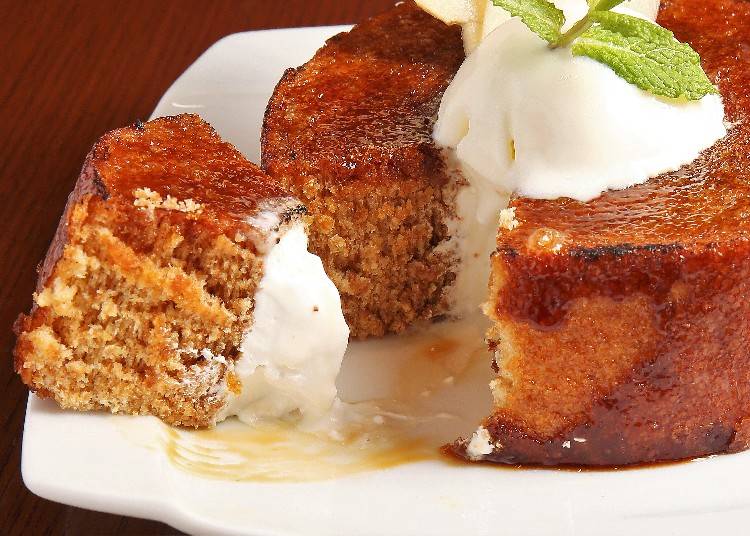 The center of the baumkuchen is filled with ice cream!
Shiroi Koibito and Namara Butter Baum TSUMUGI can be purchased at the Ishiya Shop located on the first floor. If you are looking for gifts, head to the first floor and make sure to take a look at other Ishiya snacks!
ISHIYA CAFÉ

Address

〒060-0004 札幌市中央区大通西4丁目6-1札幌大通西4ビル 地下2階 / Sapporo-oodoori-west4.bldg-B2F,6-1West4,Oodori,Chou-ku,Sapporo,Hokkaido 〒060-0004

Phone Number

011-231-1487

Hours: 8 AM ~ 10 PM (may change)
Closed; January 1st
Access: 1 minute walk from Sapporo Municipal Subway Namboku Line – Tozai Line Odori Station, 5 minute walk from Sapporo Municipal Subway Toho Line
3. Noymond Organic Cafe: Get a Bite At Sapporo's Popular Cafe!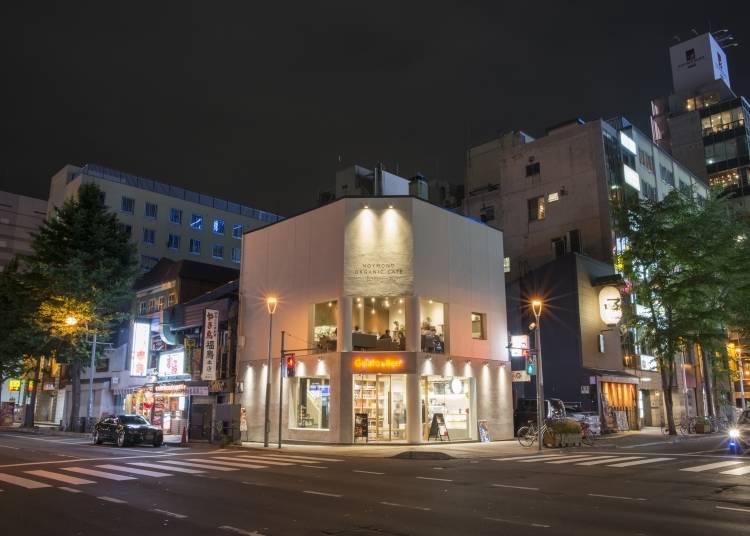 Noymond Organic Cafe focuses on using ingredients that are organic and gathered from Hokkaido. Their drinks, coffee, milk, and sugar use organic ingredients.

It is near Hokkaido's largest entertainment district, Susukino, and is easy to access through Namboku Line Susukino Station and other stations.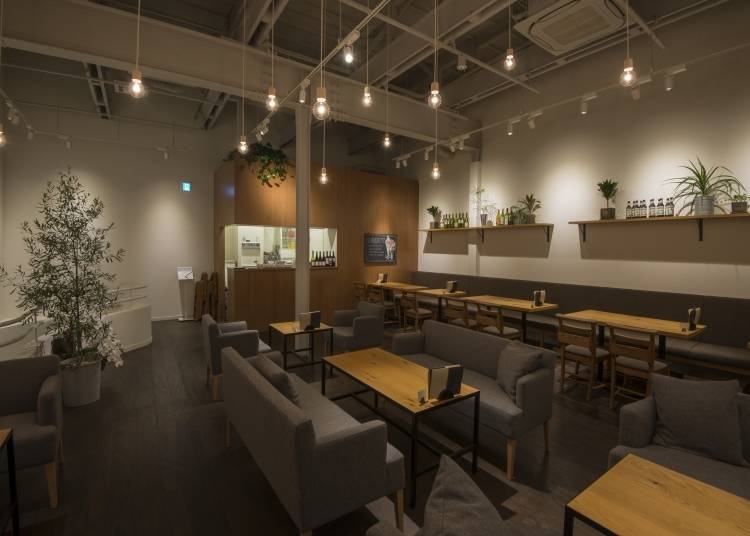 We strongly recommend you to try the Shime Parfait.
Shime Parfait is a food culture where you have a parfait with an alcoholic beverage at the end of your meal. It is a food culture that has existed in Sapporo, however in recent years it has attracted more attention and more restaurants offer Shime Parfait outside the Sapporo region.

The Shime Parfait has a more refreshing taste and matches drinks like sparkling wine.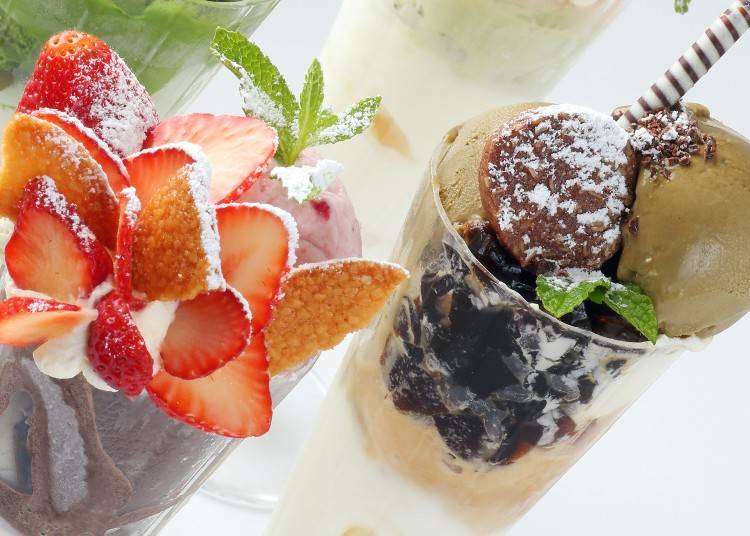 Noymond Organic Café's Strawberry Parfait (1,400 yen) and Coffee Parfait (1,100 yen)
You can order the parfaits individually or a course meal that includes Shime Parfaits. The course includes, 2 drinks, 1 snack and 1 parfait for 2,500 yen, which is a bargain!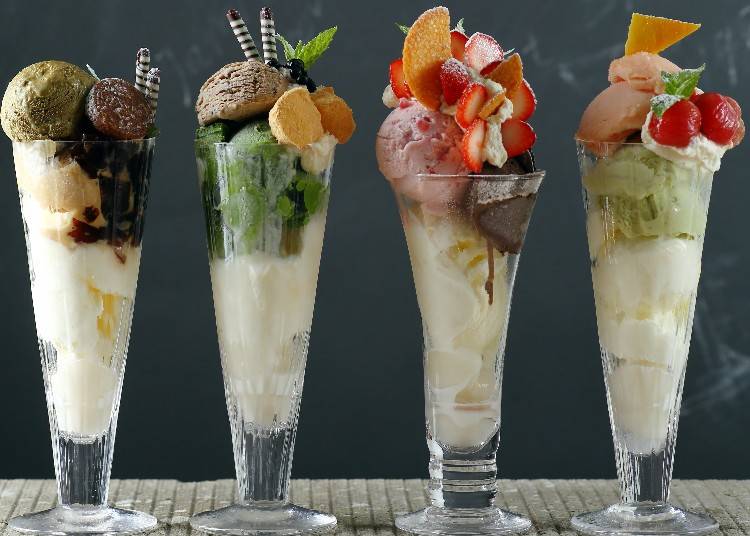 There are a total of 7 parfaits including these 4
Other popular dishes are pancakes and French toast. There are sweet pancakes with berries and fruits, and also pancakes with avocado and salmon. They also have various meals such as hamburgers that use original buns made with Hokkaido wheat.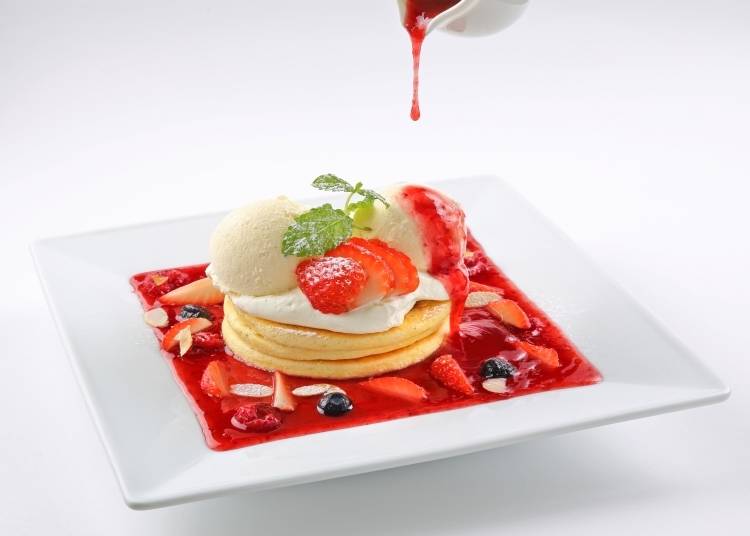 Red Berry (1,250 yen). The red berry sauce is made with strawberries and framboise (raspberry). It is possible to substitute the pancake with French toast.
Fruits Pallet (1,150 yen). Lots of fruits! This can be ordered with pancakes or French toast.
NOYMOND ORGANIC CAFE Flagship Shop

ノイモンドオーガニックカフェ 本店

Address

〒060-0063 札幌市中央区南3条西2丁目7-1 2F / 2F,7-1West2,South3,Chou-ku,Sapporo,Hokkaido 〒060-0063

Phone Number

011-211-0039

Hours: 10 AM ~ 11:30 PM (last order 10:30 PM)
Closed: Open daily
Access; 2 minute walk from Sapporo Municipal Subway Namboku Line Susukino Station, 2 minute walk from Sapporo Municipal Subway Toho Line Housui-Susukino Station, 5 minute walk from Sapporo Municipal Subway Namboku Line – Tozai Line – Toho Line Odori Station

Like Sapporo Cafes? Check Out These Related Articles!
*This information is from the time of this article's publication.
*Prices and options mentioned are subject to change.
*Unless stated otherwise, all prices include tax.