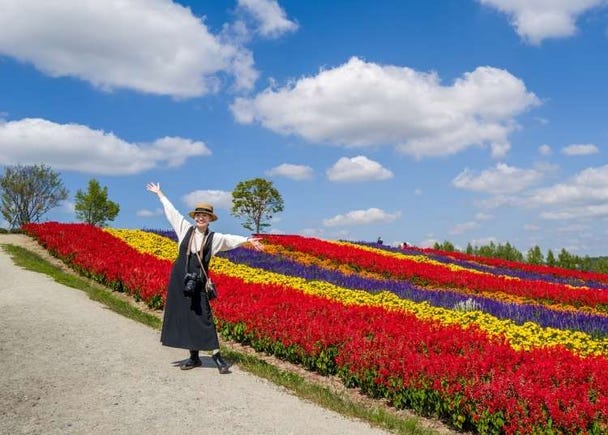 Farm Tomita is one of Hokkaido's largest tourist attraction site that brings in over 1 million people annually from all over Japan and the world. Lavender blooms from late June to early August. The vibrant purple scenery sprawled across Furano is a sign of early summer for Hokkaido.

Here we will share some of the various beautiful flower fields in Farm Tomita with you!
Getting to Farm Tomita: Access and Best Season to Visit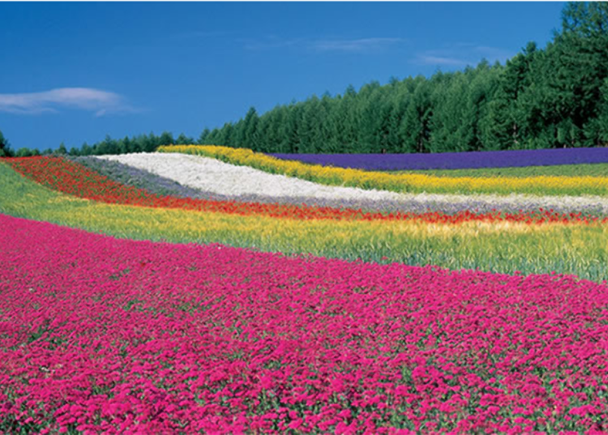 In the farm there are over 10 flower fields and gardens, each with a distinct charm. Photo of Irodori Field
It is a 25-minute walk from JR Furano Station to Farm Tomita. Also from June to mid-September the special "Furano-Biei Norokko-go" train runs between Asahikawa and Furano. The train stops at the special station Lavender Farm Station, which is a 7-minute walk to Farm Tomita.

Farm Tomita has various beautiful flower fields including the 5-hectare lavender field and other flower gardens.

The best time to visit Farm Tomita is in late June to early August. During this time the flowers in the garden will be in bloom and a colorful sight can be experienced.

The peak period for lavender fields in Hokkaido is mid to late July. Don't miss this period if you plan to view the sight of a hill covered in a purple carpet.

From late June to early August the road to Farm Tomita is crowded if you plan to drive it is better to set your travel plans earlier as a whole. We recommend taking the train for smoother traveling.
Farm Tomita's Top 3 Lavender Fields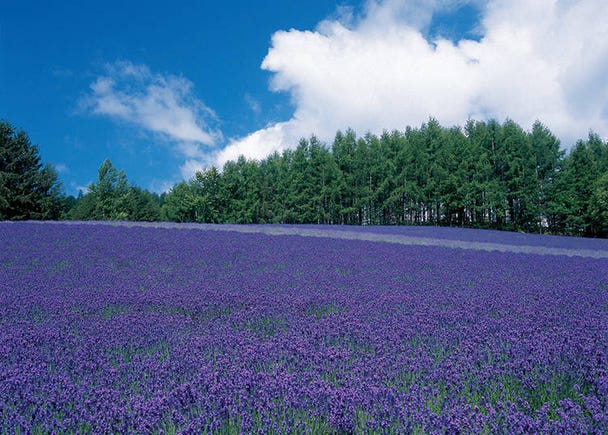 The Traditional Lavender Field has been carefully protected since the founding of Farm Tomita. The view of Furano Basin from the top of the hill is amazing. Best viewing season is earl to mid-July.
1. Traditional Lavender Field

There are three large lavender fields at Farm Tomita. The Traditional Lavender Field is the representative one and also the starting point of Farm Tomita. The history of the farm started from here. In mid-July, the gentle slope is covered with vibrant purple flowers. Looking down from the hilltop, past the purple carpet lies the view of the impressive Tokachi Mountain range and the Furano Basin rural landscape.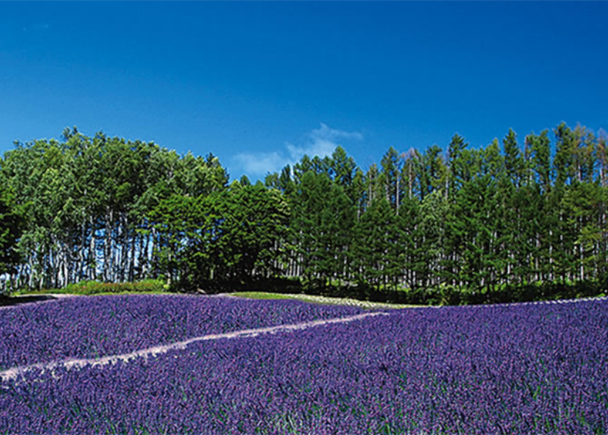 Lavender Forest Field offering a contrast to two types of lavenders. Best viewing season is early to mid-July
#2. Lavender Forest Field on Hill with Two Types of Lavender in Bloom

The Lavender Forest Field is located further past the hill from the Traditional Lavender Field. There are two types of lavenders that bloom, the Noushi Hayazaki and Okamurasaki.

The best viewing season for Noushi Hayazaki is late June and for Okamurasaki it is mid-July. The contrast between the lavenders and the green leaves of the birch trees at the top of the hill is beautiful.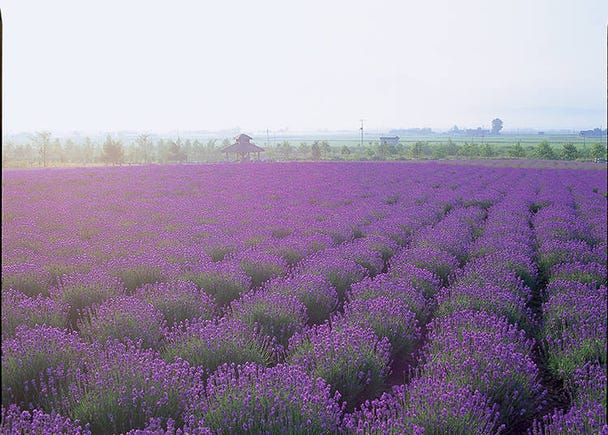 Sakiwai Field located in the center of Farm Tomita. It was given this name to wish visitors happiness. (The kanji for Sakiwai [倖] is the same character for good fortune / happiness.) Best viewing season is early to mid-July
#3. Breathtaking Delicate Gradation! Sakiwai Field Located in the Center of the Farm

Located in the center of Farm Tomita, Sakiwai Field has 4 types of lavender planted here. Okamurasaki, Noushi Hayazaki, Yotei, and Hanamoiwa creates a delicate gradation.

Also located 4km to the east of here is Lavender East, which produces ingredients for perfumes. The never ending purple view is impressive!

This section is only open in July, you can also take the Lavender Bus that goes through the field. (Bus fee: adult 200 yen, elementary school students and below, 100 yen)
Farm Tomita has Many Flowers Other Than Lavender!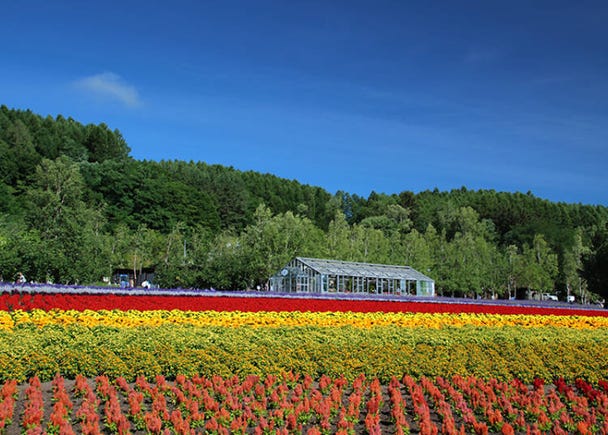 Close to the large bus parking lot and the first field visible from the entrance is the Hanabito Field. Best viewing season is early July to late September.
Non-Lavender Flower Fields #1. Hanabito Field

At Farm Tomita, there are a variety of flowers grown other than lavenders. A pleasant view is offered throughout the seasons with various flowers. At the entrance of the farm is the Hanabito Field.

When Hokkaido finally enters spring in May, grape hyacinth and viola start to bloom. From early supper to autumn red and yellow flowers such as marigold and silver cock's comb start to fill the fields.

There are shops and cafes near the Hanabito Field, offering a place to relax and view the flowers.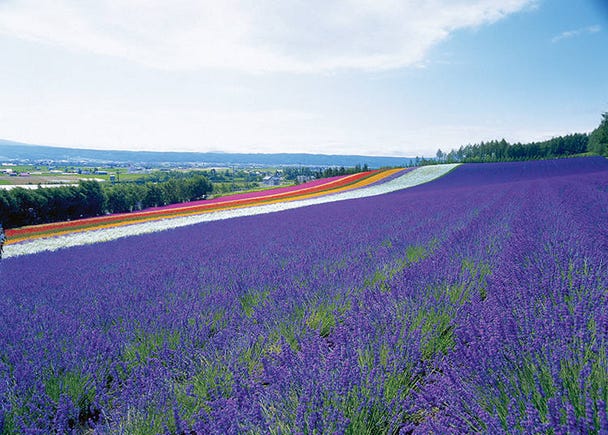 Flowers planted at Irodori Field looks like a rainbow. Best viewing season is mid to late July
#2. Irodori Field: Spread across a Gentle Slope

Irodori Field is spread along a gentle sloped hill. When in full bloom the various color flowers such as lavender, red poppies, pink garden catchflies, and white baby's breath fill the slope like a rainbow. With late-blooming flowers, the best viewing season is the latter half of July.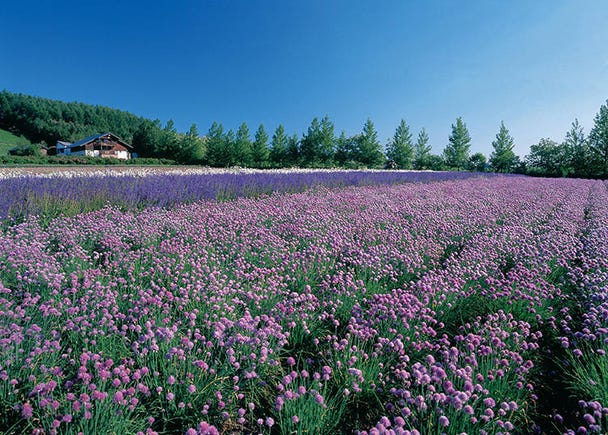 Cute flowers such as poppy and lupine are grown in Spring Field. The best viewing season is early to mid-June
#3. Spring Field and Autumn Field
Various colorful flowers such as marigold are grown at Autumn Field. Best viewing season early July to late September
Spring Field and Autumn Field are located next to Sakiwai Field. At the Spring Field, flowers start blooming in mid-May when it's still chilly. Northern flowers such as Iceland poppies and lupine are grown here.

These cute flowers will be blooming along the lavender season of late June to early July.

The Autumn Field starts to bloom when the Spring Field starts to fade. Various flowers such as beach rose, scarlet sage and marigold are in bloom until early October when it starts to snow.
Many Unique Flower Areas Like Hilltop Field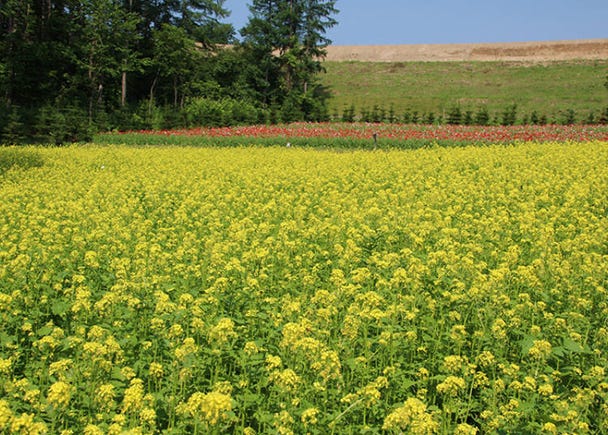 Hilltop Field is a flower field surrounded by trees. Best viewing season is mid to late July
Hilltop Field was established in 2017. It is located at the highest point of the hill on Farm Tomita and flowers such as mustard flower, red and white poppy are planted here.

Also, there are flower fields with different concepts like the Forest Field which creates a beautiful contrast between the flower field and green on the trees, and the Green House that has Hokkaido lavender in bloom outside the summer season.
Address

15, Kisenkita, Nakafurano-cho, Hokkaido, 071-0704
View Map

Nearest Station

Naka-Furano Station (Furano Line)


Phone Number

0167-39-3939
*This information is from the time of this article's publication.
*Prices and options mentioned are subject to change.
*Unless stated otherwise, all prices include tax.