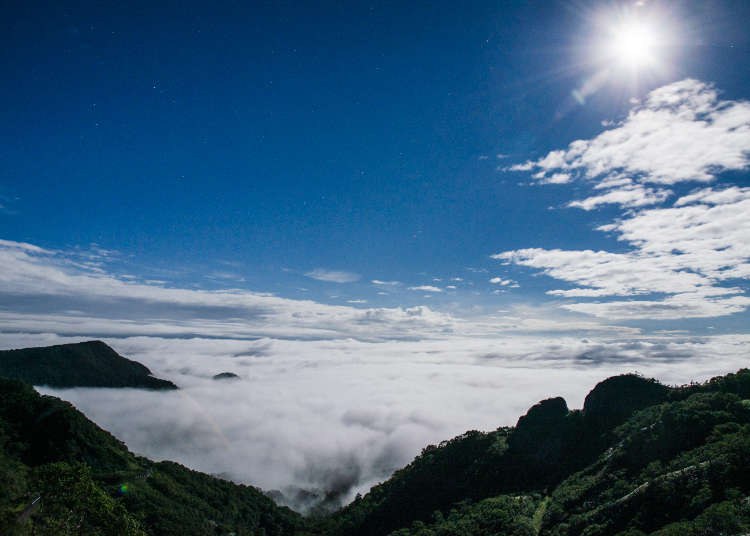 Noboribetsu Onsen is a sightseeing spot that represents Hokkaido. There are many ways to enjoy the area such as soaking in a hot spring at a hotel or exploring the area. Also in the Noboribetsu Onsen area there are popular spots you can reach by car or cable car. Here are three recommended spots.
Noboribetsu Bear Park: Feeding Brown Bears!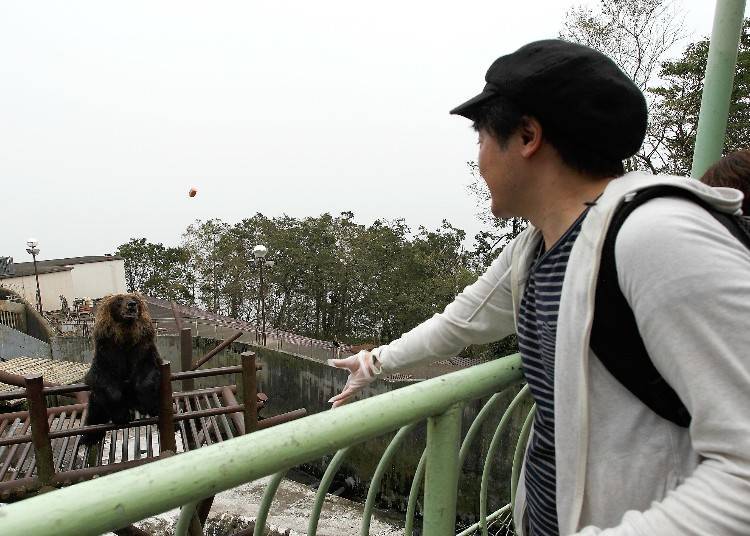 Noboribetsu Bear Park, aka Bear Mountain, is a sightseeing facility that is located on top of Mt. Shihorei. You can only reach the mountain via the cable car (round trip for adults with admission 2,592 yen, 7 minute ride one way) due to the lack of roads. The cable car station is a few minute walk from the hot spring area. Some hotels in the hot spring area offer free shuttle busses to the cable car station, which adds to its popularity.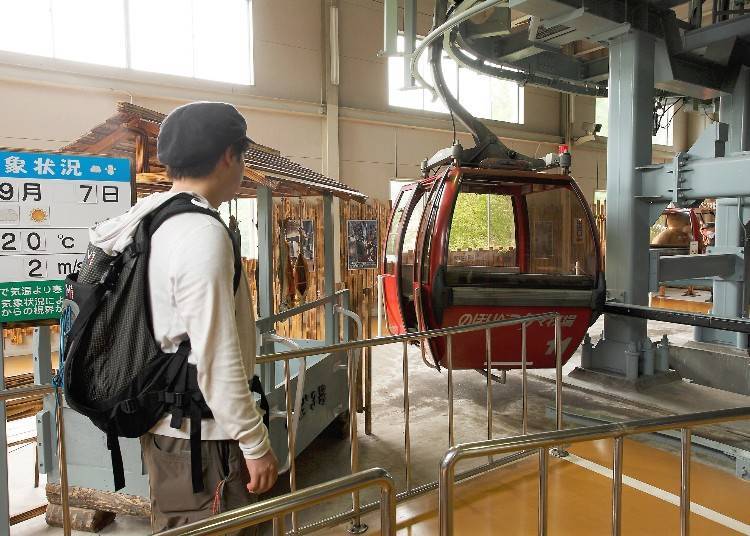 The small gondola lift arrives frequently so you don't have to wait too long to get a ride.
There are 100 bears that roam freely; these are brown bears that inhabit Hokkaido and the biggest in the bear family. The main sightseeing spot is the first ranch with all the male brown bears and the second with all the female bears. Start your tour from the second ranch, as it is the closest to the cable car station when you get off.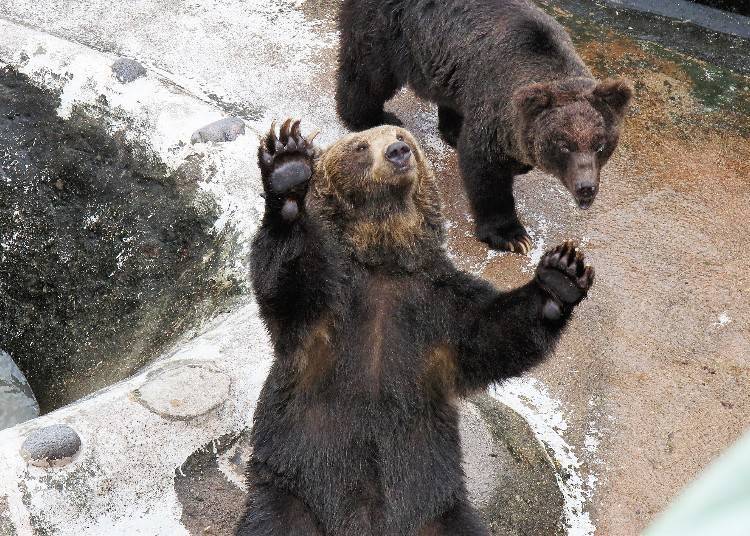 You can stand in front of the fence and look down at the brown bears. When the bears notice you they will start waving and clapping their paws! The bears are begging for bear snacks that you can purchase in the facility.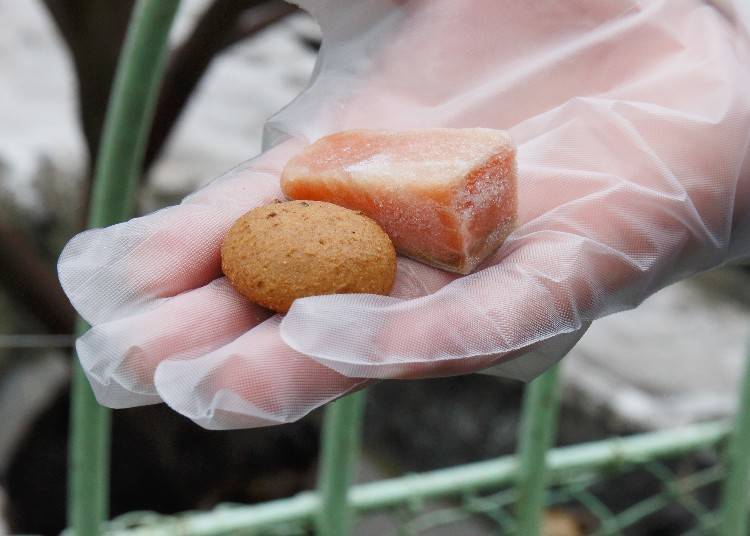 Bag of cookie 100 yen, bag of sake toba (dried salmon) 300 yen. Snacks come with plastic gloves so your hands don't get dirty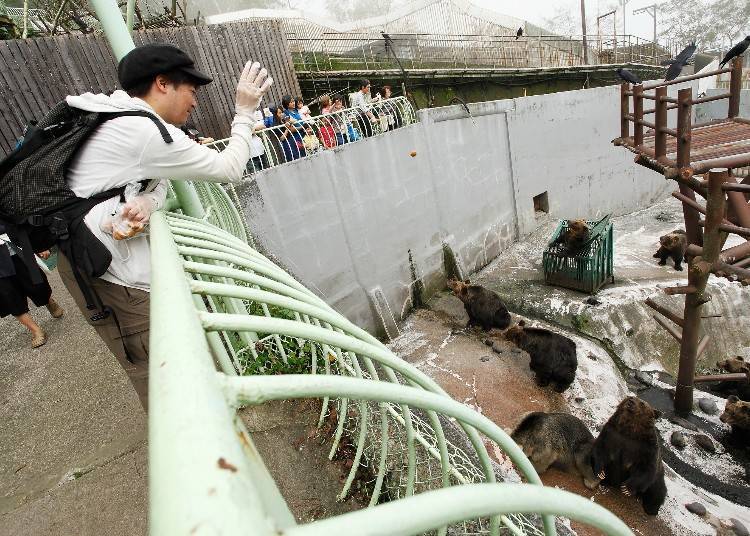 Give the snack to the bears!
When you toss in the snack, bears will catch it with their paws or their mouth! For being the world's largest bear, they are very cute. Some bears will climb the metal object that looks like a tree to beg for treats. When your eyes meet with a bear, it is pretty exciting at that close distance!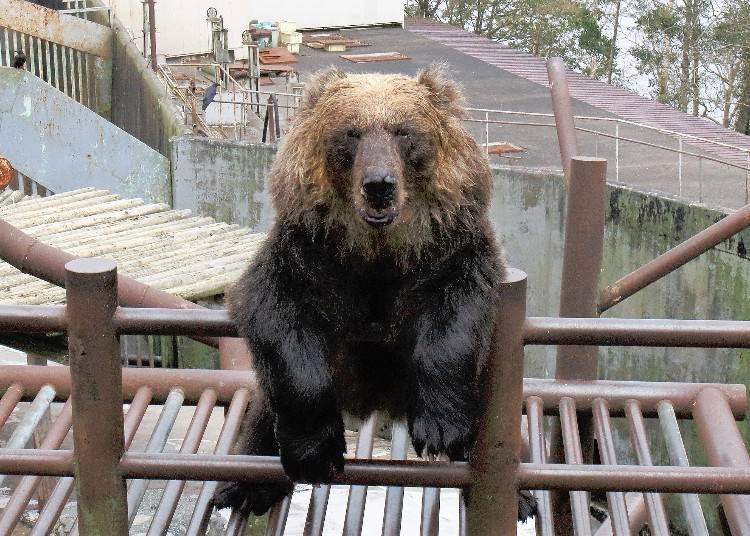 If you want an even more exciting experience, you can get in the human cage at the first ranch. Once you get past the underground passage, you end up in a glass room in the center of the first ranch! Around the room are huge male brown bears.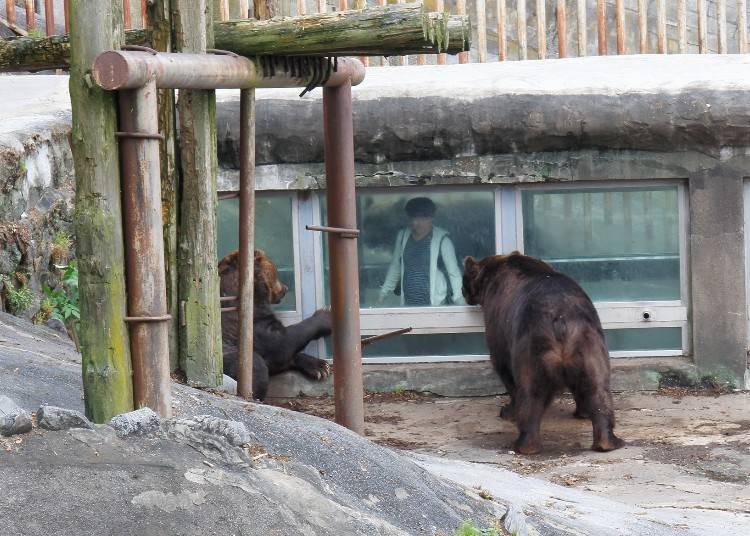 The view from the glass is amazing! You can clearly see the nails and fur on the bear.
There are metal tubes at the top and bottom of the window where you can feed the cookie type bear snacks. When the bear snatches the snack, you can feel the force and breath!
There are other places to visit such as the Brown Bear Museum with information on brown bear research, and the Ainu Kotan where they teach about Ainu (indigenous people of Hokkaido) culture.

Fee: Cable car round trip with admission for adults (2,592 yen)
Hours: April 1st ~ June 30th 8 AM ~ 4:30 PM, July 1st ~ September 30th 8 AM ~ 5 PM, October 1st ~ January 31st 8:30 AM ~ 4:30, February 1st ~ March 31st 8:30 AM ~ 4 PM *Entry tickets (cable car tickets) will stop sales 40 minutes prior to closing.
Closed: None *will close when the cable car shuts down due to weather or maintenance
*No plans for long-term suspension in 2018. 20 day suspension is planned from early to late April in 2019. Information updated on their website
Access: about a 10 minute drive to the cable car station from Hokkaido Expressway Noboribetsu Higashi (east) IC
Address

224, Noboribetsuonsencho, Noboribetsu-shi, Hokkaido, 059-0551
View Map

Nearest Station

Noboribetsu Station (Muroran Main Line)


Phone Number

0143-84-2225
Noboribetsu Dairy Farm: Awesome Cheese and Soft-Served Ice Cream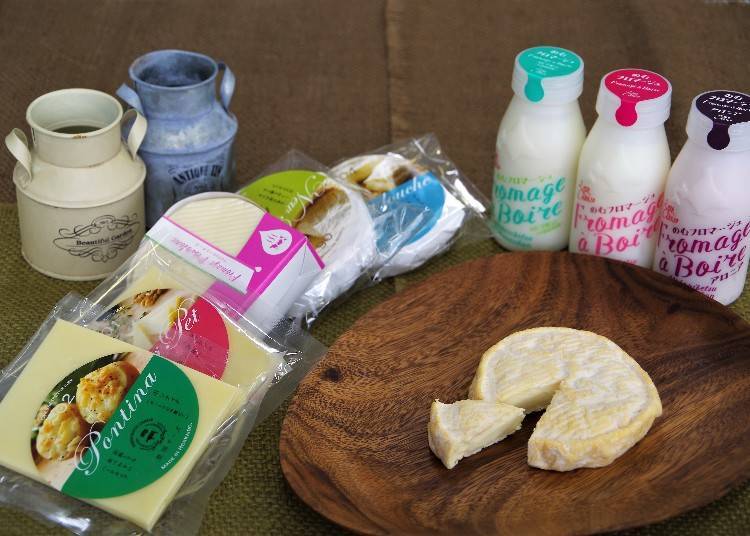 Noboribetsu Dairy Farm produces and sells products like milk, cheese, soft-served ice cream and pudding. They also have a cheese factory that is popular, gourmets say that "all dairy products have high quality." They offer gifts and you can eat soft-serve ice cream there. It is about a 10 minute drive from Noboribetsu Onsen. There are no busses heading this way, so you have to take a taxi or rent a car.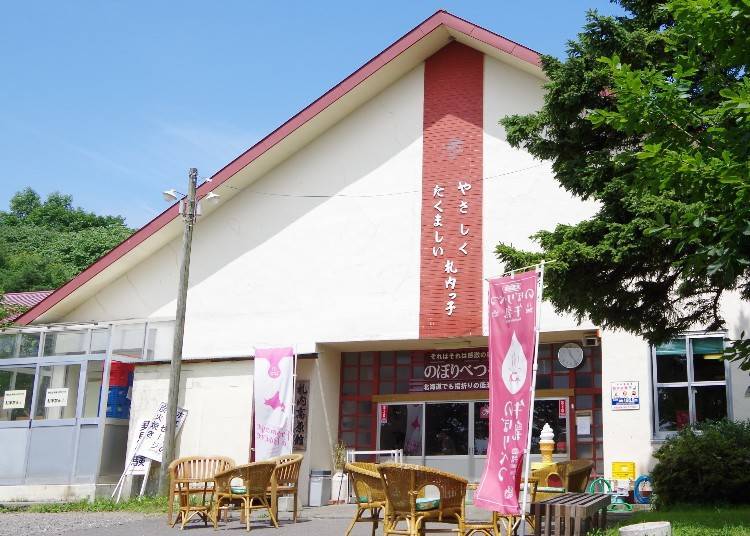 The facility reused a school that closed in 1997
Milk from cows raised on natural feed by local dairy farms is used to create the dairy products. To retain the high quality the milk is pasteurized, with this they are able to bring out more sweet and rich flavor form the milk. With low fat the rich sweet milk flavor also has a refreshing taste. We recommend drinking the Drinkable Fromage after you get out of a hot spring.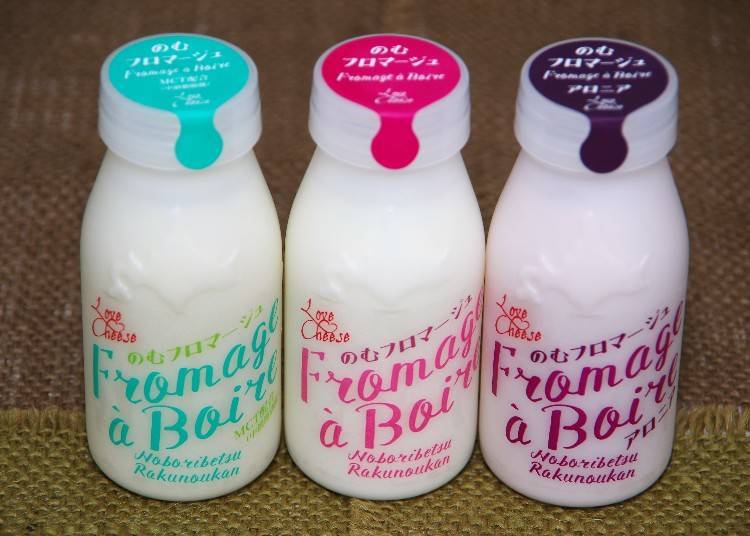 Drinkable Fromage (240 yen each). Plain flavor (middle), chokeberry with high polyphenol component (right), and kagome konbu that contains a lot of fucoidan, which increases your immune function (left)
A cheese drink similar to yogurt drink. A refreshing drink even with its thick texture. The cheese flavor is just right where it isn't too strong and has a fresh after taste. Compared to the same amount of milk or yogurt, it has a superior content rate and absorbability of calcium and minerals.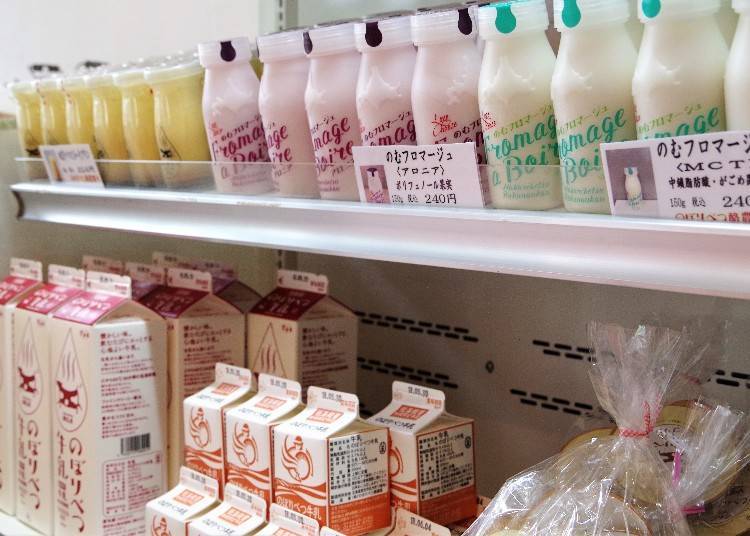 They have a wide selection of washed-rind cheese and hard types. You can sample some of the cheese to find the flavor you are looking for.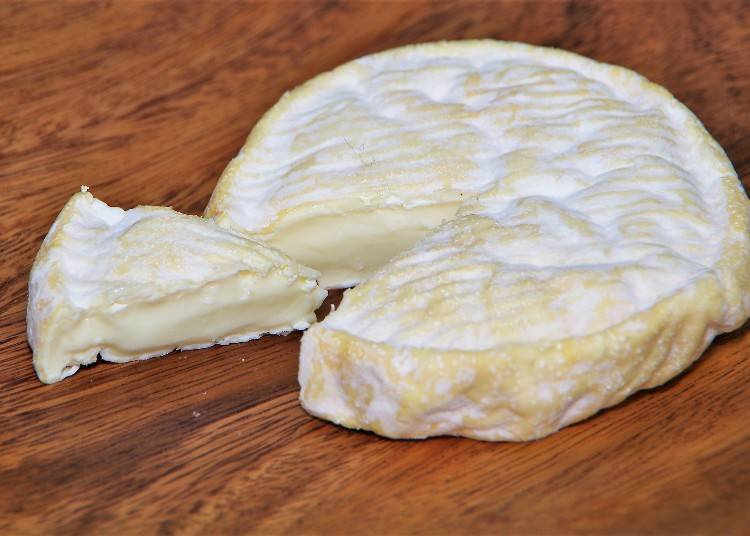 Luna (800 yen) is a washed-rind type with a smooth and soft texture. It is a perfect with red wine!
Other than cheese we also recommend the soft-served ice cream (330 yen) made with specially selected milk and mizuame (sweetener/water candy) made with Hokkaido potatoes!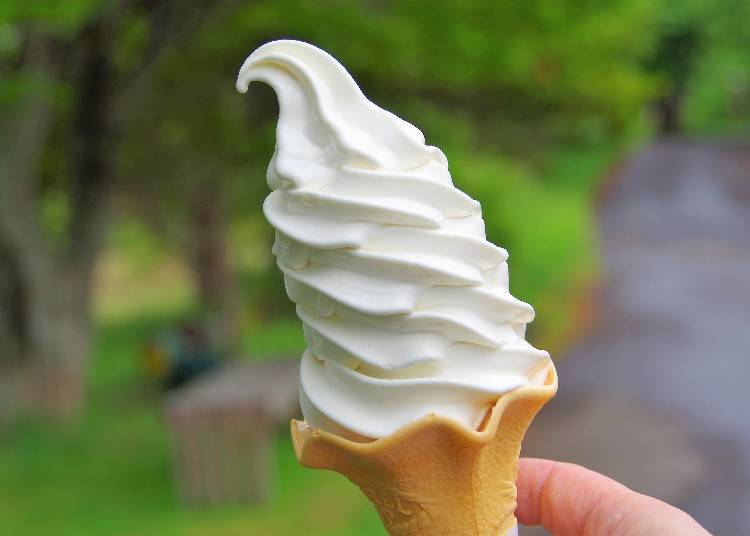 The richness and sweetness of the milk stands out
Many people come to the cheese factory to look for the right dairy product. Some products like milk and Drinkable Fromage can be purchased at convenience stores in Noboribetsu Onsen area, however cheese and soft-served ice cream can only be purchased here.
のぼりべつ酪農館

Address

〒059-0461 北海道登別市札内町73-3/73-3Satsunai-cho, Noboribetsu,Hokkaido 059-0461

Phone Number

0143-85-3184

Hours: 10 AM ~ 4 PM
Closed: End of the year to New Years
Access: 15 minute drive from Hokkaido Expressway Noboribetsu Higashi (east) IC, 10 minute drive from Noboribetsu Onsen
Orofure Pass Observatory: See a Superb View Above the Clouds!?
View of the sea of clouds from Orofure Pass Observatory
The last place we will cover is the hidden view spot, Orofure Pass Observatory. It has gain popularity in the recent years for the possibility to view a sea of clouds.

Orofure is located in the center between the roads that connects Noboribetsu Onesen and Lake Toya Onsen. You can reach the pass in about 40 minutes by car from Noboribetsu Onsen. There are no busses going this way so you can only get here by rental car or taxi.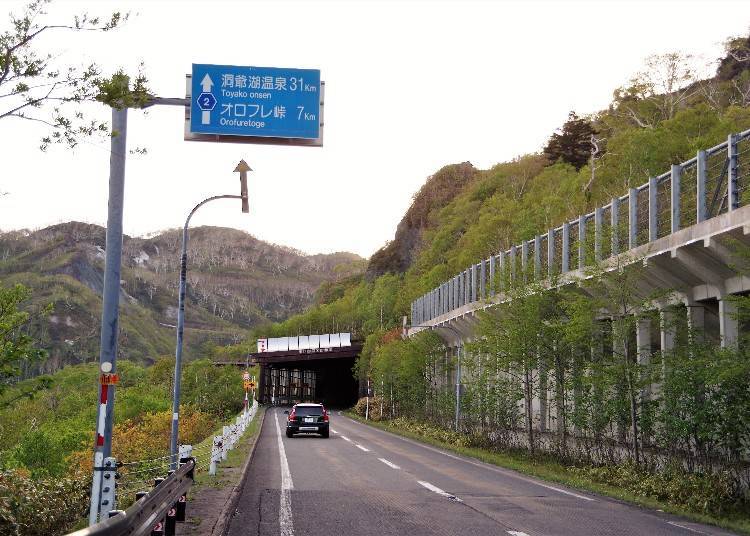 The road is wide enough for a tour bus to pass, so a regular passenger car shouldn't have any trouble.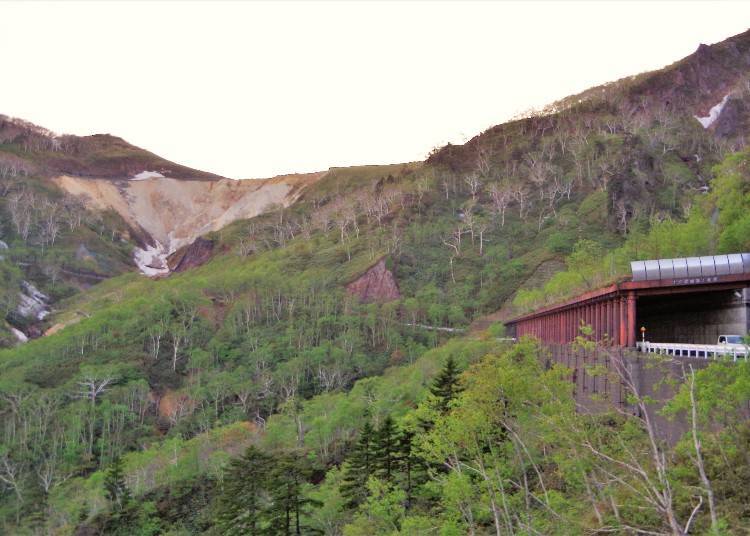 Entrance to the long tunnel. The white cliff near the top is where the observatory is located.
This pass was considered one of the most dangerous passes in Hokkaido. Now there is a tunnel and it is much easier to navigate. However there are still many curves in the tunnel so please drive carefully.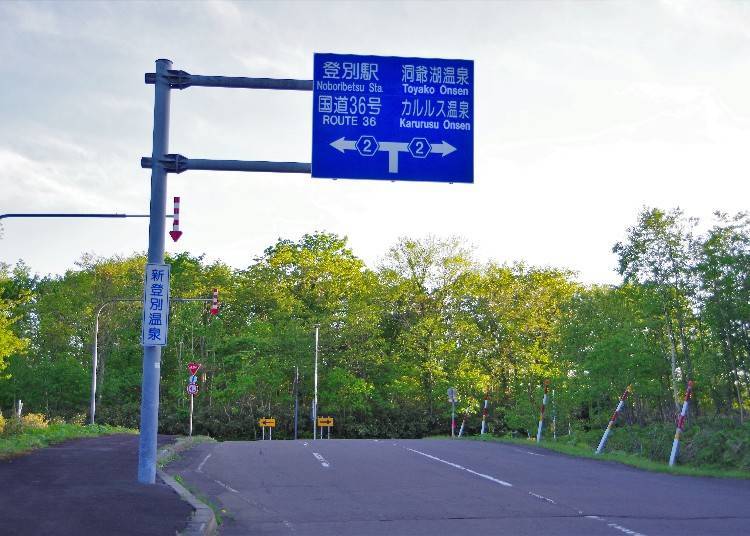 From Noboribetsu Onsen, head towards Lake Toya Onsen
When heading form Noboribetsu Onsen, once you are through the tunnel, there is a left turn after a few minutes. There are no signs, but it is the only location where you can turn on the road, so it is hard to miss.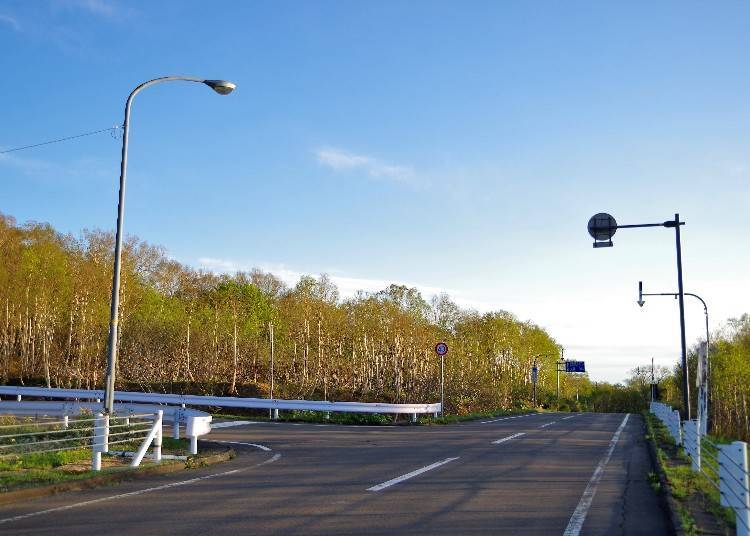 Where you turn left. After the turn, go straight for a few minutes and you will reach the observatory
On a clear sky day, look towards Noboribetsu Onsen and you can see the mountain range and the Pacific Ocean. Looking towards Lake Toya, you can see Mt Yotei, also known as Ezo Fuji, and Lake Toya.
眼下に今通ってきた道も見える
If you arrive early in the morning, there is a chance to see a vast sea of clouds! It all depends on luck whether you can see the sea of clouds or not. When it's foggy or cloudy over Noboribetsu Onsen, there is a chance you can catch a beautiful view from the pass. It is worth waking up early to check the view!
オロフレ峠展望台

Address

〒059-0553 北海道登別市登別温泉町カルルス町/Karurusu-cho, Noboribetsu,Hokkaido 059-0553

Phone Number

0143-84-3311

Closed: The pass was closed due to winter traffic closure from November ~ early June last year
Access: 50 minute drive from Hokkaido Expressway Noboribetsu Higashi (east) IC, 40 minute drive from Noboribetsu Onsen
*This information is from the time of this article's publication.
*Prices and options mentioned are subject to change.
*Unless stated otherwise, all prices include tax.
Limited time offer: 10% discount coupons available now!