In a limited time event starting January 13, fans of Disney's massively popular Frozen will get the chance to step into the world of Anna and Elsa at Tokyo Disneyland. Come with us on a journey to the kingdom of ice and snow!
Make Your Own Icy Memories with the Frozen Forever Experience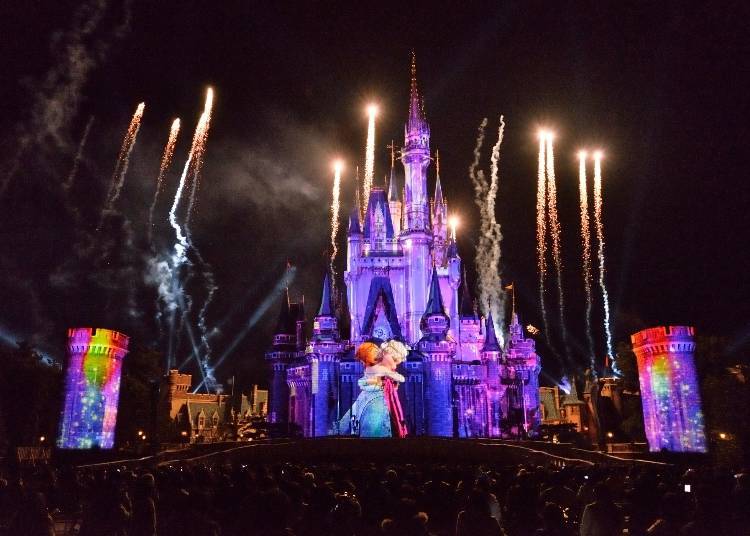 Look forward to be enchanted by Frozen's most inconic scenes all over again with the "castle frojection" called Frozen Forever.
Making use of state of the art projection technology, the characteristic Cinderella Castle, the composition of movie scenes look incredibly dynamic and alive, with even more Disney magic sprinkled right on top of it!
Frozen Forever's theme is "Family Ties," under which movie scenes particularly about Anna and Elsa's childhood can be experienced all over again, enhanced with iconic songs such as Let It Go, For the First Time in Forever, and Love Is An Open Door.
Typical for the Disney experience, it doesn't matter how old you are at all to be completely enchanted and amazed by the spectacle, and we're sure that you'll have that certain shine in your eyes when the finale approaches and magnificent fireworks illuminate the night sky.

* Reserved seat tickets (available by lottery) are required to view this show from the Central Viewing Area in front of Cinderella Castle.
* "Once Upon a Time," currently presented at Tokyo Disneyland, will not be held during this period.

Duration Time: about 15 minutes (1-2 daily)
Location: Cinderella Castle
Become a Part of Frozen with the Frozen Fantasy Parade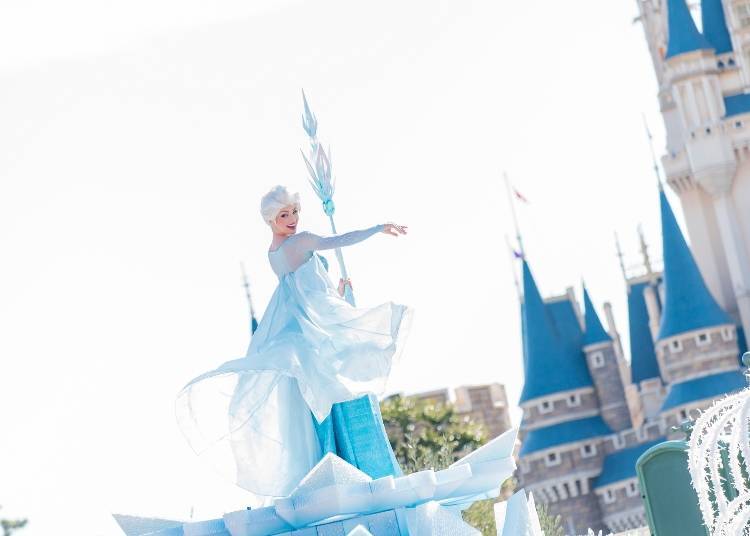 On top of the frojection, the special Frozen Fantasy Parade will let you meet all of your favorite characters from the iconic movie. Halfway through the parade, Elsa uses her magic to bring lot and lots of snowfall to Tokyo Disneyland in response to Anna's wish to play and have fun in the snow! Enjoy the dancing snowflakes and be a part of Frozen by singing memorable songs like Let It Go with all of your friends from Arendelle. Don't hesitate to actually let it go and enjoy yourself to your heart's desire at this unique Frozen parade!

Duration: about 45 minutes (1-2 daily)
Location: parade route
Number of Performers: about 85
Number of Floats: 5

Character Appearances: Anna, Elsa, Kristoff, Hans, Troll
Sing and Dance with your Favorite Characters at Anna and Elsa's Winter Greeting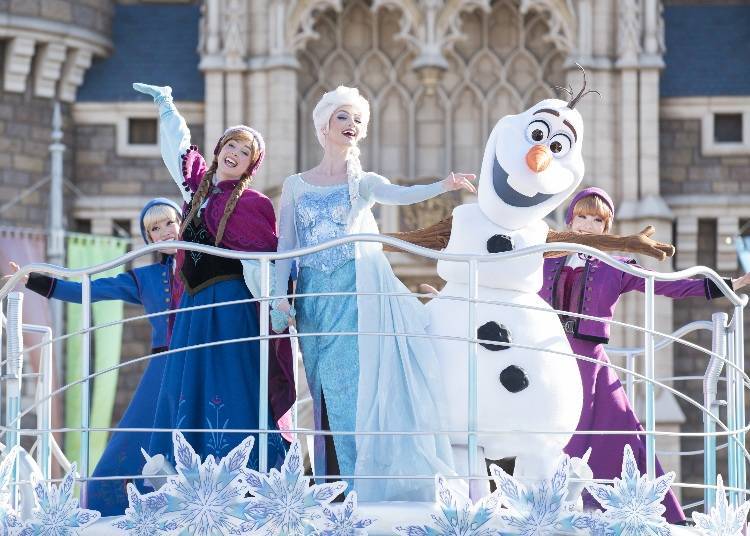 Head over to the Castle Forecourt in front of Cinderella Castle for a unique Frozen experience! Here, children get the magical opportunity to practice a song and dance routine with the villagers of Arendelle to then show their skills and impress Anna, Elsa, and Olaf as they arrive on a float! Singing the iconic Let It Go with their favorite characters, Anna and Elsa's Winter Greeting is the highlight of many a little fan!
Before they leave, Elsa, Anna, and Olaf promise the skilled participants to meet them again, creating unique and fond memories for every single one of them.

Duration: about 18 minutes (once per day)
Location: Cinderella Castle
Take a Commemorative Photo of Yourself in the World of Anna and Elsa!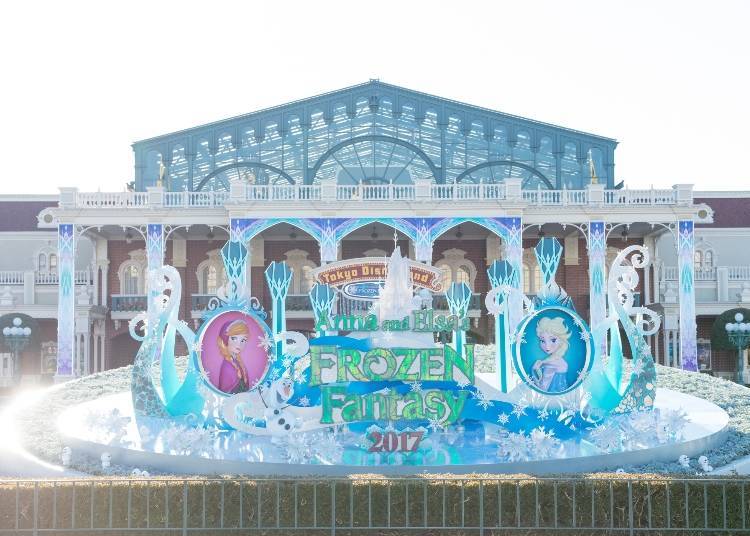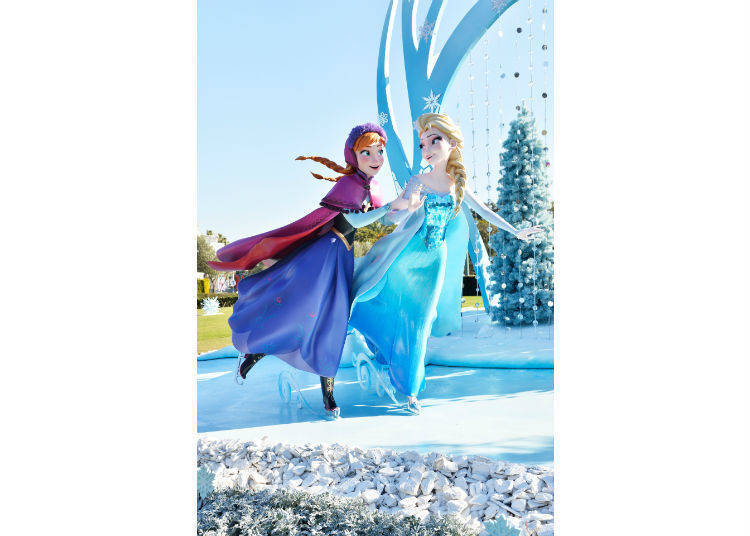 During the event, the entirety of Tokyo Disneyland is, of course, decorated accordingly, transforming the park into the Kingdom of Arendelle. Don't miss out on the opportunity to take a photo of yourself, friends, and family in frozen's magical winter wonderland.
A variety of photo spots can be found all around the park; enjoy ice skating with Anna and Elsa in front of Cinderella Castle, or hop in Sven's sled at Fantasyland.
At the World Bazaar, a magical world of shimmering lights awaits, emulating the magnificent ice palace that Elsa built for herself in the movie. And for those of you who like treasure hunts, little snowmen called Snowgies from the short movie Frozen Fever can be spotted all around the park - grab your camera and try to find them all!
Tokyo Disney Land (R)

東京ディズニーランド (R)

Address

1-1 Maihama, Urayasu-shi, Chiba 2790031 Japan
Area

Category

Articles Genre
*This information is from the time of this article's publication.