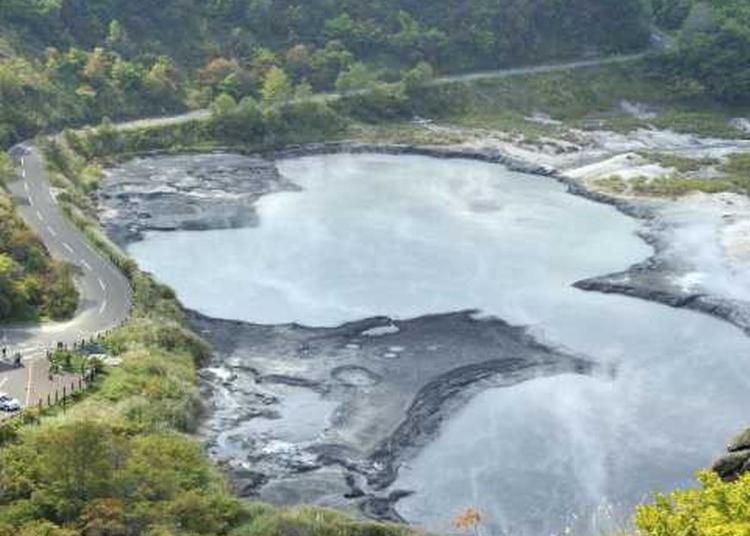 Here are the best Rivers, Lakes & Canyons in Hokkaido, with travel tips and more, according to LIVE JAPAN, a top-class travel website for visitors to Japan. Our ranking is based on the most popular pages viewed by foreign visitors in a given category.

For instance, Otaru Canal, Biei platinum blue pond, Waterfall of Ginga ・Waterfall of Meteor and other related spots will be listed. Be sure to check them out during your visit to Hokkaido!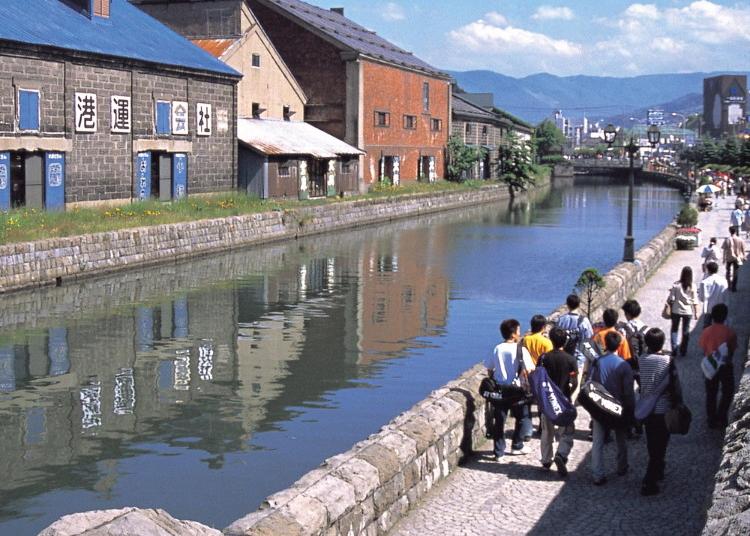 In its heyday, Otaru was a flourishing port town that functioned as one of Hokkaido's economic centers. At that time, Otaru Canal was built to improve the efficiency of unloading boats arriving from the sea carrying goods for wholesale. An area from the beach out into the sea was reclaimed as land in 1923. Peculiar to this canal is its gentle curve, a design uncommon among the world's canals.
The Otaru Canal fell into disuse as goods distribution shifted from water to land. In 1986, part of the canal beside the harbor road was partially filled in, and it shrank in width from 40 m to 20 m. The filled-in area was developed into a promenade, and the canal subsequently returned to the limelight as a tourist attraction. The North Canal, however, has retained its original width.
Stone-walled warehouses and old factories stand side by side along the canal, and some of the buildings have been renovated into restaurants and shops. Lining the promenade are 63 gaslights, bestowing a nostalgic atmosphere on the surroundings with soft lighting as the sun sets.

Access Info
From New Chitose Airport, take the JR Rapid Airport Express for 1 hour 13 minutes and get off at JR Otaru Station, then walk for 8 minutes.

Otaru Canal Cruise
Enjoy Otaru Canal with a stroll along the promenade, or why not join a pleasure cruise along the waterway?
The boarding area for the cruise boats is at the Chuo Bridge on Otaru Canal, 15 minutes by foot from JR Otaru Station.
Cruises take about 40 minutes, offering views of the warehouses as the boat glides through the water and sneaks under low bridges. Boat captains double as cruise guides. Although the captain normally explains the sights in Japanese, some boats feature multilingual voice guide systems with messages in English, Chinese, and Korean.
While you may be able to buy cruise tickets on the same day if there are vacancies, it's best to book in advance as there are many tourists in the summer months and during consecutive national holidays. Be sure to buy tickets at the counter next to the Chuo Bridge at least 15 minutes before departure, as boarding starts 10 minutes before setting off.
The night cruises after dark are also very popular, when the canal lights lend a certain romance to the waterside.
When there is light rain, cruise operators lend out raincoats for free, though they may cancel cruises if there is strong wind or rain. For safety reasons, you may not open your umbrella on board the boats.
There are 16 to 23 cruises each day (at 30-minute intervals). The number of cruises varies depending on the season.
Day cruises cost 1,500 JPY for adults and 500 JPY for elementary school children; night cruises cost 1,800 JPY for adults and 500 JPY for elementary school children (One toddler can board for free for each paying adult).

Otaru Snow Light Path
This event takes place between early and late February, with candles lit in the Otaru Canal and other places in the city. Many candles are placed into the Otaru Canal on floats, creating a bewitching atmosphere beside the snowscape.
2.Biei platinum blue pond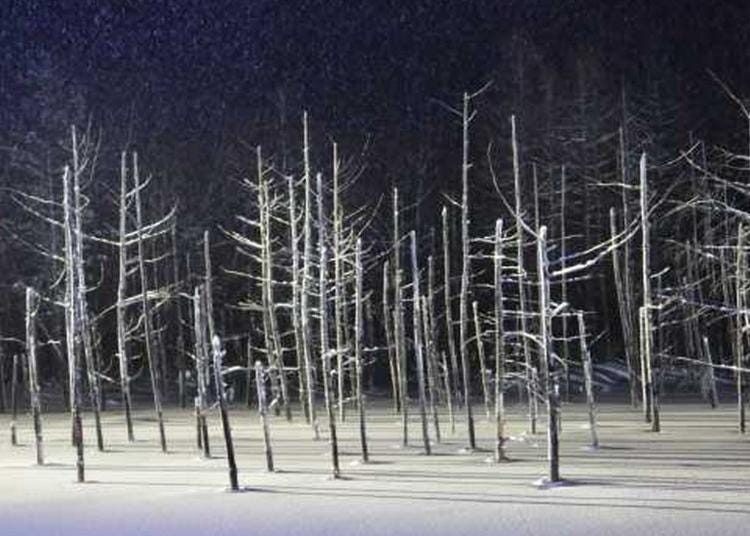 This otherworldly pond was accidentally created when Biei River was modified to control erosion. The pond is thought have become blue when the Biei River mixed with groundwater, creating a colloid of aluminum hydroxide.
3.Waterfall of Ginga ・Waterfall of Meteor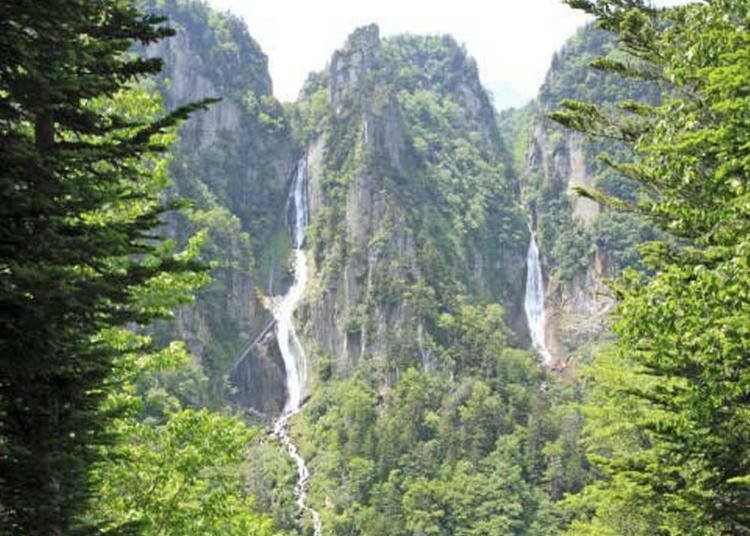 One of the scenic spots in Daisetsuzan National Park. Water in the Ginga-no-taki waterfall tumbles down from a columnar jointed rock face into multiple slim threads, for around 120 meters. Each year, many tourists come to see the autumnal foliage in the area.

A 30-minute trip from Kamikawa Station on the Dohoku Bus for Sounkyo, change in the last stop for a four-minute trip on Dohoku Bus for Taisetsu Lake, near the Takimidai stop
4.Oyunuma Hot Spring Pond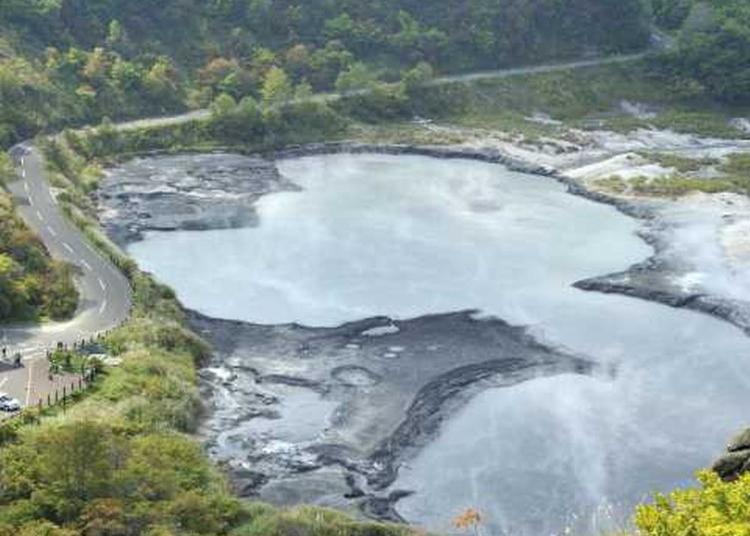 Hot spring water filled this volcanic blast crater, creating a hot spring pond one kilometer around. Its blue-green waters are 40 degrees Celsius at the surface, but 130-degree water gushes forth from its depths. To the south is an observation deck from which you can see the pond in its entirety. The surrounding area is known for brilliant fall foliage.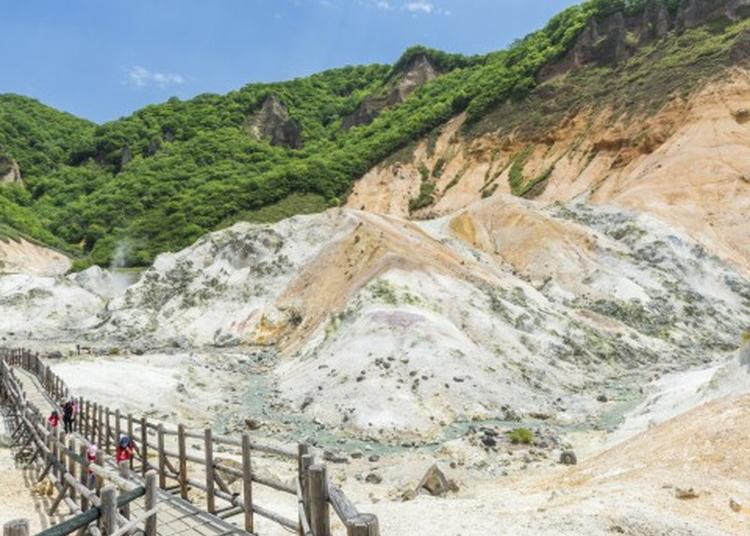 The remains of a volcanic crater about 450 m across, to the north-east of Noboribetsu Onsen. There's a promenade that takes about 20 minutes for one circuit, featuring 15 hot-water ponds and fumaroles each including "Hell" in their name, such as Showa Hell, Lead Hell, and Whirlwind Hell.
Address

Noboribetsuonsencho, Noboribetsu-shi, Hokkaido, 059-0551
View Map

Nearest Station

Tomiura Station (Muroran Main Line)


Phone Number

0143-84-3311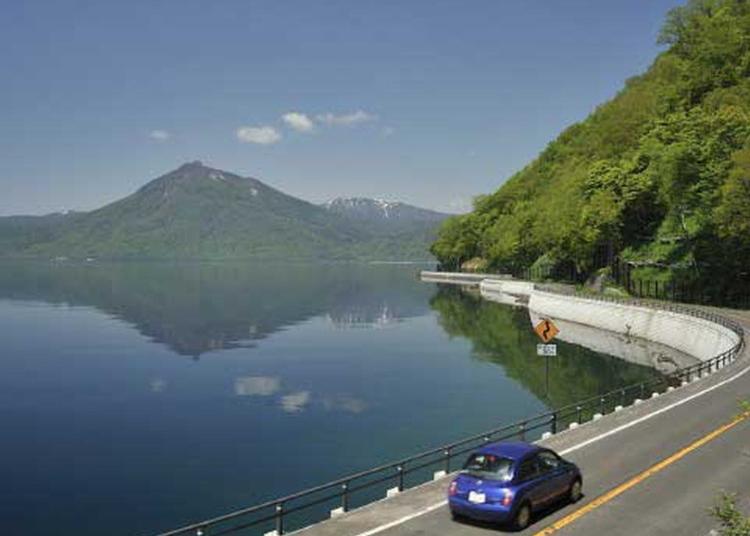 Powerful volcanic activity around 40,000 years ago created this caldera lake, one of Japan's clearest. Hot spring inns and camp zones can be found around its banks. Visit Lake Shikotsu Visitor Center for information on surrounding nature.

A 44-minute trip from Chitose Station on the Hokkaido Chuo Bus for Lake Shikotsu
Address

Shikotsukoonsen, Chitose-shi, Hokkaido, 066-0281
View Map

Nearest Station

Chitose Station (Chitose Line)
44 minutes on foot


Phone Number

0123-25-2404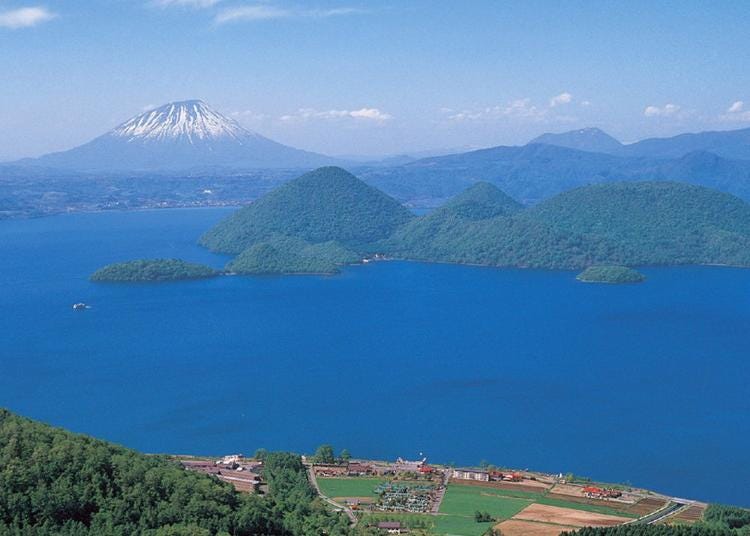 Lake Toya is a caldera lake formed by a volcanic eruption about 110,000 years ago. It features a circumference of about 40 km and plunges to 179.2 m at its deepest point. Four islands collectively called "Nakajima" form a cluster close to the middle of the lake. The active volcano Mt. Usu stands to the south of the lake, and the whole area is registered as the Toya Caldera and Usu Volcano Global Geopark. The varied terrain and beautiful scenery make this a particularly rewarding place to visit. Venturing lakeside, you'll find the Lake Toya Gurutto Sculpture Park, which is dotted with 58 monuments.
The lakeside also features the Toyako Onsen (hot spring), which offers day-trip bathing as well as a place to soak your hands and feet. The hotel is ideal for lodging, with an open-air onsen offering a panoramic view of Lake Toya.

Access Info
From JR Sapporo Station, take the Super Hokuto Limited Express for 1 hour 56 minutes and get off at JR Toya Station. Alternatively, from Sapporo Station Bus Terminal, take the Donan Bus headed to Toyako Onsen (advance booking required) for 2 hours and 45 minutes, and get off at Toyako Onsen Bus Terminal.

Lake Toya Steamboat
Lake cruises circle the Nakajima island cluster, taking about 1 hour, and offer views of Lake Toya, Mt. Yotei, and Mt. Usu. You can alight from the boat midway to walk on Oshima, one of the Nakajima islets, and may even be lucky to meet Yezo deer (getting off the boat is only possible in summer.)
There are three boats plying the waters, including a huge vessel named Espoir with a capacity for 700 passengers. It's modeled after a medieval castle. The other boats are named Kofuku and Yotei.
The boats run 8:00am–4:30pm in summer (every 30 minutes), and 9:00am–4:00pm in winter (every hour). Tickets cost 1,420 JPY for adults and 710 JPY for elementary school children.
* The timetable may change based on weather conditions and the time of sunset.
A boat tour runs together with the Lake Toya Long-Run Fireworks Show in the summer. The boat sets off around 8:30pm every night when the show is held, offering a spectacular view of the fireworks from the lake. Tickets cost 1,600 JPY for adults and 800 JPY for elementary school children.

Lake Toya Long-Run Fireworks Show
This fireworks show runs every year between April 28 and October 31. About 450 fireworks are launched from a ship moving over Lake Toya every evening from around 8:45pm to 9:05pm.
Other special events include the 108 Water Fireworks Show on July 21, and the 5 Water Fireworks Show on September 1 with huge original water fireworks set off.
What's more, the Toyako Onsen Summer Festival runs between late July and mid-August, offering target practice, ring toss, and other games to play at stalls on the fete square by the lake.
Address

Toyako Town, Hokkaido Toyako Onsen Town, 049-5721
View Map

Nearest Station

Usu Station (Muroran Main Line)


Phone Number

0142-75-2446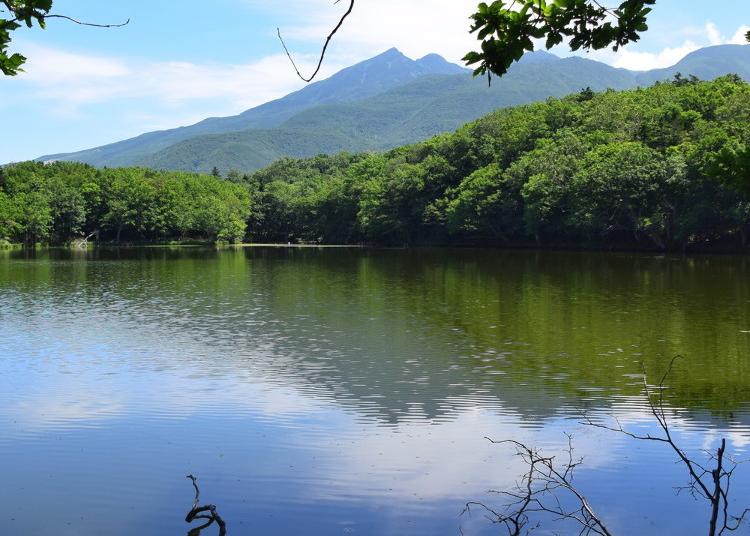 Eastern Hokkaido is well known for its lush natural environment. Situated in this area, the Shiretoko National Park is designated as a World Natural Heritage Site and particularly worth a visit.
Lakes of different sizes, numbered from one to five, are interspersed within the deep forests of the Shiretoko Peninsula. View the lakes as well as the Shiretoko mountain range as you stroll along pathways or elevated boardwalks. And if you're lucky you may even spy a wild red fox or Yezo deer. Beautiful flowers adorn the lakes and surroundings from early to mid-summer.
A shuttle bus runs from the Utoro Onsen Bus Terminal between Aug 1 and Aug 25 (subject to variation), providing easy access.

Access Info
Shiretoko National park is about 2 hours 10 minutes via the Shiretoko Airport Liner from Memanbetsu Airport to the Utoro Onsen Bus Terminal, then 20 minutes by taxi to the park.

Routes around the Shiretoko Goko Lakes
(1) Ground pathways
There are two courses available: the 1.6-km Short Loop, which takes about 40 minutes, and the 3-km Long Loop, taking around 1 hour 30 minutes. The Long Loop runs alongside all five lakes, while the Short Loop allows visitors to take a gentle stroll via a shortcut in the long course, taking in two of the lakes.
Reservations may be required for lectures and guided tours depending on the season, so be sure to check in advance.
- Wildlife preservation period: from the park's opening day to May 9, and from August 1 to October 20
After purchasing a ticket (250 JPY) at the machine in the Shiretoko Goko Lakes Field House, fill in an application form and hand it to reception. The walk will start after a 10-minute lecture on safety precautions regarding brown bears.
- Brown bear active season: May 10–July 13
Only guided tours are available during this period because of the danger of brown bears appearing in the area. Tours are conducted by several companies and require advance booking. Prices and walking times vary between tour companies, though generally tours for the Long Loop cost 5,000 JPY for 3 hours and tours for the Short Loop cost 2,500 JPY for 1 hour 30 minutes.
- Unrestricted admission: from October 21 to the park closing
Visitors are free to walk through the park without lectures or guided tours.

(2) Elevated wooden boardwalk
A wooden path about 800 m long elevated 2 to 4 m above the ground. A 1.6 km round trip along the path takes about 40 minutes. This route only passes one lake on this route, but the observation deck in the middle of the path offers a spectacular view of the Shiretoko mountain range. Feel free to amble along the boardwalk without the need to book.

What to Wear and Bring
You are recommended to wear long-sleeved tops and long pants as well as comfortable shoes. Carrying a small rucksack keeps both hands free, and is ideal for bringing drinking water and rain gear. There is no shade along the pathways, so don't forget to wear a hat.
Be sure to take any waste out of the park with you, and remember that you are prohibited from bringing in any food or drinks other than water.
Address

Village character rock 549, Ubetsu according to the Shari-cho, Shari-gun, Hokkaido larger section of a village distant sound, 099-4100
View Map

Nearest Station

Shiretoko-Shari Station (Senmo Main Line)


Phone Number

0152-24-3323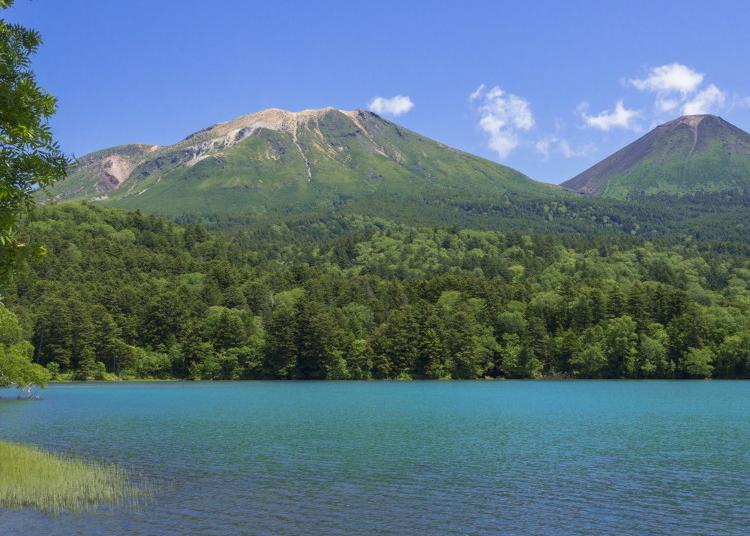 This lake serves as a symbol of eastern Hokkaido and is also a tourist magnet. With a circumference of about 30 km, the lake reaches down 45 m at its deepest point, and covers an area exceeding 13 sq. km. Lake Akan is famous as the home of marimo, a Special Natural Monument, and its eastern shore features the beautiful silhouette of the towering Mt Oakan. Revel in the vista of the lake and mountains from the lakeside promenade.
Lake Akan Onsen includes many onsen (hot spring) hotels to the south of the lake, along with Ainu Kotan, the villages of the Ainu people indigenous to Hokkaido. The area features shops selling traditional handicrafts as well as a theater showing Ainu traditional dance, which is registered as a UNESCO Intangible Cultural Heritage.

Access Info
From Tancho Kushiro Airport, take the Airport Shuttle Bus for 1 hour and 15 minutes, and get off at Lake Akan Bus Center. The bus stops at each onsen hotel at Lake Akan along the way.

What are Marimo?
Marimo are balls of string-shaped algae gathered together by water currents at the bottom of the lake. These algae need sunlight to thrive, and will not grow unless they are in clean water that is clear enough for sunlight to pass through. The marimo in Lake Akan are designated as a Special Natural Monument because of their attractive spherical shapes. You can buy marimo in jars as souvenirs of Hokkaido, though these are actually made by collecting algae together artificially.

Cruising Lake Akan
While you're at the lake, why not embark on a cruise? A pleasure boat departs from a lakeside pier and tours the lake's scenic areas for about 1 hour and 25 minutes. The boat stops midway at Churui Island, where you can visit the Marimo Exhibition and Observation Center. The center presents exhibits related to marimo and gives you the chance to view natural marimo via a camera installed in the lake.
The cruises operate from 6:00am to 6:00pm between May and November (varies depending on the season; there are 8 to 11 cruises each day), and run every day during this period. Fees to board are 1,900 JPY for adults and 990 JPY for children.
Besides the pleasure boat, you can also rent a motorboat to cruise Lake Akan yourself. There's a total of 6 price options, offering fun cruises ranging from the Kojima course (500 JPY for 5 minutes per person) to the deluxe course (4,500 JPY for 45 minutes per person.)
* The motorboat prices above are the cost per person when two people ride. Visitors riding alone will be charged for two people.

Lake Akan Summer Lamp Festival
This event runs in July and August. You can write your hopes and wishes on a slip of paper inside a ball illuminated in green to resemble marimo, then cast it from the pleasure boat. These messages illuminate the surface of Lake Akan with a mesmerizing green glow on summer nights. The pleasure boat departs every evening at 7:50pm during the event and cruises for 55 minutes. It's 1,500 JPY for adults and 1,000 for elementary school children to join (includes the cost of the cruise).
Address

Akanchoakankoonsen, Kushiro-shi, Hokkaido, 085-0467
View Map

Nearest Station

Bihoro Station (Sekihoku Main Line)


Phone Number

0154-31-1993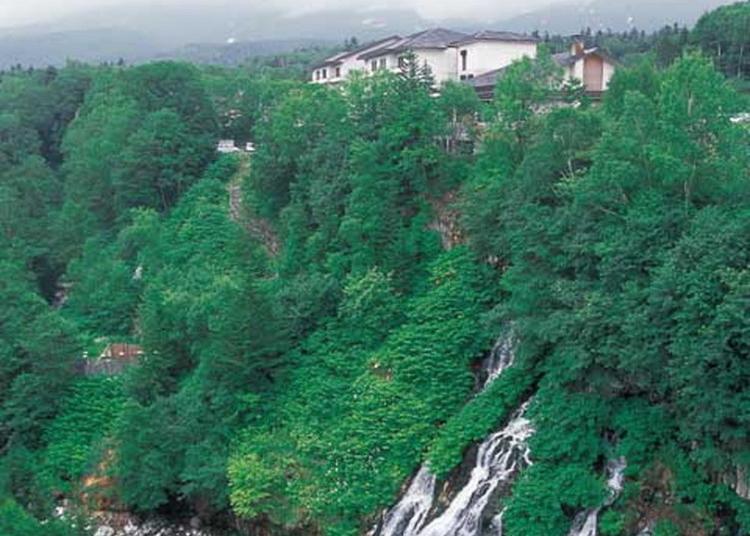 An underground river from Mt. Tokachi tumbles down, creating a magnificent waterfall. The Biei River below is also known as the Blue River for its shining, cobalt blue hue. A bridge near the waterfall gives you a great point to observe it.

A 30-minute trip from Biei Station on the Dohoku Bus for National Taisetsu Youth Friendship Center, bus stops at the waterfall
Address

Shirogane, Biei-cho, Kamikawa-gun, Hokkaido, 071-0235
View Map

Nearest Station

Biei Station (Furano Line)
30 minutes by bus


Phone Number

0166-94-3025
*This information is from the time of this article's publication.
*Prices and options mentioned are subject to change.
*Unless stated otherwise, all prices include tax.
Limited time offer: 10% discount coupons available now!