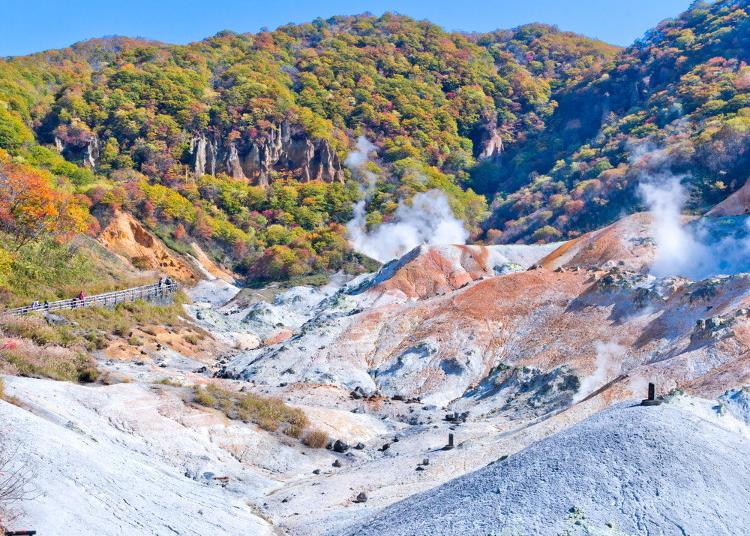 Here are the best Hot Springs (Onsen) & Bath Houses (Sento) in Hokkaido, with travel tips and more, according to LIVE JAPAN, a top-class travel website for visitors to Japan. Our ranking is based on the most popular pages viewed by foreign visitors in a given category.

For instance, Noboribetsu Onsen, JOZANKEI ONSEN, Toyako Onsen and other related spots will be listed. Be sure to check them out during your visit to Hokkaido!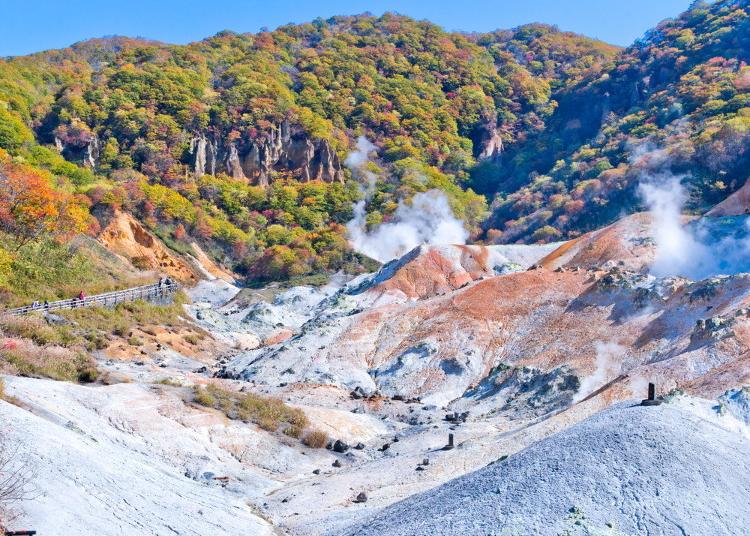 One of Hokkaido's iconic onsen areas, Noboribetsu's onsen use Jigokudani and other springs as their sources, offering an abundant supply of many kinds of spring water. The first onsen stall was built here in 1858, and the area now accommodates over 10 onsen hotels. The nearby area features picturesque locations, parks, and other places related to the onsen. Discover and sample the numerous footbaths around the town, or dip your feet in the onsen river, a popular natural footbath flowing from Oyunuma Lake.
Tradition says that demons called Yukijin protect the waters of Noboribetsu Onsen, and you can spot a total of 11 demon monuments interspersed throughout the area as symbols of the onsen. The town has events, souvenirs, food, and other items related to the demons.
Many onsen hotels allow you to briefly bathe in their onsen, making the location enjoyable for a one-day return journey from Sapporo.

Access Info
From JR Sapporo Station, take the Super Hokuto Limited Express or similar train for 1 hour 10 minutes and get off at JR Noboribetsu Station. Alternatively, take the Onsen Express run by Donan Bus from Sapporo Station Bus Terminal for 1 hour 40 minutes and get off at Noboribetsu Onsen.

Main Attractions in Noboribetsu Onsen
(1) Jigokudani
The largest source in Noboribetsu Onsen, more than 10,000 tons of water gush out every day. Don't miss the geysers and fumaroles, which you can watch from a promenade that takes about 20 minutes for one circuit.
Free to visit, 15 minutes by foot from Noboribetsu Onsen Bus Stop.
(2) Oyunuma Lake
This gourd-shaped lake about 1 km in circumference was formed after a volcanic eruption from the Kuttara Volcano. The lake spews out hot, pungent sulfurous spring water at temperatures ranging from 40 to 130 degrees C. White vapor rises rapidly from the lake's aquamarine surface.
Free to visit (roads are closed to vehicles between late November and late April), the lake is 10 minutes by car from Noboribetsu Onsen Bus Stop.
(3) Oyunuma River natural footbath
Spring water flows from Oyunuma Lake into this river, giving you the experience of enjoying a natural footbath in the great outdoors. The river is about 40 degrees C but may be closed off when the temperature is too high. Remember to bring a towel to dry your feet.
Free to visit from early morning to sunset, the river is 20 minutes by foot from Noboribetsu Onsen Bus Stop.
(4) Sengen Park
This park sits alongside an onsen river flowing from Jigokudani and features a geyser that erupts every 3 hours or so. The nine colorful metal clubs positioned within the park are each imbued with blessings for fulfillment in love, good health, and other areas in life.
Free to visit, the park is 7 minutes by foot from Noboribetsu Onsen Bus Stop.

Events at Noboribetsu Onsen
(1) Demon fire path
Every evening from sunset to 9:30pm, footlights illuminate the promenade from the observation deck to Tessen Pond. Enjoy walks among the bewitching lights.
(2) Demon fireworks
In this event the Yukijin, who are said to protect the water of Noboribetsu Onsen, dance and set off fireworks to pray for people's wellbeing and happiness. This event is scheduled for Thursday and Friday nights between June and late July.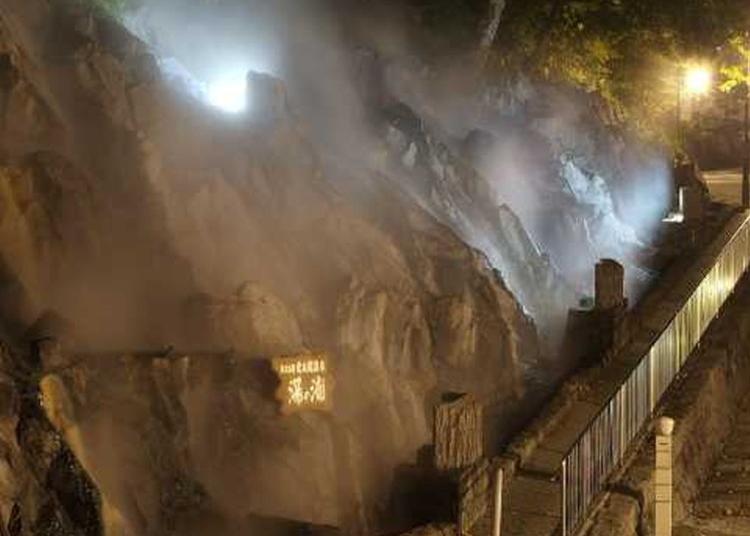 Buddhist monk Jozan Mi-izumi laid the foundations for this town some 150 years ago, and since then, it has developed as a refuge for Sapporo. Everything from large-scale hotels to sanatoriums line the Toyohira River in this hot spring town. The beautiful nature in the ravine is another feature to enjoy.

A 65-minute trip from Sapporo Station on the Jotetsu Bus for Jozankei-Shako-Mae, near the Jozankei Yu-no-Machi
Address

Sadayamakei Onsen, Minami-ku, Sapporo, Hokkaido, 061-2302
View Map

Nearest Station

Sapporo Station (Hakodate Main Line)
65 minutes by bus


Phone Number

011-598-2012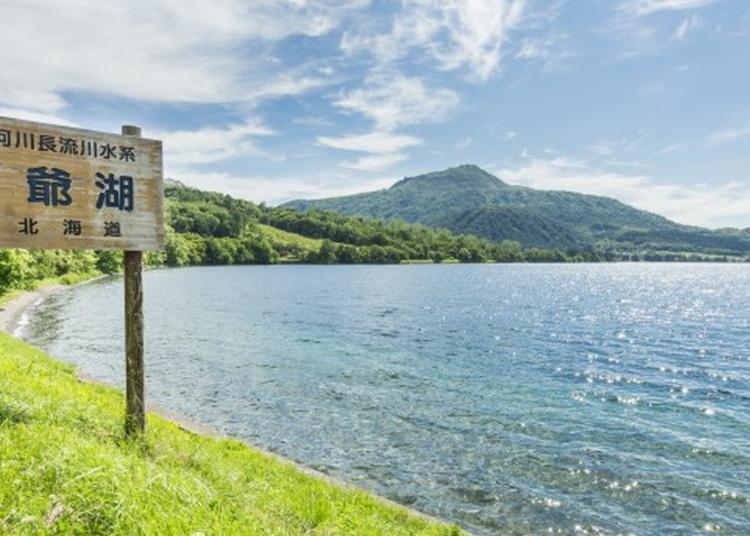 A cluster of hot springs at the southern banks of Lake Toya, which came into the global spotlight during the "2008 Toyako Summit". There's plenty to experience here: all manner of lake sports and even volcano observation. The "long run fireworks display" lights up the night sky every night from late April to the end of October.

A 20-minute trip from Toya Station on the Donan Bus for Lake Toya Hot Spring
Address

Touyakoonsen, Touyako-cho, Abuta-gun, Hokkaido, 049-5721
View Map

Nearest Station

Toya Station (Muroran Main Line)
20 minutes by bus


Phone Number

0142-75-2446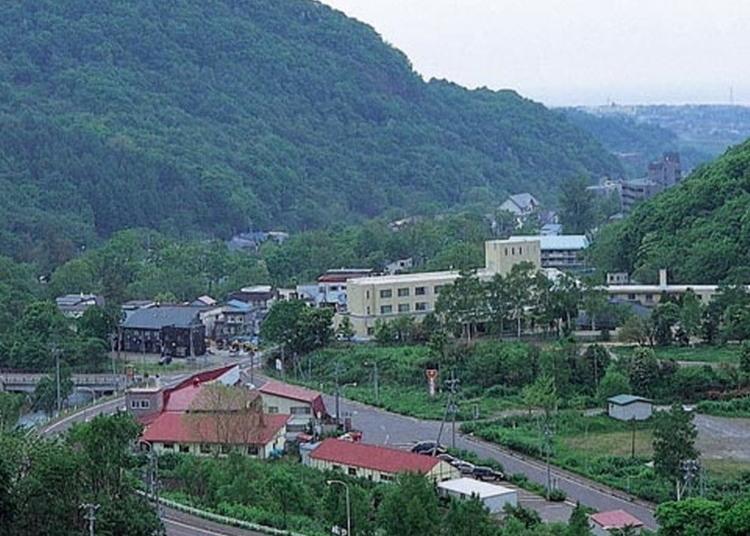 Hotels and inns line the Asari River as it proceeds northward at this refuge for Otaru City. Among other things, the area features a serviced hiking trail and Hotarun Park, where in the right season, around 5000 fireflies can be seen.

A 17-minute trip from Otaruchikko Station on the Hokkaido Chuo Bus for Asarigawa Onsen, near Onsengai
Address

Asarigawaonsen, Otaru-shi, Hokkaido, 047-0154
View Map

Nearest Station

Otaruchikko Station (Hakodate Main Line)
17 minutes by bus


Phone Number

0134-32-4111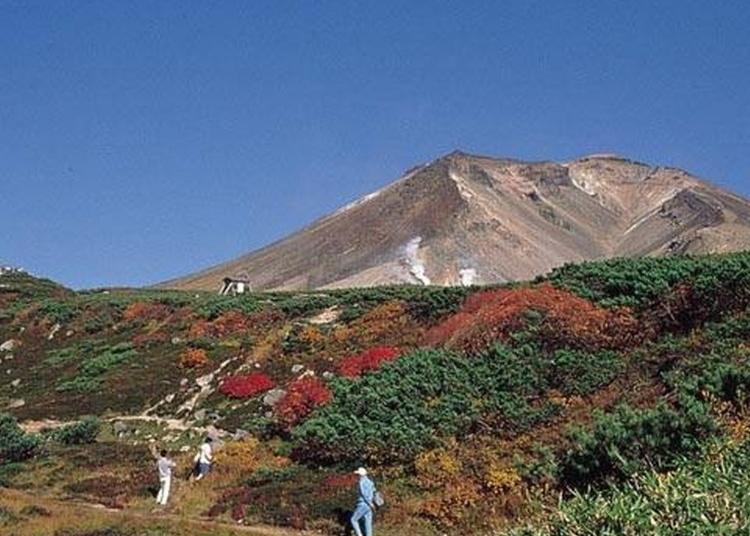 This hot spring is 1000 meters up Hokkaido's tallest mountain, Asahidake. It's a three hour hike up to the summit, including a trip by ropeway from the mountain's base camp and hot spring town. The area is crowded with tourists in fall, who come to see the beautiful autumnal foliage.
Address

Asahidake-onsen, Higashikawa-cho, Kamikawa-gun, Hokkaido, 071-1400
View Map

Nearest Station

Asahikawa Station (Soya Main Line / Hakodate Main Line / Furano Line)
85 minutes by bus


Phone Number

0166-82-3761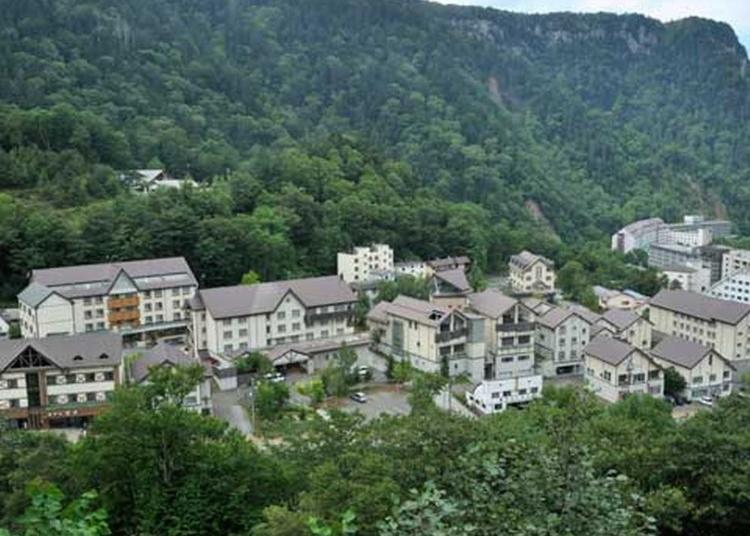 Amongst the hot springs in the Daisetsuzan area, this town is the largest and most well-known. You'll find a number of natural attractions in the area, like columnar jointed rock faces in Sounkyo's gorges, and a hiking path / ropeway for climbing Mt. Kurodake.

A 30-minute trip from Kamikawa Station on the Dohoku Bus for Sounkyo, near the last stop
Address

Sounkyo, Kamikawa-cho, Kamikawa-gun, Hokkaido, 078-1701
View Map

Nearest Station

Kamikawa Station (Sekihoku Main Line)
30 minutes by bus


Phone Number

01658-2-4058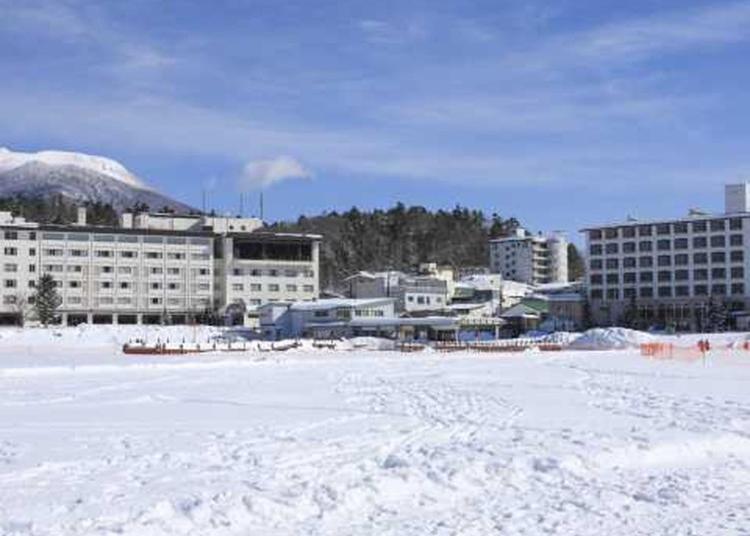 Located at the southern side of Lake Akan, famous for its marimo, this is the liveliest of the lakeside onsen areas. It began with a simple inn that opened in 1908, but now houses some 30 inns and hotels.
Address

Akancho, Kushiro-shi, Hokkaido, 085-0467
View Map

Nearest Station

Kushiro Station (Nemuro Main Line / Hanasaki Line)


Phone Number

0154-67-2254
Divided only by a humble boulder, the outdoor bath at Kotan Onsen is essentially mixed bathing. Individuals who would shy away from such exposure can enjoy the hot spring water at a public bath nearby. The spring is of the salt-bicarbonate type.

A 15-minute trip from Kawayu Onsen Station by taxi
Address

Kusshiyaro, Teshikaga-cho, Kawakami-gun, Hokkaido Ainu village, 088-3341
View Map

Nearest Station

Kawayu-Onsen Station (Senmo Main Line)
15 minutes by car


Phone Number

015-482-2200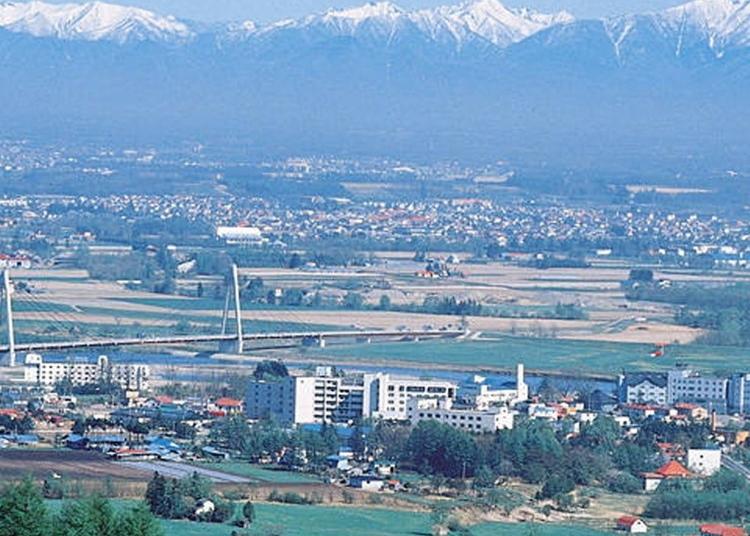 The humic acid contained in peat, or partially decomposed plant matter, synergizes with alkaline hot spring water to form Tokachigawa's "moor hot springs" and its powerful skin rejuvenating and smoothing effects.

A 25-minute trip from Obihiro Station on the Tokachi Bus for Tokachigawa Onsen
Address

Tokachigawaonsenminami, Otofuke-cho, Kato-gun, Hokkaido, 080-0263
View Map

Nearest Station

Obihiro Station (Nemuro Main Line)
25 minutes by bus


Phone Number

0155-32-6633
10.Oyunuma River Natural Footbath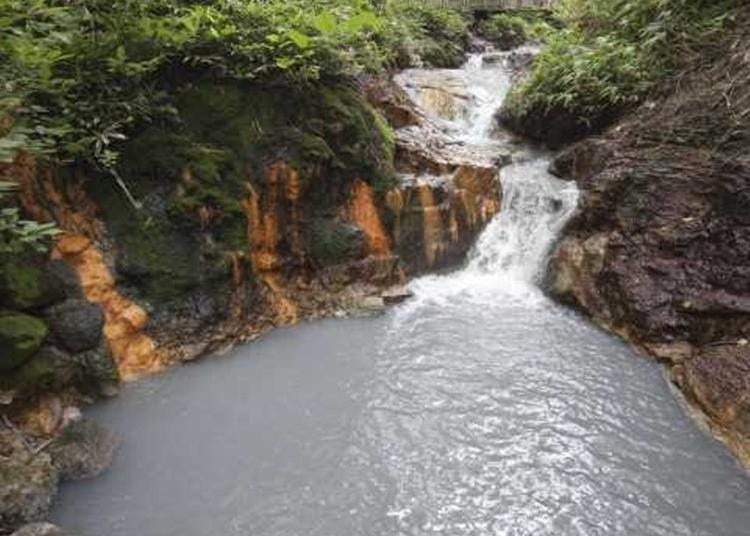 The hot spring pond "Oyunuma" produces a river that is partially accessible for footbaths. Enjoy dangling your feed into 100% natural hot spring water from a wooden deck.

A 15-minute trip from Noboribetsu Station on the Donan Bus for Noboribetsu Hot Spring, then a five-minute trip from the last stop by taxi
Address

Noboribetsu-shi, Hokkaido Noboribetsu Onsen, 059-0551
View Map

Nearest Station

Noboribetsu Station (Muroran Main Line)


Phone Number

0143-84-3311
*This information is from the time of this article's publication.
*Prices and options mentioned are subject to change.
*Unless stated otherwise, all prices include tax.
Limited time offer: 10% discount coupons available now!