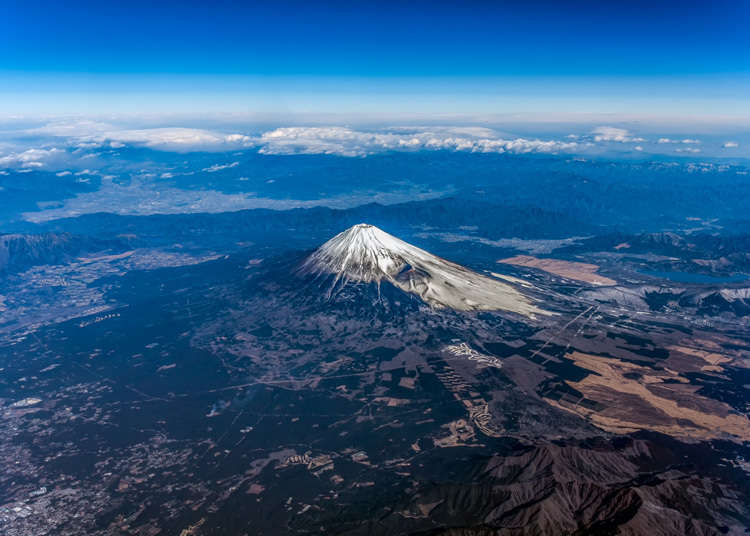 Mt. Fuji, one of the most famous symbols of Japan, is also the tallest mountain in Japan at 3776m. Even during the summer, the average temperature can drop as low as 6ºC, and the weather can change suddenly. The foot of the mountain is also a popular resort area in the summer, where the temperature is much lower than that of the city center.

Here we will share all about the seasonal climate of Mount Fuji and offer recommendations on what to wear and prepare in advance before your trip.
When is the Best Time to Climb Mt. Fuji?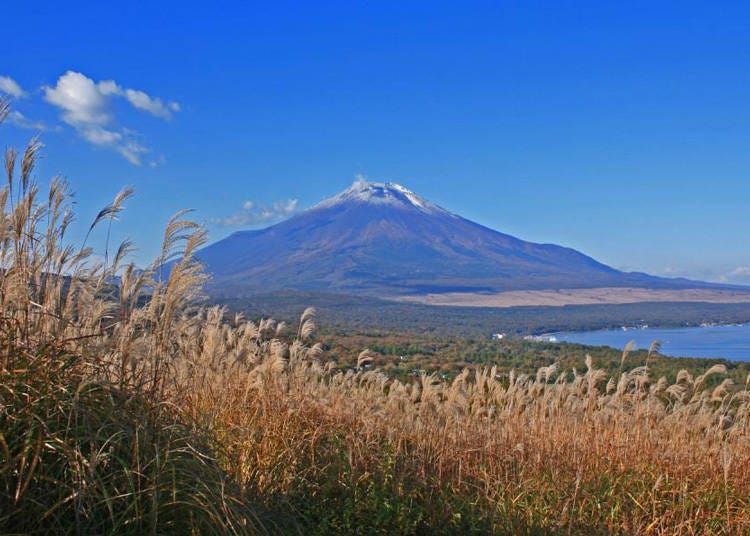 Photo courtesy of Yamanashi Tourism Promotion Organization
The Mt. Fuji climbing season is usually from early July to September 10th. The exact date the mountain opens to climbers may vary depending on amount of snow remaining.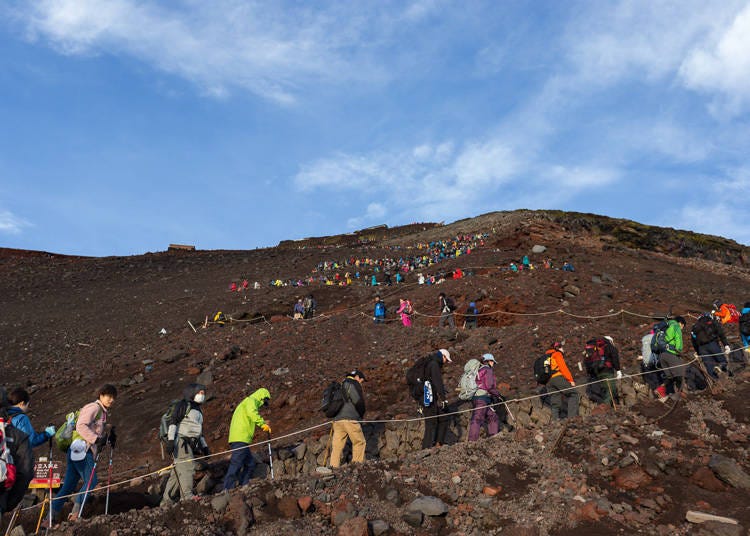 sopon seti / Shutterstock.com
Before climbing Mt. Fuji, you are recommended to submit a 'climbing plan.' Your climbing plan should detail your climbing process, any equipment you're planning to bring or wear, and emergency contact information.

Submitting a climbing plan is great all around - if you encounter any trouble during your climb, it will be easier to search for you. It can also be a good opportunity to make sure your climbing plan is reasonable.
The Fuji Climbing Season Summer Climate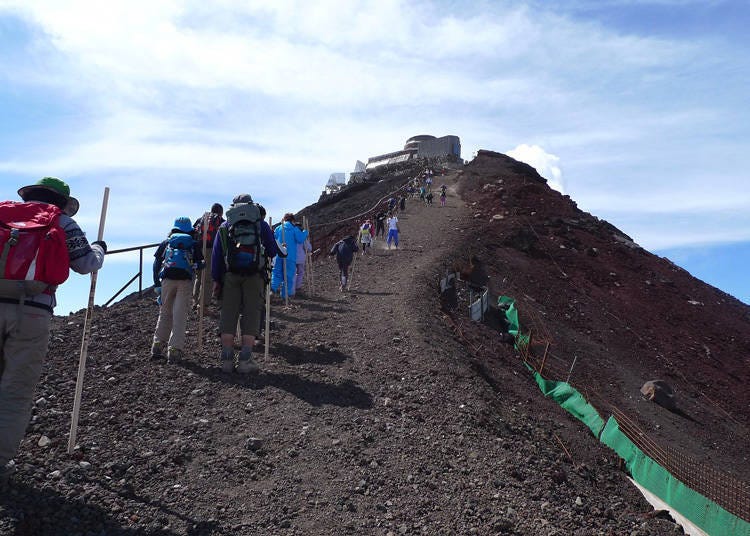 Photo courtesy of Yamanashi Tourism Promotion Organization
Summer is the season for climbing Mt. Fuji. However, although it is the most suitable season of the year for climbing, there are very few spots with shade, and there is a risk for heatstroke depending on route and location.

On the other hand, higher altitudes mean lower temperatures. Be mindful of your clothing. Avoid those that do not retain heat. It is best to prepare winter clothing.

Another thing to beware of is lightning, which frequently occurs on Mt. Fuji in the summer. It is not uncommon for the weather to change suddenly and for lightning to appear.

If a typhoon is near, winds can be so strong they can knock you off your feet. In these situations, whatever you do, please stop climbing. Not only do the strong winds increase the chances of falling rocks, but temperatures can drop so low, they can result in hypothermia.
Beware of Climate Changes: Spring and Autumn Seasons
You might think that temperatures are usually relatively more stable during the spring and autumn seasons.

However, at Mt. Fuji, temperatures are practically the same as winter, even between late April and early May and mid-to-late November.
Winter Season: A Dangerous Climate for Mountain Climbing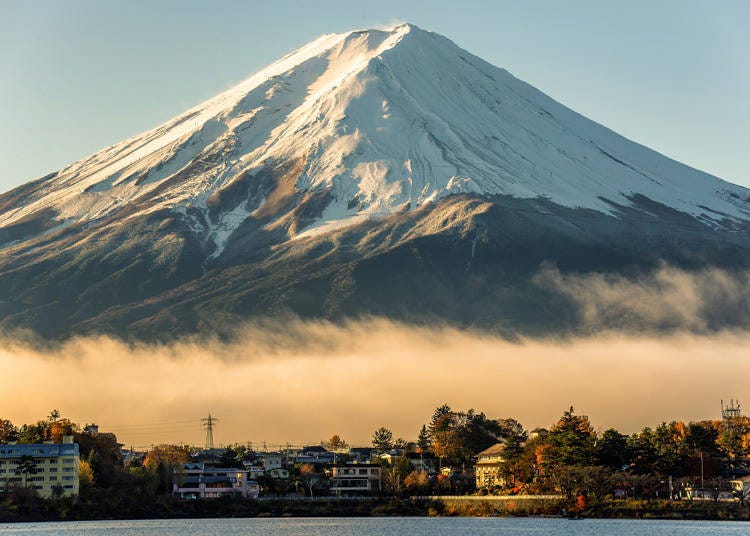 Naturally, winters on Mt. Fuji are severely cold. Temperatures at the summit can drop as low as -20ºC in January. Snow begins to fall on Mt. Fuji in December and accumulates at higher altitudes. By February, the mountain is likely to be covered in snow.

Mountain climbing outside of the season is hazardous. Be sure to climb only during the established climbing period. Do not enter Mount Fuji in winter or autumn.
What to Wear When Climbing Mount Fuji
Sprint Chanvi / Shutterstock.com
Depending on the exact location, Mt. Fuji's weather and temperature can vary greatly, even within the same season. For this reason, we recommend dressing in clothes that can accommodate sudden weather changes. To prepare adequately for potential sudden changes, equipment such as rain gear and cold-resistant clothing are essential.

Pay no attention to the temperature of your location when you leave your house to go climbing. Though it may be 30ºC when you leave, the temperature may drop to 0ºC as you approach the summit.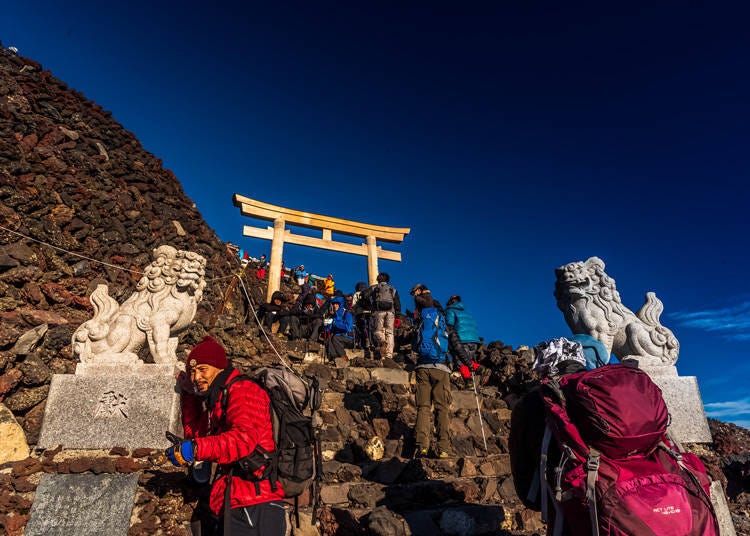 Abhijeet Khedgikar / Shutterstock.com
Your body will likely heat up as you climb, and you may not actually feel very cold. However, anytime you take a break, sweat dampens your clothes and causes the body to cool. When this happens, you may lose physical strength or even catch a cold. To avoid this, make sure to bring a quick-drying shirt, a light windbreaker, and a sweater to keep warm.

Footwear is also essential when mountain climbing. Hard-bottomed soles are most suitable, and high-cut footwear can prevent gravel and sand from entering.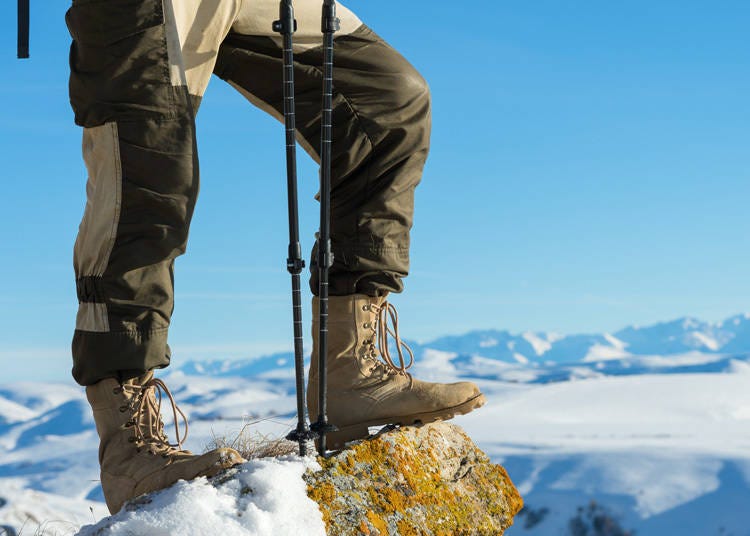 You will also need a helmet, a headlight, and other equipment for safety when climbing.
Websites to Check Before Climbing Mt. Fuji
Climbing can be a dangerous activity in general, not only on Mt. Fuji. You must also be mindful of the nature and environment of the mountains. When climbing Mt. Fuji, there are certain rules you must follow to protect the environment.

Here are three sites that provide information about Mt. Fuji. Each of the sites contains essential information to know before climbing. Be sure to check them thoroughly before your climb!
1. Website by the Ministry of the Environment, Yamanashi Prefecture, and Shizuoka Prefecture

There are even live cameras through which you can see the current surroundings of the climbing points and summit of Mt. Fuji. This lets you check the environment in advance, and helps you know what to prepare for before actually climbing.
2. Site operated by Shizuoka Prefecture
It mostly describes the Subashiri Trail and Gotemba Trail, as well as precautions when climbing the Gotemba Trail. It also explains how and why Mt. Fuji was registered as a World Heritage Site.
3. The official site of Fujiyoshida City, Yamanashi Prefecture
Fujiyoshida is located on the north side of Mt. Fuji. The site describes how to prepare for mountain climbing in detail.

There is also a live camera that shows the view of Mt. Fuji from Fujiyoshida City. The latest updates are also shared via social media, such as Twitter and Facebook, so you can check each update individually.
Fujisan Conservation Donation Campaign
The Fujisan Conservation Donation Campaign has been implemented on Mt. Fuji with the goal of preserving the beautiful Mt. Fuji to pass on to future generations.

The money donated by climbers is used to fund projects, such as environmental protection measures for Mt. Fuji, and safety measures for climbers.

You can make payments in person, online, and at convenience stores. Why not lend a hand?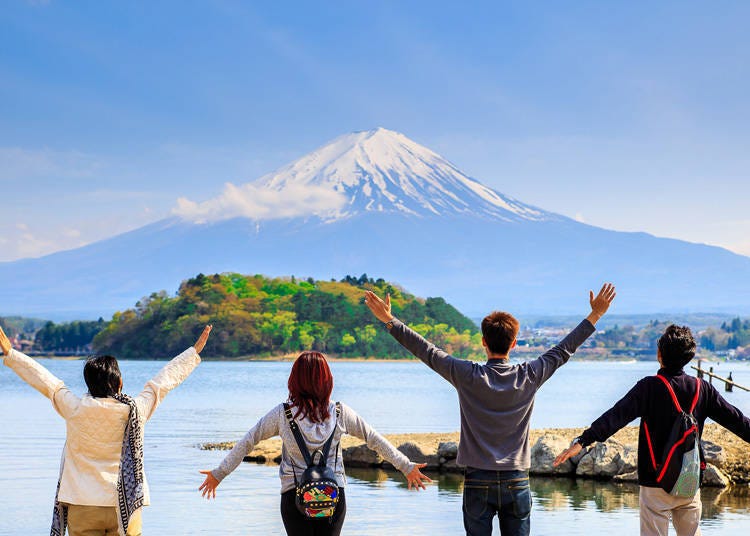 You can check the weather forecasts for the summit, the foot, and the 5th station of Mt. Fuji. It is extremely important to check for the latest local weather updates before heading to Mt. Fuji.

Always plan responsibly for a safe mountain climb, and consider cancelling or postponing a trip in risky situations.
*This information is from the time of this article's publication.
*Prices and options mentioned are subject to change.
*Unless stated otherwise, all prices include tax.
Search for International flights