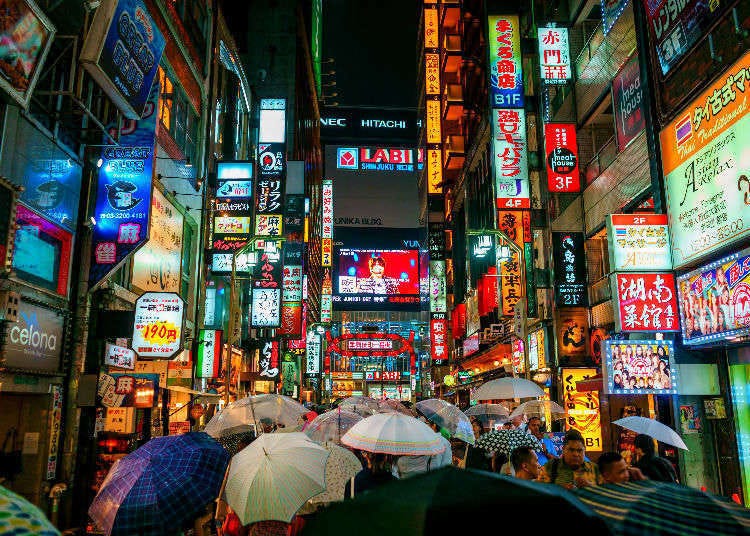 Choosing what areas to go visit in a metropolis as large as Tokyo often seems like a daunting experience. Everyone has a different preference, some good memories connected to one place or another.

We are about to introduce you to the most popular hot spots in Tokyo according to, well, everyone who's ever posted a picture of Tokyo online. With Japan expecting over 40 million visitors in 2020, and with tourism to the country increasing on a yearly basis, tourists and locals alike take to Instagram to post pictures of the places they like best.

So, let's take the guesswork out of the equation. Let's see which areas are the ones most people like and let's dive into the Top 25 hotspots in Tokyo on Instagram!
#25. 日暮里 - Nippori (142k Photos)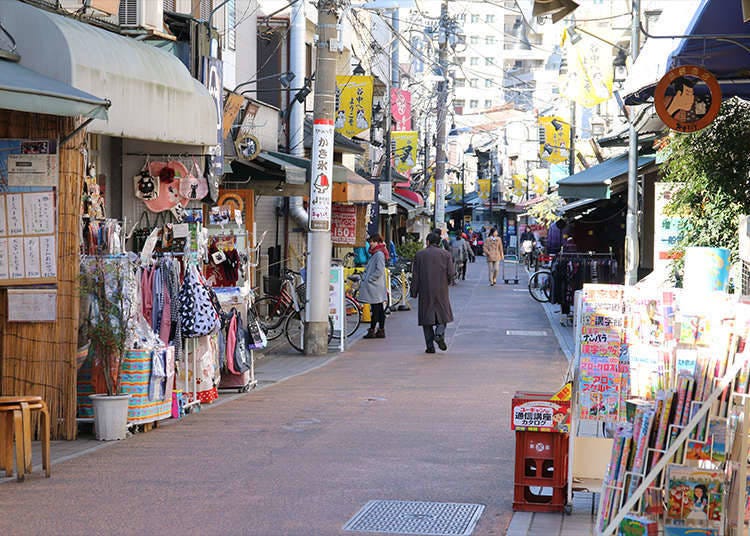 Close to the more famous Ueno, Nippori is a little neighborhood with a traditional look, conjuring cities like Kyoto, more so than Tokyo itself.
The area is easily accessible and fun to walk around, especially in what is nicknamed "Fabric Town". Nippori has been for over a century THE place for anyone interested in textiles. Catering to professionals and amateurs alike, as well as businesses, fabric town has it all. Also, if you're looking for some really cool thrift shopping, look no further!
#24. 汐留 - Shiodome (180.6k Photos)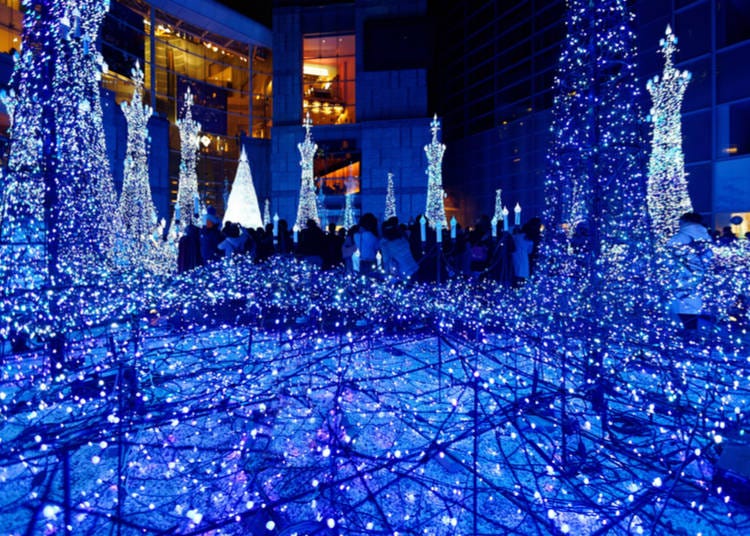 Shiodome is one of Tokyo's newer office districts which opened in 2002.
Today it's one of the most modern and amazingly intricate neighborhoods of Tokyo. Shiodome is home to many major companies headquarters and offices, but among its skyscrapers and business vibe, there's a lot to experience. From the elegant restaurants in the Shiodome City Center to the Nippon TV Tower shop, and from Italian Town to the Caretta Shiodome (one of the major Tokyo attractions in winter, with its lights), this neighborhood has much to offer.
#23. 日比谷 - Hibiya (182k Photos)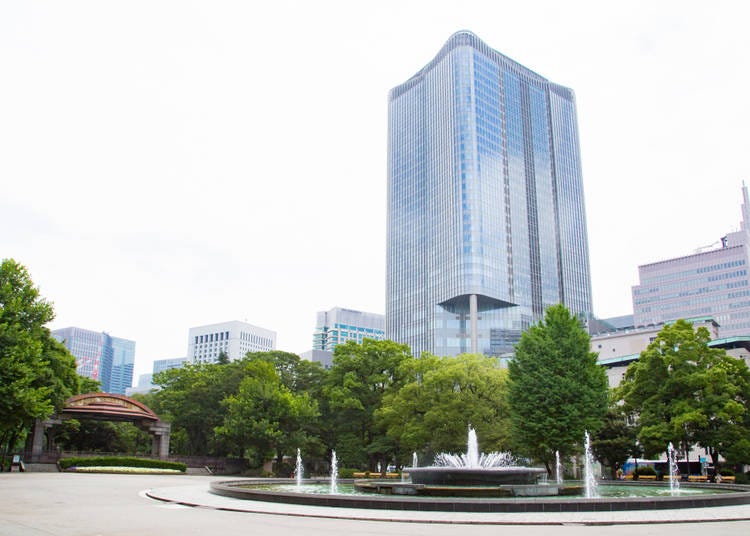 Hibiya is another one of Tokyo's financial districts, but it immediately emanates a unique vibe.
Many family-run restaurants and hole-in-the-wall bars give alternatives to the numerous high-end beautiful restaurants on the streets and in the skyscrapers.
As you arrive at Hibiya Station the iconic Godzilla statue will greet you and if you walk just a little bit you'll stumble upon a number of theatres and museums, shopping streets, the Japan Sake Center and the beautiful and historical Hibiya Park.
#22. 五反田 - Gotanda (364k Photos)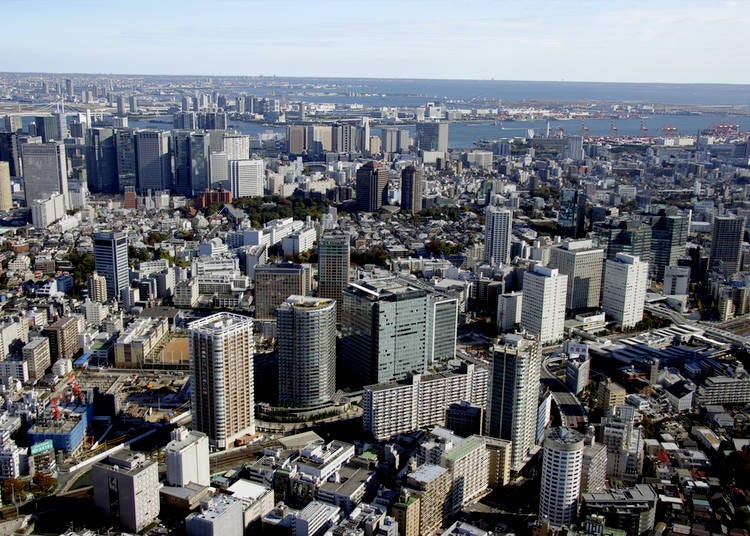 Extending alongside the Meguro river, Gotanda is an area that perfectly encompasses life in Tokyo. Parts of it are mostly residential, while others are rich of entertainment and culture.
Visit the Shimazu Family Old Residence to see one of the most beautiful hidden gardens in Tokyo, and if you want more, you'll have the Happoen Garden (worth your time especially in Spring), or the Ikedayama Park Gallery, and so much more.
#21. 代々木 - Yoyogi (380k Photos)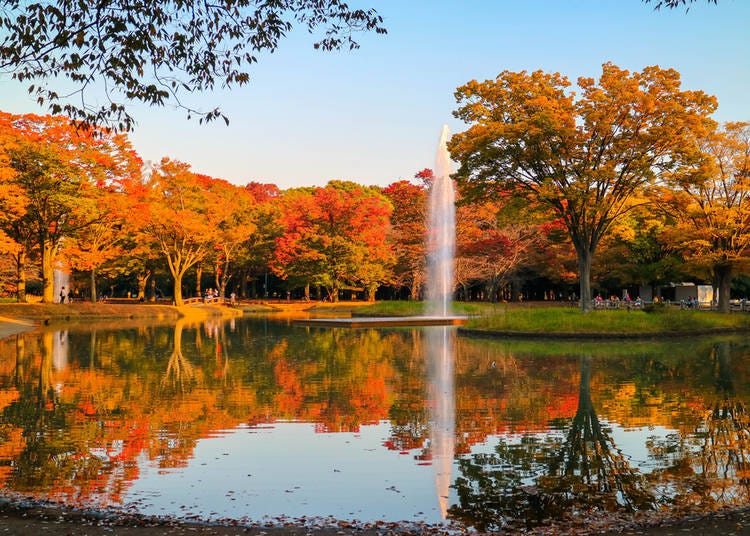 Yoyogi is an often overlooked area right next to Shibuya.
A beautiful and charming little district in its own right, Yoyogi stands out especially for its beautiful park.
One of those can't miss sights in Tokyo all year round, but if you want to be left in true awe, visit it in Fall, when the leaves of its trees gain a brilliant fantasy-like hue that give that section of the park the name of Golden Forest.
#20. 有楽町 - Yurakucho (384k Photos)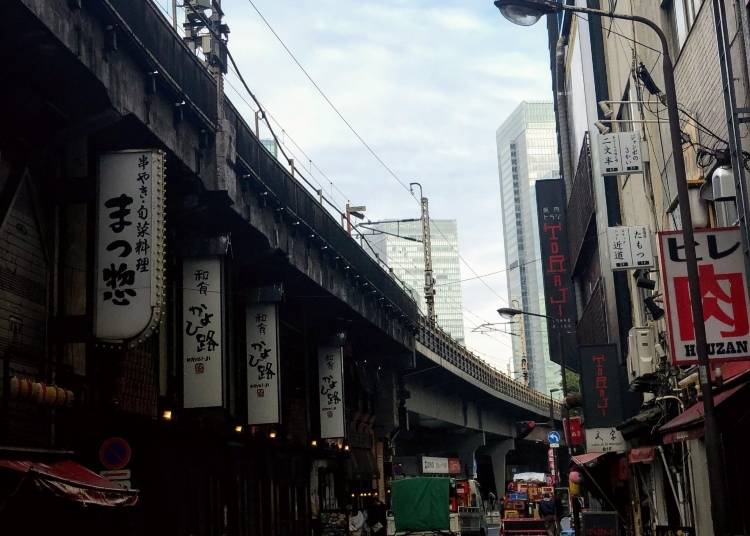 Immensely popular on Japanese Instagram, Yurakucho seems to slip through the cracks for many foreign visitors.
Yurakucho is a business district between Ginza and Hibiya, but it hides the very popular (among Tokyoites) restaurant district, where hundreds of watering holes and eateries sit next to one another underneath the elevated train tracks of the JR line, giving you the opportunity to enjoy a more cyber-punk feel of Tokyo while taking unique and "Instaworthy" pictures, between one traditional dish and the other.
#19. 新橋 - Shimbashi (474k Photos)
Like Yurakucho, Shimbashi is somewhat less known to foreigners, but it's one of Tokyo residents' favorite areas. It too is particularly famous for its eateries, especially among office workers. Shimbashi is the perfect area to visit, to get a feel for the authentic life in Tokyo, especially at night, where its skyscraper lights and neon signs work together with the soft restaurant lights, creating an amazing vibe. But don't miss on this area's shopping while you're at it.
#18. 神楽坂 - Kagurazaka (555.7k Photos)
For many visitors Tokyo spells "shopping", and Kagurazaka will offer a lot of that. So much so, in fact, that it might even be comparable to the main shopping district of Tokyo, Ginza.
Once an entertainment district with many geisha tea houses, Kagurazaka maintains some of that vibe, especially in its well-preserved temples, but the neighborhood also developed to be an area with a strong French presence, which translates in many French and French-Japanese fusion restaurants.
While there's a lot to see in the area (not least of all the Suntory Museum), the neighborhood is a center of festivities on the last weekend of July, when the Awa Odori (inspired by the homonymous Tokushima festival) fills the streets with dancing, drinking, shows, food, and more.
#17. 赤坂 - Akasaka (660k Photos)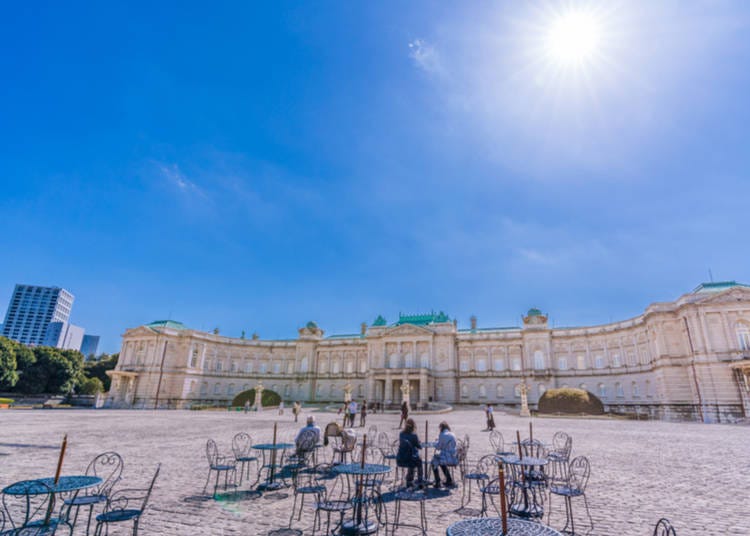 A great area especially for those looking for night-time entertainment. Akasaka is a lively neighborhood, especially at night, rich of bars and clubs of many different kinds. Quite close to Roppongi, another one of the crazy nightlife Tokyo districts, Akasaka is also where the Akasaka Palace (or State Guest House) is. The unique Toyokawa Inari Temple, one of Japan's Big Three Inari temples, is also in the vicinity.
#16. 日本橋 - Nihonbashi (812.1k Photos)
Nihonbashi is a bustling commercial area with stylish restaurants, shops and department stores. It's named for its landmark, a 17th century bridge, and the origin point (milestone 0) for Japan's roads.
Some of the best night skyline views can be enjoyed from here, and the soft illuminations make for a very charming and romantic place to visit.
#15. 秋葉原 - Akihabara (1m Photos)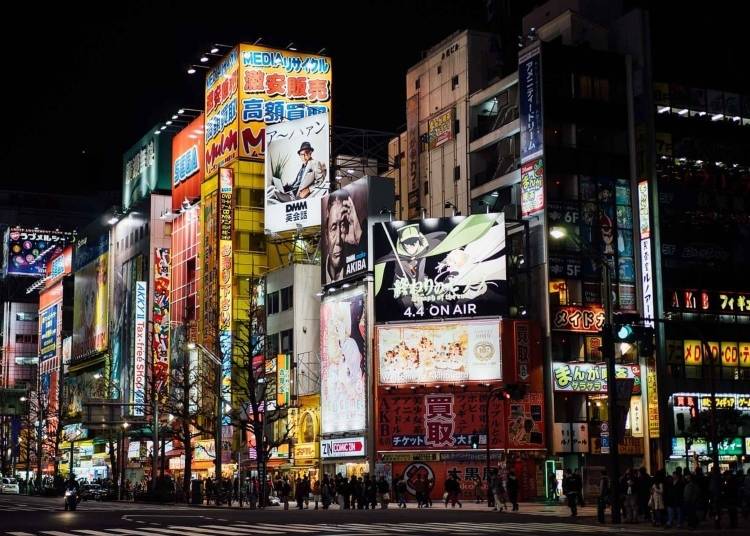 Akihabara is what many might think about when trying to visualize Tokyo. Akihabara is a massive shopping area focused mostly on electronics and anime/manga. Its "electric town" certainly lives up to its name whether you believe it being connected to the electronics all around you, or its lights at night, or its many game centers (most notably the massive SEGA ones).
A hub of cosplayers and maid cafes, Akihabara surprises and entertains at every turn.
#14. 高円寺 - Koenji (1.1m Photos)
Koenji is a live picture of what Tokyo used to look like before its major building boom during the 1980's.
Koenji was the center of Japan's punk rock music, and now it's a phenomenally unique retro-Japan neighborhood with lots of shopping and restaurants, as well as shrines and temples in the midst of tens of live music bars.
Koenji, like Kagurazaka, is theatre of the summer Awa Odori, but its main attraction are the streets, buildings, and stores themselves.
#13. 上野 - Ueno (1.4m Photos)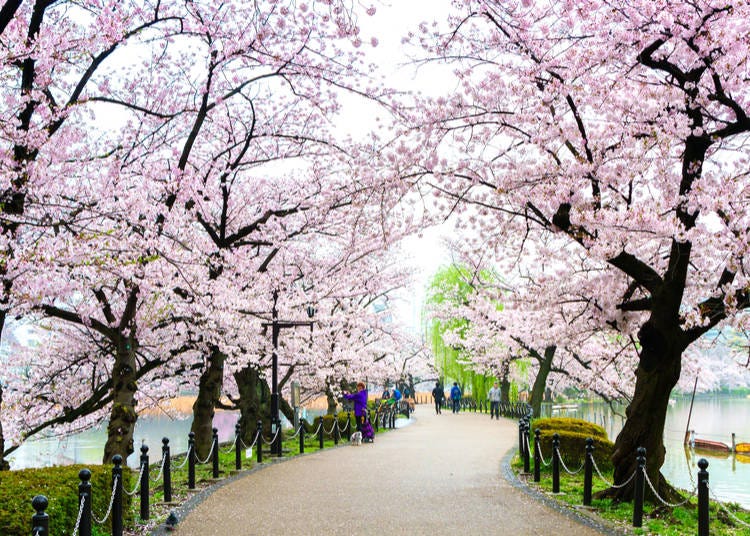 Ueno is one of the few areas of Tokyo that are equally as popular among visitors as they are among locals. It could be because of Ueno Park, one of the most popular spots in Tokyo (and Japan) in which to admire cherry blossoms. Its zoo with over 3000 animals also attracts attention.
Its amazing stores and markets ranging from thrift to high-end shopping might be the culprits.
Ueno is a neighborhood for the whole family and for all tastes that will certainly keep you occupied for the whole day (and more).
#12. 歌舞伎町 - Kabukicho (1.5m Photos)
This neighborhood is getting traction on foreign Instagram only recently, maybe because it's the stage of several popular video games.
Among people living in Tokyo, though Kabukicho is beyond popular. A huge Godzilla lurking over a building, the samurai museum, the Robot Restaurant...these are only few of the many attractions of Kabukicho, which, at night, turns into one of Tokyo's prime entertainment (and red-light) districts.
#11. 吉祥寺 - Kichijoji (1.8m Photos)
Often voted as one of the most desirable places to live, in Tokyo, a visit at Kichijoji will immediately make you understand why. Inokashira Park with its boating lake is a true natural oasis, which becomes even more gorgeous in Spring and Fall. Hidden behind the residential streets, you'll find tens of stores, and small local restaurants.
#10. お台場 - Odaiba (1.9m Photos)
Odaiba is an artificial island originally build to protect Tokyo from maritime attacks. In the 1990s it underwent a series of developments and it's now a high-tech entertainment hub on Tokyo Bay and overlooking the Rainbow Bridge.
Huge buildings, massive shopping malls, and Tokyo Big city (Japan's largest convention center) are just a few of the things that make Odaiba worth visiting.
Diver City Tokyo Plaza is a popular shopping center with a real-sized Gundam statue greeting visitors.
In Odaiba you'll also see a reproduction of the Statue of Liberty, and you can visit the Museum of Maritime Science, the National Museum of Emerging Science and Innovation, as well as numerous other museums, temples, observations decks and much more.
#9. 恵比寿 - Ebisu (2.7m Photos)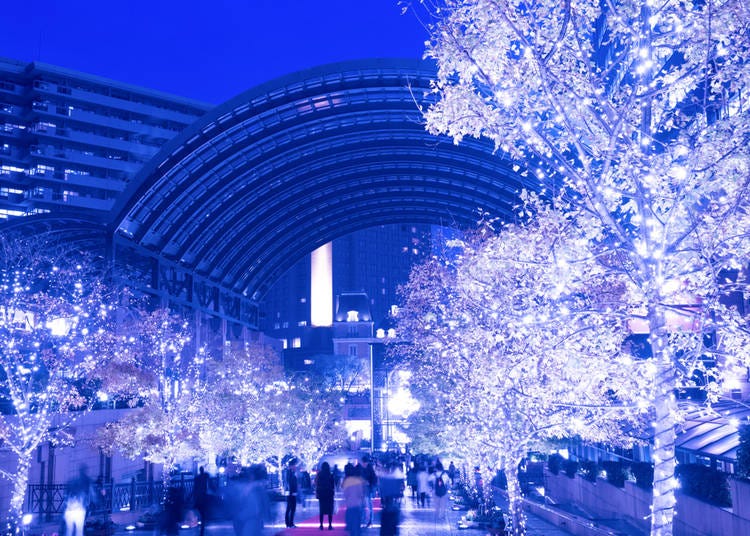 Ebisu is a hip and trendy area with a rich history. Famous also for its ramen and beef eateries, Ebisu is an entertaining area both at night and during the daytime.
The neighborhood takes its name from the beer Yebisu, which had its original brewery in this area. A museum commemorating this brewery is in the popular Ebisu (or Yebisu) Garden Place, a shopping complex which feels like a city within a city with a lot to do, with its Tokyo Metropolitan Museum of Photography, restaurants and attractions.
#8. 池袋 - Ikebukuro (2.8m Photos)
Ikebukuro is a quickly rising neighborhood in Tokyo, in terms of popularity.
You'll find many stores, and attractions and, like in Akihabara a quite rich "otaku" culture, but which caters mostly to a female clientele with its "butler cafes" and anime and manga shops.
Ikebukuro's Sunshine City includes a theme park, a large observatory, and a beautiful aquarium. In the area you'll also find the Tokyo Metropolitan Art Space and a wealth of shopping, especially when it comes to electronics.
#7. 浅草 - Asakusa (2.9m Photos)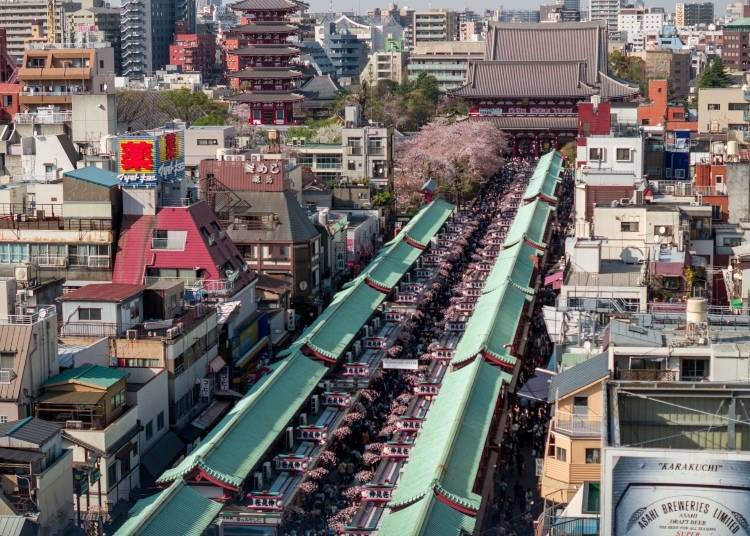 Who doesn't know the Iconic Sensoji Temple's gate picture we all take and post! While Sensoji is certainly a place that everyone should see, Asakusa has a lot more to offer. The Sumida river cruise and Sumida Park are perfect for sightseeing and cherry blossoms viewing. Right around the corner is Rokku entertainment district with game centers, pachinko parlors and more.
Lose yourself among the cute shopping streets, or visit some of the many museums and art galleries in the area.
#6. 六本木 - Roppongi (3.8m Photos)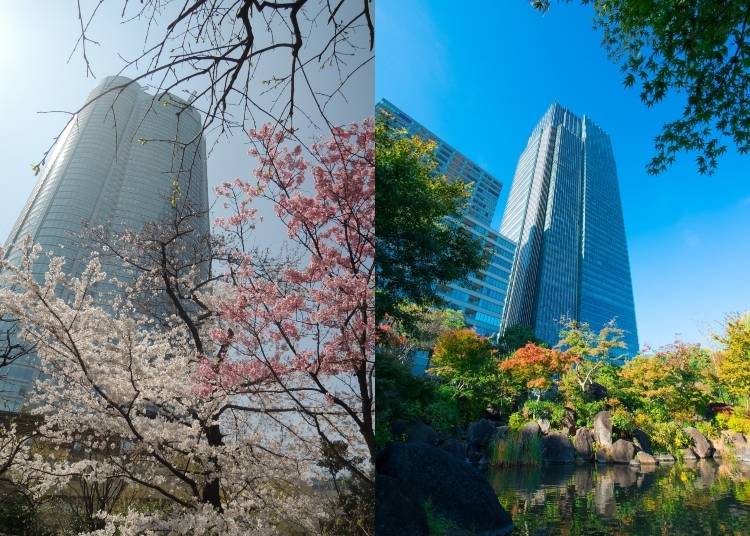 Roppongi is a modern district with plenty of restaurants and interesting attractions, but it's mostly famous for its crazy nightlife. From dusk till dawn, the neighborhood is the center of clubbing, night-entertainment, and socializing for adults of all ages, offering options for everyone from restaurants, to massive clubs, to adult entertainment, and one of the largest varieties of bars and watering holes in the whole of Tokyo.
#5. 銀座 - Ginza (4.7m Photos)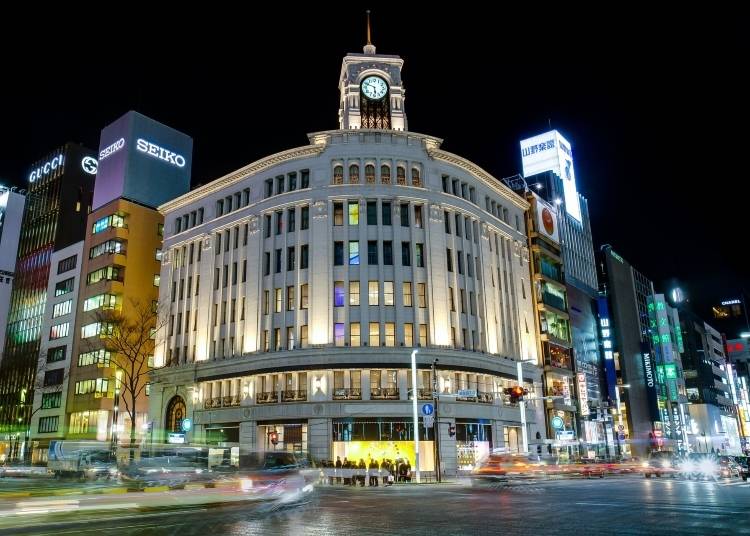 Tokyo, like NYC, is often synonymous with shopping, and Ginza is rightfully one of the most popular shopping areas of the city. In a landscape of modern skyscrapers and lights, Ginza offers everything to those seeking to spend a day or 10 shopping for themselves or others.
You won't find much in terms of souvenirs, but if it's brands that you're looking for, this neighborhood has it in spades. Keep in mind though, that Ginza is mostly for high-end shopping, and it can be pretty heavy on your budget.
#4. 表参道 - Omotesando (4.8m Photos)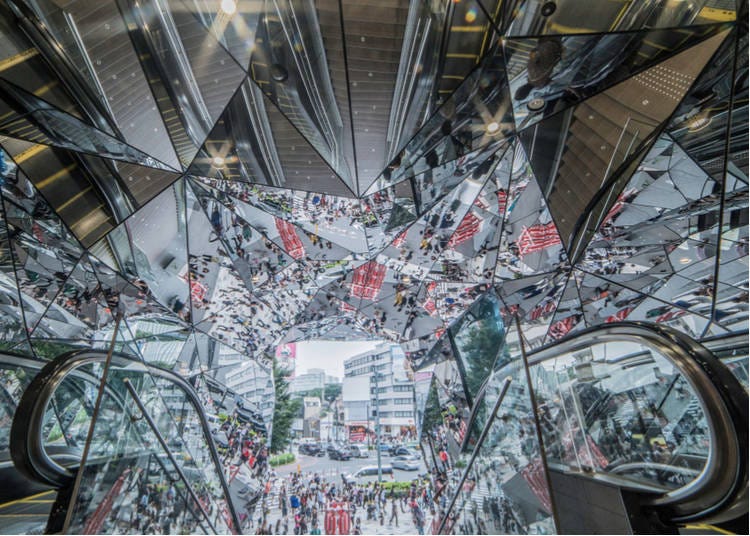 Omotesando is one of the most upscale (and expensive) neighborhoods in Tokyo. Pristine in its appearance, it's truly an architectural eye candy. Its buildings, stores, and streets, are one of the best examples of "human scale" architecture in the world.
Omotesando is worth visiting just to gawk at its streets and buildings, but you can also treat yourself in nice cafes and restaurants (just know that you won't find many "good deal" type of places).
#3. 新宿 - Shinjuku (6.7m Photos)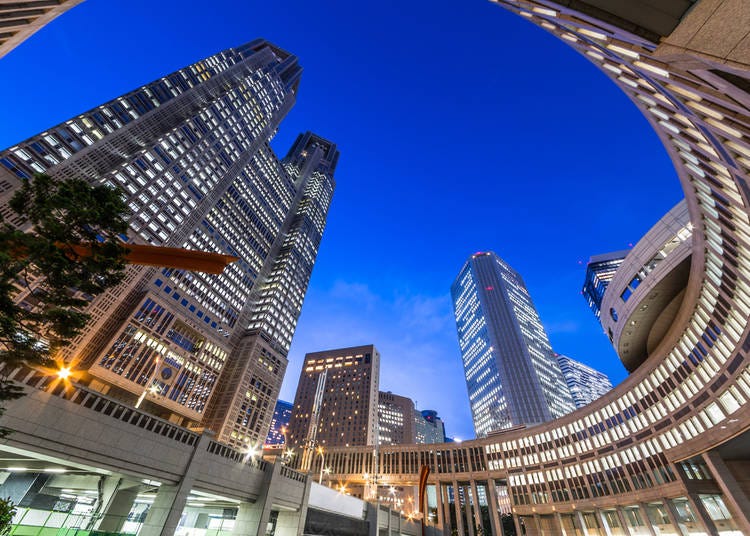 Shinjuku is the first of our runner ups and it's really easy to see why this neighborhood is so popular. The second busiest train station in the world, Shinjuku is busy and bustling at all hours of the day and the night.
The most famous department stores in Tokyo are clustered around the station, and it's impossible to see everything there is to see in this insanely diversified area.
During the day, while shopping, you can visit museums and temples, enjoy any kind of food Japan has to offer in one of the countless restaurants and bars that populate the area.
At night enjoy a free view of the Tokyo skyline from the Tokyo Metropolitan Government Building observatory, or lose yourself in the vast array of music bars, clubs, girl bars, host clubs that Shinjuku has to offer. Don't miss the Ninja Trick House and the mesmerizing Shinjuku Gyoen National Garden.
#2. 原宿 - Harajuku (8m Photos)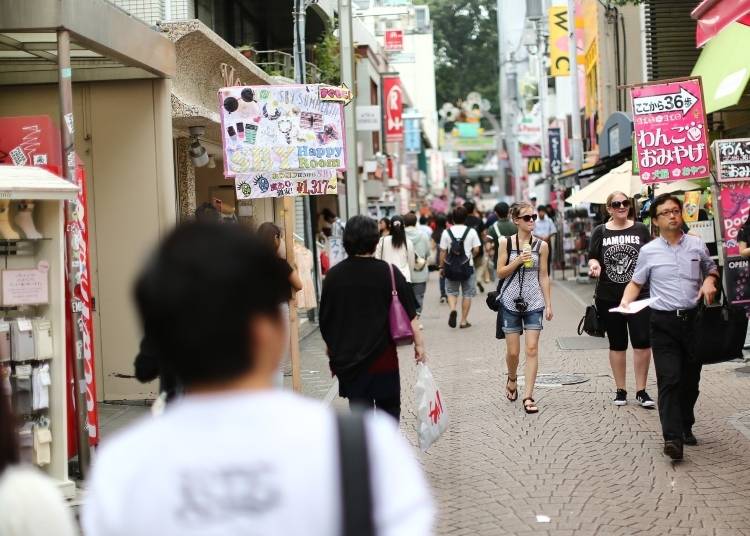 When we think "unique/different fashion of Japan", whether we know it or not, we may be thinking of Harajuku.
Renowned for its colorful streets, this area is where you'll see everything Japanese fashion has to offer, from classic, to outrageously quirky.
Food stands and clothing stores are everywhere and you will certainly find everything that you're looking for (and likely things you never even thought about). But there's more. Harajuku is the home of the Ota Memorial Museum of Art, the Nezu Museum, and Meiji Jingu, one of the most popular shrines of Tokyo and Japan.
The Oriental Bazar is where you'll find goods like kimono, Japanese furniture, and samurai-related items.
Harajuku is famous especially among teenagers, but it has a lot to offer to visitors of all ages and walks of life.
#1. 渋谷 - Shibuya (9.6m Photos)
Maybe quite expectedly, the most popular hot spot in Tokyo is Shibuya. Shibuya Crossing is the one images of Tokyo that people would recognize regardless of their interest in Japan.
Shibuya is among the world's busiest stations. From the first hours of the morning, to impossibly late at night, Shibuya is crowded and open for business. Young crowds and not-so young people from Tokyo and all over the world choose the lights of Shibuya as the background for their day and night.
Immensely popular especially among those who want to meet people from different nationalities, Shibuya will amaze you with its choice of entertainment, bars, meeting spots, shopping centers, unique, quirky, and downright weird stores.
Shibuya is the one place in Tokyo where visitors might feel like in a movie, or on the stage of their favorite anime, or manga, while in the company (for better or for worse) of hundreds of thousands of other people to share the experience with.
About the method used to make this list
A location database was created using the popular Japanese travel site, Gurutabi, which contains a ranking of hundreds of popular attractions, locations, and cities across Japan. The first 300 of these spots for Tokyo were taken and cross-referenced with their corresponding hashtag on Instagram (both in Japanese and English), which allowed us to obtain the exact numbers of photos with that hashtag as of February 22, 2019; from this a list of the 25 most popular neighborhoods in Tokyo was compiled.
Written by:
*This information is from the time of this article's publication.
*Prices and options mentioned are subject to change.
*Unless stated otherwise, all prices include tax.
Limited time offer: 10% discount coupons available now!