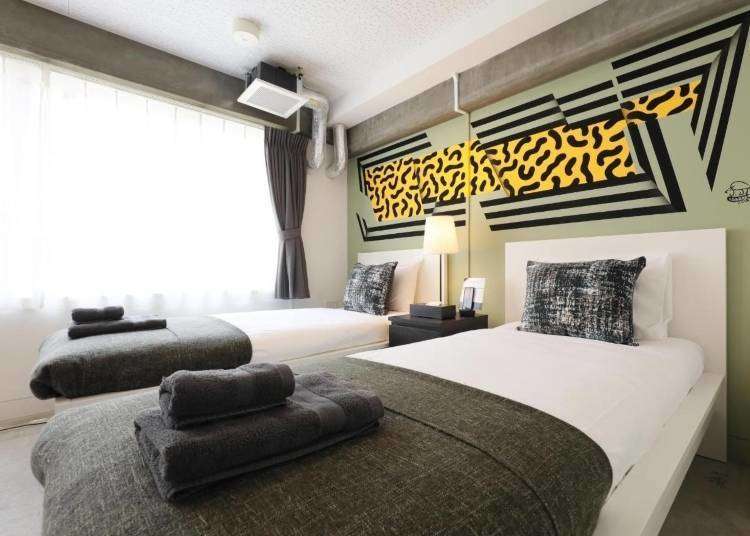 In Tokyo hostels can be relatively easily found on the city's eastern side, where you'll find great accommodations at a great price.

Though the names of western Tokyo's Shibuya and Shinjuku wards may sound more familiar to first-time travelers to Japan, the city's eastern districts are moving quickly out of the shadows. From Asakusa down to Ginza, the east side of the Japanese capital is packed with historically rich and vibrant neighborhoods.

Eastern Tokyo is also teeming with top-quality eateries from every stratum of the Japanese culinary world. And it cushions the futuristic, entertainment zone that is the Tokyo Bay area, offering up a juxtaposition of the Tokyo of old, and the post-modern metropolis that it is striving to be.

So we've picked a collection of 5 budget Tokyo hostels from 5 different districts in the city's east side in the hope that at least one will take your fancy.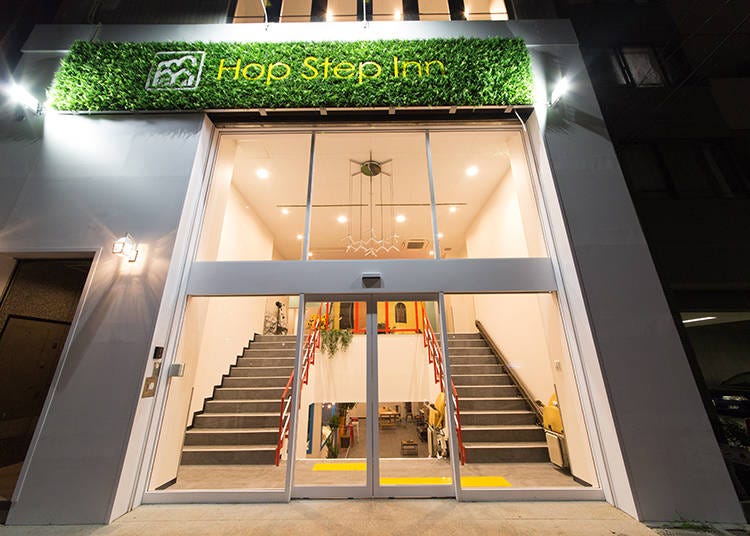 Hop Step Inn is one of the more stylish modern Tokyo hostels, dressed in a vibrant color palette with a chic, nature-inspired interior design. It's located just a 5-minute stroll from Oji Station in Kita Ward. Oji is a relaxed neighborhood with two of Tokyo's thriving hub stations, JR Shinjuku and JR Tokyo, only 20 minutes away.

Room Details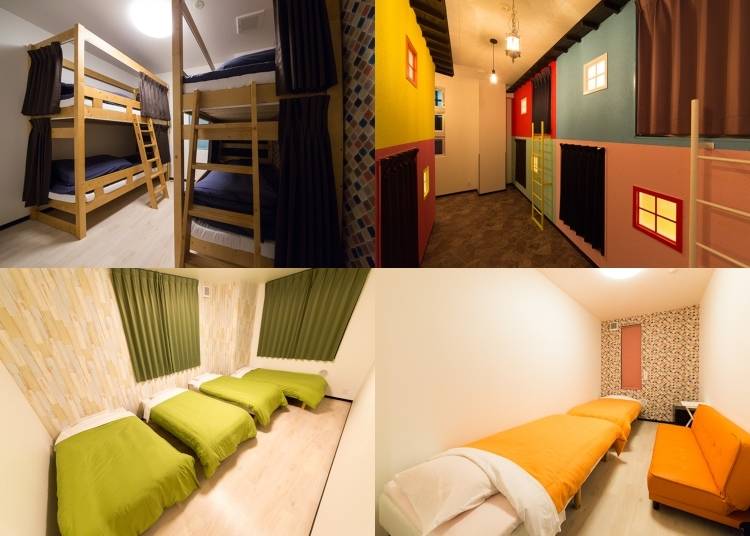 Hop Step Inn has around 100 beds for guests including private rooms (available for twin, double, and triple), bunk bed dormitory rooms in various sizes, female-only dorms and family rooms. There are shared shower rooms and bathrooms on all of the floors, though each room has an air conditioning/heating unit and unlimited free WiFi.

Facilities
Hop Step Inn has a large common area with PC's for guests and a shared kitchen. They also provide access to several other amenities including a coin-operated laundry service, ironing board, luggage storage, a printer/copy machine and toiletries—including toothbrushes, razors and towels.

Points of Interest in the Tokyo Oji Area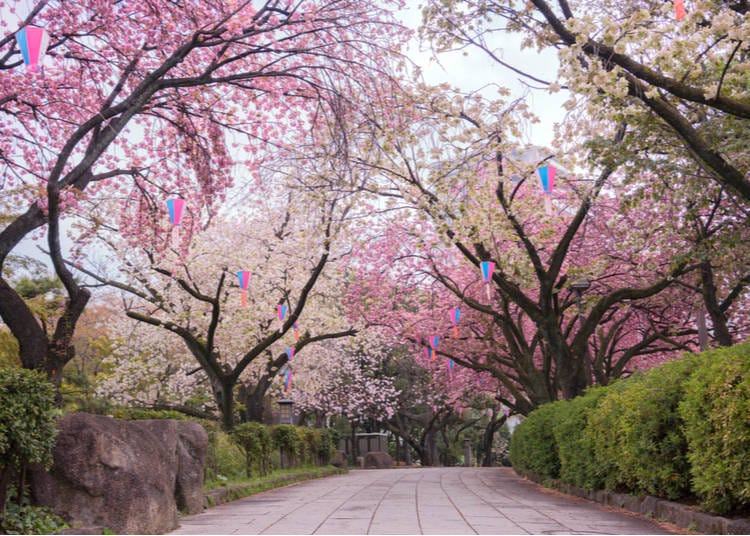 Tokyo's only remaining tram—The Tokyo Sakura Tram—runs through the area, and is a splendid way to commute during the spring cherry blossom season. Oji is also famous for oden, a delectable winter hot pot dish (which goes great with hot sake), and as the site of Tokyo's first paper factory. There's a museum located just a stone's throw away, where you can experience the traditional Japanese craft of paper making.
ホップステップイン

Address

1 Chome-19-5 Oji, Kita City, Tokyo 114-0002

Nearest Station

5-minute walk from JR Oji Station


Phone Number

03-5902-5121

Other: Price: Dorms from ¥1,980 per night, Privates from ¥3,980 per night
Breakfast: not included but there is a cafeteria on sight
Check-in & Check-out: 15:00 (check-in) 10:00 (check-out)
WiFi: Free all throughout the hostel
2. Hostel DEN (Kodemmacho)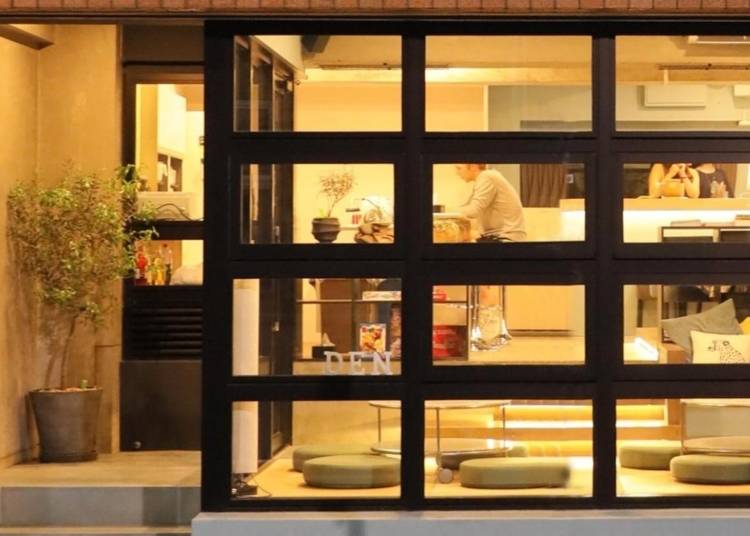 Hostel DEN is a funky budget accommodation with a cool, minimalistic style located in the Kodemmacho district of Tokyo. It is a 4-minute walk from Kodemmacho Station. Hostel DEN is 12 minutes from JR Tokyo Station by train, and 15 minutes from Ginza, one of the capital's most stylish downtown neighborhoods.

The concept here revolves around the idea of a "den", a place where you can relax, study and retreat. Somewhere you can call your home away from home.

Room Details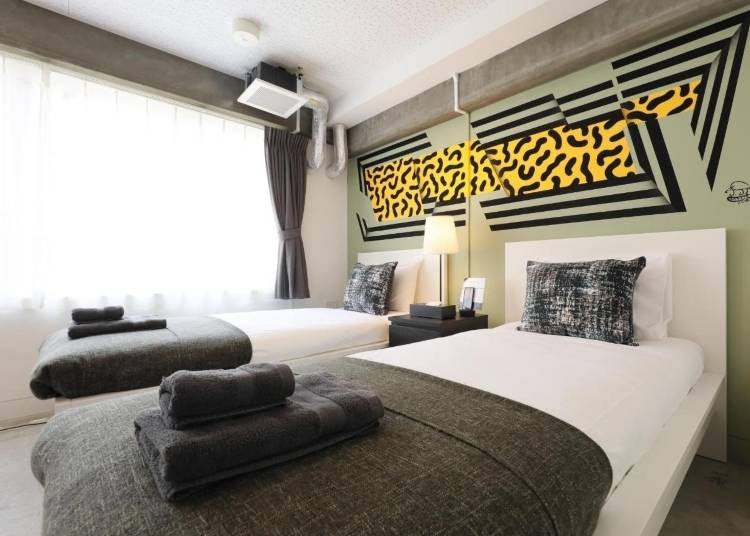 There are 63 beds in total at DEN, split amongst mixed dorms, female-only dorms and a few private rooms kitted out with single and double beds. They also have an option where guests can rent out the entire dorm room and make it a private room, or "family room." These are 5% cheaper to book rather than booking out the room by selecting individual beds.

Facilities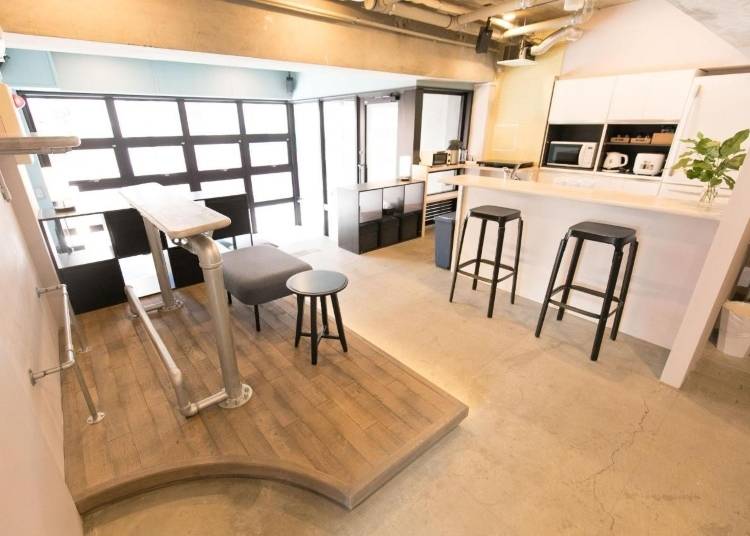 There is a 24-hour kitchen and common space in this Tokyo hostel, but the real fan favorite—particularly in the hotter months of the year—is the rooftop garden, where guests are welcome to eat, drink and hang out throughout the day/night. Unlimited free WiFi is available on all floors.

DEN also puts a lot of emphasis on holding events at the hostel, at least twice a week, if not more. Some popular events include, okonomiyaki night, sake tasting and pancake Sunday (¥400 for all you can eat pancakes). There are certainly worse ways to extinguish a hangover!

They also note that there are three Muslim staff on board, who are trying to make the hostel more Muslim-friendly. As such, they have a prayer room that is available 24/7, and special "halal cutlery and crockery." The idea is that Muslims can eat with these utensils, while not having to worry about what kind of food they have previously come into contact with.

Points of Interest in the Nihonbashi/Kodemmacho Area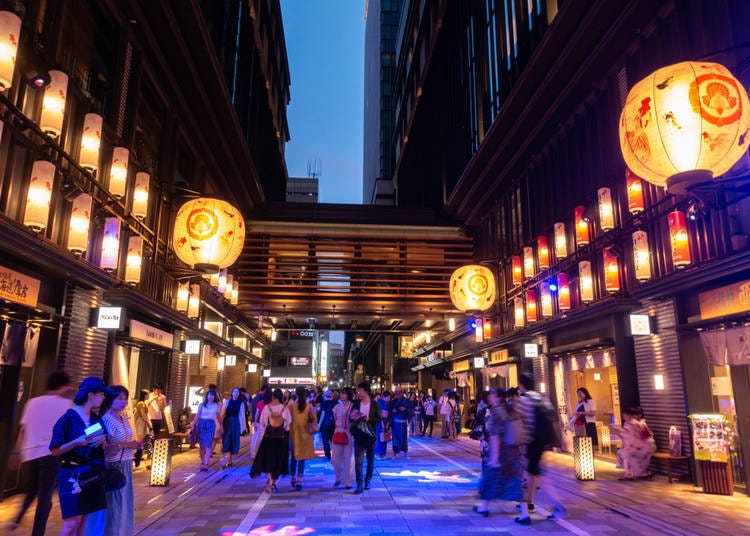 Image credit: lydiarei / Shutterstock.com
The Kodemmacho/Nihonbashi area where this Tokyo hostel is located is a great spot for shopping and to experience the city's nightlife. The district is replete with boutique malls, vintage lacquerware stores, a Pokemon-themed café, fine dining restaurants and smoky izakayas. While still off the radar for most tourists, the area is becoming more and more popular with Tokyo's late-night office workers.
ホステルデン

Address

4 Chome-13-8 Nihonbashihoncho, Chuo City, Tokyo 103-0023

Nearest Station

5-minute walk from Kodemmacho Station (Tokyo Metro Hibiya Line)


Phone Number

03-6661-2067

Price: Dorms from ¥2,700 per night, Privates from ¥8,900 per night (increases on weekends)
Breakfast: Not included
Check-in & Check-out: 16:00 (check-in) 11:00 (check-out)
WiFi: Free all throughout the hostel

Vacancy search, reservation

Please enquire directly about rates.

Check with our partner site as the latest rates, rate details, and guest room requirements may vary.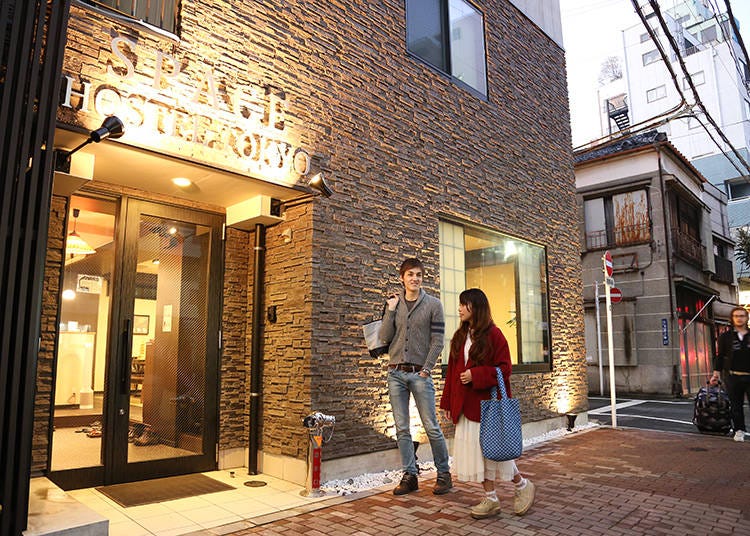 Space Hostel is a relaxed, spacious, and super popular budget Tokyo hostel located just north of Ueno, about 4 minutes from Iriya Station on foot. The traditional tatami interior adds a classic aesthetic to its modern facilities. Space's location puts it within walking distance of some of the city's top sites and attractions, along with excellent access to hub stations like JR Ueno and Asakusa.

Room Details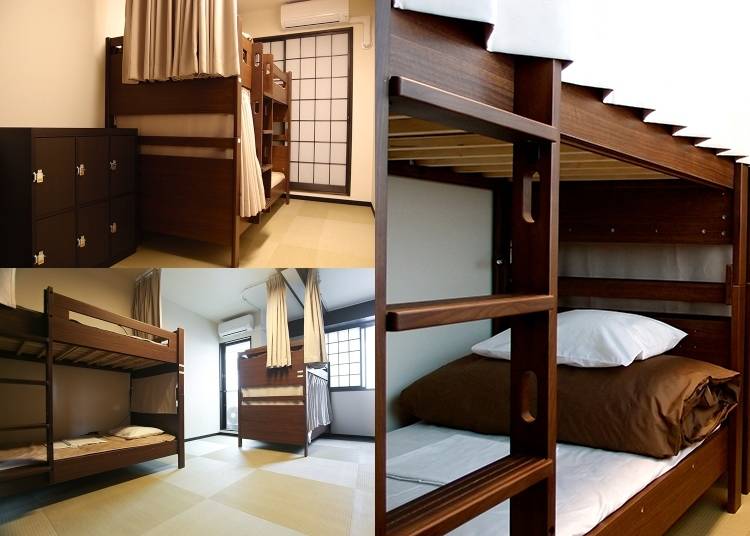 There are eight floors in the building and a total of 90 beds. They have 4-bed rooms (dorms and private rooms), 8-bed rooms (dorms and private rooms), and 10-bed rooms (dorms only). They also provide private reading lights and lockers for each guest.

Facilities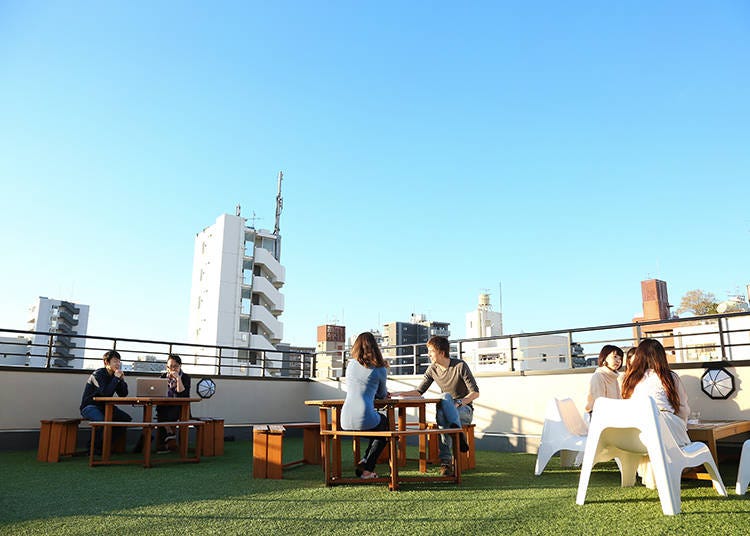 At Space Hostel there is a large kitchen (with free green tea and coffee), and a common area with tatami floor mats and PC's for guests. They have amenities like shower toiletries and a steam iron which are all free to use.

Eastern Tokyo is home to myriad cycling routes, so if you want to rent out a bicycle, you'll be glad to know that Space have got you covered (for ¥800 per day). If you'd rather take in the views from above, then you can shoot on up to the rooftop balcony area which is open from 8:30-22:00.

Points of Interest in the Ueno Area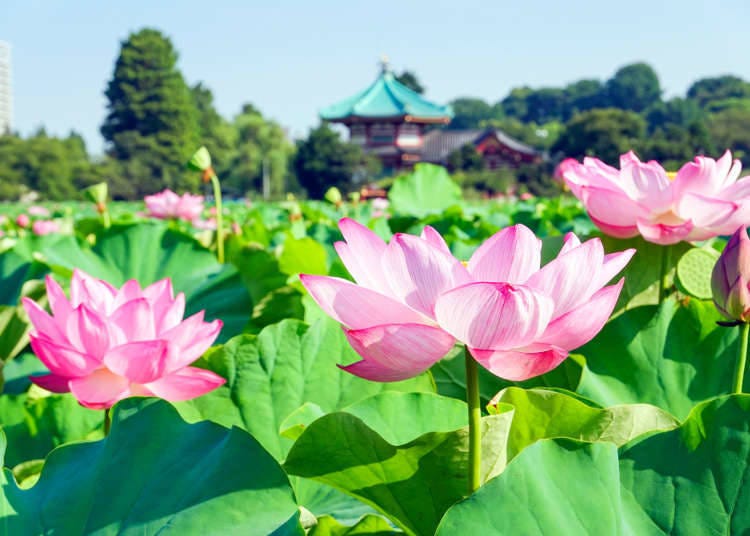 Being so close to Ueno is one of the main reasons for Space's soaring popularity. Ueno is filled with museums and art galleries, home to Tokyo Zoo and the location of the eponymous Ueno Park. This giant green space is one of the finest places to see cherry blossoms in the spring, and a pretty stunning inner-city locale for a picnic when the weather is on your side.
Space Hostel Tokyo

Address

2-26-11 Kitaueno, Taito-ku, Tokyo 110-0014

Nearest Station

4-minute walk from Iriya Station (Tokyo Metro Hibiya Line)


Phone Number

03-6231-6637

Price: Dorms from ¥2000-¥3000 per night (varies depending on season)
Breakfast: Not included
Check-in & Check-out: 15:00 (check-in) 11:00 (check-out)
WiFi: Free all throughout the hostel
4. Hostel East 57 (Asakusabashi)
Hostel East 57 is located right next to arguably the most popular of all Eastern Tokyo's tourist hubs, Asakusa. It's within walking distance from some of the capital's finest historical structures, and just a skip away from a couple of very well-connected train stations—Asakusa is a 20-minute walk or 8 minute train from Café East 57's doorstep, JR Asakusabashi is just a 5-minute stroll.

Room Details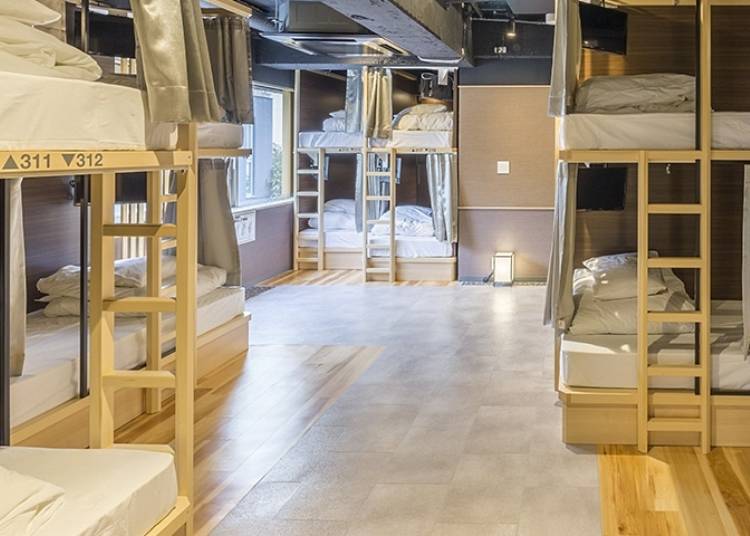 They have a variety of different rooms available, including single bed dorms, bunk bed mixed dorms, female-only dorms and private Japanese-style rooms (complete with tatami flooring and futons). The rooms come with free WiFi and, in some cases, TV's. All bathrooms are shared.

Facilities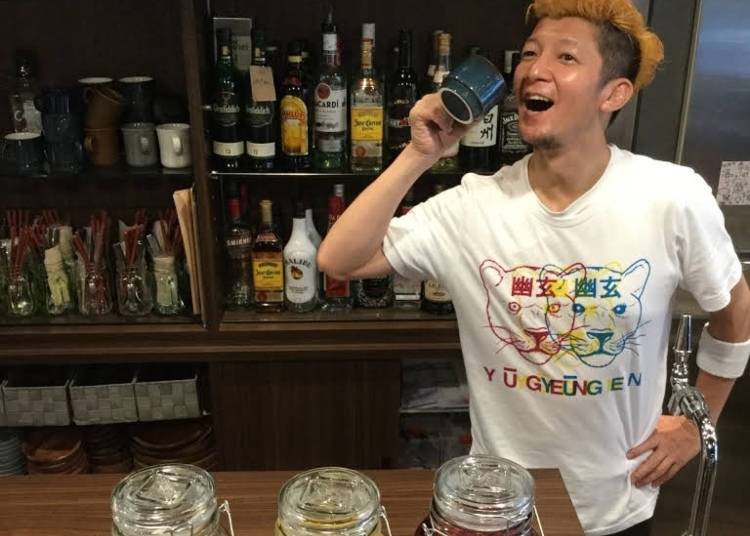 Where Hostel East 57 shines brightest is in its common area facilities. The Tokyo hostel comes with the usual trimmings of a shared kitchen area and laundry facilities. However, it also doubles up as a café and bar.

The café whips up a free* western-style breakfast of various types of sandwiches—great for those who struggle to acclimatize to the Japanese morning culinary favorites—and a good cup of joe (¥400). They also sell various types of alcohol—including 10 beers on tap—and encourage guests to mingle over pizza and a few jars in the evenings. On Friday and Saturday nights they hold meetup events with all items on the menu costing less than ¥600.

(*Breakfast is free if you book a room in the ANNEX building of the hostel.)

Points of Interest in the Asakusa Area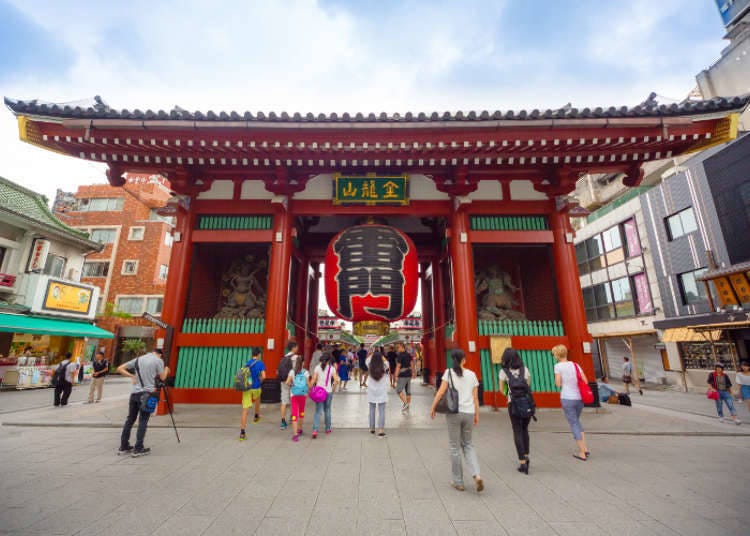 Asakusa is most famously the home of Tokyo's oldest and largest Shinto temple, Senso-ji, a striking structure of brilliant red, adorned with traditional religious iconography. The district also has an eclectic mix of eateries, serving up everything from ramen and sushi, to okonomiyaki and yakiniku. And it's the home of Hoppi Dori, a street lined with beer gardens that runs alongside the grounds of Senso-ji.
イースト57

Address

1 Chome-15-5 Yanagibashi, Taito City, Tokyo 111-0052

Nearest Station

5-minute walk from JR Asakusabashi Station


Phone Number

03-5809-1681

Price: Dorms from ¥2,200 per night (increases on weekends)
Breakfast: American-style served in the café (not included in price)
Check-in & Check-out: 16:00 (check-in) 11:00 (check-out)
WiFi: Free all throughout the hostel
5. Hostel East Blue (Kasai): Family-friendly Tokyo Hostel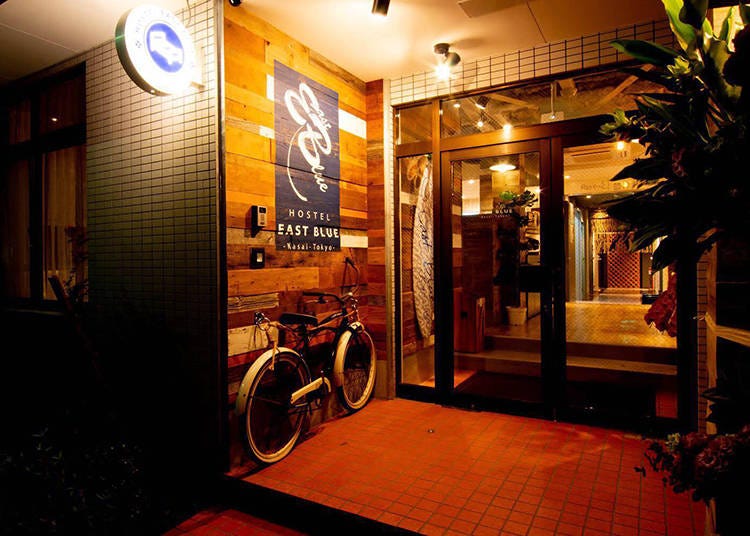 Located just east of Tokyo Station in Kasai, is Hostel East Blue, a modern hostel, with a relaxed and communal atmosphere, and a beach-themed interior design. Being so close to JR Tokyo Station (a 12 minute train ride from Kasai station) means it's very well connected to the rest of the city's major hubs. It's also only a 30-minute bus ride from Kasai Station to Tokyo Disneyland, and 35 minutes to Disney Sea.

Room Details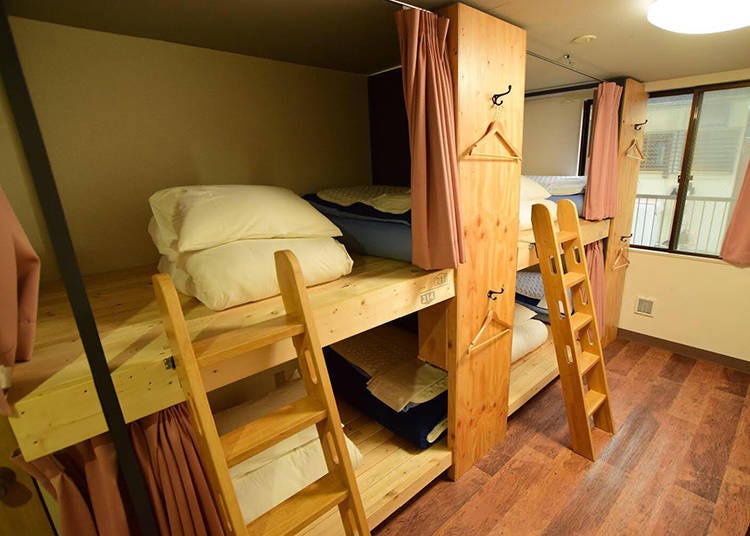 East Blue has a variety of rooms, from Japanese-style privates with futons, to mixed and female-only dorms. They also have "family rooms" which contain up to 8 bunk beds and can be rented out privately for a cheaper cost than booking individual beds. All rooms have free WiFi and a heating/air conditioning unit.

Facilities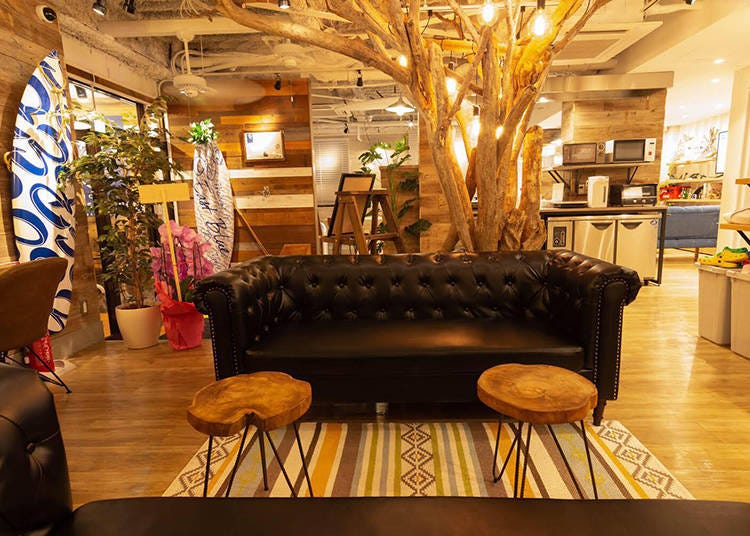 The Tokyo hostel comes with the usual accouterments: shared kitchen and communal lounge area; TV and games; tea and coffee; lockers; etc. They also try to put on regular meet up events, so that solo travelers can mix it up during their stay in Tokyo.

East Blue also prides itself on being a family-friendly Tokyo hostel, with an indoor play area, plus TV programs, books, DVD's, games and more that are geared towards children specifically.

Points of Interest in the Kasai Area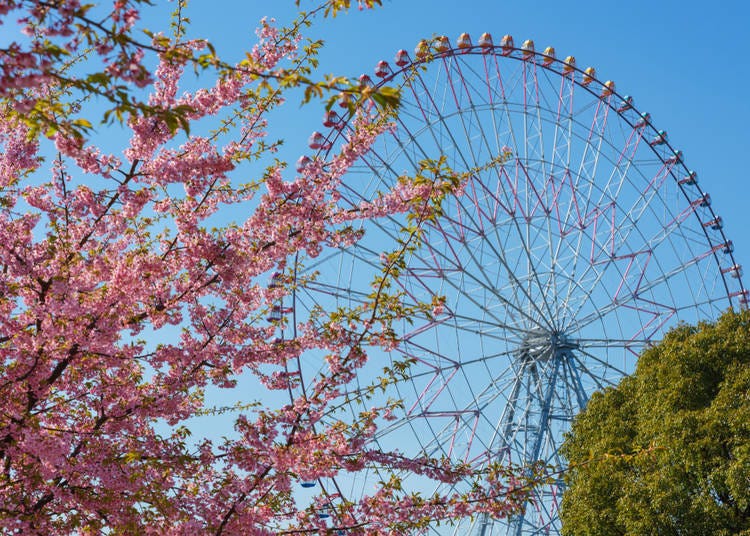 Kasai sits on an isolated strip of land cushioning Tokyo Bay, between the Arakawa and Edo rivers. There are some lovely open green spaces nearby, of which Kasai Rinkai Park—complete with amusements—is probably the highlight. And to top it off, the Tokyo Sea Life Aquarium is just a 30-minute bus ride from East Blue's doorstep as well.
イーストブルーホステル

Address

3 Chome-12-13 Nakakasai, Edogawa City, Tokyo 134-0083

Nearest Station

8-minute walk from Kasai Station


Phone Number

03-6808-1192

Price: Dorms start from ¥1,500 per night, Privates start from ¥3,000 per night (depends on size)
Breakfast: Not included, but has a kitchen that's free to use
Check-in & Check-out: 15:00 (check-in) 10:00 (check-out)
WiFi: Free all throughout the hostel
Written by: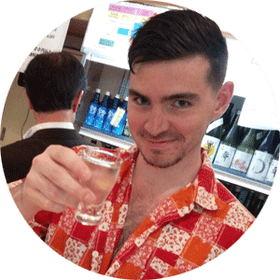 *This information is from the time of this article's publication.
*Prices and options mentioned are subject to change.
*Unless stated otherwise, all prices include tax.