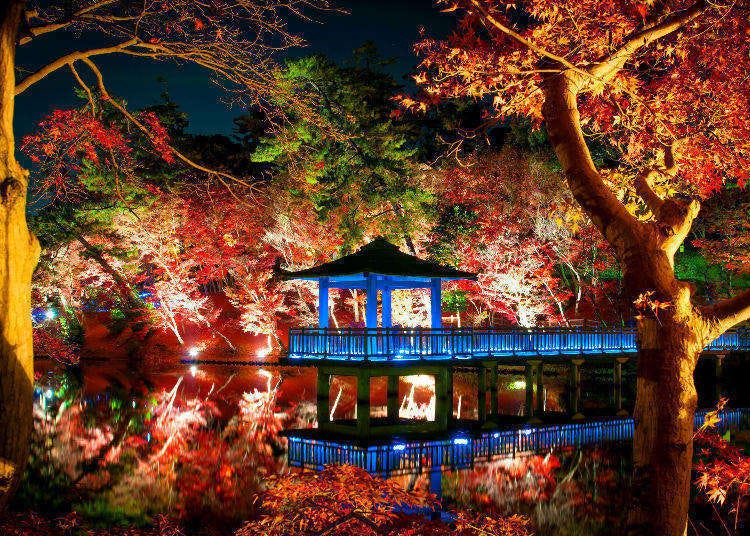 Did you know that Japan has a unique way of enjoying the stunning autumn leaves at night? For decades, famous fall spots are beautifully lit up after sunset, allowing you to savor the seasonal spectacle even in the evening! This harmony of light and nature's colors creates an almost enigmatic atmosphere.

To help you make the most out of this amazing season, we'll share some of the most impactful lit-up fall leaf spots around Tokyo!

While many people might think of visiting Kyoto for fall colors, Tokyo does not fall behind in the least! Tour the metropolis with us and come experience Japan's unique beauty and spectacular sceneries!
1. Rikugien (Komagome, Tokyo)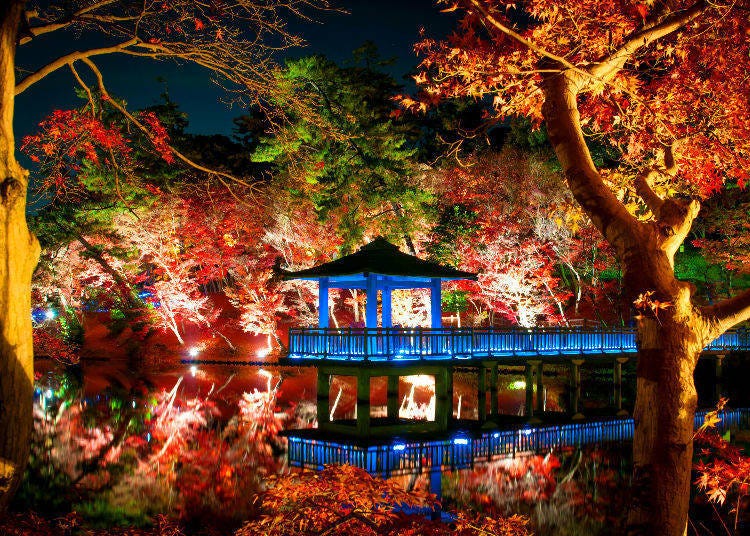 Rikugien might be the best place for autumn leaves at night in Tokyo. It's also designated as one of the two great Edo gardens, built on the spacious grounds of a samurai lord as his private garden. From the first step inside, the atmosphere of Old Edo engulfs you.

During autumn, long queues form up at the garden's entrance because everyone wants to savor the stunning scenery of nightly fall leaves.

There are more than 500 vivid trees that turn the garden into a kaleidoscope of colors, including Japanese maple, ginkgo, wax tree, and more.

Especially the area called Suikōnoe in the west of the park is stunning as the trees seem especially lush there. Just a 7-minute walk away from Komagome Station (JR Yamanote and Tokyo Metro Namboku Line), its excellent accessibility may be part of Rikugien's popularity. From the stations, various signs will help you find the way to one of Tokyo's most breathtaking fall leaf spots.

・When to visit: mid-November to early December
・Light-up: sunset to 9:00 p.m. (last admission at 8:30 p.m.)
・Access: Komagome Station (JR Yamanote Line, Tokyo Metro Namboku Line), 7 minutes on foot
・Address: 6 Chome-16-3 Honkomagome, Bunkyō, Tokyo 113-0021
Address

6, Honkomagome, Bunkyo-ku, Tokyo, 113-0021
View Map

Nearest Station

Komagome Station (JR Yamanote Line / Tokyo Metro Namboku Line)
7 minutes on foot


Phone Number

03-3941-2222
2. Chinzanso Garden (Mejiro, Tokyo)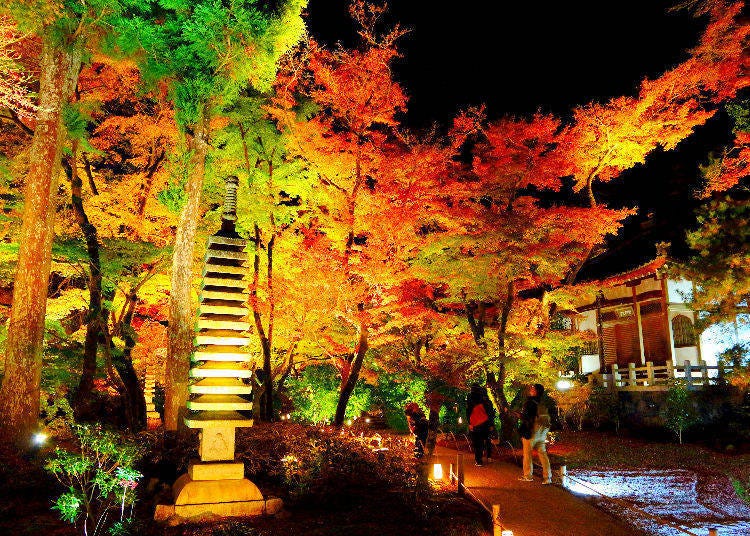 Next, we're visiting Hotel Chinzanso Tokyo in Tokyo's Bunkyo Ward. There's a stunning Japanese garden on the precincts of the hotel and its fall leaves are lit up every year. It was built more than 100 years ago and today, each passing season gives Chinzanso Garden a different look.

From the soft and dreamy cherry blossoms in spring to dancing fireflies during the summer months and even snow in winter, no matter when you visit, this garden's tranquility will make you forget that you're in the middle of Tokyo.

Beautiful leaves aren't the only sight to expect. There's also a three-storied pagoda that provides a wonderfully traditional backdrop to the vivid colors of fall. It is estimated that this structure dates back to the late Muromachi period and is a registered tangible cultural property of Japan.

Chinzanso Garden is already amazing during the day, but once the sun has set, the pagoda and the trees are lit up before the dark of night. This spectacle can be enjoyed until 11:00 p.m., so if you find yourself craving for more sightseeing experiences after dinner, this is a prime spot to stop by.

・When to visit: mid-November to early December
・Light-up: sunset to 11:00 p.m.
・Access: Edogawabashi Station (Tokyo Metro Yurakucho Line) 10 minutes on foot
Address

Bunkyo-ku, Sekiguchi 2-10-8, Tokyo-to, 112-8680
View Map

Nearest Station

Edogawabashi Station (Tokyo Metro Yurakucho Line)
13 minutes on foot


Vacancy search, reservation

from

69,597JPY

1room, 2adults

Check with our partner site as the latest rates, rate details, and guest room requirements may vary.
3. Otaguro Park (Ogikubo, Tokyo)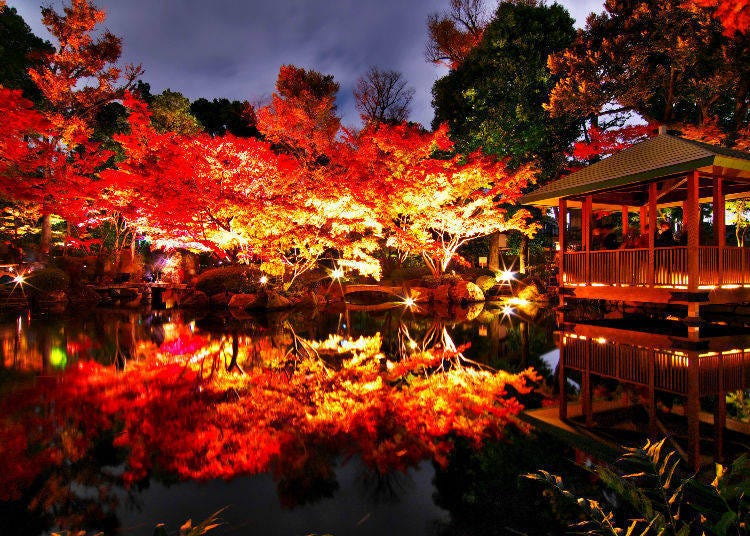 Fall leaf spots can even be found in quiet residential areas. Otaguro Park is a famous representative of these almost secret sightseeing treasures, situated in Tokyo's Ogikubo.

This Japanese garden is so lush, it seems almost wild and between late November and early December, the colorful fall leaves are lit up only for a few precious days. The spot has been somewhat of a local tip up until recently when Otaguro Park started to be featured in the media.

Although it is not as famous as Rokugien, it has enjoyed a steady increase of charmed visitors while maintaining its relaxing calmness.

The fall colors of Otaguro Park are defined by golden ginkgo trees, with vivid splashes of red and orange in between. The stone pavement leads you through breathtaking seasonal scenery, with the highlight being the pond of the Japanese garden.

The numerous trees reflected on the still surface is reminiscent of Japan's famous "Fuji Upside-Down" (Mount Fuji being reflected in one of the surrounding lakes). Dare to gaze into the water instead of at the trees directly but at their lit-up reflection – that is the Japanese way of savoring fall.

・When to visit: mid-November
・Light-up: sunset to 8:00 p.m. (weekdays, last admission at 7:45 p.m.) / sunset to 9:00 p.m. (weekend, last admission at 8:30 p.m.)
・Access: JR Ogikubo Station, 10 minutes on foot
・Address: 3 Chome-33-12 Ogikubo, Suginami, Tokyo 167-0051
杉並区立大田黒公園

Address

3 Chome-33-12 Ogikubo, Suginami City, Tokyo 167-0051
4. Hase-dera Temple (Kamakura, Kanagawa)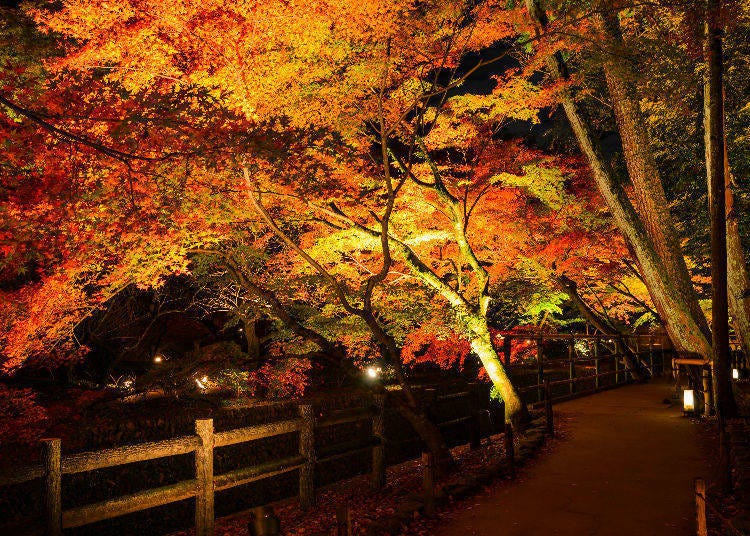 Getting from Tokyo to Kamakura takes less than an hour by train and it would be criminal to not introduce one of the most famous fall leaf spots in Tokyo's surrounding area: Hase-dera Temple, home of the largest Kannon statue in Japan.

The temple is located in Kamakura City in Kanagawa prefecture, a historic city that in itself is an amazing sightseeing spot. It is dotted with stunning fall leaf sights but Hase-dera is the most impressive of them. Generally, it boasts a fantastic variety of seasonal beauty all around the year which is also why it was nicknamed "Flower Temple" by the locals.

Of course, an iconic spot such as Hase-dera has its own fall leaf light-up in a special nightly viewing event.

Especially recommended is arriving just before sunset to watch the enigmatically beautiful scenery slowly transform from light to dark. It's a harmonious contrast between the temple buildings and the lush trees and we urge you to savor the sight at the "outer stage" which is also a designated national treasure.

From there, the five-storied pagoda on the premises forms a sublime scenery with the colors of fall, captured in one picture. Visit Hase-dera Temple in the evening to bring your day of sightseeing in Kamakura to a fantastic end.

・When to go: mid-November to early December
・Light-up: sunset to 6:00 p.m. (weekdays) / sunset to 6:30 p.m. (holidays)
・Access (one example): from Shinjuku Station to Kamakura Station (JR Shonan-Shinjuku Line), from Kamakura Station to Hase Station (Enoden Line), 5 minutes on foot
・Address: 3-11-2 Hase, Kamakura-shi, Kanagawa-ken 248-0016
Address

3-11-2 Hasaya, Kamakura, Kanagawa Prefecture, 248-0016
View Map

Nearest Station

Hase Station (Enoshima Electric Railway Line)
5 minutes on foot


Phone Number

0467-22-6300
5. Nagatoro Fall Leaf Festival (Chichibu, Saitama)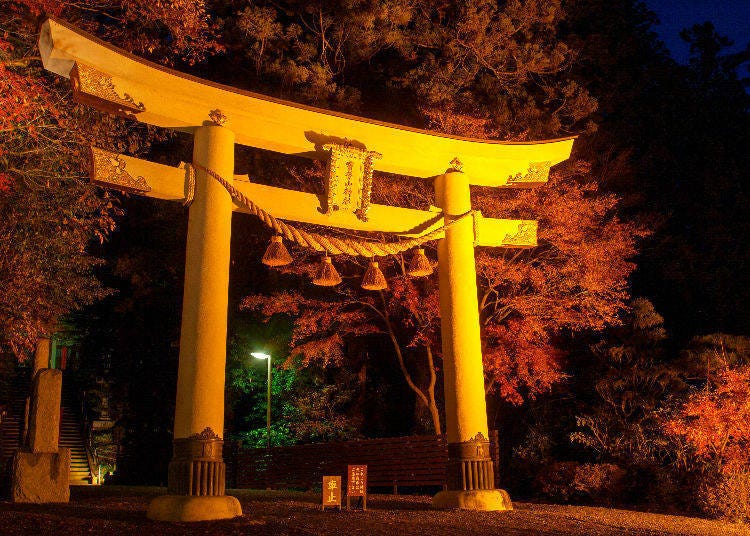 Nagatoro in Saitama Prefecture is less than 2 hours away from Central Tokyo and a wonderful spot for a day trip. The little town has a population of fewer than 7,000 people but is known as one of the most beautiful fall leaf spots in all of the Kanto area.

In November of every year, the Nagatoro Fall Leaf Festival takes place and its highlight is the lit-up fall leaves in Tsukinoishi Momiji Park, the city's symbol and pride. The park is dense with deciduous trees such as Japanese maple, indeed so thick that the vivid leaves almost create a canopy over the clear fall sky.

If you come to Nagatoro, you have to come in the morning. Another iconic place next to the city's park is the sedimentary rock covered in a vivid carpet of leaves – a stunning natural scenery sure to enchant.

This rock, designated as a natural treasure and national site of scenic beauty, follows the city's Arakawa River for about 600 meters. The harmony of stone, water, and leaves is a breathtaking view that draws in people from all around Japan, as famous as it is beautiful.

From March to December, the "Nagatoro Line" river rafting lets you enjoy this lush place directly from the water and is our warmest recommendation when you're in the area.

・When to visit: late October to mid-November
・Access (one example):
- from Ikebukuro Station: to Ogawamachi Station via Tobu Tojo Line Limited Express (transfer)
- from Ogawamachi Station: to Yorii Station via Tobu Tojo Line (transfer)
- from Yorii Station: to Kamonaga Station via Chichibu Railway; 5 minutes on foot
・Address: 1446 Nagatoro, Nagatoro-machi, Chichibu-gun, Saitama-ken 369-1305
月の石もみじ公園

Address

947 Nagatoro, Chichibu District, Saitama 369-1305
*This information is from the time of this article's publication.
*Prices and options mentioned are subject to change.
*Unless stated otherwise, all prices include tax.
Limited time offer: 10% discount coupons available now!