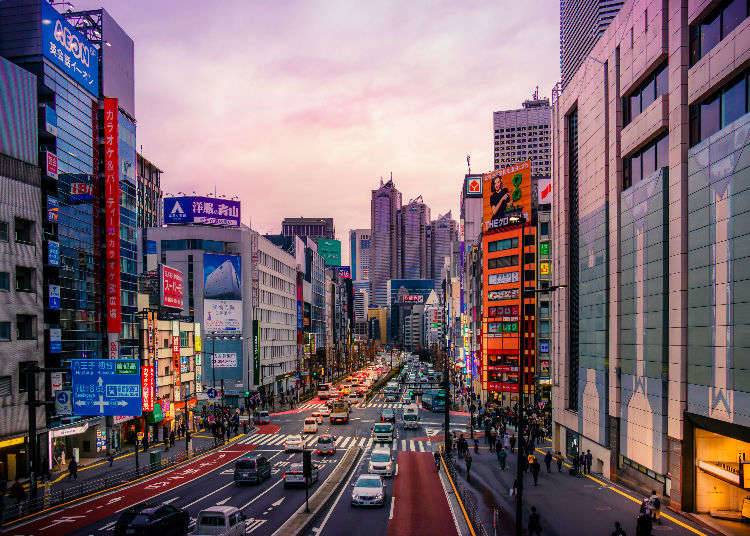 Japan's national highways span from the northernmost Hokkaido to Okinawa all the way in the south. As of 2016, they cover a total distance of 9318.6 kilometers. For those who prefer a car to planes and trains, such expressways are the best way to get around the country. In that case, it's essential to know about expressway tolls, as well as the price of gasoline and rental cars. Expressway tolls cover almost all highway sections, and the general image that people tend to have of Japan is that prices are high. But how high is the price of gasoline in reality, compared to other parts of the world? We'll go over tolls, gasoline, as well as rental cars to help you plan your budget!
Why Does Japan Have Expressway Tolls?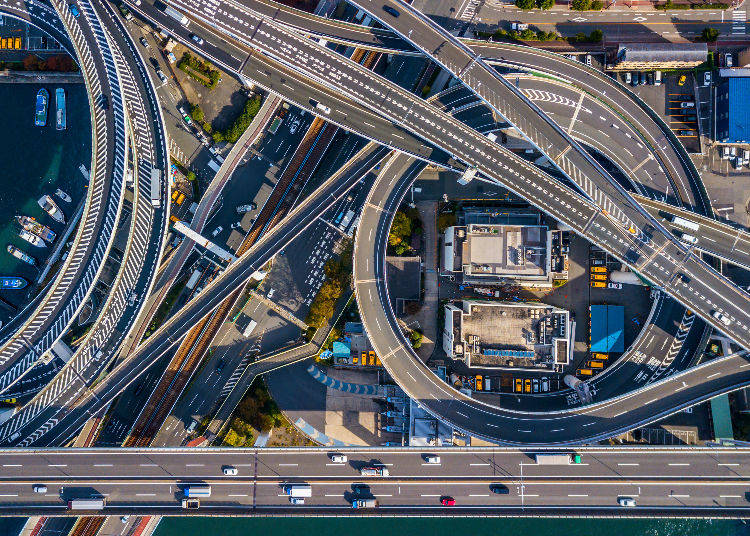 Not many people in Japan are aware that other countries have highways without an expressway toll, such as the Freeway in the USA or Germany's Autobahn. In Japan, on the other hand, the general rule is that an expressway toll needs to be paid.

Japan's highways were modeled after Germany's "Autobahn." The Meishin Expressway connecting Nagoya and the Hanshin area was opened in 1965 as the country's first highway. But why does Japan have an expressway toll when it is based on the free German "Autobahn?"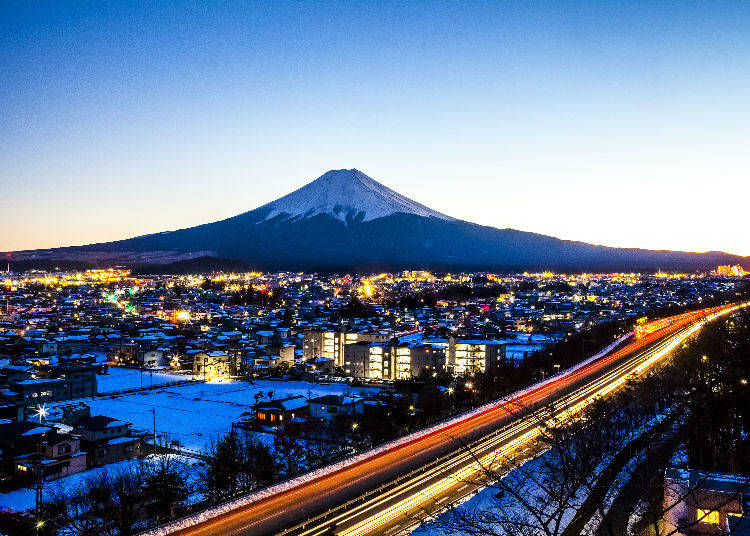 When the construction works began, the plan was to make the highways free once the debt taken out to pay for the project was repaid with the revenue of each highway. However, a later amendment to the law required that any surplus revenue of one route needs to be used to pay routes that are not profitable. So even if certain routes earn money but others are in the red, the loan cannot be repaid. So, the overall debt kept rising until it hit about 40 trillion yen! In the end, the Japanese government gave up on making the highways toll-free and decided on permanent expressway tolls, as well as privatizing the Japan Highway Public Corporation. In 2005, the once-public company was divided into the three separate private enterprises NEXCO East, NEXCO Central, and NEXCO West. They are required to pay back the loan within 45 years.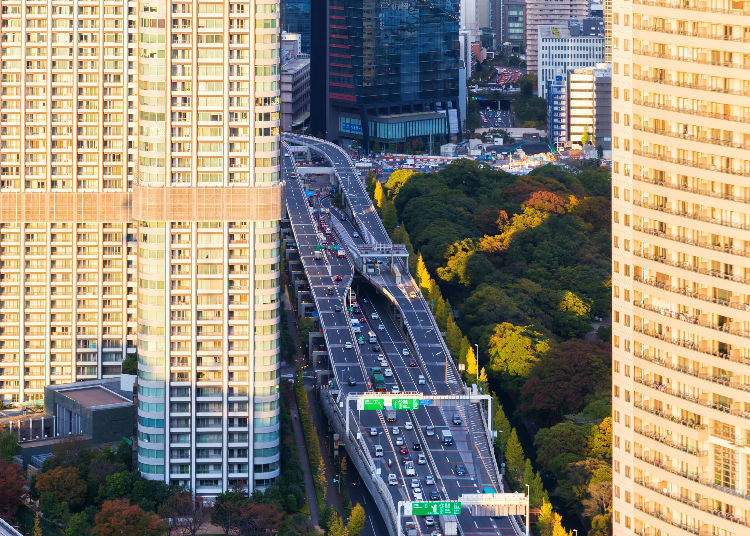 That means the deadline for the repayment is 2050 – but does that mean that Japan's highways will be toll-free afterward?
The privatization raised the chances of free expressways, but in 2014, a budget for repairs and maintenance became necessary, so the deadline was pushed back again. As of right now, it is set to 2065.
Some expressways are free already, such as in areas that are recovering from disaster, but speaking of Japan as a whole, there is an end in sight to expressway tolls, even if it might seem far away.
Comparing Expressway Tolls Worldwide!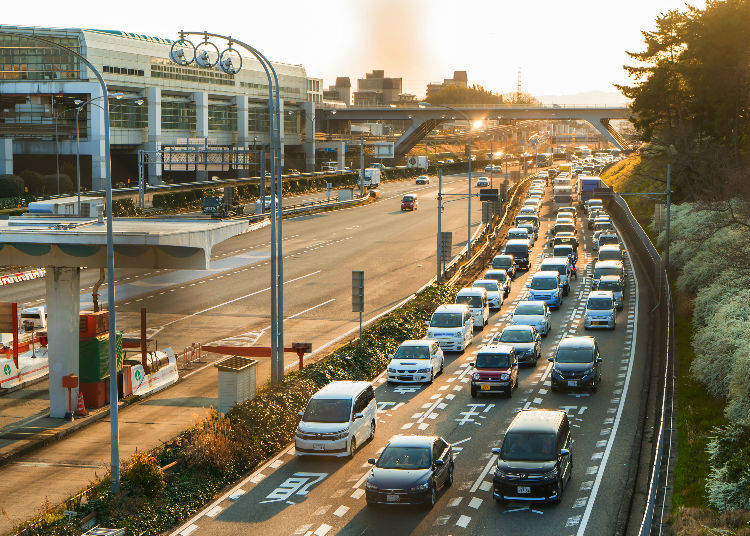 There are countries with very low expressway tolls or none at all, such as the United States, Germany, the United Kingdom, Spain, Singapore, and more. In recent years, however, more and more countries opt for a flexible toll system for rush hours and so on. Switzerland and Austria are countries that have expressway tolls for all roads. In Switzerland, the toll is paid on a yearly base while Austria also offers 10-day and 2-month toll stickers.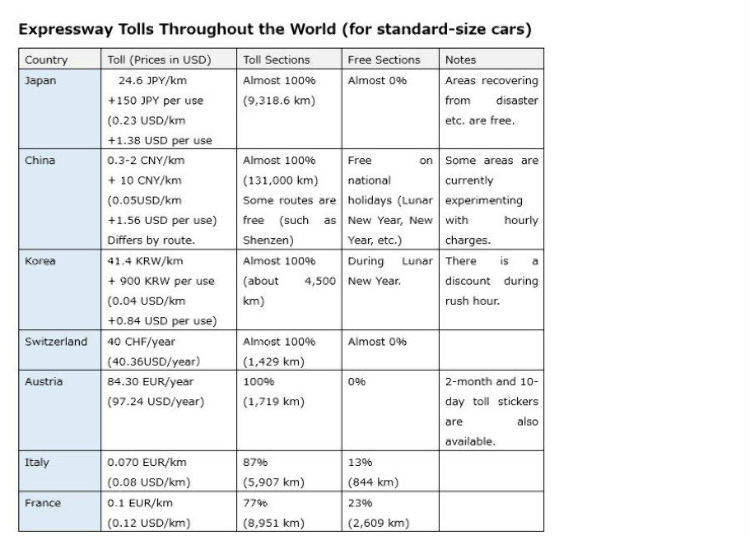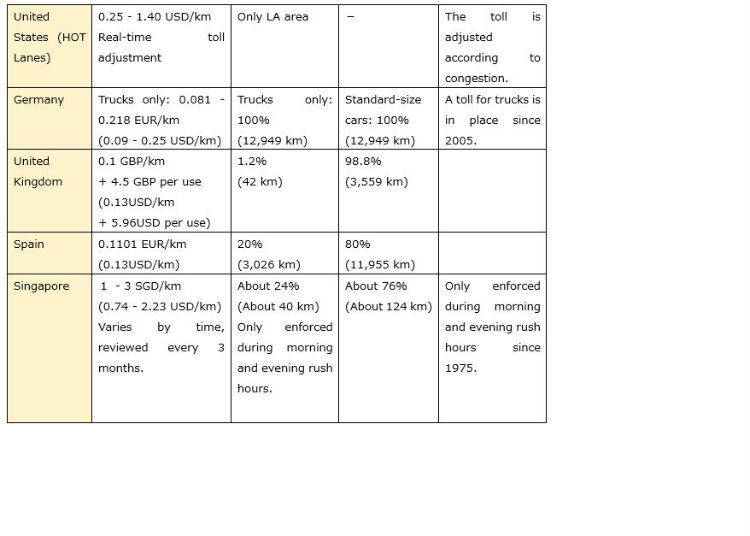 Reference: Express Highway Research Foundation of Japan
* The tolls refer to standard-size cars. A lot of countries have doubled rates for larger vehicles.
* The reference data for the United States and the UK is as of 2010, for Spain and Austria as of 2013, for Japan, China, and Korea as of 2016, and for all other countries as of 2014.
* The exchange rate is as of end of May 2018.
Source: Ministry of Land, Infrastructure, Transport and Tourism
Expressway Tolls in Japan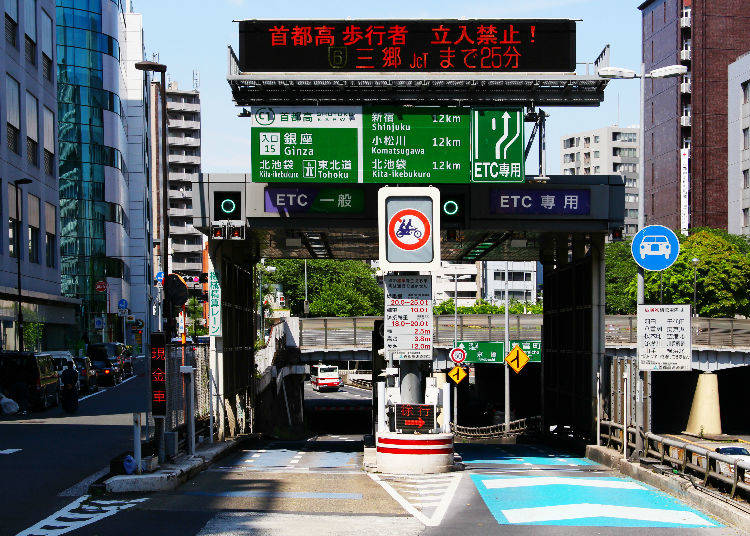 Generally speaking, expressway tolls in Japan are calculated per kilometer and the toll depends on what kind of vehicle you drive. An additional one-time fee is charged for every time you use the highway.
There is a 25% discount for distances between 100km and 200km, while the toll for distances over 200km is reduced by 30%.
Besides that, even if there are Exit tollgates, routes with heavy traffic (mainly in urban areas) feature flat-rate tolls. The toll is calculated by travel distance, as shown above. Because of the one-time usage fee, short distances are comparatively more expensive than traveling longer routes and staying on the expressway all the way for longer routes is more economic as well.
Comparing Gasoline Prices Worldwide!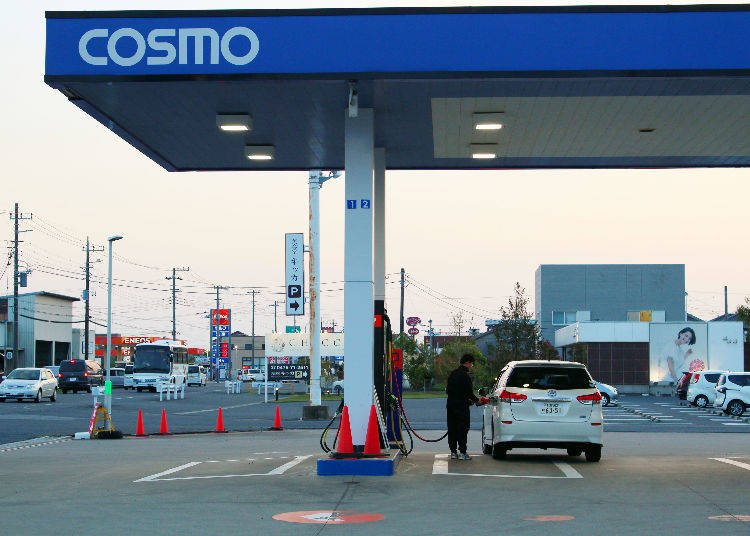 According to a study on gasoline prices worldwide from 2016 conducted by the international statistics company Global Note, the average price per liter of all countries is 0.97 USD. In Japan, the retail price was at 1.06 USD per liter and earned the country the 81st place. While that is cheaper than European countries, it is higher than other countries including Central and South America, Taiwan, Thailand, and Vietnam.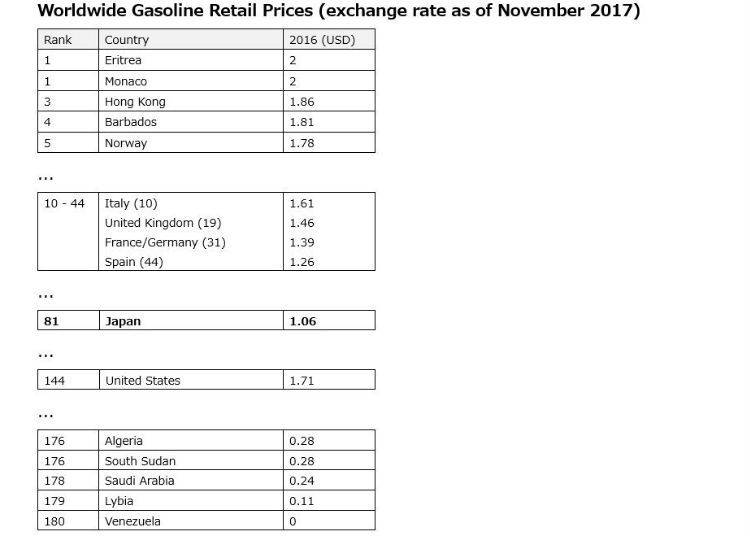 Source: World Bank
Gasoline Prices Differ Throughout Japan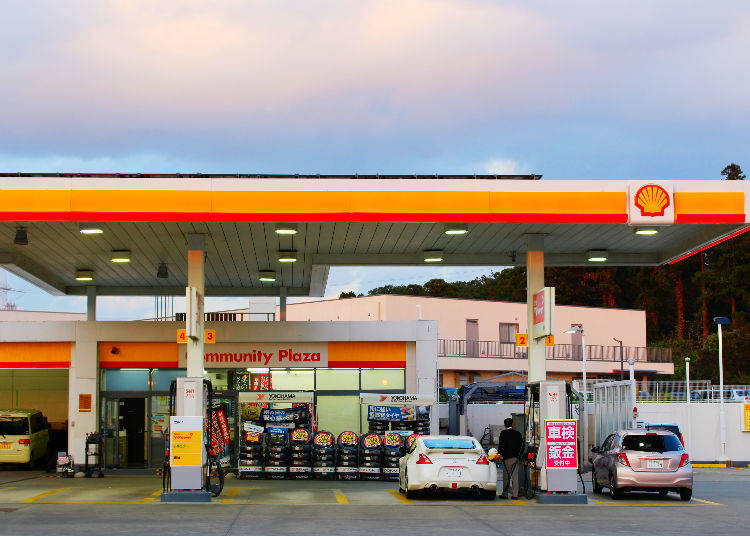 Prices for gasoline do not only differ by prefecture in Japan but sometimes even by area. Below is a gasoline price ranking by prefecture with data as of May 2018. The difference is as high as 15 yen per liter!
If you refuel a standard car (in our example: Toyota PASSO, 36l capacity), it will cost you between 5,100 yen and 5,600 yen.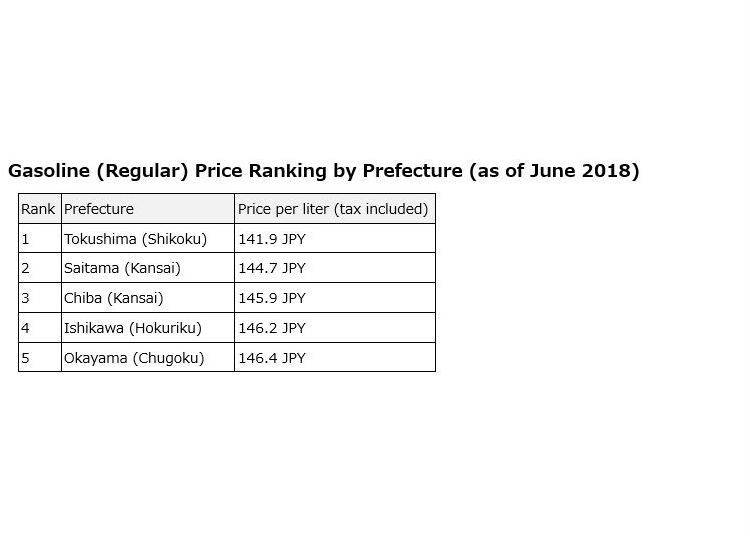 Source: Agency for Natural Resources and Energy
The gasoline prices are influenced by the exchange rates of international currencies, the situation in oil-producing countries, as well as the location in Japan, among other factors. One of the most important factors is the transportation cost. Oil tankers import crude oil that is then refined at an oil refinery before being transported to an oil depot. Places that are far from such a depot will naturally have higher gasoline prices, as the transportation costs are more expensive.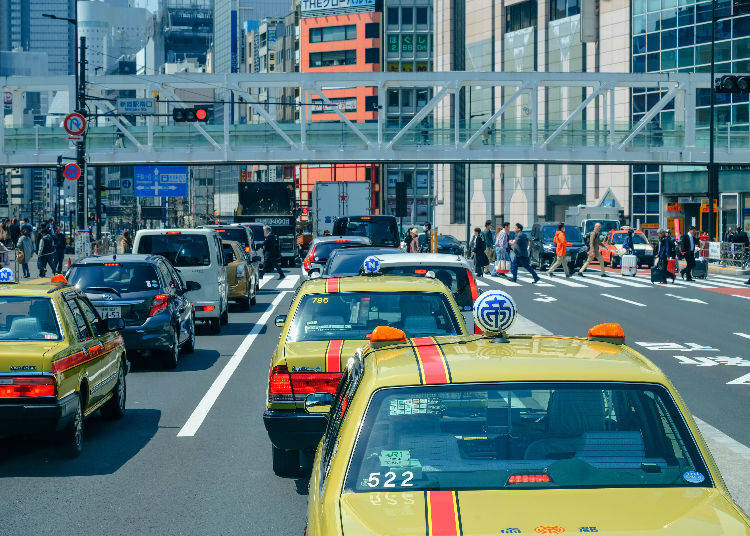 Another important factor is competition. Although gasoline is not unique in that regard, places with a lot of gas stations will naturally have lower prices. Areas with high traffic tend to have a plethora of gas stations, so you can expect prices to be lower.
The third big factor is whether a gas station is affiliated with the seller or not. Japan has various oil companies such as Eneos or Idemitsu. The retail price for gasoline differs by company and also changes depending on how much is bought from the affiliated stores. Besides that, self-service gas stations are cheaper than staffed gas stations.
How Much Does It Cost To Rent a Car in Japan?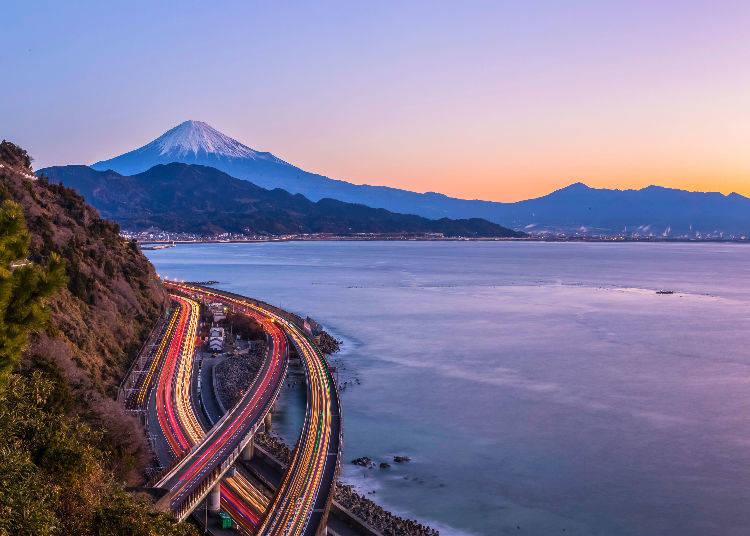 The prices for rental cars in Japan depend on the vehicle type, how long you're renting it, and where you're driving it. Most Japanese rental cars are either gasoline-fueled or hybrid (PHV), with electric cars (BEV) being few. You'll get it with a full tank and are required to refuel it before returning the vehicle.
Discount campaigns are plentiful, such as time-based discounts, early reservation discounts, holiday campaigns, regional campaigns, and so on. Some of those can lower the price by more than 50%! If you have a schedule and destination in mind, be sure to check for such offers.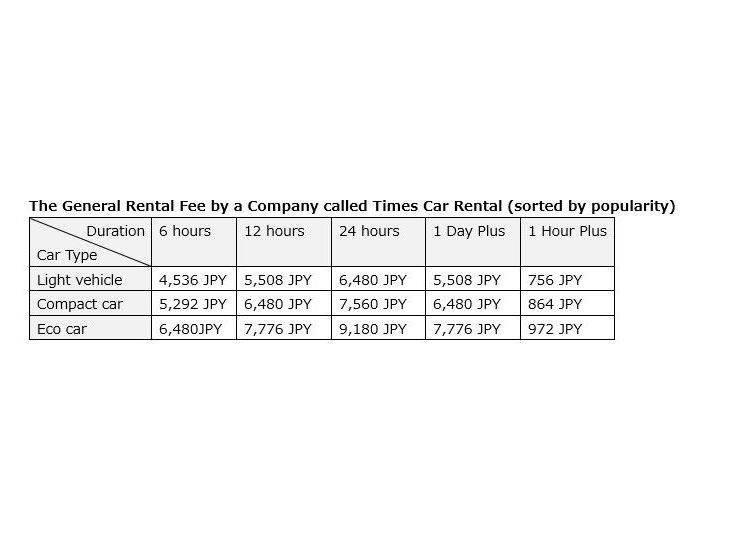 * Prices vary by season and region. Peak season prices are 1.2 to 1.4 times higher, while summer in Hokkaido costs about 1.3 to 1.6 times more.

Car Models:
Light vehicle: 4 people max, best for 2 people
Compact car: 5 people max, best for 2 people
Eco car: 5 people max, best for 2-4 people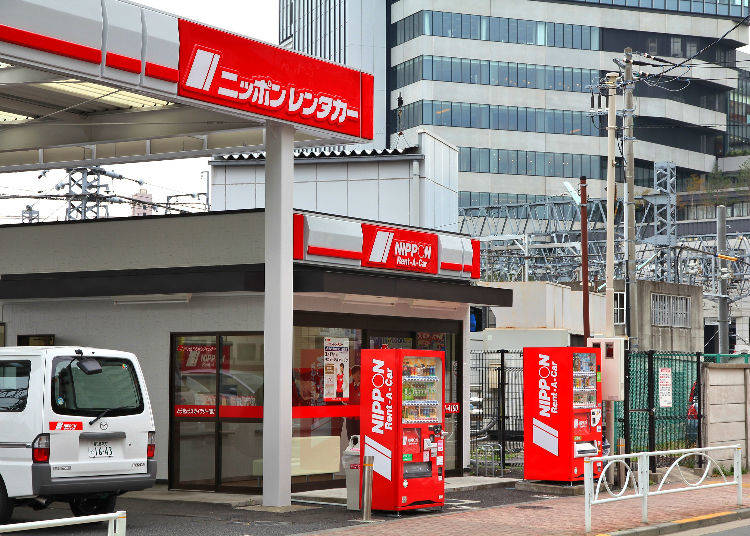 Recommended car rental companies:
Times Car Rental
http://www.timescar-rental.com/
Languages: English, Chinese, Korean

Nippon Rent-A-Car
https://www.nrgroup-global.com/en/
Languages: English, Chinese, Korean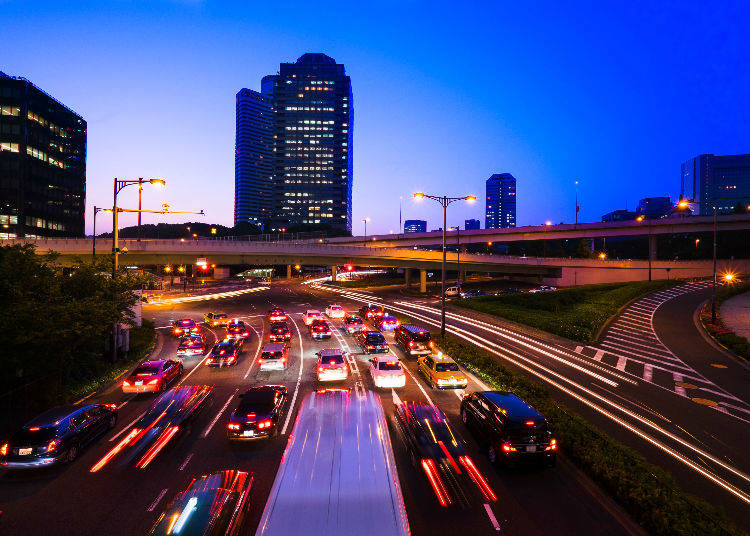 Generally, Japanese cars have the steering wheel on the right while they're driven on the left. Highways have a maximum speed of 100km/h and a minimum speed of 50km/h. Make sure to mind the speed limit!
Also, if you're doing a proper road trip through Japan, make sure to stop at service areas to savor local delicacies and shop for regional souvenirs! Happy driving!
*This information is from the time of this article's publication.
*Prices and options mentioned are subject to change.
*Unless stated otherwise, all prices include tax.
Recommended places for first-time visitors to Japan