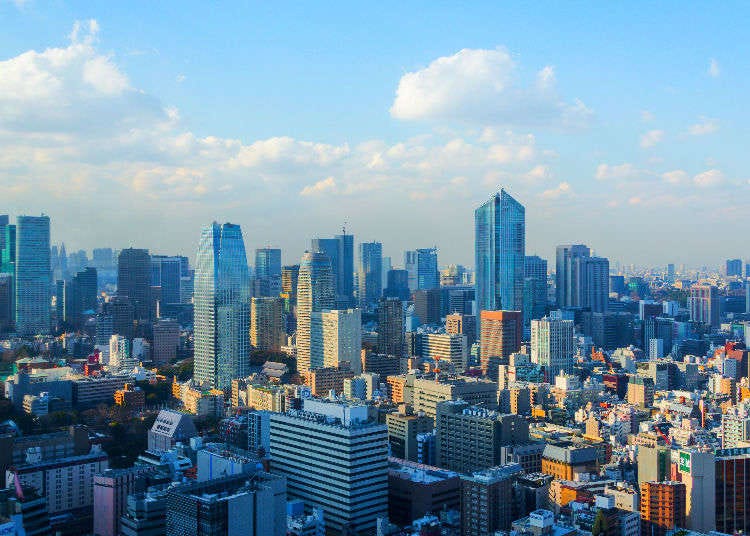 Right now, Tokyo is preparing itself for the Olympic Games in 2020 and thus undergoes some serious construction rush! Both locals and visitors can look forward to brand-new commercial complexes, and more. Especially noteworthy is the area of Shibuya Station, which will be home to various new and fancy hotels! 2018 offers a fabulous foretaste of shiny new Tokyo! We have chosen 7 noteworthy spots all around the city that have just been opened or entirely renewed!
Tokyo Midtown Hibiya: Beautiful Office Space and Metropolitan Oasis (Open from March 29, 2018)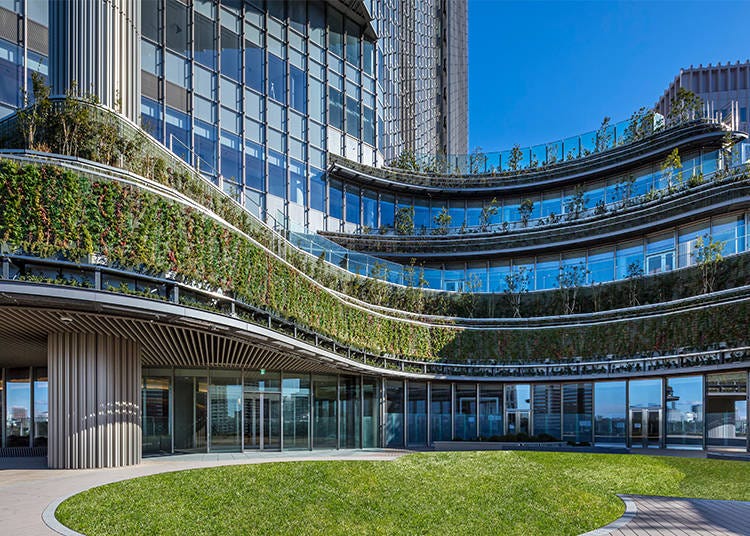 Green space called "Park View Garden" (6F)
Tokyo Midtown Hibiya is a massive complex directly linked to Hibiya Station, Yurakucho Station, and Ginza Station. The building towers 35 floors high and even boasts 4 floors underground. In total, 60 different shops plus a cinema will call Tokyo Midtown Hibiya its home from March 2018.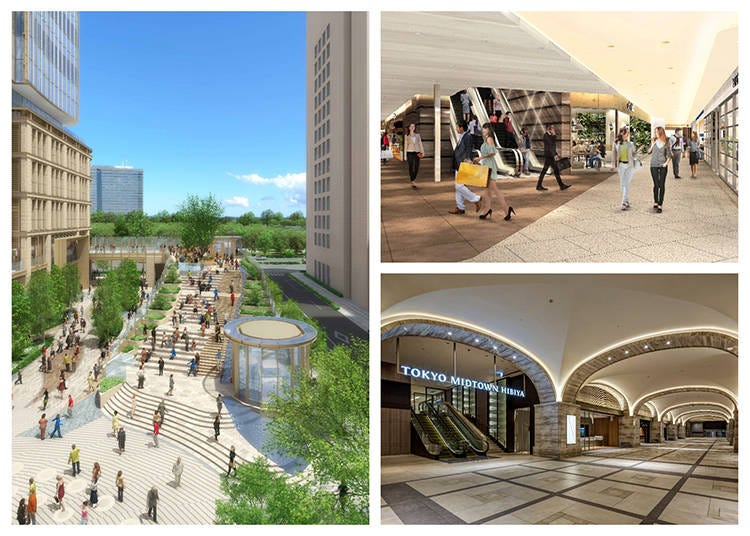 The shopping floors follow the concept of "The Premium Time, Hibiya" and invite you to a one-of-a-kind shopping experience in a luxurious setting. Look forward to delicious restaurants and cafés committed to Japan's famous hospitality and a variety of shops, some even designed by famous artists.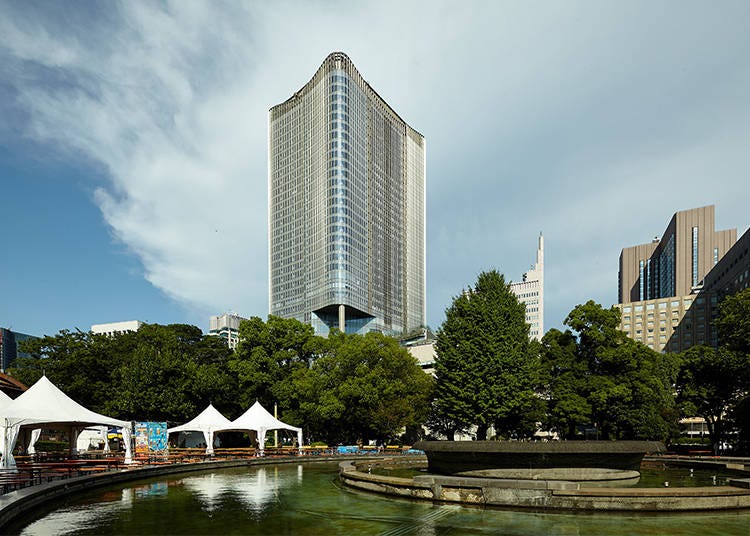 Hibiya is known as an area focused on culture and entertainment, so Tokyo Hibiya Midtown is all about design, as well. It is bright and glamorous while still feeling spacious and welcoming to everyone. The underground shopping street is a great example of this, designed after the historic Sanshin Building, while a three-layer atrium evokes the spirit of traditional theaters.
東京ミッドタウン日比谷

Address

1-1 Yūrakuchō, Chiyoda-ku, Tokyo 1000006, Japan

Nearest Station

Direct access from Hibiya Station (subway), Yurakucho Station (Yamanote Line, Keihin-Tohoku Line; subway lines), and Ginza Station (subway lines)


Phone Number

03-5157-1251

Hours
Shops: 11:00 a.m. – 9:00 p.m.
Restaurants: 11:00 a.m. – 11:00 p.m.
※May vary by shop
Mimaru Tokyo Ueno North: A Hotel Like a Traditional Japanese Home (Open from February 8, 2018)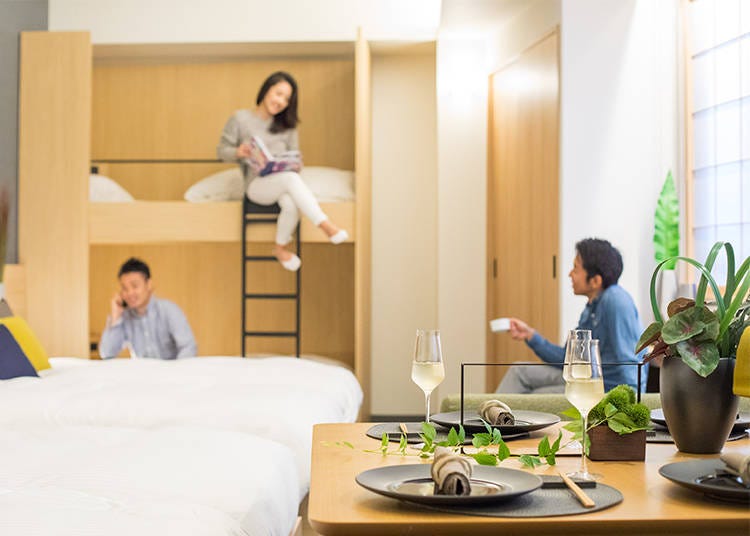 An example of one room, created to make you feel at home
The MIMARU hotel brand has always committed to the concept of "offering a home away from home." With its newest hotel called Mimaru Tokyo Ueno North, the chain created its first beautiful and relaxing space primarily for mid- to long-term stays, as well as larger groups of travelers.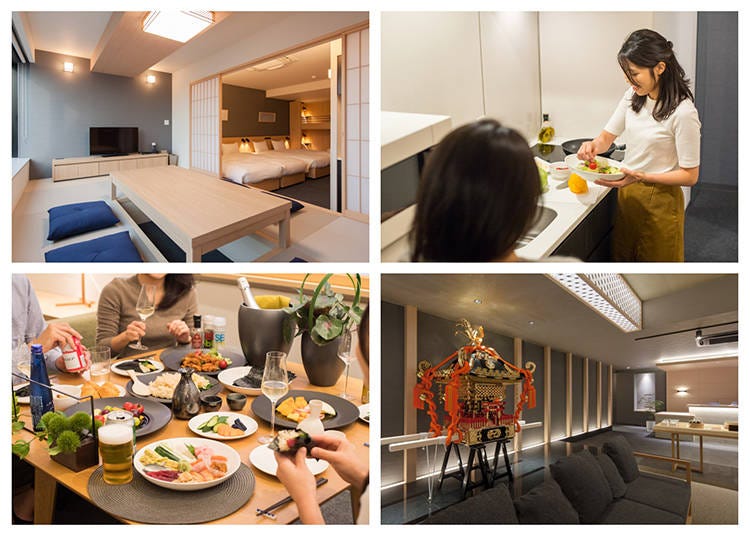 Top left: The premium room that blends both modern and traditional Japanese aesthetics / Top right: The mini-kitchen is equipped with cooking utensils, tableware, a stove, and more / Bottom left: Deliveries to your room are also possible. The photo shows "temaki-zushi" wraps / Bottom right: The lobby and its "mikoshi," a portable shrine used in Japanese festivals
The rooms really do seem more like private apartments rather than part of a hotel. In total, 30 rooms are available, ranging in size from 34.14m² to 52.61m², boasting comfort and a relaxed atmosphere. A small kitchen equipped with cooking utensils is part of each room, as well as a laundry room and other daily life necessities, making the hotel a perfect choice for longer stays.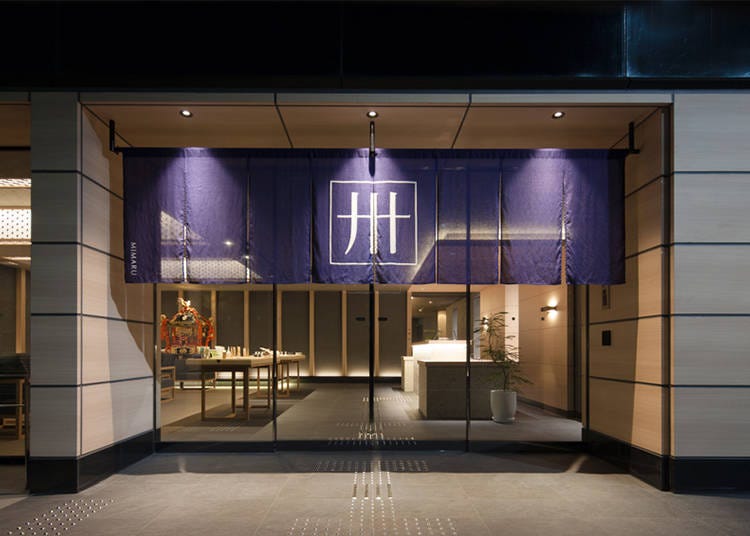 The hotel doesn't only offer sightseeing and restaurant guidance in 15 different languages, but also equips you with a free-to-use smartphone! Make both domestic and international calls (restricted to China, Hong Kong, Korea, Taiwan, Thailand, and the US), use it for route search while sightseeing, and more. Next to plenty of information about sightseeing and Japan in general, Mimaru Tokyo Ueno North also offers a delivery service allowing you to dive into gourmet experiences from the comfort of your room.
Mimaru 東京上野 North

Address

7-14-4 Ueno, Taitō-ku, Tokyo 1100005, Japan

Nearest Station

JR Ueno Station, 4 minutes on foot from Iridani Exit


Price per room: from 26,000 yen per night
Check-in: 3:00 p.m.
Check-out: 11:00 a.m.

Vacancy search, reservation

from

18,900JPY

1room, 2adults

Check with our partner site as the latest rates, rate details, and guest room requirements may vary.
Hoshino Resort OMO5 Tokyo Otsuka: A Cozy, Brand-new City Hotel for Tourists (Open from May 9, 2018)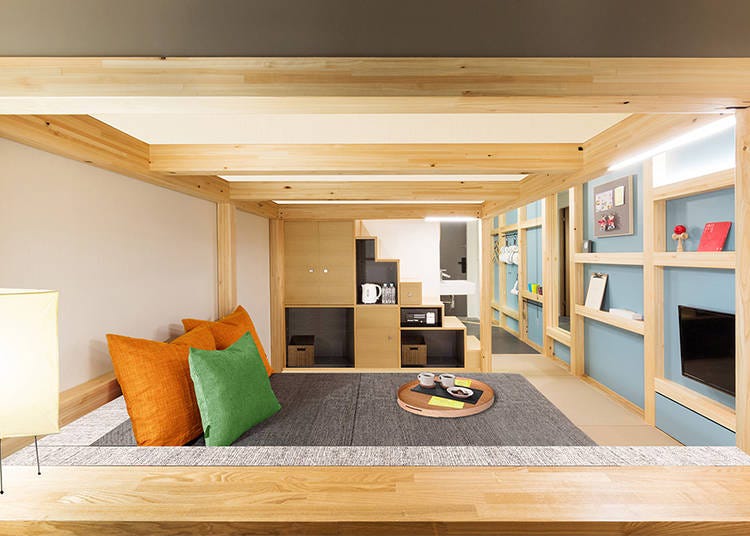 One of the calm, relaxed rooms with white cedar interior
Hoshino Resorts is one of Japan's most popular hotel brands, famous for its high-quality hotels, ryokan, and ski resorts all over the country. OMO is a new kind of hotel brand that was created in 2017 and the Hoshino Resort OMO5 Tokyo Otsuka is part of that. The concept of "A sightseeing hotel that enhances your travels far beyond just sleeping!" promises an exciting accommodation!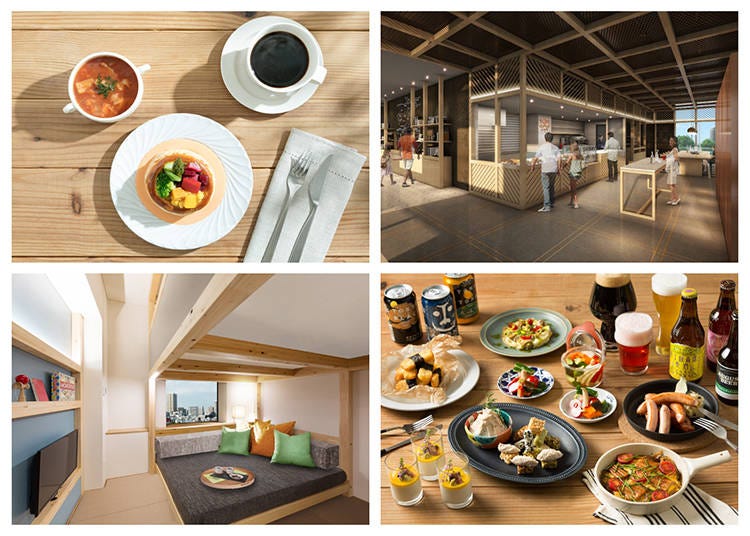 Top left: A rich breakfast menu awaits, including various choices such as stew and salad / Top right: The café space, open at any time. Snacks as well as drop coffee are available / Bottom left: The rooms are almost too cozy to leave / Bottom right: The café's menu varies by time of day
One of the main charms of this new city hotel is its approach of encouraging visitors to experience the area they're staying at right now. The bedrooms are created in the image of a yagura, meaning a scaffold used at Japanese festivals and with comfy beds on the upper layer and cozy sofas on the lower layer, it almost feels like a secret hideout. High ceilings and large windows give the room a wonderfully open feeling.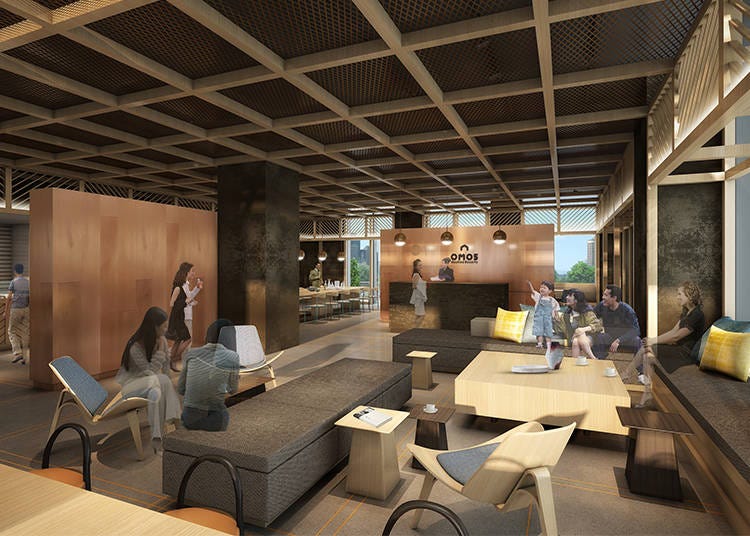 A stylish, cozy lobby invites to sit down and plan your travels – why not get some tips and input from other guests? The staff, too, is ready to provide you with in-depth knowledge about sightseeing spots and restaurants all around the neighborhood.
Hoshino Resorts OMO5 Tokyo Otsuka

星野リゾート OMO5 東京大塚

Address

4F - 13F, 2-26 Kitaōtsuka, Toshima-ku, Tokyo 1700004, Japan

Nearest Station

JR Otsuka Station, 1 minute on foot from North Exit


Price per night: from 7,000 yen (for 2 people per room, price per person)
Check-in: 3:00 p.m.
Check-out: 11:00 a.m.
Circus Outdoor: Glamping in Japan's Lush Nature! (Open from March 2018)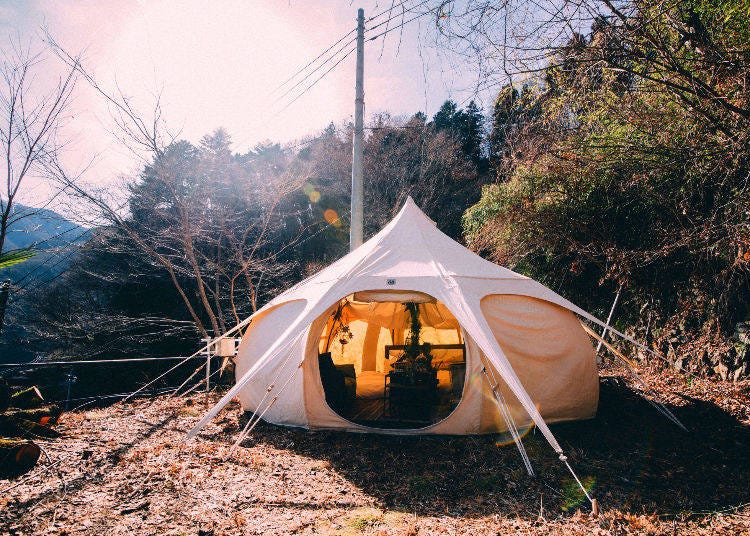 Lake Okutama on the outskirts of Tokyo is a favorite getaway for every local craving lush, raw nature. Now, a glamping service called Circus Outdoor offers this natural experience, combined with luxurious, creatively designed tents. Taking the theme of "the world's most beautiful outdoor field," Circus Outdoor will make you feel like you're staying at a luxury hotel while pure nature spreads just outside of the tent's door.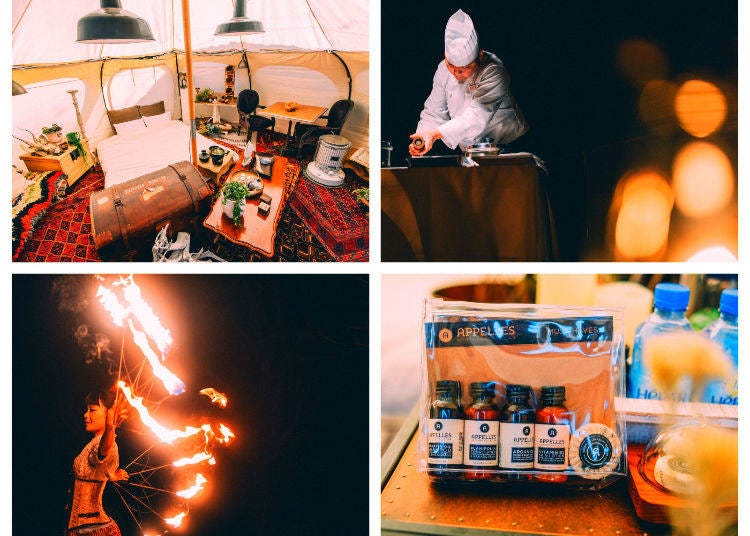 Top left: The tents' interior is amazingly beautiful / Top right: A skilled chef caters to your every need in the dining area / Bottom left: Enjoy a private campfire after dinner. The staff takes care of everything / Bottom right: The amenities are created from a special brand collaboration. Feel free to take them home
The tents are inspired by 19th-century Europe, each one of them boasting its own theme. Not only do comfortable beds provide a wonderful glamping experience but also sofas, lounge tables, and a variety of amenities.
Except for the "Royal Griffin" tent, look forward to an extensive course meal in the dining area. The dishes are made from choice ingredients from all over the world, beautifully prepared by skillful chefs. Afterward, enjoy making your own desserts at your campfire (only at Royal Griffin and Pink Elephant)!
Circus Outdoor Tokyo

Address

290-1 Kawano, Okutama, Nishitama District, Tokyo 198-0225

Nearest Station

JR Okutama Station, 25 minutes by bus (get off at Okutamako)


Price per night: between 37,500 yen and 162,000 yen per person (including breakfast and dinner, drinks extra)
Check-in: 3:00 p.m.
Check-out: 10:00 a.m.
Shibuya Stream: An All-New Waterside Space South of Shibuya Station (Open from Autumn 2018)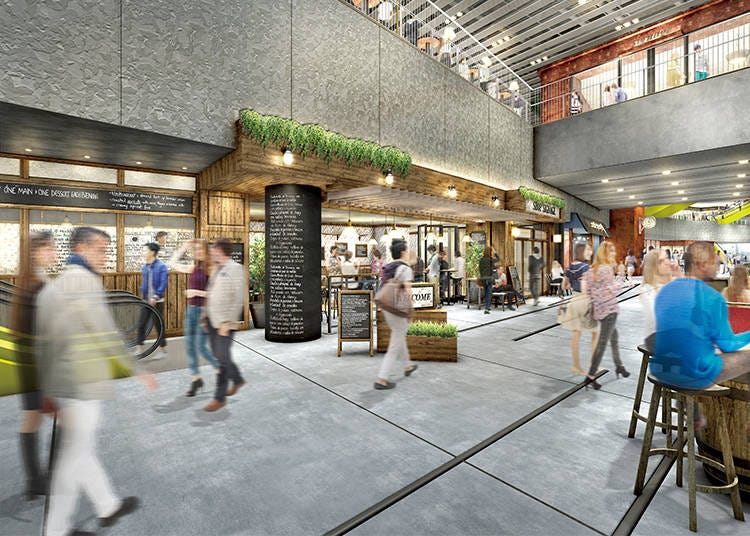 The concept is "Shibuya style = Shibuya custom," showing that its not influenced by trends but rather sets the trends itself (image by Tokyu Corporation)
It is said that Shibuya gets redeveloped every 100 years and Shibuya Stream is a major part of this cycle. Just like Shibuya Cast, which opened in 2017, this new facility will reinforce the point that yes, Shibuya is a trendsetting, cutting-edge area.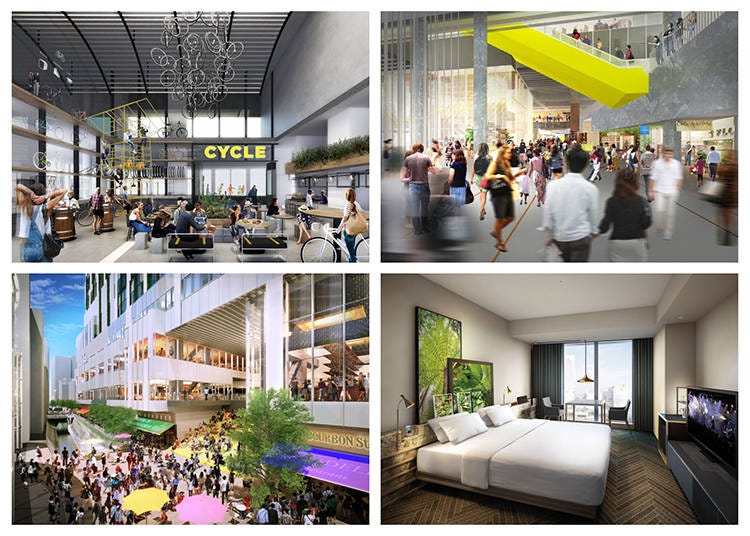 Top left: A "cycle café" that supports bicycle commuters / Top right: Flowing, vivid yellow lines mark escalators and elevators in the hotel / Bottom left: Various events will be held at the plaza just above the gurgling river / Bottom right: Floors 9 to 13 will be home to about 180 city hotel-style rooms. The reception will be on the fourth floor (images by Tokyu Corporation)
Shibuya Stream will open under the concept of "Paradise of the Creative" as an office space, but also offers room for hotels, shops, events, and even bicycles. The building is planned to be directly connected to Shibuya Station, creating a pedestrian network that is easy to use for everyone.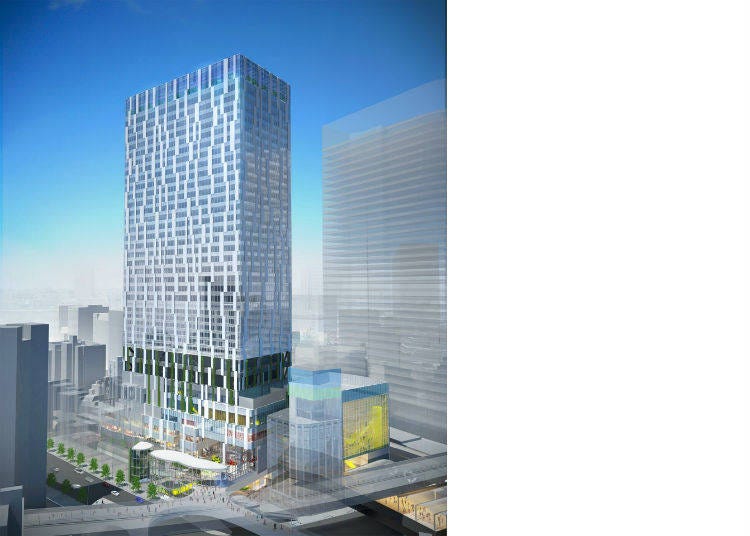 The massive complex, directly linked to Shibuya Station, is built right in front of the gurgling Shibuya River. With the help of public-private partnerships, the river has been revitalized and the landscape is developed as "wall spring." Part of this landscape is a lush, green sidewalk stretching for about 600 meters, starting at the big staircase's large open space. It'll be a refreshing oasis right in the heart of busy, bustling Shibuya.
渋谷ストリーム

Address

3-21 Shibuya, Shibuya-ku, Tokyo 1500002, Japan

Nearest Station

Direct access from Shibuya Station

Nihonbashi Takashimaya S.C.: An All-New Shopping Complex from a Traditional Department Store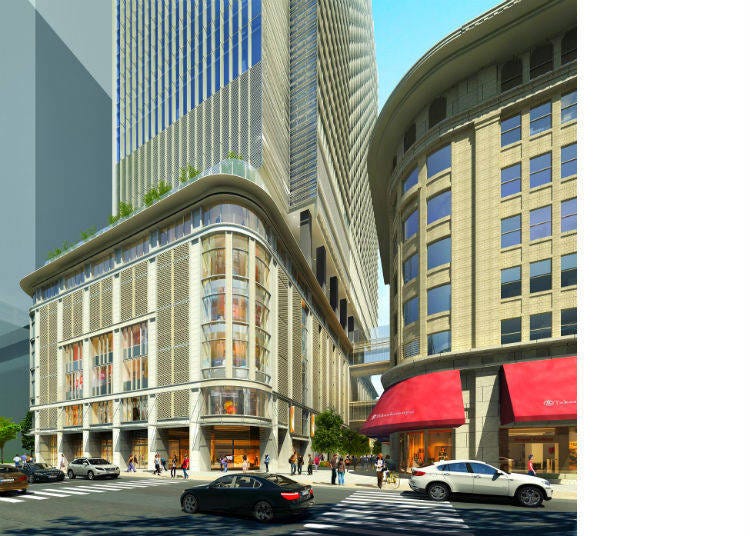 Connecting passages will make the facility easier to use and more convenient
The long-established and famous Nihonbashi Takashimaya department store gets a thorough renewal as well. The main building, which is designated as an important cultural asset of Japan, stays as it is while a brand-new specialty shop area will open right next to it. This new, urban shopping center will invite shoppers and visitors under its new name of Nihonbashi Takashimaya S.C.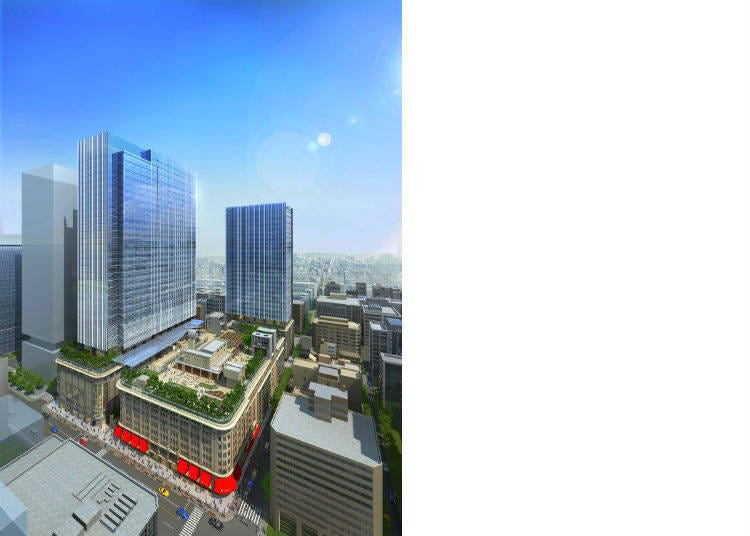 This new area will consist of a new building, the east building, and the Galleria specialty shop (provisional name). It is planned to welcome not only Tokyoites and shoppers but also tourists from all around the world. Additionally, new connecting passages underground from Tokyo Metro's Ginza Line provide for extra convenience and easy access even on rainy days. Another bonus is the rooftop garden which is planned to be a breathtaking 6,000 square meters large, making it the biggest in all of Tokyo! Whenever your feet get tired or you need a break from big city life, look forward to heading over and calm body and soul high above the ground.
Nihonbashi Takashimaya S.C.

日本橋髙島屋S.C.

Address

2-4-1 Nihonbashi, Chūō-ku, Tokyo 1030027, Japan

Nearest Station

Direct access from Nihonbashi Station's B2 Exit

Henn-na Hotel Tokyo Ginza (Open from February 1, 2018)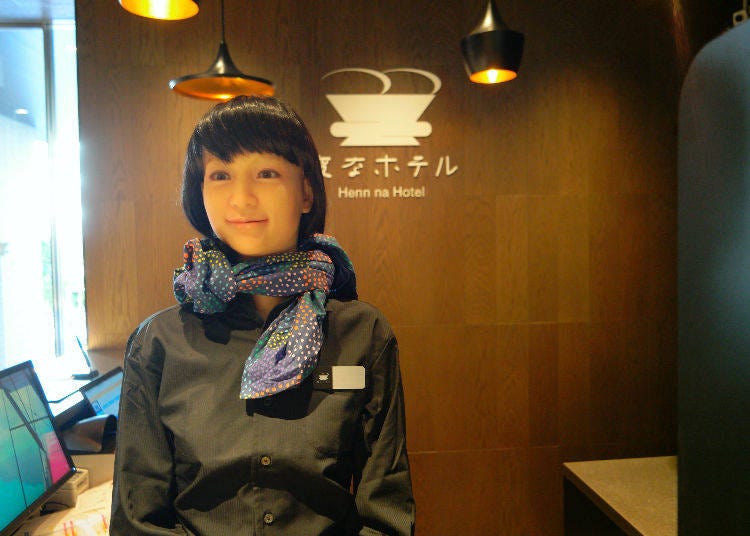 If you are coming to Japan look for a truly weird and new experience try out Ginza's Henn-na Hotel (Henn means like "to change"). This is the world's first hotel run by robot. It has even been named in the Guinness Book of Records for its unique take on staff. This hotel is perfect for the antisocial traveler who after a long day in the crowds of Tokyo wants to escape from other people. There isn't another human in sight while checking-in to this hotel.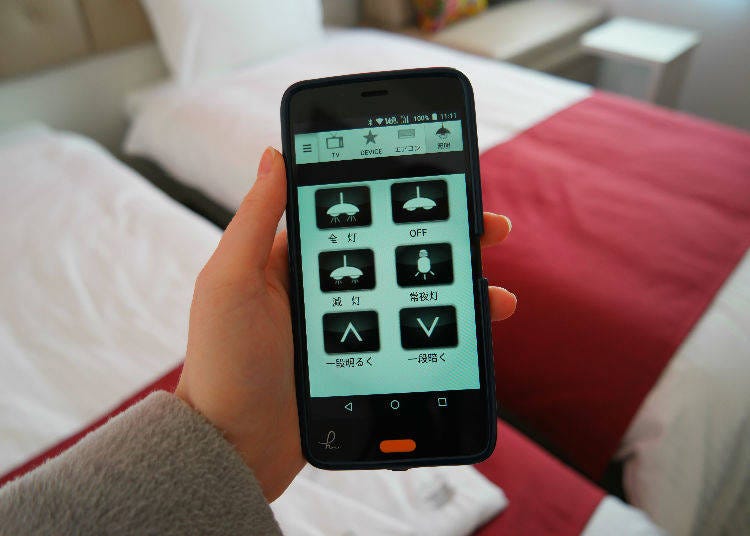 Customers can also borrow a phone called "handy". The phone connects to the free Wi-Fi throughout the whole building so you could use it while you're staying. But the biggest benefit is that you can also bring it with you and use for free while you're traveling around the city. So this phone acts as your room key device remote and free internet service, you can call people with it too.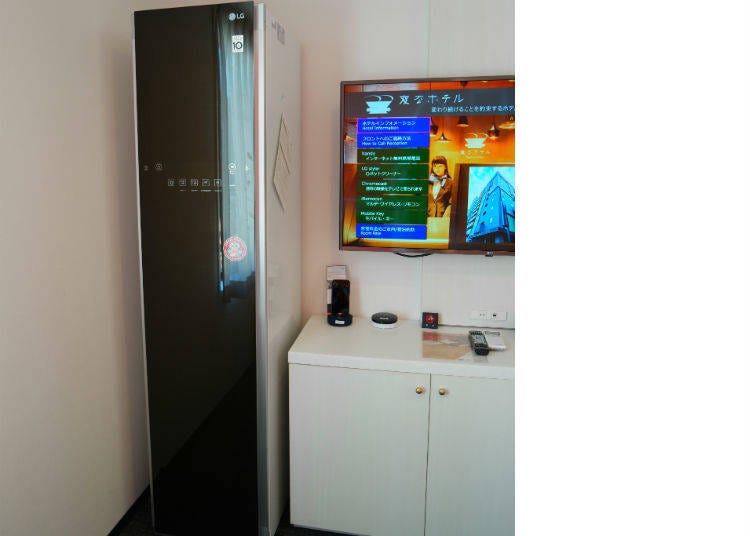 It's not just robots running the reception, Henn-na Hotel also relies on robot cleaning services. Every room has a closet that actually doubles as an automatic dry cleaner.

Instead of having to rely on external services, set the timer and wait for your clothes to be cleaned overnight in the comfort of your own room. There are also automatic vacuum cleaner scurrying around the building making sure everything is always clean.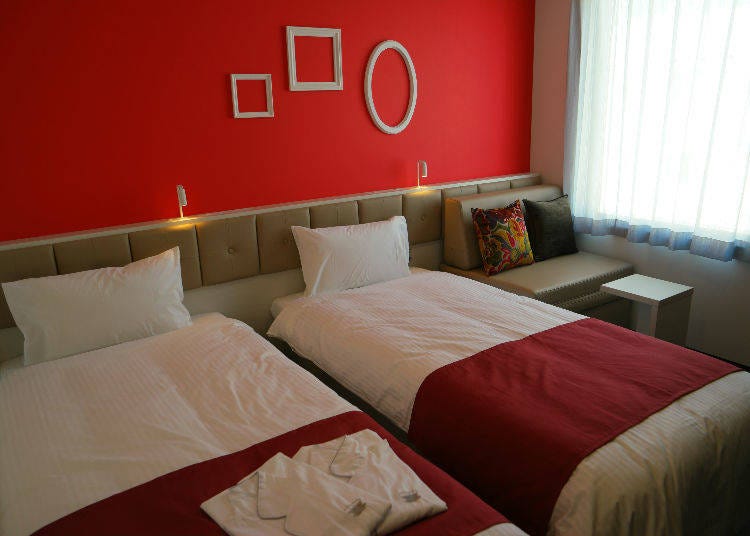 Each floor of the hotel sports a different color scheme. Hotels in Tokyo can be notoriously small to save space, but with Henn-na Hotel you can get a surprisingly comfortable, double bed room that won't leave you feeling cramped.
Henn-na Hotel Tokyo Ginza

変なホテル 東京 銀座

Address

2-2-1, Tsukiji, Chuo-ku, Tokyo, 1040045, Japan

Nearest Station

Shintomi-cho Station, Tsukiji Station


Vacancy search, reservation

from

8,720JPY

1room, 2adults

Check with our partner site as the latest rates, rate details, and guest room requirements may vary.
*This information is from the time of this article's publication.
*Prices and options mentioned are subject to change.
*Unless stated otherwise, all prices include tax.
Search for International flights