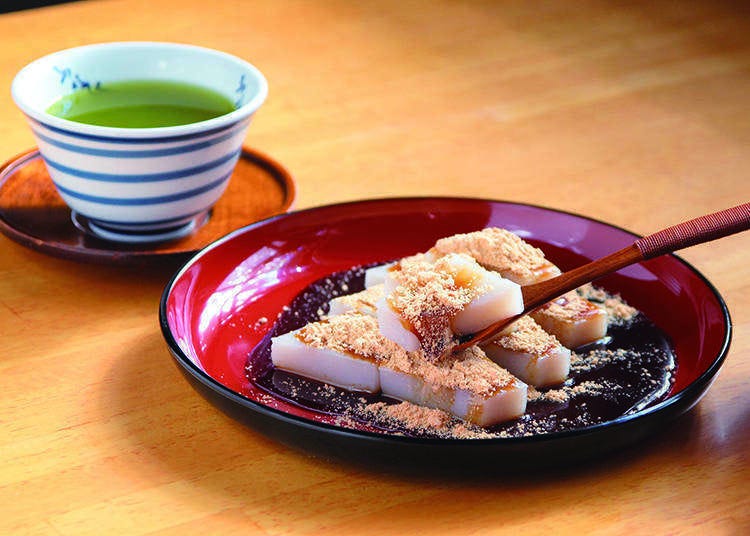 Traditional Japanese sweets, or wagashi, make great snacks and souvenirs and are often enjoyed with green tea. The 3 delights presented there will take you on a culinary adventure all over Tokyo's shitamachi, older quarters of the city areas reminiscent of times gone by.

Whether you're a first-time visitor or a long-time resident of Tokyo, there's something on this list for you. Check out our article on traditional Tokyo sweets for a primer before you go!
1. Shio daifuku from Sugamo-en (Sugamo)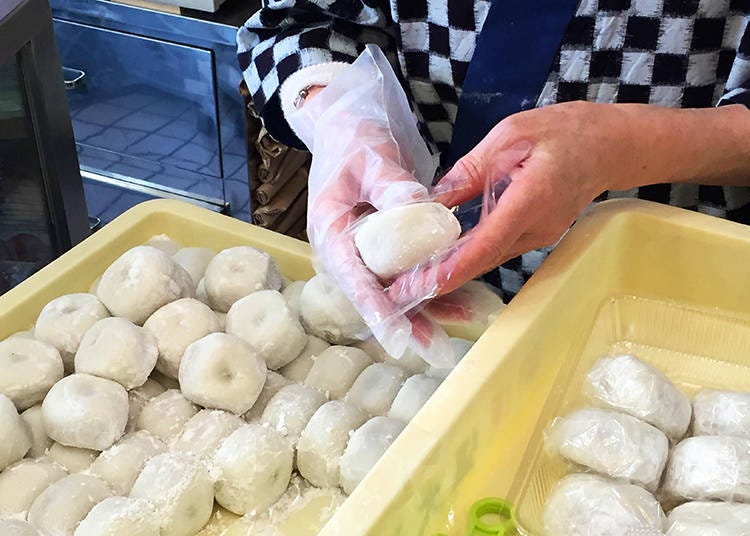 Affectionately known as the "Harajuku for grandmothers," there's more to Sugamo than red underwear and the splendid Togenuki Jizo Kogan-ji temple. Here, you can try shio daifuku, mochi (pounded sweet rice) filled with naturally sweet red bean paste.

The mild, salty taste of the creamy paste is accentuated with partially crushed adzuki sweet red beans and the super-chewy dough-like mochi exterior, allowing you to experience a variety of textures at once. Daifuku are coated with a layer of corn or potato starch to keep the mochi from sticking to one another. Be careful of the powder when wearing dark-colored clothing.

As you stroll down Sugamo Jizo-Dori Street, you will be greeted by not one, not two, but three shio daifuku shops existing harmoniously with one another.

One shop, Sugamo En, sells a variety that contains natural sea salt harvested from the Tokyo Izu islands and uses only the finest selected red beans from Hokkaido. Try these delectable treats for a chance to escape the bustling, urban jungle of Tokyo and be transported to island life in the slow lane.
東京すがも園

Address

3-20-17 Sugamo, Toshima-ku, Tokyo, 170-0002, Japan

Phone Number

03-3917-2450

・Hours: 9:00 a.m. - 5:00 p.m. *Dates ending with "4"/ 7:00 a.m. - 6:00 p.m.
・Closed: Saturday, Sunday
2. Kudzu mochi from Funabashiya (Kameido)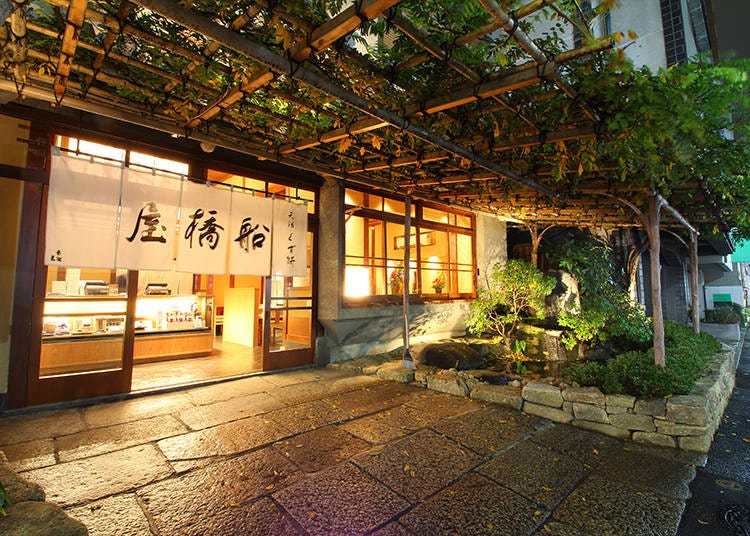 Head to Koto Ward to check out Kameido Tenjin, a shrine famous for its yearly wisteria festival held in late April to early May. Festival visitors look forward to eating kudzu mochi, a traditional sweet.

There are two different types, each pronounced the same but which use different kanji characters. One is made out of powdered kudzu root, while the other is made using lactic acid-fermented wheat starch.

The respective base ingredients are mixed with water and sugar to form a firm gel, then topped with kinako (roasted soy flour) and kuromitsu (a syrup made of dark brown sugar).

When you open your box of kudzu mochi, you may wonder how to eat it. However, one of the delights of this treat is that the tiny bottle of syrup and packet of kinako allows you to adjust the taste to suit your palate. Kudzu mochi itself has a light taste.

It's firm, almost like the whites of a hardboiled egg. Kinako has a distinct scent that seems to overpower its faint taste, and it nicely complements kuromitsu, the thick, rich molasses-like syrup. Once you try the flavor-packed kuromitsu, you'll immediately understand that a little does indeed go a long way.

Funabashiya's kudzu mochi, the latter kind of kudzu mochi, has been around for more than 210 years. Its treat is so popular that a satellite store is set up right outside the shrine's torii gate during peak holiday seasons to meet customer demand.
Funabashiya (Kameido Tenjin-mae Honten)

船橋屋 亀戸天神前本店

Address

3-2-14 Kameido, Koto-ku, Tokyo, 1360071 Japan

Phone Number

03-3681-2784

・Hours: 9:00 a.m. - 6:00 p.m. *Eat-in: 9:00 a.m. - 5:00 p.m.
3. Dorayaki from Usagiya (Ueno)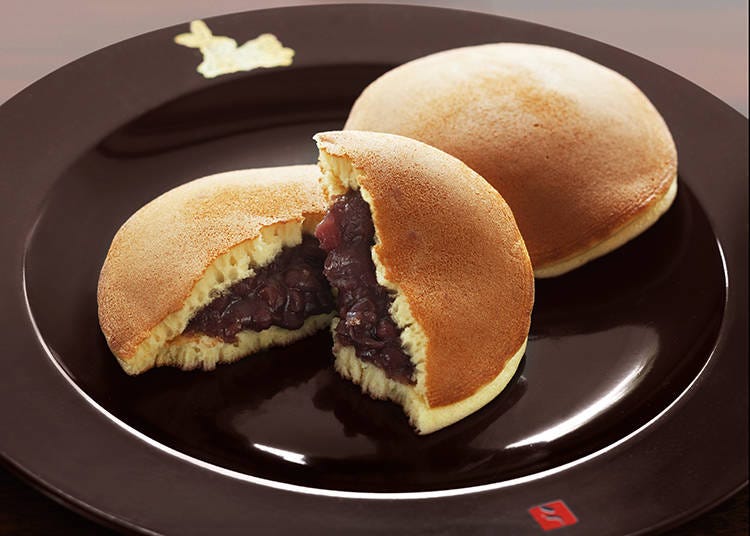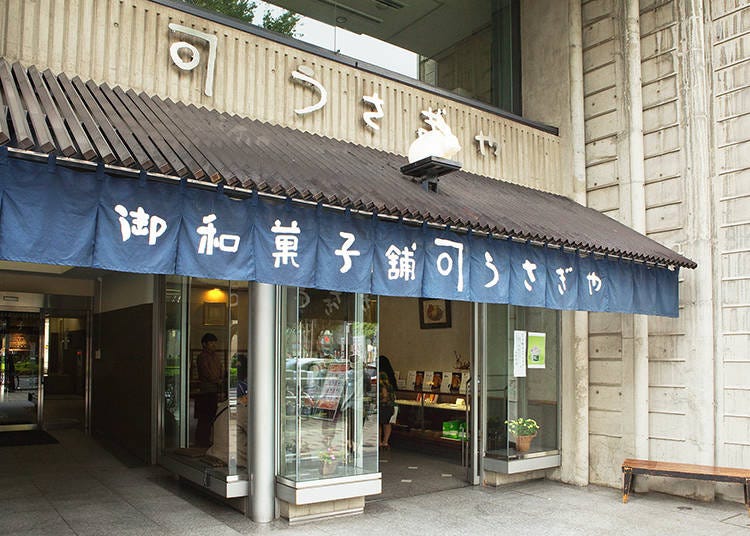 Usagiya (literally "house of rabbits") owes its name to its founder, who was born in the Chinese Zodiac Year of the Rabbit. Usagiya specializes in dorayaki, a "sandwich" of two sweet pancake patties with red bean paste filling in between.

The patties may look like pancakes, but they are anything but! Moist and bouncy, you can catch a hint of honey as you eat. The bean paste used is called tsubu an, a sweet bean paste with a smooth consistency that is not too thick and easy to chew.

Usagiya's dorayaki have been a popular treat for visitors from all over Japan since 1913. Get yours yakitateーa Japanese term that means for "freshly made and hot, right out of the oven"ーbite into dorayaki and discover a delicious, nostalgic taste of Tokyo.
うさぎや

Address

1-10-10 Ueno, Taito-ku, Tokyo, 1100005 Japan

Phone Number

03-3831-6195

・Hours: 9:00 a.m. - 6:00 p.m.
・Closed: Wednesdays
Written by: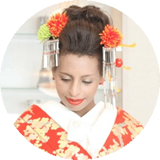 *This information is from the time of this article's publication.
*Prices and options mentioned are subject to change.
*Unless stated otherwise, all prices include tax.
Limited time offer: 10% discount coupons available now!