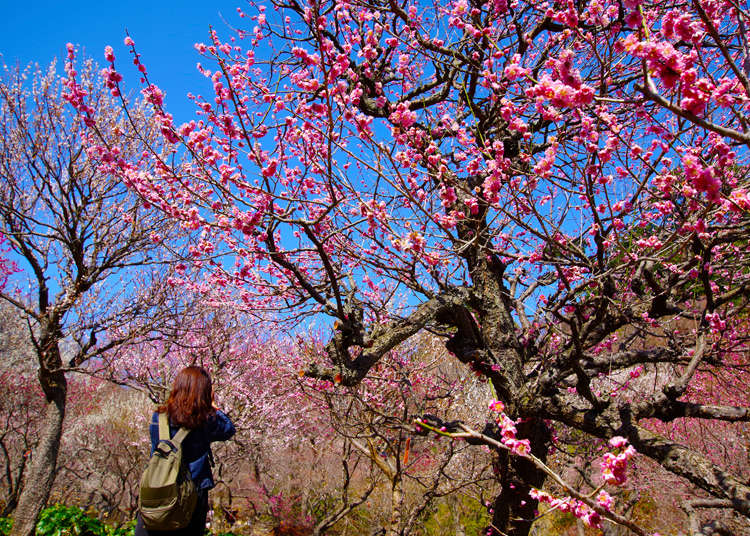 One of the first and most exciting signs of spring in Japan are the blossoming of flowers. While sakura may receive the brightest spotlight during this season, there is another flower that is arguably every bit as lovely as the Japanese cherry blossoms that have become so recognizable throughout the world: the plum blossom. Called 'baika' in Japanese, plum blossoms can easily be mistaken for sakura. However there are some differences that can help to distinguish these two equally beautiful flowers.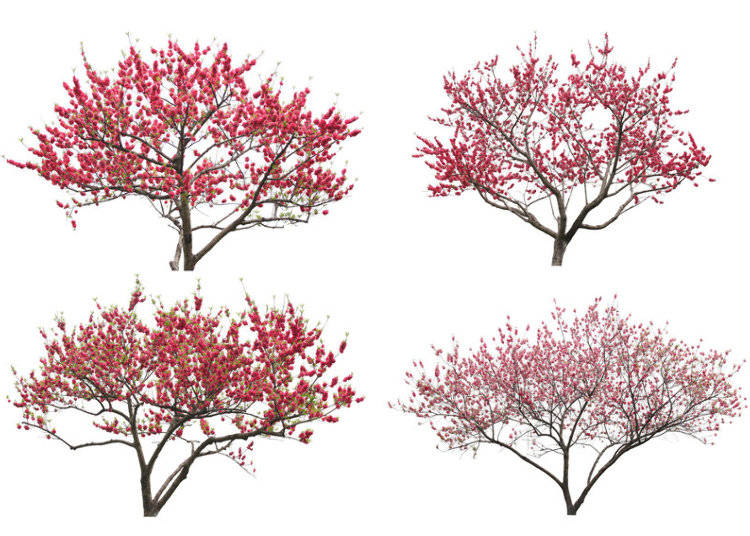 Not to be confused with the fruit known as 'plum' in English, 'ume,' the plums found in Japan, come from an Asian tree species called 'Prunus mume.' It is also known as the Chinese plum, or Japanese apricot. In fact, it is very closely related to the apricot. The appearance of baika in late winter signals the changing of seasons, and a sign that warmer weather is on its way.

Japanese plum trees are not only famed for their flowers, but their fruit is known as 'ume.' These plums are known for their sour flavor and are often pickled into 'umeboshi' to be used in various dishes, or made into a popular liqueur called 'ume-shu,' which is sometimes referred to as 'plum wine' in the west.
What do plum blossoms look like?
These are some of the distinguishing characteristics of plum trees and blossoms.

・Blooming period: Early February to mid-March
・Color: The blossoms can be seen in varying shades of white, pink, and red.
・Flower size: 2-2.5 cm in diameter.
・Buds: Just one flower will blossom from a single round bud.
・Tree bark: Dark in color.
・Fragrance: A strong, sweet aroma.
・Flower shape: Umbrella-shaped flower with rounded petal tips
・Blossom position: Flowers stick up directly from the branches.
・Leaves: Reddish-purple
Baika vs. Sakura: How to Tell Plum Blossoms from Cherry Blossoms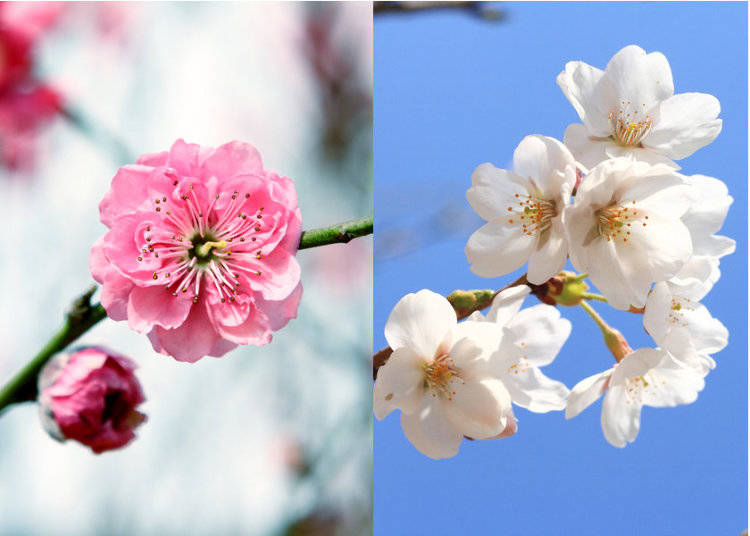 To the untrained eye, it can be quite easy to mistake baika for sakura. Once you understand a few of the major differences, however, there should be little difficulty distinguishing between the two flowers.

・Timing: The first difference between the two is the time of flowering; plum blossoms typically appear before cherry blossoms, although there may be some overlap. The first baika can be seen as early as February, while sakura usually blooms later on in the spring season.

・Petals: One of the easiest ways to tell the two flowers apart is by their petals. Cherry blossoms are known to have a split at each petal tip, while plum blossoms always have a rounded petal tip.

・Buds: A single bud from a cherry tree can have multiple flowers grow from it. A plum blossom bud will only have a single flower. The shape of the buds as different as well; sakura buds are oval-shaped and baika buds are round.

・Bark: The bark of cherry trees are typically light grey, with horizontal lines called lenticels. Plum trees, which lack lenticels, are typically a much darker brown color.

・Tree Shape: When viewed from a distance, plum trees tend to have somewhat of an oval shape, while cherry trees will have more of an umbrella shape.

・Fragrance: Plum blossoms have a stronger, sweeter scent. Sakura, on the other hand, has a sweet, but much fainter aroma.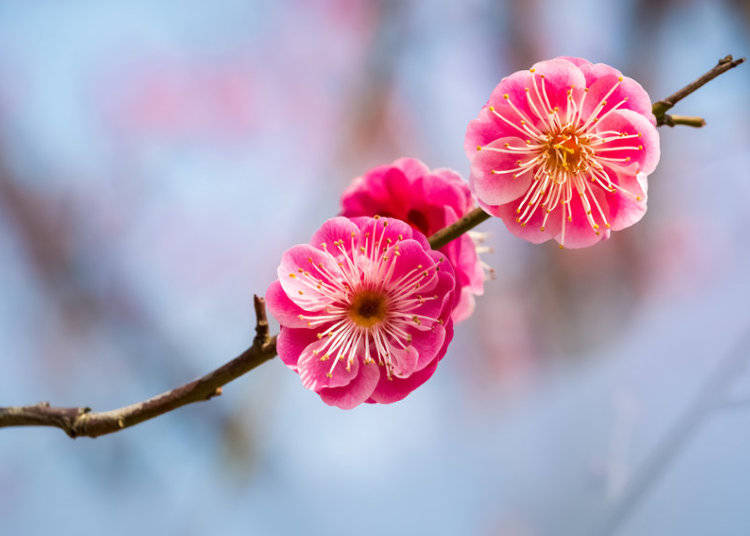 With these points in mind, you can enjoy the beauty of both flowers, and have an even greater appreciation for baika, the underrated star of Japan's 'hanami' (flower viewing) season!
*This information is from the time of this article's publication.