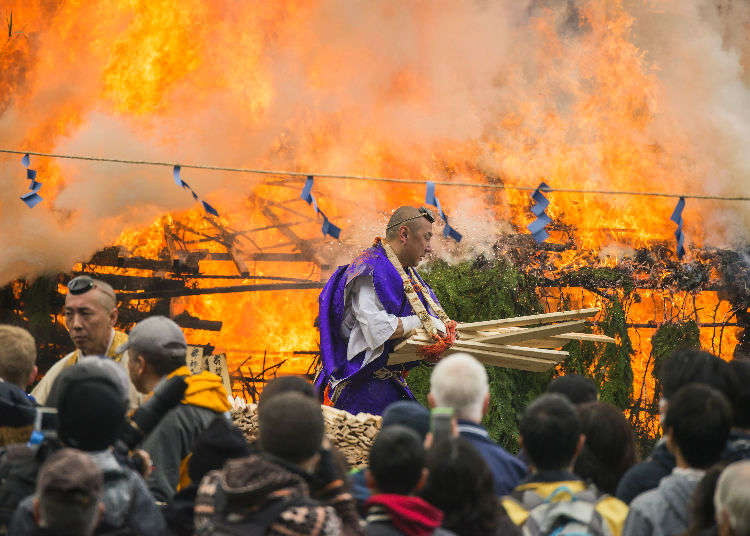 Next to the famous and beautiful cherry blossoms, spring in Japan has a whole variety of traditional and interesting events to offer, especially so in the bustling metropolis of Tokyo! Pray for the health of girls and young women, participate in fire-walking, and see a golden dragon dance in early spring!
Hyakudan Hinamatsuri - Vintage Dolls from Kyushu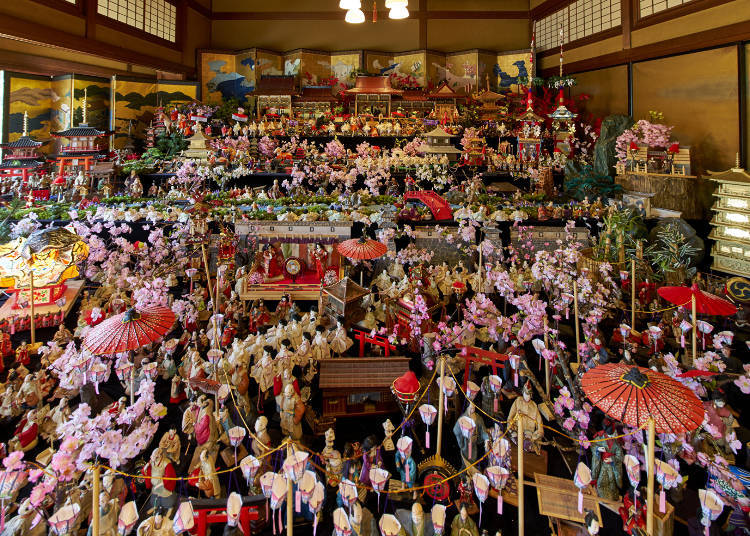 January 20 (Fri) to March 12 (Sun)

The famous Hundred-Steps Staircase in Meguro Gajoen, a designated a tangible cultural property of Tokyo, is the venue of the Hyakudan Hinamatsuri - "hyakudan" actually means one-hundred steps. Hinamatsuri is also called the Doll Festival or the Girls' Festival, as it is an occasion to pray for the health and good fortune of girls and young women all around the country.
Particularly Kyushu has a very rich Hinamatsuri culture - all of which can be discovered in around 1,000 different exhibits from all of Kyushu's seven prefectures, such as hina dolls from noble weddings of the Edo period, ancient dolls called shin-hime, ritual dolls used to pray to the deities of mountains, and many more.

Entry fee: 1,500 yen
Hours: 10:00 a.m. - 5:00 p.m.
Holidays: none
Hyakudankaidan, Meguro Gajoen

目黒雅叙園 百段階段

Address

1-8-1 Shimomeguro, Meguro-ku, Tokyo 1530064 Japan
February 20th (Mon) to March 5th (Sun)

Beloved by young and old, the plastic brick maker from Denmark holds its very own Lego Hina Matsuri, or LEGO Doll's Festival, mainly for children between 3 and 10 years old. The dolls and decorations of this unique festival are built by the only certified LEGO Master Builder of Japan, Yoshihiro Osawa. Even a seven-step stairs to showcase the dolls is made entirely out of LEGO bricks.

Entry fee: 2,400 yen per person (for two people or more)
Hours: 10:00 a.m. - 8:00 a.m. (until 9:00 p.m. on Saturdays, Sundays, and on national holidays)
LEGOLAND® Discovery Center Tokyo

レゴランド・ディスカバリー・センター東京

Address

Island Mall 6F, Decks Tokyo Beach, 1-6-1 Daiba, Minato-ku, Tokyo 1350091 Japan
The 32th Edo Nagashi Bina Festival
February 26th (Sun), 2017

The Nagashi Bina Festival translates to the festival of floating dolls and is basically just that. Ancient Japanese put little dolls in baskets and set those afloat on rivers and streams, as a prayer to shield the children from disaster and for a safe and healthy growth. This old tradition has made its way to modern-day Japan, especially to Tokyo, revived in the year of 1985 for the first time in decades. Every year, around 3,000 people, young and old, participate in the Edo Nagashi Bina Festival in Asakusa, letting paper dolls float on the Sumida River to both pray for children and encourage them to shape their future with gentleness and kindness.

Entry fee: Free
Hours: 11:00 - 13:30
Address

Sumida-ku, Tokyo, 131-0033
View Map

Nearest Station

Asakusa Station (Tokyo Metro Ginza Line / Toei Asakusa Line / Tobu Isesaki Line (Tobu Sky Tree Line) / Tsukuba Express)
5 minutes on foot

Mt. Takao Fire-walking Festival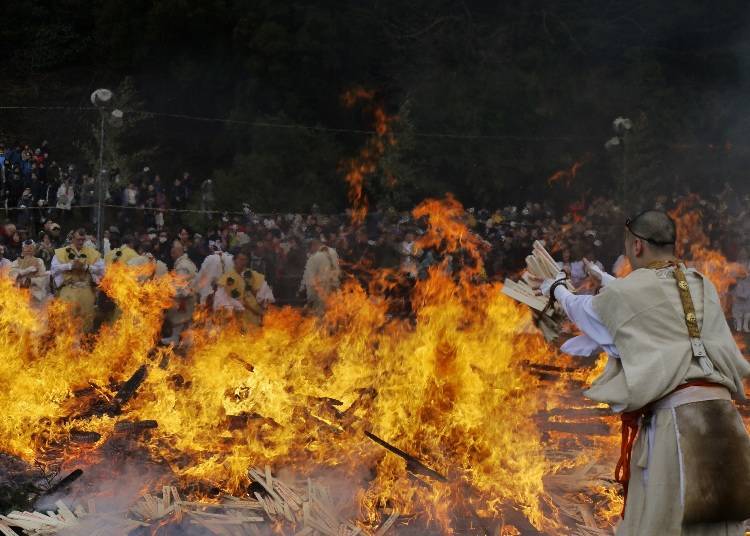 March 12th (Sun), 2017

Held on the second Sunday of March every year, Mt. Takao's Fire-walking Festival, or Hiwatari Matsuri, is an annual highlight for Tokyoites and tourists alike. A path of sacred, purifying fire, and the Buddhist monks of Mt. Takao walk over the smoldering coals to cleanse and purify both body and mind, accompanied by chants and music. This fire-walking isn't just a personal prayer, though, but also a ceremony to pray for peace on earth, health, longevity, and safety from disasters. After the fire has been extinguished, festival visitors are free to try the fire-walking for themselves without having to worry about burnt feet.

Entry fee: free
Hours: 1:00 p.m. - 3:30 p.m. or 4:00 p.m. (the ending time depends on the number of participants)
Square in front of the Kitoden Hall

山麓自動車祈祷殿広場

Address

2390 Takao-machi, Hachioji-shi, Tokyo 1930844 Japan
Kinryu no Mai - Asakusa's Golden Dragon Dance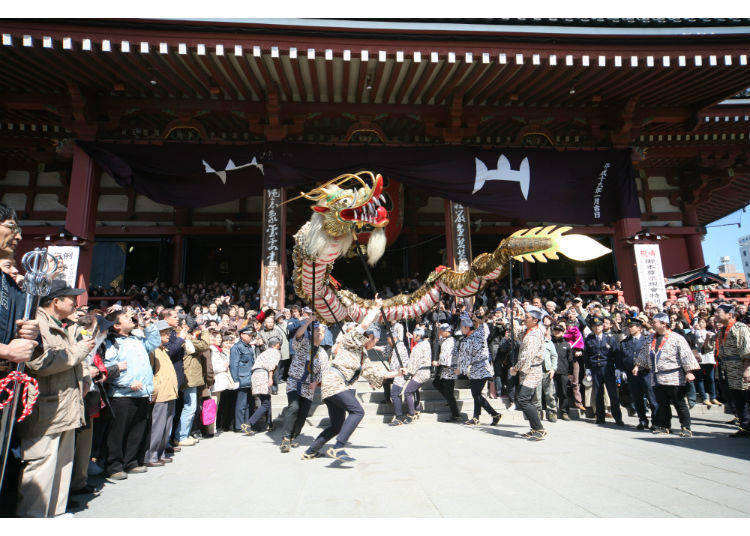 March 18th (Sat), 2017

On March 18th in the year of 628, two fishermen found a statue of Kannon, a Buddhist deity, in the Sumida River - this day marks the founding day of the famous Senso-ji Temple. To commemorate this important day, the Kinryu no Mai, or Golden Dragon Dance, is held every year, as it is said that a golden dragon came dancing from the sky as the Kannon statue was pulled from the waters, and a pine forest of one-thousand trees grew over night.
The dancing dragon of today is 18 meters long, its golden scales weighing a total of 88 kilograms! Nonetheless, the dragon - carried by skilled performers - dances graciously to traditional tunes, just like it did on the day of Senso-ji's founding. Get a glimpse of this mythical creature fourself!

Entry fee: free
Hours: around 11:30 a.m., 2:00 p.m., amd 3:30 p.m. (as scheduled)
Address

2-3-1, Asakusa, Taitou-ku, Tokyo, 111-0032
View Map

Nearest Station

Asakusa Station (Tokyo Metro Ginza Line / Toei Asakusa Line / Tobu Isesaki Line (Tobu Sky Tree Line) / Tsukuba Express)
5 minutes on foot


Phone Number

03-3842-0181
Area

Category

Articles Genre
*This information is from the time of this article's publication.