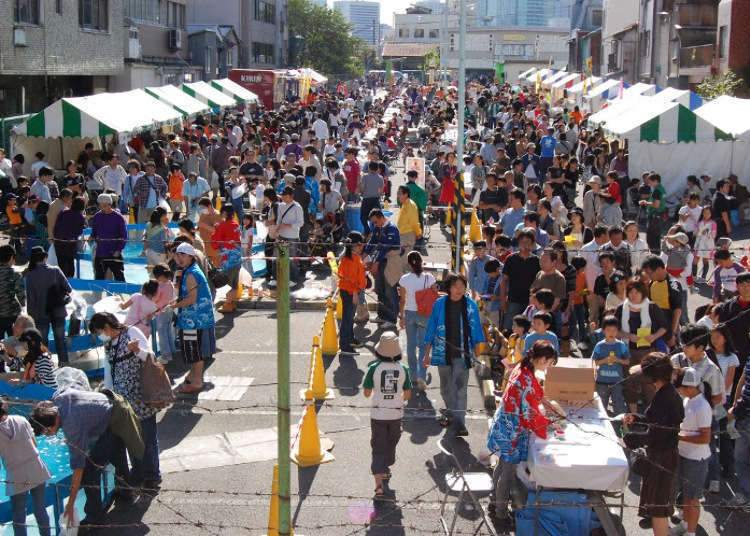 Starting from beer festivals and food fairs by Tokyo's most well-established restaurants to colorful yosakoi dances and an enigmatic lantern festival that dates back to the Edo period, Tokyo has quite a lot of amazing and unique events to offer in October. Enjoy the beautiful autumn weather and enjoy energetic dances and culinary pleasures!
Taking place around the same time as the original Oktoberfest in Munich, the world's largest beer festival, this is Japan's most authentic take on the German tradition - at least in regards to actually taking place at the end of September to hail October. Of course, Odaiba's Oktoberfest features a colorful variety of rare beer and even barrels from two German breweries.

The Langbräu Festbier and the Weihenstephan Pilsner are two examples that make their malty debut in Japan this time around. And what goes best with German beer? German sausage, of course. To cater to these cravings, a special assortment of four different kinds of sausages make up the "Bavarian Classic Plate" to be enjoyed while listening to true Oktoberfest tunes performed by German folk music bands.

< September 30th (Fri) to October 10th (Mon, holiday) >
Entry: free
Hours: 4:00 p.m. - 10:00 p.m.; 11:00 a.m. to 10:00 p.m. (Sat, Sun, holidays)
Symbol Promenade Park Central Square

シンボルプロムナード公園 セントラル広場

Address

1 Chome-1-20 Aomi, Koto, Tokyo 135-0064
Sumida Glass Fair in Autumn
Edo Glass, a local glass manufacturer that is located in Sumida, Koto, and Edogawa, launched the first exhibition of their traditional crafts back in 1992. Since then, the Glass Fair has been held every year in April and October. Wander along the many stalls that showcase their fine products, offering a massive variety of glass crafts, from tinted glass tableware to earrings and piercings and much more.

One of the traditional Japanese glass arts is called Edo Kiriko, an authentic way of cutting patterns into filigrane glass that originated in Edo, as the name suggests. At the fair, it is possible to find beautiful Edo Kiriko works for surprisingly low cost. Another highlight is the demonstrations of Edo Kiriko carving as well as the glass beadmaking experience, to try some traditional craftsmanship for yourself. Either experience can be enjoyed for 1,000 yen, and it should be noted that beadmaking requires a prior reservation.

< October 1st (Sat) to October 2nd (Sun) >
Entry: free
Hours: 10:00 a.m. - 4:00 p.m.
Canceled only in case of heavy rain.
大横川親水公園

Address

3 Azumabashi, Sumida-ku, Tokyo-to 130-0001
Tsukiji Autumn Festival 2016
This festival is a wonderful opportunity to enjoy the famous food town of Tsukiji to the fullest. At the special event space of Shijobashi Park, all of Chuo-ku's well-established stores and restaurants gather. Among them is the chef of one of Tokyo's most popular Italian restaurants, a place that is impossible to get a reservation for: La Bettola da Ochiai, run by Tsutomu Ochiai himself. Others are Tsukiji Tamura, a restaurant focusing on Japanese cuisine, and Kagari, a ramen shop that has always a long queue in front of its doors. Apart from delicious food to be savored, there's also an experience corner offering an authentic glimpse into Japanese food culture - grab a knife and try shaving bonito flakes off a dried fish for yourself!

< October 8th (Sat) - October 9th (Sun) >
Entry: free
Hours: 9:00 a.m. - 4:00 p.m. (until 3:00 p.m. on Sunday)
市場橋公園

Address

4-15-2 Tsukiji, Chuo-ku, Tokyo-to 104-0045
The very first Yosakoi Festival was born in Kochi prefecture to help with economic reconstruction and development in the area. Making use of a small instrument called naruko and vivid, colorful costumes, yosakoi is an energetic, rhythmic dance performed in a group and so brilliant and exciting to watch, it has conquered Japan by storm.

Tokyo Yosakoi is held at nine different venues throughout Toshima-ku, such as Ikebukuro's West Gate Station Plaza, which is the main venue, Nishiguchi Park, or in front of the stations of Sugamo and Mejiro. Over 100 different teams participate in this massive event, from Kyushu in the south to Hokkaido in the north, dazzling the audience with masterful performances.

< October 9th (Sun) >
Entry: Free
Hours: 11:00 a.m. - 8:00 p.m.
Ikebukuro West Gate Station Plaza

池袋西口駅前特設会場など池袋駅周辺

Address

1 Nishiikebukuro, Toshima-ku, Tokyo-to 171-0021
Zōshigaya Kishimojindo Oeshiki
The festival called Oeshiki is celebrated to commemorate the death of Nichiren, the founder of the Buddhist Nichiren sect. While this event is held at various temples all over Japan, the Zōshigaya Kishimojindo celebrates from the 16th to the 18th of October every year, ever since the Edo period, It's a popular and traditional event especially among the locals of the area.

One of its highlights is the parade of ten-thousand lanterns, starting at Ikebukuro with around 25 local groups who are then joined by various groups from all kinds of places during the parade. Thus, the procession is gets longer and longer until it finally arrives at Zōshigaya Kishimojin Temple. These lanterns are called manto, three to four meter high floats that are decorated with numerous white flowers made from washi, or Japanese paper. In addition to the parade, the temple grounds are crowded with many booths and stalls, making for a wonderful atmosphere.

< October 16th (Sun) to October 18th (Tue) >
Entry: Free
Hours: Starts at 7:00 p.m. (18th, Tue)
雑司ヶ谷鬼子母神堂

Address

3-15-20 Zoshigaya, Toshima-ku, Tokyo-to 171-0032
The 44th Nihonbashi-Kyobashi Festival
Nihonbashi, the starting point of the Five Highways to Edo, traditional Japanese dances from various regions of Japan can be enjoyed, conveying the country's vivid and rich culture unlike any other festival. The origin in this beautiful festival lies in 1972 when it all started out as a commemoration parade for the completion of a national highway when a drum and fife band as well as historic parades marched the streets.

Nowadays, the parade showcases a large variety of traditional performance arts, among them the "kiyari, matoifuri" tradition of Edo's firefighters, which is an impressive spectacle of old working songs in combination with the procession of an old firefighter standard. Other highlights include the Sendai Sparrow Dance and traditional drum performances from Ryukyu Kingdom, today's Okinawa. In addition to the many performances, local specialties from all over Japan can be admired, savored, and purchased at various stalls around the area.

< October 23rd (Sun) >
Entry: Free
Hours: 11:00 a.m. - 3:00 p.m.
Canceled only in case of heavy rain.
Chuo-dori (from 3 Kyobashi to 3 Nihonbashi-Muromachi)

中央通り(京橋3丁目~日本橋室町3丁目)

Address

from 3 Kyobashi to 3 Nihonbashi-Muromachi, Chuo-ku, Tokyo-to
29th Tokyo International Film Festival
This year marks the 29th edition of the Tokyo International Film Festival (TIFF), the only Japanese film
festival accredited by the International Federation of Film Producers Associations. TIFF started in 1985 as
Japan's first major film festival. Since then, it has grown to become one of the biggest film festivals in Asia.

In addition to Roppongi Hills, the EX Theater Roppongi will join the festival as a new main venue this year.
The largest-capacity theater during the festival's 10 days of events, it will host the Opening Ceremony on
October 25, the Closing Ceremony on November 3 and screenings of Competition films.

During the festival's run from October 26 to 30, open-air screenings will take place at the Roppongi Hills
Arena, under the moniker TIFF Cinema Arena.

Continuing to highlight the latest trends in Japanese animation, TIFF is pleased to announce that it will
feature the most "happening" phenomenon of them all in today's Japanimation sphere: "anison" or anime
music. The festival will hold a special one-day anime event on Halloween (October 31) spotlighting a wide
range of Japanese animation, from theatrically released works that have earned a mass following to more
niche works that have won the overwhelming adoration of Akihabara-going anime fans.

< October 25th (Tue) - November 3rd (Thu) >
Hours: Depends on Event, please see website for details
Address

6-10-1, Roppongi, Minato-ku, Tokyo, 106-6108
View Map

Nearest Station

Roppongi Station (Tokyo Metro Hibiya Line / Toei Oedo Line)
0 minute on foot


Phone Number

03-6406-6000
Area

Category

Articles Genre
*This information is from the time of this article's publication.