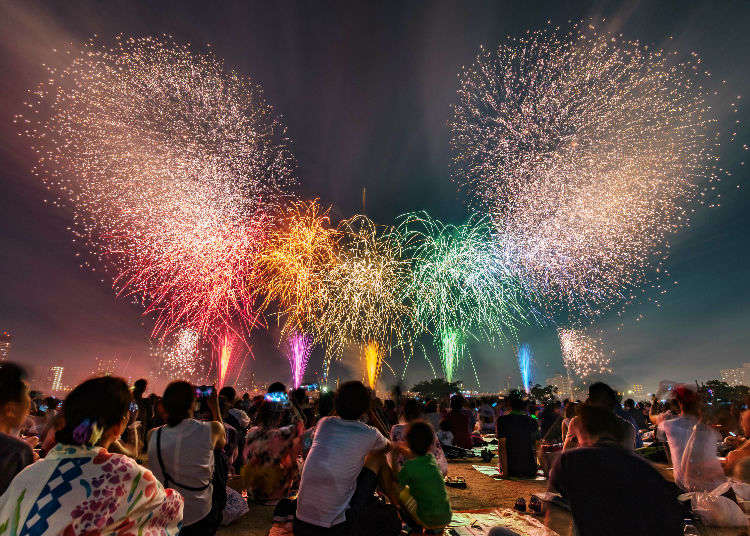 There's a loud bang and suddenly, the night sky sparkles in many different vibrant colors: fireworks are rooted deeply in Tokyo's history and during the summer months, many a brilliant nighttime spectacles can be witnessed - if you know where to go!
<July 23rd (Sat), 7:30 p.m. - 8:30 p.m.>
Among all the fireworks of Tokyo, the one in Adachi is held the earliest and therefore is the fireworks season opener. Hundreds of different fireworks are launched into the dark night sky in a short period of time, ranging from exhibition fireworks to the beautiful starmines - a spectacle that can be enjoyed from leisurely sitting on the slopes of the area. The specialty of the Adachi Fireworks have become the Niagara sparklers, shooting up millions of sparks that then flow down like a glittering waterfall. The entire show is made up of about 13,500 shots.

Location:Arakawa River (between Tokyo Metro Chiyoda Line Tekkyo Bridge and Nishiaraibashi Bridge)
Station:Kitasenju Station (Tokyo Metro, JR, Tobu Skytree Line, Tsukuba Express), 15 minutes on foot
The Katsushika Noryo Fireworks Festival
<July 26th (Tue), 7:20 p.m. - 8:30 p.m.>
This magnificent firework show celebrates its 50th anniversary this year, adding an additional 10 minutes to the usual one hour long firework display, launching around 15,000 shots into the night sky. Because the spectators' seats are very close to where the fireworks are being launched, this show is one of Tokyo's most popular, as the pyrotechniques can be enjoyed in all their glory from up close. The annual finale is a spectacular, large Niagara display that fills the night sky with vibrant colors and celebratory sound.
Before the fireworks show, feel free to visit the Shibatama Taishakuten, a temple that is connected to the hugely popular film series "Otoko wa Tsurai yo", or It's tough being a man, or simply take a stroll through the neighborhood and take in the warm, friendly atmosphere of the area.

Location:Katsushika Shibamata Baseball Field (Edogawa River side)
Nearest Station:Shibamata Station (Keisei line), 10 minutes on foot
The Sumidagawa Fireworks Festival
<July 30th (Sat), 7:05 p.m. - 8:30 p.m.>
The Ryokoku Hanabi tradition (literally "two-country fireworks"), as the event was called back then, can trace its roots back to 1733 and isn't just Tokyo's oldest fireworks show but also gets broadcasted on TV. Venue 1 is from the Sakurabashi Bridge downstream to Kototoibashi Bridge upstream, while Venue 2 stretches from Komagata Bridge downstream to Umayabashi Bridge upstream. Venue 1 features the famous competition of two rivaling guilds of pyrotechnicians, showcasing the excellent skills of the masters of their colorful art. Combined with the fireworks at Venue 2, over 20,000 shots are being launched into the night sky.

Location:Asakusa, Mukojima area along the Sumida River
Nearest Station (Venue 1): Asakusa Station (Tobu Railway, Tokyo Metro, Toei Subway), 15 minutes on foot, Venue 2:Asakusa Station (Tobu Railway, Tokyo Metro, Toei Subway), 5 minutes on foot
The Edogawa Fireworks Festival
<August 6th (Sat), 7:15 p.m. - 8:30 p.m.>
The main characterstic of this particular festival is that the fireworks are separated into eight different themes, each with its own background music to which the sky is being lit up. The opening alone is a glorious spectacle, with 1,000 shots being fired within just 5 seconds that paint the skies mainly in gold and silver colors. The total number of used pyrotechniques is around 14,000, all of them being launched remotely and in a very precise and coordinated manner. The Edogawa Fireworks Festival is being carried out simultaneously with the Ichikawa City Fireworks Festival, which takes place at the opposite shores belonging to Ichikawa City in Chiba Prefecture.

Location:Edogawa River riverbed (in front of Shinozaki Park)
Nearest Station:Shinozaki Station (Toei Subway), 15 minutes on foot, Koiwa Station, as well as Edogawa Station (Keisei Electric Railway), 25 minutes on foot.
The Itabashi Fireworks Festival
<August 6th (Sat), 7:00 p.m. - 8:30 p.m.>
This fireworks festival is actually two festivals held at the same time in neighborhood: one in Itabashi-ku in Tokyo and the other in near by Toda City in Saitama Prefecture. So you can enjoy not only once, but twice, if one so desires. It is made up of about 12,000 rockets with some main attractions being the huge shakugosundama, colorful balls that are 45 centimeters in diameter, star mines that launch a huge amount of pyrotechnique into the sky in a very short time, as well as Kanto's largest Niagara type fireworks, spanning 700 meters horizontally across the night sky!

Location: Arakawa River, Itabashi-ku
Nearest Station:Takashimadaira Station, Nishidai Station, Hasune Station (Mita Line), 20 minutes on foot, Ukima-Funado Station (JR Saikyo Line), 20 minutes on foot.
Area

Category

Articles Genre
*This information is from the time of this article's publication.