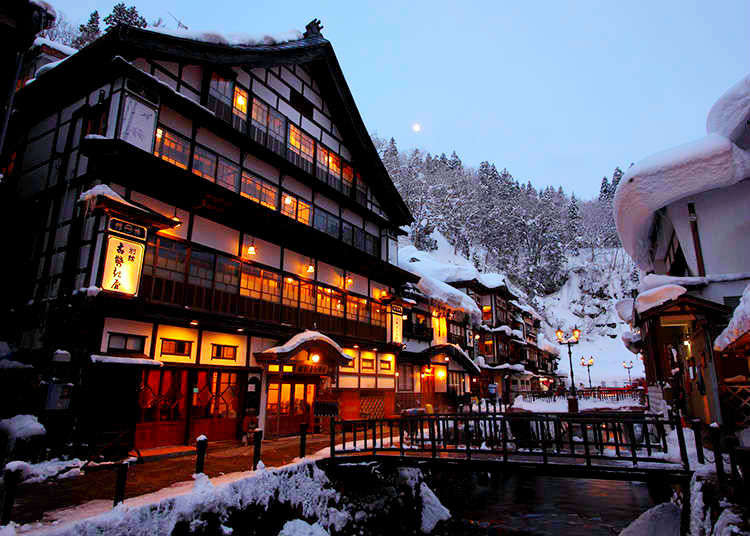 Ryokan, as traditional Japanese hotels are known, can be called old-fashioned Japanese inns, and are found all over Japan, especially in hot springs resorts.

These traditional Japanese hotels are more than just a place to sleep. Ryokan tend to provide luxurious meals in tranquil surroundings and may offer a private onsen hot spring bath of your own to enjoy as well. Rooms tend to be designed in a traditional manner, often with spacious Japanese-style rooms complete with tatami flooring, futon bedding, and feature local cuisine. Traditional Japanese hotels also tend to incorporate many elements of Japanese hospitality, with friendly staff attentive to guests' needs.

All of these points make traditional Japanese hotels an appealing option for foreign visitors, too. Here's what else did folks from abroad love about ryokan!
1. You can get that "authentic" Japan experience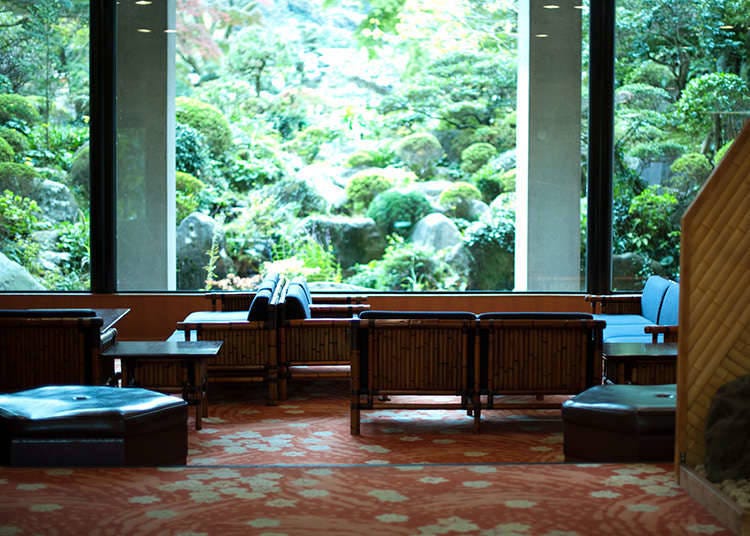 Ryokan are rarely seen in the inner city of Tokyo. If you want to stay at a ryokan, the closest ones to Tokyo are generally at hot spring resorts in areas such as Hakone or Izu.

Ryokan come in a variety of different forms. Still, they all tend to follow a similar kind of style: they offer authentic Japanese-style architecture, a Japanese garden, fantastic cuisine, and often have guest rooms with tatami mats. Depending on location, they may also provide tranquil views of mountains, forest, or ocean. Ryokan are where the Japanese tend to go to escape the stress of urban life and recharge their spirits.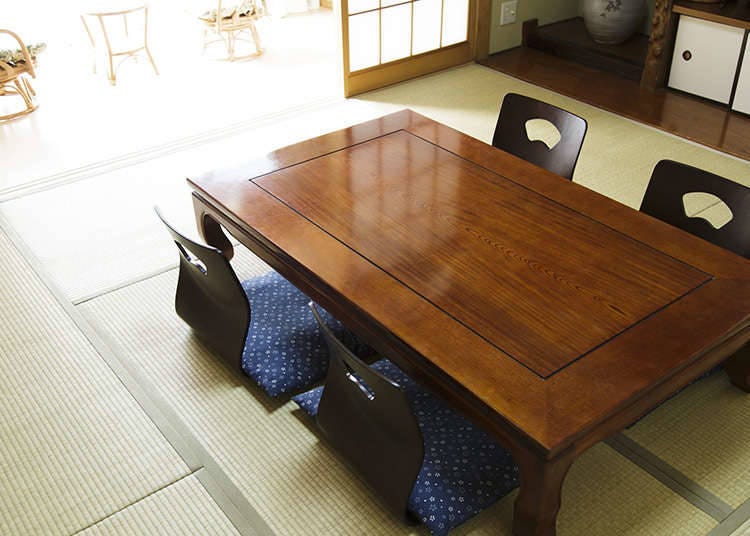 One of the features of a ryokan are female staff called 'nakai-san,' who are attendants who take care of guests. They will be in charge of all the services for guests and their rooms until checkout.

Ryokan are a great way to experience the concept of 'omotenashi,' the famous Japanese way of hospitality. As a foreigner, you may find it somehow incredible just how naturally and unobtrusively nakai-san will anticipate guests' behavior.

A few examples: when you check in, staff will probably ask when you wish to take your meals, so they can ensure things are cooked and served to you at the ideal timing. When entering your room, you will likely see a low table and perhaps a pot of tea and snacks waiting for you. You might then go down to the dining hall for dinner. And when you return, the staff will likely have prepared your room for bedtime, laying out the futons out for you and even perhaps closing the curtains.
As opposed to their Western counterparts, ryokan are almost like a small apartment and tend to be more spacious.

At the entrance is a genkan where you would take your shoes off before entering the room. Here, slippers will be found either waiting for you or in a small closet nearby; these can be used when you walk around the ryokan - just take care only to wear socks on tatami mats!

One of the nakai-san or another attendant will likely take you to your room when you arrive, and introduce the various features of the room at that time. (Despite this being a lovely service, keep in mind that tips are not necessary - this service is standard!)

After this introduction, feel free to relax with a cup of green tea and snacks that have been prepared for you on the table. The exceptional seasonal scenery right outside the ryokan's windows is one of the real pleasure of these authentic Japanese inns.

In one of the room's closets, you will find a yukata - a kind of kimono - which you are free to put on and wear around the ryokan. You will also likely find a small towel and bag for the public bath.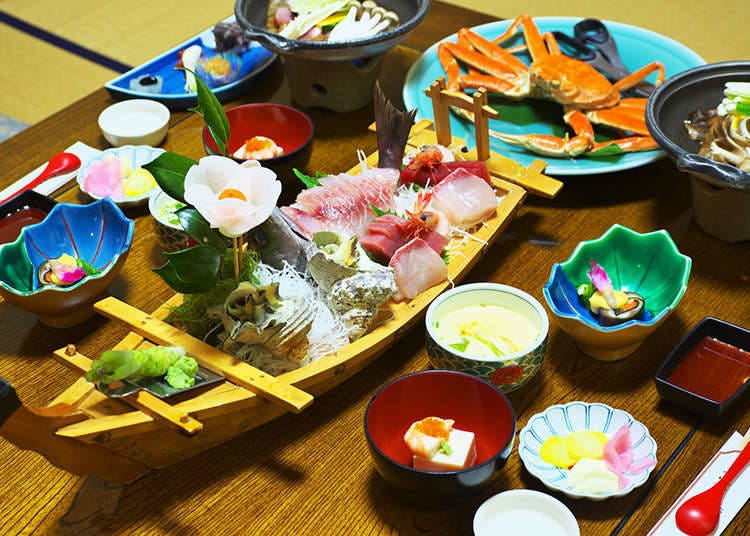 Many ryokan prepare dinner in the guest rooms, however, some will have a dining hall where they will serve guests. In all cases, the delicious meals will be made using local specialty products and savory seasonal ingredients. Breakfast is provided at a certain restaurant or dining hall in most cases, which is available during specific hours for guests to use.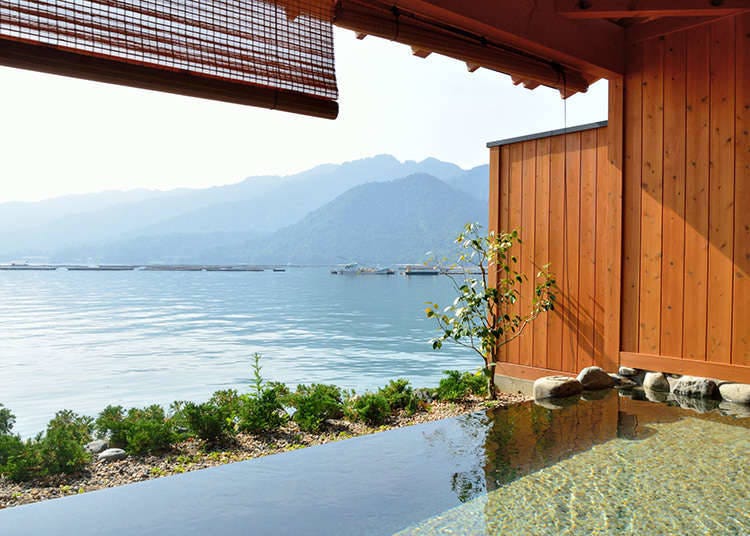 Many ryokan have a large bath as well as an open-air bath with a beautiful view of the outside scenery. In these ryokan hot springs, tattoos are generally not an issue since it's not a public bath but rather a private one, owned by the inn and exclusive to the guests. Some ryokan do have rules regarding body art, however, so make sure to ask beforehand. Wearing a swimsuit is, however, always forbidden.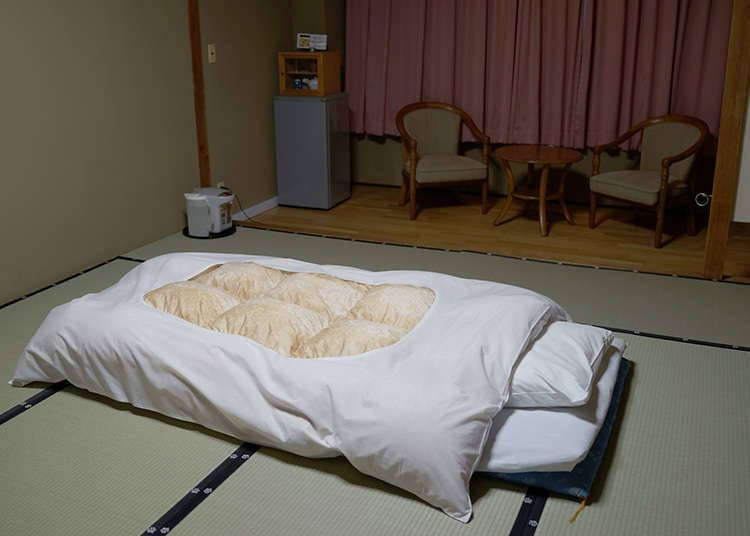 Ryokan usually have futon mattresses (Japanese-style bedding) instead of conventional beds. When dinner is served inside the room, the nakai-san will come after the meal to prepare the futon. If the ryokan has its own restaurant, the futon will be put out during dinner time.

Also, remember that the yukata (casual kimono) may be used as nightwear in the guest rooms. Wearing the yukata with slippers is perfectly fine even for walking around the ryokan itself, for example, on your way to the inn's bath.

Sleeping on a futon is a very unique experience indeed, and a fantastic way to cap off a wonderful time! One hint from a Western perspective: even if you are accustomed to sleeping on your side, you may wish to try sleeping on your back, as there is less padding between you and the tatami mat than with a mattress.
Recommended ryokan in Tokyo
雅宿 竹峰

Address

Shinjuku-ku Nakaochiai 1-1-3, Tokyo-to, 161-0032


Nearest Station

Shimo-Ochiai Station (Seibu Shinjuku Line)

Address

Taito-ku, Asakusa 1-31-11, Tokyo-to, 111-0032
View Map

Nearest Station

Asakusa Station (Tsukuba Express / Oito Line)
6 minutes on foot


Vacancy search, reservation

from

19,000JPY

1room, 2adults

Check with our partner site as the latest rates, rate details, and guest room requirements may vary.
Homeikan Honkan/Daimachi Bekkan

鳳明館 本館・台町別館

Address

5-10-5 Hongo, Bunkyo-ku, Tokyo, 113-0033


Nearest Station

Kasuga Station (Toei Mita Line / Toei Oedo Line)
5 minutes on foot


Phone Number

03-3811-1181
Address

Taito-ku, Nishi Asakusa 2-1-4 , Tokyo-to, 111-0035
View Map

Nearest Station

Tawaramachi Station (Tokyo Metro Ginza Line)
5 minutes on foot


Vacancy search, reservation

from

8,000JPY

1room, 2adults

Check with our partner site as the latest rates, rate details, and guest room requirements may vary.
Address

Motohachiojimachi 1-60-2, Hachioji, Tokyo-to, 193-0826
View Map

Nearest Station

Nishi-Hachioji Station (JR Chuo Main Line)
46 minutes on foot


Vacancy search, reservation

from

32,800JPY

1room, 2adults

Check with our partner site as the latest rates, rate details, and guest room requirements may vary.
Address

95 Mitakesan, Ome, Tokyo-to, 198-0175
View Map

Nearest Station

Mitakesan Station (Mitake-Tozan Cable Line)


Vacancy search, reservation

from

30,000JPY

1room, 2adults

Check with our partner site as the latest rates, rate details, and guest room requirements may vary.
*This information is from the time of this article's publication.
*Prices and options mentioned are subject to change.
*Unless stated otherwise, all prices include tax.