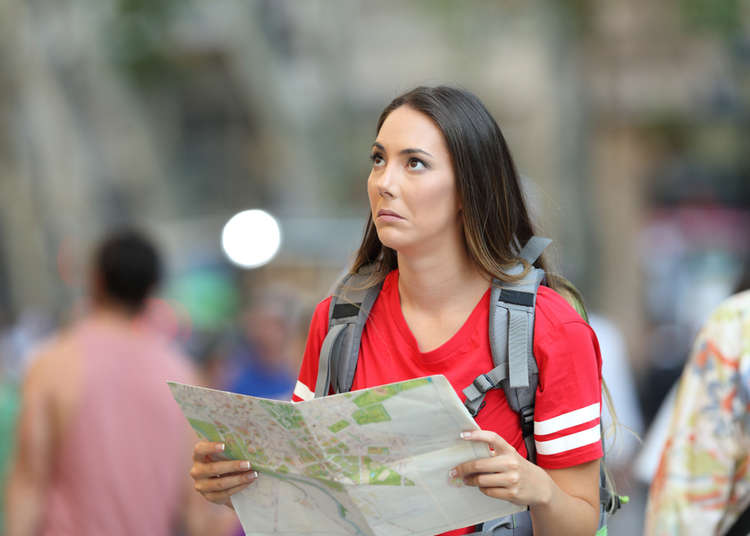 One of the pleasures of traveling to a different country is the chance to see a new culture and way of life. Sometimes a place reminds you of your own country while other times it is quite exotic and unique. Part of the fun of traveling is also experiencing people, places, and lifestyles unknown. The risk, however, is coming across situations or circumstances that are strange or different can leave us confused, flustered, and sometimes even frustrated.

In Japan, with the food, language, culture, and customs being so different from other countries, many foreigners run into memorable situations. From landing in Japan, navigating through the countryside to exploring the city, there are bound to be many memorable situations. So it is no wonder that many travelers also have a variety of Japanese accommodations related incidents.

We heard many exciting stories from foreigners who visited a variety of types of hotels and housing in Japan.

Here are some of the most common or intriguing experiences foreigners had and some things you should know, so you are more prepared when exploring Japan.
1. Hostel: "I decided to head up, take our bags and drop the key to the front desk like any other hostel. To my horror, our luggage was gone!"
Hostels for budget travelers are usually cheap and basic Japanese accommodations options where travelers are provided with the bare essentials and often share sleeping quarters with others.

Designs vary, but they are usually dormitories with bunk beds, shared bathroom, and shower facilities, and communal spaces to eat, relax, and meet fellow travelers.

Hostels are an excellent way for those traveling on a small budget or solo to socialize with other tourists and locals and get useful travel tips and information on the country. And although hostels are popular around the world, Japanese hostels might have a few different rules that you should know before arriving to avoid troubles like Eugene from Singapore.

"What happened was, the hostel that we checked into had two operating hours, one was at 10 am, and another was at 3 pm."

Not knowing this information about lockout times that some hostels in Japan have, Eugene and his friends had trouble when they returned from an early morning Kyoto temple visit.

"We came back to the hostel at 10:30 am, which is half an hour late, thinking it will be ok. So I waited for 10 minutes to see if the person in charge might show up. Unable to wait any longer, I decided to head up, take our bags, and drop the key to the front desk like any other hostel. To my horror, our luggage was gone! And there was a note saying to those who check out late, to come back at 3 pm."

Unlike many hostels around the world, some Japanese hostels do not have a 24-hour front desk, and no one is available to check-in or out guests during that period.
Many hostels also have curfews where doors will be locked, and guests are not permitted into the hostel.

For this reason, one of the essential tips when staying in hostels in Japan is to confirm hours of operation, front desk and check-in policies, and to make sure to be punctual as Japan is stringent on timing and hours of operation.
2. Love Hotel: "I can't believe I was in and out of that hotel without seeing or talking to anyone!"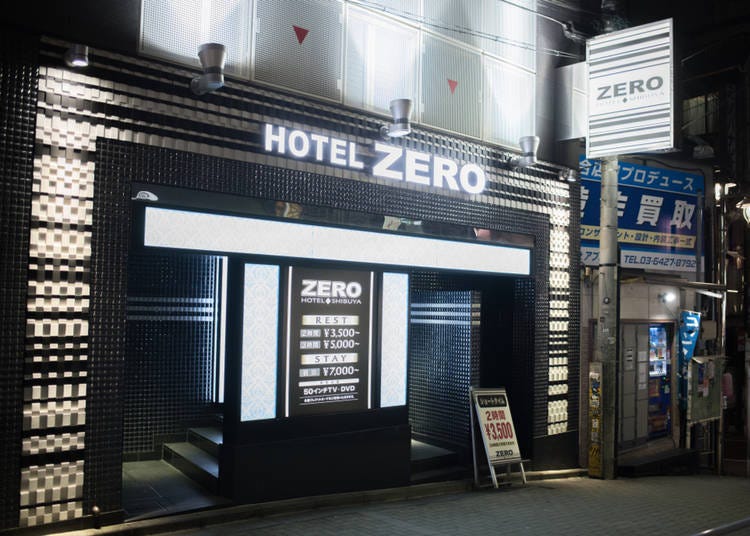 Michael Gordon / Shutterstock.com
Love hotels, a common and long-running feature of Japanese culture, started popping up around areas of Japan in the late '60s as a place for couples to have privacy and be intimate. Many Japanese people live with parents and grandparents, making privacy hard to come by, so love hotels provide a lover's escape.

Located all across Japan and close to many stations, highway stops, and drinking areas, these short-stay love spots range in price, quality, and features. There are many themed love hotels, and many provide a variety of exciting features such as cosplay rentals, free desserts, video on demand, in-room karaoke, and jacuzzi baths.

Rooms are usually rented in short stays of a couple of hours or can be rented for the night. Payment is also typically done upfront or in the room via a machine in more modern hotels. There are also no in-and-out privileges, with many hotels having automatic locks that can only be unlocked by the hotel once payment is made.

A unique feature of love hotels is the added privacy and discrete methods used to reduce as much interaction as possible amongst staff and other guests. Entering the automatic doors, rooms are chosen via a touch screen. For older hotels, there is a staff member, but only hands are visible from behind a shielded front desk.

There are usually separate elevators for in and out, and a blinking light helps guide guests to their room, which locks upon entry. Payment is made via a machine, and anything ordered in the room is left in a cubby hole to avoid any disturbance.

Shawn, from Canada, was amazed at how easy the process was from entering, enjoying, and leaving the hotel. "My girlfriend and I were really excited to check out a fun themed love hotel. We don't speak Japanese, so it was a relief that the screen had pictures of the rooms, and the payment machine in the room also had English translations. I can't believe I was in and out of that hotel without seeing or talking to anyone! And the walls are so thick I didn't hear any noise at all. I felt like we were the only people in the entire hotel despite it being a Saturday night."

Love hotels are quite popular during weekends and nights, so prices are higher. To save money, it might be a good idea to do a short stay during the day. Peak times also tend to sell out, and there are no reservations, so it's best to go early. Most love hotels in Japan are quite clean and safe, but it is a good idea to do some research on the hotel before visiting if possible.
3. Ryokan: "I had no idea that rooms are charged by the number of people rather than the room"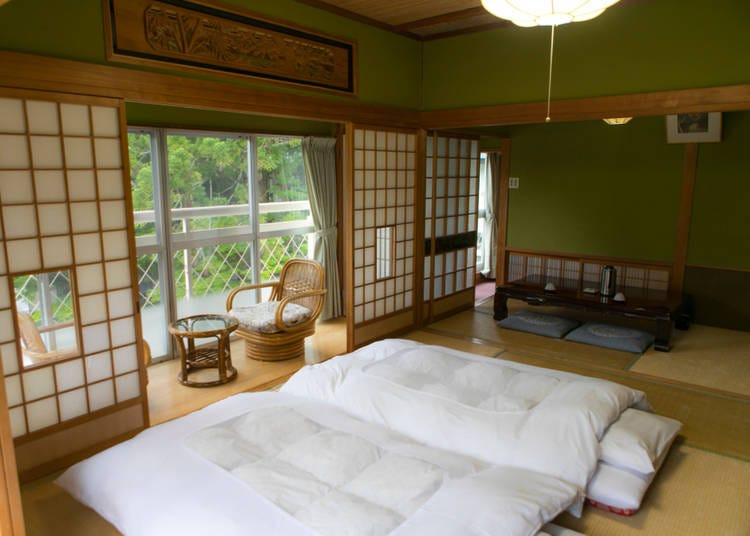 Ryokan are traditional Japanese hotels that differ vastly from western-style hotels. Everything from the look, design, amenities, and system is quite unique and an excellent experience for those looking for a Japan moment.

Shoes are taken off and left at the entrance, and the front desk staff is usually in traditional Japanese uniforms. They escort you to your room, make some green tea, and explain the rules, meal and bath times, and other ryokan details.

Depending on the plan and ryokan, meals are served in your room or in a public dining room. Bathing is also done in a public bath located on-premise. Both meals and baths have a scheduled time, which must be followed, and for private onsen, you may have to reserve ahead of time (like when you check-in).

Futons are also laid out in the room by the staff when guests are eating or bathing, so you shouldn't be surprised if you return to your room and find everything set out for the night. Depending on the number of guests, rooms and futons are placed accordingly. This became a point of concern when Karen from Australia booked for three guests but actually had four.

"I have always booked rooms based on the number of rooms and not really been too worried about occupants. As long as I get two double beds, it's fine for my husband and two boys, who are 12 and 8. But when I booked the ryokan, it was based on the number of people. Thinking that my two boys could share one bed or futon, I booked for three people. However, after arriving, I was asked to pay extra for my 8-year-old. There were no children prices, so I had to pay for an extra adult, which required me to upgrade to a bigger room and cost a lot more than I was expecting."

Unlike some hotels where children might be free or charged less, most ryokans work on a per person basis as the ryokan must provide rooms that fit a certain amount of futons. Even married couples receive one futon per person as futons are usually single sized.

Some ryokans do allow children under a certain age to stay without a charge, but to avoid confusion and added costs, it's a good idea to check with the hotel what the age limit is for children and to make sure to include all people that will be staying in the room.
4. Business hotel: "We needed to use a card to get into the hotel and activate the electricity in the room"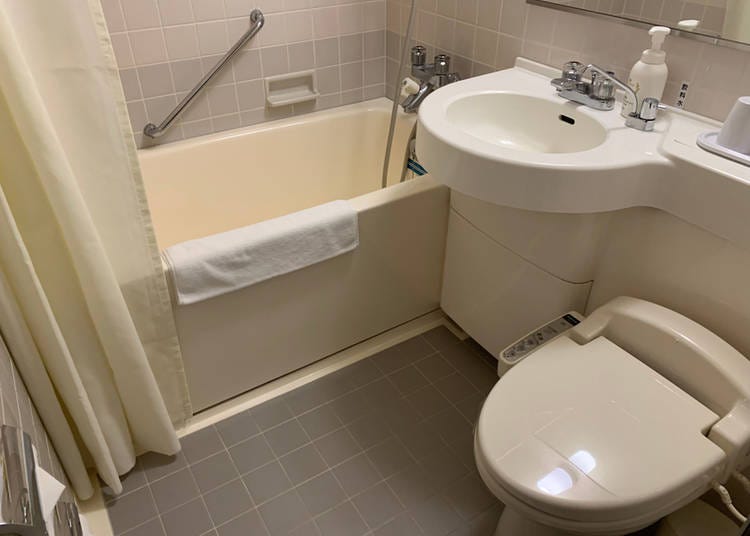 retirementbonus / Shutterstock.com
Business hotels in Japan are a great option if you are looking for clean, safe, and budget-friendly stays without all the flashy amenities and elegance of major hotel chains. They are usually close to train stations and often don't require advanced reservations.

Limited in space, the rooms usually have a single or double bed and a compact bathroom to minimize space.

In fact, Ryan from Chicago often feels the hotels are a bit too compact for him. "I am a big guy so that toilet, sink, and bathtub cubicle is really hard to maneuver. I like the pricing and how close it is to the station but I feel like a giant in there sometimes."

Another interesting issue that some travelers noticed was how the room is activated. Unlike other hotel rooms, business hotels usually require the placement of the room key or card into a slot by the door to activate the power. Without placing the card or key in the slot, the room lights, heating, air-conditioning, fridge, or other things requiring electricity can not be used.

This became a problem during the hot summer months when Zerette from California stayed in a business hotel.

"We needed to use a card to get into the hotel and activate the electricity in the room. We thought.. 'oh.. no biggie.' But it was REALLY hot during our trip, so we couldn't leave the AC running while we were out."

To save on electricity costs and save energy, business hotels require the card to be in the slot while the room is in use. Leaving the room and removing the card will disable the power, which can not be restarted until the guests return.

This is quite convenient for guests as they don't have to worry about turning off anything and can quickly exit the room and checkout. But for those like Zarette who are staying multiple days, it can be frustrating.

However, some other travelers who use business hotels offered some excellent tips to avoid similar problems. "You just need to fold up a piece of paper and place it in the slot instead of your keycard. It kept our AC running. Because of that little trick, we were able to return to a nice cool room," said Jeanie from Washington State in the US.

Duncan, a fellow American from Washington, also added, "We always ask for two room keys/cards so we can stick one in the room power slot to keep the AC and power charger running while we're out."
5. Capsule hotel: "I felt like I was part of the prison population"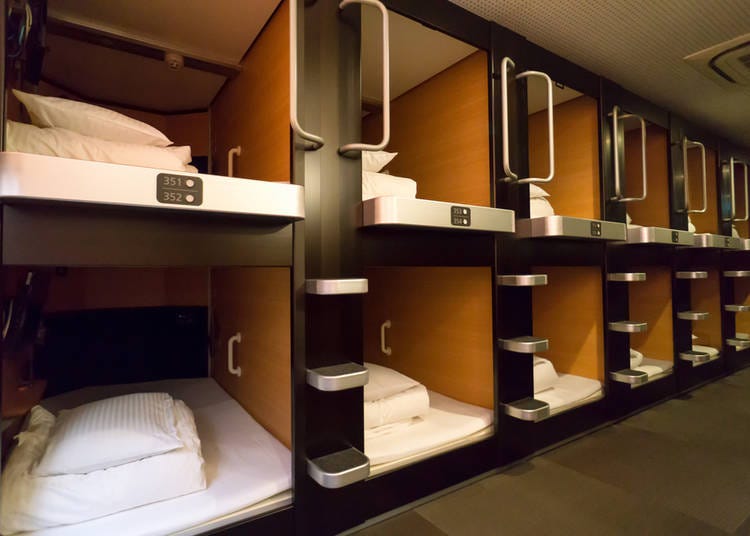 Capsule hotels are a unique and relatively cheap Japanese accommodation style that has been quite popular with Japanese business people who are working or drinking late into the night, miss their train, and have to wait until the next morning for the trains to start.

Capsule hotels are commonly located by the station, are either men only or separated by gender, and require no reservation. They are usually cheaper than a hostel, simple and more private.

People usually enter the lobby, purchase a capsule using a vending machine, receive a key marked with the capsule number and the locker where a towel and pajamas are provided as well as space to store all personal items.

The capsules are usually located in a quiet corridor, with rows of capsules stacked two by two. There is no door in the capsule but a small curtain or blinds. The capsules are low at only about a meter high, and two meters deep and house a single sized mattress. The capsule usually contains a pillow, blanket, alarm clock, a television mounted into the wall, and a small box to keep valuables.

Capsule hotels provide communal showers, rest areas, changing rooms, laundry facilities, vending machines, and eating spaces.

Some capsule hotels also have rules that all guests must follow such as using capsule provided slippers and pajamas while out in the common areas. This atmosphere of all guests wearing the same attire and moving throughout the property in silence gave Sam, from Seattle a strange sensation.

"I wanted to try staying at a capsule hotel after hearing about it online but I didn't know about the pajama policy. I was wearing my own shorts and t-shirt when the staff approached me and told me I had to wear the pajamas provided by the capsule. So I wore the beige, dull prison-style pants and shirt and walked from the public shower to the lounge and back to my capsule. I couldn't stop imagining I was in a Japanese prison, and I felt like I was part of the prison population doing my daily rounds."

Capsules are a great place to crash during an unexpected situation. Still, silence is a key part of the experience as all capsules are open, and the only sound throughout the hotel is snoring business people. Changing into pajamas, using the locker to store items, and keeping your capsule key with you at all times is quite essential to avoid any issues.
6. Vacation rentals: "The place was fine but we couldn't figure out how to adjust the water temperature for the shower"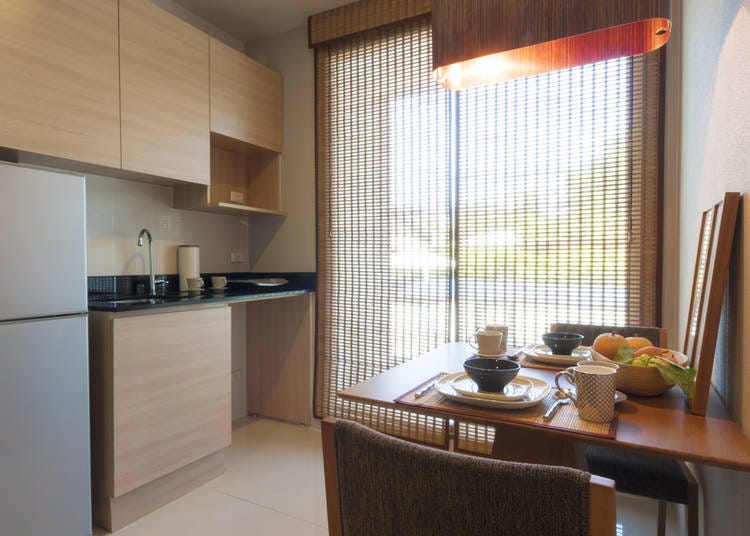 Although there were some strict guidelines placed on renting out Japanese housing using a vacation rental site like Airbnb limiting options, the system is still in place and continues to increase the number of housing options for foreigners traveling to Japan. Especially if you will be traveling outside Tokyo to more rural parts of Japan where there are fewer places available for tourists.

Sites like Airbnb are a great hotel alternative where travelers can book houses, apartments, and other housing using the Airbnb app for a short or long-term stay with the option of renting out an entire place or just a room depending on budget and number of travelers.

Places available are usually cheaper than hotels depending on the location, amenities, and services you are looking for as well as offer more local experience as you will be staying in a Japanese house or apartment with neighbors who are most likely locals of the area.

Owners of the establishment are also locals who rent out their property and are a great source of culture, language, and travel assistance.

But because the house or apartment is privately owned, sometimes the owner is not always available for questions, and check-in and check out are usually done without any personal interaction. Lockboxes with keys or touch-pad entry allow users to enter and exit without having to check-in physically with the owner.

The convenience is great but sometimes can lead to confusion and trouble. Ernesto, from Spain, ran into some issues with the facilities of his Airbnb. "The place was fine, but we couldn't figure out how to adjust the water temperature for the shower. We emailed the host but she didn't get back to us until late the next day. And it turns out she's never actually been to that apartment."

Hosts often own many properties and so may not have full knowledge of the layout and utilities of every property. They are also not professional hotel owners and often offer their properties as a side income so they may not always be available to answer questions or visit the place right away.

Japanese housing differs from other countries as well as by region in Japan. Some houses and apartments have gas, electricity, and water systems that are complex, and figuring them out might be difficult.

Usually, Airbnb listings have detailed information that should answer most questions. Still, another good way to get some extra information about a particular place is to check the ratings and comments that are left by past visitors.

Many tourists who stay at an Airbnb establishment will rate their stay and offer some advice or criticism to help make the choice easier. This can come in handy as many things that are required in Japanese homes like garbage separation, bath and shower rules, WiFi, and air-conditioner and heating functions can be shared by fellow visitors.

Sometimes the hosts of the place don't speak English so getting as much information from past visitors is a good way of ensuring a relaxing and hassle-free stay.


As you can see, not all hotels are the same, and not every experience is a positive one. But knowing what type of Japanese accommodations are right for you and some of the rules you should know before visiting is a good way to ensure you minimize the shock and confusion and increase the cultural experience.

Depending on your budget, type of travel, number in your group, and your preferences, hopefully, these travelers' experiences will give you an idea of what kind of adventure you are looking for and what type of Japanese accommodations will best suit your needs.

It's always best to do as much research and contact the place you will be staying to get as much information as possible before you arrive.
Written by: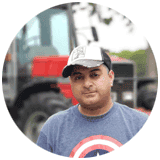 Looking for a hotel in Japan? Try one of these top-rated budget accommodations!
Now that you know what to expect from the different kinds of
Address

278, Nakahakusancho, Fuyacho-dori Anekoji-agaru, Nakagyo-ku, Kyoto-shi, Kyoto, 604-8094
View Map

Nearest Station

Kyotoshiyakushomae Station (Tozai Line)
5 minutes on foot


Phone Number

075-211-5566
Address

Shinagawa-ku Minamishinagawa 1-1-2, Tokyo-to, 140-0004
View Map

Nearest Station

Shin-Banba Station (Keikyu Main Line)
6 minutes on foot


Vacancy search, reservation

from

56,800JPY

1room, 2adults

Check with our partner site as the latest rates, rate details, and guest room requirements may vary.
Address

2-21-4, Yanagibashi, Taitou-ku, Tokyo, 111-0052
View Map

Nearest Station

Asakusabashi Station (Toei Asakusa Line / JR Sobu Line)
5 minutes on foot


Phone Number

03-3851-1121
Address

1-1-7 Kiyosumi, Koto-ku, Tokyo-to, 135-0024
View Map

Nearest Station

Suitengumae Station (Tokyo Metro Hanzomon Line)
18 minutes on foot


Vacancy search, reservation

from

13,040JPY

1room, 2adults

Check with our partner site as the latest rates, rate details, and guest room requirements may vary.
Address

Chuo-ku Soemon-Cho 5-15, Osaka, Osaka Prefecture, 542-0084
View Map

Nearest Station

Nippombashi Station (Sakaisuji Line / Sen-nichimae Line)
9 minutes on foot


Vacancy search, reservation

from

13,005JPY

1room, 2adults

Check with our partner site as the latest rates, rate details, and guest room requirements may vary.
*This information is from the time of this article's publication.
*Prices and options mentioned are subject to change.
*Unless stated otherwise, all prices include tax.