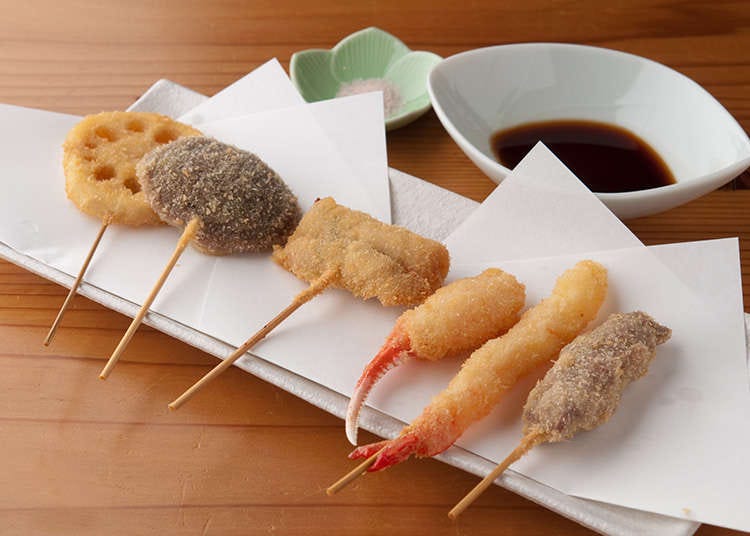 Kushiage and kushikatsu are gourmet foods you'll definitely want to try when you visit Osaka. Kushikatsu restaurants line the street near Tsutenkaku, a famous tourist spot in Osaka. If you can't make it to Osaka though, you can find some restaurants in Tokyo that serve them too!
What are kushikatsu and kushiage?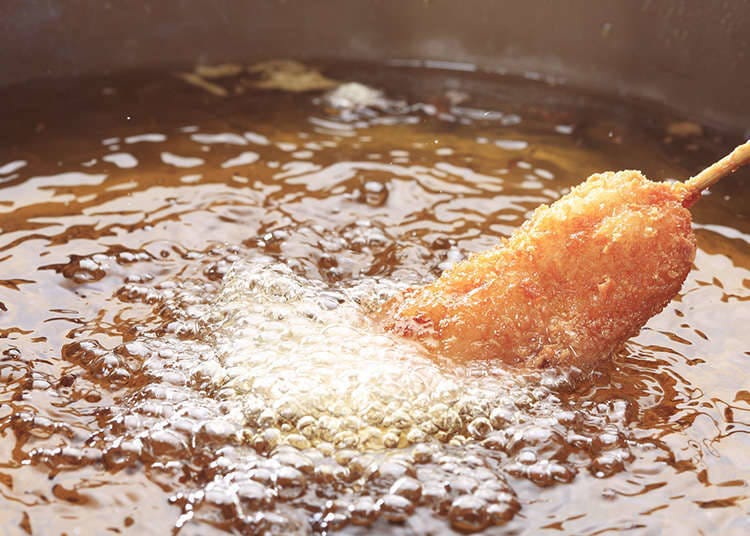 It is a skewered dish made by cutting meat, seafood and vegetables into bite-sized pieces, sticking them on skewers, and frying it with a batter and bread crumbs made by mixing flour, eggs and water. It is easy to eat without needing chopsticks and you have a variety to choose from!
How Kushikatsu and Kushiage were created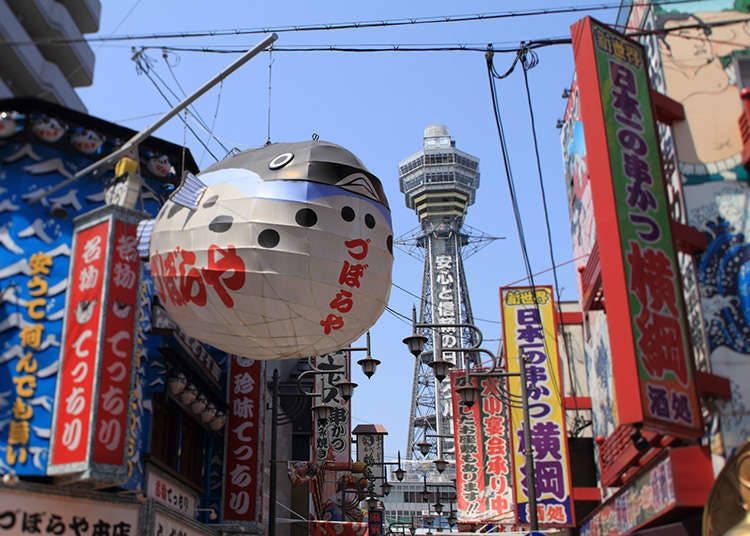 Although the original reason as to why they were created is not very well known, people say that they were created for the locals as a quick and easily-affordable snack to go along with drinking sake.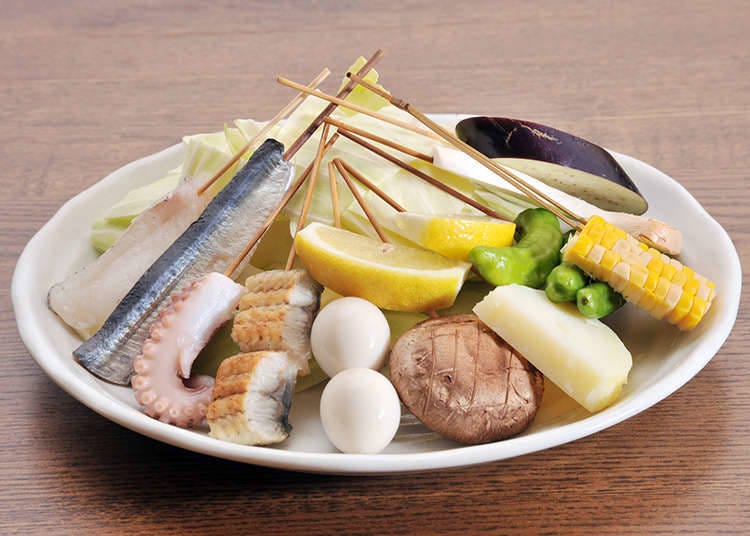 The main ingredients are simple. Meat such as beef, pork and chicken, vegetables such as onions, shiitake mushrooms and green peppers, and finally seafood such as shrimp and squid. Some of them are combinations of two ingredients; "asparagus bacon roll" and "cheese chikuwa (a fish-paste cake)", other common dishes include: chicken cartilage and gizzard, lotus root, konjac, and rice cake which you usually don't eat on skewers.
The types of kushiage and kushikatsu restaurants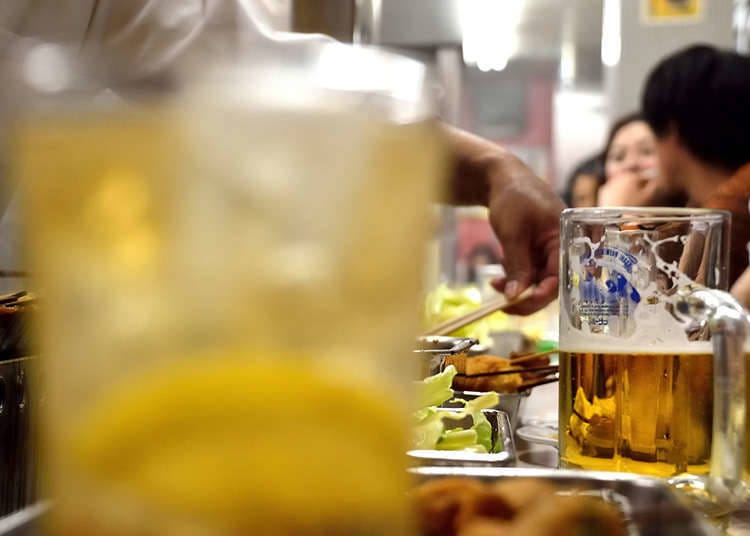 There are various types of restaurants that you can find, but the common ones include; counter-only, all-you-can-eat, and self-type to fry ingredients in the fryer installed at the table.
How to order and eat kushiage and kushikatsu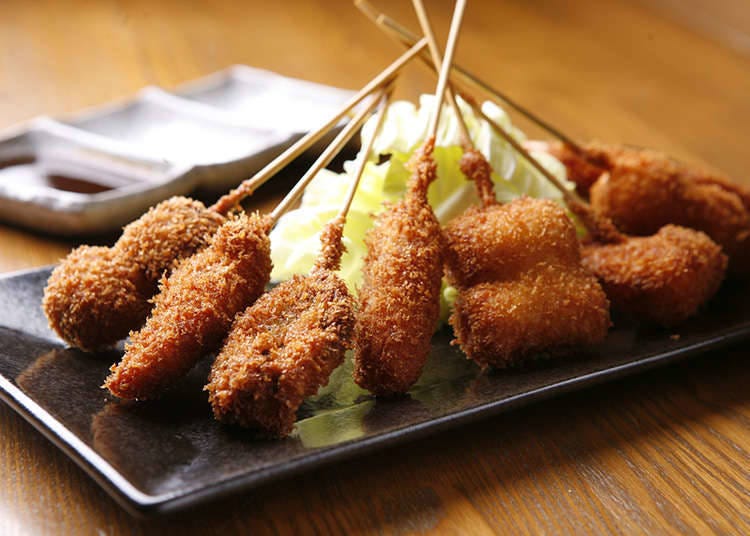 In most restaurants you can order starting from just one skewer. You can choose from the variety of options and have vegetables or meat, or both if you'd like. If you cannot decide what to order or you can usually order a set menu. In many restaurants the ingredients are served not on a plate, but on a metal bat with an oil strainer.
Be careful when using Worcester sauce!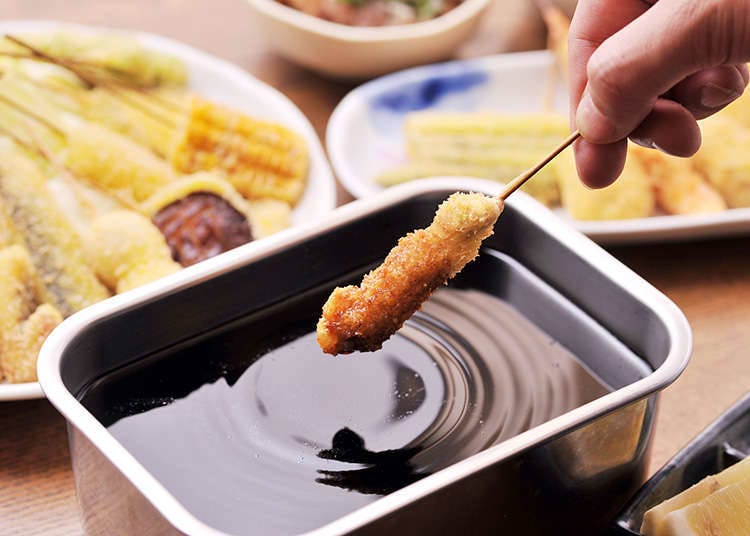 There is Worcester sauce available for kushikatsu and kushiage. If you want, you can put the fried skewer in a pot of sauce which is usually provided on the table. Since the sauce is shared by other customers, make sure to avoid dipping the skewer in the pot a second time after you have taken a bite.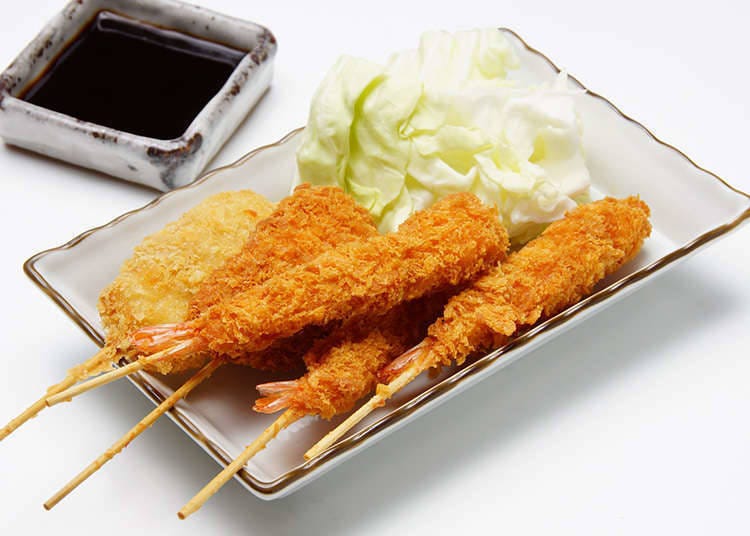 Often the food is served with cabbage cut into chunks, which is said to prevent poor digestion. Aside from that, we hope you get to try Kushikatsu or Kushiage during your visit or stay!
*This information is from the time of this article's publication.
*Prices and options mentioned are subject to change.
*Unless stated otherwise, all prices include tax.
Search for International flights