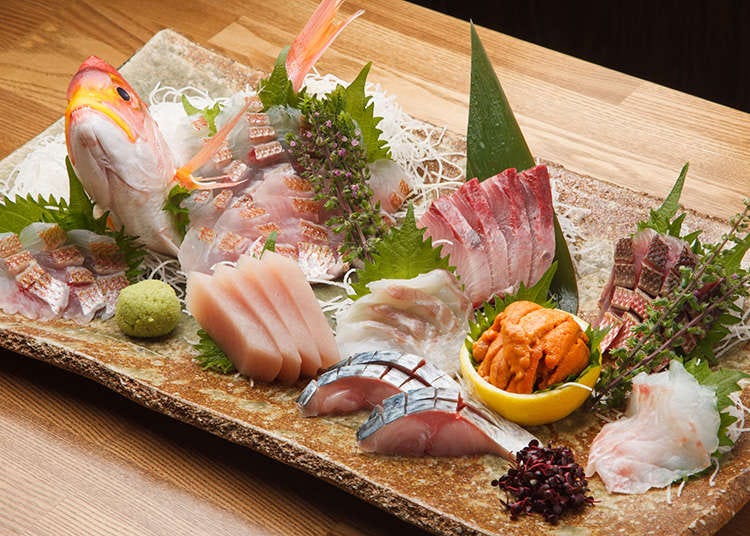 Sashimi, the famous Japanese dish, describes raw seafood, usually fish, which is sliced into bite-sized bits. Eaten raw with soy sauce and wasabi, sashimi is always made out of the freshest of seafood of which Japan, surrounded by oceans, has an abundance. This is the reason why sashimi came to be in the first place.
The history of sashimi is somewhat shrouded in mysteries offering many theories on its origins. One says that it dates back to a dish of sliced raw fish and vegetables seasoned with vinegar called "namasu" that was eaten at the Japanese court during the Heian period. Another theory traces the roots of sashimi to the sliced fish that fishermen sold during the Kamakura period as a kind of fast food. While the delicacy was only available in coastal regions due to the lack of refrigeration methods, it can – and is – enjoyed everywhere in Japan today, both in restaurants and homes.
Next to the most representative sashimi fish, tuna, a large variety of seafood is used for making sashimi in Japan. Often used fish includes sea bream, flounder, and salmon. However, shrimp and squid, as well as different kinds of shellfish, also make for excellent sashimi. In general, more seafood sashimi is available than raw river fish like trout and carp.
The most popular style is thinly sliced sashimi, called tsukuri. Special sashimi knives are being sold by specialty stores to make these thin, beautiful fresh fish cuts. Usuzukuri is another method of sashimi preparation, cutting the seafood in even thinner cuts and making it appear transparent – ordering usuzukuri sashimi is sure to grant a feast for the eyes. When the seafood is lightly roasted with green onions and ginger, the sashimi is called tataki. One of the most prominent fish to use for tataki sashimi is bonito. When a fish or seafood is put in an ice and water bath to tighten its muscles, the sashimi is called "arai". Sometimes, a fish might be still alive while being served, in which case it is referred to as "ikizukuri", while eating shrimp alive is called "odorigui", literally translating to "dancing meal".
What Goes Best with Sashimi?
The most common way to enjoy sashimi is simply with soy sauce and wasabi on the side. The characteristic pungency of the wasabi plays a big role in both the smell and taste of the fish. Besides wasabi, shredded white radish and perilla is often served alongside the raw seafood, a combination that is called "tsuma". This also acts as a way to keep the fishy smell in check, as well as to accentuate the delicate taste of the served seafood. The plate is often decorated with masterfully carved vegetables, making them look like delicate flowers – there's hardly any other dish that showcases a chef's skills more than sashimi.
The most common places that serve sashimi are Japanese restaurants, sushi restaurants, as well as izakaya, traditional Japanese pubs. Some specialty restaurants feature a large tank from which the fish is caught directly before being prepared. Others get their seafood from supermarkets' fresh fish corners, looking for the best catch of the day. What kind of sashimi is served in Japan highly depends on the season and it is very common to see a restaurant's entire menu change with the coming and going of a season. Why not eat your way through all four of them?
*This information is from the time of this article's publication.
*Prices and options mentioned are subject to change.
*Unless stated otherwise, all prices include tax.