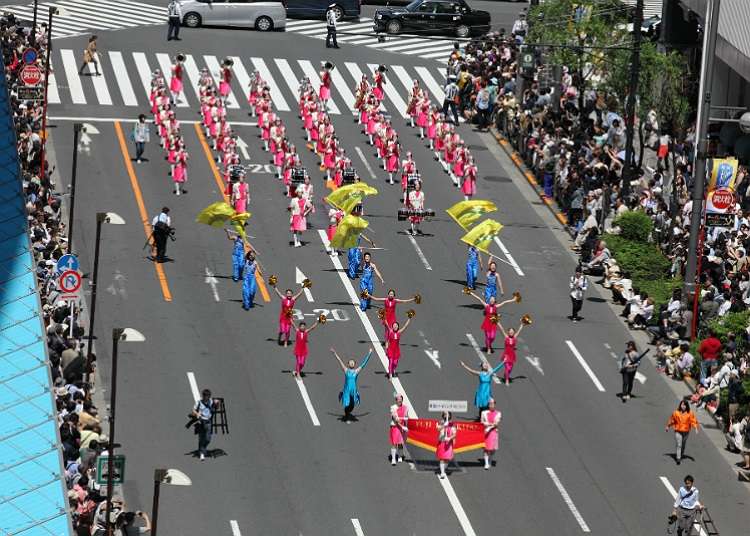 Each May in Japan is lushly verdant with the refreshing breeze. Major traditional festivals in Tokyo and highly popular events are held during this month every year.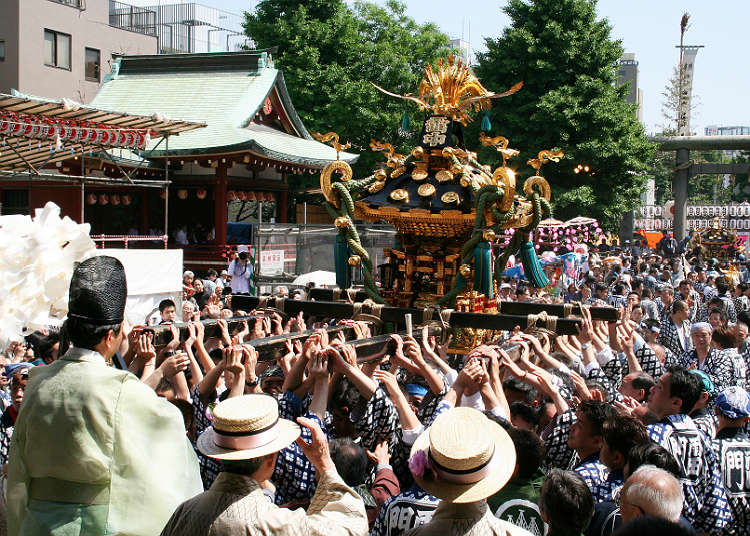 Sanja Matsuri is a large-scale festival that has been held since 1312 and is one of the Three Greatest Festivals of Tokyo, along with the Sanno Matsuri and Fukagawa Hachiman Matsuri festivals. During the three days of Sanja Matsuri, hosted by the Asakusa Shrine, 100 portable shrines that enshrine deities are carried around the town of Asakusa. The carriers of the portable shrines are very energetic, turning the atmosphere of Asakusa into a festive mood. On the precincts of the Asakusa Shrine and the Senso-ji Temple, food stalls stand in a row, and events are held where Japanese drums are played, and traditional dances are performed. The festival is scheduled to take place on May 19 (Fri.), 20 (Sat.), and 21 (Sun.). As many as 1,500,000 people visit this festival every year, so the town gets extremely crowded. Getting too close to the moving shrines is dangerous, so you need to be careful when observing the parade.
Address

2-3-1, Asakusa, Taitou-ku, Tokyo, 111-0032
View Map

Nearest Station

Asakusa Station (Tokyo Metro Ginza Line / Toei Asakusa Line / Tobu Isesaki Line (Tobu Sky Tree Line) / Tsukuba Express)
7 minutes on foot


Phone Number

03-3844-1575
Takara no Mai: Asakusa's Traditional Dance Event
Shichi-fuku-jin, or the Seven Deities, have been worshiped in Japan since ancient times, as they bring good luck. The ship that these deities are on is called takara-bune, or the treasure ship. A statue of Kan'non Bodhisattva has been enshrined as the main image of the Senso-ji Temple, a famous sightseeing spot in Tokyo. It is said to have originated in 628, when the fisherman brothers, Hamanari and Takenari, picked it up at the Sumida River and enshrined it after building a temple, the present-day Senso-ji. Associated with this legend, many kindergarteners pull a treasure ship around the town in the takara-no-mai dance performance, praising the fortune and prosperity the Kan'non brings and wishing for children's vigorous growth at the same time. The children are very charming in their costumes. Takara-no-mai will be held on Thursday, May 5, 2017.
Address

2-3-1, Asakusa, Taitou-ku, Tokyo, 111-0032
View Map

Nearest Station

Asakusa Station (Tokyo Metro Ginza Line / Toei Asakusa Line / Tobu Isesaki Line (Tobu Sky Tree Line) / Tsukuba Express)
5 minutes on foot


Phone Number

03-3842-0181
Ginza Willow Festival and Its Impressive Parade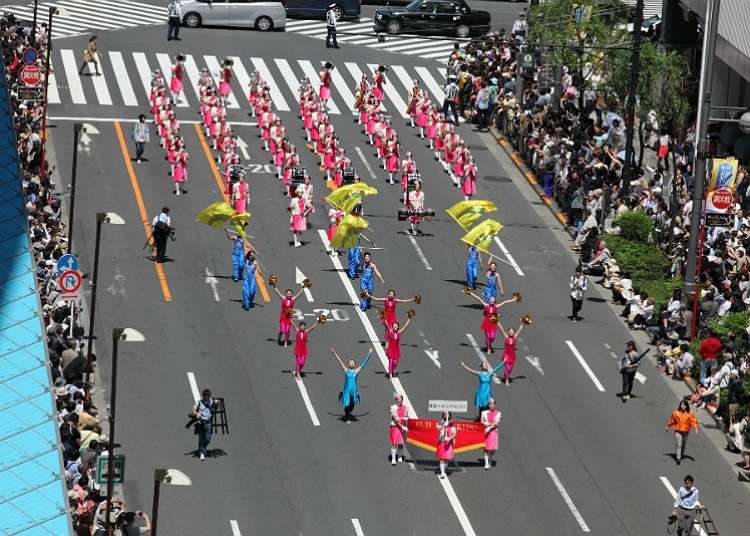 On Thursday, May 5, 2017, the Ginza Willow Festival will be held on the Nishi-Ginza Street and at the Sukiyabashi Park in the Chuo Ward, Tokyo. This event commemorates the designation that the Symbol Road received as one of the 20 streets that represent Tokyo. During the main event, the Ginza Golden Parade, brass bands and baton twirler teams march through the Nishi-Ginza Street. An appearance of a Hello Kitty character riding on a rickshaw is planned. Also, a plaza will be built for people to experience traditional Japanese pastimes that include spinning a top, toying with a Japanese bilboquet, and playing the game of go (a board game of capturing a territory). Many events will be held at different locations, and the day of the festival is an exceptional occasion in which the town of Ginza takes on nothing but the festival. The festival will be held on the Nishi-Ginza Street (from 1- to 8-chome block on the Sotobori Dori Street in the Ginza district).
The 69th Tokyo Port Festival: Tours on Rare Ships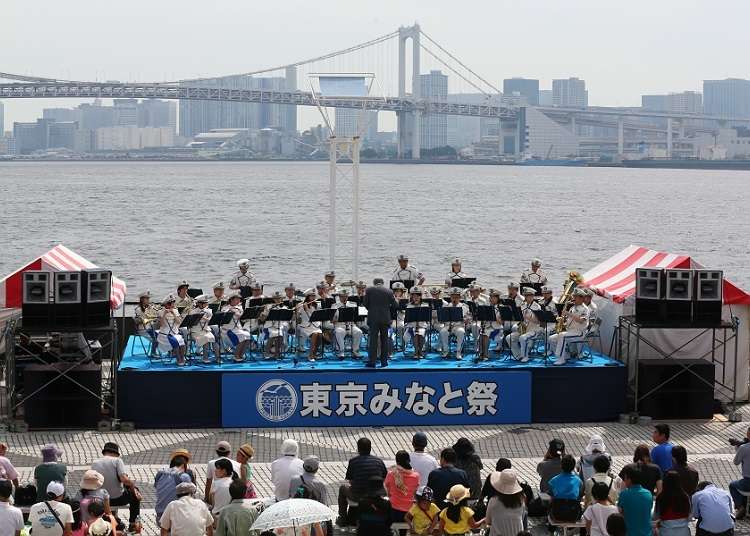 The Port of Tokyo was opened in 1941 as an international trading port. The Tokyo Port Festival is held every year in May, commemorating the start of its operation. The year 2017 marks the event's 69th anniversary. The festival takes place on May 27 (Sat) and May 28 (Sun), 2017.
The Tokyo Port festival offers the chance to ride one of the rare boats of the Maritime Self Defense Force that are generally not open to the public, such as an escort vessel (planned) - entirely free of charge. On top of that, Tokyo's firefighters put on a spectacular show on the water and in the air (only on May 28), and small live performances are on the schedule.
東京みなと祭

Address

5-7-1, Harumi , Chuo-ku, Tokyo, 104-0053, Japan
Hanazono Shrine Grand Festival with the spectacles of portable shrines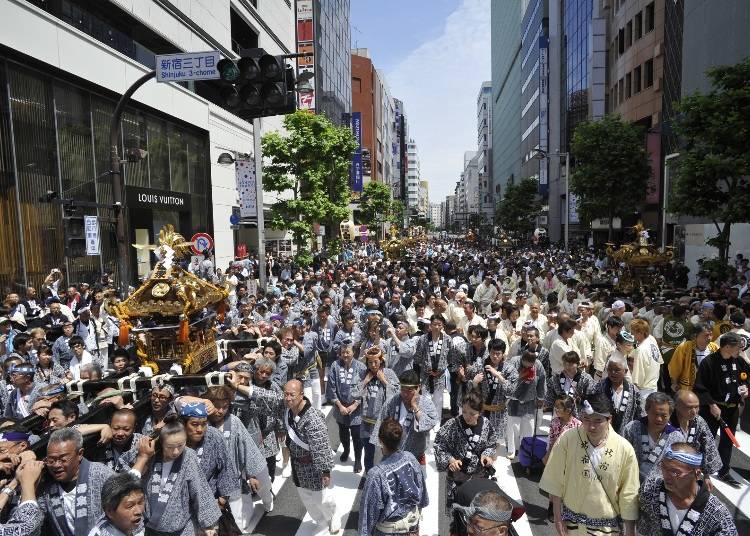 The Hanazono Shrine had assumed an important position as the shrine of a deity that has protected the Shinjuku district since before Ieyasu Tokugawa founded the Edo Shogunate in 1603. The Hanazono Shrine Grand Festival will be held from Saturday, May 27 to Monday, May 30, 2017. This year is a year of Yin, referring to the system of Yin and Yang, and thus the parishioners of Hanazono Shrine carry its mikoshi, a portable shrine, through Meiji-dori, Yasukuni-dori, and Shinjuku-dori. Stalls that sell yakisoba noodles, takoyaki octopus balls, and ikayaki grilled squids are open from the evening of the 27th. The town gets crowded with many visitors every year, so make sure to come early and get a nice spot to see the magnificent mikoshi being carried through the streets.
Address

Shinjuku 5-17-3, Shinjuku-ku, Tokyo, 160-0022
View Map

Nearest Station

Shinjuku-Sanchome Station (Tokyo Metro Marunouchi Line / Tokyo Metro Fukutoshin Line / Toei Shinjuku Line)


Phone Number

03-3209-5265
Traditional Entertainment at the Meiji Shrine Spring Grand Festival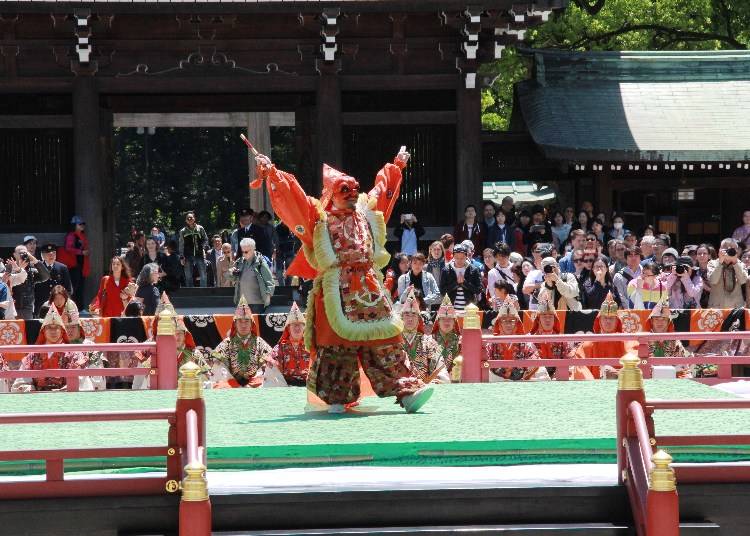 The Meiji Shrine was built in 1920 and enshrines Emperor Meiji and Empress Dowager Shoken. While being in the center of the city, it is well known as a rejuvenating spot full of nature. In its Spring Grand Festival, which will be held from Friday, April 29 to Tuesday, May 3, 2017, various worshiping rituals will take place as they do every year. During this period, bugaku court music and dances, as well as noh and kyogen theater performances are dedicated to the shrine by the leading traditional entertainment artists on the stage in front of the shrine hall. Anyone can appreciate the dedication performances, so taking this chance to touch on the Japanese traditional culture is highly recommended. Also, the shrine's precincts are lush with fresh greenery around this time, so you can enjoy strolling in nature as well.
Address

1-1, Yoyogikamizonocho, Shibuya-ku, Tokyo, 151-8557
View Map

Nearest Station

Sangubashi Station (Odakyu Odawara Line)


Phone Number

03-3379-5511
The Yokohama Parade held in the port city
The Yokohama Parade is an event that commemorates the opening of the Port of Yokohama in Yokohama City, Kanagawa. On May 3 (Wed), marching bands and decorated floats parade the Yokohama Port area, starting from Yamashita Park. A sub-parade called the Yokohama Kawaii Parade is especially worth seeing. A group of 300 people puts on their costumes with the theme of Japanese pop culture that includes anime, games, fashion, and cosplay, and parades around the port city of Yokohama. In the Yamashita Park, street performances, cosplay photo-shooting sessions, and stage events will be held during the three-day period from May 3 (Wed) to May 5 (Fri). The parade starts in front of Yamashita Park.
Address

279, Yamashitacho, Naka-ku, Yokohama-shi, Kanagawa, 231-0023
View Map

Nearest Station

Motomachi-Chukagai Station (Minatomirai Line)
3 minutes on foot


Phone Number

045-671-3648
Design Festa - a Massive, Colorful Art Event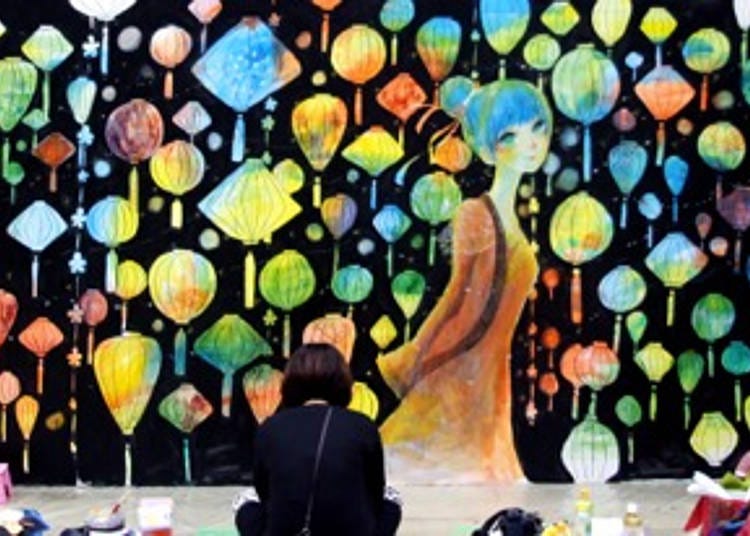 The Design Festa, which will be held on Saturday, May 27, and Sunday, May 28, 2017, is an art event of the largest scale in Asia. With around 5,000 booths, this year's event will be the biggest one yet! Original artworks created by a total of more than 10,000 artists and creators in various genres such as music, paintings, movies, products, fashion, handicrafts, photos, dolls, and performing art are to be shown at the event. This year, Design Festa is held for the 45th time and takes place in Tokyo Big Sight's East Hall for the first time in 13 years.
There is an area where you can purchase accessories, such as earrings and necklaces, and other products; the works of popular creators may sometimes be sold out quickly. This event is getting popular among Japanese young people as you can see stage performances and shows.
INTERNATIONAL ART EVENT DESEIGN FESTA vol.43

デザインフェスタ vol.43

Address

3-11-1, Ariake, Koto-ku, Tokyo, 135-0063, Japan
*This information is from the time of this article's publication.
*Prices and options mentioned are subject to change.
*Unless stated otherwise, all prices include tax.