Ueno Zoo is a wildly popular place of interest in - where else? - Ueno itself. The park is the oldest zoo in Japan, having first opened its doors to visitors in 1882. When the giant panda Xiang Xiang was born in this very zoo in 2017, the joyous event provided the media with positive news on a daily basis for a while, the memory of which is likely still fresh in the minds of many, probably yourself included!

We've therefore compiled a list of five giant panda-inspired items in Ueno Zoo that we're confident you would love to add to your trove of panda goods. The list is presented ranking-style based on overall popularity.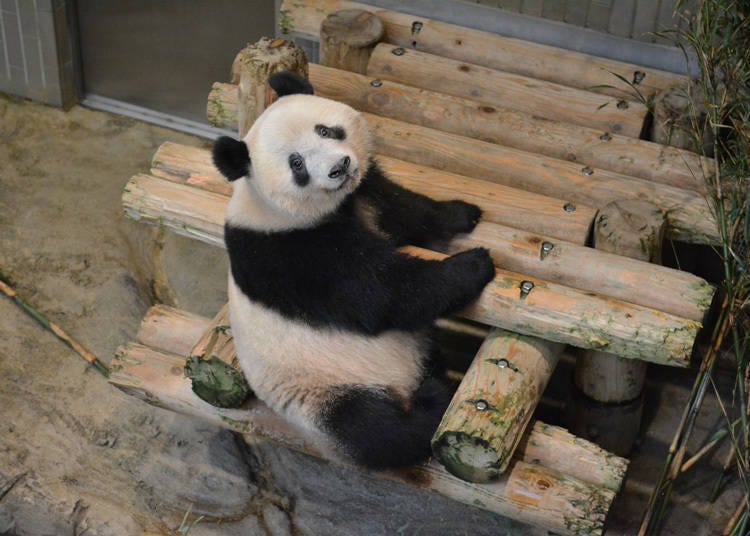 Xiang Xiang (Picture credit: Tokyo Zoological Park Society)
Ueno Zoo is made up of two sections: East Garden located very near Ueno Station on the JR Lines, and West Garden facing Shinobazu Pond.

Each section has one souvenir shop selling the panda goods mentioned here, but we'll be collaborating with Little Trunk, the souvenir shop operating in East Garden this time, asking them about the five most popular panda souvenirs among visitors according to their sales data.

(*Information is accurate as of March 2020. Product lineup may have changed.)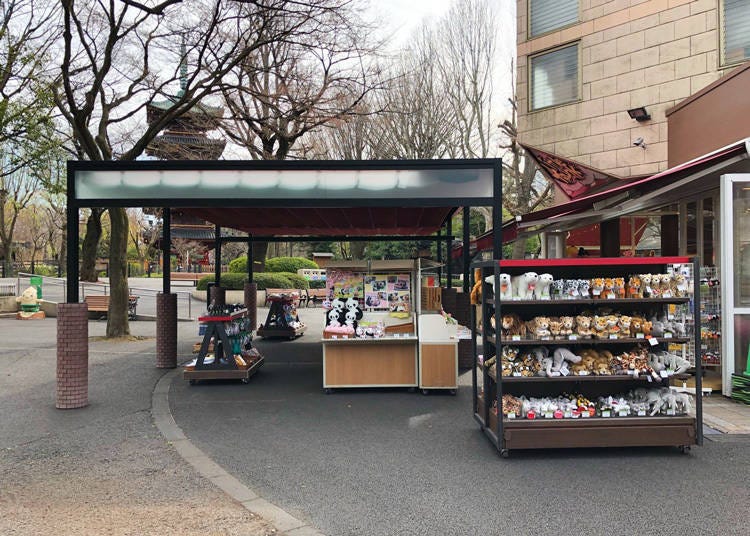 About Little Trunk
This gift shop is located in Ueno Zoo's East Garden, which is where Xiang Xiang and the other giant pandas are being exhibited. As such, they carry a whole slew of inspired panda goods of what is known as East Garden's animal ace - the giant panda.
The shop has also recently implemented eco-friendly measures such as only providing bags when a customer asks for them, with the purpose of contributing to environment conservation. Without further ado, let's take a look at the panda goods on their bestseller list!
#5. Giant Panda Paper Fan: Makes unique use of the panda's rotund silhouette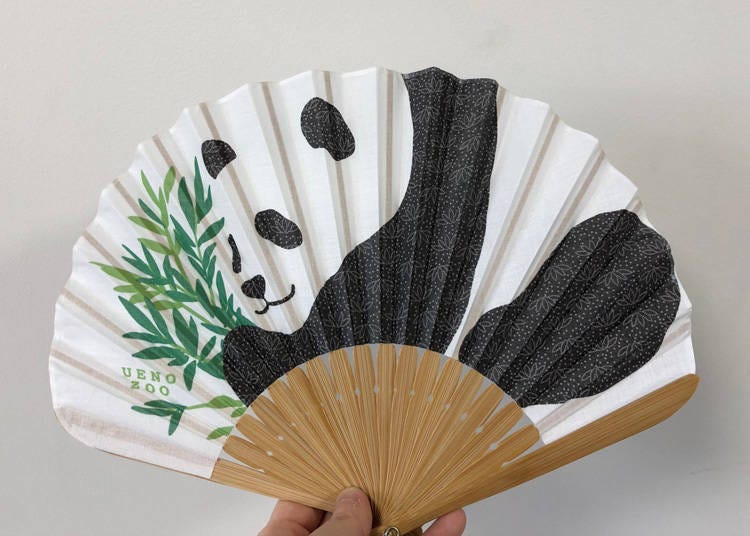 On the face of the "Giant Panda Paper Fan (1,265 yen, tax included)" is an illustration modeled after the shape of a giant panda. The picture ends right at the edge of the fan, which is supposed to act as the arch of its back. As such, the fan's cutting is a bit rounder than the usual paper fan, making it a quite special-looking among its paper fan ilk. The fan part is made with fabric material for durability, since it's harder to tear fabric apart compared to normal paper.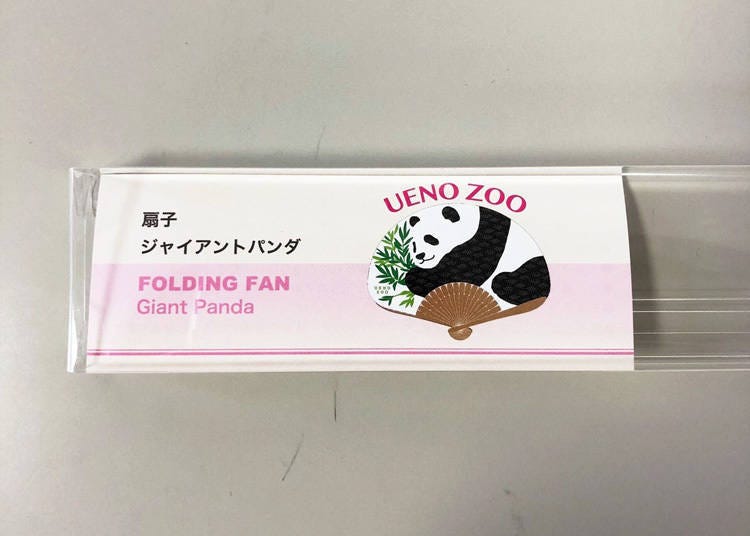 Since the paper fan is so uniquely Japanese, the product is popular not just among locals, but international visitors as well.

The panda goods in the shop are labeled in English so that foreigners can have a handy reference as they browse. Back to the fan: Another secret to the item's popularity is that the black part of the panda is also imprinted with subtle bamboo leaf patterns, adding to its Japanese flavor.

This design is only available in Little Trunk, so it's an excellent souvenir to get in preparation for the upcoming hot season, or to just give as a gift to someone else.
#4. Maeda Senko Series: Simple dye-work design that appeals to people of all ages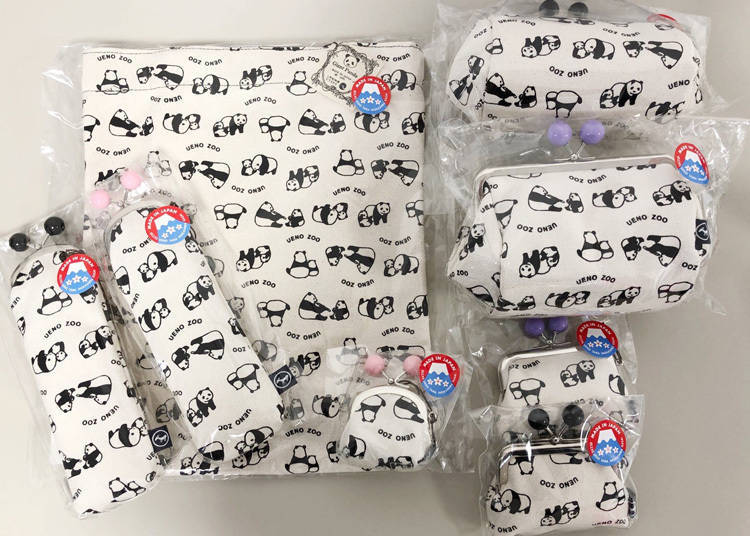 Maeda Senko is an established dye-work company headquartered in Kyoto, and this series of products was jointly developed with them. There are currently five panda goods available in the series:
1) "Mini Coin Purse (Pink - 1,100 yen, tax included)"
2) "Coin Purse (Black/Purple - 1,320 yen, tax included)"
3) "Cylinder Pouch (Black/Purple - 2,200 yen, tax included)"
4) "Pencil Box (Black/Pink - 1,540 yen, tax included)"
5) "A4 Size Tote Bag (1,760 yen, tax included)"

The unbleached fabric used to make these monochrome items depict a pair of frolicking parent-child panda in various adorable and amusing positions. Thanks to the simple design and universal product appeal, this series of panda goods is popular with people of all ages.

Manufactured by Maeda Senko, the products are all made in Japan and proudly bear a seal saying the same on their packaging. It would appear this seal has a positive effect on product sales, especially among zoo visitors from overseas!
#3. Life-Size Xiang Xiang: Plush toy depicting Xiang Xiang's growth progress from birth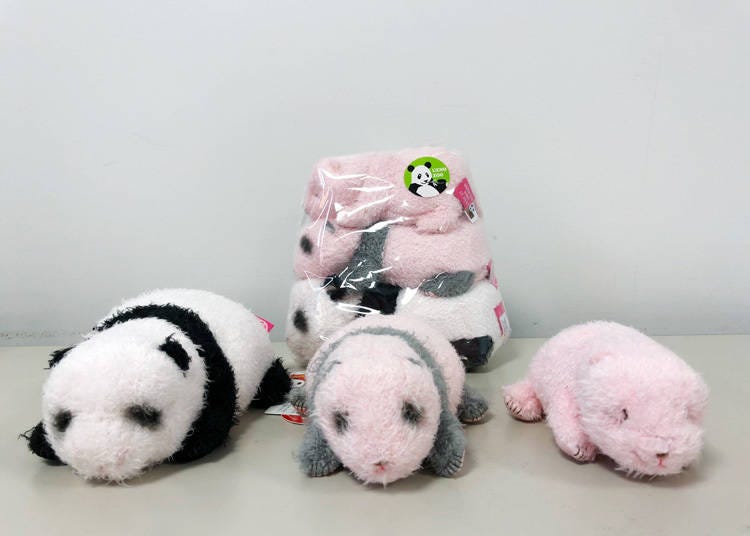 "2 Days Old - 1,760 yen, tax included"; "10 Days Old - 2,420 yen, tax included"; "20 Days Old - 3,740 yen, tax included"; "Set of 3 - 5,500 yen, tax included"
To commemorate Xiang Xiang's birth, three types of plush toys were designed and made to faithfully reproduce her exact size and weight during a certain time of her growth. Xiang Xiang was 14.3 cm (about 5.6 inches) long and weighed 147 grams (about 5.1 ounces) at "2 Days Old". Her body was pink and furless. At "10 Days Old", she had grown to 17.6 cm (about 6.7 inches) and 283.9 grams (about 10 ounces), with some white and grayish fur starting to cover her pink flesh, although not completely. Finally, Xiang Xiang became 23.4 cm (about 9.2 inches) and 604.9 grams (about 21.3 ounces) when she was "20 Days Old". Her fur also now showed its black and white shades distinctly.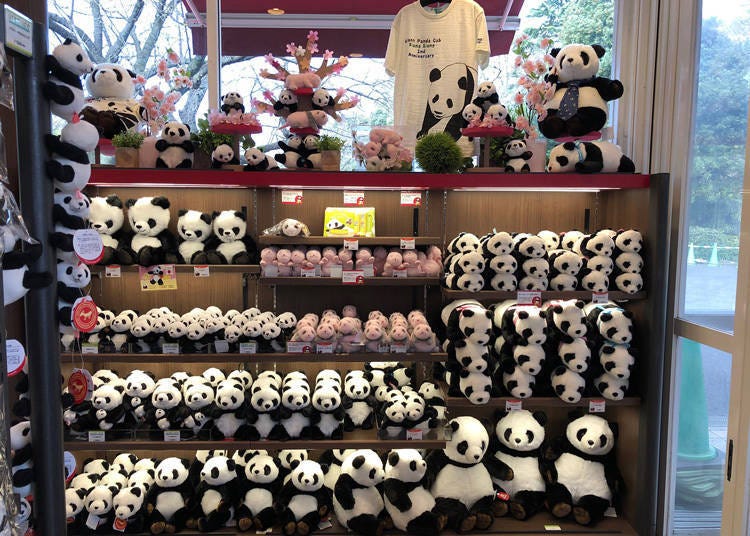 When Xiang Xiang was still a cub, the only humans allowed to handle her were her keepers, and this set of plush toys was designed to allow visitors to experience her growth personally as well. Needless to mention, the toys are among the most popular products of the gift shop. Xiang Xiang will turn three this coming June, and what better way to commemorate that event than to buy these growth-inspired plush toys in support of her continued healthy development?
#2. Panda Baked Cookies Tin Can: The special tin can design is part of its allure!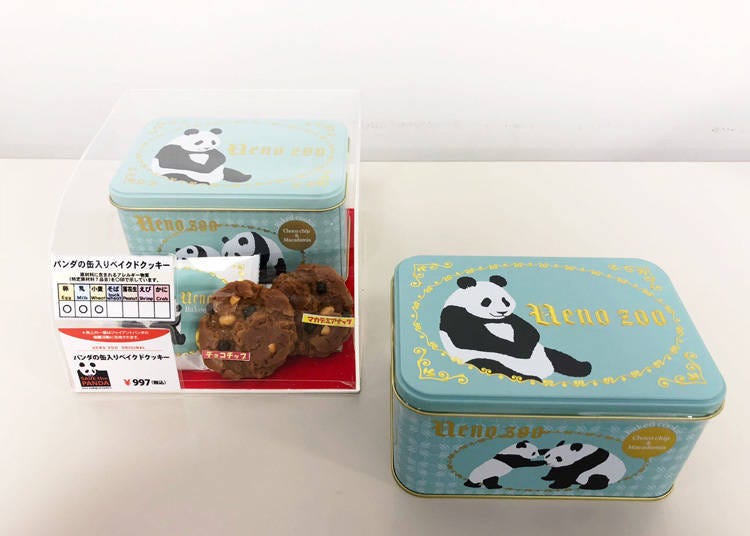 Plenty of panda-related food products line the shelves of Little Trunk, but the most popular of them all is the "Panda Baked Cookies Tin Can (997 yen, tax included)". Why is that so? Firstly, there's the fact that cookies are already widely-accepted and recognized by people from many countries as tasty sweets. Secondly, the tin can comes with cookies that are specially made to be bite-sized for easy snacking. Ingredients used include chocolate chips and macadamia nuts mixed with crunchy dough. Good for both filling the tummy and satisfying the taste buds! There's a sample showcase on the sales booth where allergens are listed out in English as well so that even international visitors can buy with confidence.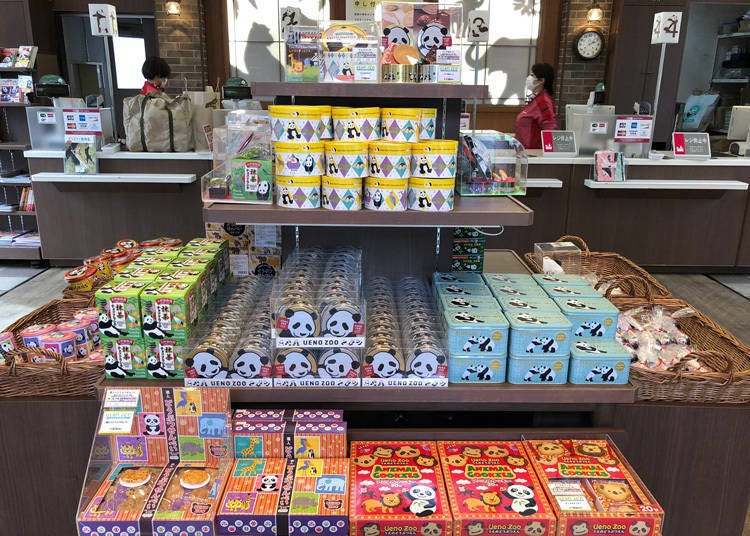 The cookies aren't the only highlight of the product, though. The tin can and packaging are quite the head-turners in their own right as well! Giving this to someone is like giving them two gifts in one nicely wrapped package. On the side of the tin can is a heartwarming picture of Xiang Xiang and her mother Shin Shin that has made many a visitor smile. You can absolutely reuse the tin can for something else after finishing the cookies inside!
#1. Tired-Looking Panda Cub: Modeled after Xiang Xiang's adorable cub phase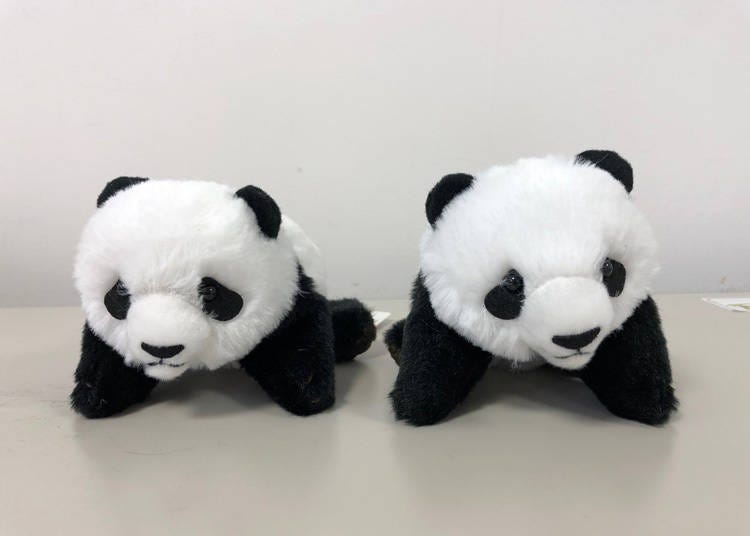 The prestigious top spot in this list of popular souvenirs goes to the "Tired-Looking Panda Cub (1,650 yen, tax included)" plush toy modeled after Xiang Xiang when she was but a wee babe. Created in commemoration of the little panda's first birthday, this item is now the most popularly bought panda goods item at the gift store, especially by Xiang Xiang fans, children, and women.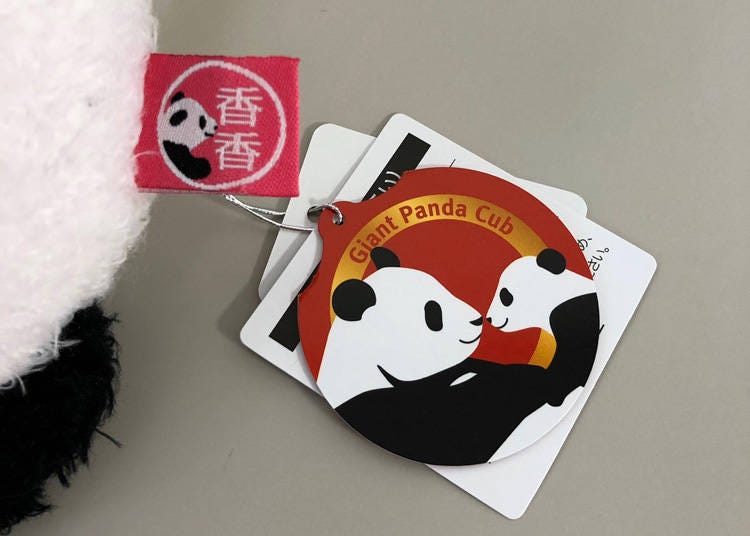 The plush toy is fluffy and soft to the touch. As its name suggests, the panda cub is in a pose that clearly shows its fatigue. It's exhausting to be so cute, after all! On the backside of plush toy is an original pink woven label bearing Xiang Xiang's Chinese name. Truly an adorable plush toy that deserves its place at the top of this most-popular list!
Ueno Zoo welcomes visitors from overseas
In January 2020, the zoo opened an information center next to the general information center in East Garden called Tokyo Zoo Welcome Center, and it specifically caters to visitors from overseas. This info kiosk is staffed with employees who can speak English and Mandarin Chinese, and their job is to provide information about places of interest in the vicinity, as well as English and Chinese guided tours twice a day. The center is only slated to operate for a one-year period, so feel free to make full use of its services if you happen to see it during your visit!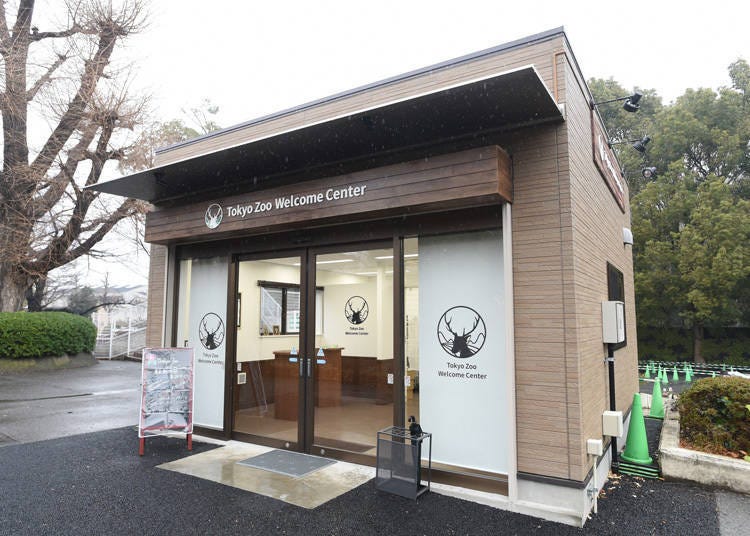 Photo credit: Tokyo Zoological Park Society
Near the entrance gates of the zoo, you'll find stands filled with guide maps that are marked in English, Mandarin Chinese, and Korean as well. Yet another thoughtful gesture by the park that you should make full use of! All employees are equipped with a book with lines in English, Mandarin Chinese, and Korean that can be pointed at, for the purpose of carrying out a conversation during emergencies, so there's no need to worry about not knowing what to do during the unlikely event of a disaster or incident while you're visiting.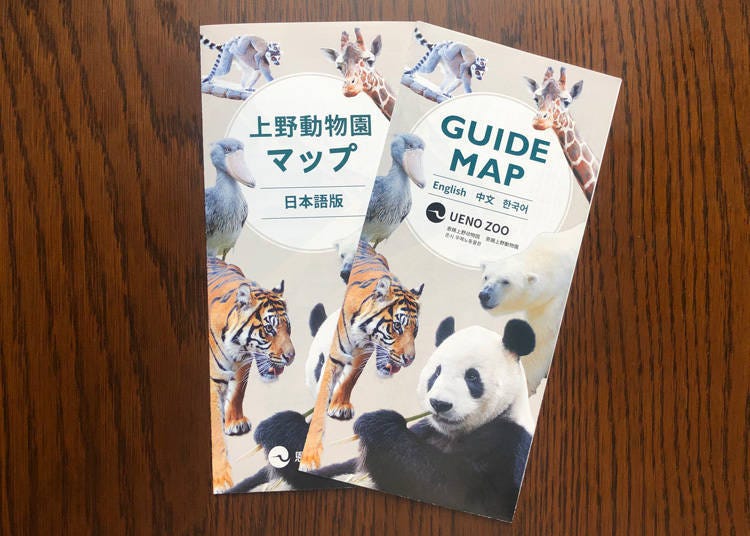 The panda's adorable form has charmed countless visitors from all over the world, and the panda-inspired souvenirs we've featured here can only be bought from Ueno Zoo, so don't hesitate to drop by if something piques your interest! For your information, a new rest station just opened this February in East Garden, where the pandas are being exhibited. After all that walking and standing, take a breather in this new resting spot to recharge for the next round of animal admiration!
Address

9-83, Uenokouen, Taitou-ku, Tokyo, 110-8711
View Map

Nearest Station

Ueno Station (Hokkaido Shinkansen Line / Tohoku Shinkansen Line / Akita Shinkansen Line / Yamagata Shinkansen Line / Joetsu Shinkansen Line / Hokuriku Shinkansen Line / JR Keihin-Tohoku Line / JR Yamanote Line / JR Tohoku Main Line / JR Utsunomiya Line / JR Takasaki Line / JR Joban Line / JR Ueno Tokyo Line / Tokyo Metro Ginza Line / Tokyo Metro Hibiya Line)
5 minutes on foot


Phone Number

03-3828-5171
Written by Mae Kakizaki. English translation by Huimin Pan.
*This information is from the time of this article's publication.
*Prices and options mentioned are subject to change.
*Unless stated otherwise, all prices include tax.