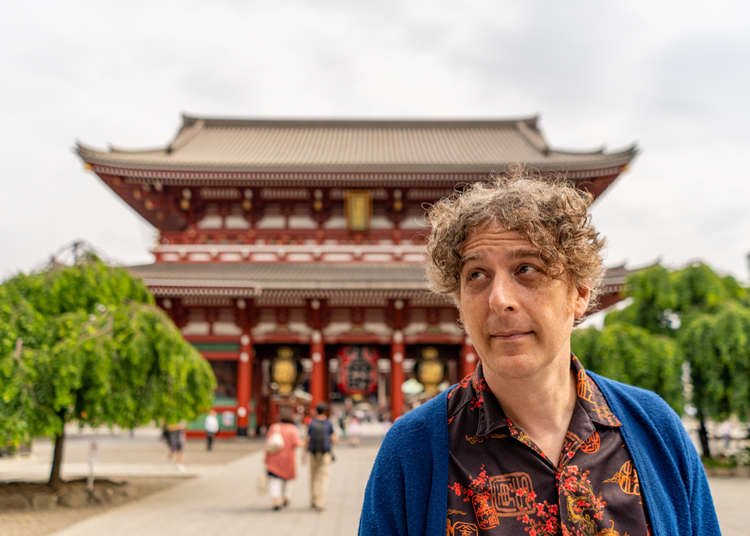 Tokyo - a vibrant city where the past meets present in an eclectic mix of traditional history and modern trends. Renowned as the birthplace of various cultures, the city also is known to the world for its famous sightseeing spots, delicious gourmet food, and accessibility to an abundance of interesting experiences, from the olden to the modern!

With so many things to do and so little time, it's no wonder first-time visitors to Japan often find it hard to plan their itineraries. We understand that you want to make the most of your trip to Tokyo, which is why we've put together a list of the top 50 must-do things in Tokyo that will ensure you get the complete "Tokyo" experience. We're confident everyone can find something that tickles their fancy and allows them to have the trip of their life!

Not all of these are locations - many are just amazing experiences that everyone needs to try at least once on their Japan travels!
Don't have time to read through the list in-depth? Click here for a simple list and quick page navigation!
1. Shibuya Scramble Crossing: The busiest crossing in the world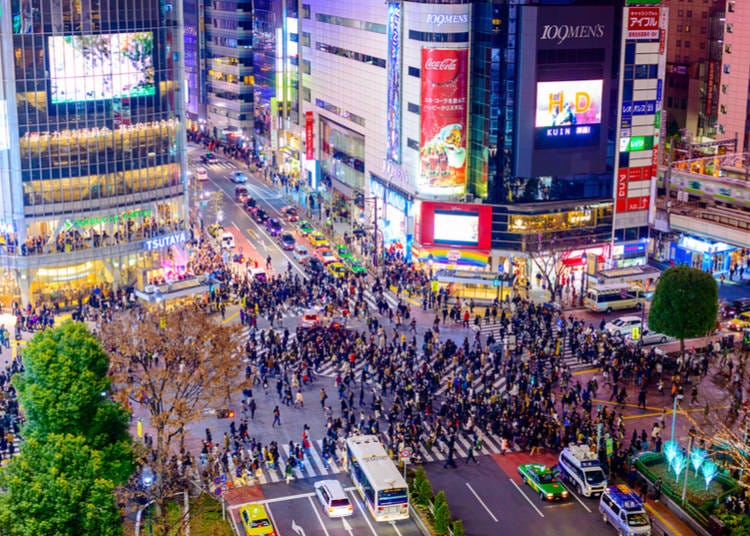 Image credit: Sean Pavone / Shutterstock.com
Shibuya is a popular haunt of youngsters in their teens and 20s, and for good reason. Packed to the brim with trendy shops, restaurants, clubs, and livehouses, the energetic vibe in this area is the result of its young and dynamic crowd, which in turn attracts even more like-minded youths.

Beyond the demographics of its regulars, however, you'll notice that Shibuya is also home to the largest scramble crossing in the world. Once the lights turn red, all vehicles on the road come to a complete stop in order to allow pedestrians from all sides of the intersection to cross over in whatever direction they wish to go.

At its peak, this can be up to 3,000 pedestrians at once! You would be hard-pressed to find a crossing anywhere else in the world that has pedestrian traffic anywhere near what this crosswalk sees on a daily basis.

In recent years, this crosswalk has served as the base for seasonal events popular among the younger generation, like New Year countdowns and Halloween, whipping the usually packed streets into an even more frenzied fervor. This intersection has also been featured in plenty of films and videos - from local Japanese productions to major Hollywood blockbusters.
2. Shinjuku Kabukichō: Witness a real-life Godzilla invasion!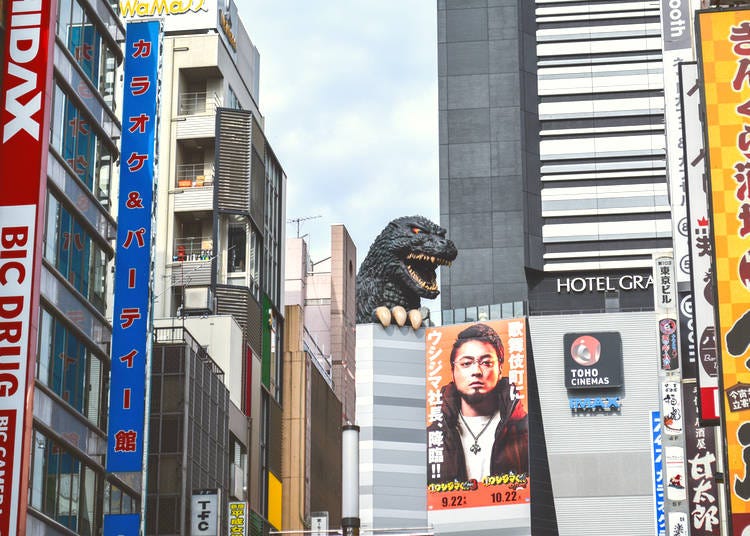 Image credit: ome pianuch / Shutterstock.com
Shinjuku Toho Building officially opened in April 2015 with the largest cinema theater in Tokyo, and Shinjuku Kabukichō's Toho Cinemas is integrated within its premises as well.

Perched 40 meters (about 131 feet) aboveground on the building's eighth floor rooftop terrace is a giant Godzilla head that is 12 meters (about 40 feet) tall - exactly the same dimensions it had in the first movie it appeared in!

With Godzilla's head thus looming over the building, it almost seems like the monster has leapt out of the films into Shinjuku for a real-life invasion. Since photographs with this life-size Godzilla are often well-received on social networks, it goes without saying that this is an extremely popular photo spot among visitors.

What's more, the head is programmed to roar at certain times of the day, so if you happen to be around the area at the right time, you'll be one of the lucky few to have the rare experience of hearing Godzilla's angry bellows echo throughout the streets of Shinjuku in person!
3. Tokyo Skyline: Taking in Tokyo's landscape from above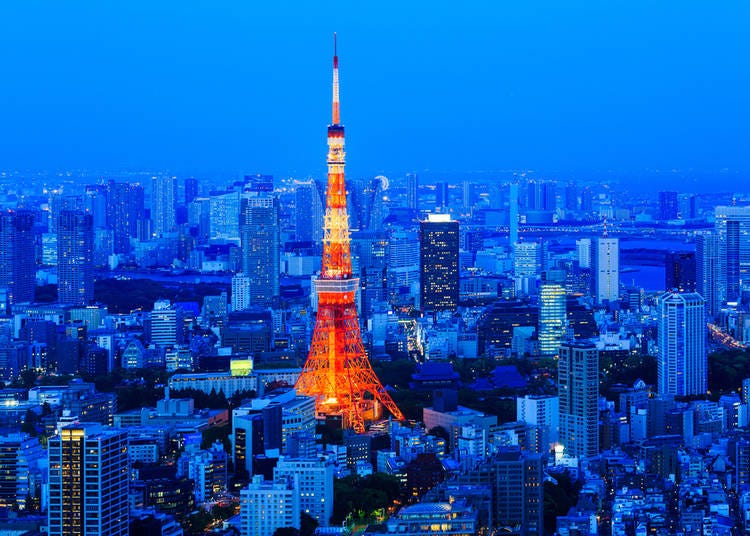 The common image many have of Tokyo - along with most other major cities - is a never ending array of skyscrapers stretching out for as far as the eye can see. While this is certainly true from the ground, viewing Tokyo from the top of one of these tall buildings is an activity that comes highly recommended by us. It can offer a great change in perspective and allow you to experience a seldom seen side to this modern metropolis.

◾Tokyo Tower
You can't talk about Tokyo without also mentioning Tokyo Tower, one of the most internationally well-known landmarks of the city. Many have fallen in love with this remarkable building since it began operations in the year 1958. The tower itself contains two observatories offering panoramic views of Tokyo from a height of 150 meters (about 492 feet) for one and 250 meters (about 820 feet) for the other. At night, the tower is illuminated with spectacular colors, lighting up the Tokyo night sky and serving as its enduring symbol.

◾Tokyo Skytree
A new city icon that opened in May 2012 as a broadcasting tower and sightseeing facility, the Tokyo Skytree stands at 634 meters (about 2080 feet) tall and is the most well-known free-standing broadcasting tower in the world. The Skytree also has two observatories, one at 350 meters (about 1148 feet) aboveground and the other, 450 meters (about 1476 feet). Both offer a spectacular view of Tokyo's landscape at a glance. Once you've had your fill of the scenery, head down to the sprawling Tokyo Solamachi shopping mall at the foot of the Skytree for some good food and entertainment.

◾Roppongi Hills
Towering above Roppongi, one of Tokyo's downtown districts, is Roppongi Hills, a commercial complex that has everything you need to entertain yourself with - from museums to cinema theaters, observatories, more than 200 restaurants, and countless other establishments. On the 52nd floor is an indoor observatory called Tokyo City View that's 250 meters (about 820 feet) above sea level. There's also another indoor observatory in this building, this one called the Sky Deck, which is situated 270 meters (about 885 feet) above sea level. Both observatories offer encompassing views of the Tokyo skyline.
4. Tokyo Station: Featuring Japan's representative modern architecture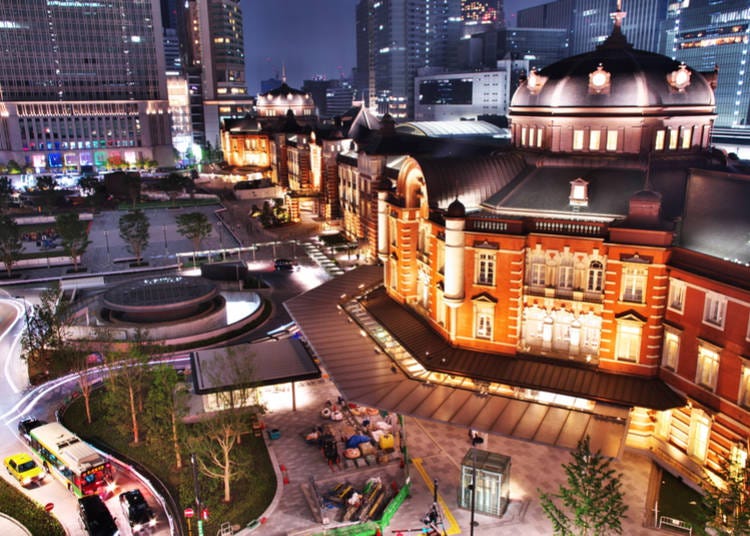 Tokyo Station, sometimes called the doorway to Tokyo, definitely qualifies as one of Tokyo's must-see tourist hot spots. Every day, about 3,700 trains pass through the busy station, which is used by a daily average of more than 760,000 passengers. Basically, you'll be finding people here all hours of the day!

What we'd especially like to draw your attention to is the beautiful Red Brick Building, covered all over with about 850,000 bricks. This gorgeous station building was constructed about 100 years ago using the best technology architects had to offer during that era and is a designated national property of cultural importance.

See for yourself how this tastefully designed building discharges its heavy responsibility as a transport center of Japan's capital with stalwart yet graceful endurance.
5. Rainbow Bridge: The elegant bridge that watches over Tokyo Bay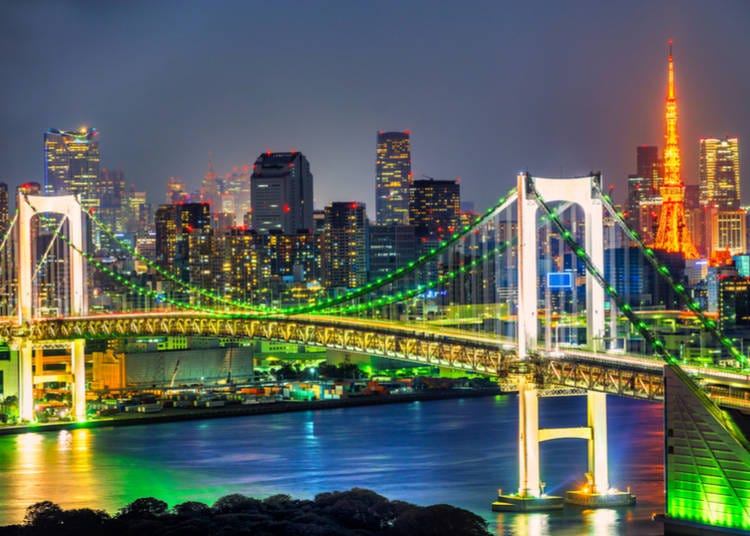 Completed in August 1993, the Rainbow Bridge is a massive suspension bridge measuring 789 meters (about 2,588 feet) in length and holds itself up 126 meters (about 413 feet) above sea level.

You can hop onto the Yurikamome, a driverless transit service connecting Shuto Expressway Route 11 and Tokyo's metropolitan areas to the Odaiba area for a trip across the Rainbow Bridge. Or, if you're feeling adventurous, you can enjoy a walk across as well!

This gargantuan structure hovering over Tokyo Bay is worth seeing from a distance for sure, and while it is already a sight to behold during the day, the scene around the area becomes even more impressive when sunset slips into the background.

Around this time, the 444 illuminations installed on the bridge light up all at once, flooding Tokyo Bay with vivid hues and creating a breathtaking picture you won't soon forget. The lights continue to change color over time, so don't miss this fantastic scene if it's the last thing you do in Tokyo!
6. Ramen: Embark on an expedition to better understand the depths of this delectable dish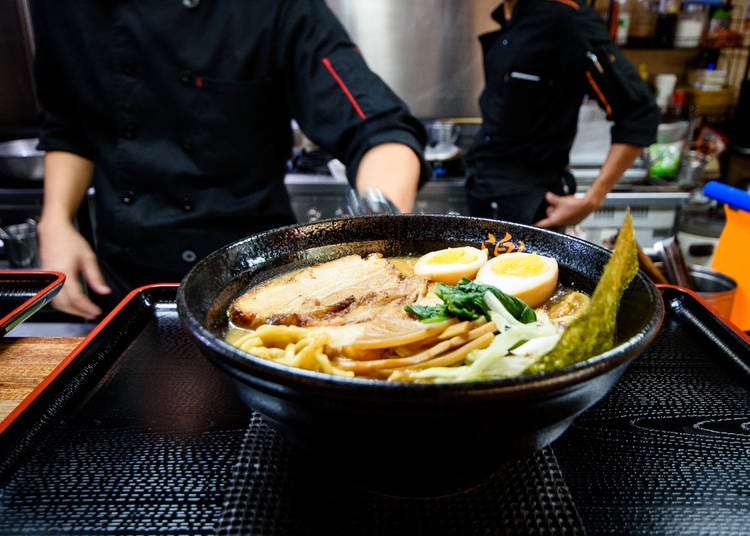 Ramen first came to Japan from China, going through further development throughout the ages to become the national dish we are familiar with now, well-loved by both local Japanese and international visitors.

Many tourists make it a goal to try this dish at least once during their Tokyo trip, and we have to say it's a decision we absolutely support!

Now, it's good to remember that not all ramen stores are created equal. Each store will have their own special broth that goes beyond the standard ramen flavors of shoyu (soy sauce), miso (fermented soybeans), shio (savory), or tonkotsu (pork bone).

That's not all - noodle thickness, noodle toughness, soup richness, toppings, and other ingredients may influence the dish's overall taste as well. There are about 4,500 ramen shops in Tokyo alone. It certainly wouldn't be a stretch to call this city an intense battlefield between ramen titans!

Right in the heart of Shinjuku, conveniently accessible from Tokyo is the Tokyo Tonkotsu Ramen Bankara - Shinjuku Kabukichō Store, a ramen restaurant renowned for the full flavor of its ramen broth. You may also have heard of Sugoi Niboshi Ramen Nagi - Shinjuku Golden Gai Main Store. This store's specialty is their unique niboshi, or dried sardines broth. If you happen to be in electronics and anime paradise Akihabara, don't pass up the chance to drop by Tanaka Soba Shop and enjoy some ramen with an exquisite soup base that was boiled with stringently selected pork bones for 60 hours! And the queue snaking out of Motenashi Kuroki, a restaurant that was featured in the Michelin Guide is the best proof of how delicious their ramen must be.

These are just a small selection of ramen restaurants using their own recipe to serve up special flavored ramen for their customers. Don't be afraid to go forth and discover your own favorites!
7. Ameyoko: Treasure-hunting at Ueno's budget-priced shopping street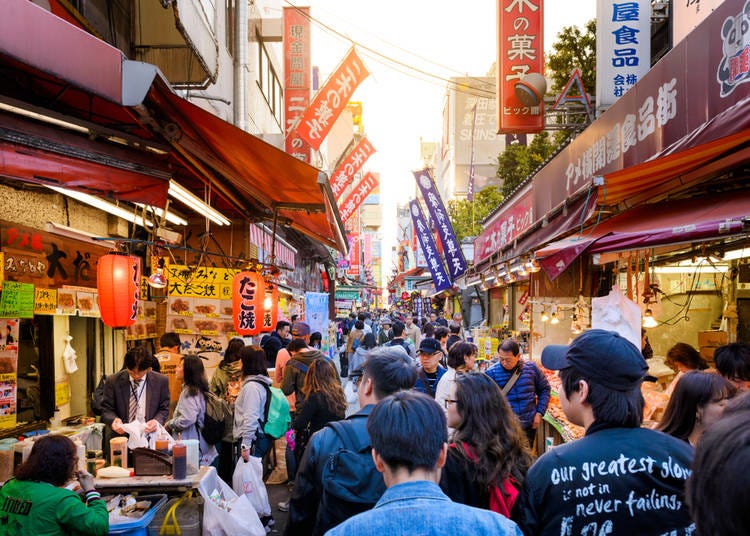 Ameyoko, or Ameya-Yokochō refers to a 500 meters (about 1,640 feet) long shopping street stretching from JR Ueno Station to Okamachi Station. It has its origins in a "black market" of illegal trading during the period after World War II when goods and necessities were in short supply. Now, the area is packed with shops selling all types of products like fresh fish, provisions, candies, food and drinks, street food, clothing, shoes, cosmetics, toys, games, and many more.

You really can't understand how amusing it is to see shops of vastly different categories stacked tightly against each other until you actually behold the scene yourself. Of course, the single most attractive feature of this shopping street that draws flocks of deal-seekers to it is the low, low prices being offered for goods on sale.

Some products can even be going at an incredible half-off! If you fancy yourself a competent treasure hunter, this is the THE shopping street you simply cannot miss. When you're too tired from all the walking to carry on, take a breather at Ueno Onshi Park just next-door and let nature refresh your harried senses for the next leg of your journey.
8. Harajuku Takeshita Street: Dive headfirst into Japan's kawaii (cute) subculture for an immersive local experience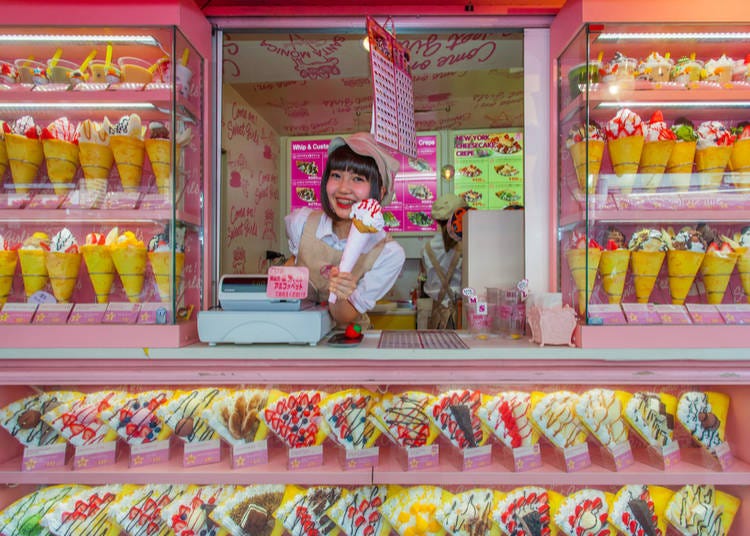 Image credit: StockStudio / Shutterstock.com
Harajuku is the favorite gathering place of many youngsters and the birthplace of many of Japan's interesting subcultures. One of it is the kawaii, or cute subculture that can be clearly seen in Takeshita Street, about 350 meters (about 1,148 feet) away from JR Harajuku Station on the main street.

Lined up along the roads are clothing stores, accessories, provisions and other kawaii items designed to appeal to the hearts of young women. This is also where you can find crowds of cosplayers - fans who dress up as characters from their favorite media series - having the time of their life playing their chosen characters in public.

As you meander around admiring the sights, you'll eventually pass by one or two colorful crepe or pancake stalls that look like they've walked straight out of an amusement park. Don't worry, though, because all of them taste as heavenly as they are flamboyant. Some might even venture to call these colorful treats authentic Harajuku specialty food!

For the full Harajuku pop culture experience, however, step into Kawaii Monster Cafe, a cafe that embraces the fashion and culture most distinctly represented internationally by Harajuku Pop Princess Kyary Pamyu Pamyu, and bask in its unabashedly florid decor.
9. Hachiko Statue: The symbol of Shibuya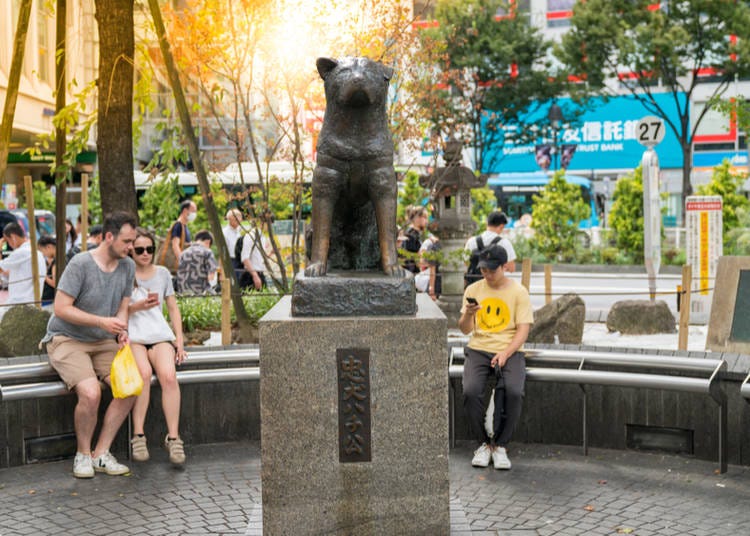 Image credit: canyalcin / Shutterstock.com
The statue of the ever-loyal Hachiko is as much a symbol of Shibuya to local Japanese as the scramble crossing is.

Ever since his heartrending story was adapted into the Hollywood film, "Hachi: A Dog's Tale", even foreign visitors to Japan are now familiar with his name and history. The Shibuya Station exit nearest to the plaza where the statue is located even has the nickname of "Hachiko Exit".

The plaza with the statue is a high-traffic area connected to the Shibuya scramble crossing and is often used as a landmark for meetups. So if someone tells you, "See you in front of Hachiko!", you know where to find them!

Till this day, Hachiko continues to face the station's exit, loyally waiting for his master to return.
10. World Heritage Site Mount Fuji: Did you know you can see it from Tokyo too?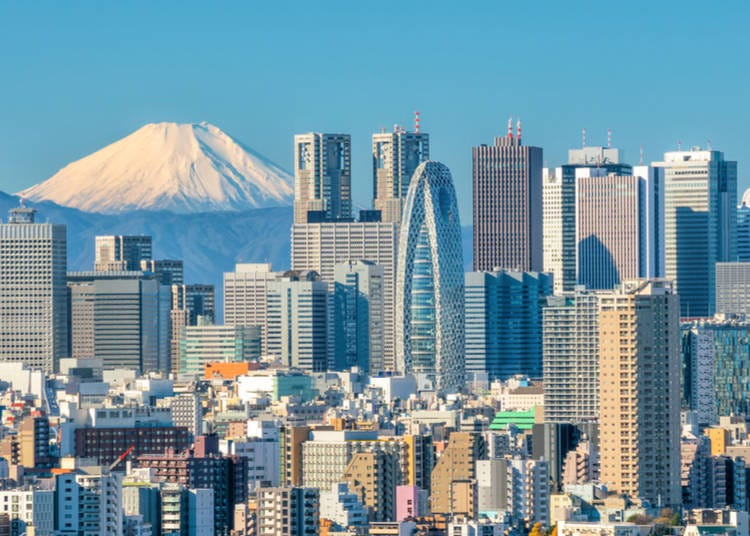 As the highest mountain in Japan with an altitude 3,776 meters (about 12,388 feet) and a registered World Heritage site, Mount Fuji's ethereal form has captivated the hearts of many from since times of old. Did you know you can actually catch a glimpse of it from within Tokyo as well? When the sky is clear during winter, there's a very high chance that it will make an impressive appearance in the backdrop of Tokyo's skyline.

Where to enjoy stunning views of Mount Fuji from within Tokyo:
●Tokyo Tower
Tokyo Tower is a better choice than Tokyo Skytree if all you want to do is try to catch Mount Fuji, as it is physically closer to the mountain.

●Haneda Airport International Passenger Terminal
The observation deck on the fifth floor of Haneda Airport has a "Fujimidai" viewing platform well-known for offering a fantastic view of Mount Fuji from afar. There are no tall buildings around this area, so you'll be able to gaze at the beautiful mountain peeking out from above Tama River or the tracks of the Tokyo Monorail!
11. Ginza: Luxury shopping at Japan's premium downtown district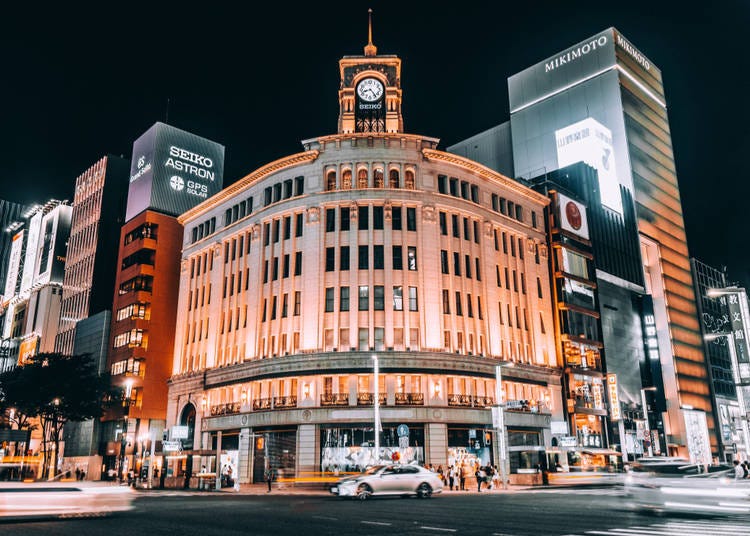 Image credit: Food Travel Stockforlife / Shutterstock.com
Looking to indulge in some classy architecture, high-end luxury brands, and fine dining? Ginza is the place to set your sights on.

It's a good mix of old-time, traditional establishments with newer shops featuring the latest trends makes for interesting window shopping. When people think of Ginza, they usually think of major and established names like Ginza Mitsukoshi, Wako, or Matsuya Ginza, and for good reason, since these department stores have long served as symbols of Ginza to the world.

Many of Ginza's shop staff can speak foreign languages, so don't be afraid to do your shopping here even if you don't know a lick of Japanese. On Sundays, Chuō-dōri, Ginza's main street transforms into a pedestrian's paradise, adding to the usual hustle and bustle.

Wandering aimlessly down the streets of this posh downtown district will certainly be a memorable experience for first-time visitors to Japan.
12. Backstreet Bars: Travel back in time to a Tokyo of a different era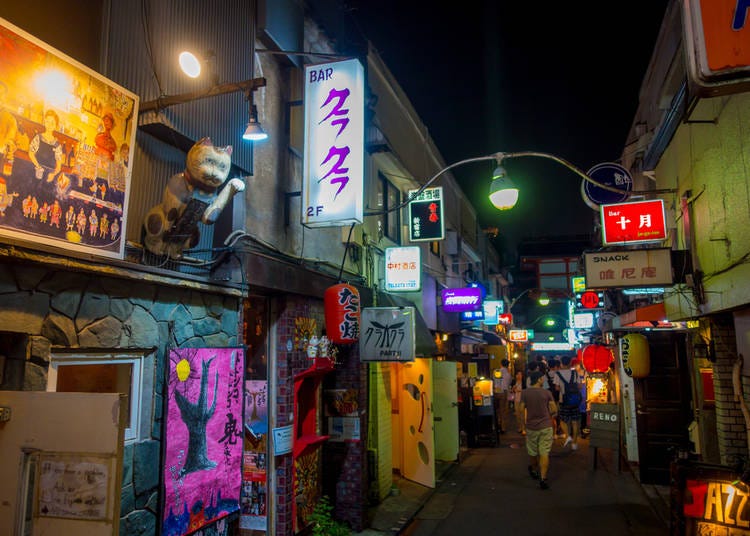 Image credit: Fotos593 / Shutterstock.com
Lately, the city's backstreet bars reminiscent of Tokyo from the good old days have been seeing a resurgence in popularity among the younger crowd. The melancholic air that these alleyways exude belie the good food and even better alcohol being offered by the many holes-in-the-wall there. This is where you can find a streetscape that is uniquely Tokyo and intoxicate yourself in some good ol' human touch.

■Golden Gai
In the nooks and crannies of Shinjuku Golden Gai, away from its clamor and bright neon signboards, are where you'll find alleyways of wood and timber housing more than 200 bars tightly pressed against each other. From slightly dubious joints to businesses with more mainstream appeal, this is the best way to really dive deeply into Tokyo's night life culture. The alleyways have been seeing more foreign tourist traffic in recent years and captivating more and more people with its unique charms. But don't just take our word for it - hop between a few bars and judge for yourself whether the food and drinks here live up to their hype.

■Yūrakuchō Under-Girder
Yūrakuchō is mainly known to be an office district with frequent pockets of commercial spaces. Beneath the girders of the elevated train tracks stretching from Shinbashi Station (JR Line) to Yurakucho Station (JR Line) is one of these commercial spaces. The area is packed with all manners of Japanese bars, from the budget bars with Showa era-ish (1912 to 1926) decor to Yakitori Alley, a little street with bars that also have yakitori, or skewered chicken meat on their menu. Plenty of tourists visit this area as well, so this will be an easy spot for first-time international visitors to blend right in. Enjoying your food and drinks along with the slight vibrations of the girder as trains noisily pass through the tracks above is a one-of-a-kind experience you won't find anywhere else.

■Kichijōji Harmonica Alley
Walk out of Kichijoji Station, which is about 15 minutes away from Shinjuku Station (JR Line), and you'll find yourself in a trendy district with a distinct flair. Right away, you'll be able to slip into narrow alleys crammed with charming bars, collectively known as Harmonica Alley. Fancy an authentic old-time Japanese bar experience? Check! Feeling like lounging in a stylish western-style pub? They've got your back! With about 100 different little shops to choose from, it won't be difficult to find something that catches your eye - and tongue! Bar-hopping in the retro atmosphere at Harmonica Alley will be a great way to experience Tokyo as well.
13. Japanese Gardens: Beauty that is subtle yet splendid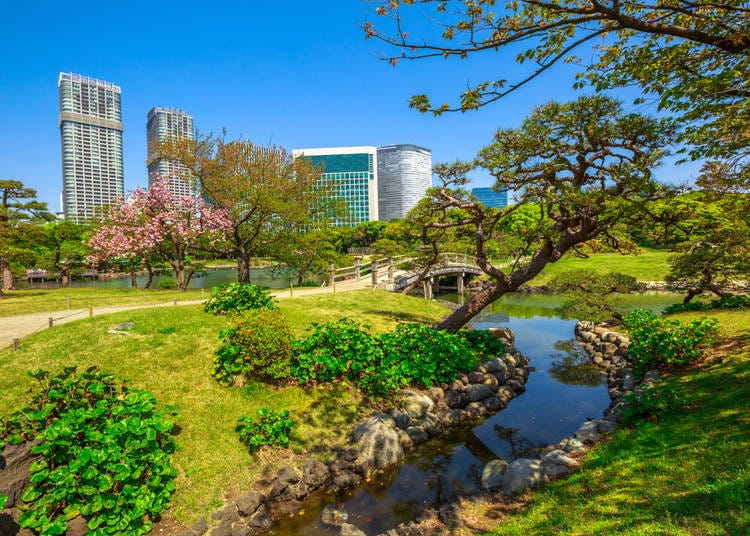 Nature isn't what most people come to Tokyo for, but you might be surprised to learn that plenty of natural sights still remain in this modern metropolis. Our recommendation for first-time visitors to Tokyo is the Japanese-style gardens. Often carefully planned and created with large spaces, bodies of water, and elevated hills in mind, you have our word that strolling through these parks that can only be found in Japan will absolutely be intriguing enough to occupy some space in your itinerary!

●Hamarikyu Gardens
Created by the Tokugawa Shogun family during the Edo era (1603 to 1868), one of the more curious facts about Hamarikyu Gardens is how it used to be a duck hunting grounds for the Shogun family. The pools here are filled with water from Tokyo Bay and many people gather here to admire blooming sakura in spring or fall colors in autumn.

●Kyu Shiba Rikyu Garden
A cozy little spot that contains all four major elements of a Japanese garden - water, stone, cultivated plants, and natural sights. Its historic status makes it an appealing destination for fans of the Japanese garden aesthetics.

●Rikugi-en
Its large lake is this garden's preeminent feature, and in the middle of that body of water is a raised embankment simulating a mountain and waterfall. There's also an arbor there for those desirous of a handful of rest. Viewing the garden from different angles reveals different scenes that are equally mesmerizing - really the best way to fully experience this beautiful garden!
14. Jinbōchō: The district of books and curry...wait, what?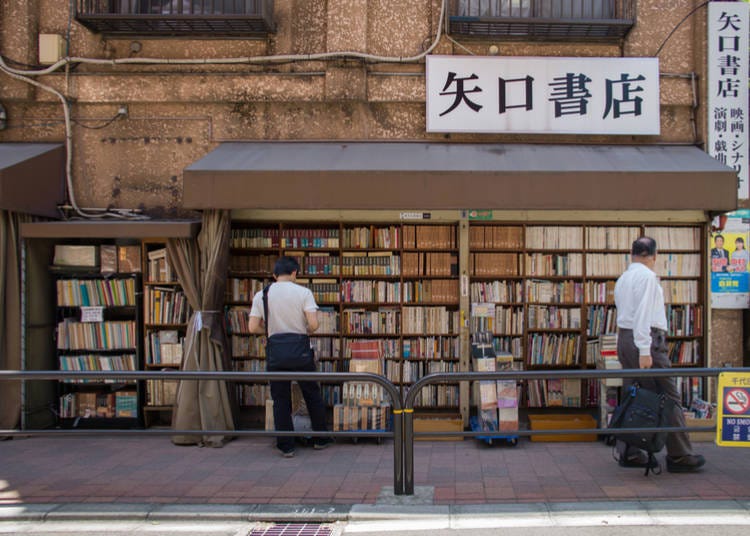 Image credit: gary yim / Shutterstock.com
Jinbōchō has been home to many publishing houses and universities since olden times, and that sparked a bookstore boom here around the year 1877, with shops offering both new and secondhand books for sale mushrooming to cater to the growing student population.

Now, the area is known as a book district. The many bookshops here deal with all sorts of subject matters - specialist books, cult classics, magazines, and some even sell movies! Just glancing around the area is enough to tickle anyone's intellectual curiosity.

What about the curry, though?

Well, it just so happens that curry can be easily eaten with just one hand while your other hand is holding a book that's hard to put down, right? That's why curry is highly valued in this book district and the reason the curry here is popular among locals as well.

Curry Bondy is one of the restaurants in Jinbōchō that prides itself on having served up original western-style curry for years to rave reviews.

Books and curry - an unorthodox pairing, to say the least. But that's also exactly why it's an activity you need to try for yourself if you manage to drop by book town Jinbōchō during your Tokyo travels!
15. Edomaezushi: Unbeatable top-grade sushi at its place of origin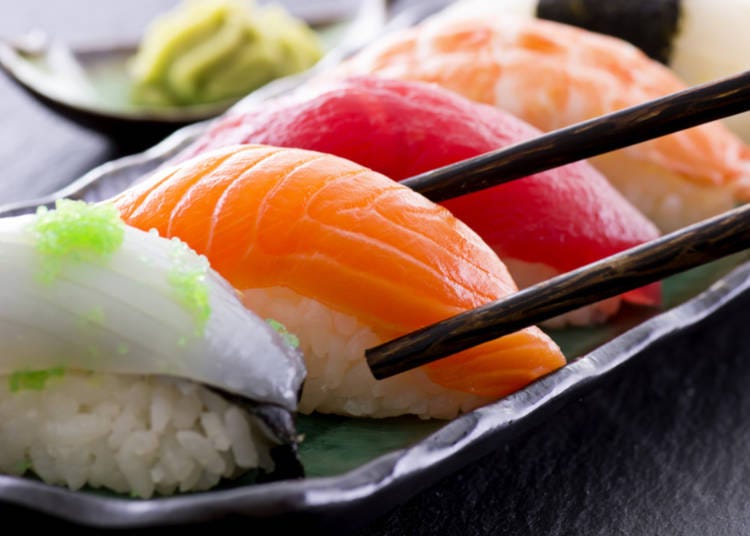 The little Japanese meal of sushi has taken the world by storm, so much so that the word "sushi" is an official entry in most English dictionaries nowadays. Since you're visiting Tokyo, why not seek out some authentic edomaezushi, or to be specific, sushi made with fresh ingredients from Tokyo Bay, for the full local experience? This is an excellent opportunity because there are plenty of sushi restaurants in Tokyo - from the high-end to the low-cost - both equally enjoyable according to your budget and preferences!

Sushi Ryusuke at Ginza, for example, only procures the best quality ingredients and offers you a calm and quiet space for relishing the best Tokyo has to offer in terms of sushi. For the more budget-conscious, Edomae Sushi Hattori in Roppongi also serves up edomaezushi at incredibly reasonable prices for the crowds of tourists that flock to it.
16. Hitomakumi: Watching just one act of a Kabuki performance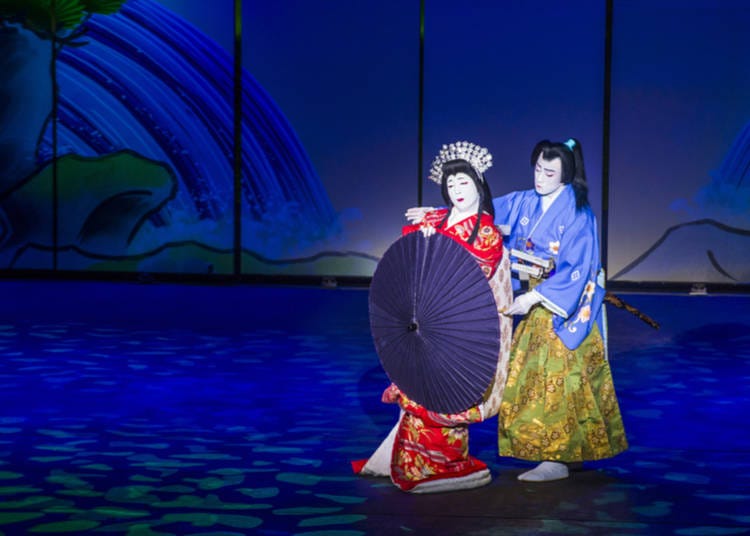 Image credit: Kobby Dagan / Shutterstock.com
Kabuki is a traditional Japanese performing art that has gained global prestige over the years, and Ginza's Kabuki-za Theater is where you want to go to appreciate this art in its finest form.

Each performance consists of a number of acts, and to view them all you'll need to set aside at least half a day! To better fit this cultural experience into your busy itinerary, however, we highly recommend you try a hitomakumi, or single-act viewing. This will take only one to two hours depending on the act you choose to watch.

Some performances have English commentary, so if that would enhance your experience, look up the show times before buying seats! Even if you eventually decide not to watch the performance, the souvenir shop and gallery are always free to enter.

Be sure to make plans to visit Kabuki-za Theater - the only specialized kabuki theater in the world - for an immersive Japanese cultural experience.
17. Kappabashi-dōri: Professional kitchenware and plastic food samples galore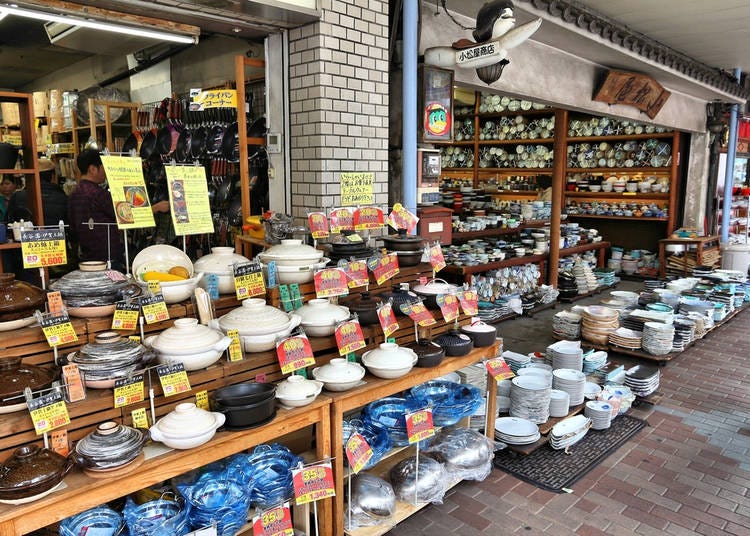 Image credit: Tupungato / Shutterstock.com
Here's something that's not quite the standard tourist fare. Kappabashi-dōri is the best utensils town in Japan, with about 190 specialized shops dealing with professional-use items that are indispensable to a complete restaurant kitchen, like cookware and eating utensils - all proudly displayed in huge stacks outside the shops alongside signboards often used by restaurants.

This street shows yet another side to Tokyo that stands out from most of the rest. Local Japanese master chefs are regular patrons of the area as there are plenty of shops here selling a wide variety of Japanese kitchen knives and utensils.

The town is also known for producing plastic sample foods that look just like their real counterparts. For a fun exercise, mix-and-match these sample foods and see if you can create a meal that you've never seen before! Besides what we've already mentioned, you can also find a battalion of amusing souvenirs that are uniquely Japanese, like sushi earrings and Japanese confectionery magnets!
18. Cruise Ships: Gaze at a slightly different Tokyo from atop its waters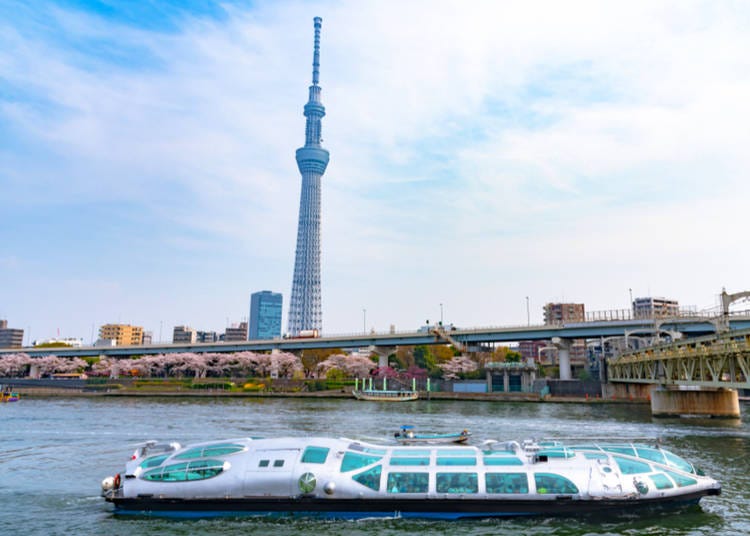 Image credit: Shawn.ccf / Shutterstock.com
There are plenty of cruise ships and water-buses operating on the waters of Tokyo. Although trains and buses are the more convenient forms of transport on land, try out one of these water vehicles to look at familiar sights of Tokyo from a completely different point of view!

●Tokyo Bay Cruise
Courses for this route will take you through Tokyo Bay under the symbolic Rainbow Bridge, where you'll catch a glimpse of Odaiba from the sea. Enjoy a snazzy lunch or dinner on board the restaurant ship Symphony while taking in the sights of a slightly different Tokyo!

●Sumidagawa Cruise
This cruise takes you from Asakusa to Tokyo Bay on a water-bus, passing by landmark sites like Tokyo's new symbolic SkyTree and the Edo era legacy Hamarikyu Gardens in quick succession for a full sightseeing experience that's easy on your time.

●Yakatabune
Yakatabune means "house-shaped boat", and this is an apt name for a ship that was built with a house-like roof and traditional tatami mat rooms, where the passengers on board go to relish their meals and the occasional banquet. The ship served as a sightseeing ship during the Edo era, and the distinct olden air it still gives off is something worth experiencing at least once.

●Nouryousen Cruise
Similar to the Tokyo Bay Cruise, this booze cruise happens in the evenings from early summer, departing from Takeshiba Terminal. Guests are treated to an all-you-can-drink event while the large liner slowly makes its way in a large circle around Tokyo Bay. (Insider tip: wear a yukata and get a discount!)
19. Hanami: Intoxicating yourself with breathtaking views of beautiful sakura flowers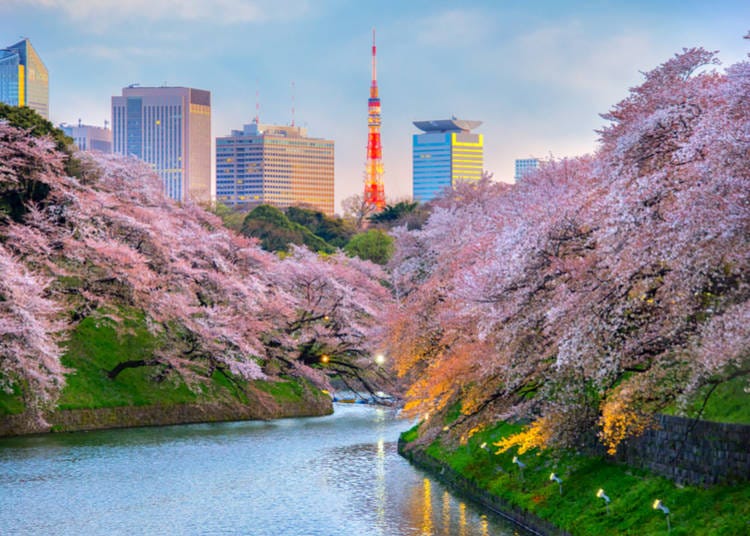 Sakura, or cherry blossoms add a beautiful shade of pink to Japan every spring, so if you're visiting during this season, be sure to include a session or two of hanami, or sakura viewing into your plans! Well-known sakura spots will be painted pink and teeming with appreciative sakura admirers. Whether you prefer to look at the pretty petals under a clear, blue sky during the day or framed by electrifying illuminations at night, there's something for every preference here as well.

<@●Shinjuku Gyoen National Gardenb@>
This national park is easily accessible from Tokyo's metropolitan areas, and its large premises contain about 65 different species of sakura and an estimated 1,100 sakura trees. This is an easy spot for some casual sakura viewing for sure!

●Ueno Park
A well-known sakura spot since the 16th century, the park also houses cultural buildings like a museum and zoo on its grounds, making it a suitable venue for family outings.

●Chidorigafuchi
Located northwest of the imperial palace, Chidorigafuchi is where you can stroll down a street lined with about 1,000 sakura trees on both sides. The reflection of these sakura trees on the river's waters is a sight worth checking out as well.
20. Life-size Gundam: The new icon of Odaiba!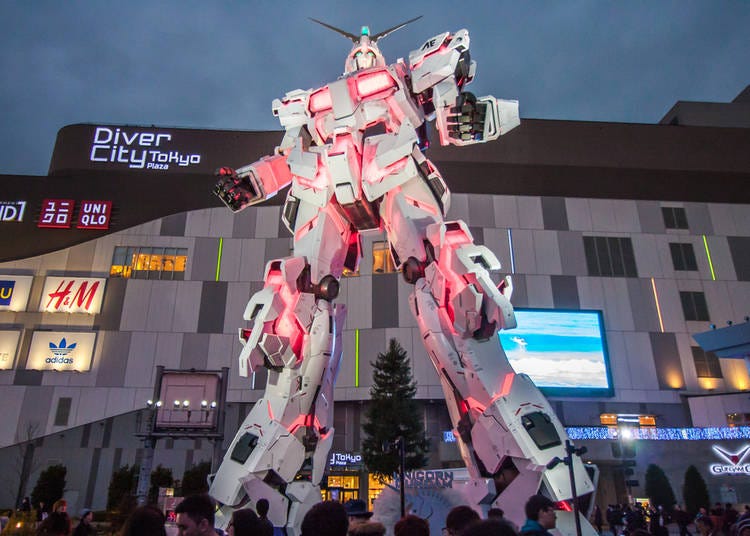 Image credit: Meaw Mocha / Shutterstock.com
"Mobile Suit Gundam" is a sci-fi Japanese media series that has loyal fans of all ages from around the world, and many of them aspire to make a trip to the Gundam Base Tokyo, an integrated facility found inside Odaiba's Diver City Tokyo with Gundam plastic models as their main draw.

The life-size Unicorn Gundam just outside the building that was recently built also attracts plenty of eyeballs from fans and regular tourists alike. Depending on the time of the day you're there, the mobile suit may also change forms or be lighted up, so whether you're a fan of the series or not, it's an amazing sight worth seeing with your own eyes if you're around the area for sure.
21. Peak Hour Rush: Hop on a fully-packed commuter train during morning rush hour - yes, really!
Tokyo's peak hour commuter trains hold the infamous national record for the highest human congestion rates - rates that are considered the highest in the world as well. Passenger capacity can go up to 200% during peak hours and this intense scrambling doesn't ease up for a sustained period of time.

However, one of the identifying features of Japanese trains is that no matter how crowded they may be, the carriages are always peaceful and quiet. The bemusing sight of large groups of men in suits quietly and expressionlessly holding on to the handrails as they ride to their destinations must be quite an unusual sight for visitors both from other parts of Japan and the rest of the world.

Since you're in Tokyo, it would behoove you to get an up close and personal look at this unique facet of Japanese culture by stepping into a peak hour train and experiencing the crunch for yourself. That is, if it's something you would want to do, of course!
22. Meiji Shrine: A solemn spiritual experience that makes you forget the commotion of city life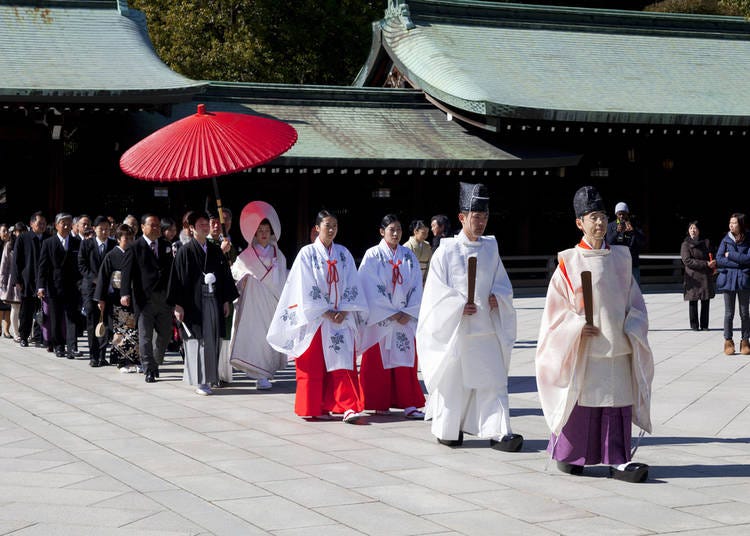 Image credit: ben bryant / Shutterstock.com
Meiji Shrine was established in the year 1920 by Emperor Meiji enshrining his wife, Empress Shōken. Its spacious premises teem with lush greenery, making it an oasis in the city.

In Japan, there is a custom called hatsumōde where people journey to a temple for the first time during a new year to pray for good luck for the year ahead. Meiji Shrine holds the record for the most number of hatsumōde visitors at 10 million, marking it as the most popular temple for hatsumō in Japan.

Passing through the giant wooden torii, or temple gateway, settles your mood and envelopes your temple pilgrimage in an air of mystique. After paying your respects, feel free to obtain a wishing wooden tablet and protective charm, or try to divine your luck by drawing lots.

If you're there at the right time on the weekends, you may even get to see a traditional wedding being held near Meiji Shrine's main building. This may be your only chance during the trip to see how Japanese weddings and carried out, and hopefully catch a glimpse of the beautiful bride in traditional garb as well!
23. Omotenashi: Japanese-style service that's full of warm hospitality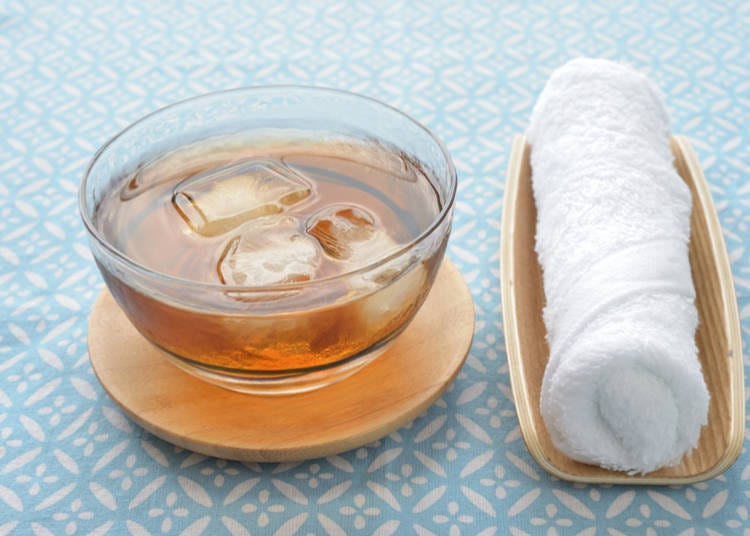 During the bidding for Tokyo Olympics, omotenashi, or Japanese hospitality that prides itself on going above and beyond for guests, was a subject oft brought up. It is the Japanese way to always consider the feelings of the other party before deciding on a course of action.

Being meticulously mindful of others is a custom that is basically ingrained in every Japanese person's cultural DNA. As such, some of the service local Japanese have come to view as normal may pleasantly surprise foreign visitors.

Now, that's the kind of omotenashi we're hoping you'll get to experience! It's nothing grand or dramatic - perhaps as simple as a warm greeting by a convenience store staff who goes on to separate your purchases into two bags for hot and cold items.

Careful consideration of even minor details that will contribute to a more pleasant daily life can be said to be the bedrock of Japanese culture. So don't forget to get out there and enjoy this unique brand of Japanese hospitality as you work through your Tokyo travel plans!
24. Ueno Zoo: Have a date with the adorable pandas here!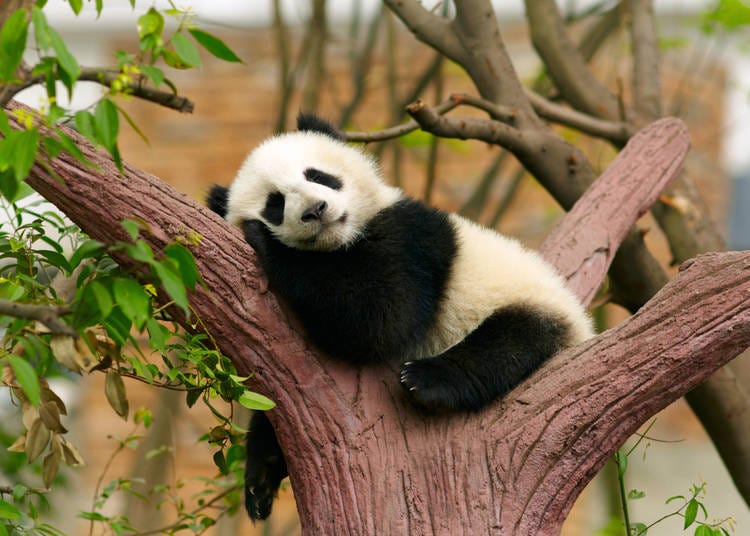 Ueno Zoo is known throughout Japan as the "zoo with pandas" ever since the first one arrived from China in 1972.

Did you know that it was also the first zoo to open in Japan? The large grounds are split into east and west sections and about 450 species are being kept here, with a total head count of about 3,000 animals in all! Exotic animals like the Aye-aye are popular among visitors since they can't be seen anywhere else.

Can't get your fill of the giant panda's adorable antics? Look around for shops in the zoo or around the Ueno Station area for panda souvenirs, sweets, and other related merchandise that you can buy home for daily appreciation!
25. 100 Yen Shops: High quality daily necessities at rock bottom prices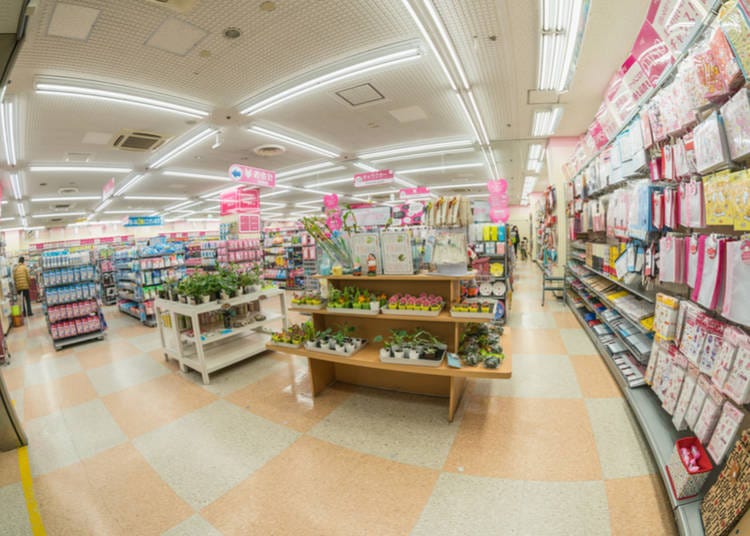 Image credit: Tooykrub / Shutterstock.com
You'll find a lot of 100 yen shops everywhere around Tokyo, selling all sorts of essential goods. Wildly popular among local Japanese for being a one-stop shop for daily necessities, these shops have recently garnered a large following among foreign tourists as well.

And it helps that their Japanese-style products, from writing paper to stickers, mugs, folding fans, plush toys, and others are perfect to bring home as made-in-Japan souvenirs as well. This is where you'll also find plenty of surprisingly high quality convenience goods like makeup items and stationery products for sale at incredibly low prices!
26. Sumo Wrestling: The national sport of Japan!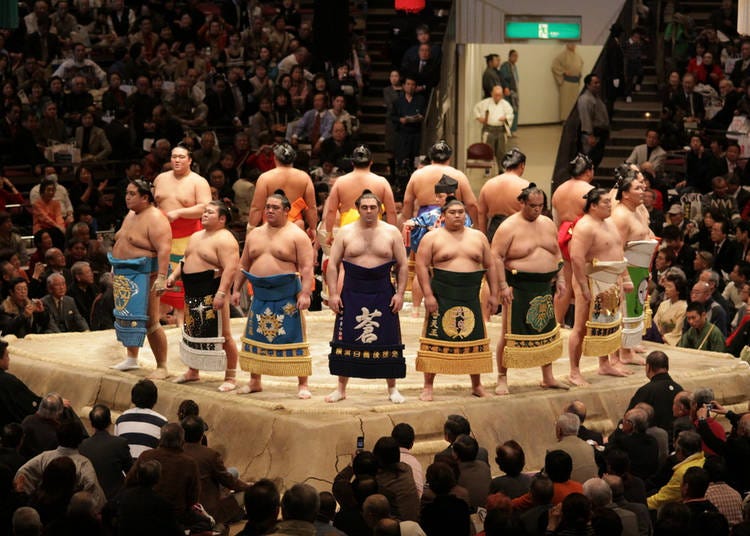 Image credit: J. Henning Buchholz / Shutterstock.com
Sumo is both a Shinto event and Japan's national sport, and the sacred sanctuary of this activity - Ryōgoku Kokugikan, or Ryōgoku Sumo Hall - is located in Ryōgoku, Tokyo. The imposing building is impossible to miss after exiting from the train station.

This is the stadium where honbasho, or official sumo tournaments are held in the months of January, May, and September after the wrestlers have done their annual tours around the country. Fans flock to the arena on those months, adding an air of festive cheer to the area with their fervent support of the sport.

Watching rikishi, or sumo wrestlers clash against each other atop the sumo ring for dominance is the highlight of each tournament, and this is the only place where you can get to feel that infectious excitement in person!
27. Tsukishima: Best place for monjayaki (pan-fried batter) from historical restaurants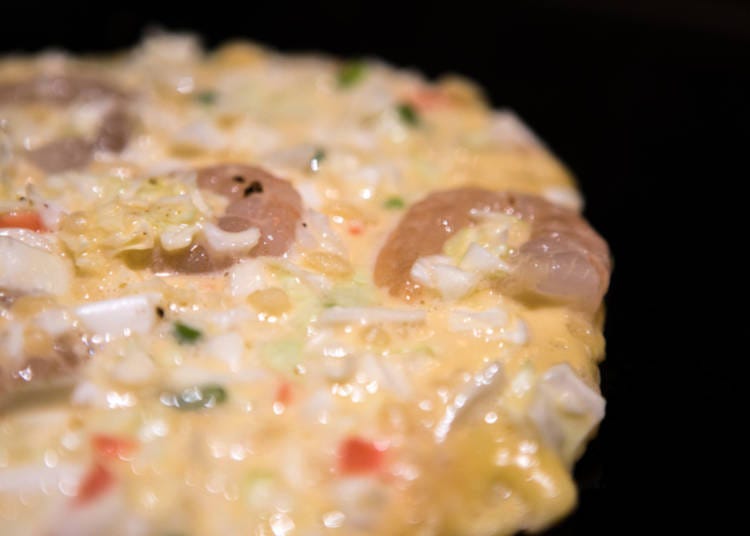 Each region in Japan has a local specialty food that it is most well-known for, and Tokyo's soul food is none other than the versatile monjayaki, or pan-fried batter! Made of wheat flour and finely chopped cabbages, the dough is dissolved in water and poured out on a griddle, then shaped with a spatula and seasoned with sauce until cooked.

Toppings can include seafood, cheese, mochi (sticky rice cake) - basically anything you want. The ability to customize the batter to suit your palate is what has endeared this dish to many locals from past to present, and the ability to personally cook the batter on the griddle has added to its fun and appeal!

Tsukishima's central ward in particular has the name "Tsukishima Monjayaki Street" with over 70 shops offering this tasty treat. Each shop has a distinct style and flavor that sets it apart from the rest, so we're certain you'll discover your favorite while strolling down this street for sure!
28. Geisha Makeover: Spruce up your holiday photo album!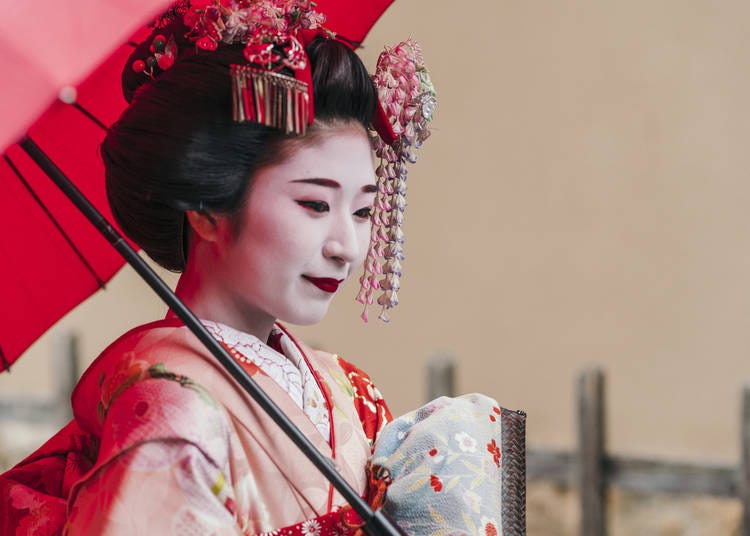 The term geisha was coined during the Edo era, and it refers to female entertainers who are skilled in singing, dancing, the shamisen musical instrument, or other traditional arts. Japan's geisha population has declined significantly compared to its peak during early Showa (1920s), but there are still quite a number of practicing geisha around.

The entertainment district where they operate is called the hanamachi (flower street) and hanamachi can be found in a number of places in Tokyo, namely Mukaishima, Shinbashi, Asakusa, Akasaka, Kagurazaka, and others. You may catch a glimpse of a geisha or two in one of these hanamachi if luck is on your side!

Japan Culture Experience Tours Yumenoya or Studio Nanairo in Asakusa offer makeover packages where they dress you up as a full-fledged geisha for the perfect photo of your Tokyo trip that's sure to bring back fond memories.
29. Unagi Kabayaki: Savor traditional broiled eel loved by locals since the Edo era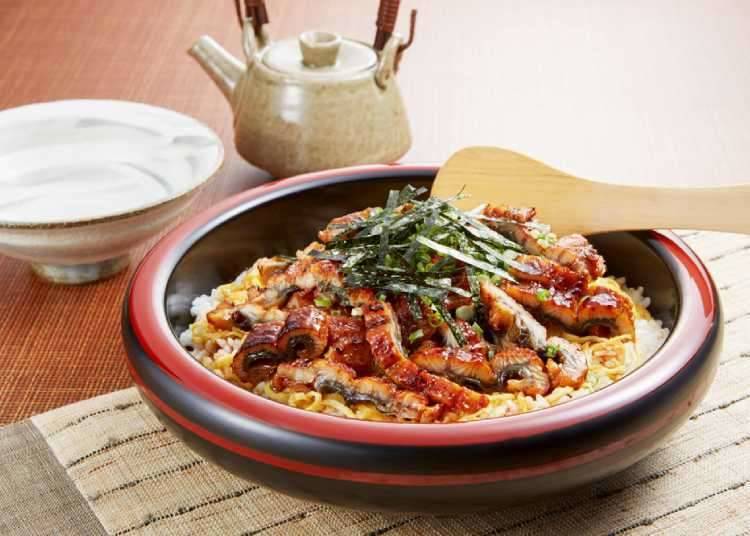 Eel has been used as a food ingredient in Japan since times immemorial. Residents of Tokyo during the Edo era especially loved unagi kabayaki, a preparation of eel that's been deboned and broiled over a grill with a special soy-based sweet sauce. Marine life - including eels - caught fresh from the waters around Edo (former name of Tokyo) came to be called edomae - this is a historical phrase that many Japanese are familiar with.

These pieces of broiled eel go well with plain rice in the form of "Unadon (eel rice bowl)" or "Unajū (eel rice box)", and even modern Japanese consider such dishes to be energizing delicacies, so much so that it's considered tradition to eat eel during the Day of the Ox, which is the start of the summer season.

We would love for you to be able to try this tasty eel dish with its sweet-and-salty sauce specially made with a shoyu (soy sauce) and mirin (sweet rice wine) base.
30. Yanesen (Yanaka / Nezu / Sendagi): Appreciating Japan elegance from an older time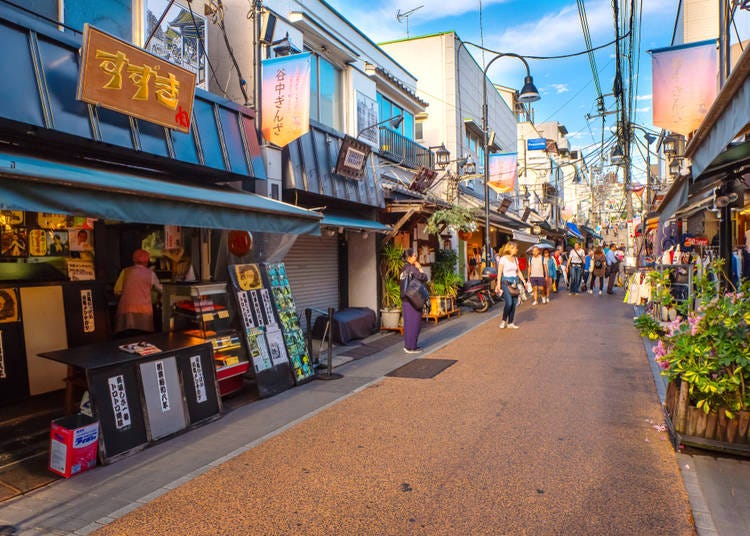 Image credit: cowardlion / Shutterstock.com
Yanesen refers to the lower town area between the eastern edge of Bunkyō Ward to the western edge of Taitō Ward in Tokyo. It encompasses through areas with historic flavor - Yanaka, Nezu, and Sendagi, taking its moniker from the first syllable of each name.

Because of the abundance of slopes, alleys, and shrines in this area, it's a popular site for visitors yearning to experience a little bit of Japan from an older time. In fact, there are more than 100 shrines scattered about everywhere here!

Despite usually being grouped together, each of these areas have their own distinct vibe. For example, Yanaka is also known as a cat town; Nezu is where the Shogun's house used to be; and Yasunori Kawabata, Ogai Mori, Natsume Sōseki, and many other novelists called Sendagi home.

One of our top recommendations for activities in the area is the Yanaka Ginza Shopping Street where there are about 70 shops packed together in very close quarters. Experience the effusive cries of lower town merchants trying to drum up business as you walk around the street doing your shopping!
31. Zen Meditation: Cultivating a Zen-like spirit is easier than you think!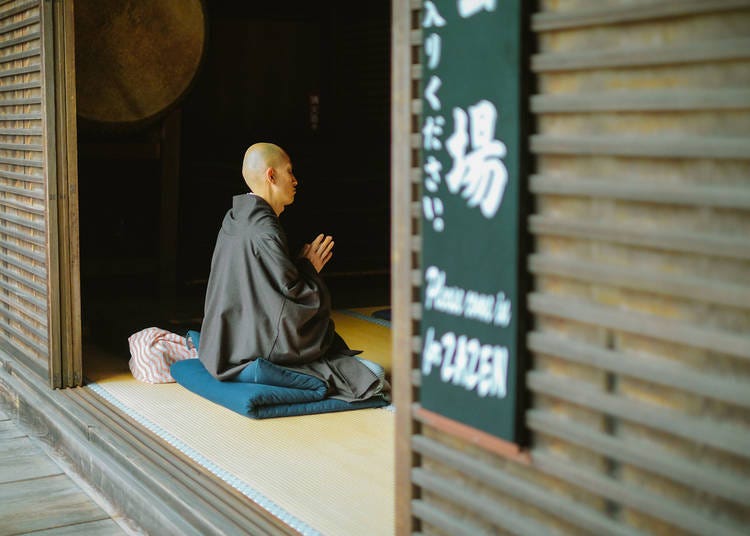 Image credit: julianne.hide / Shutterstock.com
"Zen" is a mentality that has been passed down in Japan from olden times. This refers to a state where someone has eliminated all distractions and is fully focused on a single matter. It is trained by throwing one's entire being into a single activity, whether it be food, cleaning, or something else.

So when one drinks tea in a state of zen, the activity is called sadō, or way of tea. When writing in a state of zen, the activity is called shodō, or way of writing. The most famous activity connected to cultivating the zen spirit, however, is the zazen, which literally means "seated zen".

As its name suggests, this is an activity where someone trains themself to meditate singlemindedly while sitting down cross-legged. Many temples in Tokyo offer zazen sessions for everyone to experience what it's like. For first-timers to Tokyo wanting to take part in something like this, we recommend going to Shibuya Hiroo's Kōrin-in Temple or Shinjuku Kabukichō's Chōkō-ji Temple, due to their ease of access.

Straighten your posture, remove unnecessary thoughts from your mind, and sit down meditatively. As you take the chance to look within, you'll find that facing the person you are inside is always going to be time well spent.

You'll be taught how to cross your legs and some breathing techniques, so don't hesitate to go for a session if you're interested! Maybe there's a new side of you waiting to be discovered!
32. Robot Restaurant: Kabukichō's brand new uncommon visitor spot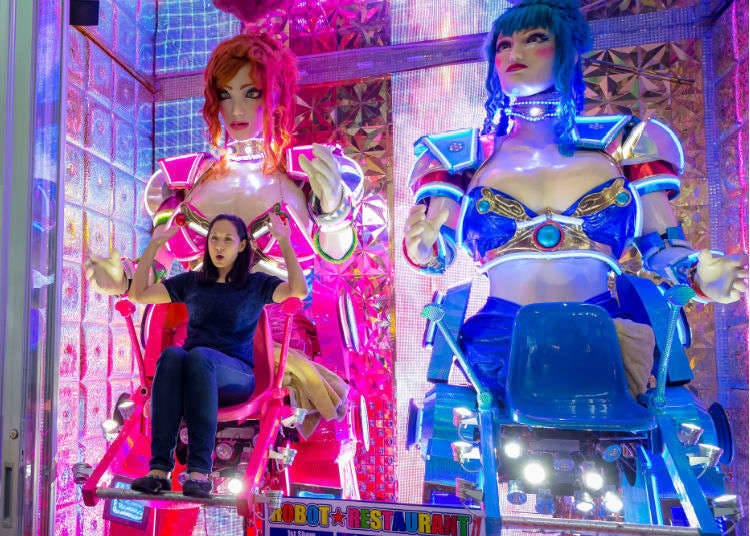 Robot Restaurant's popularity as a night spot providing entertainment has steadily increased since it opened in Shinjuku's Kabukichō in the year 2012.

A large robot sits right next to the shop's entrance, and once you enter the shop proper, it's like you've been transported to a different world altogether. The shop is said to have cost a whopping 10 billion yen to build.

On the third floor is a lounge surrounded by scintillating neon lights, where you can order drinks or purchase souvenirs. The main attraction here, however, is the stage on the basement level. Robots (of course), dancers, and other performers take the stage here day after day, where storytelling, shows, and even parades are held from time to time.

The entrance fee is 8,000 yen, and if you make a reservation ahead of time, you can also get to enjoy some sushi along with the show. This ultimate entertainment venue has been visited by world-famous film directors and actors. If you're in the mood for something completely different, you can't go wrong with the Robot Restaurant!
33. Fireworks: A Japanese summer tradition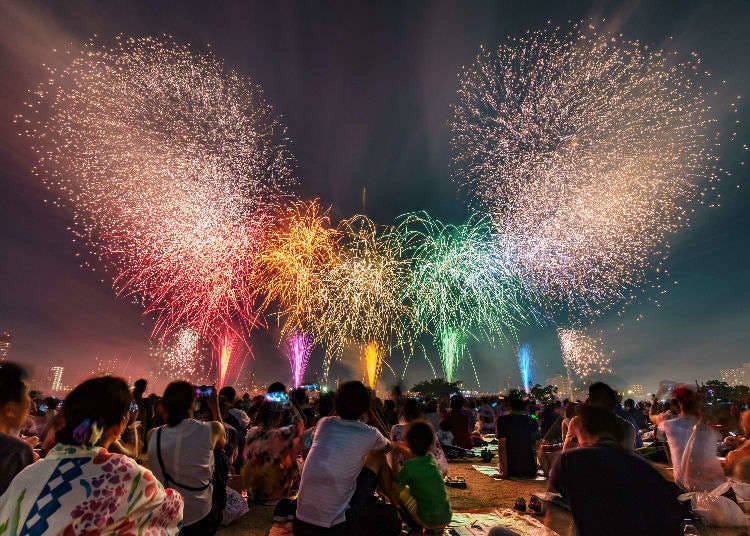 Japan's fireworks technology is lauded as one of the best in the world. The beautiful and delicate round arches that light up the night sky are mesmerizingly memorable. Fireworks displays are held mainly during the months of July and August each year in Tokyo, and this is a major summer event many plan for. If you happen to be in Japan during the summer season, we would highly recommend you seek out and take part in a fireworks display show to see for yourself why these pyrotechnics have captured the hearts of so many despite their fleeting nature.

▪️Sumidagawa Fireworks Festival
About 20,000 fireworks will be blasted into the sky by the time the night is over, above the appreciative eyes of about 750,000 visitors. This is a large-scale fireworks event where foremost pyrotechnicians of the Kanto region compete with each other on skill and technique.

▪️Adachi no Hanabi
This event is the earliest for Tokyo's fireworks festivals. About 13,600 fireworks will be fired in an hour. The main highlight of this event is the world's first "double Niagara" style of fireworks, amongst others.

▪️Exciting Fireworks - Edogawa Fireworks Festival
A fireworks festival that will be held simultaneously at Tokyo's Edogawa Ward and Chiba Prefecture's Ichikawa City. Made up of eight different themes, each with its own background music, fireworks are blasted off in tune with the music, painting the night sky with vivid hues.
34. Asakusa: Feel like an old Japanese soul as you stroll down its traditional streets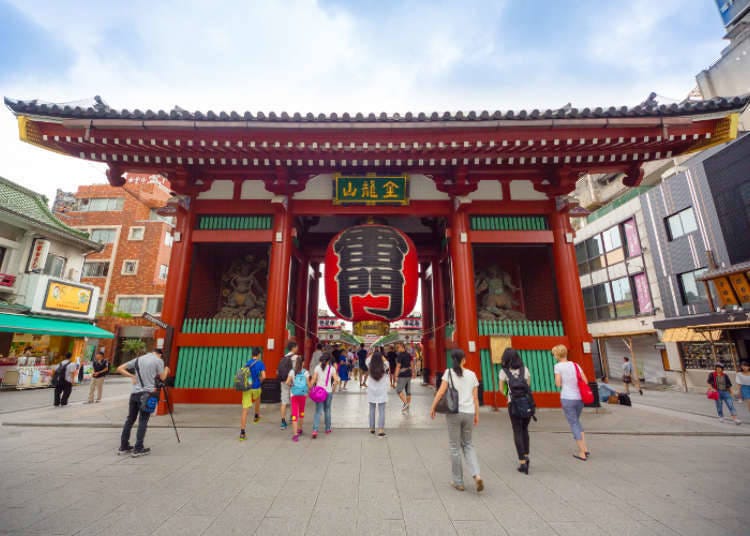 Asakusa prospered during the Edo era which started in 1603 when Ieyasu Tokugawa ruled over Japan, and Sensō-ji Temple was the center of activities back then. It's therefore no surprise to find that many buildings here are still oozing with traditional charm. Asakusa's symbol has always been the large lantern hanging outside one of Sensō-ji's entrance gates, Kaminarimon.

The shopping street that leads from this gate to Sensō-ji proper sells traditional souvenirs of all sorts. Enjoy some good old Japanese gourmet food as you immerse yourself in the Japanese vibe during your stroll here.

Besides new year's hatsumōde temple visit, the temple is often abuzz with festivities passed down since the Edo era, like Sanja Matsuri in spring, Hōzuki Market in summer, Tori-no-Ichi in autumn, and Hagoita Market in winter.

With so many relics from the past still being held in high regard, it's no wonder Asakusa is one of Japan's top tourist destinations for those seeking to come into contact with a more traditional side of Tokyo.

Also consider dropping by Hanayashiki Amusement Park, an establishment with a history of more than 160 years where popular entertainment like rakugo (Japanese sit-down comedy) and stage plays are being held. It's your best bet for a dramatic tale about human nature in the area for sure!
35. Moe: Understanding this unique subculture by visiting the top three anime meccas of Japan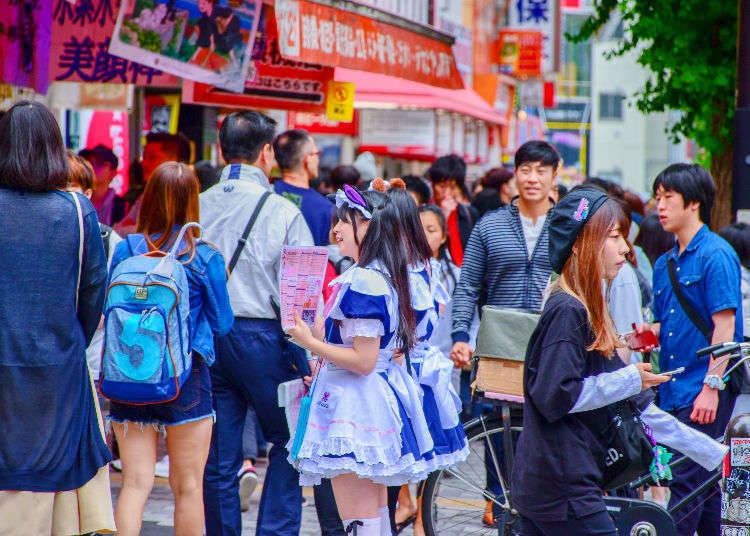 Anime has come a long way and is now fully developed as a uniquely Japanese subculture, and there are plenty of so-called anime mecca to be found within the Tokyo region for fans eager to make a pilgrimage. If you're a fan of Japanese anime, manga (comics), or video games, you won't want to miss making a trip down to Akihabara, Ikebukuro, or Nakano. The abundance of shops catering to fans of all inclinations is bound to further ignite your passion for the hobby!

●Akihabara
This area has developed as an electronics haven since times past, and has earned the reputation for being a street of "otaku (diehard fan) culture" with its focus on anime, manga, video games, idol culture, maid cafes, and other curious subcultures. There are rows and rows of specialized stores retailing goods related to anime, manga, and video games here, and confident cosplayers strutting through the streets all day and night is a common sight as well.

●Ikebukuro
Ikebukuro is home to one of the few large-scale terminal stations in Tokyo that sees the third highest daily ridership in the world. East of that station is what is commonly called eastern Ikebukuro, and the street cutting through this area is known as "Maiden Road". It is believed the main reason behind this name is because the area features more goods and items that especially appeal to the female crowd as opposed to the more male-oriented product lineups in Akihabara. Whether you're a lady who's a huge fan of anime or someone who proclaims to be fujōshi (referring to female fans of manga or anime who are support male homosexual relationships between characters - especially for characters considered bishōnen, or pretty boys), there are plenty of shops here offering anime goods and dōjinshi (fanzines) of all sorts that will surely tickle your fancies. Once you're tired, hop into one of the specialty restaurants nearby, like a butler cafe to rest and recharge. Animate Sunshine - chock full of cosplay shops and cafes - is the landmark building of the area.

●Nakano
The northern area of Nakano is especially characteristic with its subculture specialty stores. At its central is the Nakano Broadway, where you can shop for out-of-print collectibles and the latest and greatest trends taking the world by storm all in the same location. What this means is that you'll have a great deal of fun doing your shopping here whether you consider yourself a subculture fan or not! If you do consider yourself an otaku, then all the more you should consider making a trip down to lose yourself in the dazzling array of shops catering to fans such as yourself. You may even find that one item you've nearly given up on because of how long ago it was put on the market. More than anything else, this is a great place to have fun deepening your knowledge on otaku culture in.
36. Toyosu Market: The new kitchen of Tokyo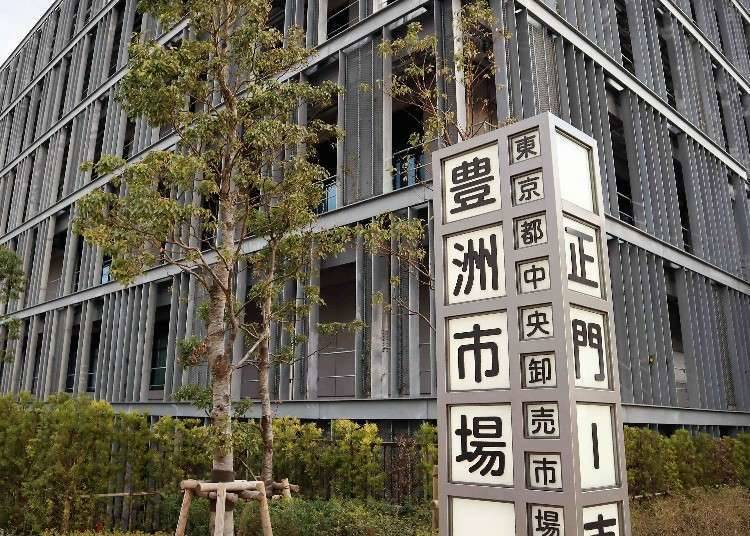 Toyosu Market opened for business in October 2018. The market is equipped to facilitate negotiations between suppliers and restaurants or retail stores, wholesalers, intermediate wholesalers and other industry professionals.

It also offers an observation tour for visitors that allows them to enjoy the sights and sounds (and smells!) of the market from different perspectives. If you're an early waker, you may even be able to observe the intense tuna auctions held in the early mornings.

In Uogashiyokochō, a large shopping street with about 70 shops hawking their wares, you can enjoy fresh seafood while checking out incredibly unusual ingredients and cooking utensils that aren't available for sale at Toyosu Market.
37. Mount Takao: Get in touch with Japan's lush nature as you hike up to the mountaintop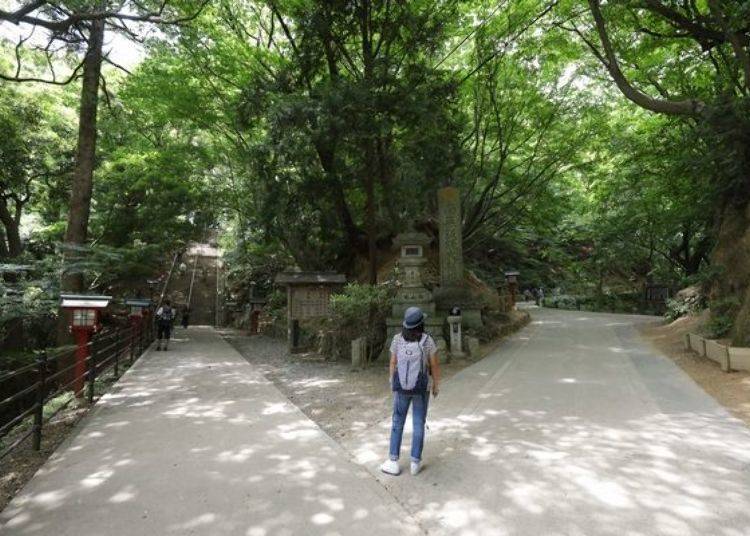 Mount Takao is a relatively small mountain standing at 600 meters (about 1,968 feet) above sea level and is just an hour's train ride from Tokyo. Don't let its small stature fool you, though.

Mount Takao is a popular mountain where about 2.5 million visitors enjoy mountain hiking every year. In the travel guidebook published by Michelin, it debut with three stars in 2007 with a "must-see!" caption. There are a few routes that can take you up to the mountaintop in about two hours.

If you take the cable car or chair lift to the middle of the mountain before starting on your trek, that means you'll reach the top in just an hour! On clear days, Mount Fuji is visible from the peak of Mount Takao. This is an excellent place to get away from the busy city and get in touch with Japan's lush and beautiful nature.
38. Shimokitazawa: Expose yourself to the latest trends in Japanese subculture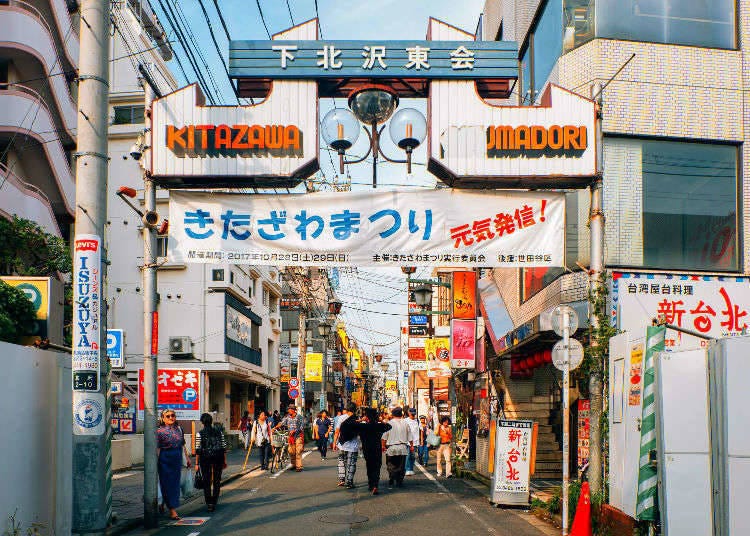 Image credit: MMpai / Shutterstock.com
With easy access from popular Tokyo areas like Shibuya, Shinjuku, and Kichijōji, many youngsters are fond of gathering at Shimokitazawa. The town is, in a nutshell, a town of subculture. To be more specific, this is a town of music, stage plays, and traditional garb where lively commercial areas and serene residential buildings co-exist on the same street and it is known to be the source of many new trends and cultures.

From tightly packed provision shops to charming little cafes, Shimokitazawa is known as one of Tokyo's finest streets for traditional clothes. The area is also lined with plenty of livehouses, large stage theaters, and smaller theaters where events are held on a regular basis. As a town with a high percentage of subculture focus, it may actually understand the current trends of Tokyo a lot better than the more general districts like Shibuya or Shinjuku!
39. Sunshine Aquarium: Is that penguin flying?!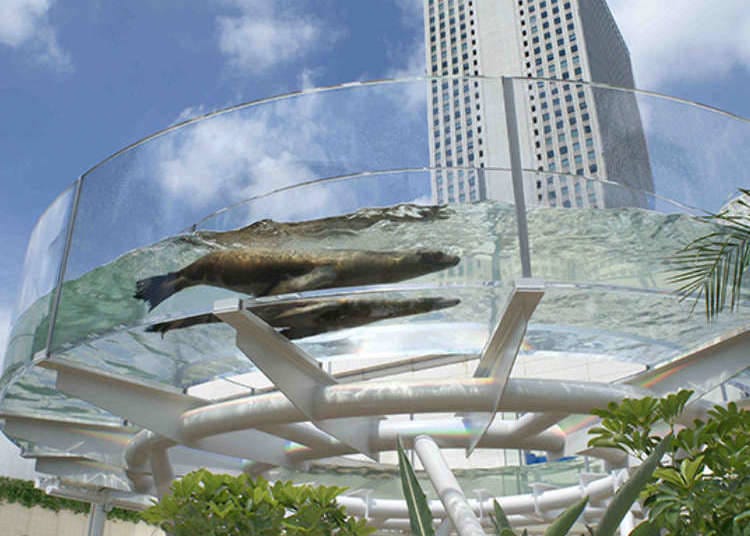 Sunshine City is a landmark shopping complex of Ikebukuro consisting of many different commercial facilities, a planetarium, an observatory deck, and an amazing urban high-rise aquarium on its rooftop (about 40 meters, or 131 feet above ground) called Sunshine Aquarium that's the first of its kind in Japan.

Divided into three major areas - Sky Journey, Waterfront Journey, and Ocean Journey - the aquarium is home to about 750 species, and you'll be able to meet more than 37,000 individual animals like fish, dolphins, and otters. One of its most popular attractions is a large outdoors water tank area called "Sky Penguins".

As they swim about in their tanks above you, it almost seems like they're flying through the air from building to building, making it a great spot for a memorable photograph.
40. Tokyo Dome City: From sports to entertainment, the Dome has got you covered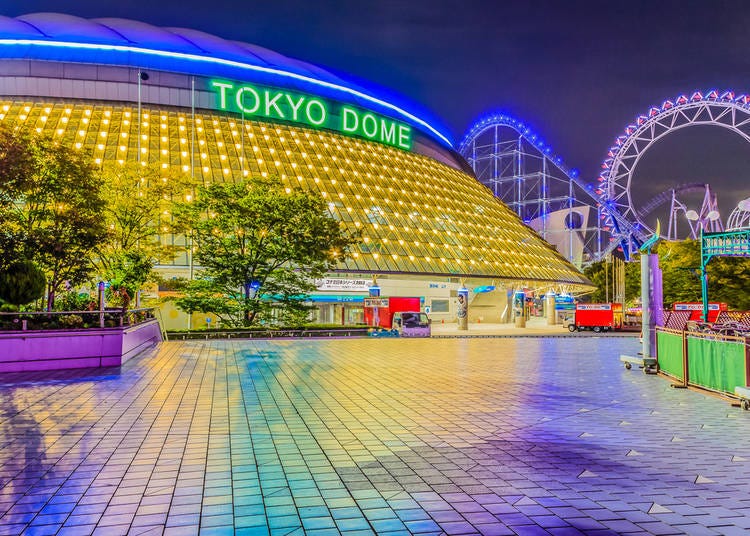 Image credit: Christopher PB / Shutterstock.com
If you happen to be a sports fan, then we highly recommend you make a trip down to Suidōbashi / Kōrakuen Station. Ever heard of the Tokyo Dome? This is the home ground of Japan's representative baseball team, Yomiuri Giants, and you baseball matches are held at the Dome from spring to autumn.

When the stadium is taking a breather from exciting sporting activities, it's also used for other more cultural events like concerts of well-known artistes. Kōrakuen Hall nearby is a gathering place for martial arts enthusiasts where thrilling boxing or professional wrestling matches are being held virtually every day.

The area is surrounded by shopping centers, hotels, amusement parks, and other commercial facilities, so Tokyo Dome City is known as an urban entertainment center by the locals and people from all walks of life visit the area regularly.
41. Sanrio Puroland: A magical place for you to meet that mascot character who originated in Japan!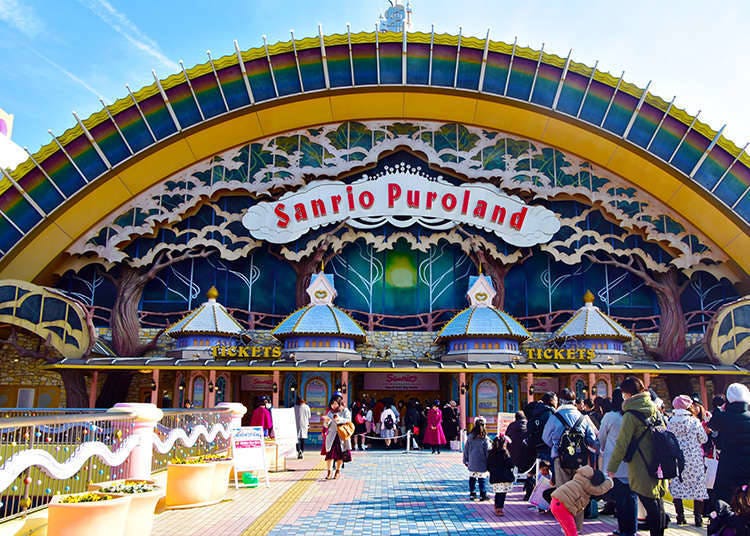 Yes, we're talking about popular mascot characters like Hello Kitty and My Melody! Sanrio Puroland is a theme park that offers visitors a chance to meet their favorite Sanrio mascot characters in real-life.

Easily accessible from the Tokyo metropolitan areas, the place is always filled to the brim with families and tourists on weekends and holidays. The four-storey high indoor theme park offers and endless stream of interesting attractions, character shows, parades, and many other exciting activities.

The most important part is that there's a good chance you can meet your favorite mascot characters like Hello Kitty, My Melody, Pompompurin, and others in real life! With countless restaurants and original merchandise stores everywhere in the theme park, you'll likely have little problem finding something to do for a one-day trip here.
42. Tokyo Disneyland and DisneySea: The theme park of dreams beloved by the world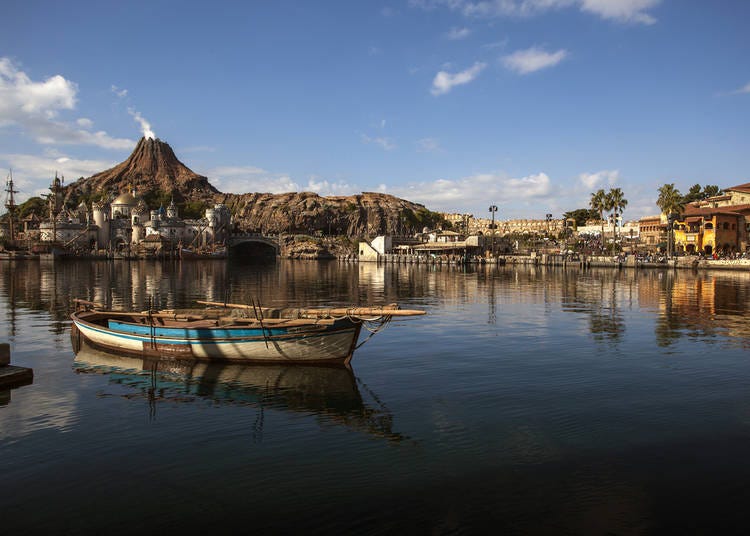 Tokyo Disneyland needs no introduction. The kingdom of dreams and magic opened its doors in 1983 and followed up with an adjoining Tokyo DisneySea in 2001, taking inspiration from folklore and legends of the sea around the world. More than 30 million people visit the two theme parks every year.

In the vicinity is the Tokyo Disney Resort which includes Disney-themed hotels as well as major shopping malls like Ikspiari, turning the large area they cover into a magical Disney world. It takes only about an hour by train from the Tokyo metropolitan area to reach and is an excellent choice to consider for a day trip. Anyone, from young to old, can let the magic of Walt Disney's world of dreams enrich their Tokyo travels!
43. Ghibli Museum: Leap into the world of Studio Ghibli, producer of classic Japanese animation films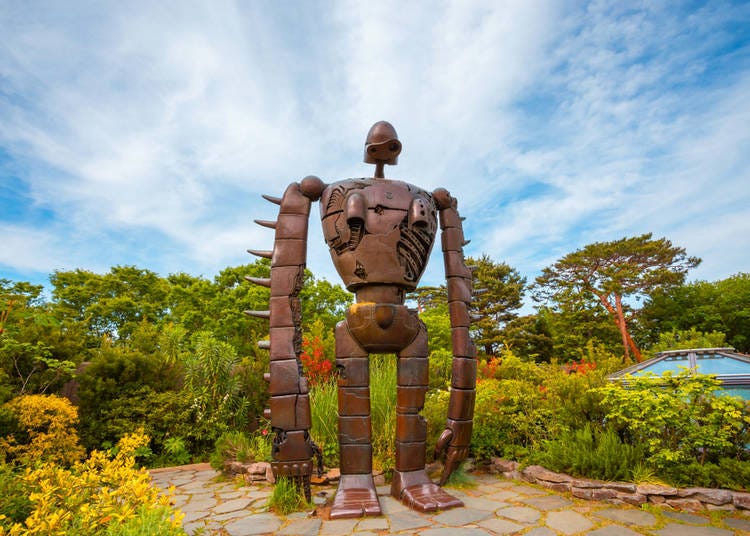 Image credit: cowardlion / Shutterstock.com
My Neighbor Totoro, Princess Mononoke, Spirited Away - these are just a few titles of the long list of classic Japanese animation feature films made by Studio Ghibli that have seen global success, and Ghibli Museum in Mitaka, Tokyo is where you can throw yourself completely into the mystical world of Ghibli.

Permanent exhibits include a showcase of the animation production process, a video room playing an original short film that can only be seen in the museum, the Cat Bus, Robot Soldier, and many other fixtures that showcase Ghibli originals that have captivated the hearts of many around the world.
44. Ōedo Onsen Monogatari: Most popular day-trip bathing facility with an olden Edo era decor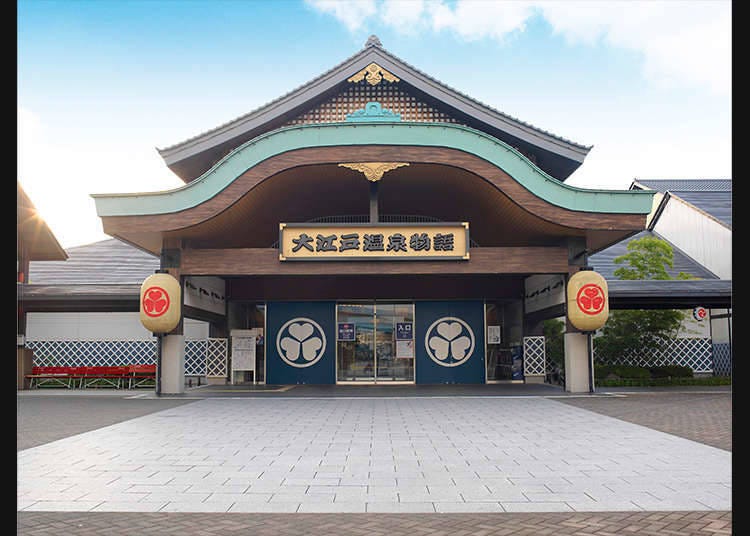 The largest onsen, or hot spring, complex in Japan located in Tokyo's Odaiba goes by the name of Ōedo Onsen Monogatari. The facility boasts 13 different types of onsen, including a natural onsen using water that wells up from 1,400 meters (about 4,593 feet) deep underground, an open-air onsen, feet onsen, and other special baths.

The soaking isn't the only thing that attracts visitors to the place, though. It's especially popular among tourists for offering the opportunity to don a Japanese yukata, or summer kimono for a taste of Japan's traditional culture.

The facility is about 2,314 square meters or 24,908 square feet wide and contains a Japanese garden with feet soaking areas for you to enjoy the onsen experience without taking off your yukata. In the building is an area that reproduces an Edo era street - an era that started in 1603.

This is also where you'll find Japanese food, Korean cuisine, and a variety of other food shops along with shopping corners and beauty salons. You can entertain yourself for an entire day here and still feel refreshed and recharged by the end of it, ready to embark on yet another chapter of your Tokyo trip!
45. Nippara Limestone Caves: A mystical and intoxicating nature walk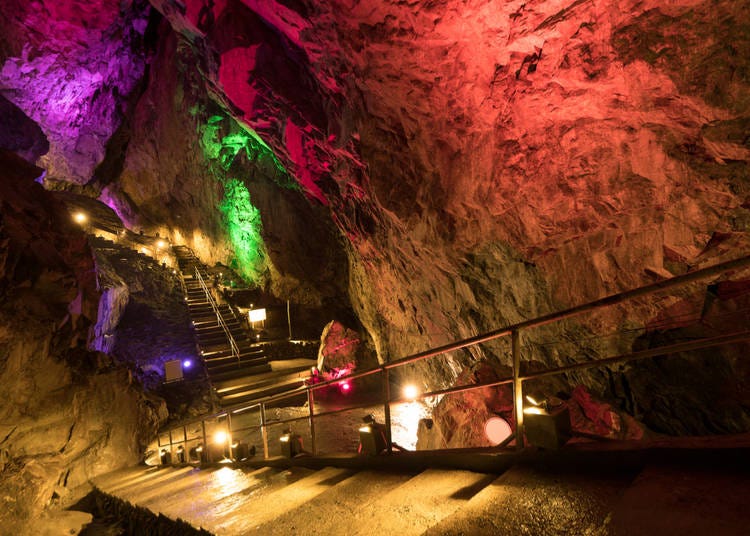 These limestone caves are located in Okutama, a two-hour drive away from the metropolitan area, and is surrounded by beautiful natural sights - a complete change from the concrete jungles of Tokyo.

The caves are formed when rain and other things wear down limestone ground over a long and sustained period of time, until they grind out an empty cavity big enough for humans to walk through. Nippara's caves are considered one of Japan's seven greatest limestone caves and is a designated natural property of Tokyo.

As you walk deeper into the caves, you'll find that it's being lit up by a slew of colorful illuminations, adding to its mystical air. Countless tourists specially make a trip here for photo opportunities because of that. In the deepest part of the cave is a statue of the goddess Kannon, who is said to answer prayers from those seeking a romantic partner.
46. Food, Glorious Food: They taste as good as they look!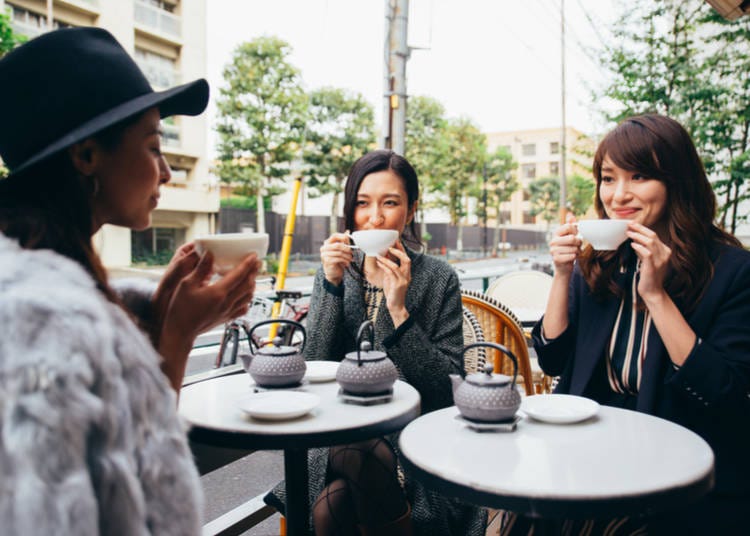 Photogenic food that look good and taste better is all the rage among youngsters in Tokyo right now. And who can blame them?

Posting photos of these perfectly pretty gourmet dishes will earn anyone major social network points, after all! Here are three fancy restaurants with the finest food that you can enjoy looking at, taking photos of, and eating, of course!

■ELLE cafe
The signature item here is the "Smoothie Bonbon", which is prepared with seasonal fruits and luxurious whipped soy milk. Its charming looks and tasty sweetness has captured the hearts of many a lady. As only a limited amount is sold in all three of their stores in Aoyama, Roppongi Hills, and Ginza Six, we highly recommend that you make a special trip down to any one of them to give this great dessert a go.

■Shiro-Hige's Cream Puff Factory
Located a short five minutes walk from the Setagaya-Daita Station on the Odakyu line, Shiro-Hige's Cream Puff Factory is known among Studio Ghibli fans for their Totoro-shaped cream puffs that are stuffed with all sorts of fillings - standard custard, chocolate cream, raspberry and cream cheese - you name it, they've probably got it! The decor is based on a western-style mansion that seems to have walked right out of a Ghibli film, and there are plenty of Ghibli goods available for sale as well. This is a must-visit for fans of the studio for sure!
・Address: 5 Chome-3-1 Daita, Setagaya City, Tokyo 155-0033 / TEL: 03-5787-6221 / Hours: 10:30AM - 7PM

■Harajuku Electrical Chamber of Commerce
The "Lightbulb Soda" from Harajuku Electrical Chamber of Commerce in trendy Harajuku has exploded in popularity lately. Originally from South Korea, it's the unique idea of serving a soda drink in a lightbulb-shaped container. Ladies who enjoy pursuing the latest fashion are especially enamored by this drink. It helps that it's very photogenic as well, and any photos of this interesting drink is bound to stir up plenty of discussion among your friends on social networks.
・Address: Jingumae 3-20-10, Sukigara Building B1, Shibuya, Tokyo 150-0001 / TEL: 03-6434-5074 / Hours: 11AM - 7PM
47. Christmas Illuminations: A new type of tourist hot spot in Tokyo during winter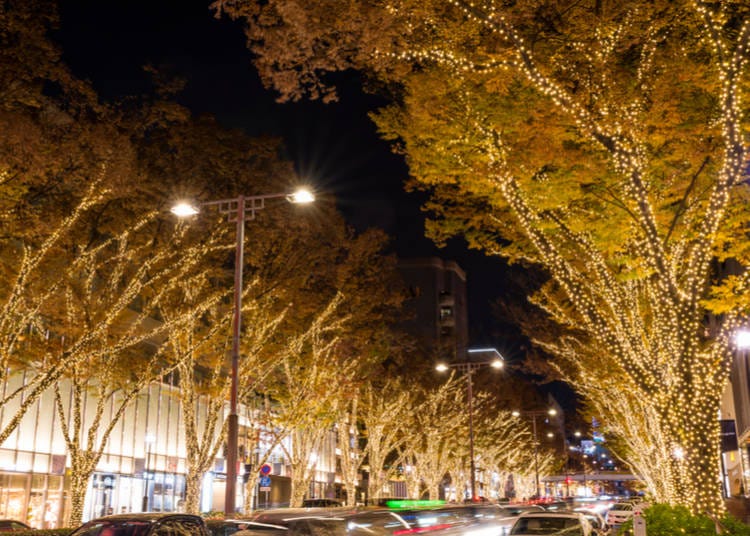 Image credit: picture cells / Shutterstock.com
There's a recent trend in Japan lately of installing illuminations during the Christmas season. At night, when all these illuminations are lit up, the usual drab scenery transforms into something else altogether and is a sight to behold.

Perhaps the most well-known area is the road with zelkova trees between Shibuya's Jingū Bashi intersection to Omotesandō intersection. This stretch of road is about one kilometer (about 3,280 feet) long and the 150 zelkova trees planted on both sides of the road will be decorated with 900,000 LED lightbulbs, enveloping the area in a warm glow of mystical delight.

Needless to say, opportunities for good photographs abound. If you're visiting Japan during Christmas season, definitely pen this down as something to see during the night!
48. Ekiben: Try out station lunchboxes from train stations all over Japan!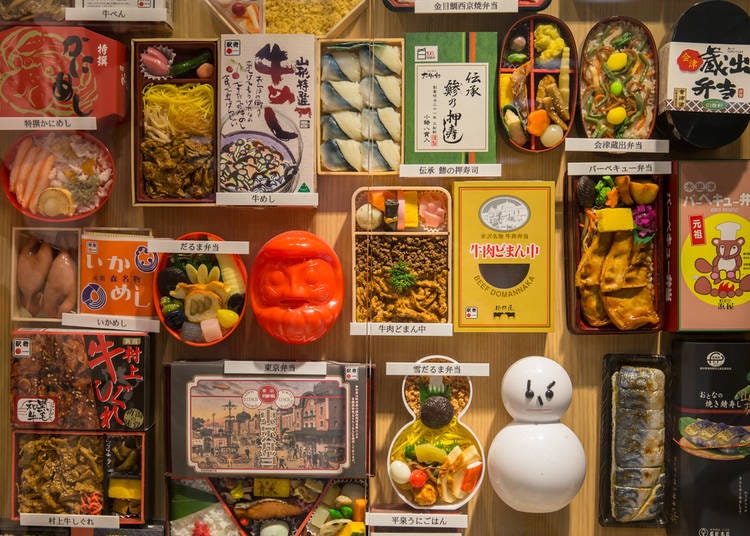 Image credit: Suchart Boonyavech / Shutterstock.com
Bento, or lunchboxes, has traveled around the world and gained equal footing with ramen and sushi as one of Japan's representative food in recent years. It offers a balanced and nutritional meal at a bargain and is ever so pleasant to look at with its neat layout and complementary colors.

We're not going to recommend just any bento to you here, though. What we'd like you to really try is an "ekiben", or train station lunchbox! These are available at Tokyo Station as well as major stations in other regions.

Freshly prepared with local regional specialty foods, it's an excellent way for you to experience the flavors of different regions all over Japan without too much legwork. Unwrapping an ekiben for the first time can be a moving experience, and it's something you have to try at least once during your trip.
49. Tokyo National Museum: Admiring Japan's national treasures and important cultural assets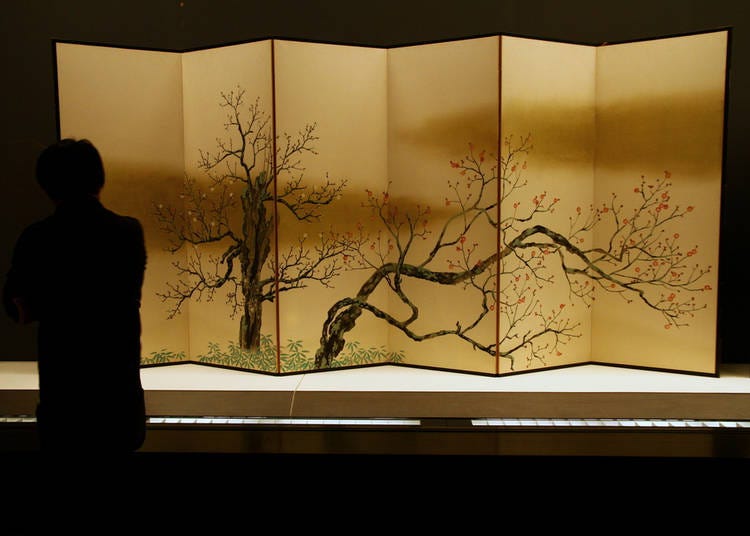 Image credit: Yasemin Olgunoz Berber / Shutterstock.com
Tokyo National Museum was established in the year 1872 and is the oldest museum in Japan. It consists of a few galleries, most notable of which are the main gallery, Asian gallery, Heisei gallery, and Horyuji Treasures, and collectively they house the most expansive collection of artifacts and curio in Japan.

Some 87 of those items are considered national treasures, while 634 others are designated as important cultural assets. Each gallery provides its own guided tour that is also available in English.

It will be difficult to finish viewing everything in one visit, so it may be better to zero in on the galleries that interest you the most. In the basement level, you'll find a museum shop that sells interesting trinkets and stationery that are designed to look like collectibles, affording you an opportunity to bring a piece of Japanese history back home with you.
50. Samurai Makeover: The full, no-holds barred Japanese traditional cultural experience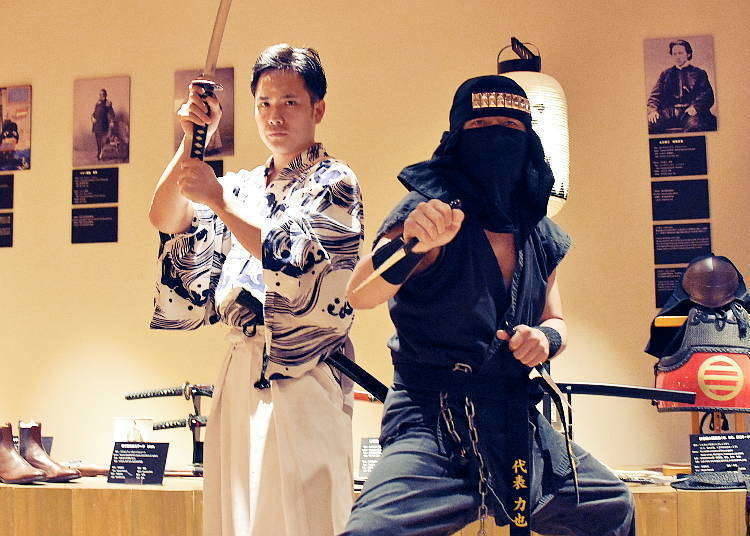 Unfortunately, we have to clear something up first: There are no samurais in modern Japan anymore. Nevertheless, it's entirely possible to get in touch with this feudal culture in its native country, and that's what we recommend for your trip as well!

If the idea of viewing Japanese swords, armor, and sword technique performances up close appeals to you, then the Samurai Museum in Shinjuku is where you want to be. This is also where you can dress up as a samurai and take pictures of your temporary new station in life. For Japanese sword affinicados, a visit or two to Seiyudo in Ginza or Ryōgoku's Japanese Sword Museum is probably in order as well.

These are all places where you can admire the beauty of genuine Japanese swords and turn your experience of donning Japanese armor into a cherished memory.
1. Shibuya Scramble Crossing
2. Shinjuku Kabukichō
3. Tokyo Skyline
4. Tokyo Station
5. Rainbow Bridge
6. Ramen
7. Ameyoko
8. Harajuku Takeshita Street
9. Hachiko Statue
10. World Heritage Site Mount Fuji
・Take me to numbers 1-10

11. Ginza
12. Backstreet Bars
13. Japanese Gardens
14. Jinbōchō
15. Edomaezushi
16. Hitomakumi
17. Kappabashi-dōri
18. Cruise Ships
19. Hanami
20. Life-size Gundam
・Take me to numbers 11-20

21. Peak Hour Rush
22. Meiji Shrine
23. Omotenashi
24. Ueno Zoo
25. 100 Yen Shops
26. Sumo Wrestling
27. Tsukishima
28. Geisha Makeover
29. Unagi Kabayaki
30. Yanesen
・Take me to numbers 21-30

31. Zen Meditation
32. Robot Restaurant
33. Fireworks
34. Asakusa
35. Moe
36. Toyosu Market
37. Mount Takao
38. Shimokitazawa
39. Sunshine Aquarium
40. Tokyo Dome City
・Take me to numbers 31-40

41. Sanrio Puroland
42. Tokyo Disneyland and DisneySea
43. Ghibli Museum
44. Ōedo Onsen Monogatari
45. Nippara Limestone Caves
46. Food, Glorious Food
47. Christmas Illuminations
48. Ekiben
49. Tokyo National Museum
50. Samurai Makeover
・Take me to numbers 41-50
*This information is from the time of this article's publication.
*Prices and options mentioned are subject to change.
*Unless stated otherwise, all prices include tax.