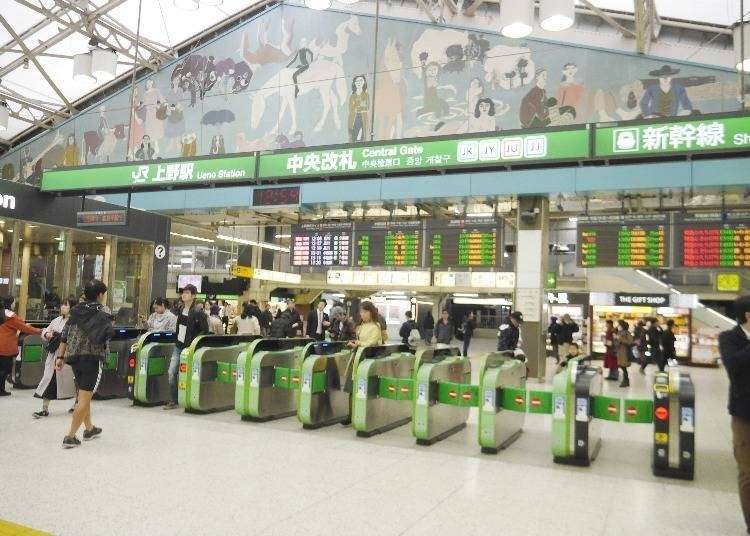 Located in Taito, Tokyo, Ueno is a well-known and popular tourist destination. In addition to the Ameya Yokocho (Ameyoko) shopping street, Ueno boast such sites as Ueno Green Park, which is beautiful in any season, Ueno Toshogu Shrine, the zoo, and numerous art galleries, museums, electronics shops, department stores, and toy stores. Ueno is home to a wide variety of gourmet restaurants and accommodations, as well.

The ticket gates and exits of JR Ueno station are located on different floors, or the gates are far from the exit, it can be a difficult station to navigate. This guide will provide more information about which site seeing locations can be found at each gate, and make full and fun day trip in Ueno more than just a dream!
With railway activity dating back to the 19th century, Ueno is a major crossroad for both private and public railways, the subway system, Shinkansen, and is even directly linked to Narita Airport.

An average of 187,000 travellers pass through Ueno each day making it the 13th busiest station in Japan. With all that traffic, navigating the station can be challenging. The following is a brief introduction to JR Ueno Station and its ticket gates and exits. The next time you go to Ueno, you won't have to be afraid of getting lost!
JR Ueno Station Structure
The picture above was taken on December 1, 2018.
① One of the reasons Ueno Station can feel like a maze is because it has four ticket gates, located on the 1st, 2nd and 3rd floors

Before leaving the station, you'll first need to determine which gate is best for getting to the attraction you want to visit. But beware – don't simply follow the crowd. If you exit through the wrong gate getting back to where you need to be can be difficult. After getting off the train, check the map on the platform, and then decide if you need to go up or down.

② The gates and exits are as follows:

● JR Ueno Station: 3rd Floor Ticket Gates
・Park Gate, 3rd Floor
Park Exit main attractions: Ueno Grace Park, Ueno Zoo (located in Ueno Park)

・Iriya Gate (To Ecute Ueno Mall), 3rd Floor
Panda Bridge Exit
Higashi Ueno Exit
Iriya Exit

● JR Ueno Station: 2nd Floor Ticket Gates
・Shinobazu Gate, 2nd Floor
Yamashita Exit main attractions: UENO 3153
Shinobazu Exit main attractions: Yodobashi Camera, Saigo Takamori Statue, Ameya Yokocho, Keisei Ueno Station, Tokyo Metro Hibiya Line and Ginza Line Station

● JR Ueno Station: 1st Floor Ticket Gates
・Central Gate (To Atré Ueno Mall), 1st Floor
Hirokoji Exit main attractions: Ueno Marui Department Store, Yamashiroya Toy Store, Yodobashi Camera, Ameya Yokocho, Keisei Ueno Station, Tokyo Metro Hibiya Line and Ginza Line Station
Shomen Exit
Asakusa Exit

Now let's take a closer look at a few of the popular tourist attractions around Ueno Station!
Park Gate, Park Exit: Nature and Culture in Ueno Park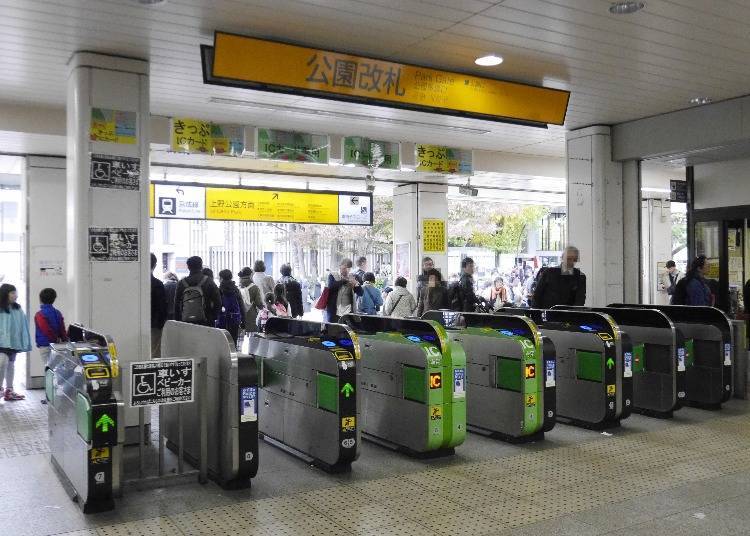 The picture above was taken on December 1, 2018.
The 3rd floor Park Gate leads to the Ueno Park entrance. The park is home to many museums and art galleries, often holding internationally renowned exhibition. The list of museums includes the National Museum of Science, the National Museum of Western Art, the Tokyo Metropolitan Museum of Art, the Tokyo National Museum, and the Ueno Art Museum.

In the park, there are other attractions such as Ueno Toshogu Shrine, Ueno Zoo, Shinobazu Pond, Ueno Buddha, and Kaneiji Temple. Cherry blossoms in spring and autumn leaves lend the area an added seasonal attractiveness. The park's large fountain hosts a variety of ceremonies on weekends, and the Park Side Cafe are situated in a picturesque environment surrounded by greenery.
Iriya Gate: Shopping at Ecute Mall – All Before Leaving the Station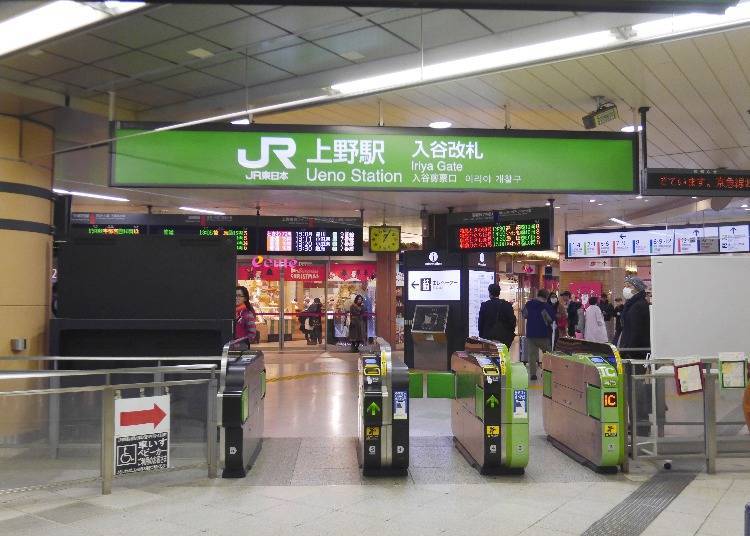 The picture above was taken on December 1, 2018.
The Ecute shopping mall is integrated into the 3rd floor of Ueno Station and houses convenience stores, restaurants, clothing stores, grocery stores, flower shops, drugstores, museums, and art galleries. If you want to go shopping in Ueno, remember not to rush out of the station!
Shinobazu Gate, Shinobazu Exit: Ameya Yokocho Shopping Street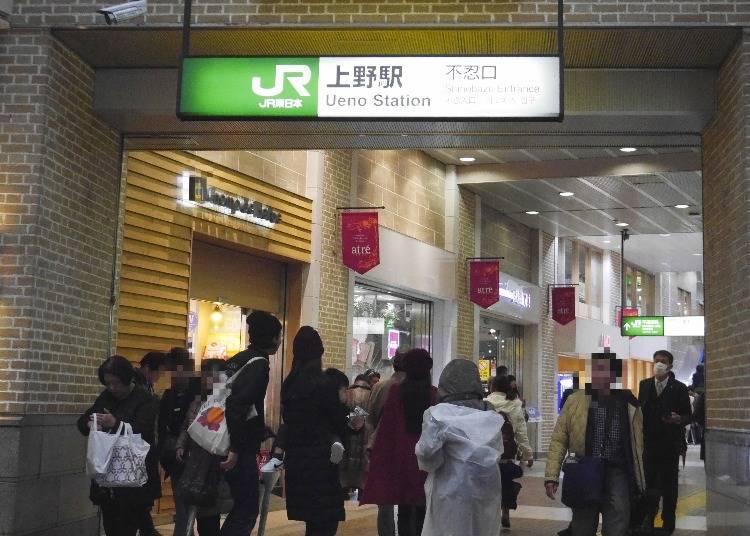 The picture above was taken on December 1, 2018.
The Shinobazu Gate and Shinobazu Exit on the 2nd floor lead Keisei Ueno Station, Tokyo Metro Hibiya Line and Ginza Line Station, Ameya Yokocho, Yodobashi Camera and the Saigo Takamori Statue. Like other major attractions.

If you don't want to go to the direction of Keisei Ueno Station, you can take the stairs to Ueno Park. There, you can see the statue of famous historical figure Saigo Takamori. Yodobashi Camera, and other electronics and anime-related shops can also be found in this area.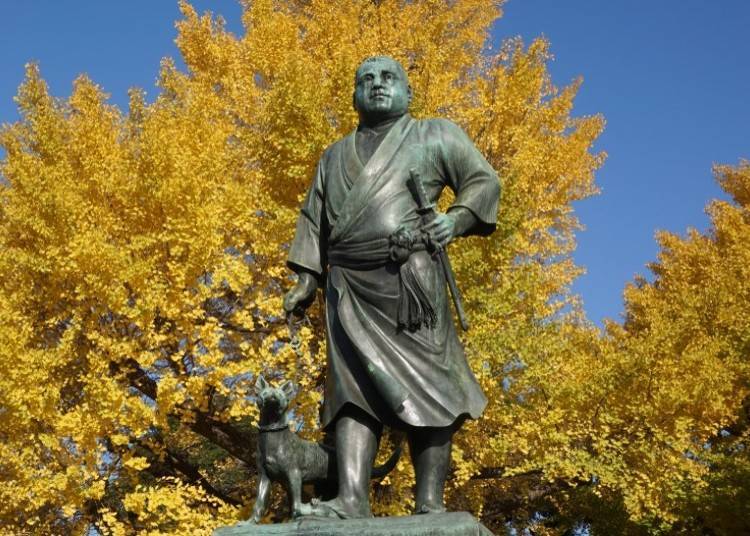 It is said that Ameya Yokocho, commonly known as Ameyoko, started as a black market for the sale of US military supplies after World War II. Now, it's a shopping street stretching about 400 meters between JR Ueno and Okachimachi Stations. Ameyoko is a great place to find some of Tokyo's famous drug stores, confectionary shops, clothing stores and souvenir shops.
Shinobazu Gate, Yamashita Exit: A Dining Experience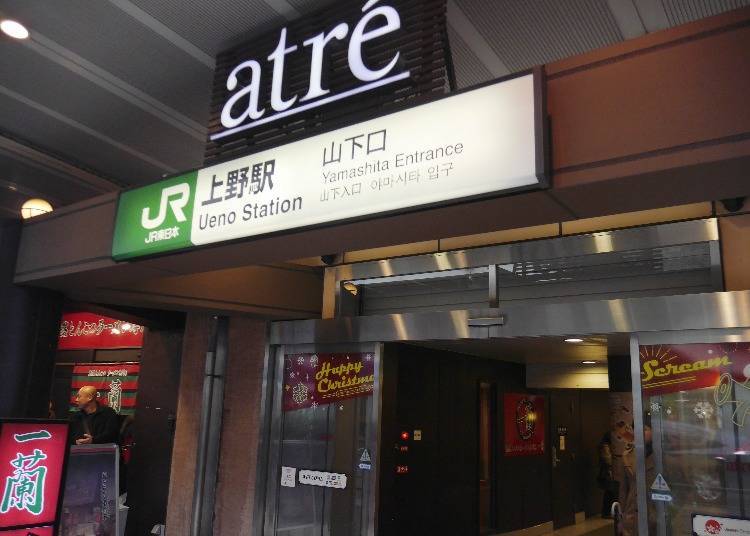 The picture above was taken on December 1, 2018.
Yamashita Exit is the place to go for restaurants to suit any taste. Atré Ueno offers popular ramen noodles, while Syrian Garden is known for its fine meats. For a taste of Sendai beef tongue, head to Negishi. If you aren't sure what to eat, Yamashita is an accommodating host with many choices sure to tempt your taste buds.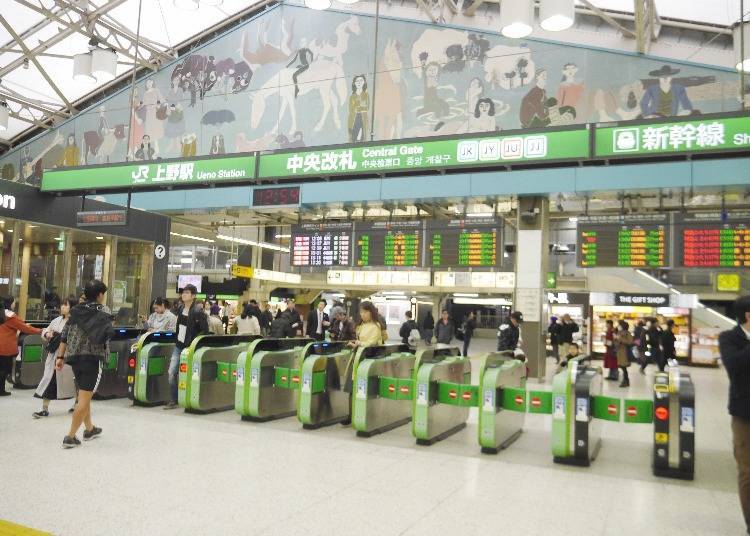 The picture above was taken on December 1, 2018.
The Central Gate is located on the 1st floor, and opens into a spacious hall, which is a perfect place to meet friends. Another in-station mall, Atré Ueno, can be found here.
Central Gate, Hirokoji Exit: Yamashiroya Toy Store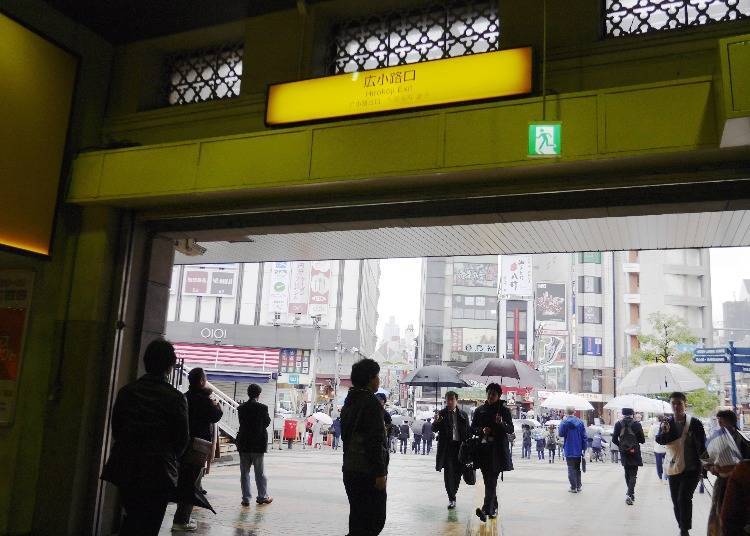 The picture above was taken on December 1, 2018.
If the small shops of Ameyoko aren't your style, you can find a number of larger stores near the Hirokoji Exit including Marui department store, Muji, and Loft.

One "pilgrimage site" you shouldn't miss is Yamashiroya Toy Store. There you'll find six floors of fun ranging from children's toys to anime products. You might need a few hours to explore!

Although there are so many ticket gates and exits at JR Ueno Station, finding your way around can be much simpler and more straightforward if you know where to go. With this guide, your next trip to Ueno should be much more relaxing and rewarding as you easily reach the places you want to visit and save valuable travel time!

English text by: Gabriel Wilkinson

*This information is from the time of this article's publication.
*Prices and options mentioned are subject to change.
*Unless stated otherwise, all prices include tax.