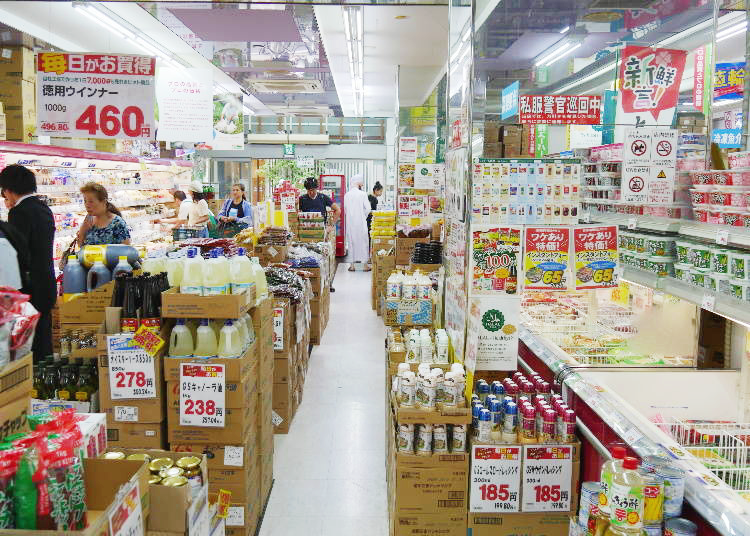 Gyomu Super means "business supermarket" and, as its name suggests, is a shop that sells produce, condiments, and everything else you'd find at a regular supermarket in massive sizes for business and professional use. One major characteristic of Gyomu Super is the selection of import goods for little money, some even boasting a Halal certification!

We accompanied an Italian man and a Korean woman living in Japan on their first visit to Gyomu Super, to discover the market's secret behind its small prices, big popularity, and more! What are their must-buy recommendations?
Gyomu Super boasts a large selection of goods, from domestic to import, and is known for its small prices based on the concept of "everyday affordable." From Hokkaido to Okinawa, there are 809 Super Gyomu stores in total (as of July 2018), a number that increases year by year.

While the products are intended for business and professional use, not only the owners of restaurants, eateries, and pubs can shop here but regular customers as well. There's no member's registration needed and no annual fee, so just freely pop by and do your regular shopping here!
"A Good Deal Every Day" – What's the Secret Behind the Cheap Prices?
Gyomu Super's most prominent feature undoubtedly is the cheap prices. While an official sale is only held about twice a year, the prices are unbelievably low on a daily basis. There are actual secrets behind this cheapness...

1) "Every Day Low Prices!"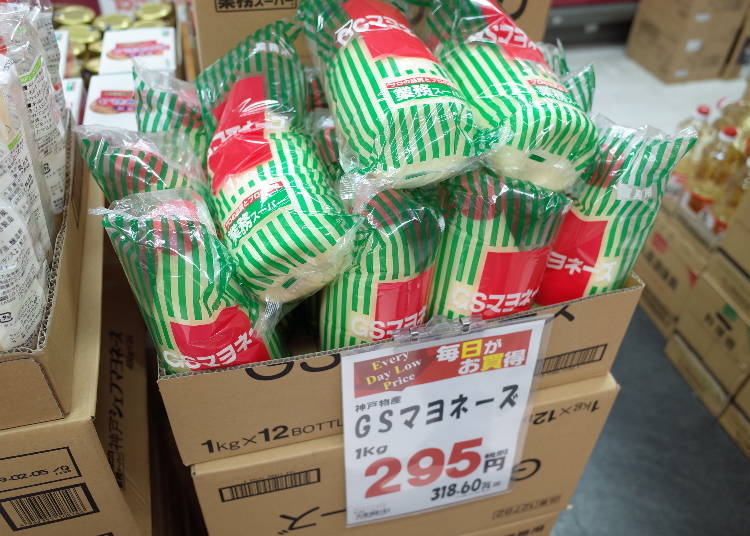 Regular supermarkets have special sales for certain products that vary day by day, which means that the staff has to change the price tag and put up specific advertisement. However, the prices stay the same at Gyomu Super, which means that these kinds of extra tasks don't have to be dealt with.

2) Bulk Purchases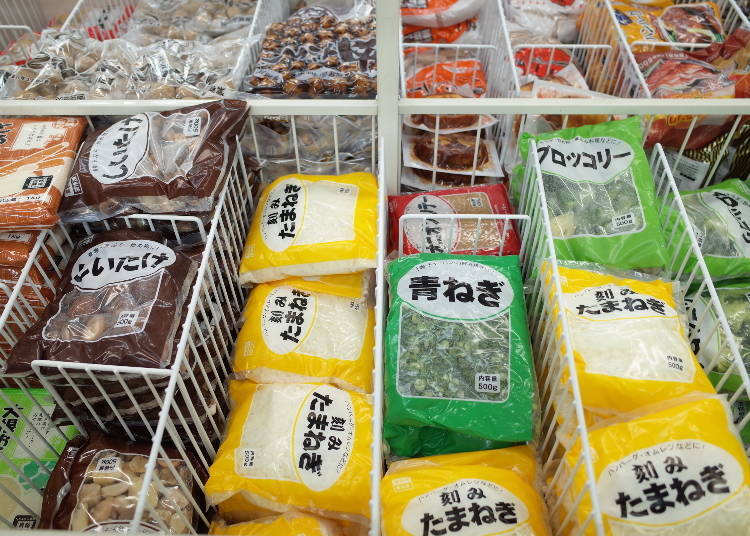 Bulk purchases mean buying a large amount of one product, such as an entire container as opposed to buying single crates or boxes. This reduces both time and cost for transaction, transportation, and so on, allowing Gyomu Super to pass these cheap prices on to the customer.

3) Products with a Long Shelf Life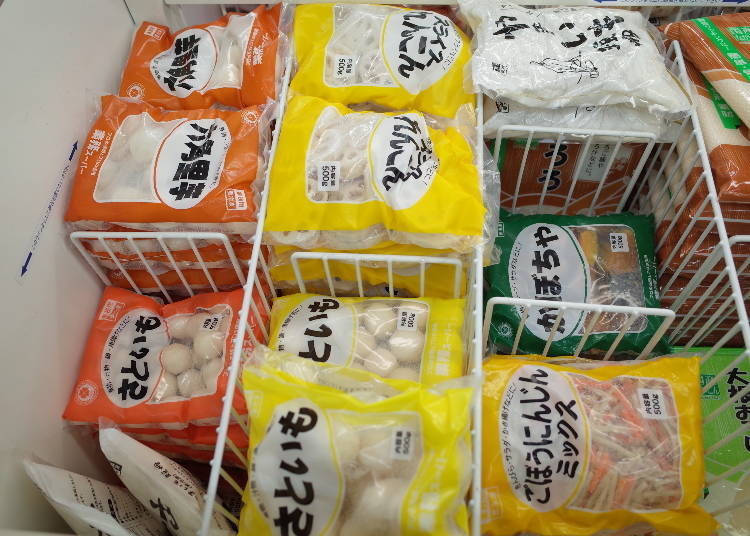 Fresh meat and vegetables spoil quickly and are thus more difficult to handle for the supermarket. At Gyomu Super, such fresh products come either frozen or vacuum-sealed, reducing waste and making them much easier to deal with.

4) Company-Owned Factories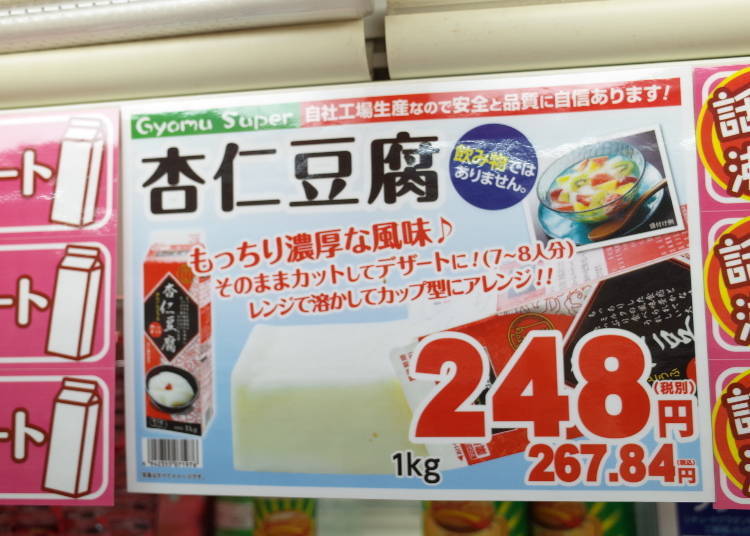 Gyomu Super's original products are made at the supermarket's own factory, so they directly go from production to sales. By doing this within the company, manufacturing costs are reduced, and it has a big influence on the sales margin. Furthermore, different products can be made via the same production line, further decreasing manufacturing costs and allowing Gyomu Super to keep its prices low.

5) Ingenious Display Methods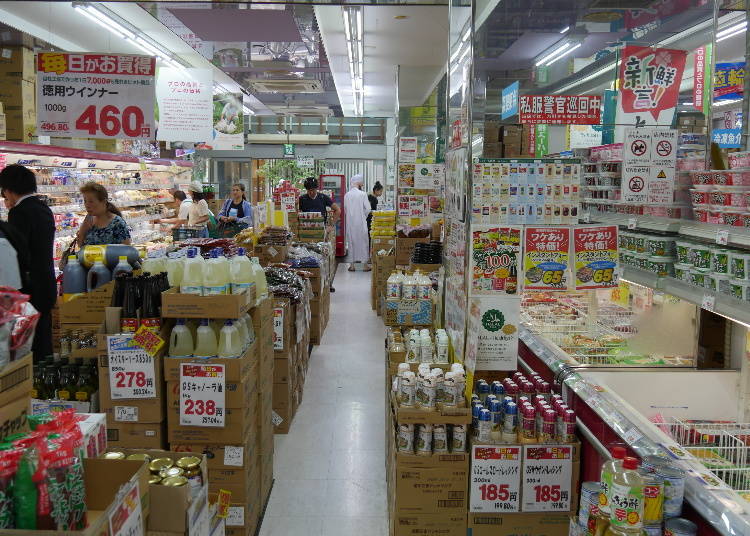 The displays at Gyomu Super are also works of ingenuity. One way to save costs is to simply stack the cardboard boxes and arrange the items as they are. This simplicity takes away the time to arrange everything neatly on the shelves. Even the shelves and freezers are specifically designed for Gyomu Super.
Products of Massive Volume and Size!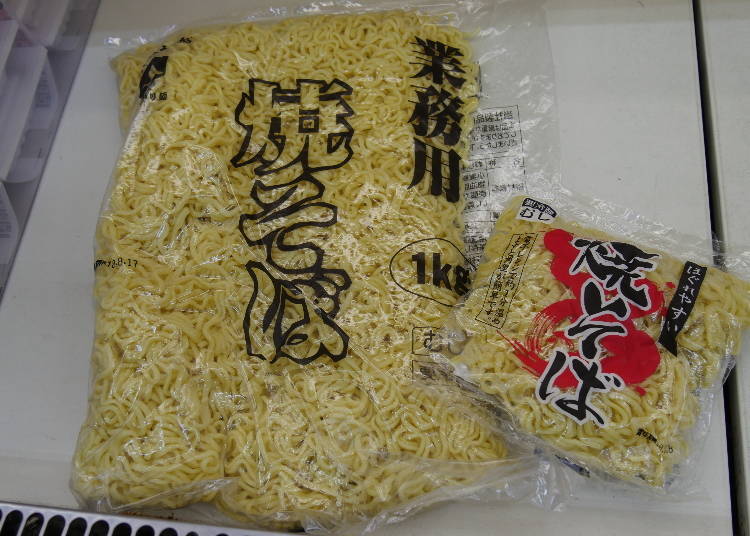 Another highlight of Gyomu Super is the massive volume and size of its many products. Those "mega size" packages are untypical for Japan.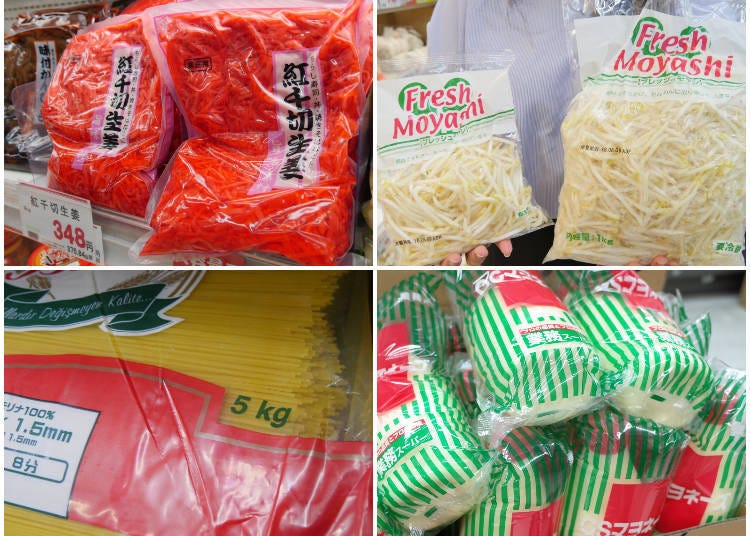 Import Goods and Halal Certification: Convenient Shopping for Everybody
Every expat knows that certain goods are notoriously hard to find and usually only available at specialty markets, such as Halal-certified ingredients. Due to many requests, Gyomu Supermarket is now offering a decent selection of beef and other products with a Halal certificate.

Even other imported goods can be found rather cheaply here, making the supermarket particularly popular with Tokyo's international population.
Two Expats Check Out Gyomu Supermarket!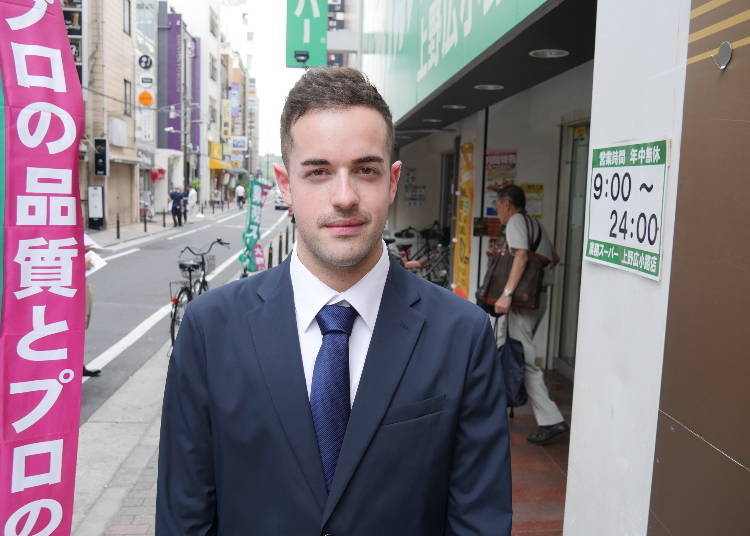 Today, we're accompanying Antonio from Italy and Min-ji from Korea as they explore Gyomu Super for the first time.

"I knew about the supermarket, but it's the first time I actually take a proper look at the selection," says Antonio.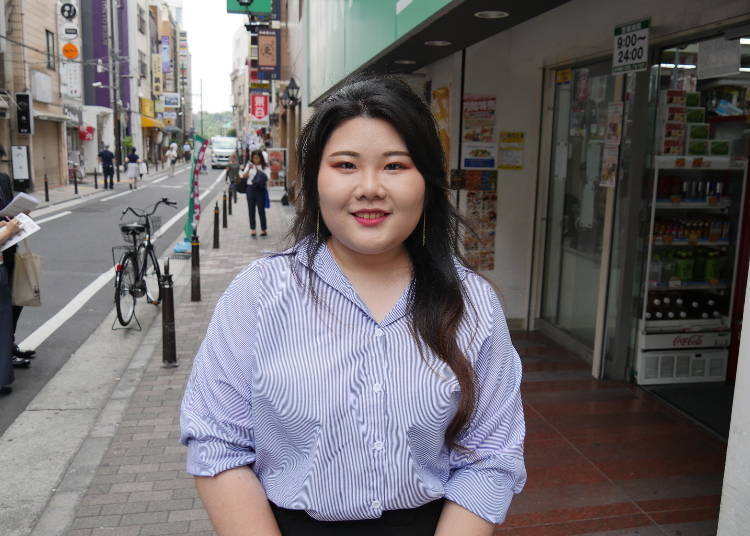 "It's my first time at Gyomu Super. I'm excited to see what kind of goods there are," says Min-ji.
Let's Go Explore the Shelves at Gyomu Super in Ueno Hirokoji!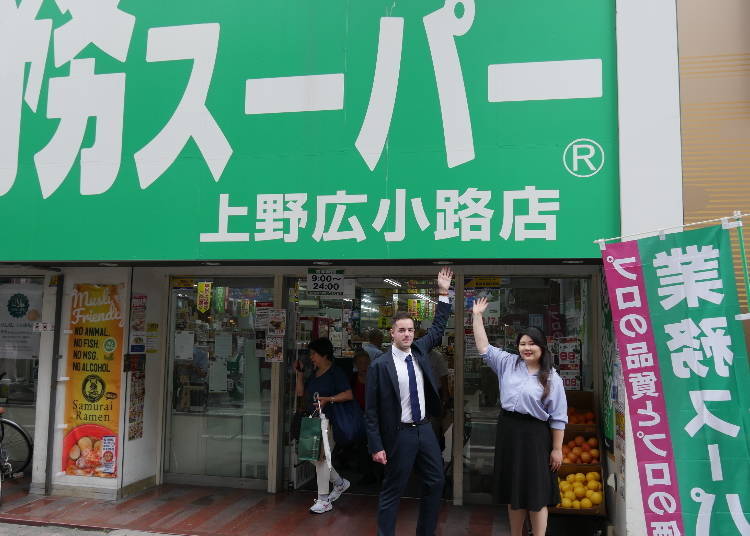 The store that we're visiting is the Gyomu Super Ueno Hirokoji. It's right next to the Ueno-Hirokoji subway station and also close to JR's Okachimachi and Ueno Station, boasting convenient access. As expected, the shop is crowded with people from all over the world browsing the many goods.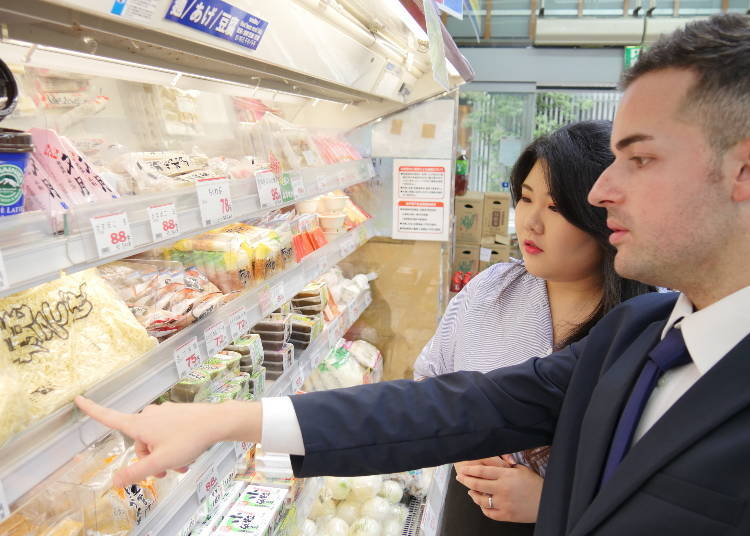 Our two supermarket explorers immediately notice the big yakisoba packs: "That is a lot of yakisoba!"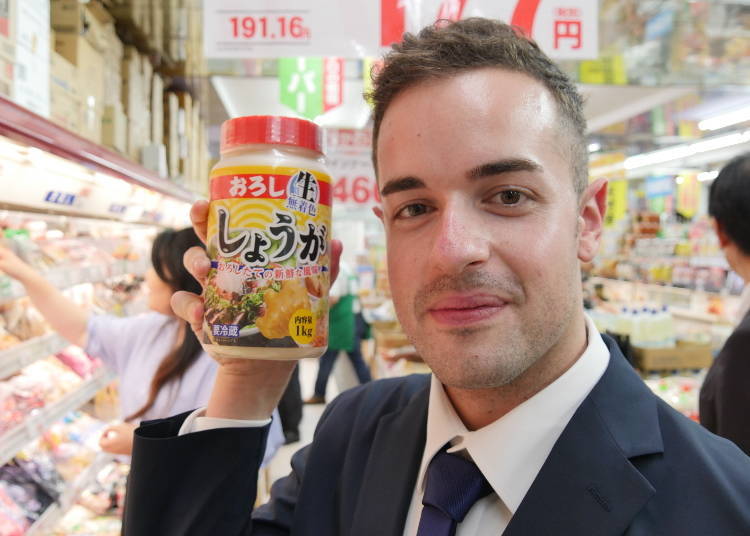 Even the grated ginger comes in a massive size!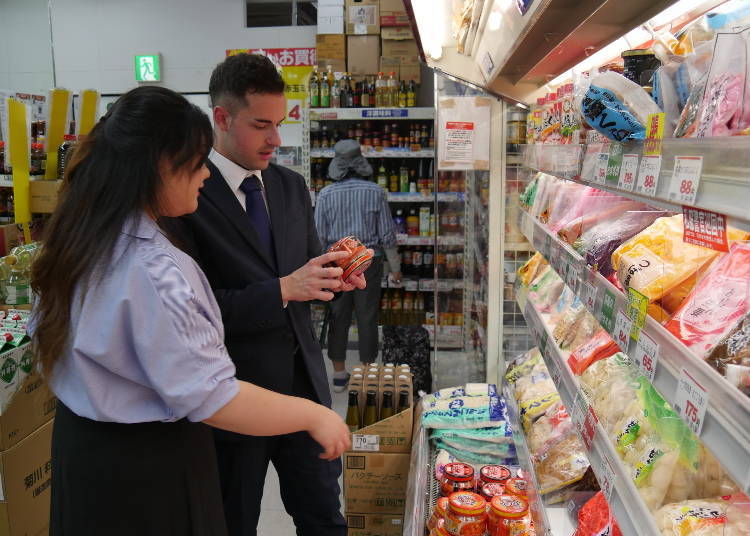 "Compared to Korea, Japanese supermarkets have fewer kinds of meat," says Min-ji.

Antonio also browses the selection carefully while talking with Min-ji about how different Japanese supermarkets are. "There are barely any mozzarella varieties in Japan, and the ones that are available are really expensive."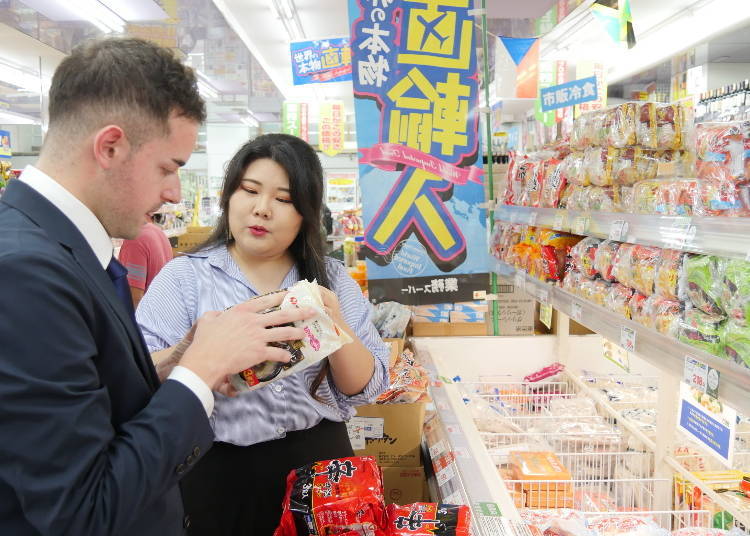 "The Korean standard is kimchi and spicy ramen. I'm glad that they have that here," says Min-ji.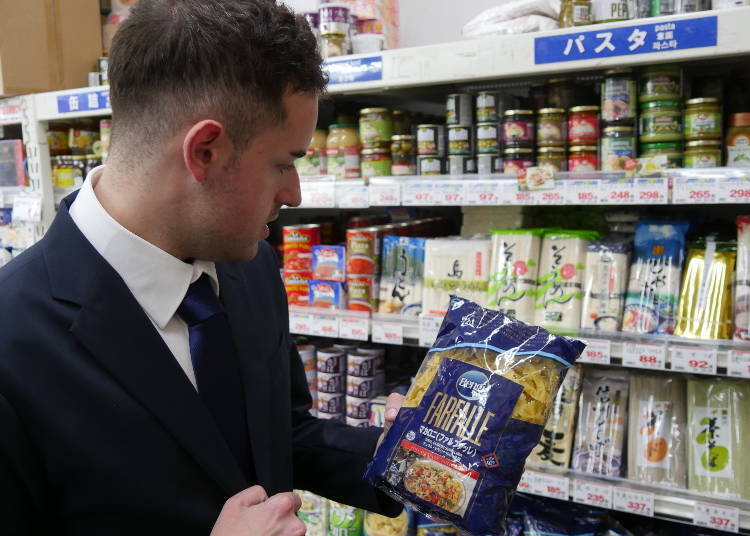 "Italians tend to eat short pasta a lot, but I think it is unusual to find Farfalle pasta such as this in Japan."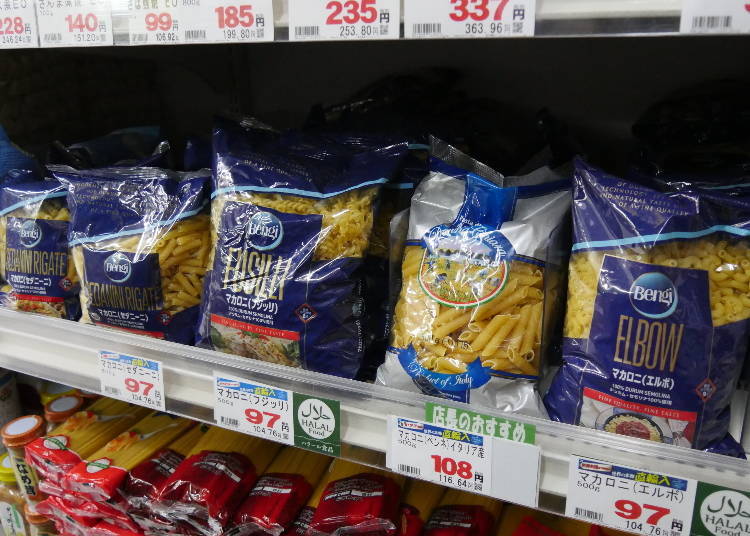 "There are so many varieties and they're all fairly cheap," says Antonio. Japanese people usually prefer long pasta such as spaghetti, but it seems like short pasta is in higher demand in Italy.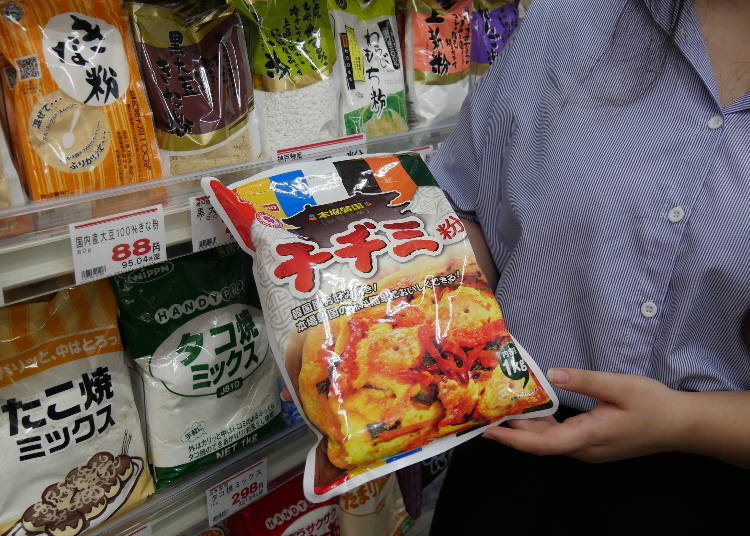 "I love that they also have various chijimi flours. On rainy days, people have made chijimi in Korea since long ago, because the sound of frying the pancakes sounds a bit like falling raindrops," explains Min-ji.
Gyomu Super's Most Popular Products
First of all, let's take a look at the things that are especially popular among Gyomu Super's selection.

1) Brazilian chicken boneless thigh (784 yen, tax excluded)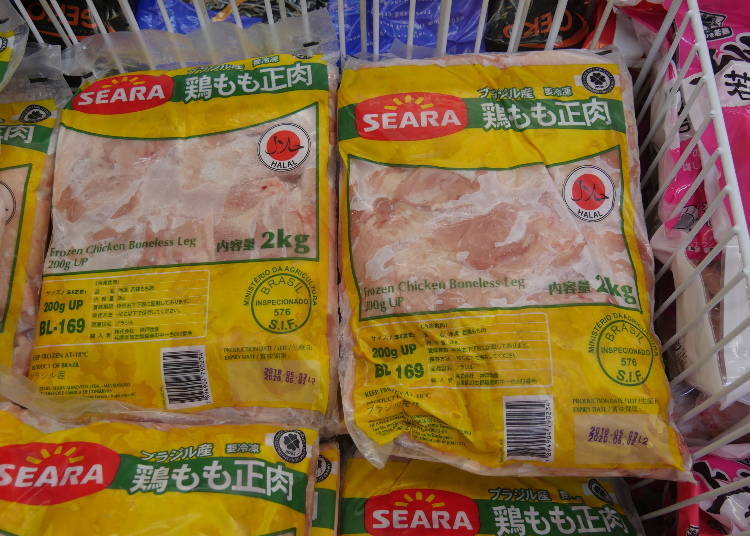 This boneless chicken thigh comes in a large size of 2 kilograms and is used by plenty of restaurants, eateries, and so on. For this size, the price is incredibly cheap, aming it one of the supermarket's most popular products. While you likely won't be able to use all of it for one cooking session, the meat can easily be cut and frozen.

2) Tokuyo Wiener (460 yen, tax excluded)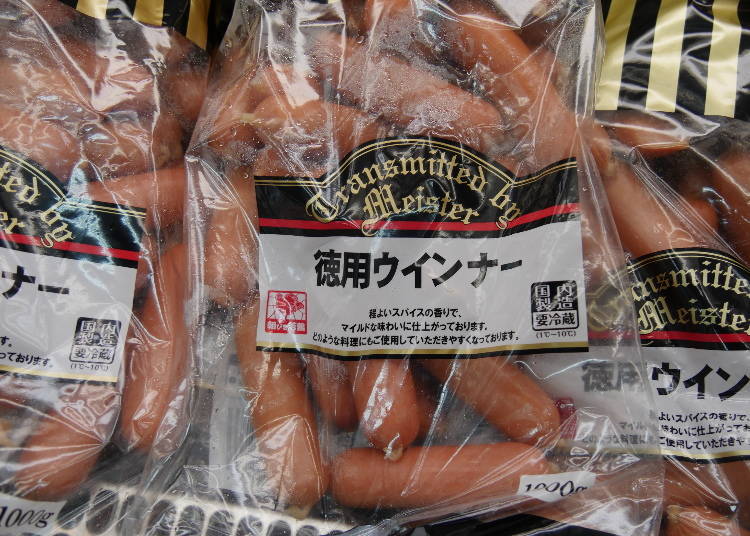 Even these Vienna sausages come in a pack of 1 kilogram. This product is so popular, Gyomu Super had to start manufacturing it at two of its own factories instead of one. Especially during summer, these delicious sausages are indispensable for every BBQ.

3) Sanuki Udon (147 yen, tax excluded)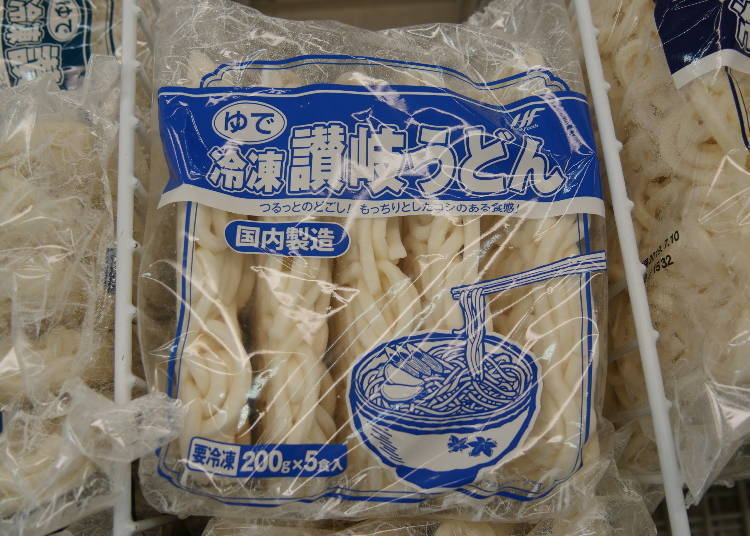 This pack of sanuki udon is enough for five servings, making the price per serving about 30 yen! Of course, this product is popular with actual restaurants but Gyomu Super's regular customers are also quite taken by it and it can be found in plenty of households as a quick, easy-to-make snack.
Gyomu Super's Top 3 Products, Chosen by Expats!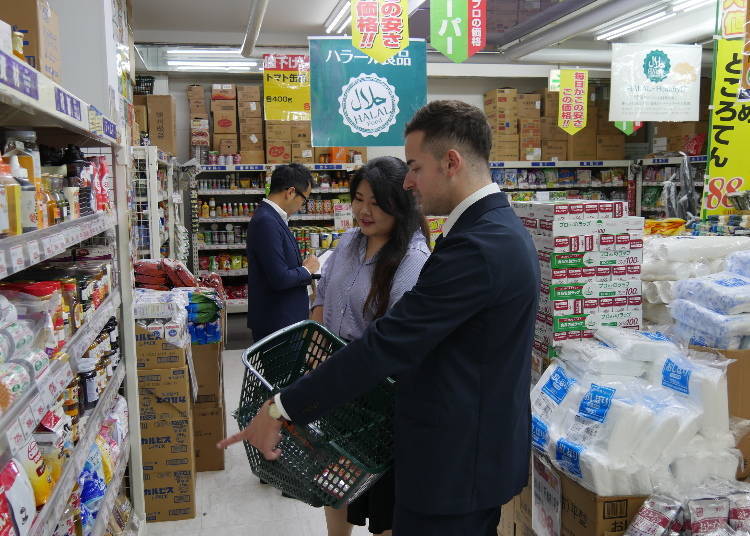 Of course, we asked Min-ji and Antonio for their top 3 must-buy recommendations among Gyomu Super's selection. What did they especially like?
1) Fururu Reimen (Korean cold noodles, 180 yen, tax excluded) *summer exclusive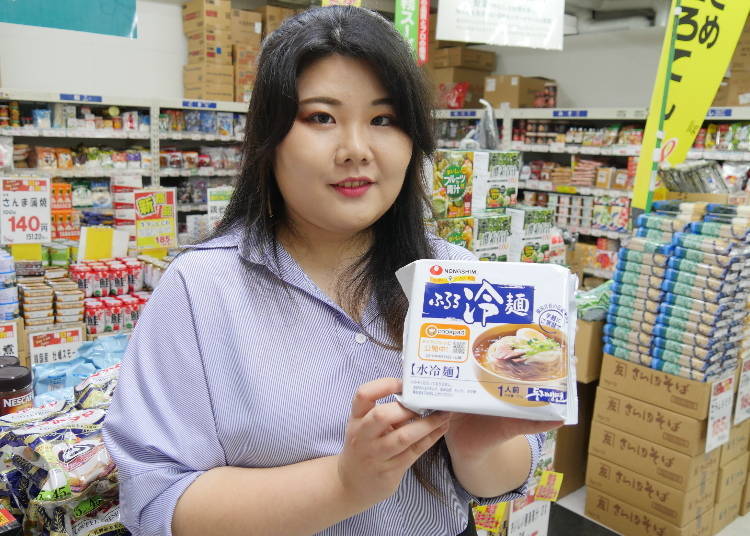 "I love cold noodles because they remind me of Korea." These cold noodles are made by NONGSHIM, a famous producer of spicy ramen. It's an authentic product that delivers an equally authentic taste, easily bought at the store.

2) Bulgogi (370 yen, tax excluded)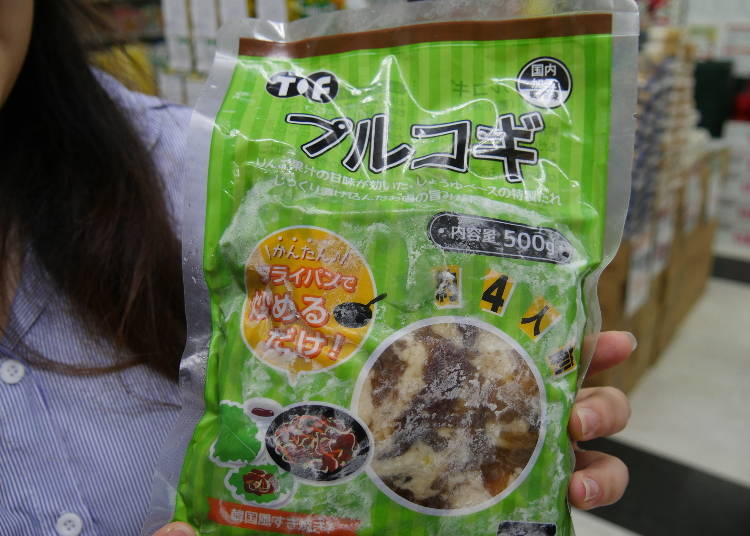 "This also is a staple Korean dish. For birthdays and other special occasions, we always eat bulgogi." This product is especially nice because it can simply be put in a frying pan as it is.

3) Calpis L Pack (567 yen, tax excluded)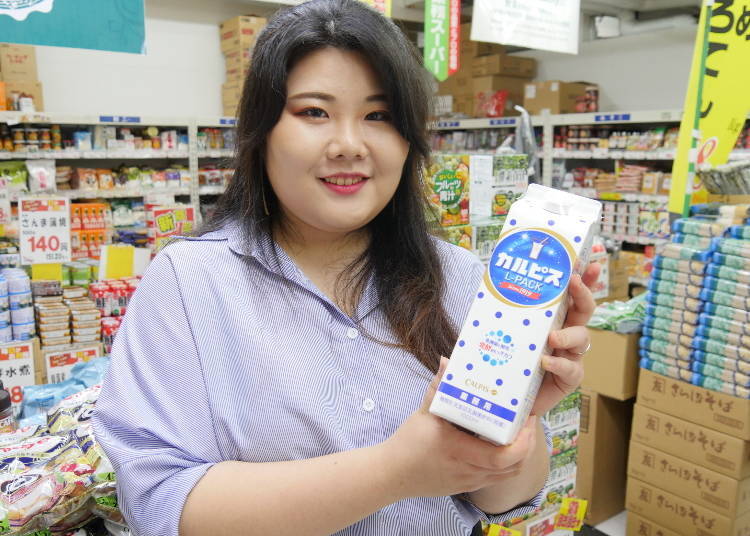 "We have a carbonated drink called Milkis in Korea that tastes similar to Japan's Calpis. If I add some carbonated water to Calpis, it tastes just like the real deal. I choose this because it also makes me think of Korea."

It's interesting to hear about Min-ji's choices, from staple Korean food to Japan's famous Calpis drink, evoking thoughts of her home.
1) Best Genovese (tube, 298 yen, tax excluded)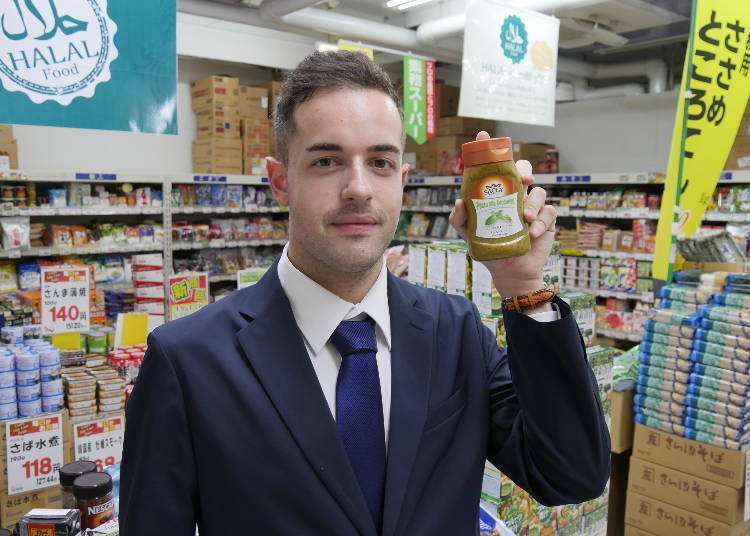 Antonio's first choice is the Best Genovese. "This is indispensable for pasta. It made me miss Italy."

2) Hachi Shokuhin Tappuri Carbonara (78 yen, tax excluded)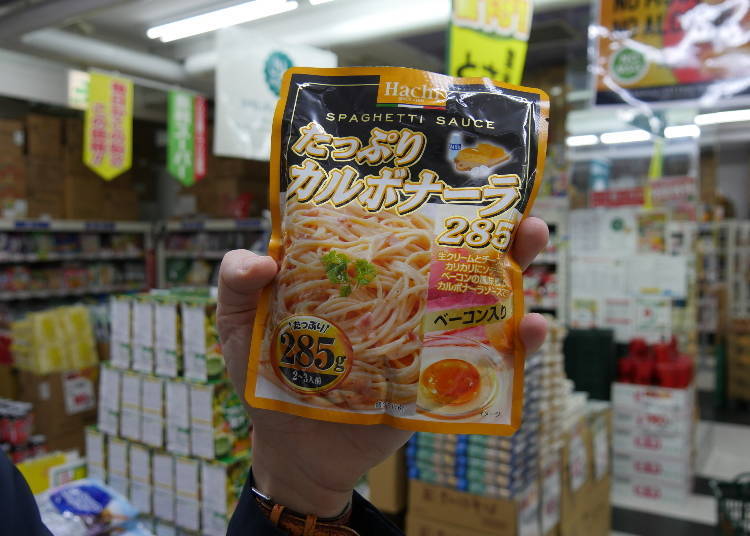 "This pasta sauce is so tasty yet so cheap, I immediately got curious about it. It's great to get one's hands on something that is local and cheap." Indeed, for merely 78 yen, this sauce is a steal! Tappuri means "plenty" because regular pasta sauce sold at supermarkets is only 250 gram while this one boasts 285 gram, staying true to its name.

3) Sliced bacon (495 yen, tax excluded)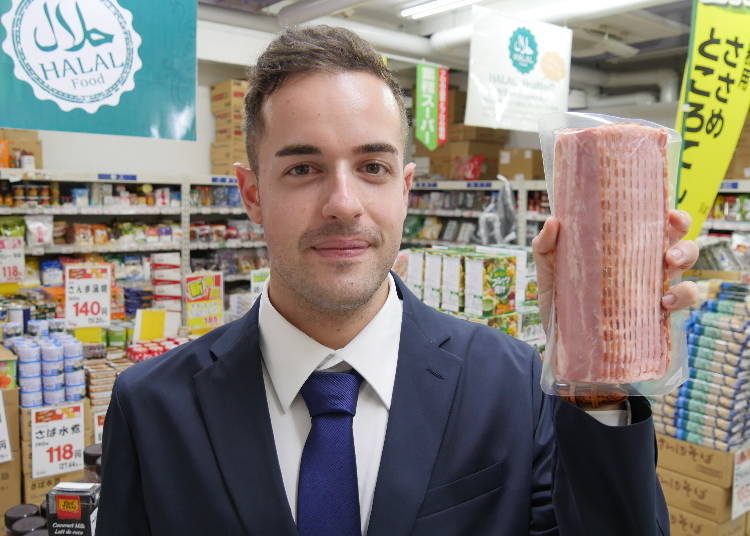 "This bacon goes well with pasta and all sorts of other dishes. It's also very cheap despite being such a large package!"
The Expat's Perspective: What is Great about Gyomu Super?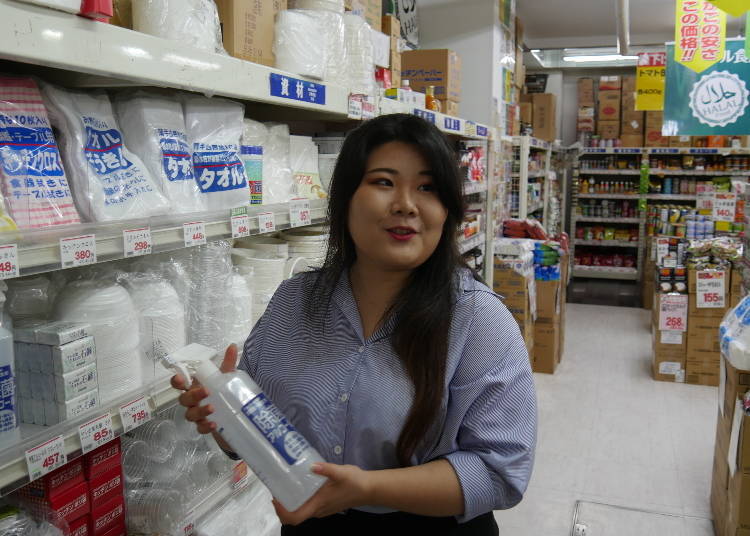 "It was my first time coming here, but I will definitely return because of the large selection of products and the diverse international selection. When I have friends coming over and cook for them, I will shop here for cheap large-size products," says Min-ji, adding that she is going to buy chijimi flour the next time.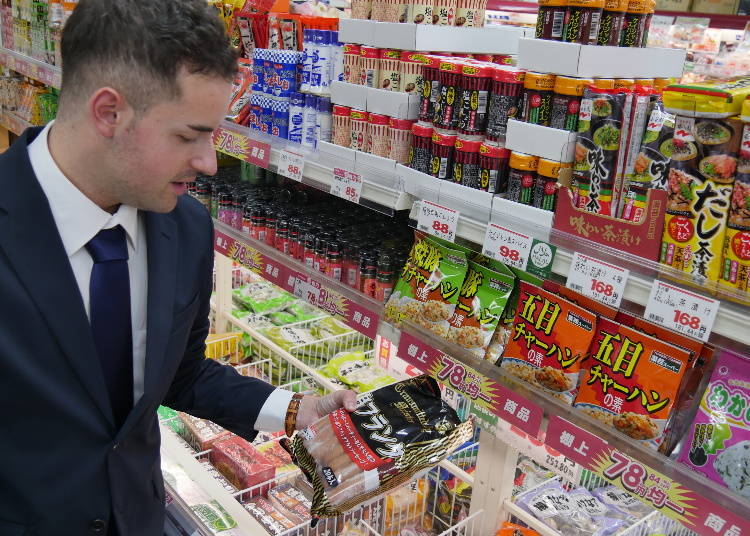 "I like that there are so many different products sold for cheap. Not only things you eat every day such as bread and eggs but even famous international brands are available for little money. I will definitely shop here, especially the frozen and cut vegetables because they're so easy to use and really convenient," says Antonio.

It seems that both of them are quite taken by Gyomu Super, its selection, and its more than reasonable prices!
More Recommended Products of Gyomu Super's Selection!
Since Gyomu Super's selection is so large and diverse, we want to show you some more recommended products sold at the business supermarket!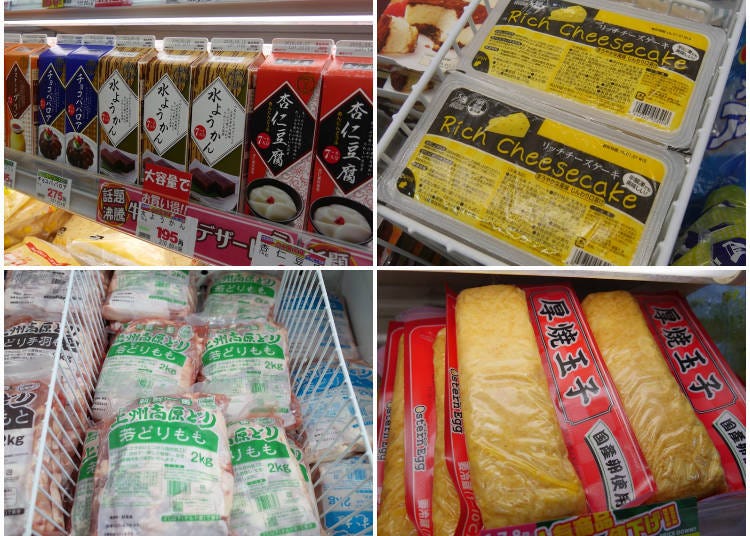 Top left: Milk carton desserts with unique packaging! The milk comes in flavors such as red bean jelly or almond jelly, created on the milk production line.
Top right: Cheesecake from the tofu production line, packaged as it is.
Bottom left: 2 kilograms of fresh thigh meat from young chickens raised in Gunma Prefecture, on the shelf just one day after the quality control. (Only sold in some areas of East Japan)
Bottom right: Thick Japanese-style fried egg with a gentle sweetness, infused with soy milk.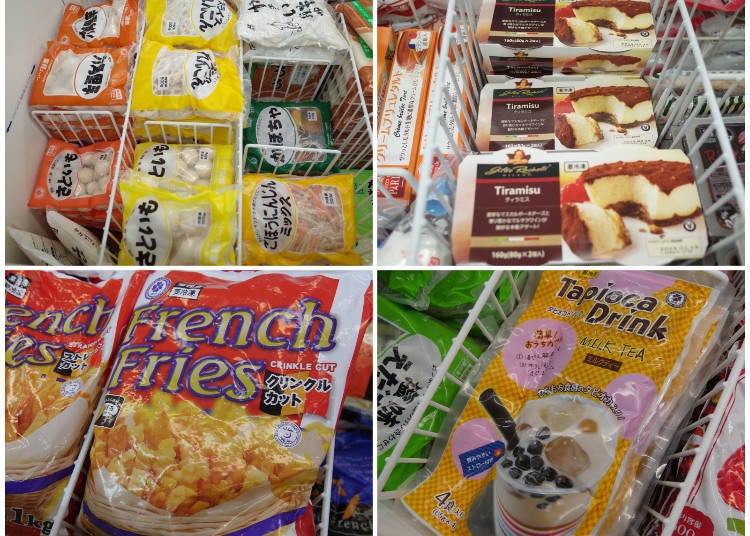 Top left: Frozen vegetables that are particularly useful when fresh produce is suddenly more expensive or soils quickly on hot days.
Top right: The popular Tiramisu with a wonderfully authentic flavor.
Bottom left: The crinkle-cut French fries are a long seller!
Bottom right: Tapioca milk tea is especially popular on Japan's social media.
Gyomu Super: Reasonable Prices Every Day!
Gyomu Super doesn't only offer wonderfully cheap prices but also reliable quality! It's the quality and diverse selection of a specialty store with the prices of a discounter, no matter which Gyomu Super location you go to. You'll find a plethora of goods that are notoriously hard to get, making for a fun and exciting shopping experience! If you miss the taste of your home or need a change from Japan's small sizes, Gyomu Super is the place to go.

*The prices are all excluding tax and as of August 2018.
*The products and prices may vary by store.

The supermarket we visited:
Gyomu Super Ueno Hirokoji

業務スーパー 上野広小路店

Address

2-3-4 Ueno, Taitō-ku, Tōkyō-to 110-0005

Nearest Station

Ueno-hirokoji Station (Tokyo Metro Ginza Line), 2 minutes on foot
5 minutes on foot from Jr Okachimachi Station North Exit


Phone Number

03-5812-2168

Hours: 9:00 a.m. - midnight
*This information is from the time of this article's publication.
*Prices and options mentioned are subject to change.
*Unless stated otherwise, all prices include tax.
Limited time offer: 10% discount coupons available now!