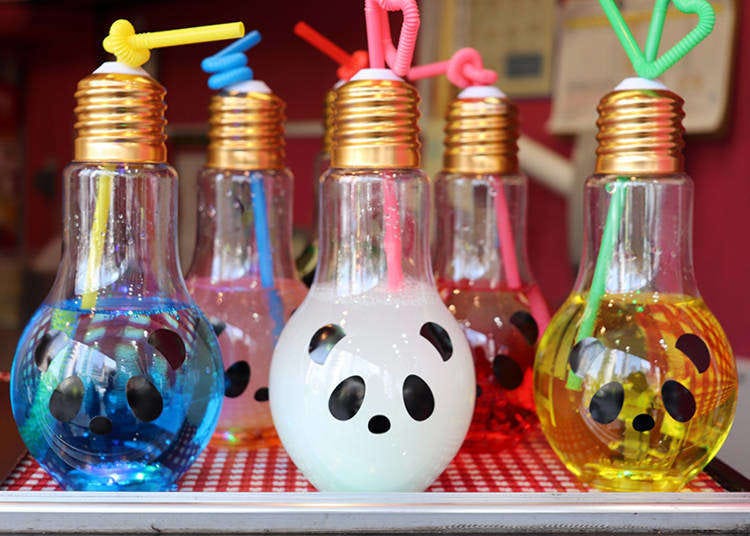 Tokyo's sensational Ameya Yokocho - known simply as Ueno Ameyoko - is located between JR Ueno Station and JR Okachimachi Station. The buzzing district runs along the west side of the JR Yamanote Line trestle. It is a major shopping street in Japan with over 400 shops packed between 500m - 600m.

With its huge variety of shops, Ameyoko is also a highly competitive market place for dining facilities. It is the perfect place to try out different kinds of Japanese foods. In this article we will cover our recommended, must-try Tokyo street foods!
■Panda Sugar's Panda Tapioca
Panda Sugar is a shop that opened on March 27, 2019 and is the hottest shop in Ameyoko right now. They originally started in China and opened up their Japan shop with their popular tapioca milk tea. The Ueno shop is their first shop in Japan and they plan to open up their second shop in Roppongi.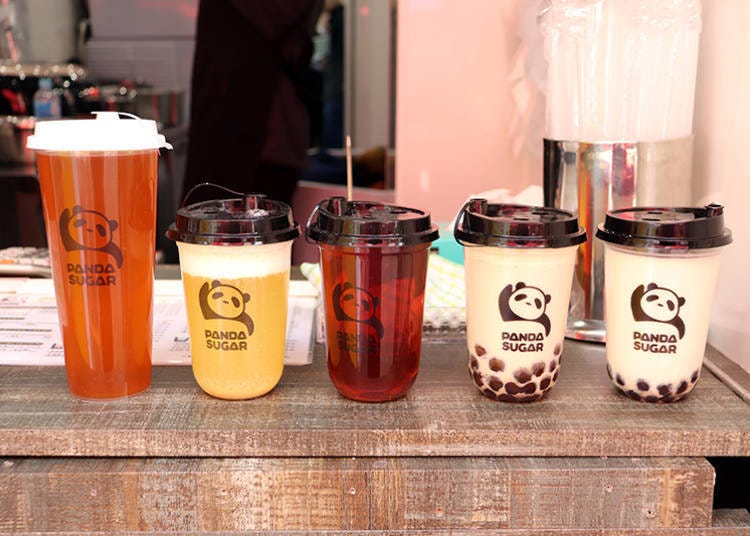 There are 4 steps to order your drink. First, select your base drink - such as straight tea, milk tea or Panda Sugar's special brown sugar milk. Then you pick how sweet you want it, the amount of ice and topping (70 yen tax included per topping) to customize your drink to your liking.
This is the most popular Uji Matcha Brown Sugar Milk Tapioca Tea (medium size 670 yen tax included). Panda Sugar has already started to trend on SNS. It has become popular to female customers that visit Ameyoko.

The tapioca are freshly boiled so the cup is slightly warm when you first hold it. The sweet milk and bitter matcha creates a perfect mixture, and the chewy tapioca matches the drink.
熊猫堂(PANDA SUGAR)

Address

Ueno 6-11-3 Taito-ku, Tokyo

Hours: 11:00 AM - 8:00 PM
Closed: Open daily
■Sweet Paradise's Panda Denki Soda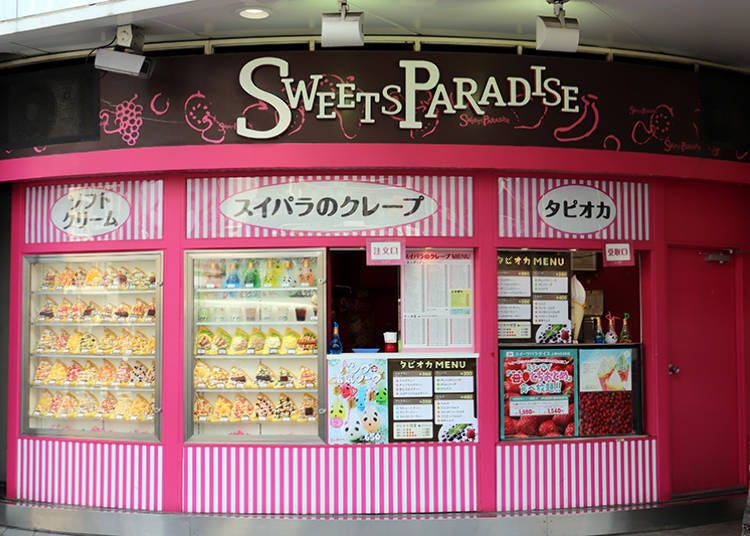 Sweets Paradise is an all-you-can-eat style buffet shop that offers over 30 types of fruits, food and drinks. The Ueno ABAB shop has the buffet shop on the 7th floor of the building and on the 1st floor they have a shop that offers take out for sweets such as tapioca tea and crepe.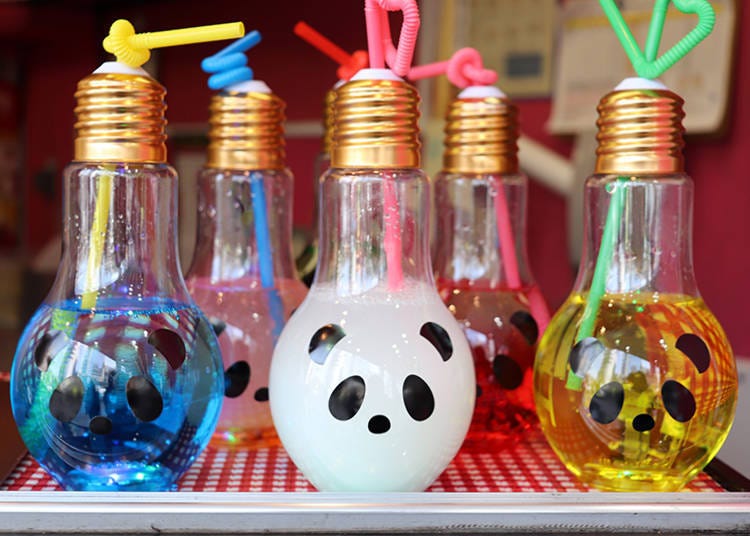 The crepes filled with brownie or cake is starting to attract more attention, but the Panda Denki Soda (650 yen tax included) is very popular to overseas tourists. The light bulb-shaped glass with panda print is very cute. Drinks come in 6 flavors: Blue Hawaii, melon, strawberry, Calpis (Calpico), peach and lemon.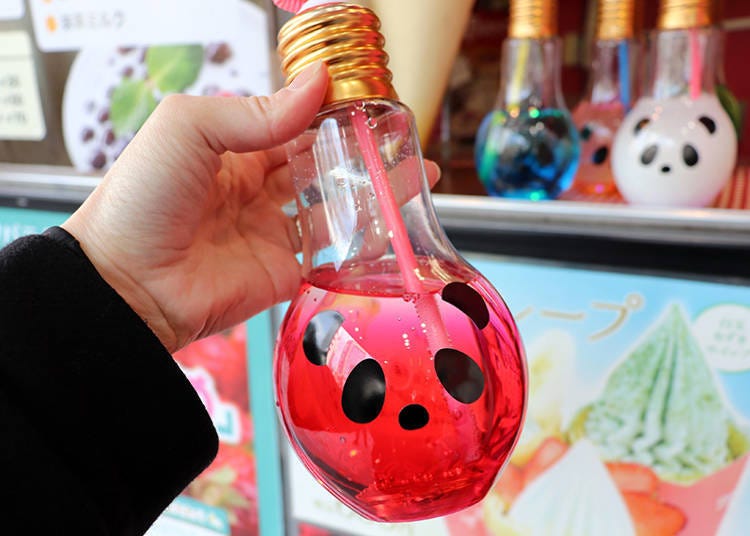 It also glows like a real light bulb, which is another factor for its popularity. After you are done with your drink, you can take the container back home as a souvenir. A perfect drink for touring Tokyo's famous Ueno Ameyoko area!
Sweets Paradise Ueno ABAB Shop

スイーツパラダイス上野ABAB店

Address

Ueno 4-8-4 Koto-ku, Tokyo ABAB 1F/7F

Phone Number

03-3831-7522

Hours: 10:00 AM - 9:00 PM
Closed: Same as Ueno ABAB Shop
■Arirang Hot Dog's Photogenic Hot Dog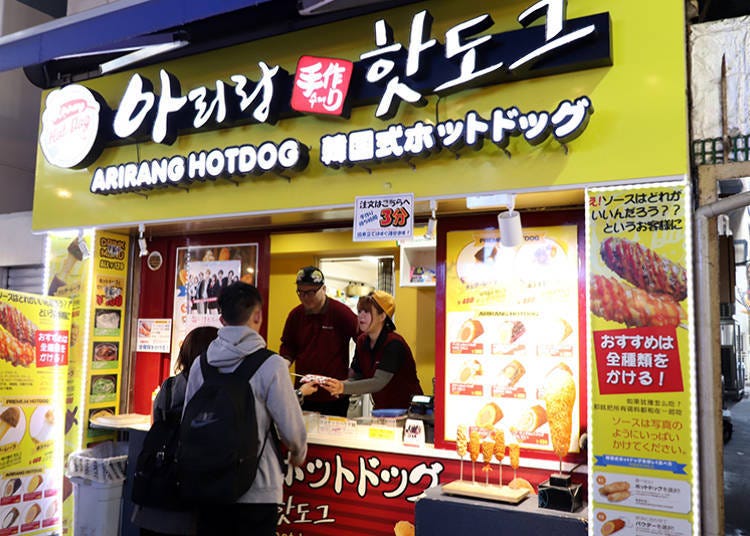 Arirang Hot Dog is a corn dog specialty shop that originated in Korea. At this take-out shop there are different sauces that you can put on yourself. They have 8 types of corn dogs such as the standard with sausage and even one where the sausage is replaced with cheese.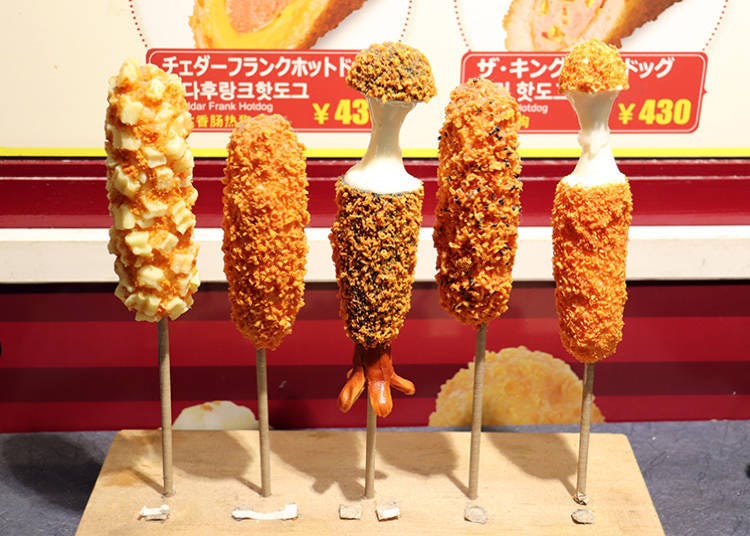 The cheese corn dogs such as the Potatorella with potato and mozzarella cheese (480 yen tax included), Cheddarrella with cheddar cheese and mozzarella (480 yen tax included) are popular as they make great photos for your Instagram or Facebook feed!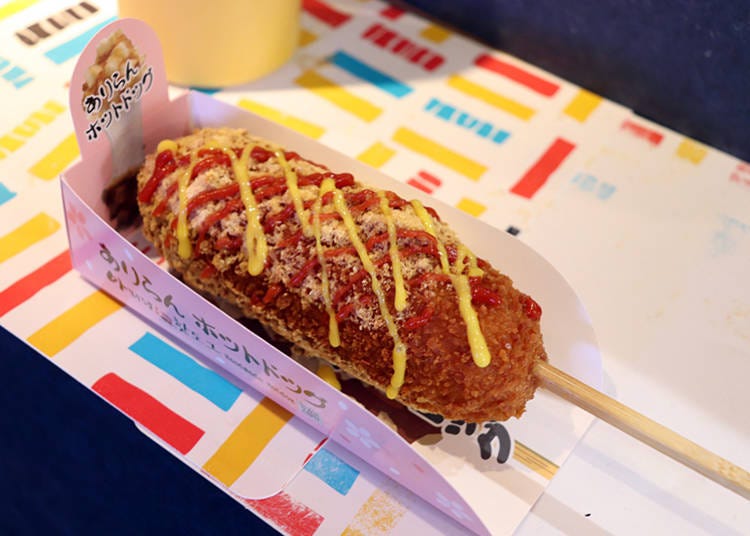 The corn dog that is popular with tourists from all over is the Cheddar Frank Hot Dog with cheese and sausage (430 yen tax included). The freshly fried corn dog is served with kinako (roasted soybean flour) or coconuts powder sugar on it. Most foreign visitors to Ueno Ameyoko give the kinako a go.

They have 5 types of sauces that you can put on yourself: ketchup, honey mustard, cheese sauce, cheese mustard, and hot chili. The recommend way to eat an Arirang hot dog is to put all the sauces on and give a good chomp!
Arirang Hot Dog Ueno Ameyoko Store

アリランホットドッグ上野アメ横店

Address

Ueno 6-11-1 Koto-ku, Tokyo

Hours: 10:00 AM - 8:00 PM
Closed: Open daily
■Chicken Man's Premium Whole Chicken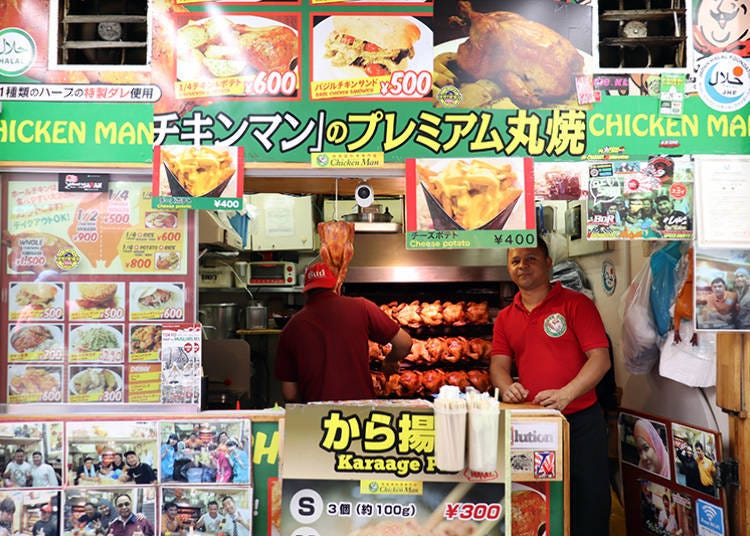 Chicken Man is a restaurant that offers dishes made from domestic Japanese chicken. They have many tasty dishes made with a blend of Asian and European flavors that makes you crave more.

Also this restaurant offers halal food and attracts many Muslim customers as a result.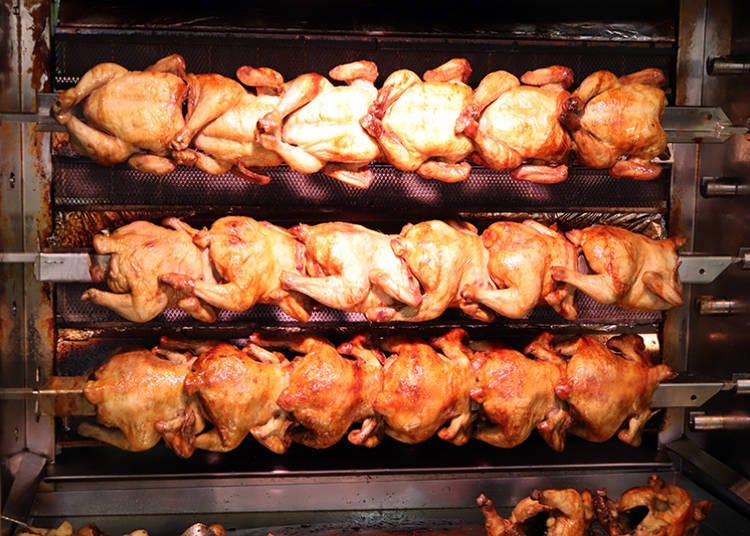 You can see the tasty chickens being cooked behind the register. Out of the various dishes on the menu, the Chicken Vegetable Wrap and Chicken Salad Slice are popular dishes where you enjoy the grilled chicken as is.

The 1/4 Chicken & Potato (600 yen tax included) and 1/4 Chicken & Rice (600 yen tax included) are the most ordered dishes on the menu.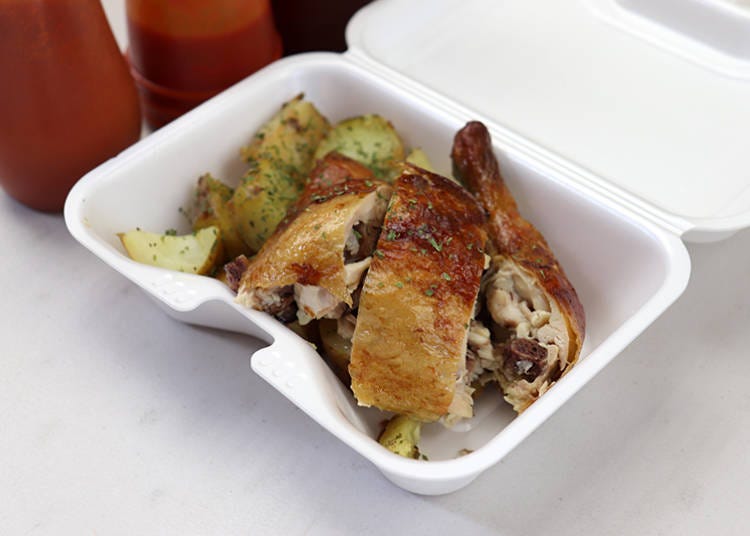 This is the "1/4 chicken & potato". The chicken has crispy skin, while the meat is soft and juicy. The potatoes have a pleasant flavor accented by fragrant herbs and olive oil, and match perfectly with the chicken. You can choose from among three levels of spicy sauce, but without this you can savor the rich, flavor-packed goodness of the meat.
チキンマン

Address

Ueno 4-7-8 Taito-ku, Tokyo

Phone Number

03-6284-2828

Hours: 9:00 AM - 9:00 PM
Closed: Open daily
■Uokusa's Sake and Seafood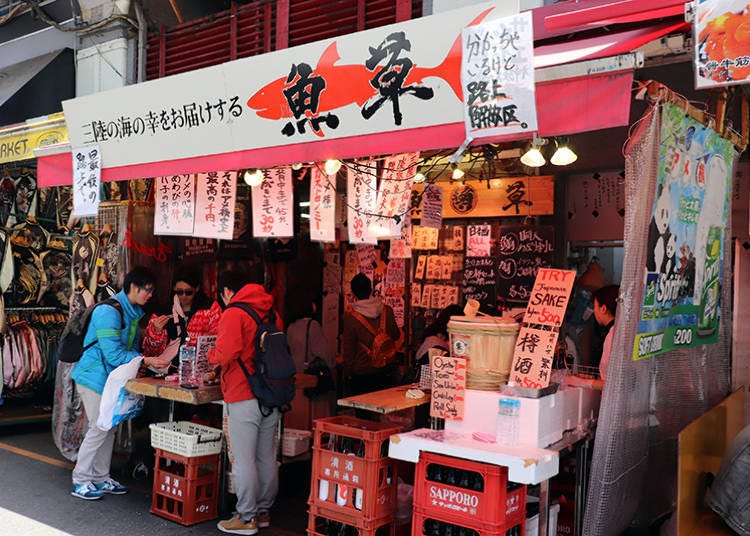 Uokusa is a tachinomi standing bar-style shop where you can enjoy sake and fish. They offer fresh seafood from all over Japan and even rare fishes that are hard to find in Tokyo are offered at a reasonable price. The cozy semi-outdoor space is filled with energy that can only be felt in Ueno Ameyoko.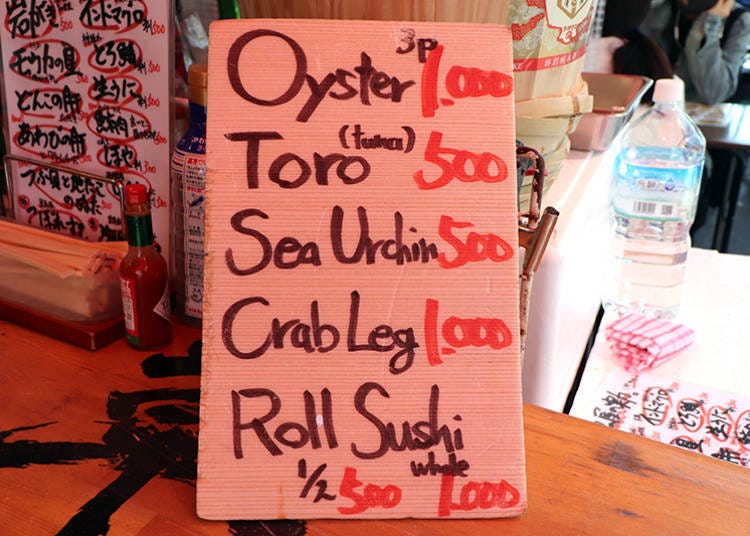 The pop display menu with recommendations are always entertaining. Uokusa also has an English menu. They have the standard popular seafood such as oysters, tuna, raw sea urchin and ascidians, but the rare seafood are very popular. Especially the Mouka no Hoshi (salmon shark heart) is their signature dish and a must-try.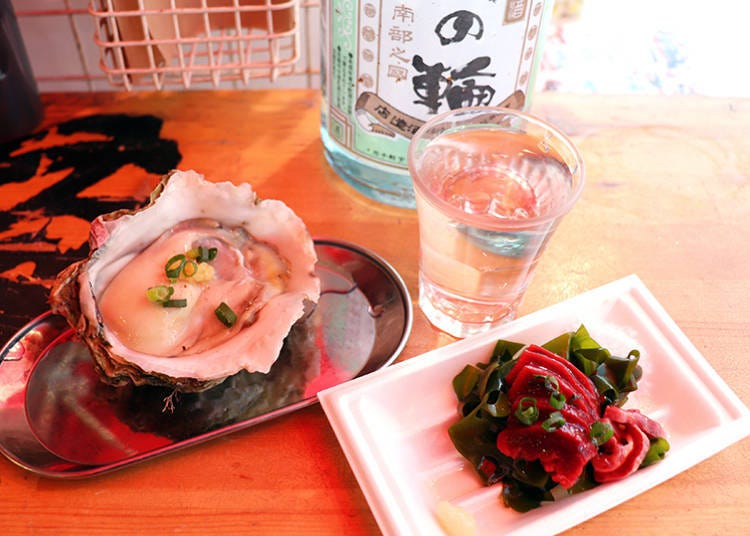 Photo of iwagaki oyster from Chiburi-jima (500 yen tax included), Mouka no Hoshi (500 yen tax included) and sake (starting from 500 yen per glass). The iwagaki oysters are flavored so we had them as they were. The oysters are plump and very creamy. Mouka no Hoshi is considered the seafood version of liver sashimi and has a chewy texture and rich taste. It is served with sesame oil and you can add salt or garlic for extra flavor.
魚草

Address

Ameyoko Plaza Ueno 6-10-7 Taito-ku, Tokyo

Phone Number

090-2436-4855

Hours: [Monday ~ Friday] 11:00 AM - 8:15 PM (food last order 8:00 PM, *stop new order, drink last order 8:15), [Saturday, Sunday, Holidays] 11:00 AM - 7:15 PM (food last order 7:00 PM *stop new order, drink last order 7:15 PM)
Closed: Second Wednesday
Tokyo has many different types of cuisine from around the world. Here in Ueno Ameyoko there are many delicious shops. In our article we recommend various types of food such as meat, seafood, and sweets. On your visit to Tokyo Ueno please enjoy these various types of food and feel the Japanese eating experience.

*This information is from the time of this article's publication.
*Prices and options mentioned are subject to change.
*Unless stated otherwise, all prices include tax.
Limited time offer: 10% discount coupons available now!