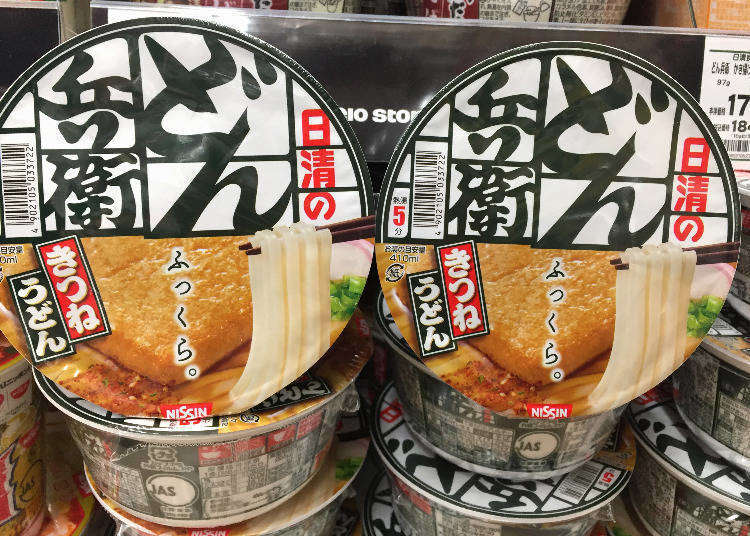 Keio Store, a supermarket chain operated by Keio Group (the same company which operates Keio Railways and Keio Department Store), is a familiar sight across Japan. As Keio Stores are commonly found in the suburbs and next to train stations, they are an accurate reflection of what the average Japanese person really buys at the supermarket. Let's have a look at the sales data for 2017 to find out Japan's top 10 instant noodles!

Instant ramen are a staple for college students and those who prefer to eat out. If you crave a midnight snack or are too busy to cook, a bowl of instant ramen is just what you need. Ranking high on this year's list of top selling instant noodles are the crowd pleasers Cup Noodles and Donbei, both creations by Nissin Foods. Udon and soba Maruchan instant udon and soba and Toyo Suisan and Myojo Foods' Ippei Chan Yakisoba also make appearances. Despite the differences, what these instant ramen all have in common is that they are all simply irresistible!
10. Toyo Suisan Maruchan Midori no Tanuki Tensoba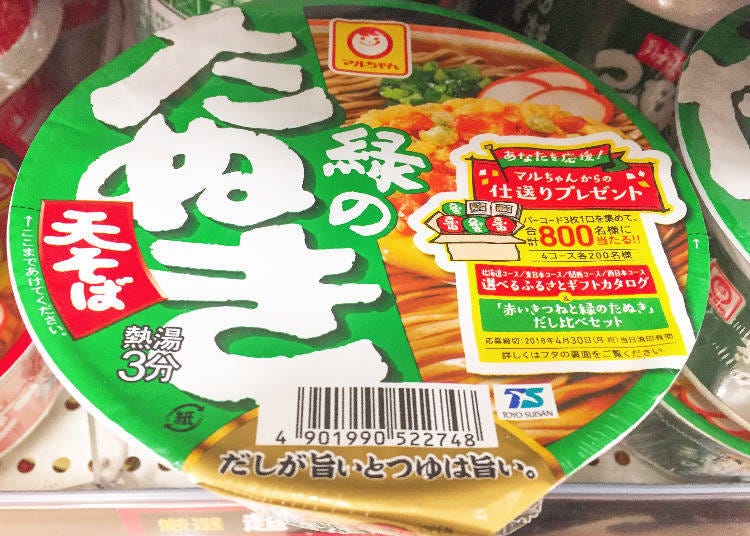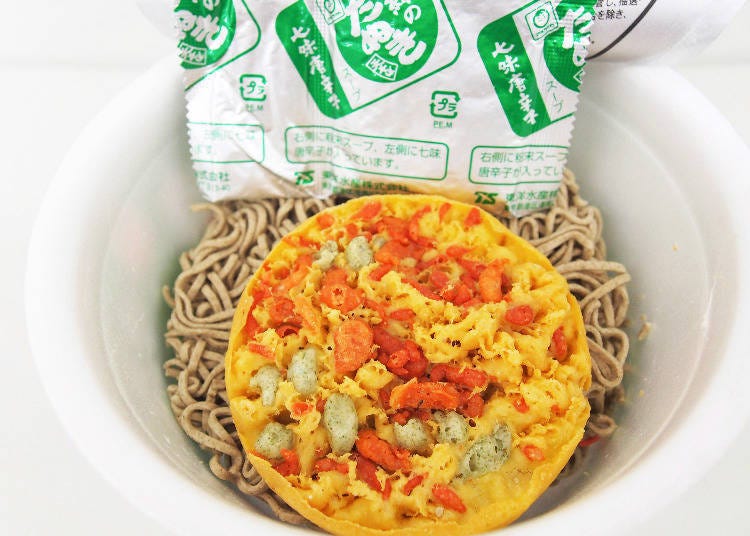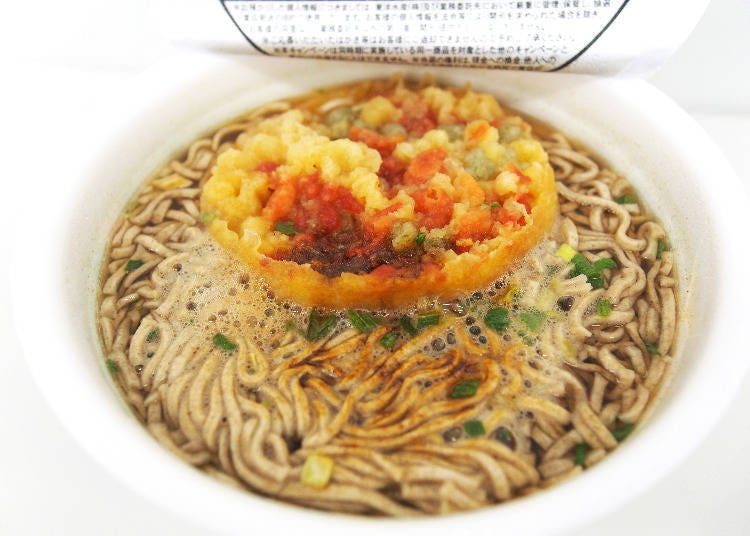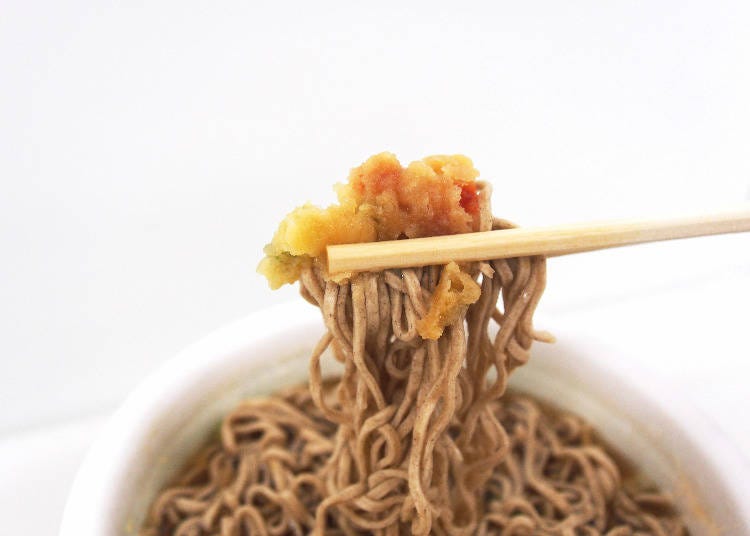 Price: 128 yen (101 g)
Part of the Maruchan instant noodle lineup by Toyo Suisan is Midori no Tanuki Tensoba, soba (buckwheat) noodles topped with tempura. Its hearty broth is has just the right amount of saltiness to it and is made with soy sauce, and sugar. As the tempura soaks up the broth, it becomes chewy and takes ond the flavor of the broth. Japanese people often eat soba noodles during the New Year, so if you go to a supermarket in Japan in late December, you're bound to see store shelves stocked with Midori no Tanuki Tensoba.
9. Nisshin Foods Nisshin Yakisoba UFO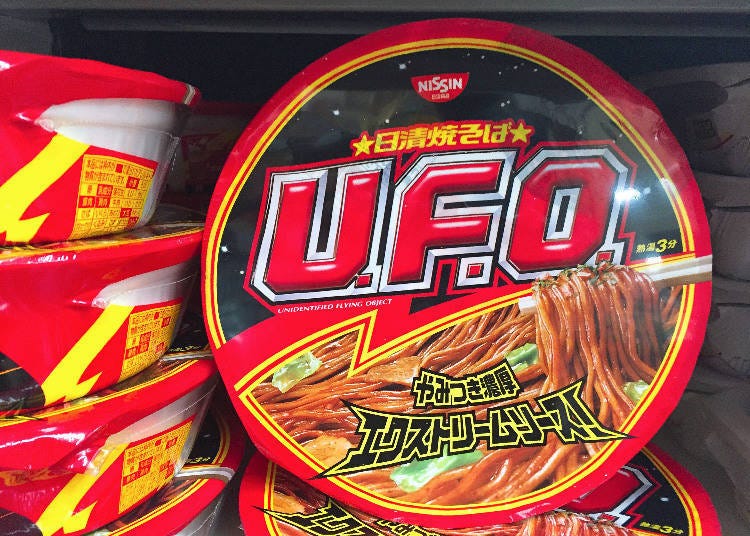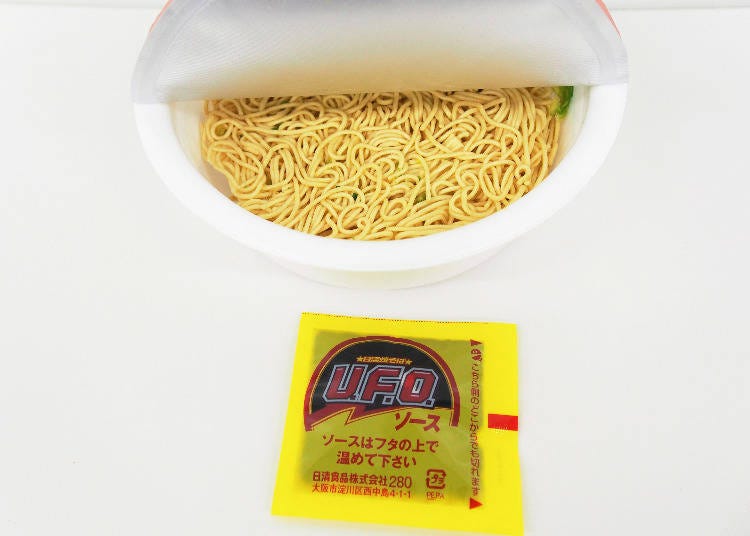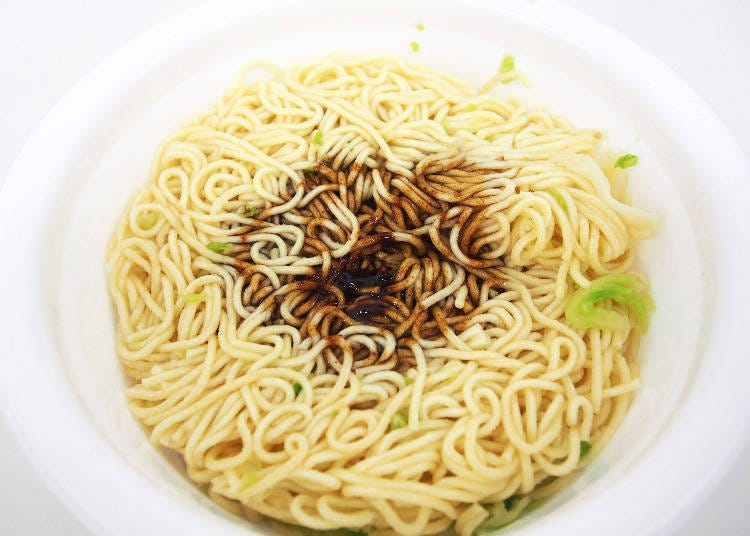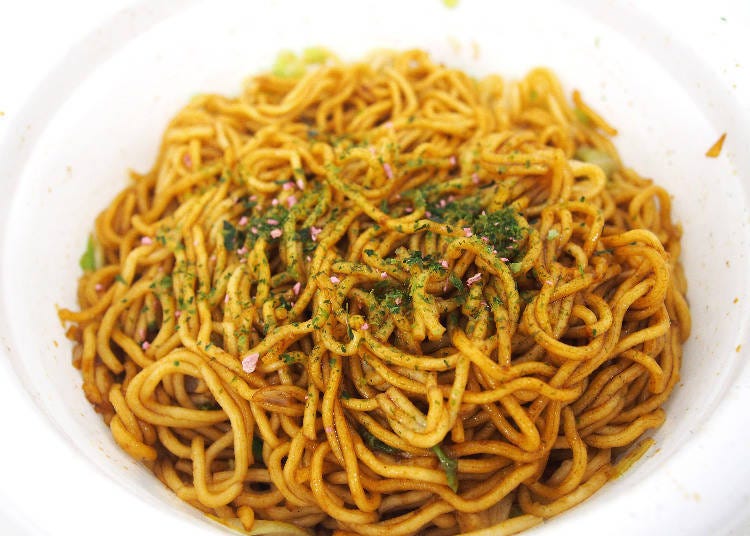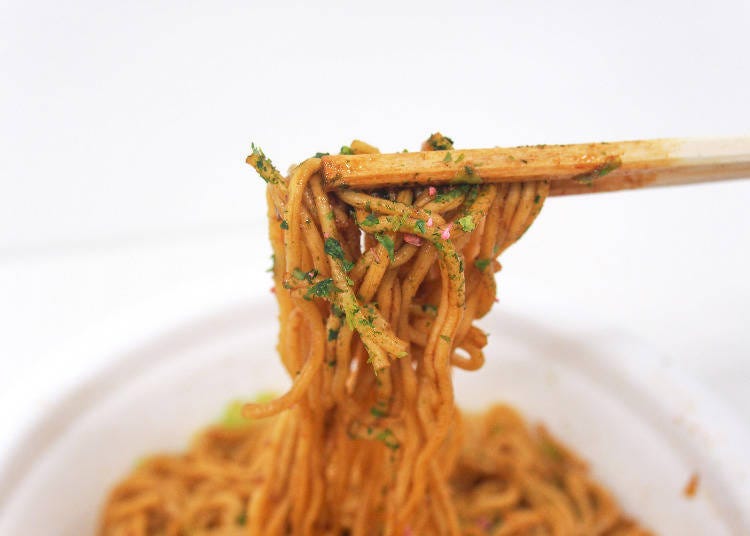 Price: 170 yen (129 g)
When it comes to instant Yakisoba, UFO is often the first brand that Japanese people gravitate towards. Peel back the paper lid on a package of Nissin Food's Yakisoba UFO and you'll see that there's already freeze dried cabbage on top of the flash fried noodles. The process of making instant yakisoba is a bit different that other instant noodles. First, boiling water is used to cook the noodles, then discarded through vents in the packaging (watch out for the steam!). After the water has been drained, add the packet of yakisoba sauce, and you're done!

The chewy texture of the noodles is satisfying and goes along perfectly with the bold sauce, crisp cabbage, and bits of pork. Transform your yakisoba into a dish that you can take the next level by adding dried nori (seaweed) flakes, and pickled and grated ginger. Don't forget to top with an egg for an extra kick!
8. Myojo Foods Ippei Chan Yatai no Yakisoba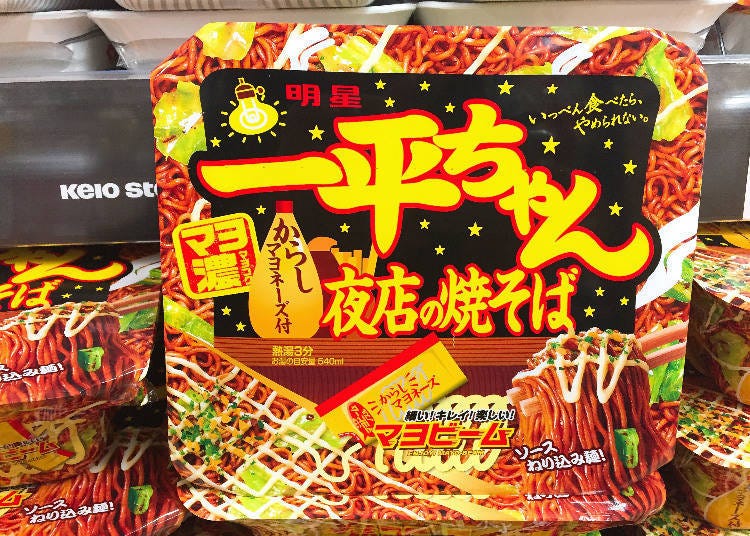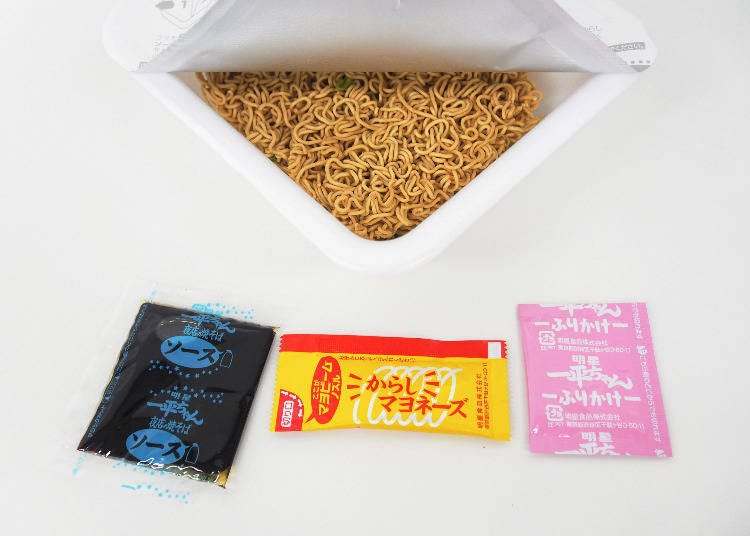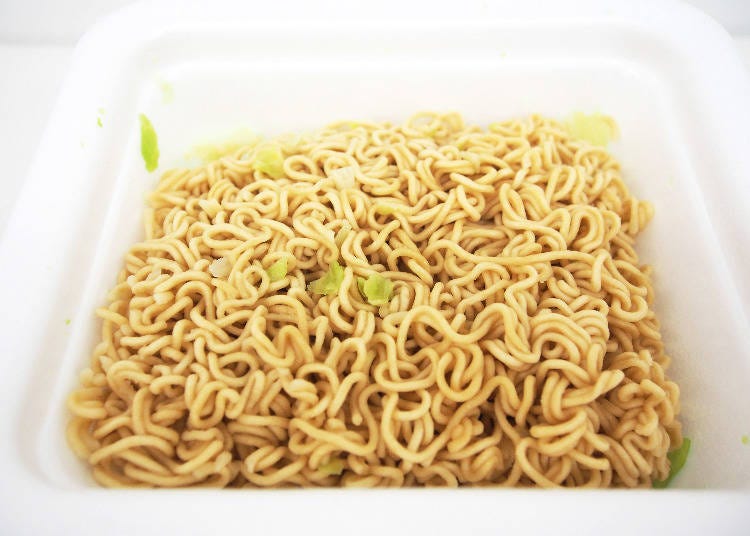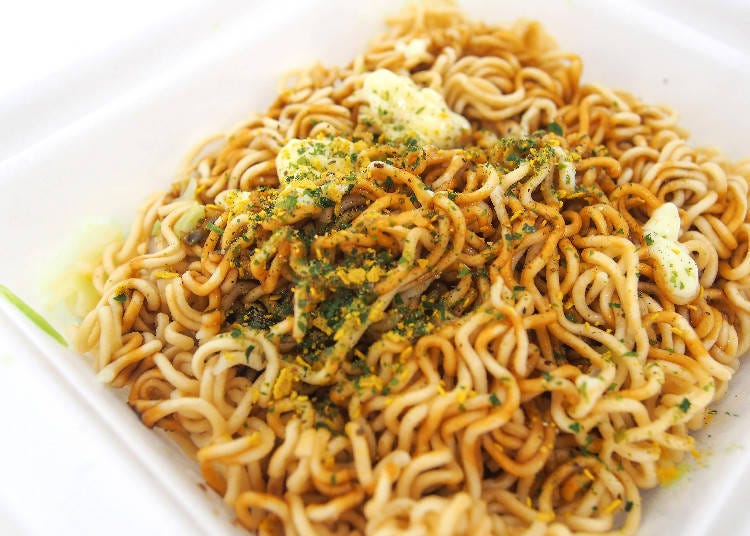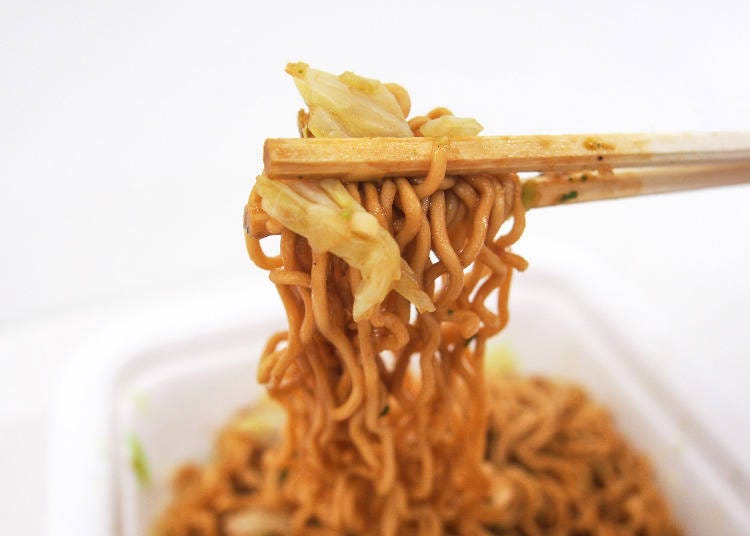 Price: 138 yen (135 g)
There are two popular brands of instant yakisoba in Japan: UFO by Nissin Foods and Ippei Chan Yatai no Yakisoba by Myojo Foods. While you might be inclined to think that they are the same, try them and you'll see that they are indeed different. First, Ippen Chan no Yatai no Yakisoba has thinner noodles and perhaps are not as firm as those by Nissin Foods. You'll also notice that Ippei Chan no Yatai no Yakisoba also comes with 3 tiny packets of mayonnaise, yakisoba sauce, and dried toppings. Mix it all together and you get an enticing smell and a bold flavor, making Ippei Chan no Yatai no Yakisoba a favorite in Japan.
7. Nissin Foods Nissin no Donbei Kamo-dashi Soba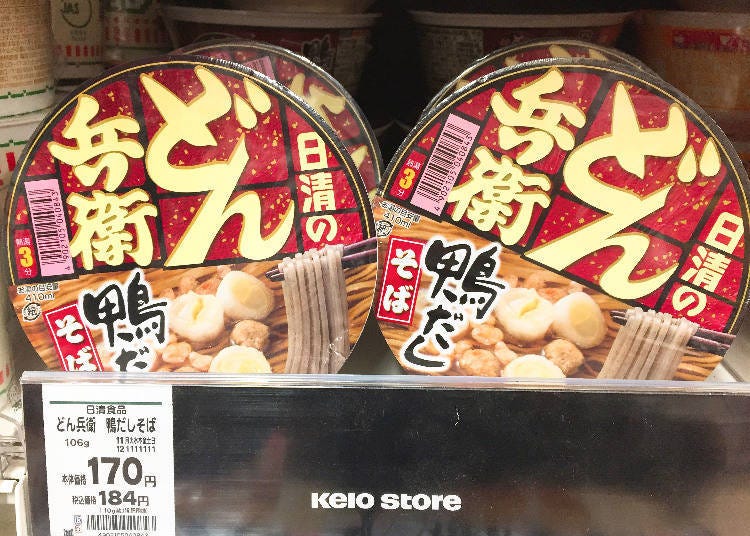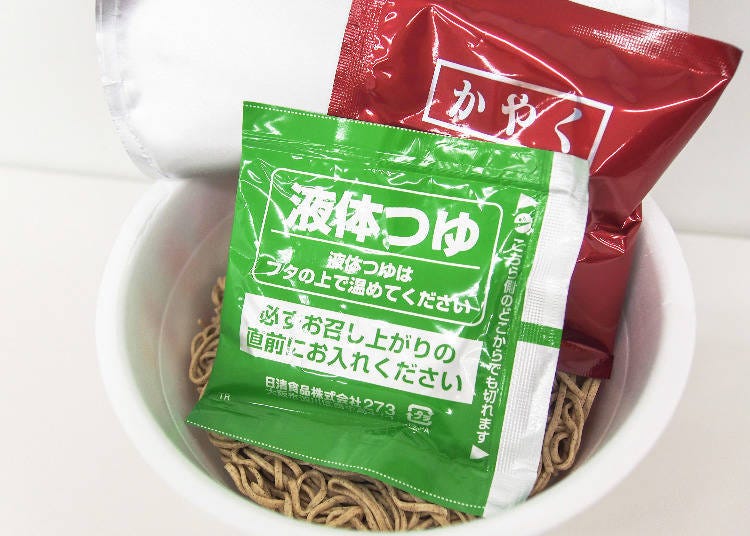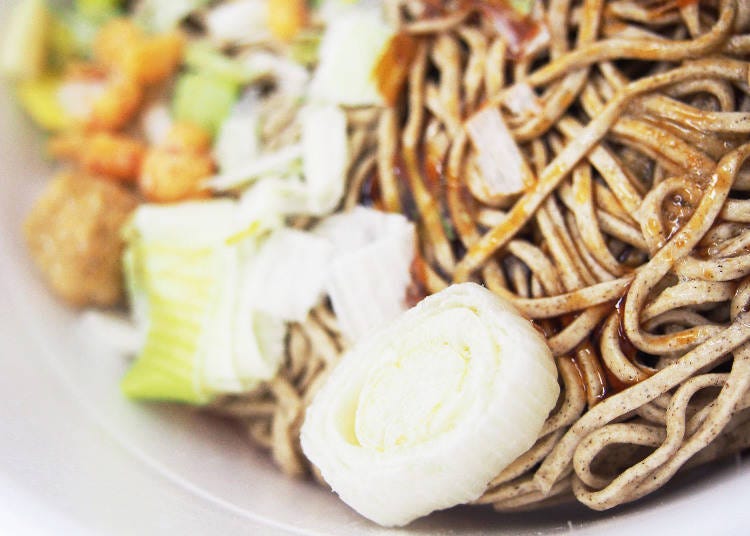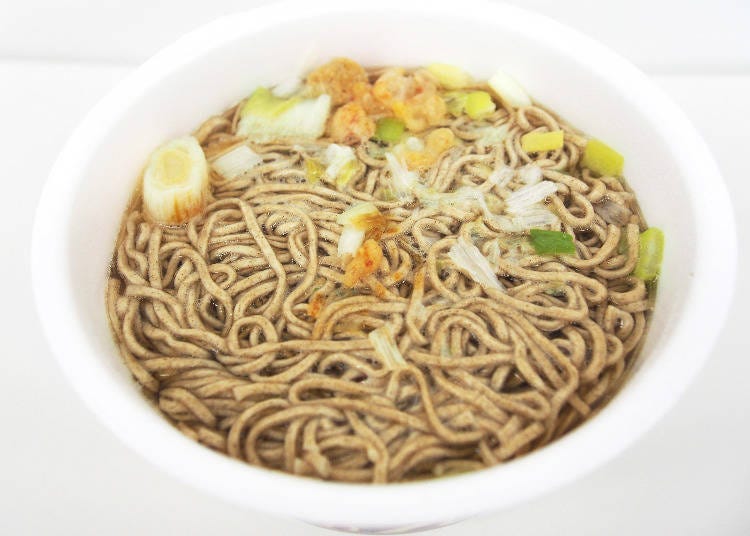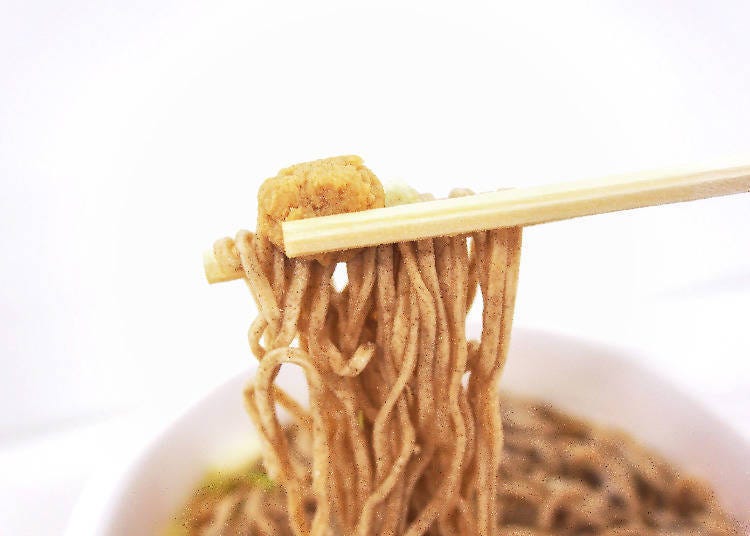 Price: 170 yen (106 g)
There's plenty of variety when it comes Nissin Foods' Donbei lineup, but there's something about the clean taste of these soba noodles and broth seasoned with duck fat and aromatic green onions. It's just as good as soba served in a restaurant, so if you've ever wanted to try kamo dashi soba, this is the next best thing!
6. Nissin Foods Cup Noodle Curry Flavor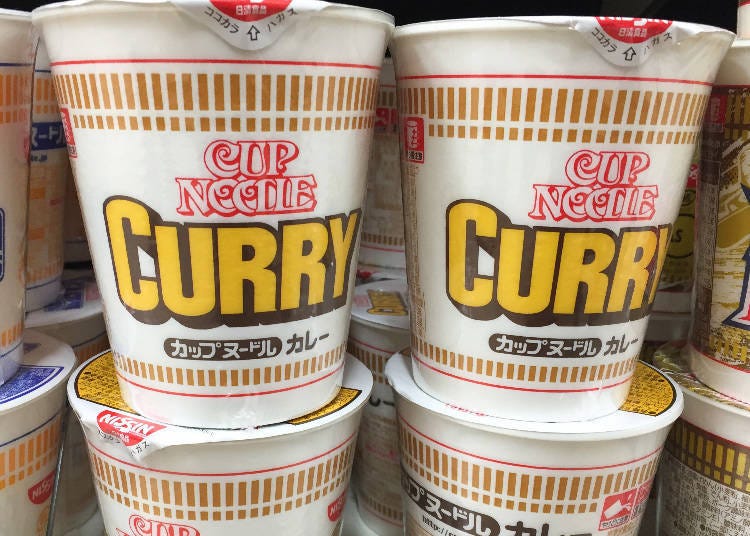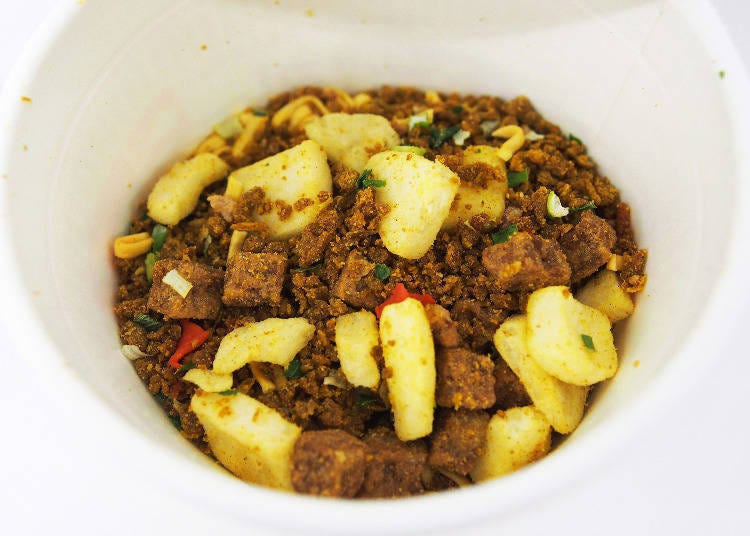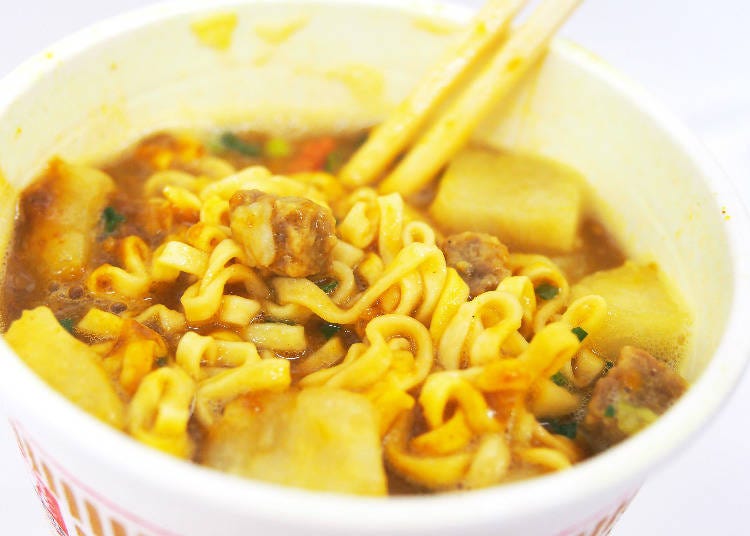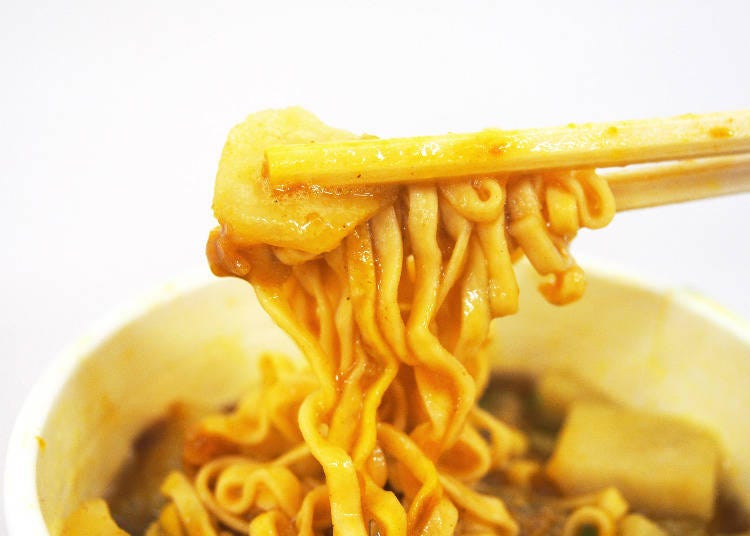 Price: 170 yen (85g)
One thing that makes Nissin Foods' Cup Noodles different from other kinds of instant noodles on the market is that the seasonings and toppings, typically packaging in tiny packets, are waiting for you to just add boiling water! Peel back the lid of the Curry flavored Cup Noodles, and you're greeted with the fragrant scent of spices, and there are bits of pork and potato as well. The noodles are coated with curry seasoning - but don't let the spices intimidate you. While bold and flavorful, these instant curry noodles are not spicy at all, making them a favorite in Japan.
5. Toyo Suisan Maruchan Akai Kitsune Udon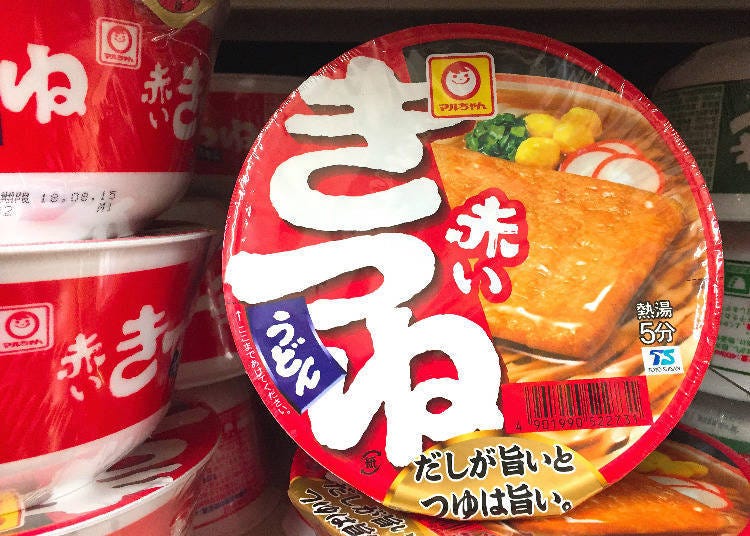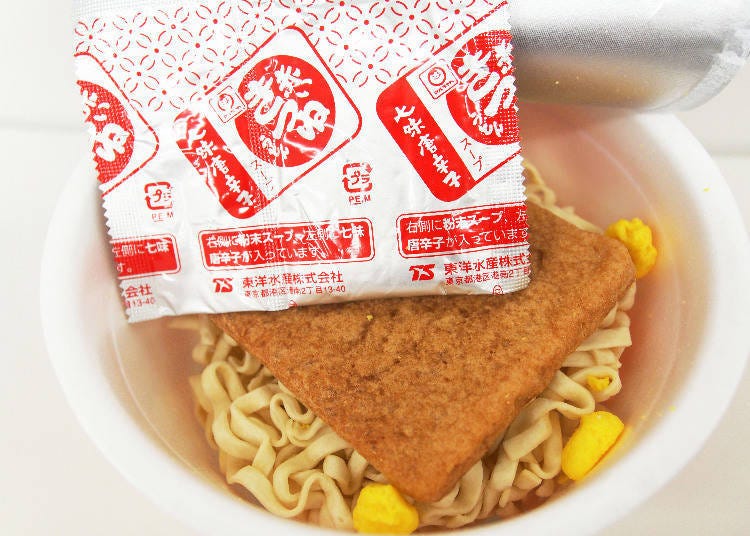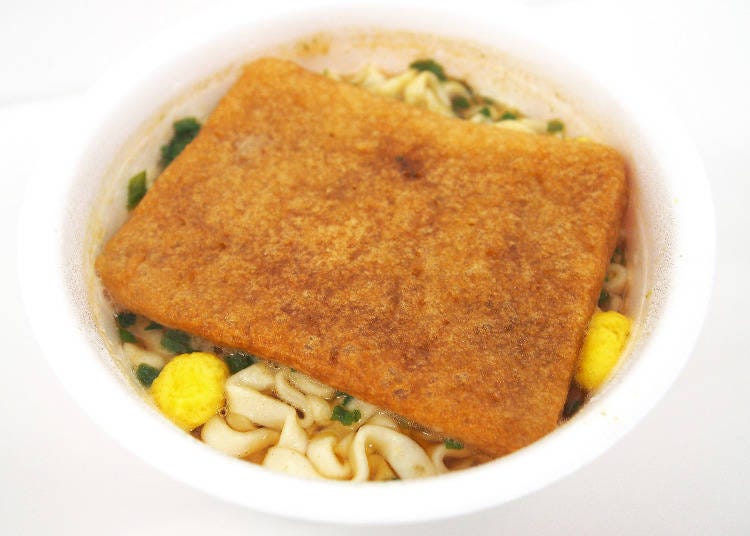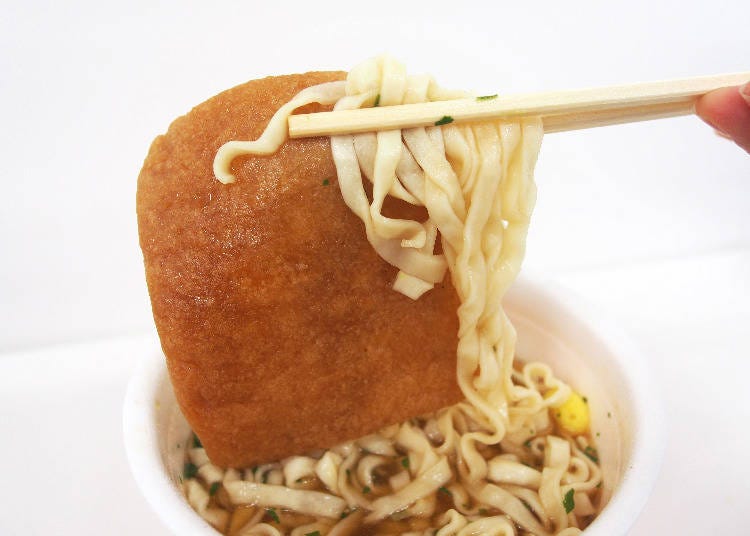 Price: 128 yen (101 g)
With a soup stock made from dried and simmered fish, Akaii Kitsune Udon is just as popular as Midori no Tanuki Tensoba, another Toyo Suisan creation. Akai Kitsune udon consists of flat udon noodles, dried scrambled egg pieces and a large piece of fried tofu (believed to be the fox's favorite food). The taste of Akai Kitsune Udon has remained unchanged since it hit the market, making it one of Japan's traditional flavors.
4. Nissin foods Nissin Donbei Tenpura Soba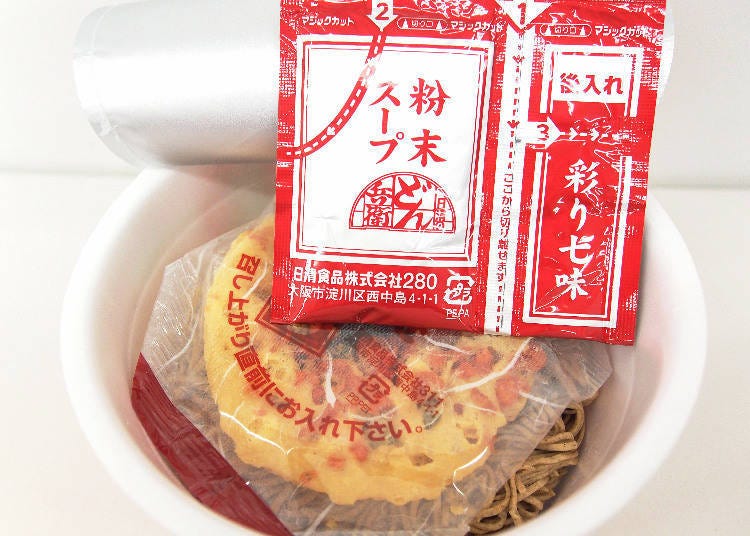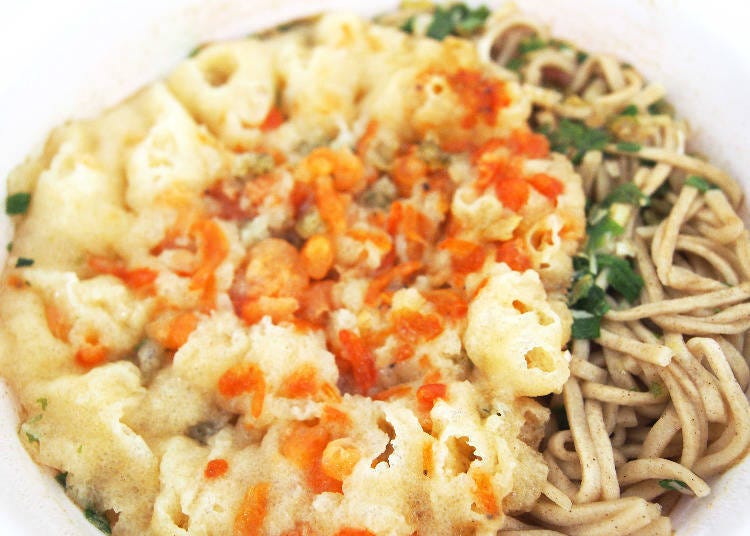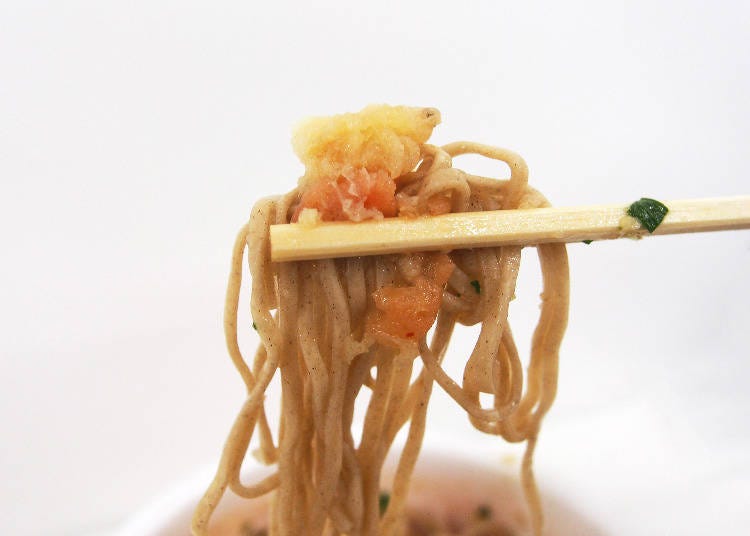 Price: 138 yen (101g)
Donbei Tenpura Soba adds a slightly spicy dried seasoning known as "shichimi" to season its soy sauce broth, resulting in a flavorful taste with just a hint of spice that expands as you eat. Add the dried tempura once your noodles have cooked and let them soak up the spicy soup. The harmony of the rich soup, tempura, and soba noodles is the reason why Donbei Tenpura Soba frequently finds its way into Japan's shopping baskets.
第3名:日清食品 Cup Noodle海鮮口味(カップヌードル シーフードヌードル)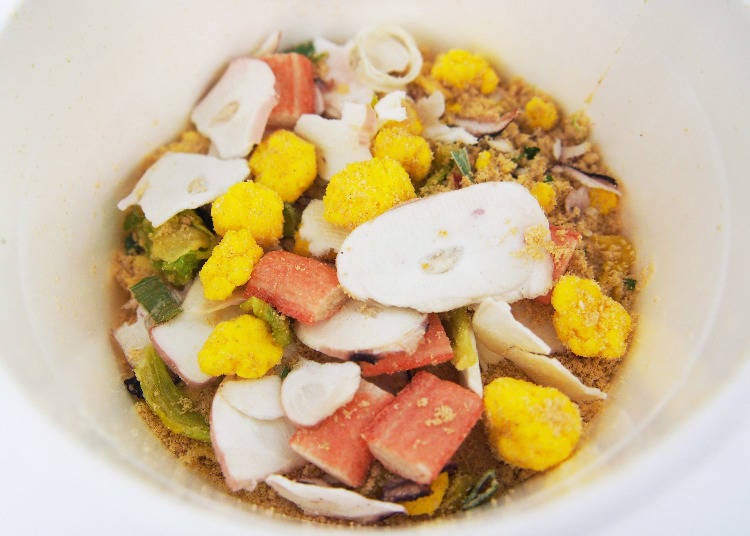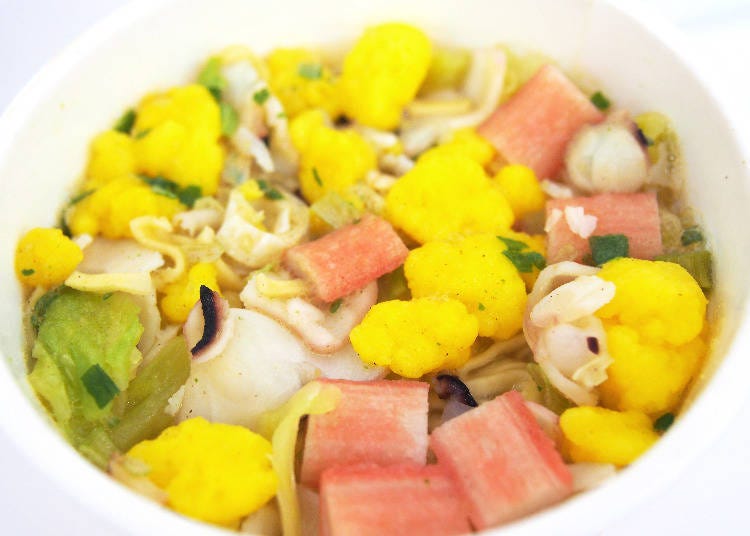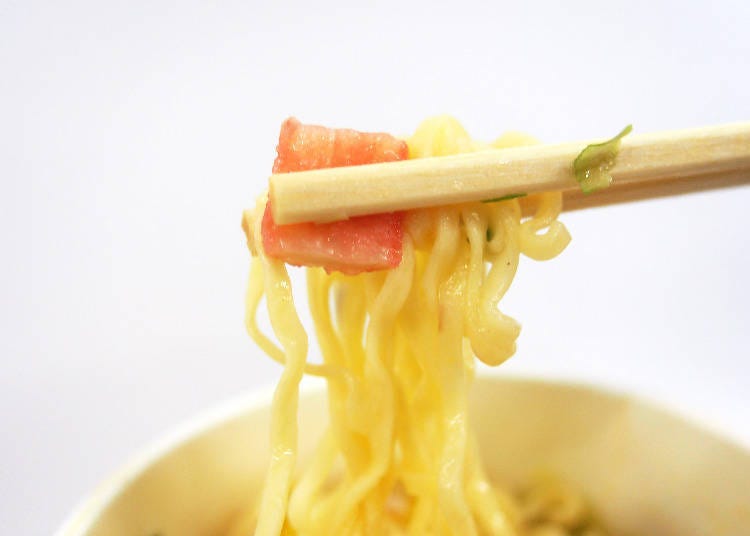 Price: 170 yen (75 g)
A hearty seafood stock and rich blend of flavors puts Nissin Foods Seafood Flavor Cup Noodles in the top 3. The clear broth is pleasantly seasoned and accented by bites of crab, squid, cabbage, and scrambled egg. This is one cup of instant noodles that is sure to become your favorite.
2. Nissin Foods Nissin no Donbei Kitsune Udon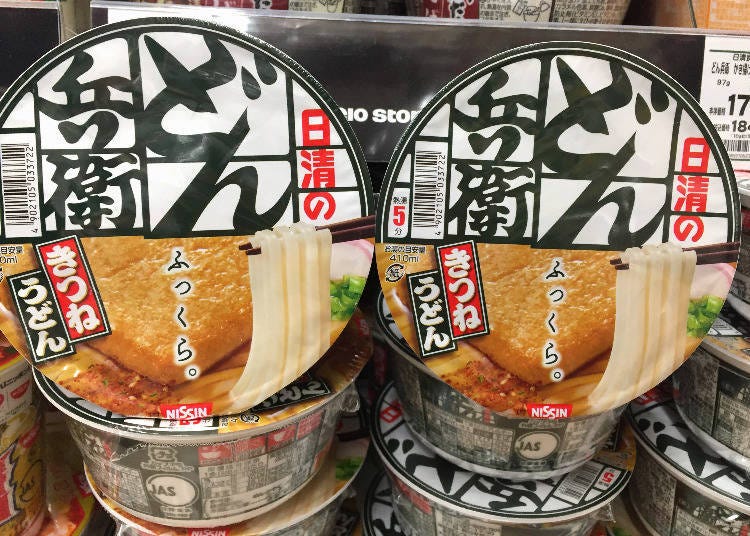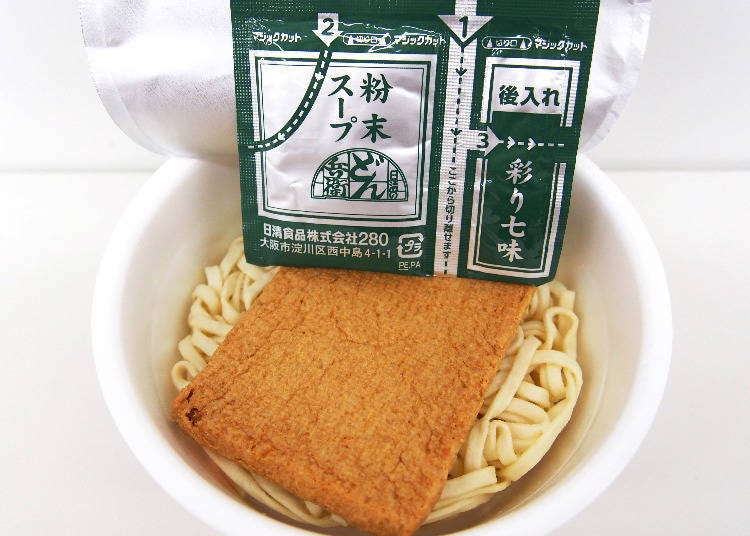 Price: 138 yen (97g)
Warm up over a bowl of and its fresh soup stock made from soy sauce, kelp and simmered fish. Gradually add the packet of shichimi seasonings for spice that balances out the hint to sweetness in the stock. Unlike other versions of instant kitsune udon, Donbei Kitsune Udon noodles are wide, thick and flat, creating a firm texture that is fun to chew. The slightly sweet fried tofu is made from 100% soybeans and produced using the traditional methods of making tofu. Try one bowl of Donbei Kitsune Udon and you'll see why it's a favorite of Japanese, young and old.
1. Nissin Foods Cup Noodle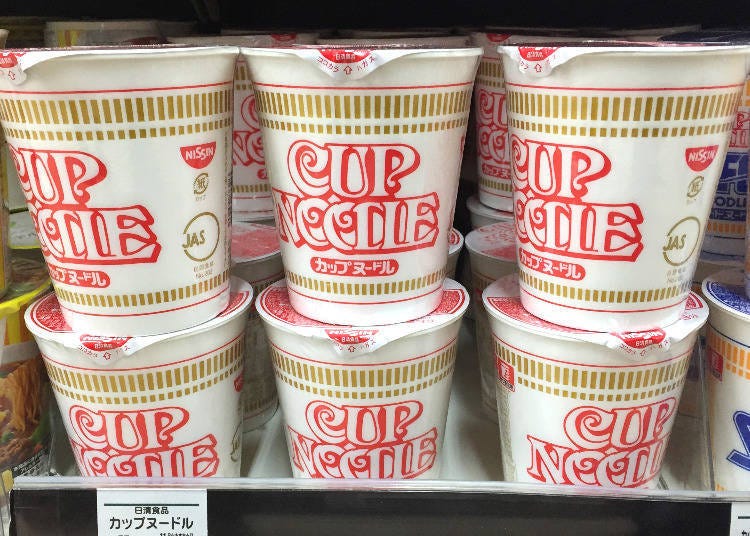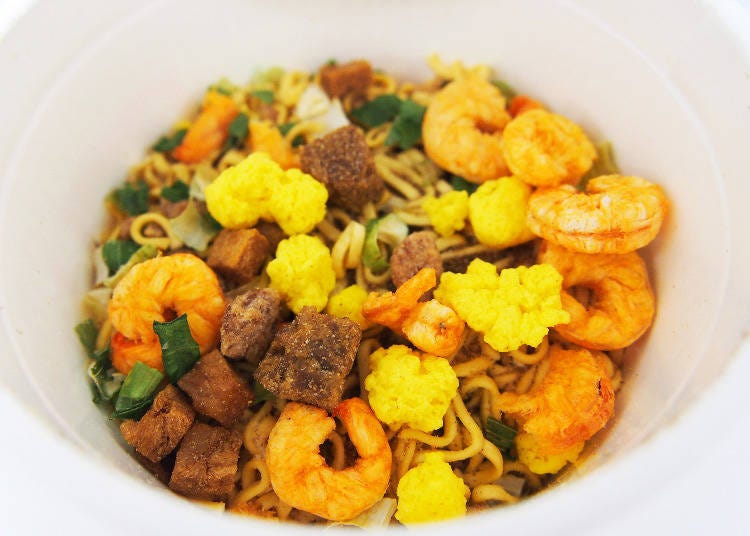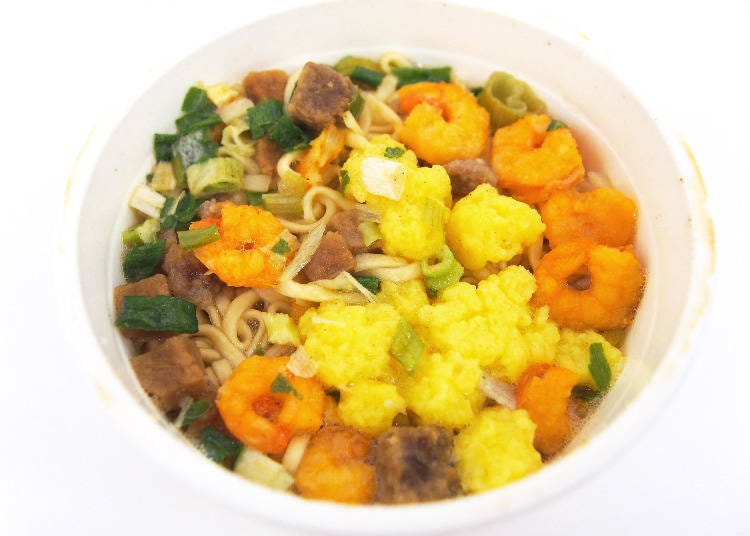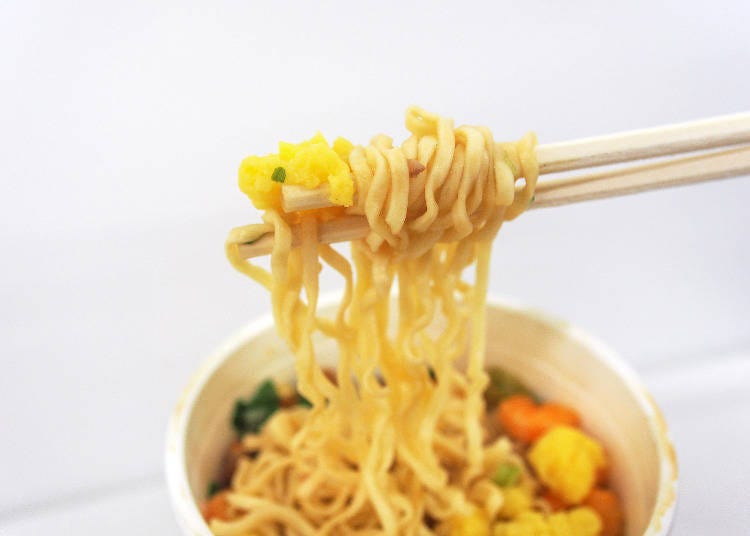 Price: 170 yen (77g)
Taking the top spot on our list is the Original flavor of Cup Noodle by Nissin Foods. Just as with other Cup Noodle flavors, this one is filled to the brim with noodles and toppings. There's dried pieces of Nissin Foods' tasty "mystery meat," scrambled egg pieces, green onions, and plenty of shrimp, too! It's all brought together by a seasoned soy sauce stock with a distinctly Japanese taste that is sure to be your favorite!
When you're in Japan, mix things up by skipping dinner at a restaurant and try a few of these instant noodles instead. These are the top sellers at Keio Store, but you're bound to find them nearly anywhere. Just add boiling water and enjoy one of Japan's most unique foods.

*The above prices do not include sales tax.
*The data used for this article is accurate as of March 2018.
*Product availability may vary.
*Prices may vary by Keio Store branch, seasonal promotions, etc.
Photos taken with the cooperation of Keio Store Seiseki Sakuragaoka Branch
Keio Store Seiseki Sakuragaoka Branch

京王スーパー KEIO STORE 聖蹟桜ヶ丘店

Address

1-11-1 Sekido, Tama-shi, Tokyo 206-0011

Nearest Station

Keio Seiseki Sakuragaoka


Hours: 10:00-23:30(2F 10:00-21:00)
Written By: Zhang Jia Qi
*This information is from the time of this article's publication.
*Prices and options mentioned are subject to change.
*Unless stated otherwise, all prices include tax.
Limited time offer: 10% discount coupons available now!