Explore Japan's conbini culture with our food expert's 2023 guide to the latest and greatest treats from Lawson, 7-Eleven, and FamilyMart – it's a treasure hunt for the tastiest exclusive finds!
Convenience stores in Japan are a must-visit destination for foreign tourists. With over 50,000 locations throughout the country, these stores sell a wide variety of products ranging from bento boxes, sweets, and drinks to everyday essentials. However, they also offer a range of exclusive, original goods to attract and outshine their competitors. These goods are not only rich in selection but are also exceptional in taste and quality, making the search for them akin to a treasure hunt.

In this article, our food writer and convenience store aficionado has carefully selected a range of new products for 2023 from Japan's three major convenience stores - Lawson, 7-Eleven, and FamilyMart. These products include cherished classics, hidden gems, and more!
Lawson: New Uchi Cafe Sweets and Karaage-kun Collaboration Treats!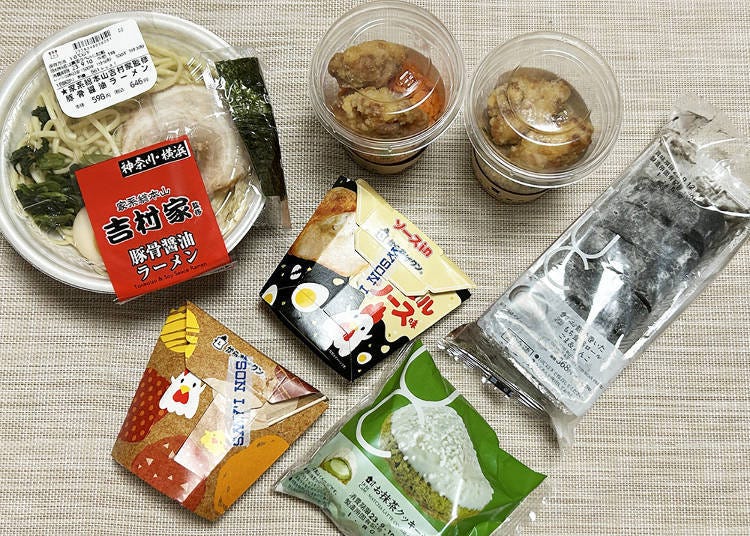 Lawson has a solid reputation amongst its competitors for sweets. They even have their own original sweets brand: Uchi Cafe. With a core concept of "turning your home into a cafe anytime," this brand consistently rolls out one hit product after another. Lawson also regularly introduces new flavors from their signature, long-selling product line Karaage-kun, a customer favorite for over 35 years. Let us now introduce our recommended goods from these popular series, Uchi Cafe and Karaage-kun.
1) Mochi Rolls with Sesame & Red Bean Paste: A Japanese and Western Flavor Fusion!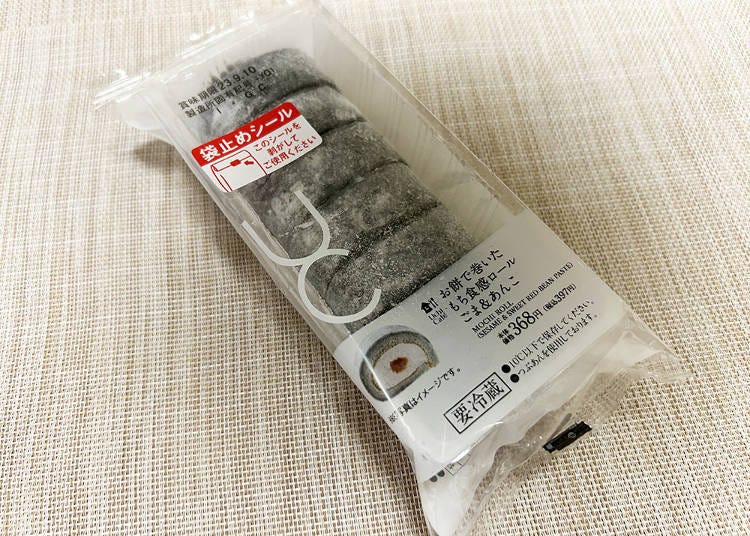 One of the most popular items in Lawson's Uchi Cafe is the Mochi Roll series. These mochi rolls are made with gyuhi (sweet rice cake) dough and filled with sponge cake and cream.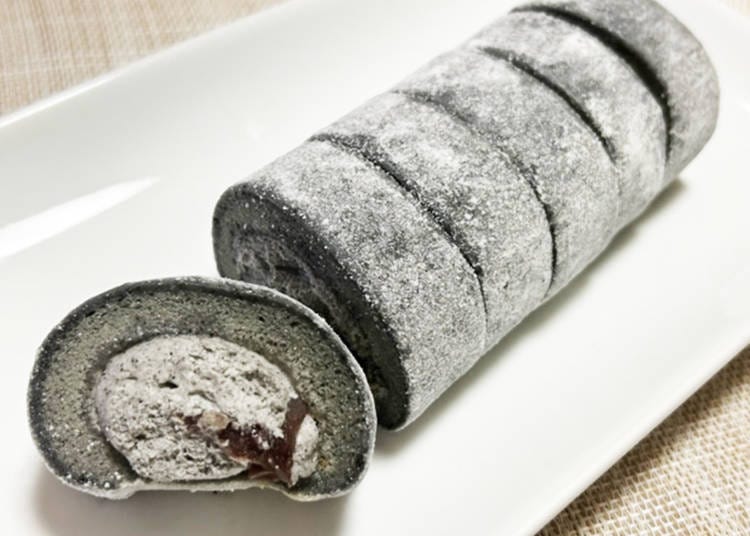 First up is Sesame & Anko, newly released on August 22, 2023. Sesame and anko (red bean paste) are common ingredients in Japanese sweets. The twist here lies in their Western presentation, making them more appealing to a foreign audience. This confection features a fragrant gyuhi and sponge dough infused with black sesame and generously filled with sesame whipped cream, with sweet bean paste in the center. At the same time, it's not overly sweet, making it easy to enjoy as much as you like!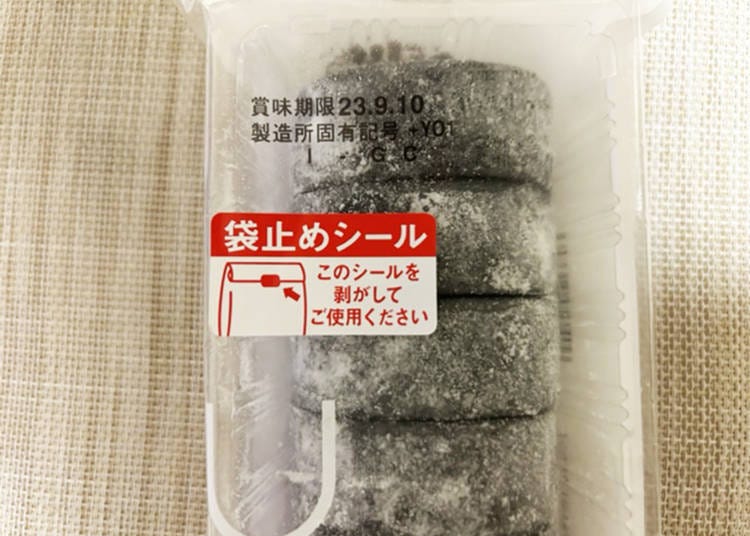 Each pack contains six pieces, and because the bags are resealable, it's perfect for bringing any leftovers back to your hotel to enjoy them later!

Price: 397 yen (tax included)
2) Matcha Latte Cookie Cream Puff: Two Types of Delicious Matcha Cream!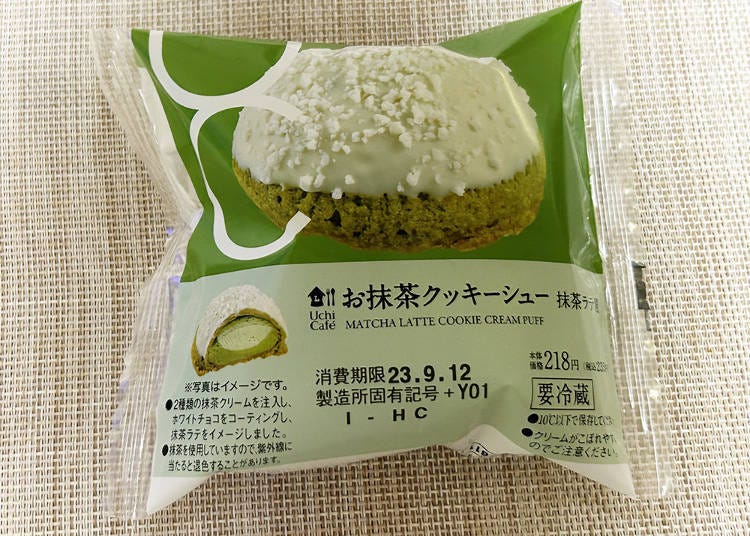 Here's another new product from Uchi Cafe, also released on August 22, 2023: a delicious cream puff with the distinctive crunchy texture of cookie dough.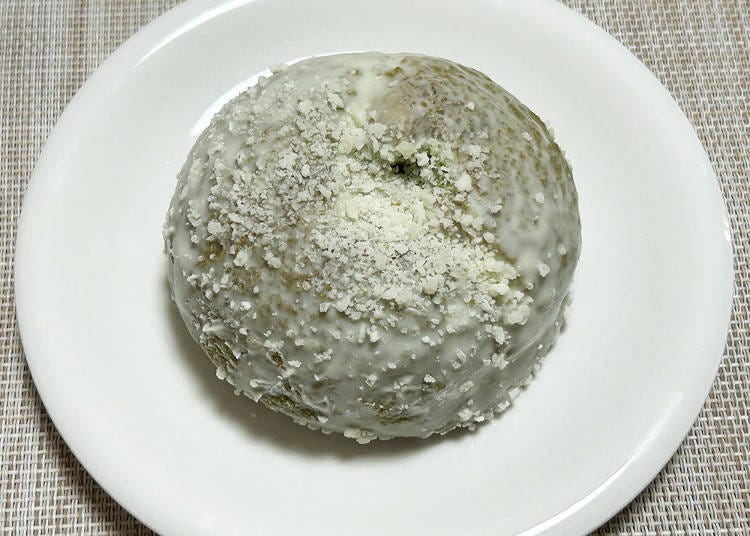 The dough is infused with matcha, coated with white chocolate, and topped with a white chocolate cookie crumble, giving it its unique texture.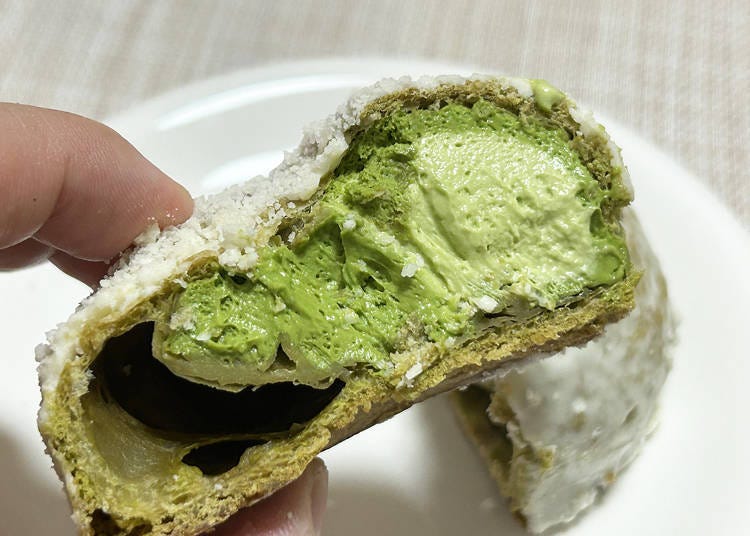 Inside are two types of cream: matcha and matcha latte, both made with Uji matcha, a favorite tea variety amongst international visitors. The dark green cream boasts an authentic, bitter green tea flavor, while the light green cream features the mellow, milky essence of matcha latte. Both creams blend seamlessly, leaving a delightful lingering aftertaste in every bite.

Price: 235 yen (tax included)
3) Karaage-kun (Shiawase Butter / Tappuri Tartar Sauce): A New Flavor That Overturns the Image of Fried Food!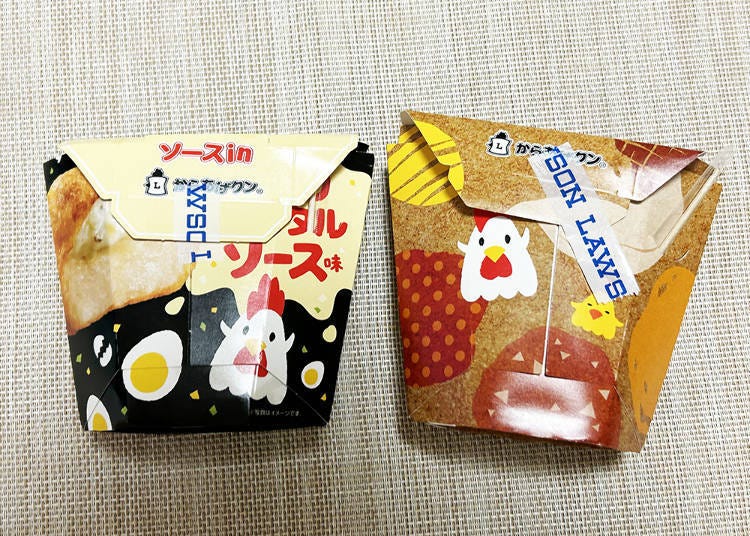 Karaage-kun is another of Lawson's signature products. The secret of this crispy fried chicken breast's popularity is not only that this single-size treat is easy to eat, but it's relatively healthy, with only 1.6g of sugar per piece! It's a long-standing hit that keeps customers coming back for more, regularly introducing surprising new flavors, including one variation with delicious sauce cooked into the meat.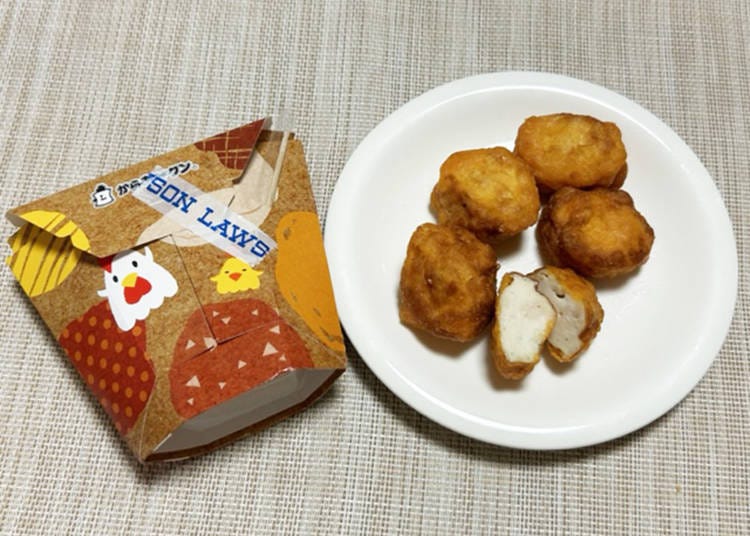 On August 15, 2023, Karaage-kun unveiled a new flavor: Shiawase Butter, a collaboration with the hit product of the same name from the popular snack brand Calbee Potato Chips. Calbee Potato Chips Shiawase Butter combines the flavors of butter, honey, parsley, and mascarpone cheese to deliver a subtly sweet and savory experience.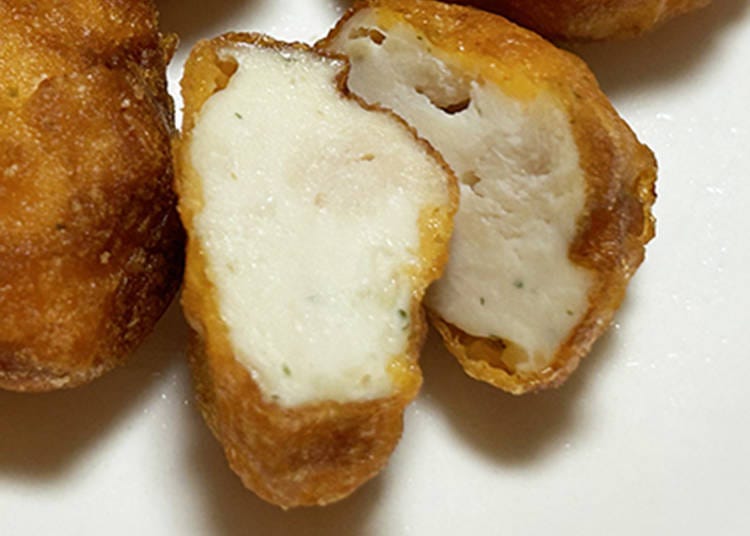 Similarly, this treat uses these same four ingredients, with every bite revealing the sweetness of honey and the appetizing aroma of butter. The rich mascarpone cheese adds to the flavor, surprising your taste buds with an unexpected touch of sophistication you'd never expect to find in fried food.

Price: 5 pieces, 248 yen (tax included)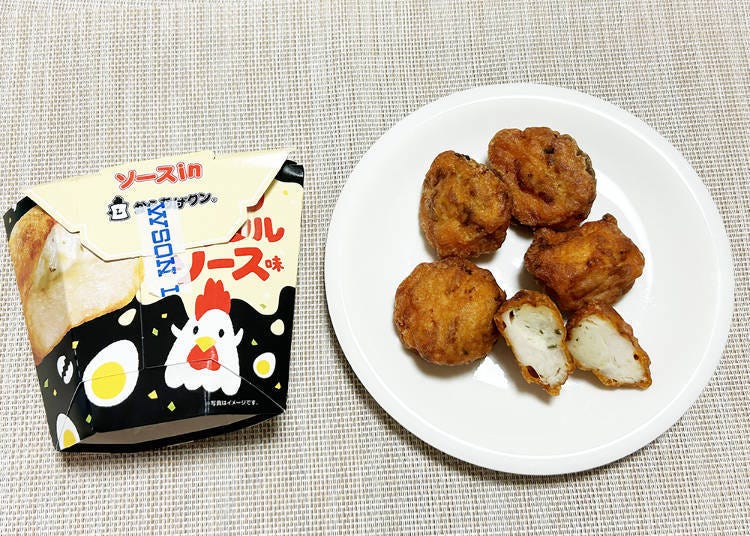 Next is the "Sauce in Karaage-kun Tappuri Tartar Sauce" flavor, released on August 1, 2023. While this sauce has been sold in the past, this time, it's been revived with a new and improved sauce that includes a bolder pickle flavor.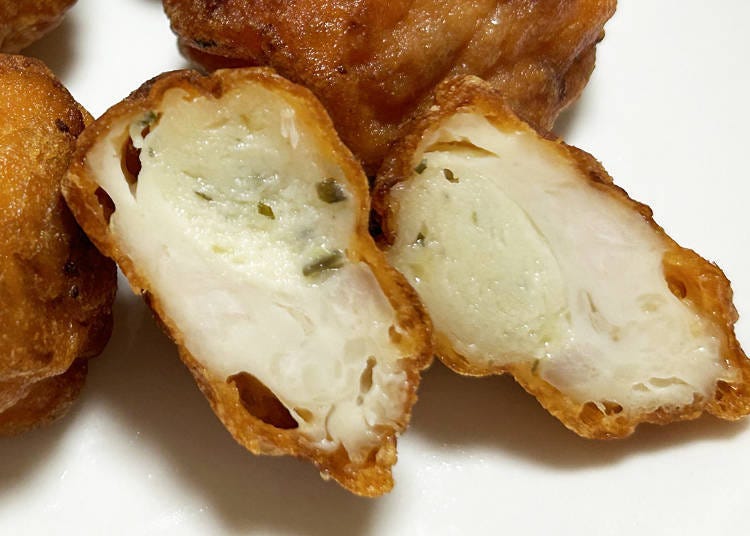 This game-changing product contains tartar sauce inside the fried chicken, with an addictively delicious pickle accent that makes it the perfect snack or accompaniment to beer.

Price: 5 pieces, 259 yen (tax included)
4) Machikado Kitchen Cup Meshi (Fried Rice with Fried Chicken / Chicken Rice with Fried Chicken): A Novel Product that Lets You Enjoy Rice and Fried Chicken in One Easy Meal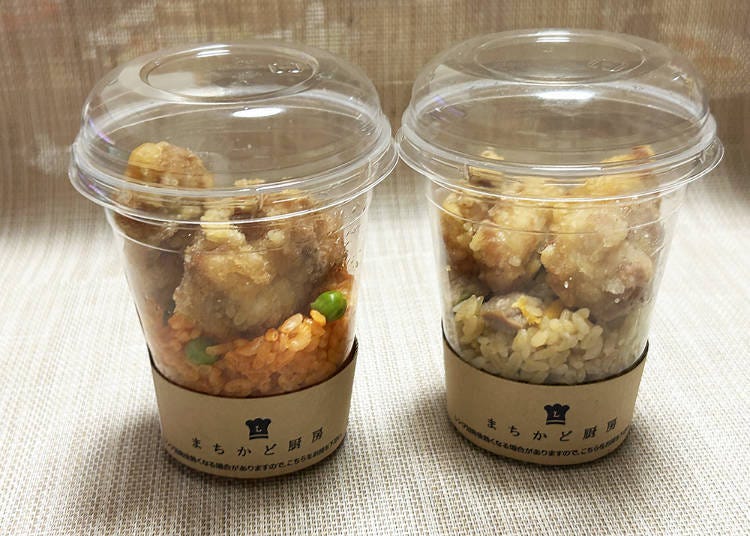 Many Lawson stores have their own in-store kitchens from which they cook and sell prepared meals and other goods. Amongst these is the Machikado Kitchen brand. In July 2023, Machikado Kitchen introduced a new product called Cup Mesh (or "cup meal"), and as its name suggests, each cup contains a full meal consisting of rice and two pieces of fried chicken. It is available in two varieties: Fried Rice & Fried Chicken and Chicken Rice & Fried Chicken.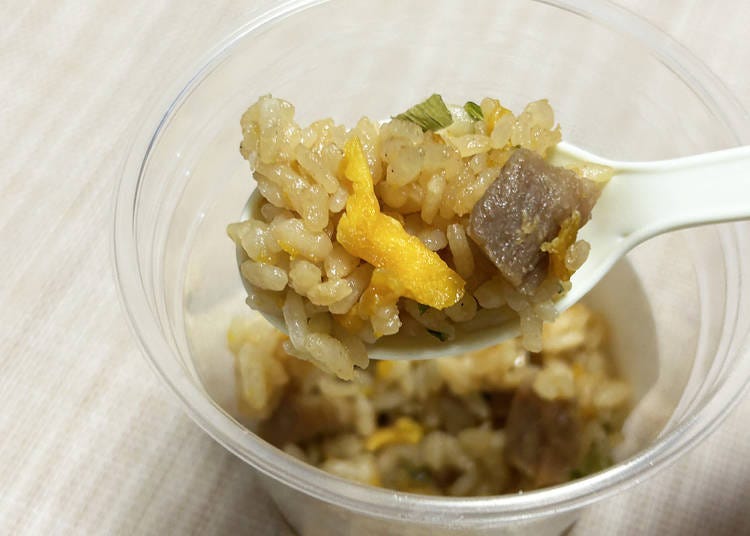 The fried rice contains a generous helping of diced pork, and although the quantity appears modest, it's more hearty and satisfying than it looks!

Price: 300 yen (tax included)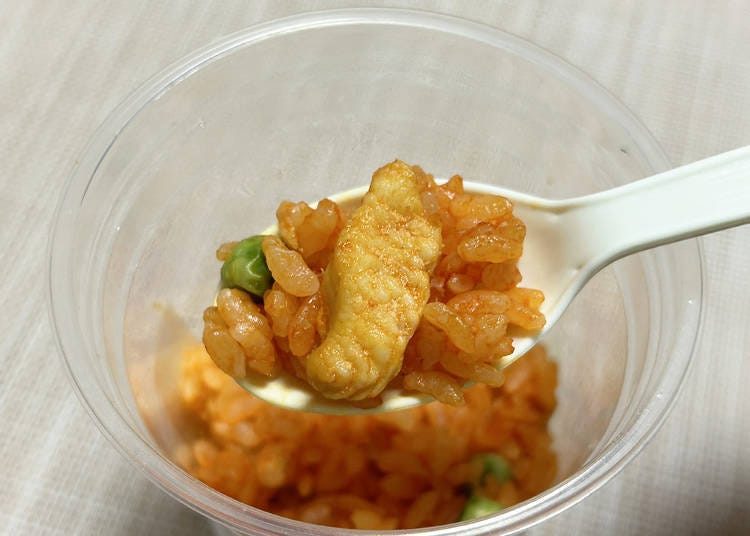 The chicken rice is fried with tomato ketchup for a savory taste, and includes pieces of chicken for added texture.

Price: 300 yen (tax included)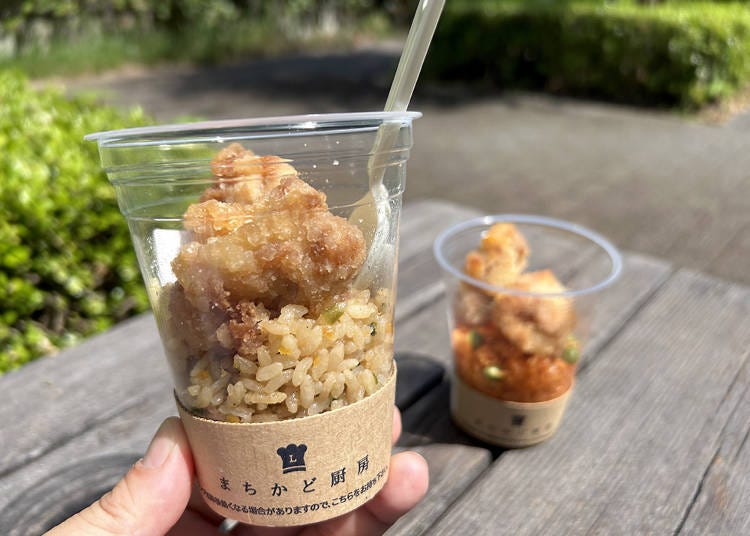 Both options contain fried chicken, but don't expect to finish these tender, juicy pieces in a single bite! The cups are also the perfect size to fit in your hand or the drink holder of your car, making them easy to eat when you're on the go.
5) Iekei Sohonzan Yoshimura Tonkotsu Shoyu Ramen: The Taste of Japanese Iekei Ramen Made Easy!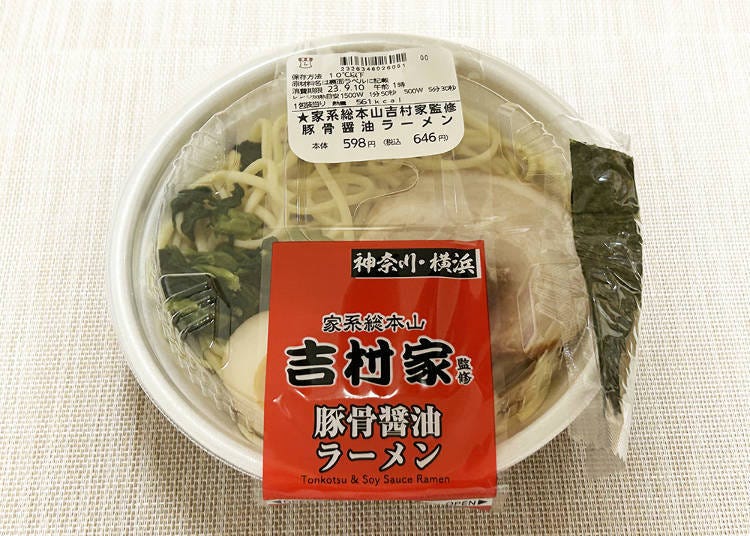 Iekei ramen, a style of ramen characterized by its rich pork bone and soy-sauce flavored broth, was born at Yoshimuraya in Yokohama, Kanagawa Prefecture. Under their influence, apprentices began adding "Ie (家)" to their restaurant names, as well, leading to the popularizing of the name "Iekei Ramen." Japan now boasts nearly 1,000 Iekei ramen restaurants. And on August 29, 2023, a new ramen, produced by its founding restaurant, Yoshimuraya, debuted.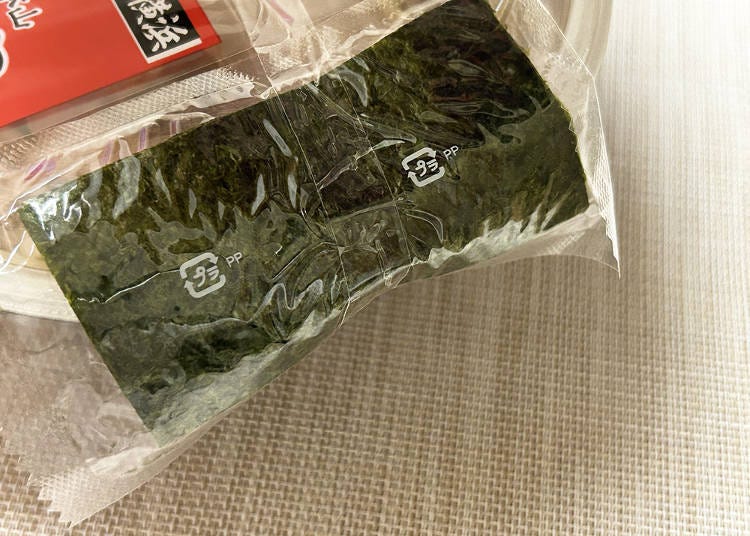 Staying true to the Iekei tradition, this ramen includes nori (seaweed), a signature element of the style. It is served separately to maintain its crunch, demonstrating a keen attention to detail.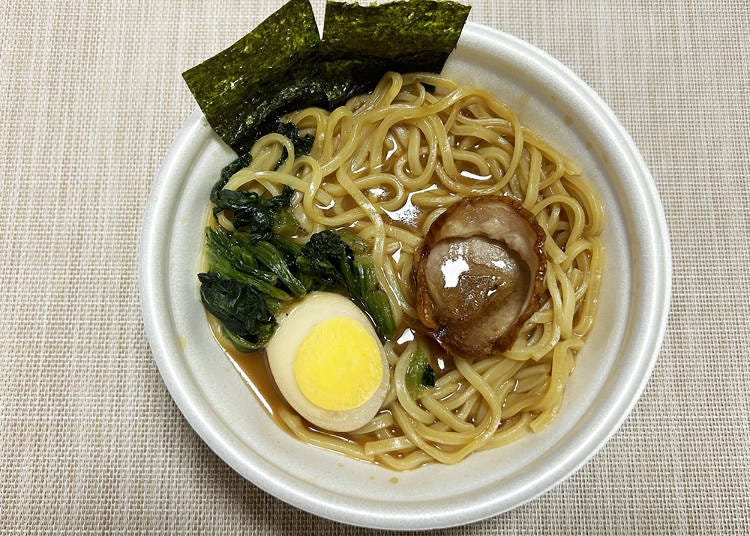 With no need to add soup or ingredients individually, it's incredibly easy to eat - just heat it up in the microwave! Enjoy it hot at the store, or bring it back to your hotel and heat it up yourself. Inside you'll find spinach, another Iekei Ramen staple, as well as chashu pork and a boiled egg.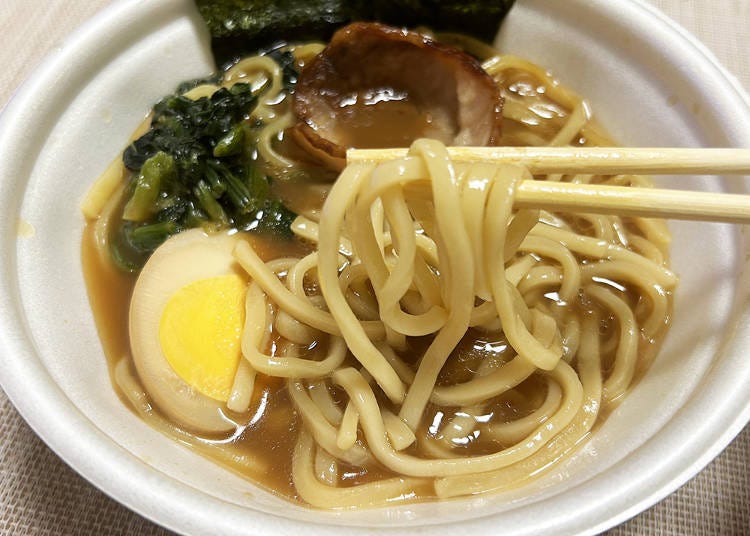 It also features a faithful recreation of the rich pork bone and soy sauce broth, complemented by the thick noodles that pair with it perfectly, making it easy to enjoy the taste of the real deal without the need for a restaurant trip. It's also very generous in portion size, ensuring a hearty, satisfying meal.

Price: 646 yen (tax included)
7-Eleven: Simple Products with Top-Notch Taste and Quality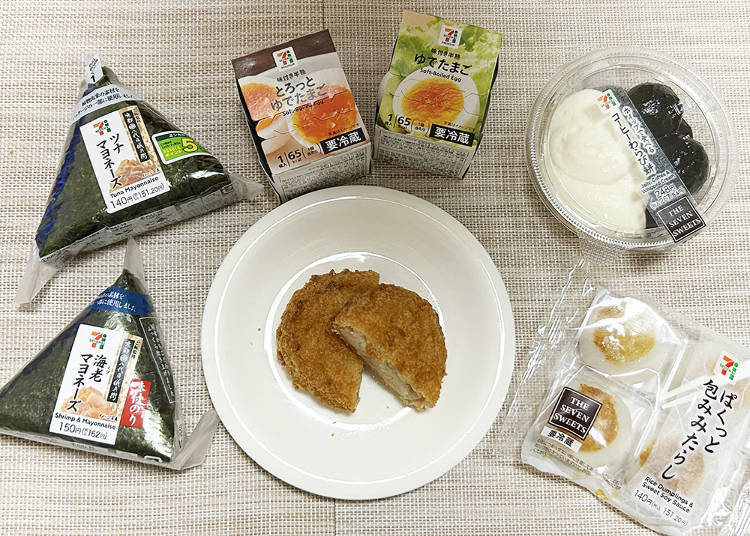 7-Eleven boasts the largest number of stores amongst all convenience stores in Japan. With its well-established reputation for prepared foods, bento boxes, and frozen items, the 7-Premium private brand stands out particularly for its convenience and top-quality taste. In the next section, we will introduce a selection of 7-Eleven's 7-Premium goods, along with other simple classic (yet special) products.
1) Hachidaime Gihey Temaki Onigiri (Tuna Mayonnaise / Shrimp Mayonnaise): Enjoy the Taste of Kyoto's Famous Restaurant Anywhere!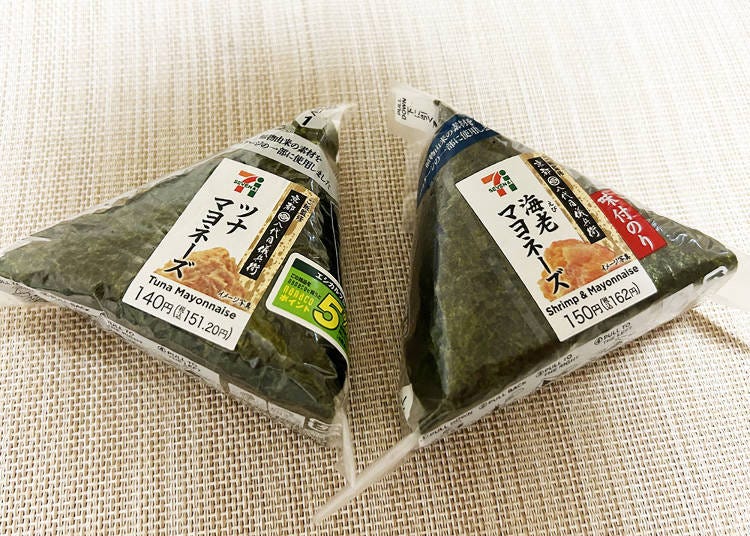 Hachidaime Gihey, a popular Japanese restaurant in Kyoto, draws in crowds of customers every day for its delicious rice cooked in earthenware pots. Since March 21, 2023, they have also expanded their offerings to include onigiri (rice balls), crafted by seasoned professionals with an intricate understanding of rice who use their knowledge to enhance the flavor.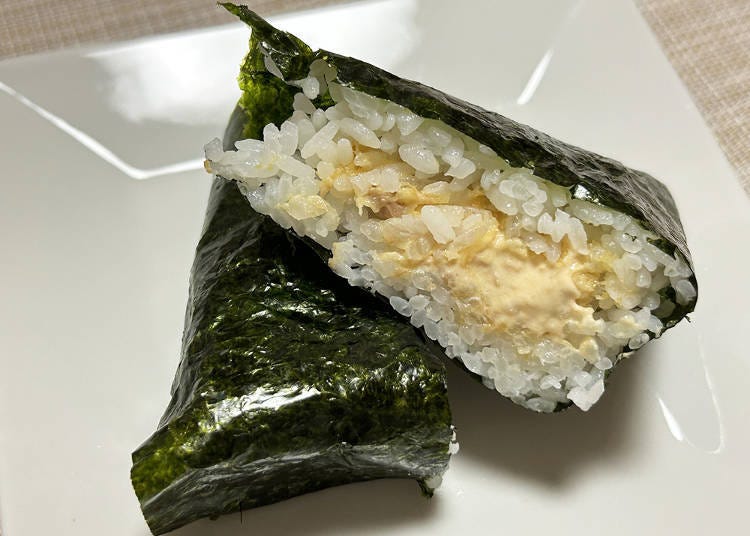 Hachidaime Gihey offers a diverse selection of onigiri, with those including mayonnaise being especially favored by Japanese patrons. As a condiment familiar to foreigner visitors as well, the mayonnaise adds a nice twist that appeals to a broader, international audience.

The Temaki Onigiri Tuna Mayonnaise combines Seven-Eleven's exclusive mayonnaise with the rich flavor of tuna, creating a delicious and unparalleled harmony with the rice. And as you can see in the photo, its fillings are plentiful, allowing you to savor both the rice and the filling in every bite.

Price: 151.20 yen (tax included)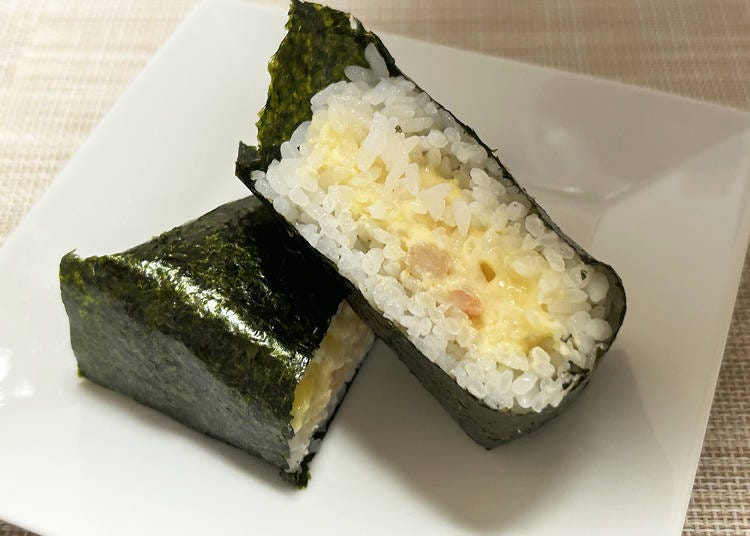 Likewise, the Shrimp Mayonnaise onigiri, which uses 7-Eleven's exclusive mayonnaise, enjoys its own popularity. The mayo's sweetness harmonizes perfectly with the rice, while the plump, tender shrimp pairs wonderfully with the rice's chewy consistency. And as with the previous product, this onigiri is generously filled, ensuring a satisfying mouthful with every bite.

Price: 162 yen (tax included)
2) Hokkaido Potato Beef Croquette: Irresistible Chunky Potatoes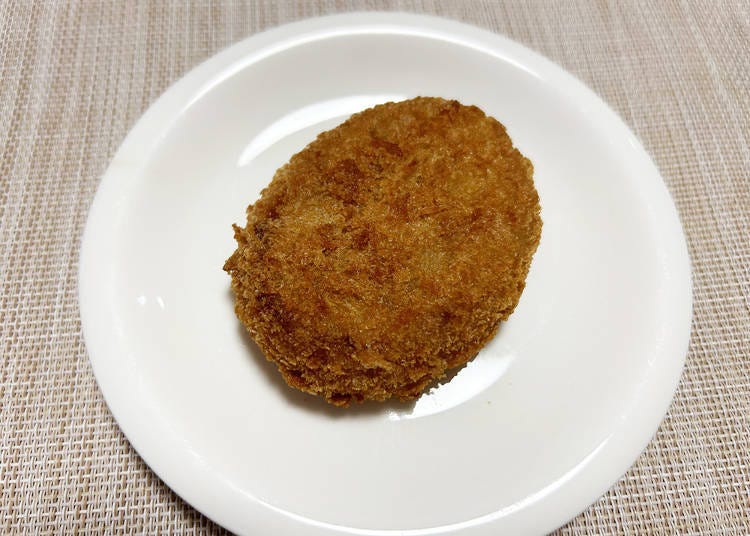 Many Japanese convenience stores feature a wide selection of fried foods and warm side dishes conveniently placed near the cash registers, allowing customers to purchase warm, ready-to-eat meals easily. Amongst the array of fried delights sampled by our convenience store connoisseur, one standout item is the Hokkaido Potato Beef Croquette.

7-Eleven goes the extra mile, using Hokkaido wheat flour to bake the breadcrumbs exclusively for the croquette. This dedication results in a wonderfully crispy coating.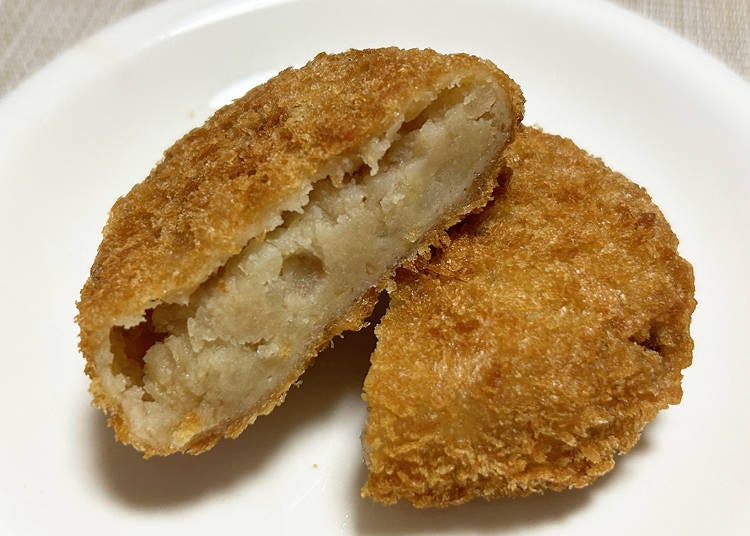 Inside this delectably crispy exterior, you'll find a delightful contrast of sweet, coarsely crushed, fluffy Hokkaido potatoes, and the savory goodness of beef cooked in fat. Not only is it delicious, but it's also conveniently priced at 100 yen, making it the perfect snack for when you're feeling just a little peckish.

Price: 100.44 yen (tax included)
3) Exquisitely Cooked and Seasoned Half-Boiled Eggs! (Soft-boiled Egg / Half-boiled Egg)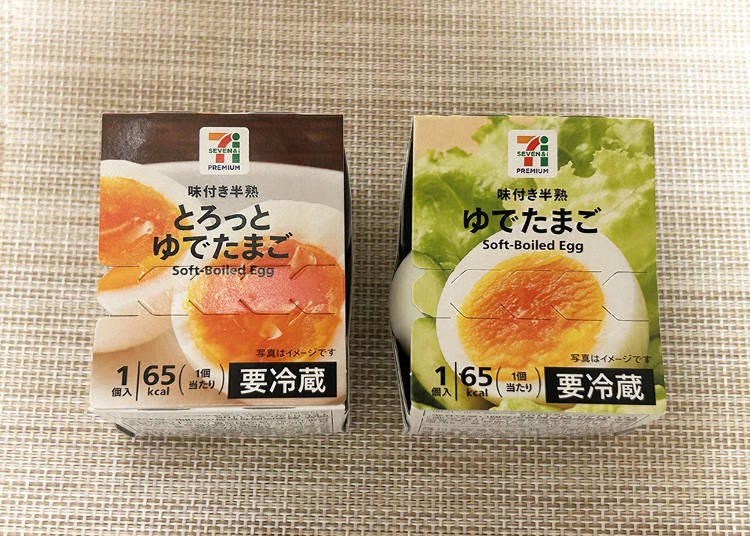 7-Eleven is well-known for its wide selection of side dishes, but amongst its many offerings, one simple yet utterly addictive delight stands out: the Seasoned Soft-Boiled Egg from the 7-Premium series. You may wonder why you'd purchase boiled eggs at a convenience store when they're so easily prepared at home. However, this soft-boiled egg is so perfectly cooked and seasoned with salt, that you'll want to buy it again and again!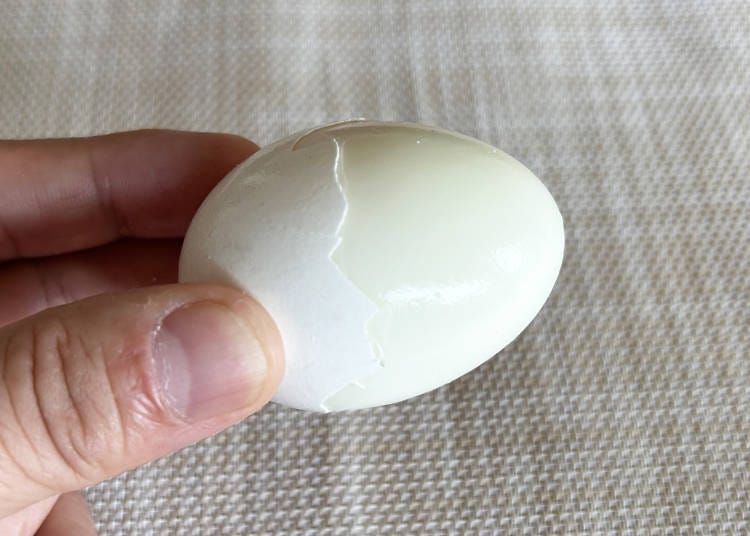 The way they are boiled results in smooth, easy-to-peel shells, revealing beautifully glossy eggs within.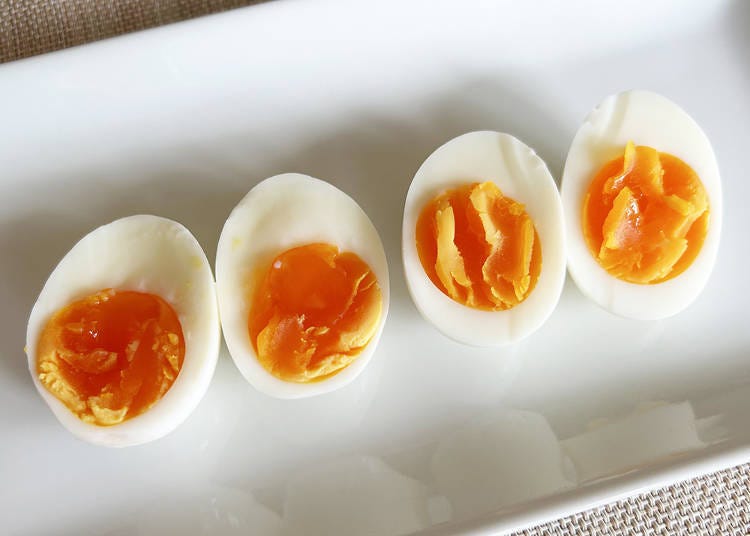 Seasoned with Hakata Shio, a famous salt from Ehime Prefecture, these eggs boast a subtle saltiness that makes them delicious even when eaten on their own. The hens are fed a diet that includes herbs, imparting a rich flavor and depth to the yolks.

There are two options: the Half-Boiled Egg (the two on the right in the photo) and the Soft-Boiled Egg, with a creamier yolk consistency (the two on the left in the photo). Whether you're looking for a quick breakfast, a snack, or an accompaniment to your beverages, these eggs are amongst the top recommendations by our connoisseur of convenience store delights. It's the simplicity of this treat that truly shines through in every bite.

Price: Seasoned Half-Boiled Egg: 105.84 yen each (1 pc / tax included)
Price: Seasoned Soft-Boiled Egg: 138.24 yen (1 pc / tax included)
4) Pokutto Tsutsumi Mitarashi: These Dumpling Contain the Sauce Inside for Easy Eating!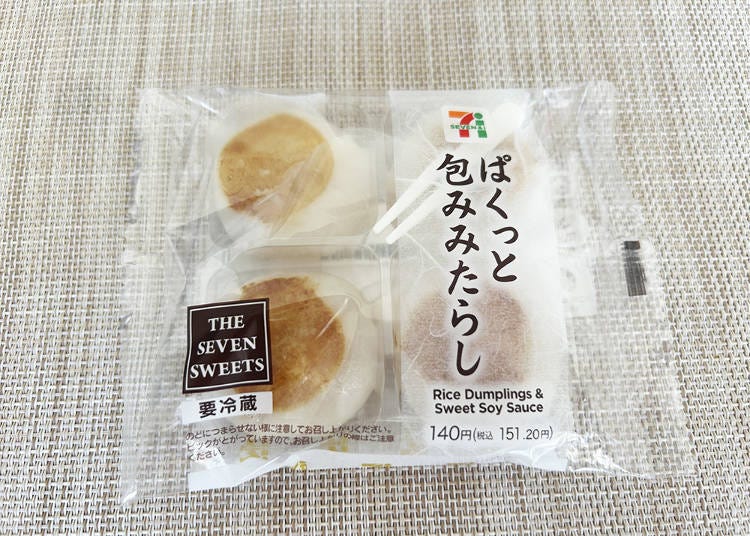 Mitarashi dango, or skewered rice dumplings, is a classic Japanese sweet enjoyed by many foreign visitors. However, one drawback of this treat is the potential mess made by the dripping sauce when eaten directly off the skewer. For those looking for a neater experience, we recommend Pokutto Tsutsumi Mitarashi. In this confection, the mitarashi sauce is contained inside the dumplings, making it easier to enjoy the sweetness without the mess.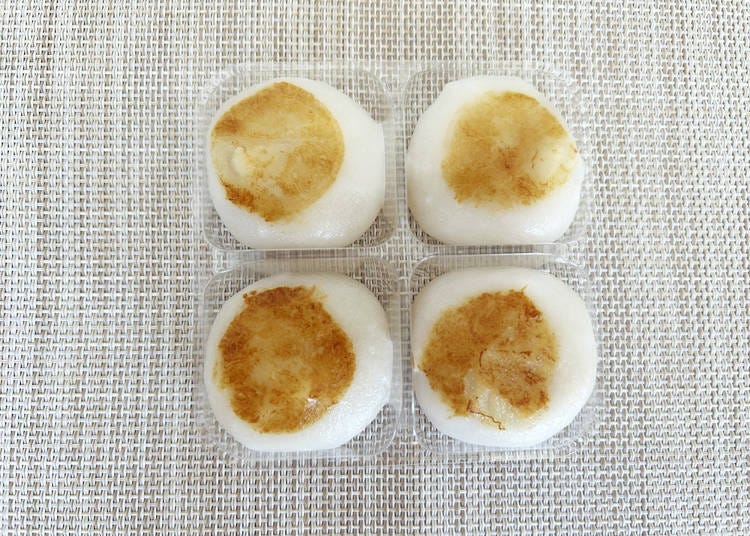 These bite-sized dumplings come four pieces per pack. The dumpling dough is lightly browned and smells delightful.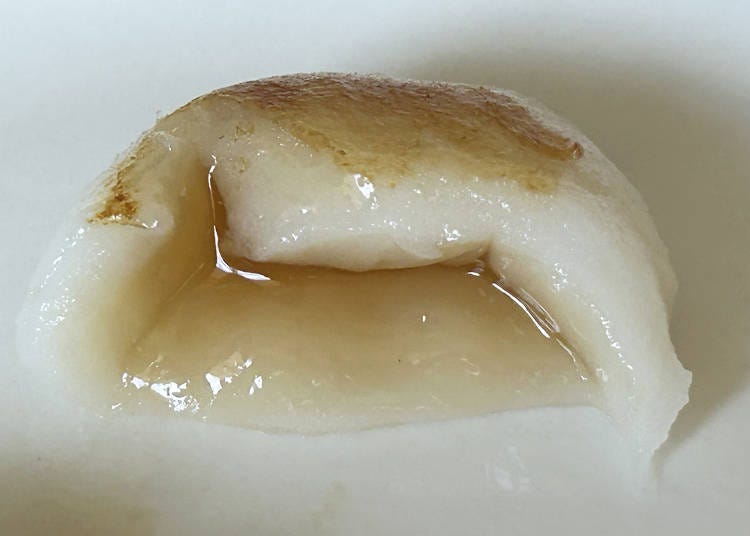 With a single bite, the sweet and savory soy sauce gracefully flows from within. The mildly sweet sauce and sticky dough unite on your tastebuds for a delightful taste. It's the perfect way to indulge in Japanese sweets at a reasonable price!

Price: 151.20 yen (tax included)
5) Coffee Warabi Mochi with Whipped Cream: A Novel Combination of Coffee and Warabi Mochi!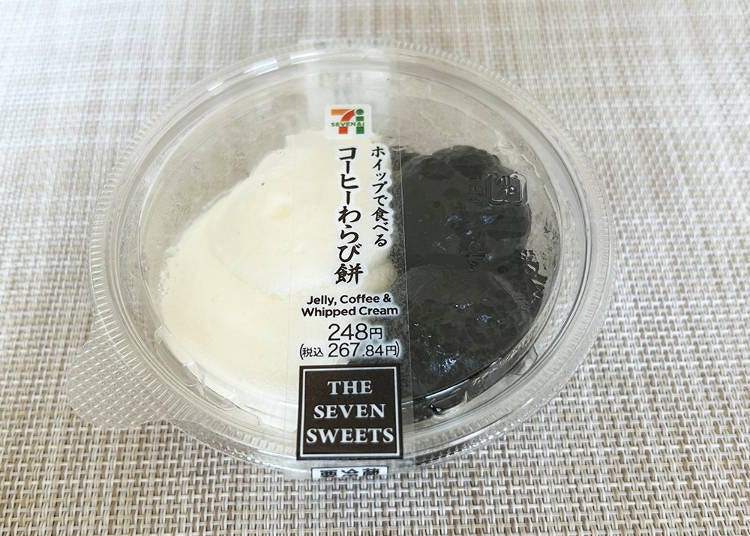 Continuing its popularity since its release in April 2022, the Coffee Warabi Mochi with Whipped Cream has become a beloved sweet treat. Warabi mochi is a traditional Japanese confection known for its delightfully gooey texture, crafted by blending warabi flour with water and sugar. It's typically enjoyed with a dusting of kinako flour. However, this unique variation infuses the rich flavor of coffee into the classic recipe.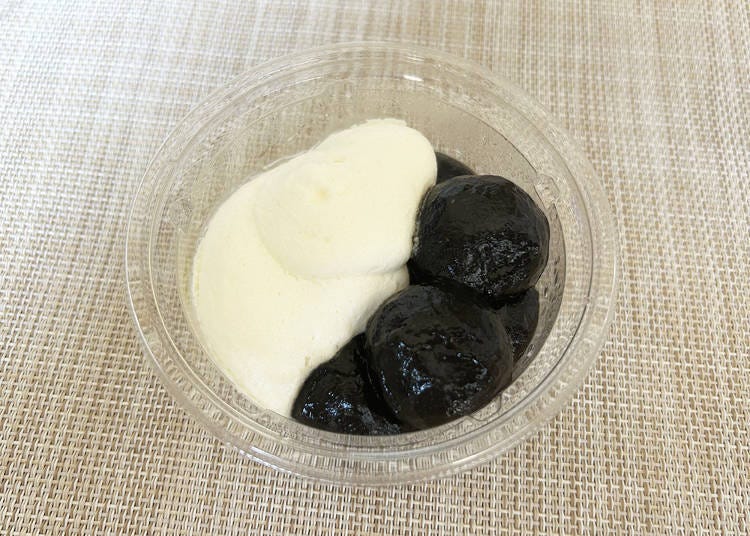 The large, round warabi mochi is accompanied by a generous dollop of whipped cream on the side.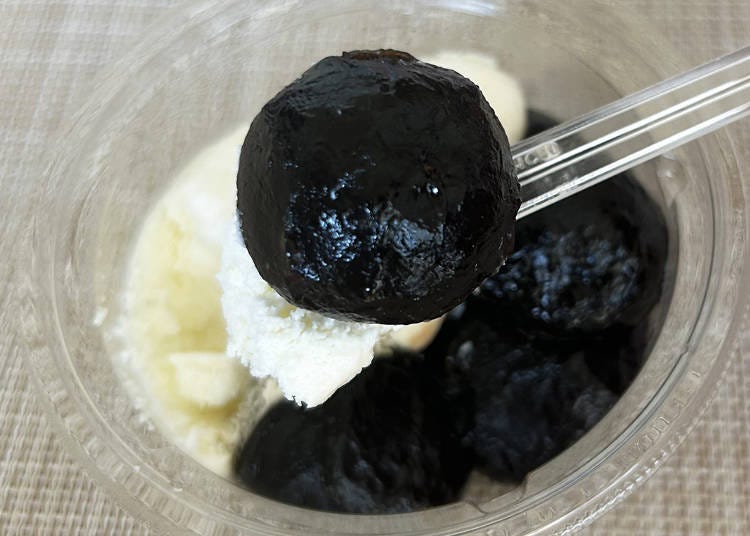 Compared to the traditional version, this warabi mochi boasts a slightly firmer texture, with a smooth, chewy consistency and the bold, bitter notes of coffee. When paired with the whipped cream, the coffee's bitterness and cream's sweetness come together for a delightful sensation in your mouth. Its moderate sweetness also ensures you can savor this treat to your heart's content!

Price: 267.84 yen (tax included)
FamilyMart: New Hot Foods from Family Bakery and FamiMa Cafe
FamilyMart has expanded its presence beyond Japan, with locations in other countries in Asia, including Taiwan, Thailand, and China, making it a convenience store familiar to foreign visitors, as well. Amongst its offerings, Family Bakery stands out for its wide selection of breads, while FamiMa Cafe offers a cafe experience with a diverse array of high-quality options. Here are some popular new products, including sandwiches and frappes from FamiMa Cafe created in collaboration with Godiva, which have earned rave reviews from convenience store enthusiasts.
1) Fluffy Omelet Sandwich: Marvelously Mouthwatering Eggs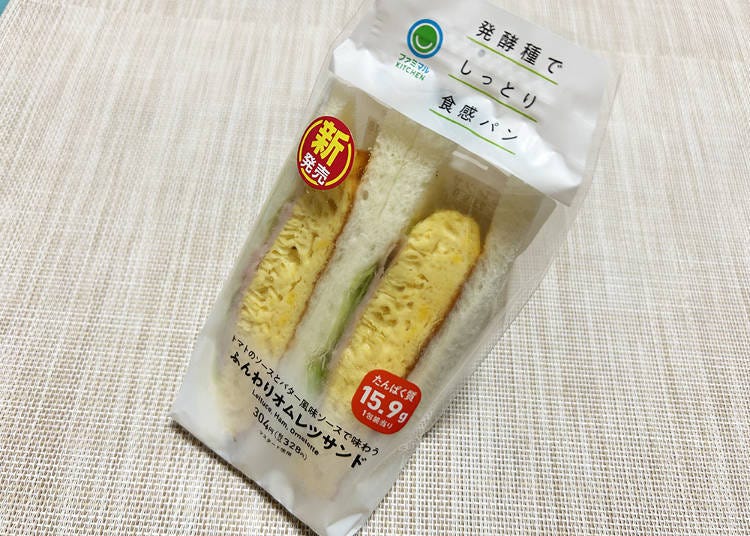 FamilyMart, well known for its bakery products, recently unveiled their Fluffy Omelette Sandwich on September 5, 2023.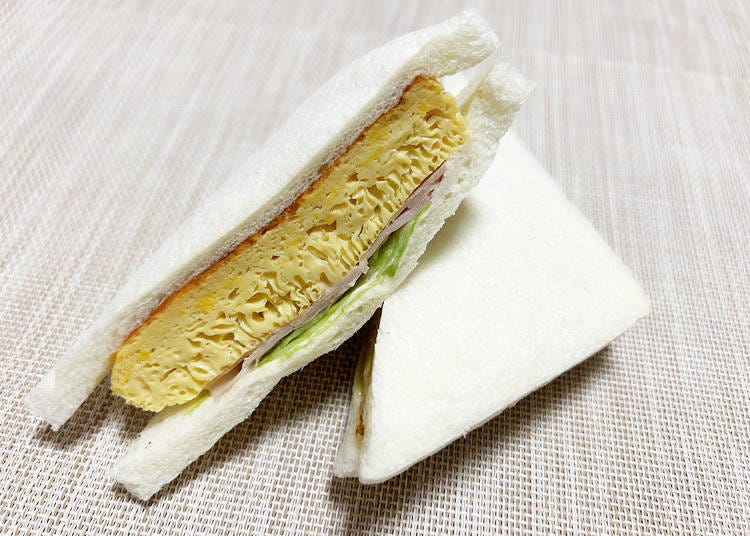 Japanese egg sandwiches may have gained international popularity, but this one boasts a unique twist. Instead of using the typical boiled eggs mashed with mayonnaise, these eggs are prepared omelette-style. This delicious sandwich is a combination of a thick, fluffy omelet with ham and lettuce.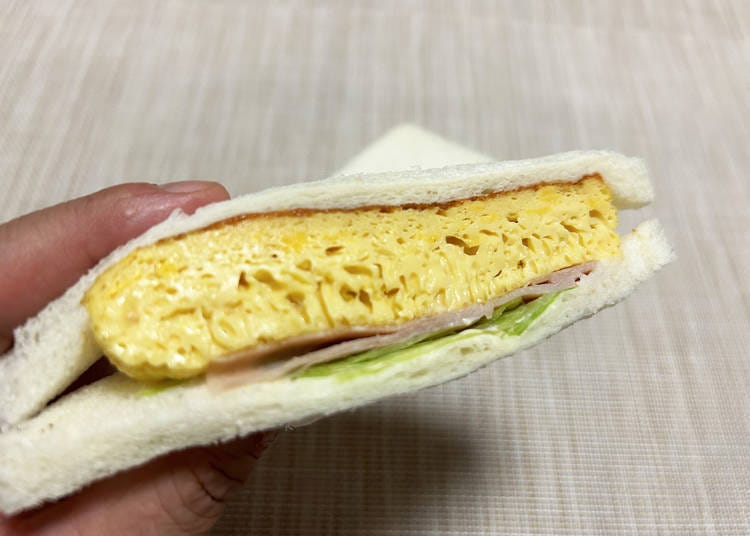 The bread is made from FamilyMart's exclusive wheat flour, with no added flavor, and fermented with plant-based lactic acid bacteria. It is characterized by its robust wheat aroma and fluffy texture. The omelette is thick, light, and airy, similar to a soufflé, melting in your mouth with every bite. A touch of tomato sauce adds a flavorful accent, making this sandwich a truly satisfying choice.

Price: 328 yen (tax included)
2) Godiva Chocolate Frappe: A Rich Chocolate Experience, Courtesy of Godiva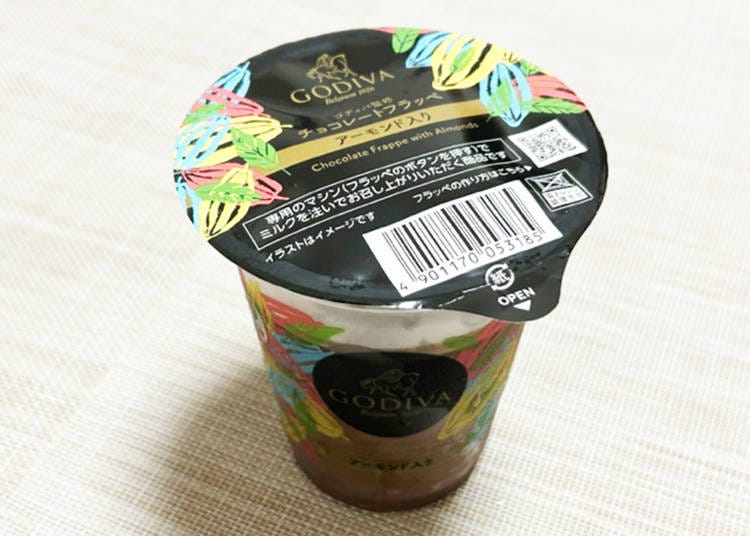 From FamiMa Cafe, designed to provide an authentic cafe experience, comes the Chocolate Frappe, courtesy of none other than the famous brand, Godiva. Launched on August 15, 2023, this frappe uses Godiva's own high-quality Belgian chocolate. Godiva is a popular luxury chocolate brand known all around the world, and now, you can enjoy a frappe featuring their chocolate at FamilyMart.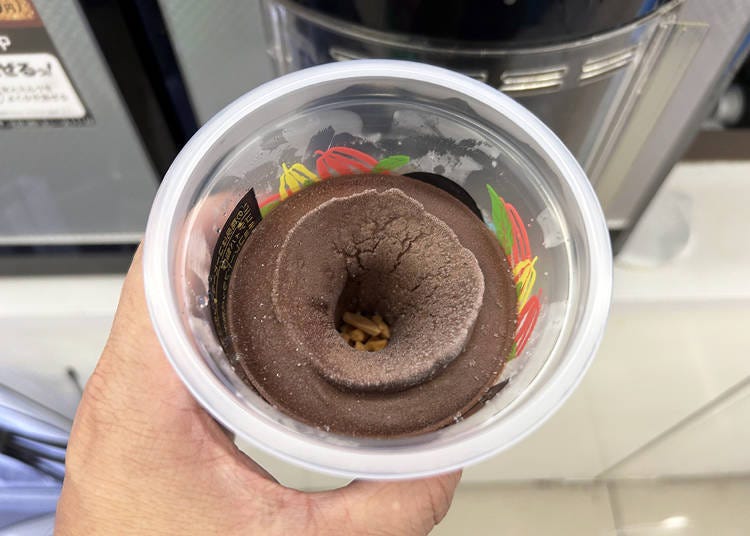 Godiva cafe frappes have been a regular offering since 2021. However, this time, the cocoa content has been increased to enhance its chocolatey richness. Preparing your FamilyMart frappe is simple—just add milk to your product with the coffee machine after purchasing.
Open the lid, set it on the coffee machine, and press the frappe button. (Note that the button position may vary from store to store.)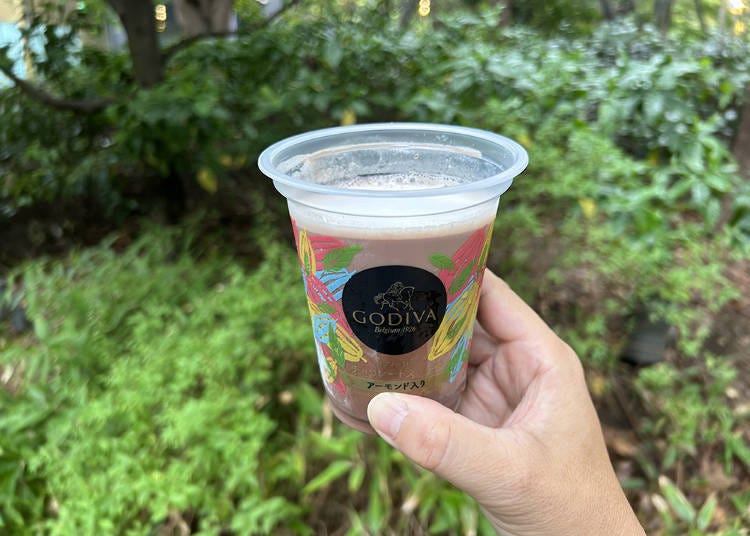 Once the milk is added, your beverage is ready to enjoy. As the chocolate is solidified, it will dissolve with the milk as you enjoy it. The milk mellows out the rich Godiva chocolate taste, and the finely crushed almonds allow you to relish the texture combination of melted chocolate and crunchy almonds in each sip. If you're planning to drink it at home or in your hotel, we recommend buying milk separately so you can prepare it when you get back.

Price: 450 yen (tax included)
3) Taberu Ranch Souffle Pudding: Delicious Layers of Souffle, Cream, and Pudding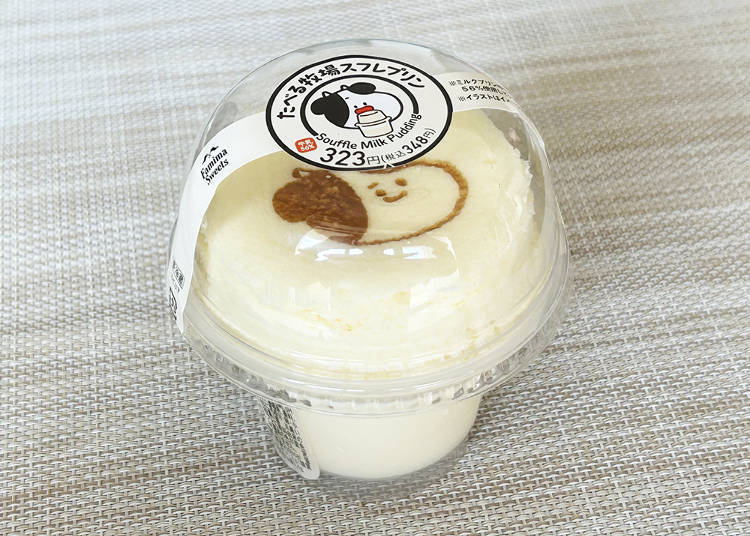 Hokkaido, a popular tourist destination known for its vast grasslands, is famous for producing delicious milk due to its cool climate ideal for raising dairy cows. The Taberu Ranch Series is a collection of sweets featuring Hokkaido milk, releasing one of their newest products on August 22, 2023: the Taberu Ranch Souffle Pudding.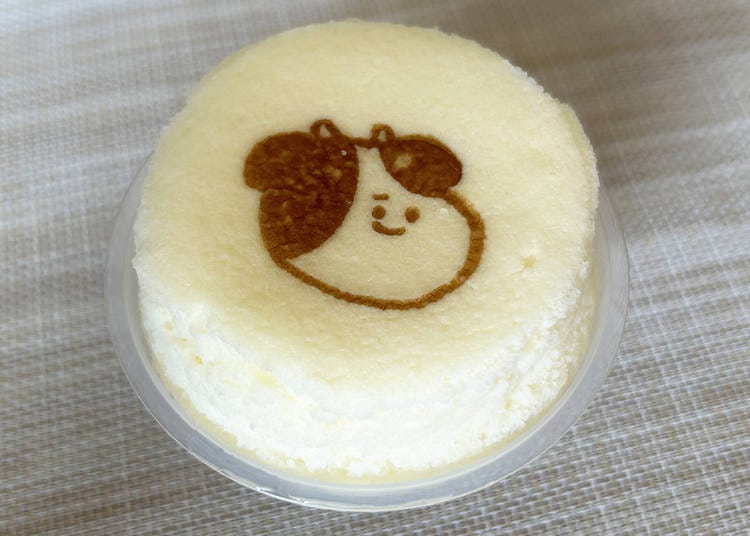 The top is made of soufflé dough and features a cute printed cow design.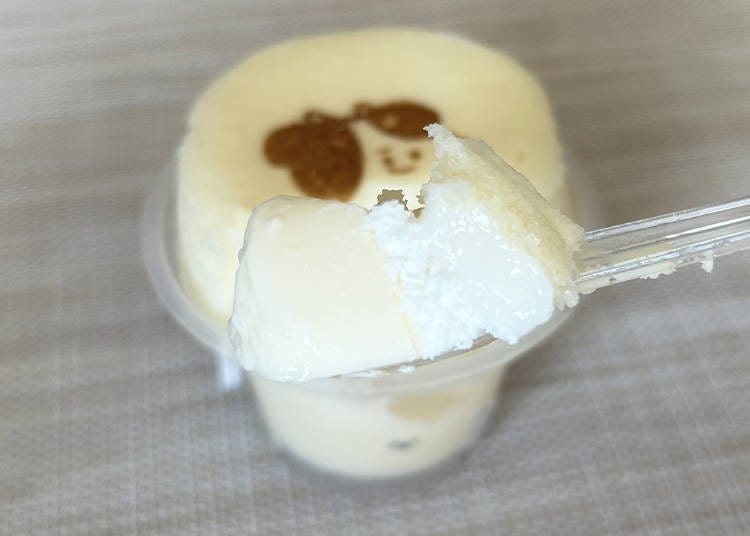 It consists of three layers: pudding crafter from Hokkaido milk and cream, whipped cream, and a soufflé made with Hokkaido milk. This delicious treat offers a delightful interplay of textures, from plump pudding to cream that dissolves like bubbles, to the velvety soufflé, each layer highlighting the richness of Hokkaido milk in various forms.

Price: 348 yen (tax included)
4) FamiKara (Salt / Soy Sauce): More than Famichiki! More Than 80 million Sold!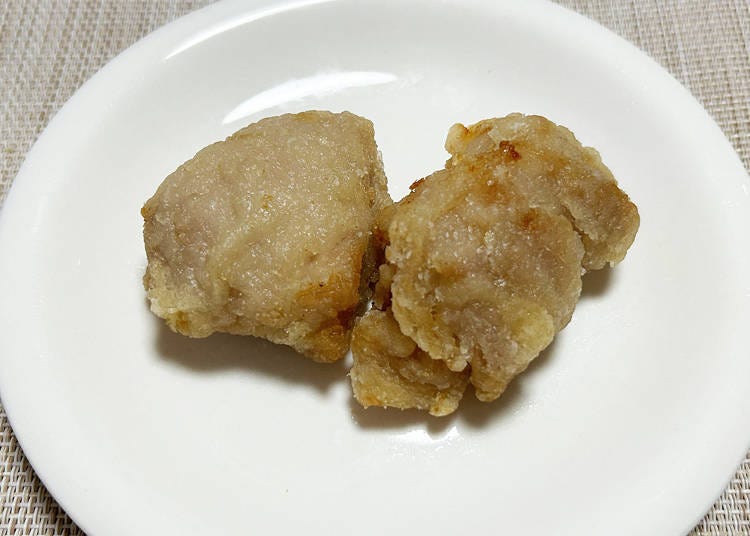 One of FamilyMart's signature foods is Famichiki, a tender and juicy boneless fried chicken known for its crispy coating. However, FamiKara, introduced in May 2022, is another exceptional product that has rapidly gained popularity, with nearly 80 million servings sold in a single year. FamiKara has become a focal point for convenience store lovers, considered an unwavering pursuit of the perfect fried chicken dish, with its crisp skin and generous portions of meat.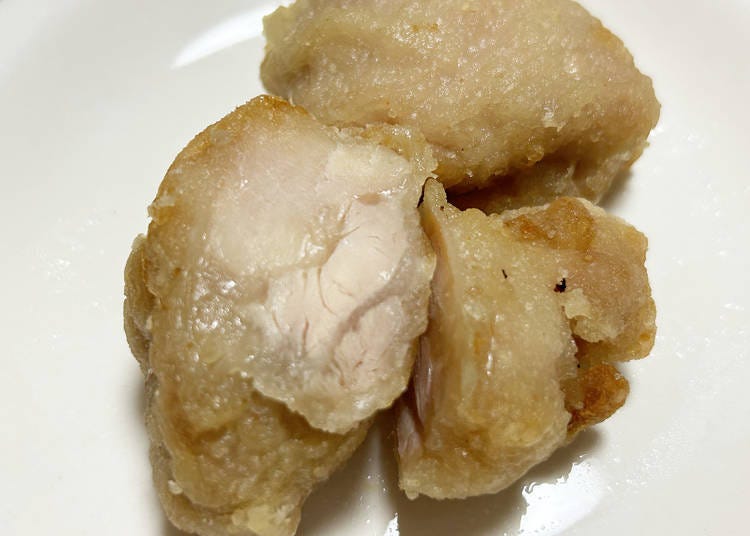 Here we have FamiKara Salt, where both the meat and batter are seasoned with a balanced blend of three dashi varieties, enhancing its salty flavor.

Price: 98 yen each (tax included)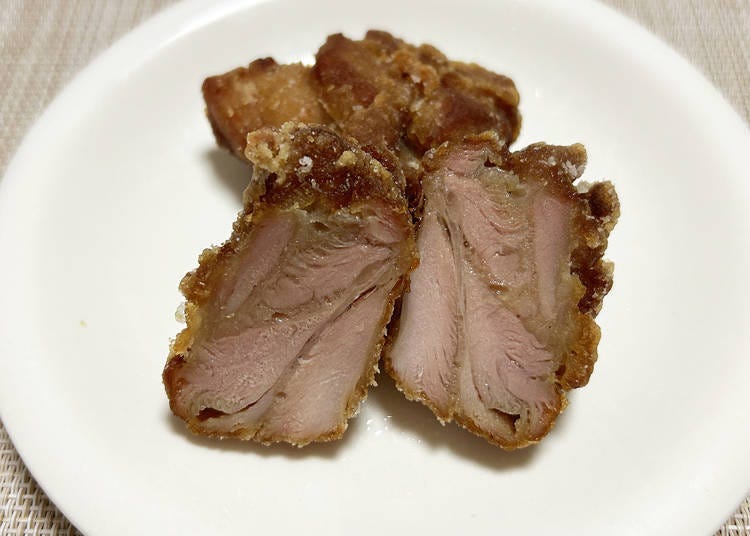 Next up is Famikara Soy Sauce, which features a blend of rich soy sauce and tamari sauce for a delicious, savory flavor. With just one bite, the aroma and depth of the soy sauce emerge, complemented by the flavor of the chicken fat. In July 2023, a Yuzu Kosho flavor was also released.

Price: 98 yen each (tax included)
5) Inari Sushi with Ginger: An Addictively Sweet and Refreshing Taste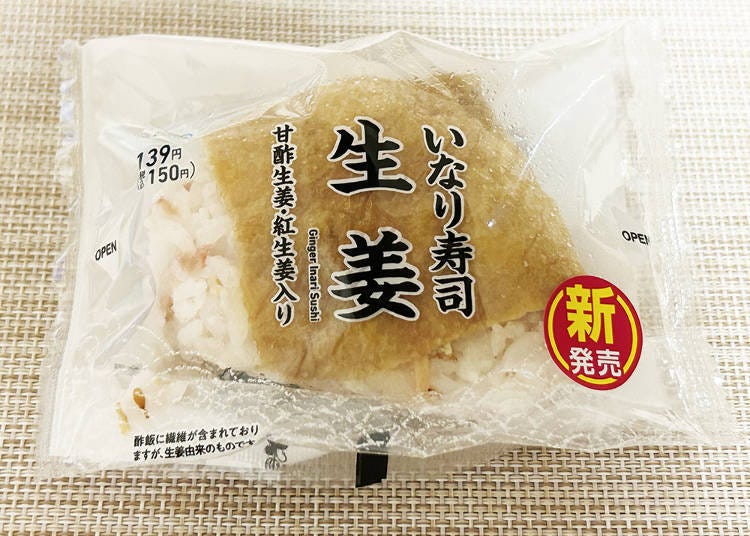 When it comes to Japanese cuisine, the first thing that comes to mind for many is sushi. However, for those with reservations about consuming raw ingredients, we highly recommend this alternative: Inarizushi with Pickled Ginger. Inarizushi is a type of sushi consisting of vinegared rice wrapped in sweet, seasoned aburaage (fried tofu pouches). It's the perfect choice for those who enjoy a sweet and savory flavor profile.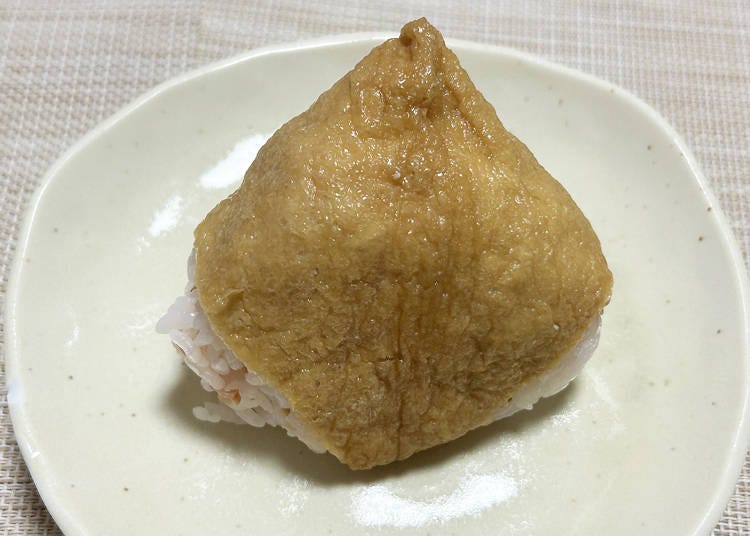 Its appearance is quite simple, similar to a rice ball. Yet the sweetly seasoned and thinly-fried tofu is juicy and stuffed with an ample portion of sushi rice, making it the perfect volume to satisfy.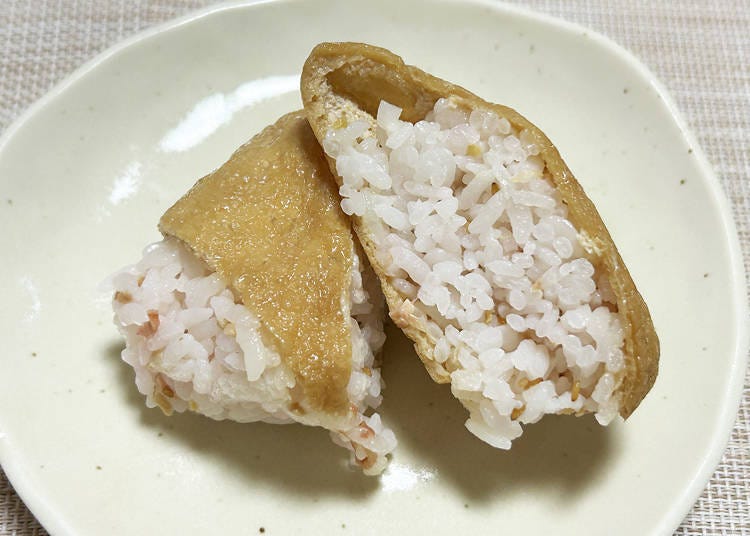 Within the juicy tofu pouch, you'll find refreshing vinegared rice. It's accompanied by two types of ginger: sweet vinegared ginger and red pickled ginger, offering a crisp texture and a delightful balance of ginger zest. The nutty aroma of toasted sesame seeds adds an extra layer of flavor, making it an addictively delicious treat. If you're looking to take a break from the usual onigiri or sushi, give inarizushi a try!

Price: 150 yen (tax included)
It's worth noting that hundreds of new products make their debut in convenience stores weekly, keeping the market in a constant state of evolution as it searches for the next big thing.

So while new products regularly grace store shelves, many also disappear just as quickly. So if something piques your interest, don't wait to grab it! Seize it the moment it catches your eye!

And with that, we hope you will enjoy the variety of treats introduced here today. Many of them are so unexpectedly delicious, they're unlike anything you'd ever expect to find at a convenience store!

Text by: Efeel Co., Ltd.

*Information in article as of September 2023. Some featured products may not be available in all stores, and are subject to discontinuation. Please check official websites and individual stores for updates and information.

English translation by: Krys Suzuki
Recommended Things to Buy in Japan in 2023
*This information is from the time of this article's publication.
*Prices and options mentioned are subject to change.
*Unless stated otherwise, all prices include tax.
Limited time offer: 10% discount coupons available now!