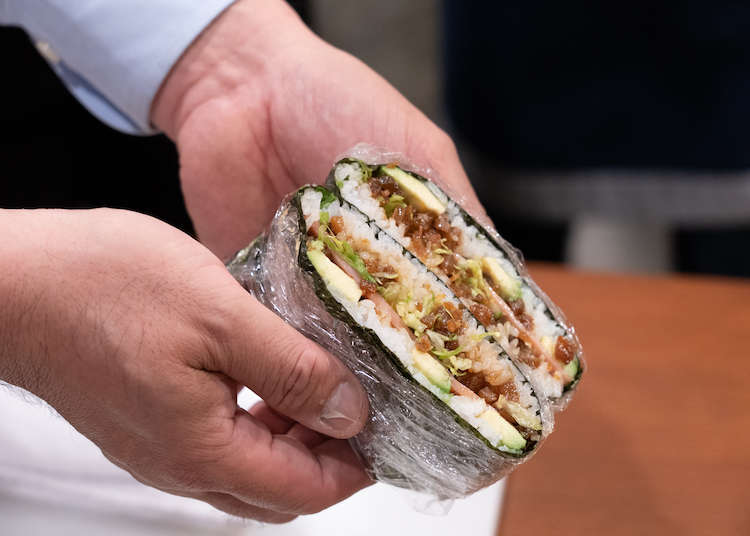 It only takes one bite to fall in love with Japanese rice. You might find yourself wondering how it ends up so fragrant, sweet, and delectable, or why each grain is so clear and shiny. Is it a special cooking method? Something else? Be honest—you've probably wondered these things!

These questions were answered on a Saturday in the winter of 2019 at Akasaka Toda, a traditional Japanese restaurant that stands out even among the many excellent establishments that dot Tokyo's upscale Akasaka neighborhood. At the event, the shop's proprietor, Shigenao Toda, and rice meister, Haruo Yamashita, introduced their ultimate Japanese rice and cuisine combinations.

By the way, becoming a rice meister is no easy feat! Akin to a doctorate in rice, it's an incredibly rare designation, and one must have professional experience in a rice-related field to be eligible for the test.
To Each Cultivar, Its Own Character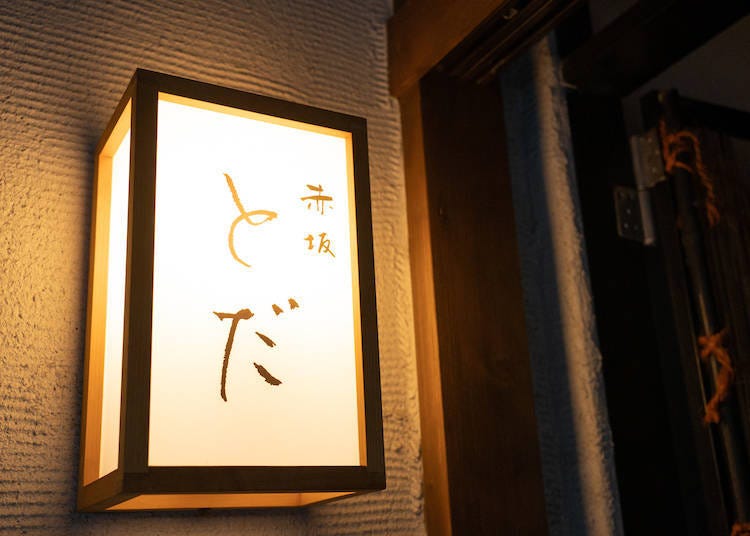 Yamashita said there are more than 300 varieties—or cultivars—of Japanese rice, and went on to explain that "flavor and texture differ depending on the environment and cultivation methods used to grow the rice. Not surprisingly, water is crucial."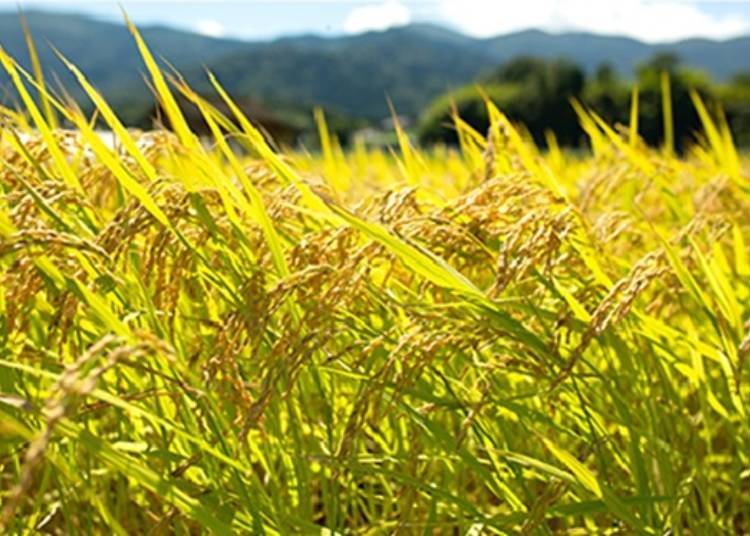 "With Japanese rice, generally, as stickiness increases, sweetness decreases; and as sweetness increases, stickiness decreases," Yamashita explained. "That being said, with the Koshihikari cultivar, the stickiness level is high and there is also sweetness." Koshihikari, which boasts a flavor that goes well with a variety of dishes, has been popular for many years.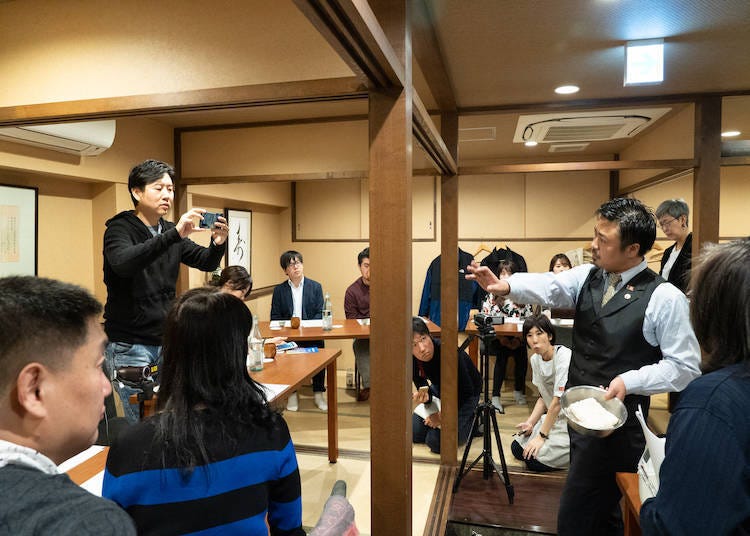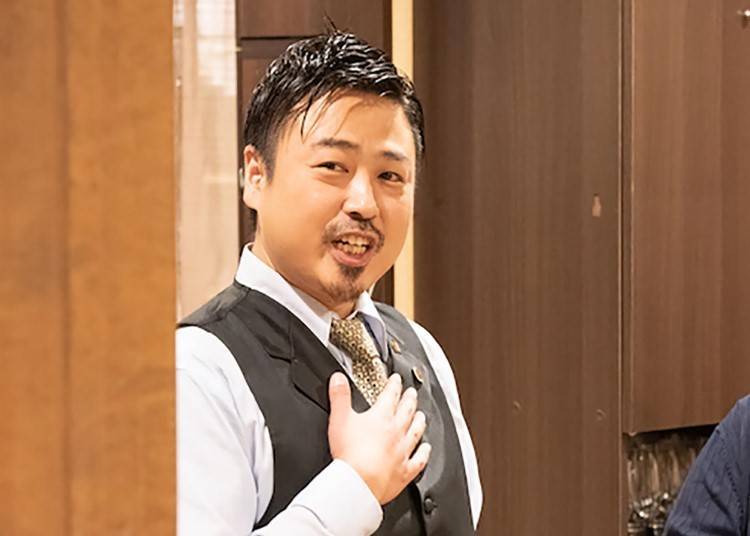 Rice meister Yamashita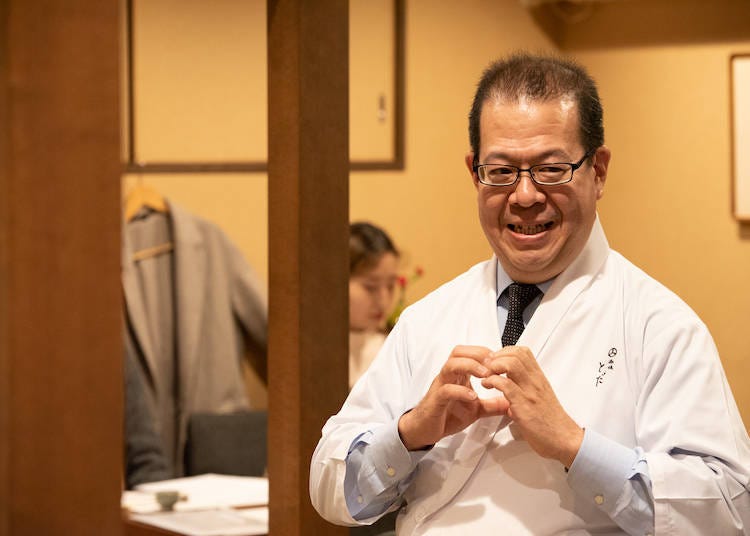 Akasaka Toda's proprietor, Shigenao Toda
The 4 Secrets of Rice Cooking
Next, we were taught the secrets to making delicious rice. Not only was it a revelation, it was also simple, practical information that anyone could quickly put into practice.
Secret #1: Use Soft Water!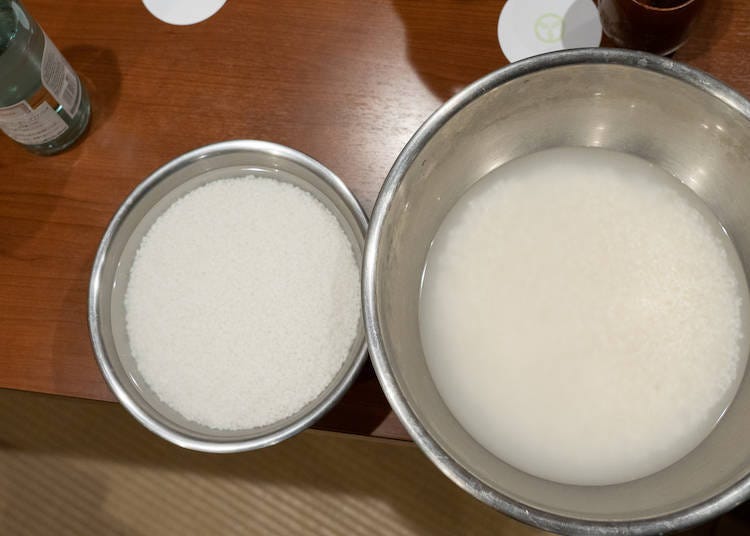 "While it's important to choose high-quality Japanese rice, using soft water for washing and cooking is also important. This will result in plump, elastic rice," Yamashita said. That water could make such a difference to the flavor of rice was a big surprise.
Secret #2: Wash with 'Cat Hands'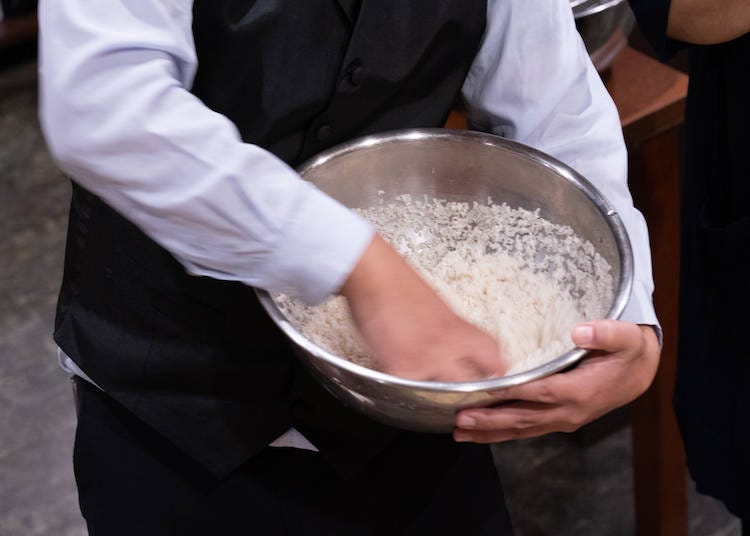 "There's a secret to washing rice, too," said Yamashita. "If you mimic a cat burying its claws into something with your hands, you'll be able to wash away the rice bran caught in the fine grooves of the grains."
When washing, though, take care not to create too much friction. Doing so, and drying the rice for too long, can cause individual grains to break, spoiling the essence of the flavor.
Secret #3: Mind the Flame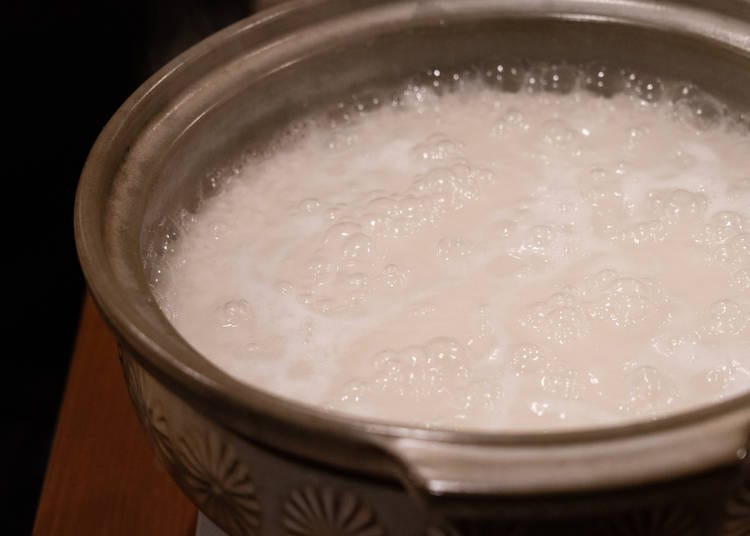 Want to cook delicious rice in an earthenware pot? Place the washed rice in the pot and close the lid. Immediately turn the heat to high. When the rice begins to simmer, and bubbles form around the edge of the lid, turn the burner to low. The rice is finished when the water has been absorbed by the rice and a crackling sound can be heard.

To take your rice to the next level, increase the steam pressure by turning the burner to high for the final 10 seconds.

Turn off the burner and allow the rice to steam for five to 10 minutes. Whatever you do, don't open the lid during the steaming process! Doing so will make the deliciousness disappear. Control your excitement and enjoy the anticipation.
Secret #4: Stir with Care!
The secrets to delicious rice don't end with the cooking process—the way you stir your rice matters, too. "With the heat off, gently stir the rice. It's crucial that all the rice is exposed to air. Doing so births elasticity," explained Rice Meister Yamashita. Also, take care when serving to avoid flipping the rice over when lifting it from the pot to the bowl. Best practice for terrific texture requires that the rice sitting directly against the serving spoon be at the bottom of the bowl.

Furthermore, "If you want to cook plump rice where each grain is distinct, it's necessary to ensure that the water vapor in the pot is circulating sufficiently," Yamashita continued. For the steam to circulate properly, the grains themselves must be unbroken and in perfect condition.
A Variety to Match Every Dish!
After learning trivia about rice and the proper cooking method, it was time for the event's climax: enjoying various combinations of Japanese dishes and rice.
Best Combo #1: Yumepirika & Grilled Fish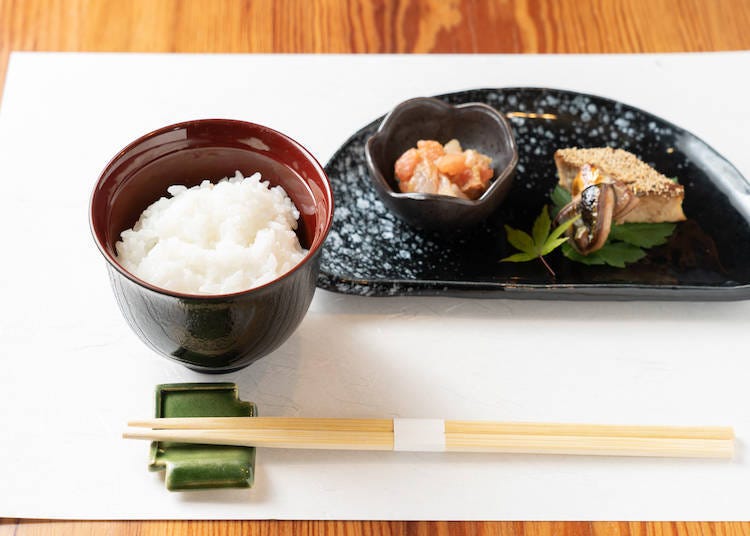 We began with hors d'oeuvres: sea bream with sauce and grilled saury, served with Yumepirika, an extremely sticky variety of rice from Hokkaido.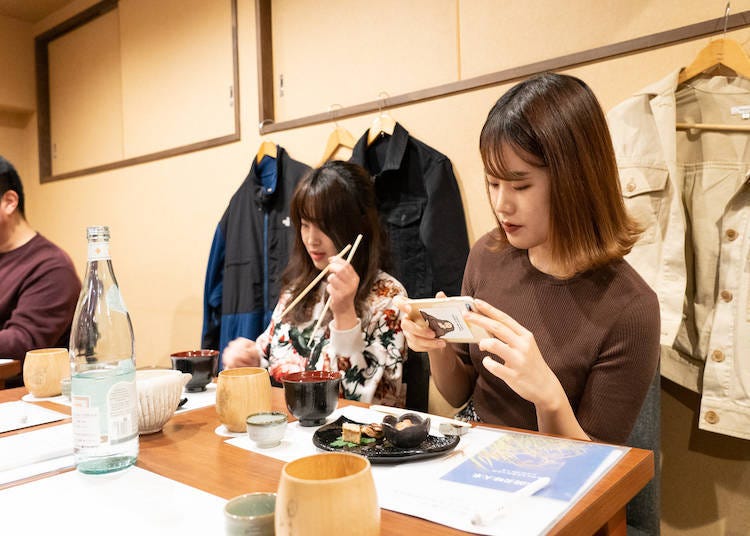 Best Combo #2: Yumetsukushi & Dumpling Soup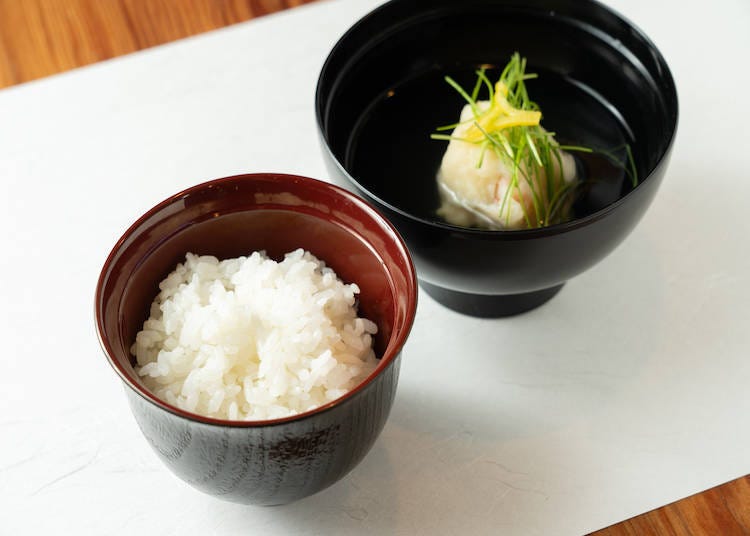 Next up was a mild fish dumpling soup combined with firm and refreshing Yumetsukushi, a variety of rice from Fukuoka Prefecture that is cultivated using the renge milkvetch method. This is a "green manure" method of farming in which Chinese milkvetch (a variety of flower) is sown in a field and, once in bloom, mixed with the soil to create fertilizer. The natural approach is gaining prominence, as not using chemical fertilizers is better for human health as well as the environment.
Best Combo #3: Koshihikari & Sukiyaki
For the main course, sukiyaki made with Mikumano beef—whose flavor and texture packs a punch—was served with a Japan Agricultural Standards (JAS)-certified organic aigamo duck-farmed Koshihikari variety of rice. Koshihikari rice has just the right amount of stickiness and sweetness.

The JAS organic aigamo duck farming method involves introducing aigamo ducks into rice fields, where they consume weeds and insect pests and leave droppings that provide nourishment for rice plants. It is hoped that this method will mitigate damage from chemical fertilizers and pesticides, while limiting crop damage from disease and harmful insects.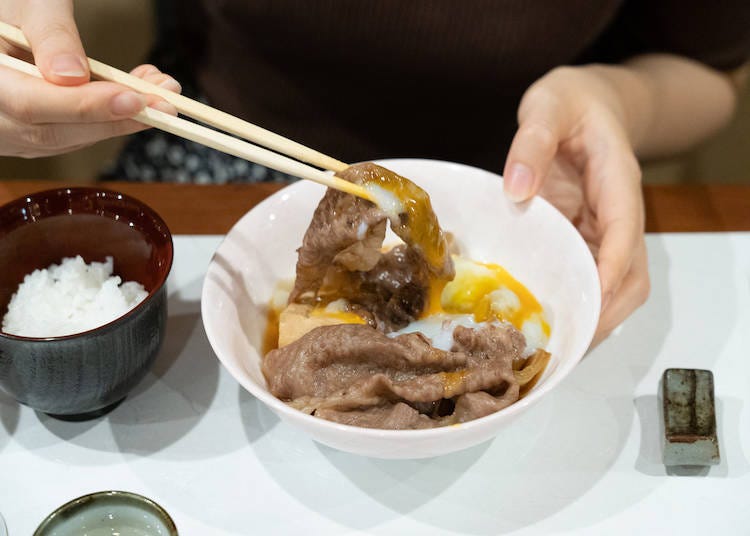 Best Combo #4: Kinuhikari & Miso Soup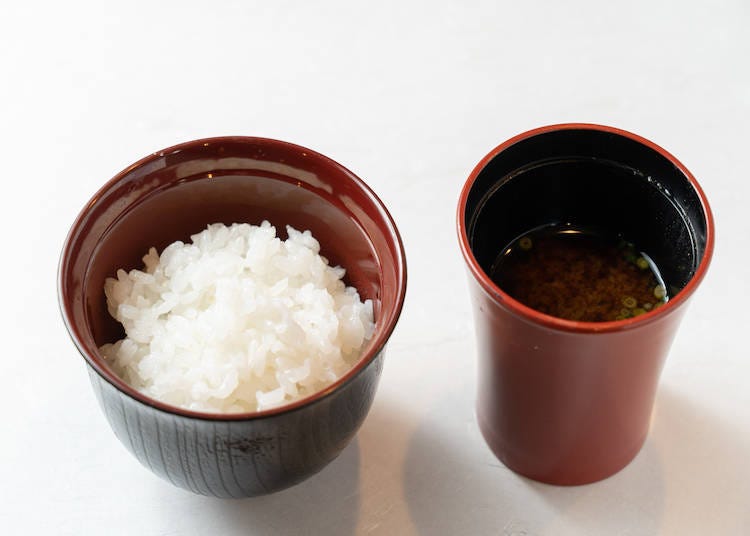 Next was miso soup made with akamiso (dark-brown miso paste), served with Kinuhikari rice from Tanba, in Kyoto Prefecture. This variety of rice was recently chosen by the Imperial Household for one of Emperor Naruhito's enthronement ceremonies. The feasting ended with amazake, a sweet drink produced from fermented rice, made with Hitomebore rice from Saga Prefecture.

Each dish was served with Japanese sake chosen to match the cuisine. As we thoughtfully enjoying Japanese dishes, rice, and sake together, it became clear that rice isn't a supporting player at all. Rather, as if by magic, it makes all other parts of the meal more delicious.

My favorite rice variety was the Kinuhikari. It has a refreshing texture, a sweetness, and a depth of flavor that become apparent as the rice is chewed. I felt that I wouldn't get tired of it even if I ate it every day, and that it would go well with any dish.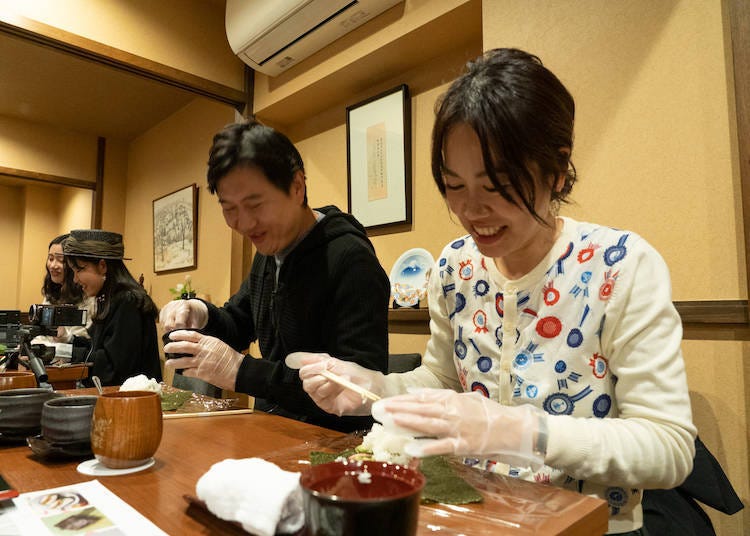 The "Onigirazu" Rice Sandwich: An Instagrammable Superstar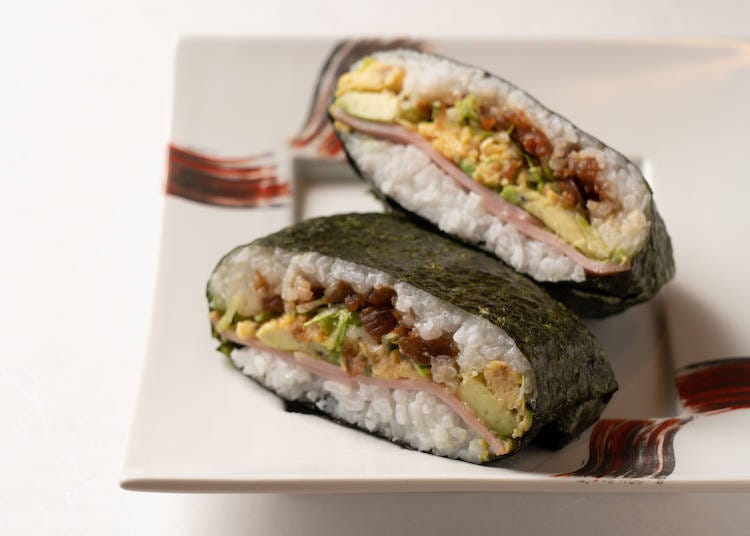 At the end of the event, Toda and Yamashita taught us how to make onigirazu, a non-molded onigiri rice ball sandwich that became a runaway hit with housewives soon after arriving on the scene. The reasons for its popularity are simplicity and flexibility: any filling works!

Making them with Japanese rice, which is stickier than many other varieties, means that ingredients such as meat, vegetables, and sauces can be mixed easily, resulting in a delicious finished product. Furthermore, as grains of rice stick together well, onigirazu are easy to hold and—even when eaten cold—retain their sweetness.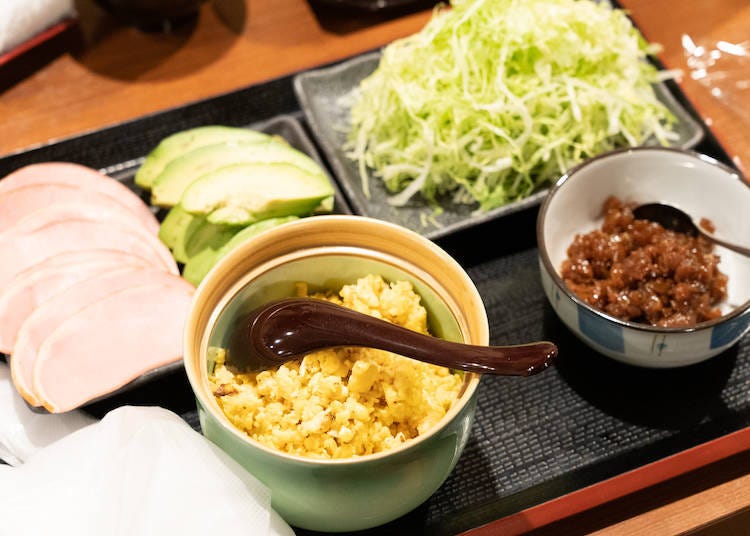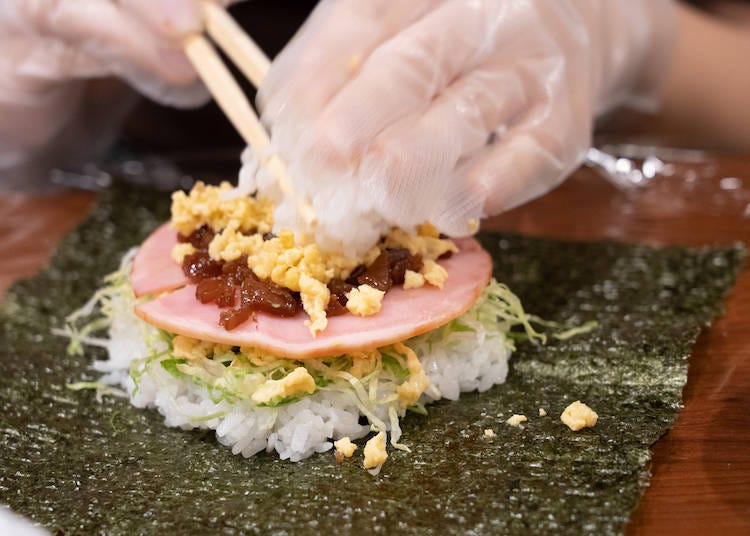 Toda chose diverse ingredients—including thinly sliced omelet, avocado, and ham along with shredded cabbage—while Yamashita prepared Oidemai rice from Kagawa Prefecture, explaining that the cultivar "retains its elasticity even when cold, and is the perfect rice for bento." As Toda cut in half the onigirazu made by event participants, the room was filled with cries of amazement at each cross-section.
More Than a Supporting Player
By participating in this event, I learned a lot of valuable information about rice. Not only that, I discovered that, with just a little effort, I can take everyday rice and make it incredible. Japanese rice conceals its potential—there's so much more than meets the eye. And, surely, there's plenty more to come!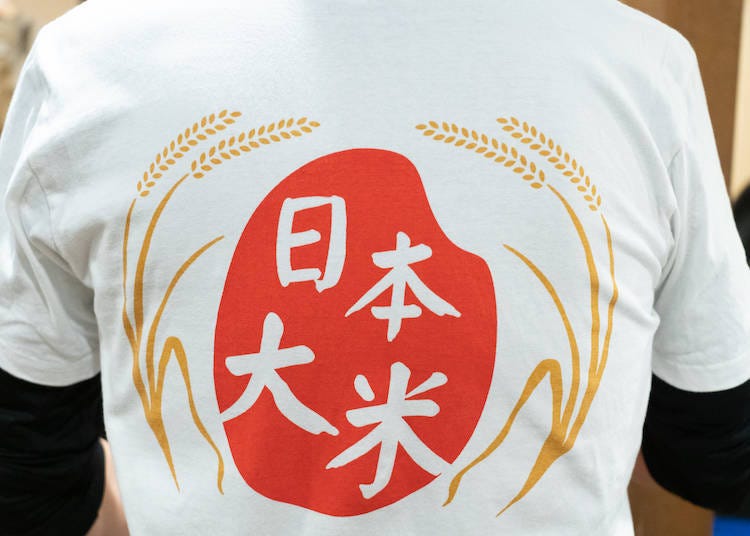 赤坂とだ

Address

B1 3-16-5 Akasaka, Minato Ward, Tokyo 107-0052

Hours: 5:00pm – 11:00pm (last food order 10:00pm; last drinks order 10:30pm)
Closed: Sundays, national holidays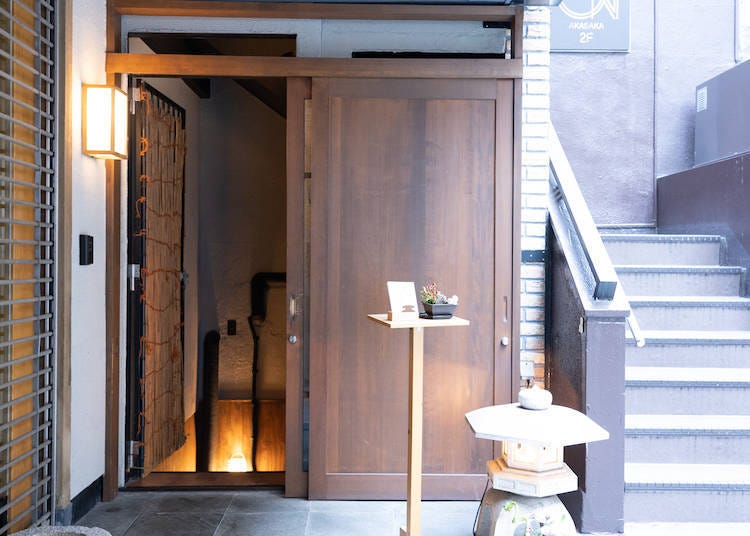 Yamashita Shokuryo, Main Store (Rice Meister Shop Yamashita, Main Store)

山下食糧(本店)

Address

1-5-29 Nakamichi, Higashinari Ward, Osaka 537-0025

Hours: 10:00am – 7:00pm
Closed: Sundays, national holidays
*This information is from the time of this article's publication.
*Prices and options mentioned are subject to change.
*Unless stated otherwise, all prices include tax.