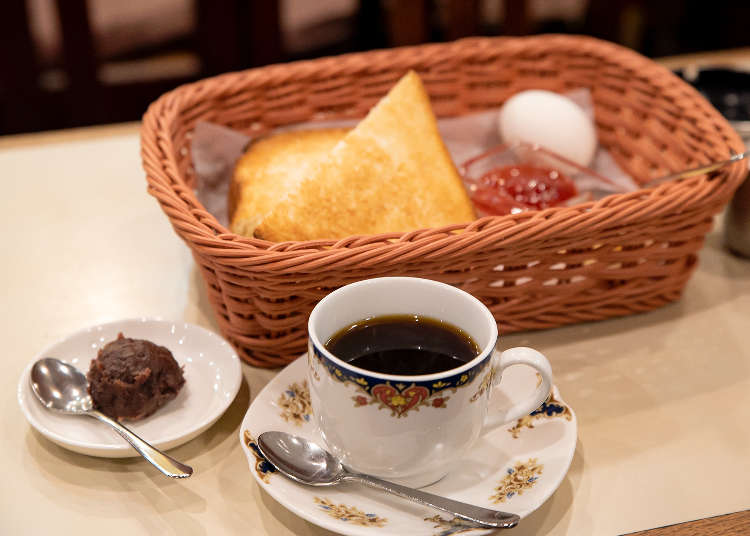 The bustling Tokyo Station, where locals residents and international tourists from all walks of life pass through on a daily basis, is the entrance to the vibrant city of Tokyo.

The station serves a number of railway lines, including major JR lines as well as lines on the municipal subway, and nearly 800,000 passengers pass through its doors every day.

Naturally, throughout the years, a growing number of eateries and restaurants have been popping up around the station to cater to the nutritional needs of these passengers. From old establishments to the latest talk of town, there are about 1,000 shops in its vicinity, including those selling general wares.

Wandering into the shopping area of the station is like entering another city altogether - one that's conveniently nestled just beneath the sprawling metropolis of Tokyo!

And since you're already here, you might as well check out these three popular Tokyo Station breakfast shops serving up delectable meals designed to give those passing through this underground city the best start to their day!
1. Aroma Coffeeshop: Delicious Home Roast Coffee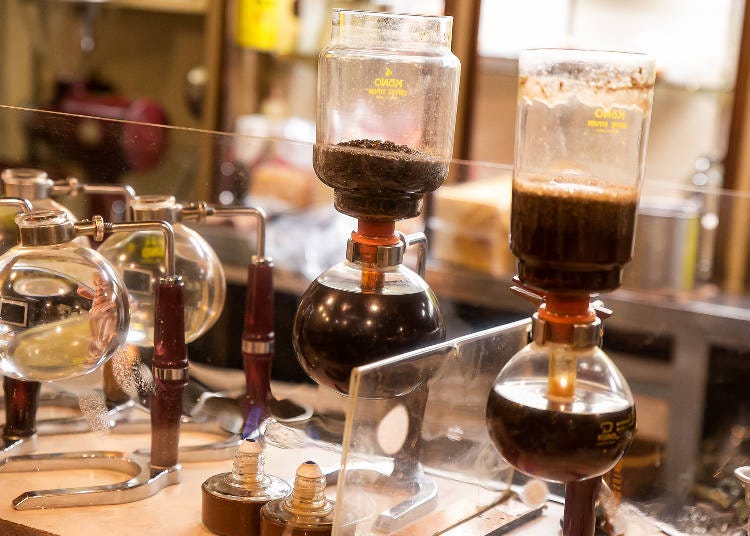 Established in 1970, the year 2020 marks the 50th anniversary of Aroma Coffeeshop's foray into the realm of providing good coffee for the many hardworking office workers of Japan.

This famous eatery is located in Yaesu Shopping Mall, one of the largest underground shopping malls in Tokyo, which is directly connected to Tokyo Station itself, giving the shop unparalleled accessibility for your Tokyo Station breakfast.
The atmosphere in the vintage-looking shop is that of peaceful repose. You can expect to see many of the 70-seater restaurant's customers to be relaxing after work with a book in hand as they enjoy their dinner, or hear the soft click-clacking of the laptop keys of businesspeople eager to get quality work done in a conducive environment while sipping a cup of coffee to energize themselves.

Mr. Nishimura, the owner of the shop explains further, "Many passengers of overnight buses come here to pass their time while waiting for the bus to set off. Also, a lot of our breakfast customers leave house a little earlier than usual to get here before the morning rush hour starts."

Sounds like a slice of life from one of the busiest metropolitan train stations in the world indeed!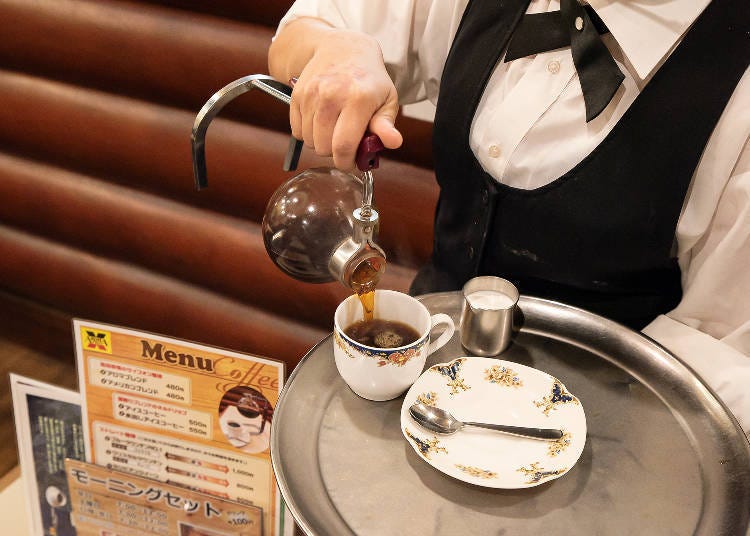 What attracts people of all sorts to this quaint place is the shop's specialty: Siphon brewed coffee. The shop has a separately located brewing studio where coffee beans of the utmost freshness and aroma are being produced.

The coffee made from these beans is thus an exquisite balance of sourness and bitterness. A small sip is enough to untangle all those tensed knots in your body and make you breathe a sigh of relief, and you'll slip into relaxation mode before you even realize it.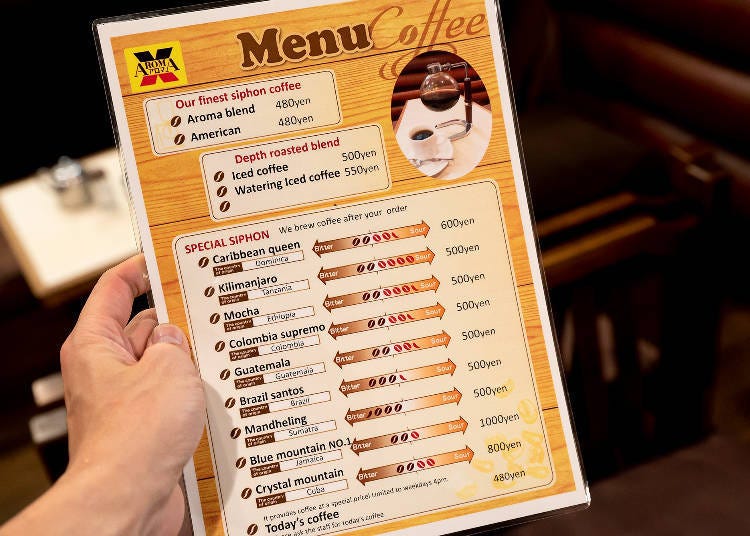 If that's not your cup of tea, or should we say, coffee, there's always the option of choosing your own coffee beans for brewing. How about mixing things up for a change quite literally by trying out the "Aroma Blend (480 yen, tax included)" that is a mix of a few types of beans?

The shop also has "Blue Mountain No. 1 (1,000 yen, tax included)", "Crystal Mountain (800 yen, tax included)", "Columbia Supremo (500 yen, tax included), "Mandarin (500 yen, tax included)" and other offerings - a total of 10.

As for food, there are more than 20 kinds you can choose from, including favorites like "Pizza Toast (700 yen, tax included)", "Mixed Sandwich (700 yen, tax included)", and "Hotcake (450 yen, tax included)".

The hefty volume of each item has brought great satisfaction to the tummies of many a hungry office worker for years and years, and can do the same for yours as well.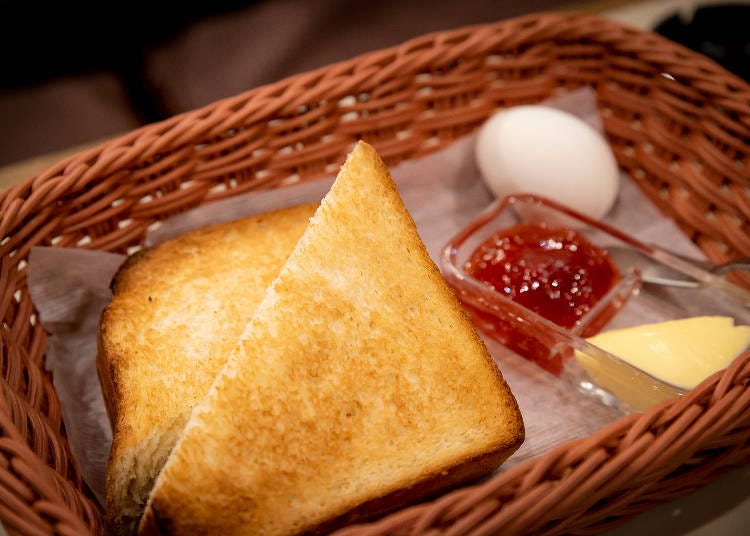 But since we're talking about breakfast today, absolutely check out the shop's "Morning Set (550 yen, tax included)", served only between 7:00 a.m. to 12 noon on regular days, and from 7:30 a.m. onwards on Sundays and holidays. The set comes with freshly made toast, coffee, and a hard-boiled egg.

Enjoy the crunchy thick toast that is crispy on the outside and fluffy on the inside. Spread some jam, butter, or red bean paste onto the slices to add different flavors with every bite, then wash down with aromatic coffee, which, by the way, is refillable up to five times for free.

With so much good food and coffee waiting, breakfast here may just turn out to be a longer affair than you initially expected!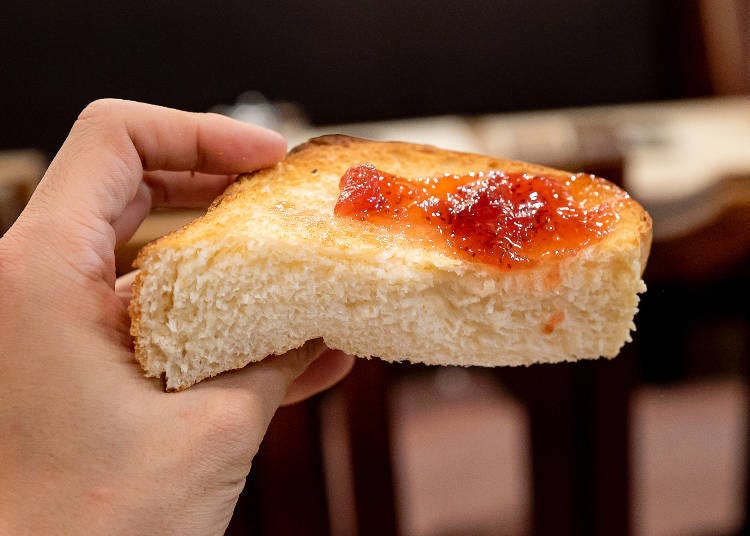 Happily, the shop has an English menu available, which consistently draws plenty of international visitors. You won't have a problem conversing with the staff in English too, because the shop employs English-speaking foreign staff as well! However, do note that no smoking is allowed anywhere on shop premises.
アロマ珈琲

Address

Yaesu Chika 1st Street, The Yaesu Shopping Mall, 2-1 Yaesu, Chuo-ku, Tokyo 104-0028

Nearest Station

Transport: 5-minutes walk from Yaesu Chuo Gate of Tokyo Station on the JR lines; 5-minutes walk from Exit 7 of Kyobashi Station on the Tokyo Metro Ginza Line


Phone Number

03-3275-3531

Hours: Weekdays 6:30 a.m. – 9:30 p.m. (last order 9:15 p.m.); Saturdays 7:00 a.m. – 9:00 p.m. (last order 8:45 p.m.); Sundays and holidays 7:30 a.m. – 9:00 p.m. (last order 8:45 p.m.)
Closed: Open daily
2. Mango Tree Kitchen Pad Thai: Authentic Thai breakfast food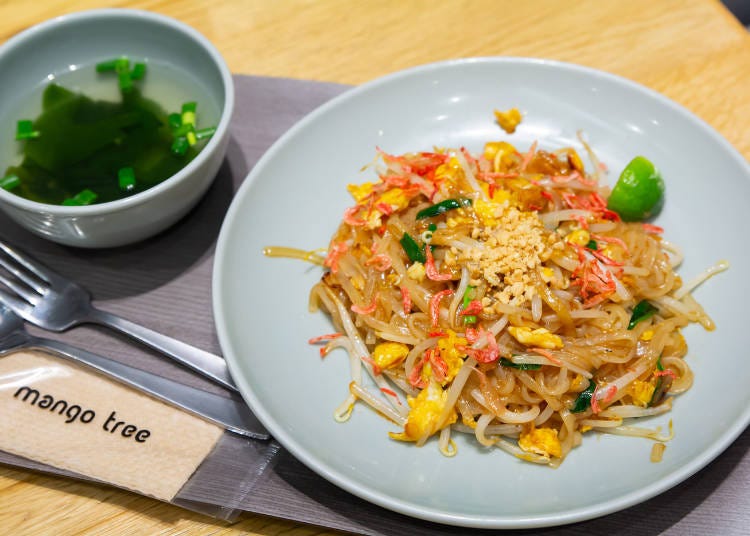 Gransta Marunouchi opened in 2017 and quickly became the talk of the town. This underground street is the largest food zone in the vicinity of Tokyo Station and features an array of popular food stores such as cafes, sushi shops, soba joints, Korean cuisine, dessert places, and more!

Many of these eateries have a breakfast menu, and the entire area bustles with human activity, especially during lunchtime and dinner hours.

Because Gransta has relatively more trendy restaurants than the competition, many women come here to seek out food that doesn't just taste good, but look great as well. As such, you're likely to see a relatively higher number of ladies wandering the area compared to conventional food zones.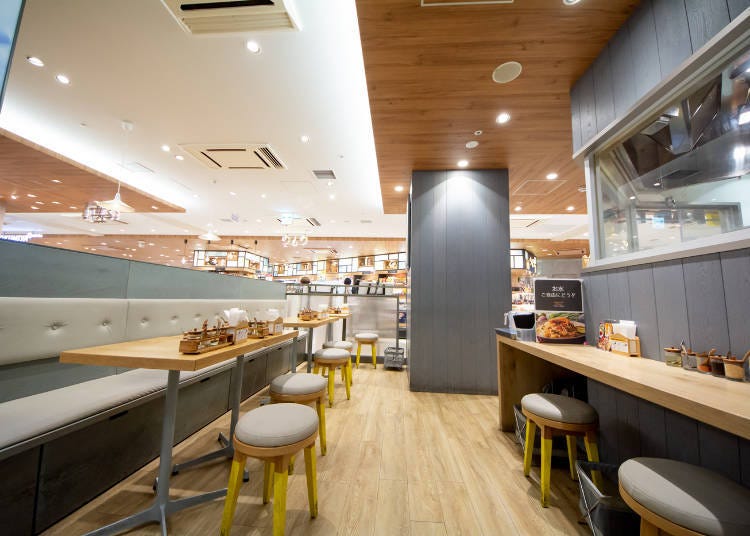 Mango Tree is a chain of popular restaurants known for their tasty authentic Thai food.

Mango Tree Kitchen Pad Thai, as its name suggests, is a specialty store that focuses on "Pad Thai", an iconic Thai stir-fried rice noodles dish.

The shop's signature "Pad Thai (600 yen, tax included)" is served from morning hours onwards (7:00 a.m. – 10:00 a.m.). In order to let customers experience the authentic Thai taste, this dish is made using the shop's originally made springy rice noodles, known in Thai as kuay tiaw.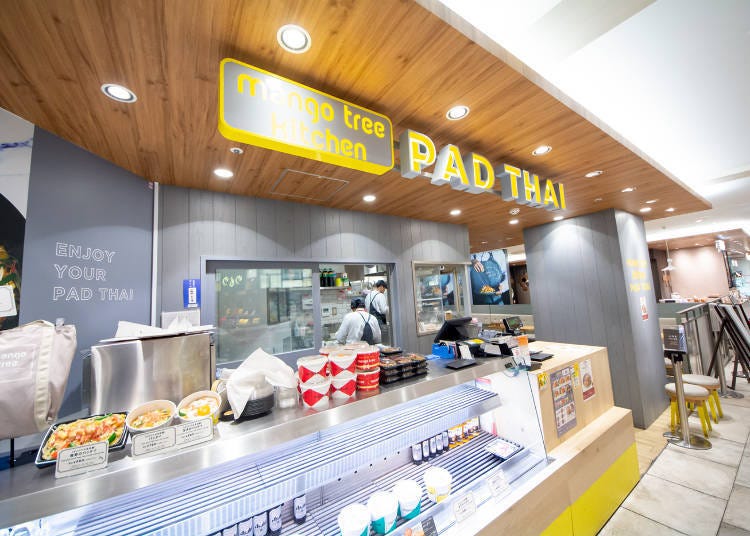 The kuay tiaw being served here have been carefully produced in a Niigata factory. Freshness is the focus, but effort is also put into preserving the rice's umami and keeping the noodles moderately chewy.

The noodles come with ingredients like sakura shrimps, eggs, or bean sprouts and are seasoned with a mouth-watering salty-sweet flavor. Squeeze the lime that is served alongside the dish onto the noodles for the most authentic Thai taste.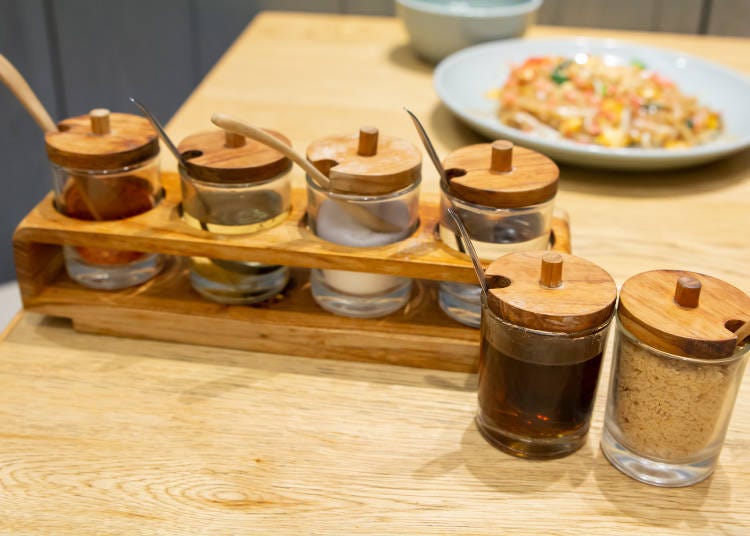 The secret behind the dish's salty-sweet taste lies in its ingredients: Coconut sugar, nam pla (fish sauce), and tamarind paste.

The best way to understand how well the noodles, ingredients, and seasoning go together is to simply take a bite. And then another. And another. Before you even realize it, the plate is wiped completely clean!

Or you could pause for a break in between bites, leave your chopsticks on the lightly seasoned bowl of soup by the side, and used one of the condiments left on the table to spice things up a little for even more enjoyment.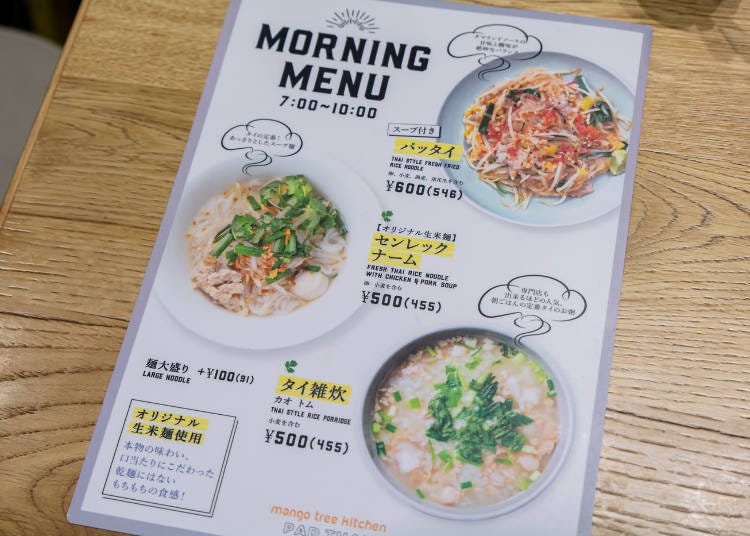 There are plenty of other Thai food to try here besides "Pad Thai". If you like noodles, you might also enjoy "Sen Lek Nam (500 yen, tax included)" a Thai soup noodles dish.

"Thai Rice Gruel (500 yen, tax included) is a Thai-style porridge often eaten by Thai natives. Both are lightly seasoned yet rich in taste and a Tokyo Station breakfast godsend for anyone who may have had a drop too much the previous day.

"Pad Thai" is also available for takeout, which makes it the perfect thing to order for workers rushing to catch a train. On the Marunouchi side of the shop, there is an outdoor seating area with plenty of benches facing the Imperial Palace in the middle of the city. Having great Thai food while admiring the palace from afar sounds like a great way to have breakfast, lunch, or dinner!
Mango Tree Kitchen PAD THAI

マンゴツリーキッチン"パッタイ"グランスタ丸の内

Address

GRANSTA MARUNOUCHI, JR East outside Tokyo Station, 1-9-1 Marunouchi, Chiyoda-ku, Tokyo 100-0005

Nearest Station

1 minute walk from Tokyo Station Marunouchi Underground Central exit


Phone Number

03-6259-1955

Hours: 7:00 a.m. – 10:00 p.m. (last order 9:30 p.m.); Sundays and last day of a consecutive holiday 7:00 a.m. – 9:00 p.m. (last order 8:30 p.m.)
3. Sushi Sei: Fine fish chazuke, a local breakfast favorite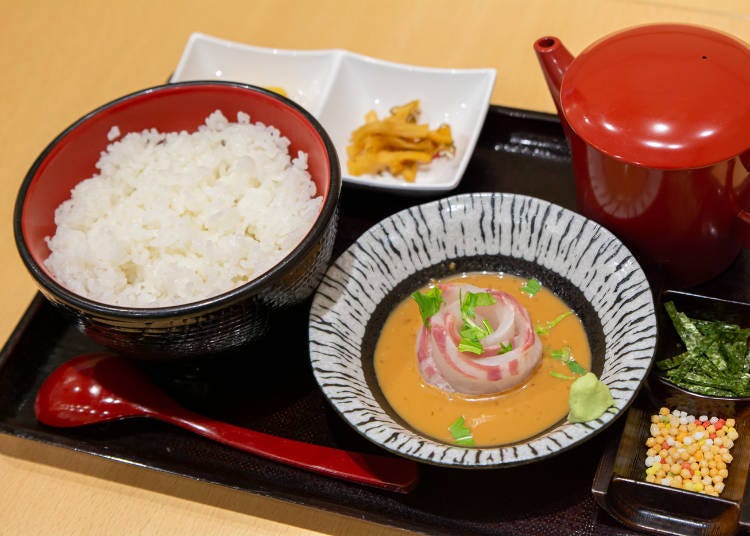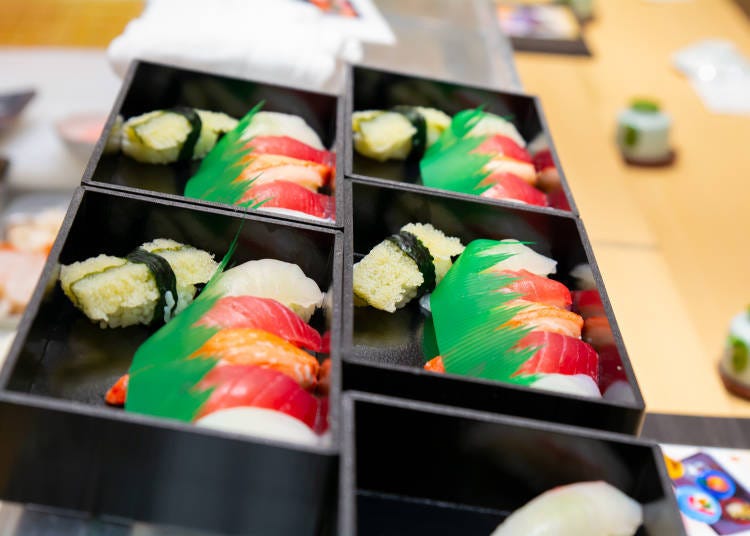 Tsukiji Sushi Sei was established in 1889 and chefs of the store have been passing down their well-honed skills and techniques from generation to generation since its inception. Their Tokyo Station Gransta Branch is located inside the paid area of Tokyo Station.

This Tokyo Station breakfast spot uses carefully selected seasonal ingredients for their sushi, and offer a breakfast menu from 7:00 a.m. to 10:00 a.m. that features local favorites such as "Boiled Fish Set Meal (920 yen, tax included)" and the "Zukedon (870, tax included)" rice bowl that comes topped with tuna or salmon meat.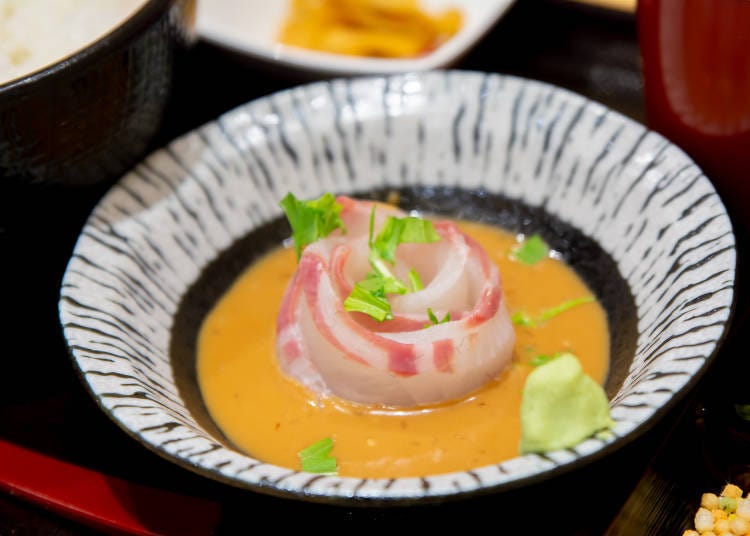 The shop uses fresh fish purchased daily from Toyosu, known as the kitchen of Tokyo in their dishes and offers them to customers at very reasonable prices.

What you'll want to pay attention to for their morning spread are "Tai Gomadare" and "Harasu Ikura", (both 720 yen including tax), breakfast delicacies with a delicious broth base.

We chose to go with "Tai Gomadare" for our visit this time. The special sesame sauce uses a generous amount of roasted sesame and goes well with the fresh sea bream sashimi that's served together.

The mellow taste of sesame sauce is something different from soy sauce, the usual condiment of choice in Japanese cuisine, and definitely worth trying out!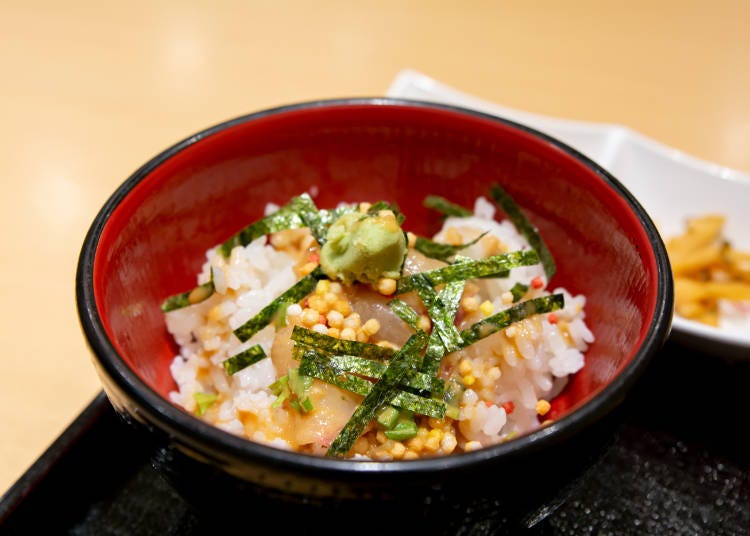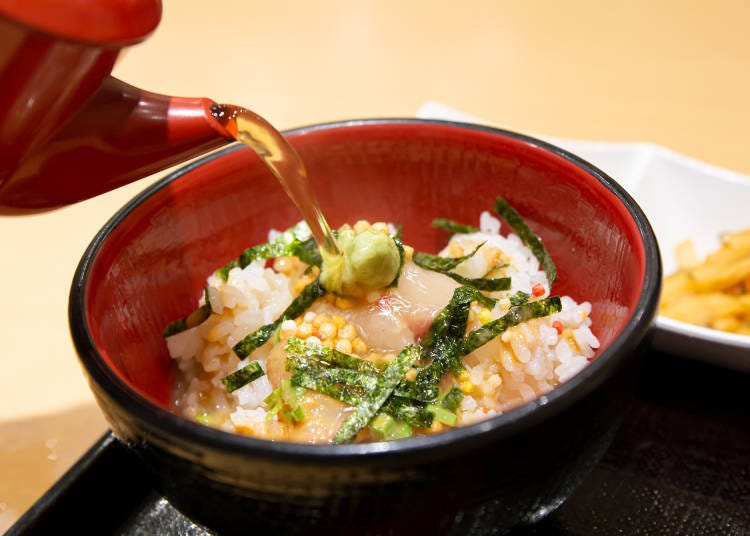 The rich sesame fragrance, tender sea bream texture, and freshly cooked rich come together so delightfully on your taste buds, you won't be able to stop once you start!

Try out the pickled side dishes or egg rolls that come with the set to add flavor to your meal and make it taste even better.

Finally, just before finishing up the last portion of the bowl, pour the broth in the kettle over the rice and let the pleasant aroma of the bonito flakes in the broth whet your appetite even further!

When the rice and sea bream soaks up the warm soup, their texture changes quite a bit. This is a major feature of this item - it was designed to present two vastly different tastes in a single bowl with just a simple change. It's two for the price for one!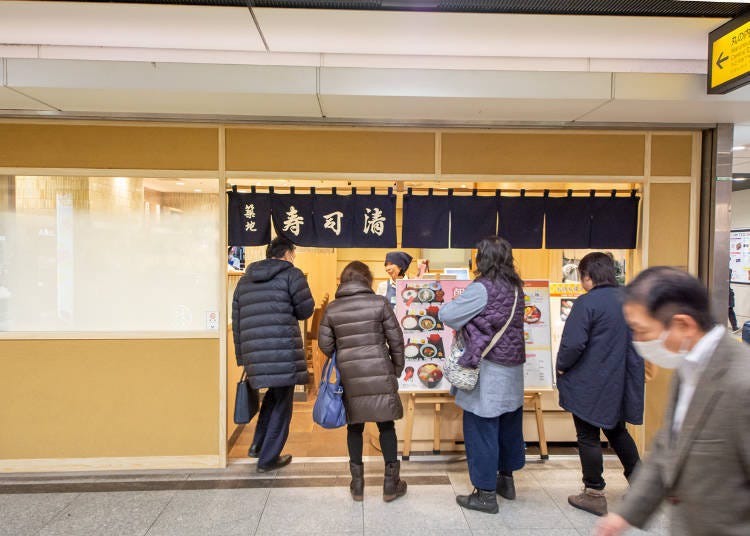 The restaurant was absolutely packed with visitors on the day of our visit. According to the owner, tourists and workers start crowding into the shop in search of a solid Tokyo Station breakfast from about 8 a.m. onwards. After tasting the freshness of the fish cuisine they have to offer, we have to admit we totally understand why!
Tsukiji Sushi Sei GRANSTA

築地寿司清 東京グランスタ店

Address

GRANSTA Dining, JR East outside Tokyo Station, 1-9-1 Marunouchi, Chiyoda-ku, Tokyo 100-0005

Nearest Station

2-minutes walk after entering Yaesu Underground Chuo Gate of Tokyo Station on the JR Lines


Phone Number

03-5220-6865

Hours: 7:00 a.m. – 10:00 p.m. (last order at the counter 9:30 p.m., at the table 10:00 p.m.)
Closed: Open daily
Written by Hoshio Sato
*This information is from the time of this article's publication.
*Prices and options mentioned are subject to change.
*Unless stated otherwise, all prices include tax.
Limited time offer: 10% discount coupons available now!