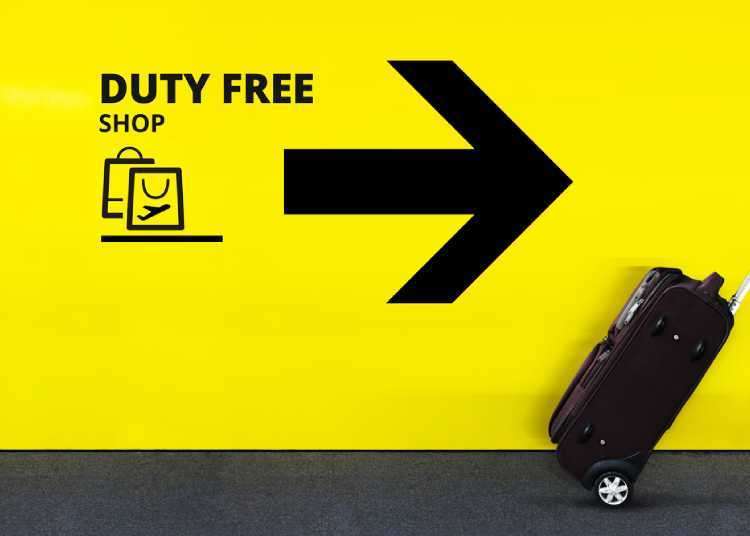 Tax-free shopping is one of the greatest things about being a tourist in Japan. The service is particularly interesting and convenient in dedicated shops and department stores that offer not only a wide variety of products but also pamper their international shoppers with numerous services and perks. Even first-timers to Japan can enjoy a relaxed shopping experience!

While the procedure may be the same, each shop and facility offering tax-free is different not only in product selection but also in atmosphere and unique characteristics. To get a better impression of what kind of shopping you can expect at the different store's, we will look at these differences and characteristics of tax-free shops and department stores in Tokyo and Yokohama. Make the most out of your shopping tour in Japan!
What is the Difference between Duty-Free and Tax-Free?
While "tax-free" and "duty-free" are often used interchangeably, they differ slightly from each other. Understanding this subtle difference is the first step to a shopping adventure full of deals and bargains.

"Duty-free" means that something is exempt from the consumption tax, liquor tax, tobacco tax, and customs duty, available at international airports such as Narita and Haneda. It's not a service exclusive to international tourists but may also be used by Japanese people leaving the country. Recently, duty-free shops have sprung up even outside airports, generally called "airport-style city duty-free shops." If a Japanese person is scheduled to leave Japan, they can use these shops just like those at the airport. Your purchases at a duty-free shop inside the city will be sent to the airport, to be picked up just before you leave.

"Tax-free," on the other hand, means an exemption from the consumption tax. This service is widely available at a variety of stores and the tax exemption every tourist should make use of!
Lotte Duty-Free Tokyo Ginza Store: the Largest Duty-Free Shop in Tokyo, Spanning Two Floors!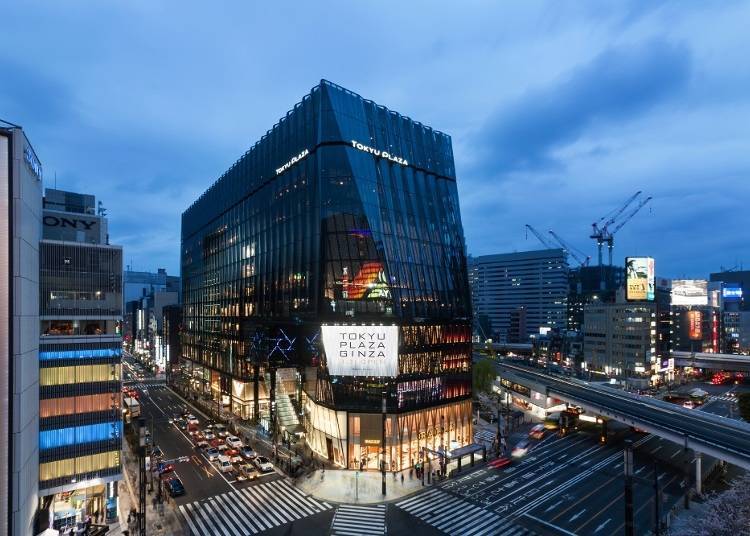 Tokyu Plaza Ginza opened in March 2016 and boasts the luxurious atmosphere of a high-class brand shop or hotel. It's also home to Lotte Duty Free, the famous store from Korea. Its interior is reminiscent of the glitzy Ginza it is located in; sparkly and shiny like a jewelry box. The layout is also inspired by a spacious department store, inviting you to shop leisurely at your own pace.
More Than 200 Brands at Tokyo's Largest Duty-Free Shop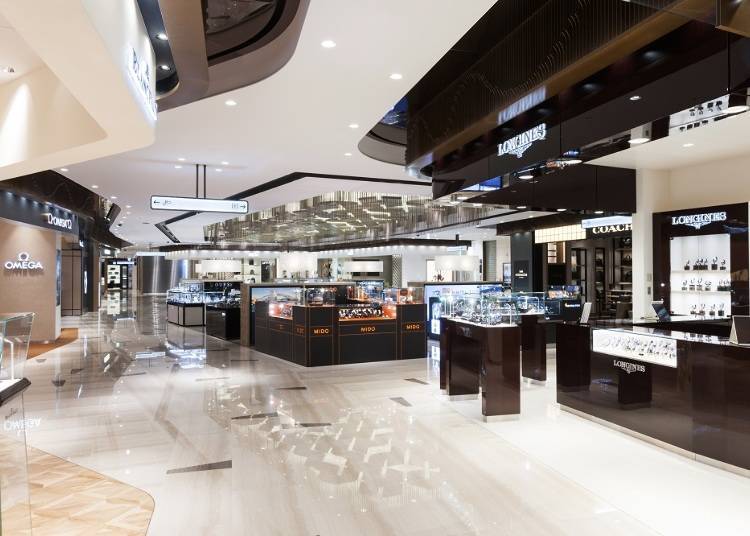 Lotte Duty-Free Tokyo Ginza Store occupies the 8th and 9th floor of Tokyu Plaza Ginza. Its vast selection is made up of over 200 different brands that sprawl on 4,400 bright and spacious square meters, said to be the largest duty-free shop in the entirety of Tokyo. The calm, elegant environment makes for a superb shopping experience that seems untypical of a duty-free shop.
A Rich Assortment of Products on Both 8F and 9F
Divided into two floors, Lotte Duty-Free Tokyo Ginza Store offers different brands by floor. And while there's an abundant selection, everything is arranged and labeled neatly, so you won't have to worry about missing one.

The 8th floor is home to fashion accessories and miscellaneous goods with brands including Gucci, Coach, MCM, Omega, Montblanc, Samsonite, Samantha Thavasa, and so on. The 9th floor, on the other hands, features brands such as CPB, SK2, Three, and Shiseido, offering Japanese cosmetics, perfume, sunglasses, alcohol, tobacco, food, souvenirs, and so on.
Big Benefits with the Membership Service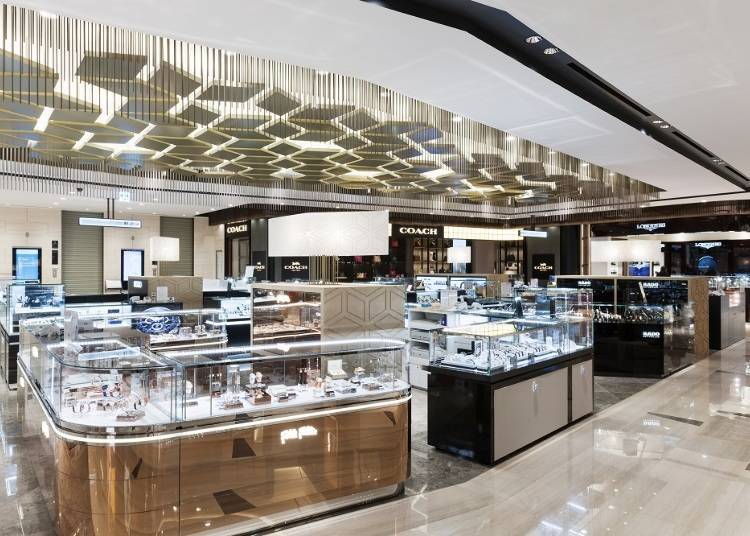 Lotte Duty-Free Tokyo Ginza Store is also part of the Lotte duty-free program, which means that VIP members get exclusive discounts for up to 15%, not only in Ginza but all around the globe. This membership service is also connected to Japan Airlines' JAL Mileage Bank, Refresh Point of Jeju Air, and Reward-U by HK Express. There's plenty of benefits to enjoy besides tax exemption!
Phone: 3-6264-6860 (11:00 a.m. – 9:00 p.m.)
Now you can even enjoy this special offer!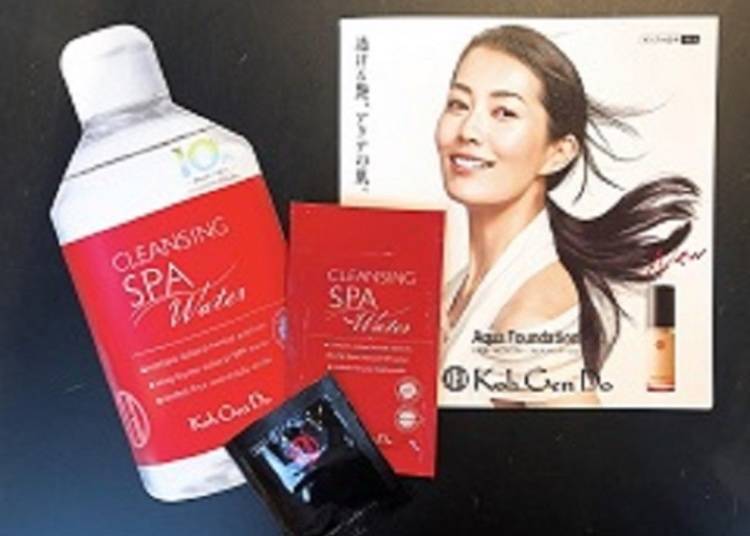 *Photo is for illustration purposes only
Now, LIVE JAPAN users can also enjoy a free gift in addition to savings here as well! For example, at HANDS EXPO on the 7th floor, present the coupon page (link below) to the clerk when purchasing your items and receive a free gift!

* Limited to customers making at least one purchase
* Limited to one person per purchase.
Valid: 2018/12/18 11:00 - 2019/03/31 21:00
東急プラザ銀座

Address

Tokyu plaza Ginza, 5-2-1, Ginza, Chuo-ku, Tokyo, 104-0061


Nearest Station

Ginza Station (Tokyo Metro Ginza Line / Tokyo Metro Marunouchi Line / Tokyo Metro Hibiya Line)
1 minute on foot


Phone Number

03-3571-0109
Takashimaya Duty-Free Shop SHILLA & ANA: One of Japan's Largest Selections of Cosmetics!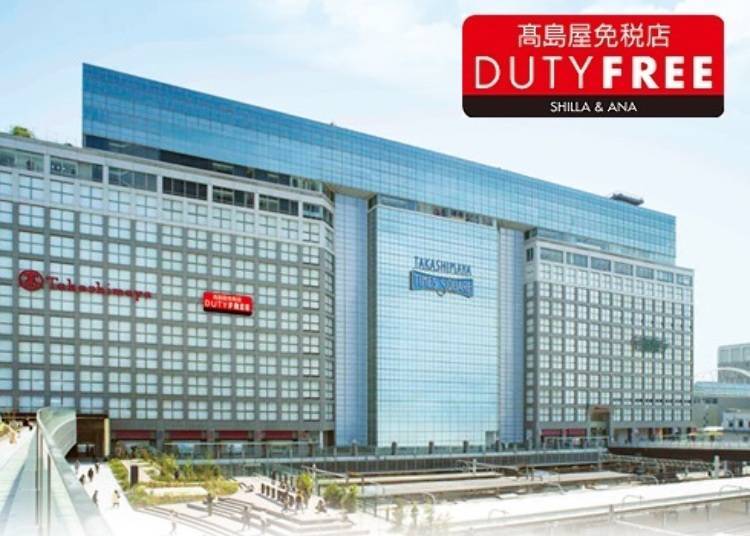 Takashimaya Duty-Free Shop SHILLA & ANA sits on the 11th floor of Takashimaya Times Square, directly connected to Shinjuku Station and Shinjuku Expressway Bus Terminal, thus boasting excellent access from the airports and Tokyo's major stations. That means casual duty-free shopping in between sightseeing plans or just before heading to the airport!

The characteristic of Takashimaya Duty-Free Shop SHILLA & ANA is that it offers both duty-free and tax-free. The shop offers a variety of items popular among international shoppers, including cosmetics, jewelry, watches, Japanese sake, tobacco, home appliances, traditional crafts, and more. Save time and effort with this extensive selection sprawling in one well-organized store!
Japanese Cosmetics Galore: One of the Largest Selections in the Country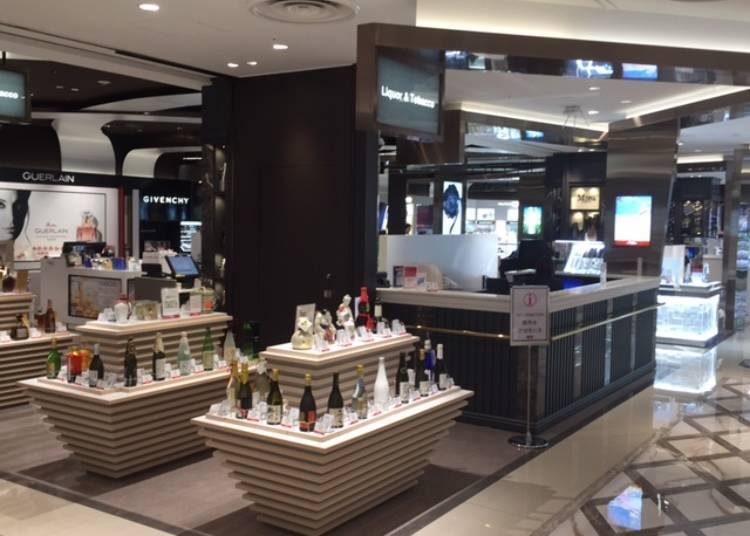 Particularly rich is the lineup of cosmetics, making it an absolute must-visit spot for makeup and skincare fans. With brands such as Cle de Peau Beaute, Shiseido, Albion, SK-II, and Cosme Decorte at its core, the selection of Japanese brands is especially satisfying and popular among many international visitors. Limited duty-free sets sold at special prices offer attractive bargains, so keep your eyes open! Special cabins are installed at the brand corner and beauty advisors are at the ready to help you find a perfect choice and answer any questions you might have.
Medicines, Supplements, Appliances and More!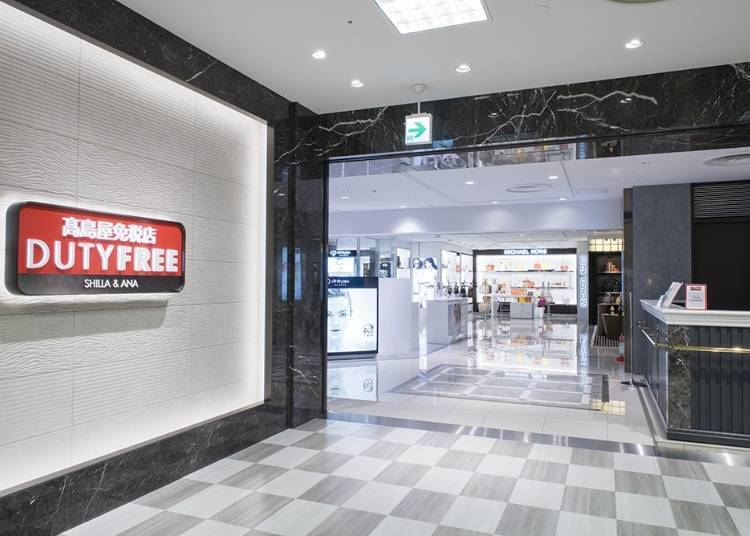 Takashimaya Duty-Free Shop SHILLA & ANA also includes a Matsumoto Kiyoshi location, which is one of Japan's most popular drugstore chains. It offers a marvelous selection of medicine, sanitary goods, health foods, supplements, daily necessities, and more – everything tax-free! The shop also handles Made in Japan beauty appliances, pretty much covering the most sought-after products for tourists. Even the tobacco shop handles popular brands such as IQOS and Mevius.
Get Special Coupons and Gift Certificates!
Shopping at SHILLA & ANA also means receiving various coupons and gift certificates as you shop. There's a 1,000-yen discount when purchasing duty-free products of over 20,000 yen, a 2,000-yen discount for purchases over 40,000 yen, for example, as well as gift certificates worth 1,000 yen for a purchase of more than 30,000 yen and 2,000 yen for a purchase of 50,000 yen and above. Cash and credit cards are accepted, of course, but also debit cards, UnionPay, WeChat Pay, AliPay, and more, all great options for international tourists. Paying with an ANA Card further gets you a 5% or 10% discount from the displayed price and every 100 yen (including tax) paid via credit settlement earns you one mile.
Takashimaya Dept. Shinjuku Store

新宿タカシマヤ

Address

5-24-2 Sendagaya, Shibuya-ku, Tokyo, 151-8580


Nearest Station

Shinjuku Station (JR Shonan Shinjuku Line / JR Yamanote Line / JR Chuo Main Line / JR Saikyo Line / Tokyo Metro Marunouchi Line / Toei Shinjuku Line / Toei Oedo Line / Keio Line / Keio New Line / Odakyu Odawara Line)
2 minutes on foot


Phone Number

03-5361-1111
Sogo Yokohama: Tax-Free Shopping, Smooth, Speedy, and Fun!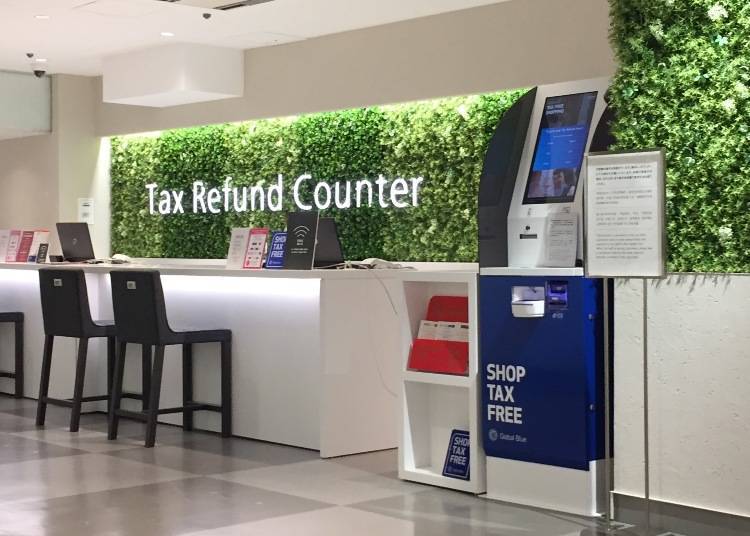 Sogo Yokohama is a department store that enjoys great popularity for 30 years and counting. Located at Yokohama Station's East Exit, it offers a tax-free service mainly for international tourists that stay in Japan for less than 6 months, so a perfect spot for a holiday shopping spree. The department store boasts a rich lineup of nearly 300 shops offering about 70 different brands, sprawling over colorful floors filled with fashion, cosmetics, and so on.
The Future is Here: Automatic Tax-free Service Machines and Robots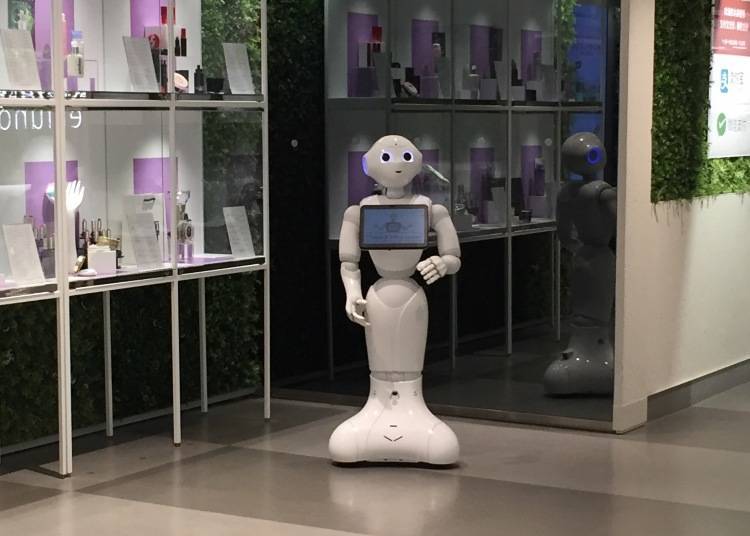 The tax-free counters for international tourists are on the first basement floor. Surrounded by a rich selection of cosmetics, fashion, and miscellaneous goods, the service is quite literally just a stone's throw away from all the shopping excitement. Automatic tax-free service machines make the procedure even faster, while the adorable robot Pepper is at the ready to help you out as well. Of course, the resident staff is able to assist in English, Chinese, and Korean, too.

Currency exchange machines handle 14 types of cash, including US dollar, Euro, British pound, Chinese yuan, Korean won, Hong Kong dollar, New Taiwan dollar, Australian dollar, Canadian dollar, Singapore dollar, Thai baht, Philippine peso, Malaysian ringgit, and Indonesian rupiah.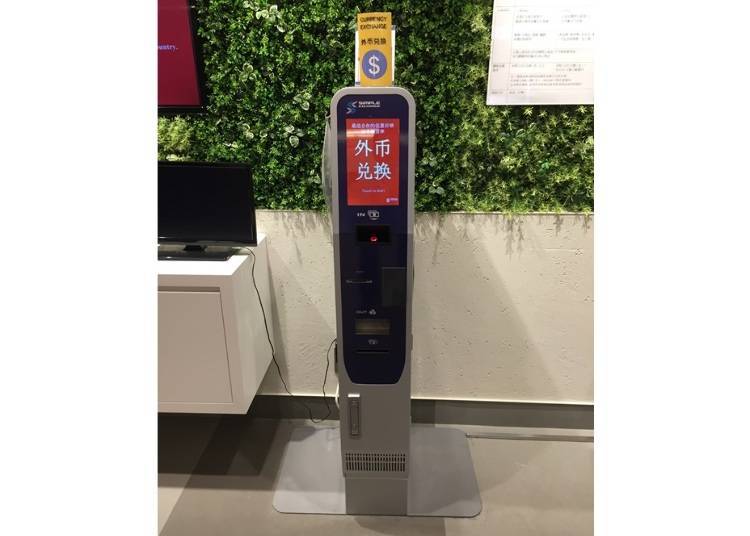 Cosmetics, Fashion, Jewelry, Food, Drugs: a Plethora of Tax-Free Goods
Sogo Yokohama's lineup of tax-exempt goods is of an astounding variety, including not only fashion and cosmetics, but also watches, jewelry, shoes, bags, food, drinks, drugs, and so on (with exceptions such as repair fees, processing fees, etc).

Among them are plenty of especially sought-after cosmetic brands, such as Ipsa, Clé de Peau Beauté, Cosme Decorte, Haba, Albion, and more. On the other hand, the watches and jewelry selection is represented by Pleats Please, Issey Miyake, Blue Label, and Tomorrowland, while Prada and Gucci are part of the luxury selection.

Even children's clothing can be found here with brands such as Anna Sui Mini, Hysteric Mini, and Miki Mouse. Bulgari, Omega, and Mikimoto are especially popular when it comes to watches and jewelry.
Discounts with the Overseas Sogo Point Card and Special App!
If you have a Sogo point card issued in Taiwan, Hong Kong, Kuala Lumpur, or Indonesia, look forward to an extra 5% discount at Sogo Yokohama. Hong Kong's Sogo app can also be downloaded in Japan, so we recommend registering before the actual shopping for extra benefits.

Another recommendation is the free point card called Millenium Card that transforms 2% of your purchases' base price (1% for certain products, excluding certain products) into points. Each point is worth 1 yen, so don't hesitate to use them for your next visit!
Goods

Address

2-18-1, Takashima, Nishi-ku, Yokohama-shi, Kanagawa, 220-8510
View Map

Nearest Station

Yokohama Station (JR Tokaido Main Line / JR Yokosuka Line / JR Shonan Shinjuku Line / JR Keihin-Tohoku Line / JR Negishi Line / JR Ueno Tokyo Line / Line 3 (Yokohama Blue Line) / Tokyu Toyoko Line / Minatomirai Line / Keikyu Main Line / Sagami Railway Main Line)


Phone Number

045-465-2111
*This information is from the time of this article's publication.
*Prices and options mentioned are subject to change.
*Unless stated otherwise, all prices include tax.