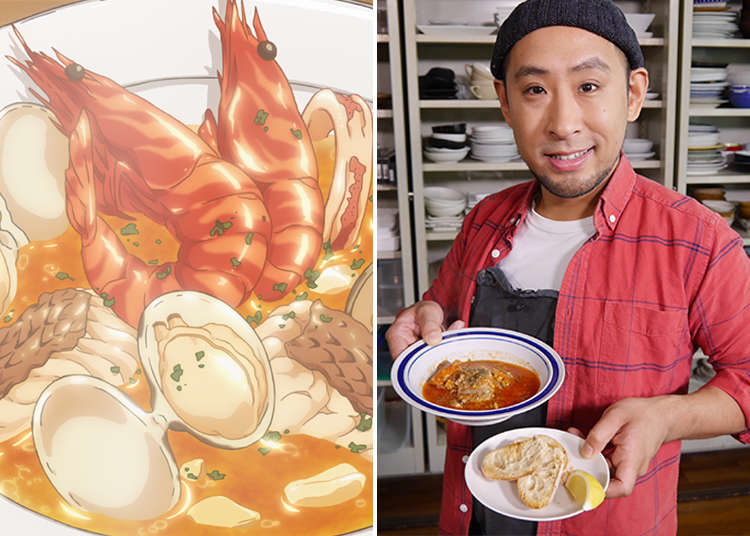 Japanese star chef Ryuta Kijima has made it his mission to take classic Japanese recipes and arrange them in an easy-to-make manner, bringing them to your own kitchen! He takes his inspiration from the recent hit gourmet anime Isekai Izakaya Nobu, creating his own version of the tasty pub food served in the show. This week, we get to savor Japanese-style bouillabaisse with canned mackerel and sakura shrimp!
Japan is known for its seafood-centric cuisine and it comes to no surprise that bouillabaisse, French fish stew, is a staple dish at homes all around Japan. Many a pub guest orders a hearty bowl to recharge their energies and Izakaya Nobu is no exception here. Bouillabaisse is a classic example of a dish that's gotten its very own, distinct twist while being happily accepted into the world of Japanese cooking!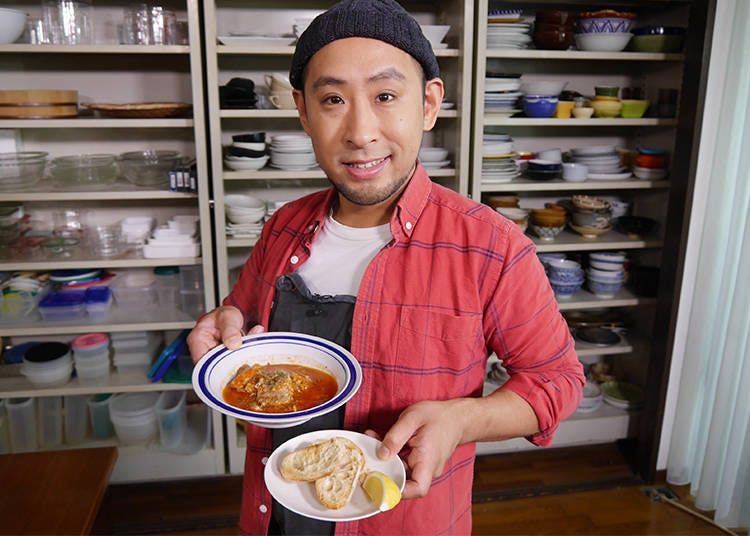 Staying true to his credo of creating easy and quick recipes, Chef Kijima shows us how to make a simple Japanese-style bouillabaisse with canned mackerel and sakura shrimp. With a dash of white wine and olive oil, this soup will warm you right to the core and become a new favorite go-to comfort food for sure!

Yield
Makes 2 servings

Ingredients
・1 can of canned mackerel (boiled)
・5g sakura shrimp (*1)
・1 clove of garlic
・1/4 onion
・50ml white wine
・1 tablespoon olive oil
A
・100ml tomato juice
・50ml water
B
・a pinch of salt
・a pinch of pepper
・a bit dry oregano
Garnish & Sides
・finely chopped parsley as desired
・sliced lemon as desired
・baguette as desired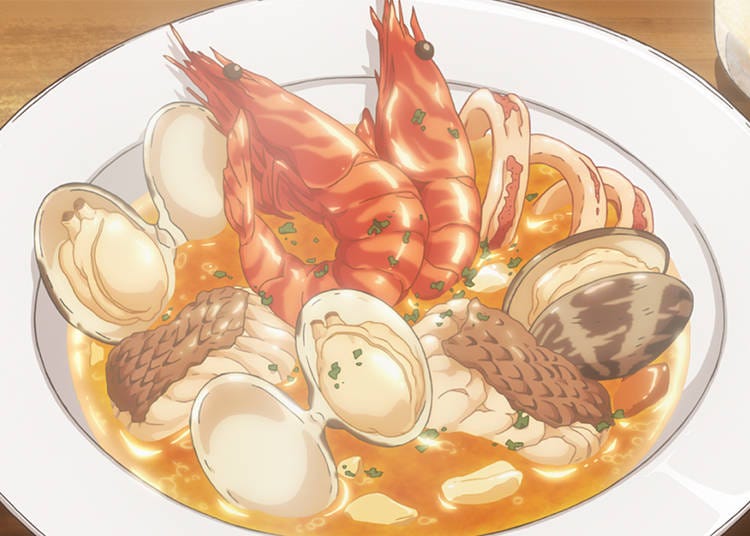 Bouillabaisse as served at Isekai Izakaya Nobu
Preparation
1. Finely chop both garlic and onion.
2. Put oil and garlic in a pot or saucepan and turn up the heat. Add the onion as soon as the garlic aroma starts to unfold and stir-fry everything.
3. Keep stir-frying while adding the sakura shrimp, then add white wine.
4. As it starts to boil, add the mackerel and the ingredients of A.
5. Let it boil and season with the ingredients of B. Then let it simmer on low heat for about 5 minutes.
6. Cut the baguette thinly and toast it,
7. Garnish the bouillabaisse with parsley and serve it with the lemon and baguette. Itadakimasu!

*1) Dried sakura shrimp can be bought at Japanese shops and Asian supermarkets.

With these quick and easy recipes, you can bring both the taste and atmosphere of Izakaya Nobu to your own kitchen. Whether you enjoy this traditional dish all by yourself or treat friends and family to a healthy, yummy meal, don't forget to savor it alongside a nice drink!
©蝉川夏哉・宝島社/古都アイテーリア市参事会
*This information is from the time of this article's publication.
*Prices and options mentioned are subject to change.
*Unless stated otherwise, all prices include tax.