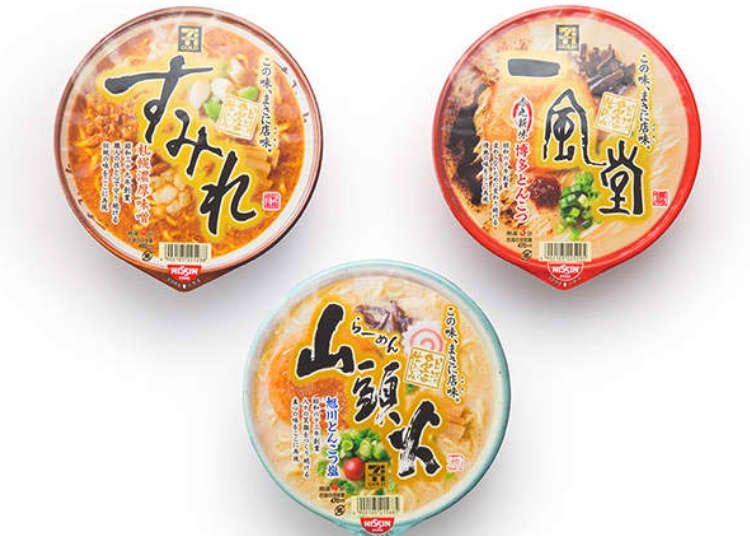 Tasty food at reasonable prices can be found pretty much anywhere in Japan if you know where to look. It can be said that "accessible gourmet" food we can enjoy without seeking out high-class restaurants is the essence of Japanese cuisine. Here we introduce a sample of gourmet options and where to find them.
Specialty of Kagawa Prefecture, "Sanuki Udon"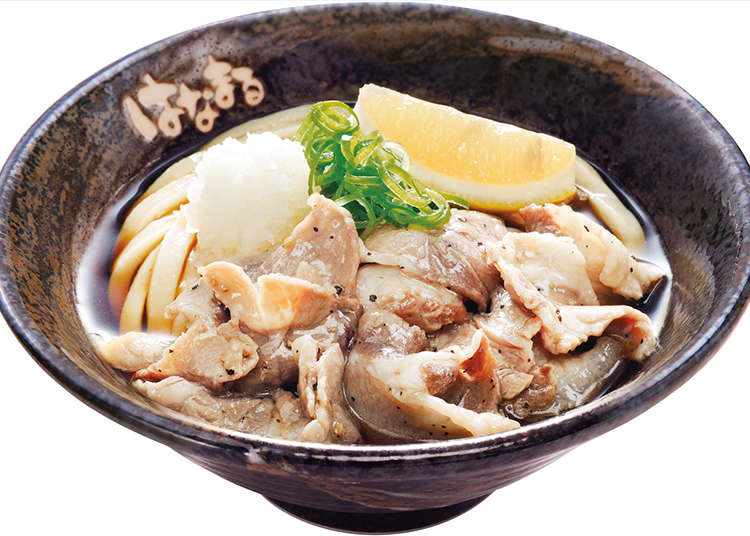 Kagawa Prefecture ranks first in the Udon consumption of Japan. "Hanamaru Udon" provides specialty of Kagawa, "Sanuki-Udon" at reasonable prices. Its udon consists of distinctive chewy and tasty noodles made from selected ingredients and soup based on dried sardine and kelp, and it is popular among udon fans. It is self-service system. You take your favorite toppings such as tempura on a plate from the counter, and order the type of udon. When your dish is ready, you pay for it.
Just how mama makes it: "Omusubi" specialty shop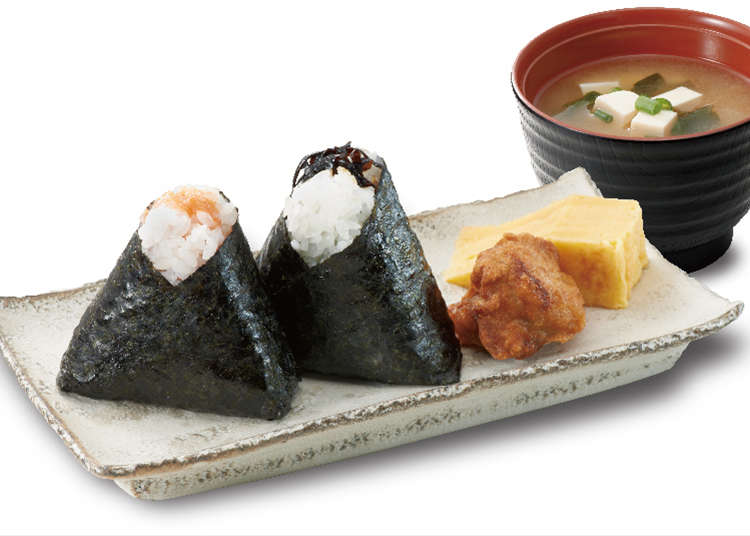 "Omusubi" is a mountain-shaped rice ball. It is a soul food for Japanese people. When they were children, their mothers made ones for them. "Honnoriya" is an Omusubi shop opened with the hope of reproducing such rice balls filled with the affection of mothers. It has shops inside JR Stations in Tokyo. There is a set menu of two rice balls and Japanese fried chicken, thick omelet and miso soup. The flavors of rice balls are limited seasonal ingredients, salmon, cod roe, and okaka (soy sauce flavored dried bonito flakes). You can also take out rice balls.
Tendon with crunchy hot tempura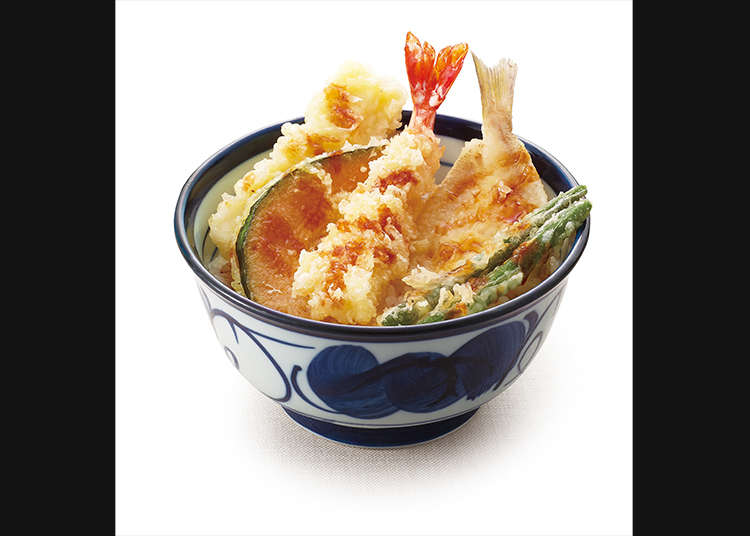 "Tendon" is a bowl of rice, topped with flavored tempura. Making crispy tempura requires a technique of a skillful cook. However, "Ten'ya" has adopted an auto conveyor fryer. By controlling the oil temperature and frying time with a computer, anyone can make the even and crispy delicious tempura. The toppings of tendon are prawn, squid, white fish, pumpkin and green beans, and it is served with miso soup. You can also ask the shop staff to adjust the amount of tare sauce at the time of your order.
Fried noodles to eat by pouring hot water
Next, let us introduce the cup noodles available at convenience stores and supermarkets in towns. "Yakisoba" is made by stir-frying noodles with pork and vegetables such as cabbage, carrot, and onion, seasoning them with worcester sauce. In Japan, it is loved as a popular food by men and women of all ages, and sold at festival stools and snack stands. "Myojo Ippei chan Yomiseno Yakisoba" is instant noodles reproducing such flavor. Pour hot water and wait for 3 minutes. After that, spill the water and season the noodles with sauce. Add spicy mustard mayonnaise before eating. Once you eat it, you will get addicted with its flavor.
Instant noodles reproducing the flavors of popular ramen restaurants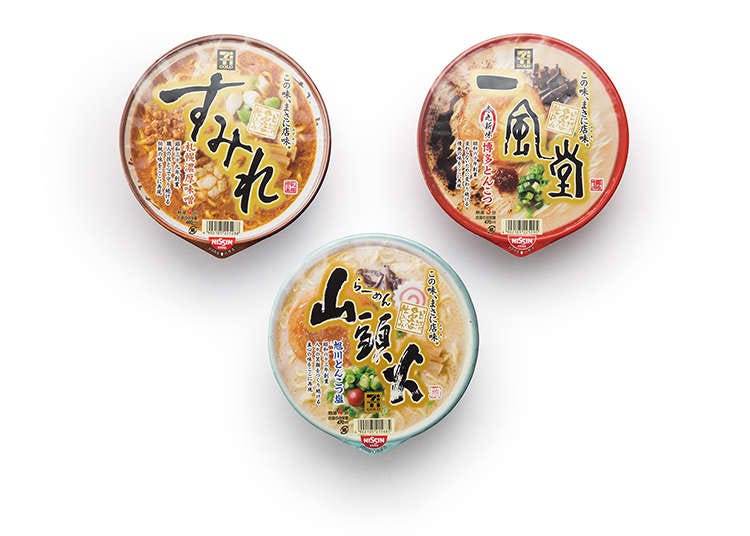 Ramen is the national food of Japan. "Seven's gold cup ramen series of popular ramen restaurants" reproduces the flavor of popular ramen restaurants in Japan in an authentic way. Such restaurants always have a long queues of people waiting for eating ramen. This series is available at a convenience store "Seven-Eleven." Hokkaido's miso ramen reproduces the popular menu of "Sumire," Hokkaido's shio ramen reproduces "Santoka," and Kushu's tonkotsu ramen reproduces "Ippudo." In addition to instant noodles, there are also pot-cooking type noodles, which are recommended for your souvenir.
Convenience store's popular rice ball series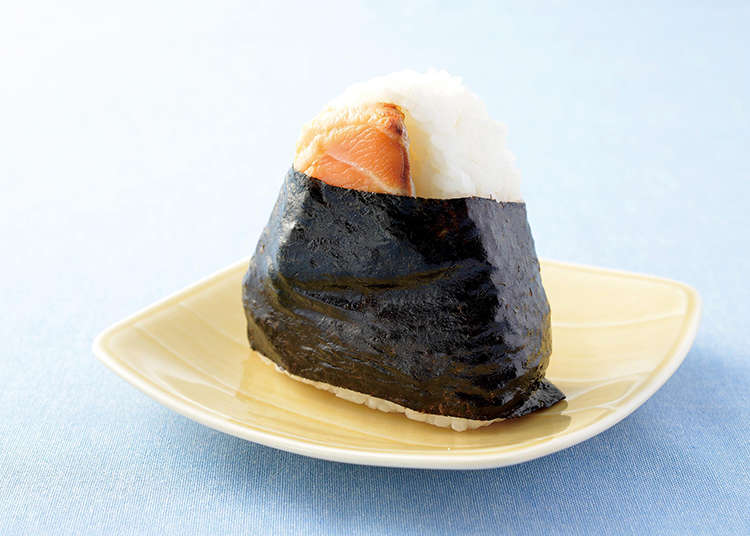 "Onigiriya" is a popular rice ball series sold at the convenience store "Lawson." Japanese convenience stores make research and development with a focus on rice balls. We don't have to reheat them before eating. Among them, rice balls sold at Lawson are popular with various lineups.

They are made with particularity about the production process and ingredients such as rice, seaweed and salt. The most recommended rice ball among them is "Niigata Koshihikari rice ball, big grilled salmon belly." Inside is a large piece of salmon, and its combination with rice seasoned with proper salt and fragrant seaweed is outstanding. It offers Japanese flavors easy to eat.

*This information is from the time of this article's publication.
*Prices and options mentioned are subject to change.
*Unless stated otherwise, all prices include tax.