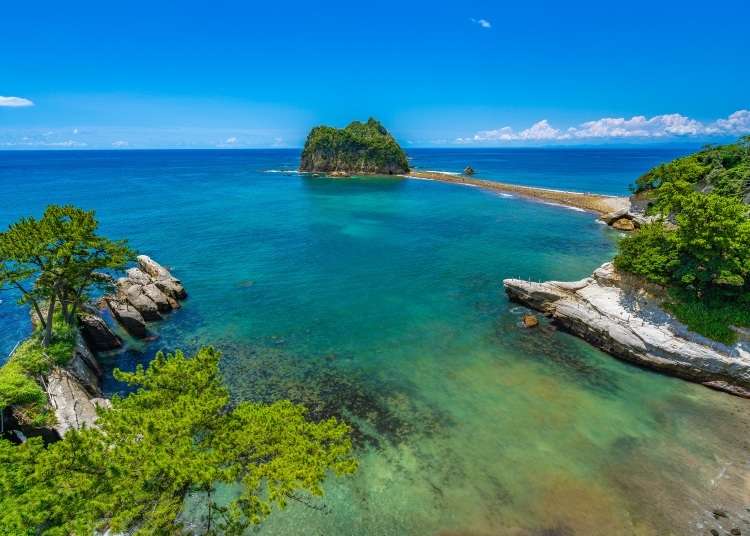 Many visitors to Japan may be surprised to learn that one doesn't have to go far from Tokyo to enjoy the same tropical climate as Okinawa, the furthest chain of islands down south in Japan.

The Tokyo Islands, also known as Izu Islands, are part of Tokyo and easy to get to by boat (ferry) or plane (depending on the island). These include the nine Izu Islands of Oshima, Toshima, Shikinejima, Niijima, Kozushima, Miyakejima, Mikurashima, Hachijojima, and Aogashima, in addition to the two main Ogasawara Islands of Chichijima and Hahajima. They boast warm weather, crystal blue waters, and the same array of water and tropical island activities as their sisters in the south.

The time, cost, and distance to get to these islands make them relatively quick and easy getaways from Japan's capital city. Many of these islands offer activities year-round, but the best time to go to get the proper "tropical getaway" feel would be between late spring and early fall. We've listed them in ascending distance from Tokyo.

Main image: PIXTA
Getting to Tokyo's islands is straightforward. Tokai Kisen is a company that operates ferries connecting Tokyo to the Izu Islands and other destinations.

Tokai Kisen offers high-speed jet ferry service to Oshima, Toshima, Niijima, Shikinejima, and Kozushima. They also have a large passenger ship from Tokyo to Oshima, Toshima, Niijima, Shikinejima, and Kozushima route/Miyakejima, Mikurashima, and Hachijojima.

Depending on the season, some large passenger ship tours may depart from and arrive at Yokohama International Passenger Terminal.

For timetables and tickets, see Tokai Kisen's website.
Address

1-12-2, Kaigan, Minato-ku, Tokyo, 105-0022
View Map

Nearest Station

Hamamatsucho Station (JR Keihin-Tohoku Line / JR Yamanote Line)
7 minutes on foot


Phone Number

03-5472-9999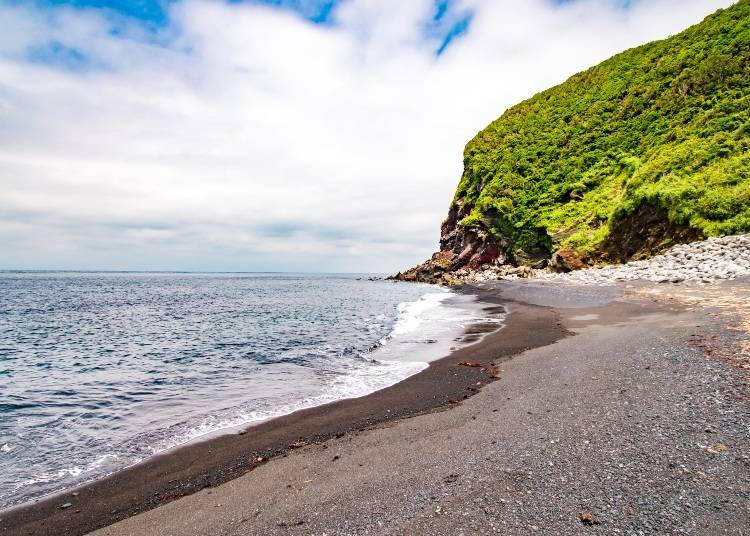 Photo: PIXTA
Izu Oshima is the easiest and quickest island to get to from Tokyo (and Atami). It makes for a great weekend getaway from the city. Izu Oshima is perfect for hikers and geology lovers because 97% of the island is covered in nature, and there is an active volcano, Mount Mihara.

・Distance from Tokyo / Access time / Cost:
102km south of Tokyo, the high-speed ferry from Takeshiba Ferry Terminal takes 2 hours and costs around 5,000-8,000 yen one way. There is also the regular ferry which can be done overnight (6-8 hours) and costs 4,500-5,000 yen in the cheapest class.

・What's great about Izu Oshima:
Izu Oshima is the largest island of the Izu Islands (at 91 square km) and it takes approximately one hour by car to drive around the whole island. With the 758-meter-tall Mount Mihara, an active volcano being one of the greatest attractions on the island, there is also the Museum of Volcanoes. Other activities include hot springs, beaches, snorkeling, camellia (tsubaki) flowers that bloom January through March.

・Recommended activities on Izu Oshima:
・How to get there:
Besides the ferries mentioned above, there are 2-3 daily flights in each direction between Tokyo's Chofu Airport and Oshima Airport for 12,000 yen one way; the Tokyo Ai Land Shuttle helicopter operated by Toho Air Service also connects Izu Oshima to other Izu islands. For timetables and tickets, see Toho Air Service's website.

・Staying on Izu Oshima:
All types of accommodation are available, from hotels to campgrounds. Camping is allowed on the island with four campsites on the island.

・Recommended places to stay on Oshima: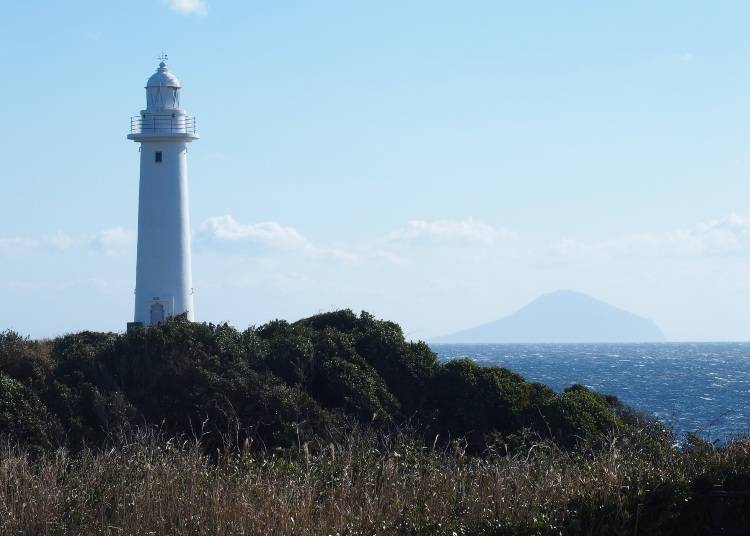 Photo: PIXTA
Toshima might be one of the best islands to relax and do nothing on, where time slows down. This island is really quaint with very few accommodation options and even fewer shops. It's perfect for anyone looking to retreat from the real world and relax at a national park, since the whole island is one.

・Access time / Cost / Distance from Tokyo:
Toshima is 121km South of Tokyo and can be reached via Takeshiba Port on a high-speed boat which takes a little over 2 hours (7,000 - 10,000 yen one way) or by overnight ferry, which takes roughly 9 hours and costs 4,000 - 7,000 yen one way.

・What's great about Toshima:
Toshima is a small island - only 4.12 square km, which makes for a grand island to explore on foot. With no public transportation and rare rental cars, take in the island by slowing down is the best way to enjoy it. The whole island is also a national park.

・Recommended activities:
Some recommended activities for Toshima include visiting the shrines and temples, climbing Mt Miyatsuka, fishing, eating lobster, dolphin swimming (check with a tour company), and stargazing at night.

・How to get there:
The alternative route to taking a boat is going by air; go from Tokyo's Chofu Airport on a 30-minute flight to Izu Oshima (12,000 yen one-way), then hop on a 10-minute helicopter ride (7,730 yen one way; Toho Air Service's Tokyo Ai-land Shuttle) to Toshima.

・Staying on Toshima:
There are only nine accommodations on Toshima, and no camping is allowed anywhere on the island. The best place to look for a guest house is through the Toshima Town website (in Japanese only). Since there are only two restaurants that require advanced booking and very few markets, and no convenience stores, the best way to eat on the island is to ask your accommodation to include meals.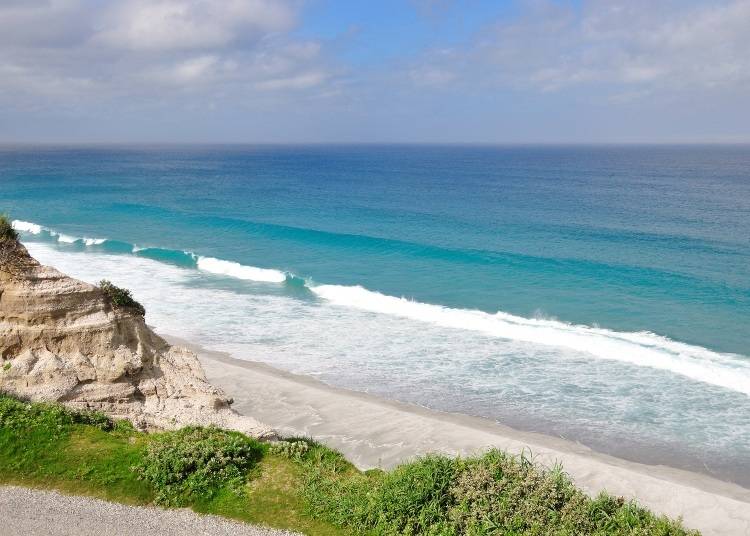 Photo: PIXTA
Niijima is a beach lover's paradise, with white sandy beaches that contrast the beautiful blue seas that surround it. Here, surfing is also a popular sport! With a history museum and glass/stone crafts, there's a bit of everything for the whole crew to enjoy.

・Access time / Cost / Distance from Tokyo
138km from Tokyo. Overnight ferry costs 7,000 yen in lowest class, and the high-speed boat takes 2 hours 40 min, for roughly 7,000 - 11,000 yen.

・What's great about Niijima:
Niijima is 27.54 square km with less than 3,000 inhabitants. The best way to get around is by car or renting a scooter, but if you don't plan on seeing the whole island, bicycle hires or the public bus are also great ways to go about. Hop from Maehama Beach to Boro Sanbashi Pier and the Shiro Mama Cliff, or take a hike up the observatory before stopping off at the Niijima-mura Museum to learn about the island's unique history. The island is also scattered with Moai statues all around, which are fun to hunt for. The creator, Yuichi Daigo, wanted a powerful symbol for Niijima, and landed on making statues of all different shapes and sizes. If you're not out and about or surfing, there is a number of cafes and onsens to relax at as well.

・How to get there (route and cost)
Besides the boat, there are flights offered between Chofu and Niijima airports for 14,400 yen one way.

・Staying on Niijima:
All different kinds of accommodation are available on Niijima, from free campsites to hotels. Lodges, guesthouses, and Japanese-style inns can be found predominantly near Honson town.

・Recommended place to stay on Niijima: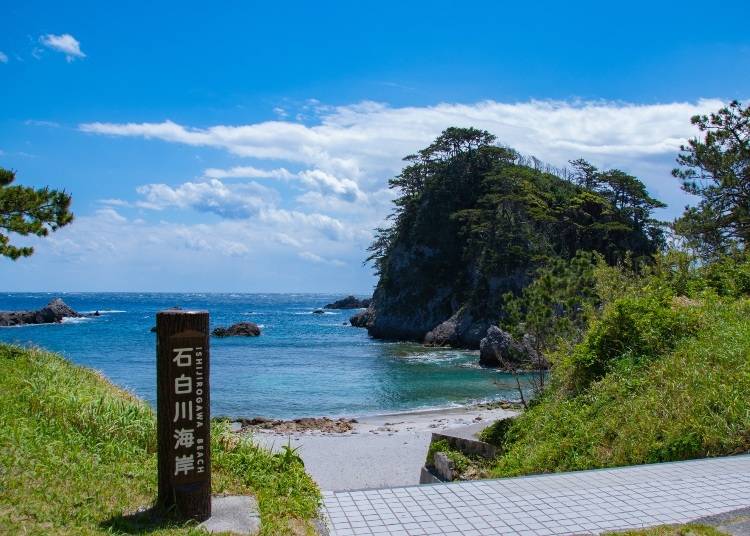 Photo: PIXTA
Shikinejima can be enjoyed year-round, for its turquoise blue ocean and its hot spring onsen among the volcanic rocks. With four beaches as well as four hot springs, which are free to use, it is also a popular spot amongst divers.

・Access time / Cost / Distance from Tokyo
155km from Tokyo, Shikinejima takes 3 hours to get to from Takeshiba Port for a cost between 8,500 - 11,000 yen one way on the high-speed boat (excluding winters). The overnight ferry takes 10 hours and costs between 5,300 - 7,000 yen.

・What's great about Shikinejima:
The 3.9 square km island is close to Niijima, which makes for a fun day trip if island-hopping is what you're looking for. However, there's plenty to do on this little island to stay overnight as well. Besides the relaxing beaches and natural hot springs overlooking the ocean, there are also four observatories. Some are reached by hiking, and others are easier than a trek to get to. Either way, they provide great views of Shikinejima and its surroundings. Licensed scuba diving, as well as light scuba diving, can also be enjoyed here. Fishing, cycling, and hiking are also popular activities.

・How to get there:
For those looking for shorter travel times than the boats from Tokyo, you can take a flight from Chofu Airport to Niijima (35 minutes, 14,100 yen) then transfer onto an island connecting boat that takes 15 minutes and 430 yen to get to Shikinejima.

・Staying on Shikinejima:
Guesthouses, inns, camping and even glamping are available as accommodations here. Check out the full list of accommodations on the Shikinejima Town website.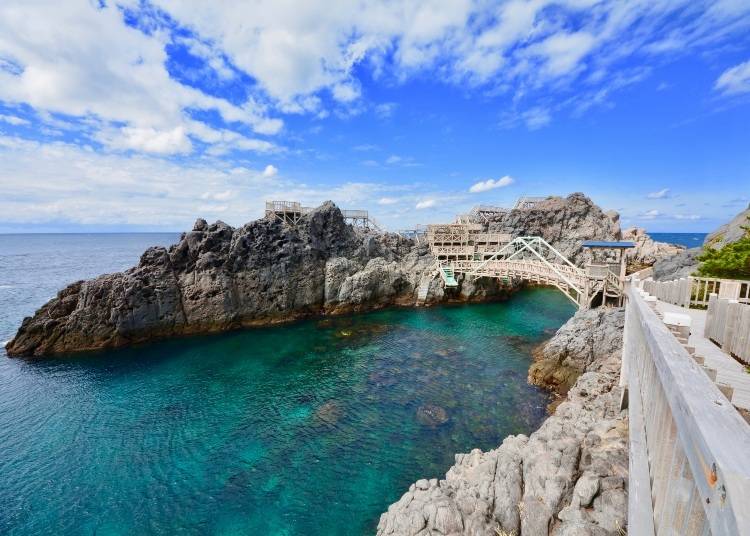 Photo: PIXTA
Kozushima is a perfect getaway for thrill-seekers and outdoor lovers. The most unique activity on this island is the Akasaki Promenade, which is a series of wooden walking paths stretching along the island's cliffs just above the sea. From platforms jutting off the promenade, you can jump off of into the crystal clear waters.

・Access time / Cost / Distance from Tokyo:
Roughly 180km from Tokyo, Kozushima takes 4 hours to reach on the high-speed boat and 12 hours by overnight ferry, which stops at the island along the way.

・What's great about Kozushima:
This 18.48 square km island is fun to cycle around, or hitch a car. The Akasaki Promenade is one of the best-known attractions on the island, where visitors enjoy taking a dip in the cove, casual snorkeling, or jumping off designated platforms. There are also hikes and beachfront cafes to enjoy.

・How to get there:
Besides the boats, there are also three daily flights to Kozushima from Chofu Airport for 15,600 yen one way, and the duration is about 45 minutes.

・Fun things to do on Kozushima Island
・Staying on Kozushima:
Kozushima has about 50 accommodations, from hotels and guesthouses, inns, and bed and breakfasts to even campsites. For a complete list of accommodations, check out the Kozushima Town website (in Japanese only).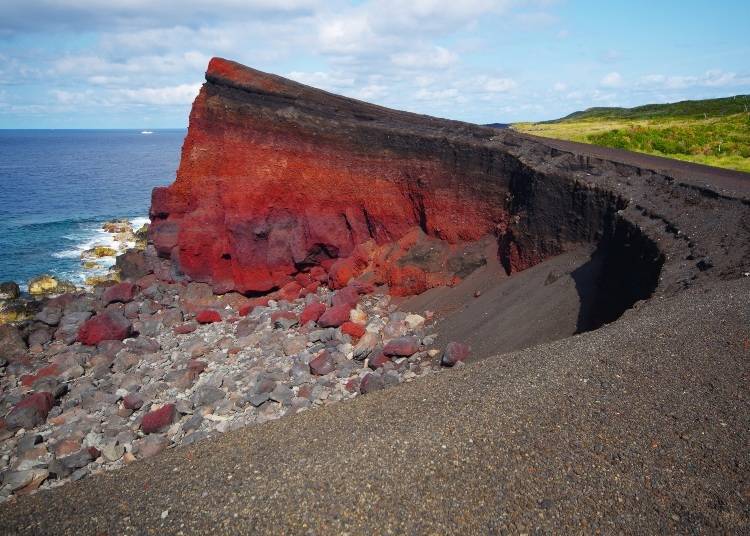 Photo: PIXTA
Miyakejima (Miyake Island) is one of the more unique Izu Islands, as it experienced a volcanic eruption as recently as in the year 2000, resulting in a total reset of the island's terrain and natural beauty. This place is for those who enjoy geology, especially exploring the terrain created by lava and the active volcano.

・Access time / Cost / Distance from Tokyo
178km from Tokyo, Miyakejima takes 6 and a half hours to get to by overnight ferry (roughly 10,000 yen) which runs once a day. No high-speed boat is available for this route.

・What's great about Miyakejima:
This island, which is 55.44 square km, is full of interesting places to explore, such as the buildings (schools) that were dammed by the 1983 volcanic eruption. The area, now called the Volcano Experience Promenade, is a site for visitors to witness the aftermath for themselves. Although many mountains exist amongst the Izu Islands, there's none like Nippana Shizan, which peaked overnight after the same 1983 eruption. You can also enjoy exploring lava caves, shrines, and the likes of scuba diving/snorkeling and dolphin swimming. There is also an indoor/outdoor bouldering gym (Miyakejima Recreation Center), featuring real cliffs to boulder on, which is open 6 days a week.

・How to get there:
The flight from Chofu Airport to Miyakejima costs 17,500 yen one way and takes 55 minutes. From Oshima to Miyakejima is a 20-minute helicopter ride that costs 11,880 yen for adults and 8,230 yen for children one way (via Toho Air Service's Tokyo Ai-land Shuttle).

・Staying on Miyakejima:
There are many guesthouses, some ryokans and hotels, and a campground available on Miyakejima. For a full list, see the Miyakejima Town website.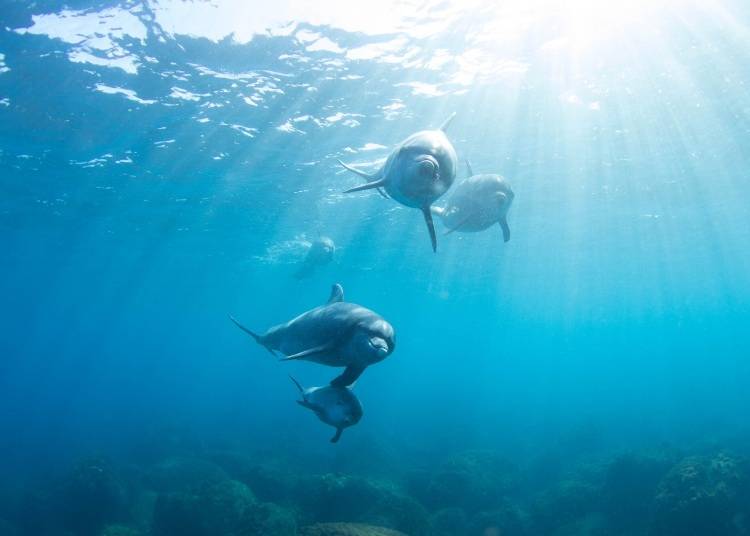 Photo: PIXTA
An island famous for Bottlenose Indo Dolphins, Mikurashima's entirety is also protected as a national park. The best activities here are swimming with dolphins and hiking, under the supervision of a Tokyo Nature Guide.

・Access time / Cost / Distance from Tokyo:
198km from Tokyo, the Tokai Kisen ferry runs between Tokyo and Mikurashima daily. From Takeshiba Pier, the ferry ride is 7 and a half hours, stopping only at Miyakejima before arriving here. The cost is roughly 11,000 yen one way. Be sure to check for cancellations, as weather conditions will hinder about 10% of the routes here in the summer, and 70% in the winter.

・What's great about Mikurashima:
All 20.58 square km of the island is a national park, and full of nature to explore. The greatest attraction here is dolphin swimming, as the area is home to Indo-Pacific bottlenose dolphins. If you're not into swimming with dolphins, dolphin watching is another popular activity. There are also waterfalls and giant trees scattered around the island that makes you feel like you've been transported into a sci-fi film or the world of Ghibli. Since there are no car or bicycle hires, it's best to get used to walking around and taking in the scenery. Alternatively, a guide can be hired to take you around by car.

・How to get there:
If boats are not desirable to you, you can opt to fly. There is a flight from Haneda to Hachijojima, which takes 55 minutes for around 10,000 - 15,000 yen one way. From Hachijojima to Mikurashima is a 25-minute helicopter ride (Toho Air Service's Tokyo Ai-land Shuttle) that costs 12,820 yen one way for adults, and 8,980 yen for children.

・Staying on Mikurashima
There's only a handful of accommodations, primarily Japanese inns, on the island since tourism only began 20 years ago. However, they are friendly and welcoming. Be sure to book accommodation before your transport, as the former is much more limited. See the list on the Mikurashima Tourist Information website. Camping is prohibited on the island.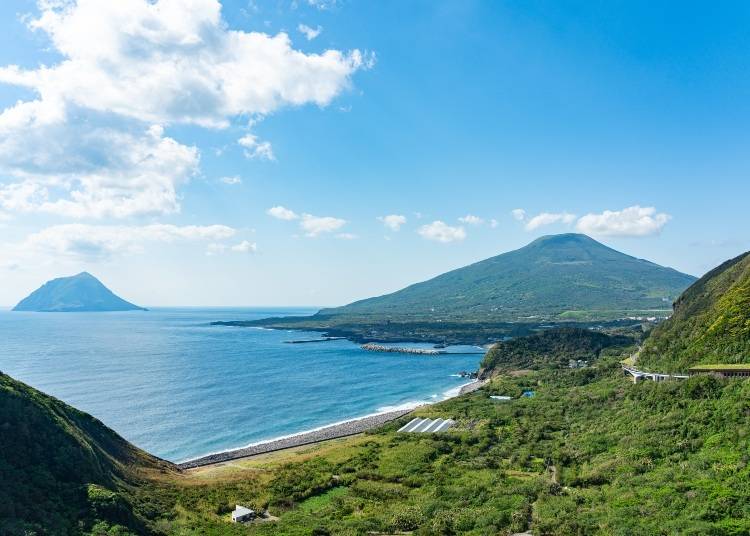 Photo: PIXTA
Hachijojima is for those who enjoy something a little more obscure than the usual tropical getaway. As a former penal colony prior to the 1900s, criminals and political dissidents were exiled here, giving Hachijojima a unique cultural heritage. Get a chance to hear performances by the Hachijo Daiko drums, one of Hachijojima's traditional arts, where participants can also take a turn. It's also an island filled with fun places to explore, from waterfalls to hot springs.

・Access time / Cost / Distance from Tokyo:
286km from Tokyo, the overnight ferry from Takeshiba Pier to the island takes ten and a half hours via Miyakejima and Mikurashima. The cost for this ferry is 12,500 yen one way in the cheapest seats.

・What's great about Hachijojima:
Hachijojima is 62.52 square km, making it the second-largest island after Izu Oshima. There are many unique activities on Hachijojima, including an outdoor onsen with a panoramic view of the ocean. Bioluminescent mushrooms can also be found here (Mycena chlorophos) which were thought to only be on Hachijojima and Ogasawara islands for a long time, before some were discovered on mainland Japan.

For scuba divers, there are opportunities to dive with the recently discovered Japanese pygmy seahorses, which live near beautiful coral - bonus for potential sea turtle sightings! Because of how isolated the island is, stargazing is also a must-do activity here. And don't forget to try some local cuisine, such as ashitaba (a type of vegetation) and shima zushi (island sushi) which originated from Hachijojima.

・How to get there:
Besides the overnight ferry, there are also flights between Haneda Airport and Hachijojima, which takes about 50 minutes and can be as low as 10,000 yen one way.

・Staying on Hachijojima:
The Hachijojima Tourist Organization offers information on accommodations and long-stay plans for visitors. There is a wide range of options, from resort hotels to quaint guesthouses and campgrounds.

・Recommended places to stay on Hachijojima: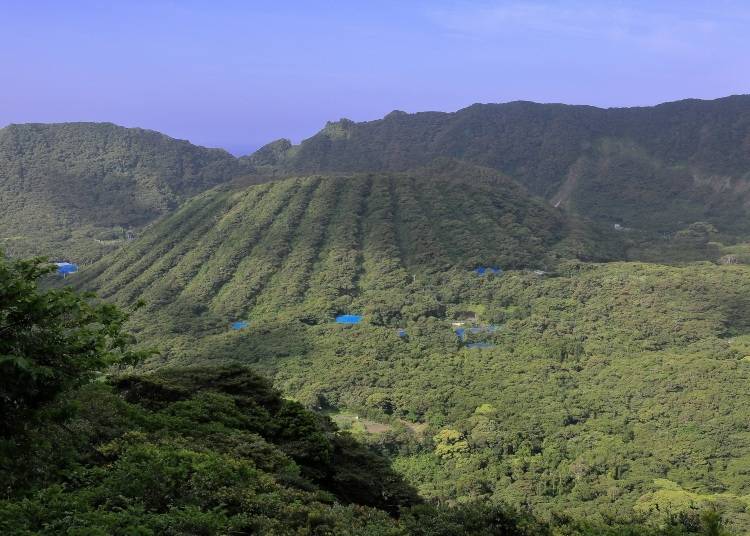 Photo: PIXTA
Aogashima is a perfect getaway for nature-lovers who especially enjoy camping. Many of the nearby islands don't allow camping due to national parks and protecting their unique ecosystems. So, if you've wanted to camp closest to nature on the Izu Islands, this spot is for you!

・Access time / Cost / Distance from Tokyo:
358km off the coast of Tokyo city, the only way to reach Aogashima is via Hachijojima, either by boat or helicopter. The boat takes approximately 3 hours and costs just over 3,000 yen one way. The boat makes two round trips most days (but never on Sundays).

・What's great about Aogashima:
This 8.75 square km island had only 169 inhabitants as of 2018 (according to the Aogashima Village website here), making it a small and fascinating community to visit.

There are only two izakayas and one shop on the island, and cash is a must. Though there aren't many "activities" on the island, it's a wonderful place to immerse yourself in nature. There is a volcano with a double caldera; the outer ring is called Ootonbu, and the mountain in the middle is Mt. Maruyama, which you can hike up. Head to Ootonbu Park to get a picturesque view of the double caldera, and the surroundings of the island. Alternatively, visit the Oyama Observatory Park.

For foodies, there are options to enjoy a geothermal lunch by ordering ingredients such as eggs and potatoes from your accommodation and cooking them in the thermal kettle in Ikenosawa. Due to the island's geothermal activities, there is also a unique sauna called Fureai Sauna which is fun to visit and relax in.

・How to get there:
From Hachijojima to Aogashima is a 20-minute helicopter ride (Toho Air Service's Tokyo Ai-land Shuttle) that costs 11,750 yen one way for adults and 8,230 yen for children. The cheaper alternative is the boat mentioned above, which also allows you to bring a bicycle or motorcycle for less than 3,000 yen. One thing to keep in mind is that due to the shape of the island's harbor, choppy seas make it difficult to dock; as a result, in poor weather, ferry passengers may find themselves staying longer than intended on the island. Conversely, the helicopter flies in most weather; this may be the best option if your schedule is not flexible. There are also rental cars available on the island.

・Staying on Aogashima:
There are seven simple Japanese inns on the island for accommodation, as well as a campsite (must check for openings due to COVID-19). For a full list, see the Aogashima Village website here. It is best to book in Japanese as there are rarely any residents on the island who speak English.
The Ogasawara Islands are registered as part of the UNESCO World Heritage Centre and are located 1,000 km south of the main Japanese Archipelago. It is actually composed of more than 30 islands, although only two are inhabited (which are listed below). These islands are subtropical forests and have an abundance of flora and fauna, including several endangered species.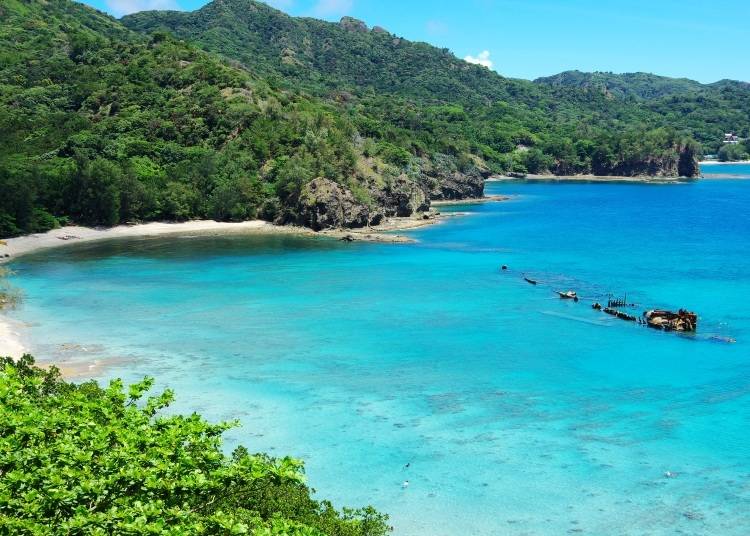 Photo: PIXTA
Chichijima, which translates to "Father Island," truly feels like a tropical paradise that isn't Tokyo, and yet, it is. After WWII, it was occupied by the U.S. until 1968, having a unique history that falls under the radar of Okinawa. Indigenous fish and plants that only exist on this remote island can be encountered here, and the best activities are beach hopping and hiking.

・Access time / Cost / Distance from Tokyo:
The island is 986km from Tokyo, and the only way to access it is via the Ogasawara-Maru ferry, which runs once a week (more information below). Economy class is roughly 30,000 yen one-way, and can go up to suites that cost nearly 100,000 yen one-way.

・What's great about Chichijima:
Chichijima's land area is 23.5 square km, the largest island in the Ogasawara Archipelago, and inhabited by just over 2,000 people. Whale and dolphin watching tours are popular here. The Ogasawara Visitor Center and their Marine Center gives visitors an up-close look and education on sea turtles and other indigenous flora and fauna. With nearly a dozen beaches and hiking trails that are part of the Ogasawara National Park, this secluded island is for anyone who's willing to make the long trek.

・How to get there:
The only way to access Chichijima is by a ferry that takes 24 hours. The Ogasawara-Maru leaves from Tokyo's Takeshiba pier, passes all the Izu Islands, before arriving on Chichijima. The ferry ride is very comfortable with restaurants, shops, and showers onboard. The ferry spends two nights in port before returning to Tokyo, making any trip a total of 6 days.

・Staying on Chichijima:
Hotels, guest houses, and hostels are all available on Chichijima, predominantly along the island's western coast. To protect the unique natural environment of the island, camping (as well as off-trail hiking) are strictly prohibited. While on the island, bicycles, scooters, and cars can be rented.

・Recommended place to stay on Chichijima: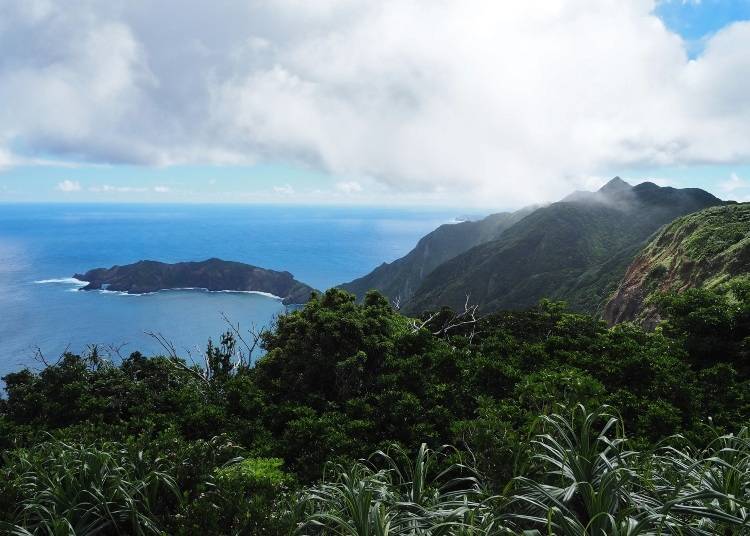 Photo: PIXTA
Hahajima, which translates to "Mother Island," is the home to the highest peak in the Ogasawara Archipelago, Mt. Chibusayama. This island is also paradise to those who love snorkeling, as the coral reefs near Minamizaki Beach are beautiful.

・Access time / Cost / Distance from Tokyo:
1,028km from Tokyo, Hahajima is only accessible via Chichijima, with the Hahajima-Maru Ferry taking 2 hours one way, costing around 5,000 yen. The ferry makes a round trip between the two islands on most days.

・What's great about Hahajima:
Hahajima, which is 19.88 square km, is covered in mountains such as Mt. Chibusayama and Mt. Kofuji, as well as breathtaking cliffs. The Samegasaki Observation Deck allows for panoramic views like none other, including that of the sunset. Winter is whale-watching season, but the island is welcoming for swimming, snorkeling, and hiking year-round.

・How to get there:
Access to Hahajima is via the Hahajima-Maru Ferry, which runs between Hahajima and Chichijima on most days. Check the ferry schedule on the Ogasawara Kaiun website to see which days and times it runs.

・Staying on Hahajima:
Hahajima has 14 accommodation facilities and a handful of restaurants serving delicious local delicacies, including seafood. They are all concentrated around the port. Like Chichijima, no camping is allowed on the island to protect the wildlife.
Written by: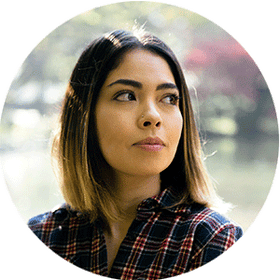 *This information is from the time of this article's publication.
*Prices and options mentioned are subject to change.
*Unless stated otherwise, all prices include tax.
Limited time offer: 10% discount coupons available now!