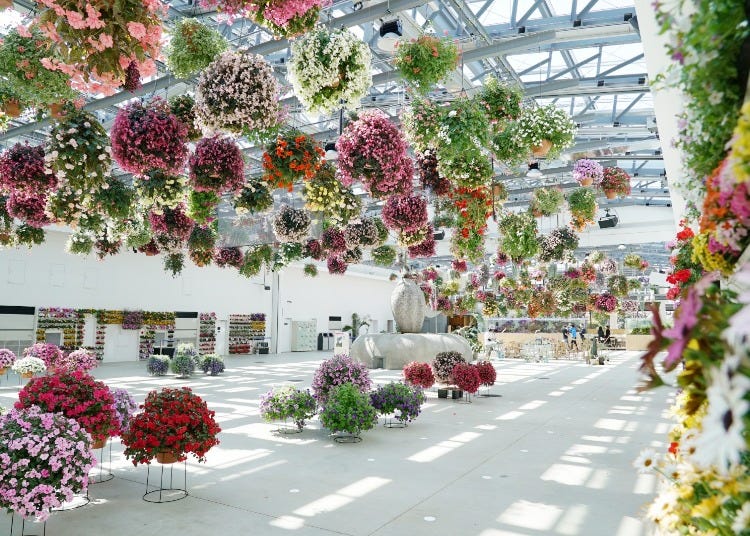 Afternoons with coffee spoons and gorgeous flowers - could there be anything better? Yomiuriland's Hana-Biyori greenhouse has it all: Japanese flowers, unique tropical aquariums, cute otters, and an incredible new Starbucks cafe!

Starbucks is oft associated with its Starbucks Regional Landmark Stores in Japan, each a unique destination and space that seeks to represent regional culture to the world. While Starbucks Cafe @ Hana-Biyori is not among this distinction, this dreamy botanical café still brings people together to enjoy a "new life style with coffee."
Greenhouse, Funhouse: A New 'Entertaining' Botanical Garden at Yomiuriland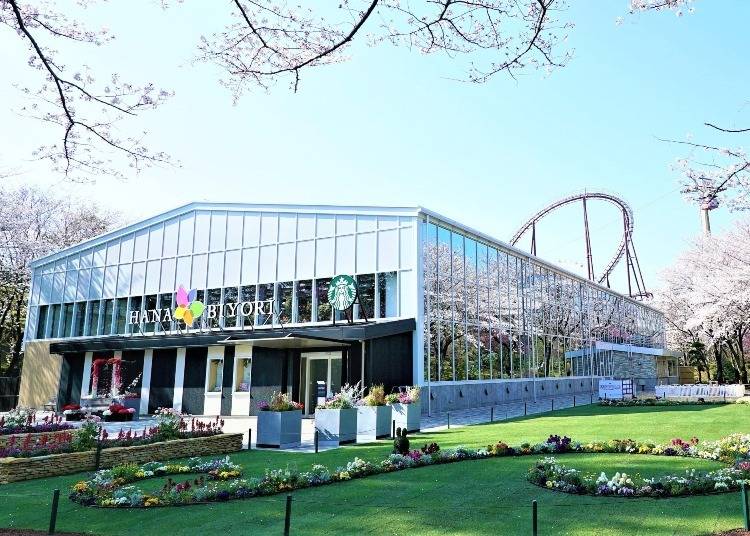 Outside of Hana-Biyori. Photo courtesy of Yomiuriland.
Set on the city's western edge, Yomiuriland is Tokyo's largest amusement park that's just 35 minutes away from Shinjuku.

Nestled in the north of Yomiuriland in an area ringed by cherry blossoms in spring, is the Hana-Biyori attraction.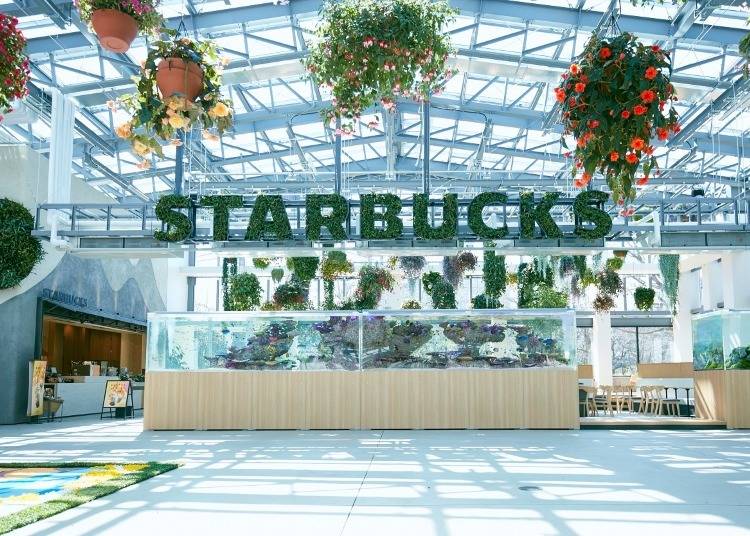 Photo courtesy of Yomiuriland.
In the spacious 1,500 sqm greenhouse, visitors can enjoy a fantastic space that'll make your Instagram followers jealous.

Here you'll find an aquarium zone in which some 1,200 tropical fish from around Okinawa will captivate your gaze. This area was produced by two renowned Japanese aquarium design companies and is a marvel to see.
Tropical fish swimming in one of two colorful aquariums at Hana-Biyori. Photo courtesy of Yomiuriland.
Near to the aquarium is an exhibition space in which adorable Asian small-clawed otters splash and play about. Here, visitors can learn about the ecology from staff, and there will even be hands-on events as well, three times a day. A definite must if you're visiting with family!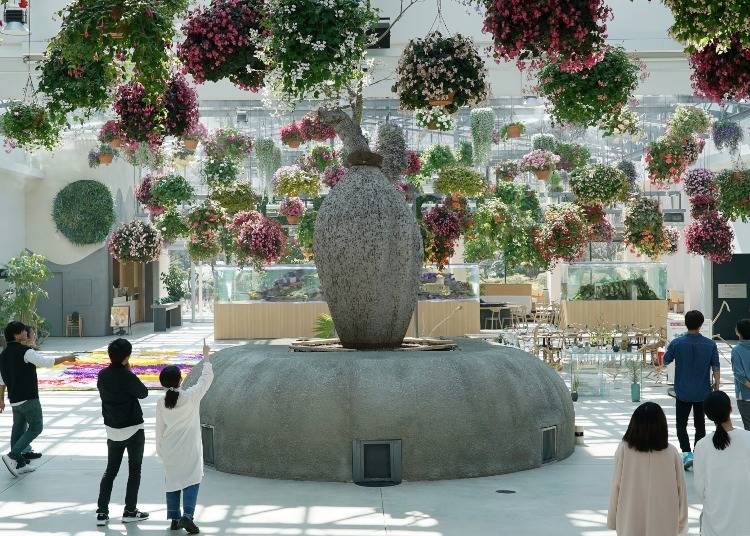 Photo courtesy of Yomiuriland.
Now what makes this entire space breathtakingly beautiful is how you become fully immersed in a garden of around 300 blooming floral chandeliers.

The vibrant colors surround you, making for a very refreshing time even on an otherwise gloomy day outdoors. Just outside Hana-Biyori is a tranquil Japanese garden complete with a beautiful pagoda that's waiting for you to stroll through.

Or if you are looking for unique experiences, you can join in one of the fun flower and plant workshops on offer, in which you can take a course in flower arrangement or how to craft a tiny moss terrarium.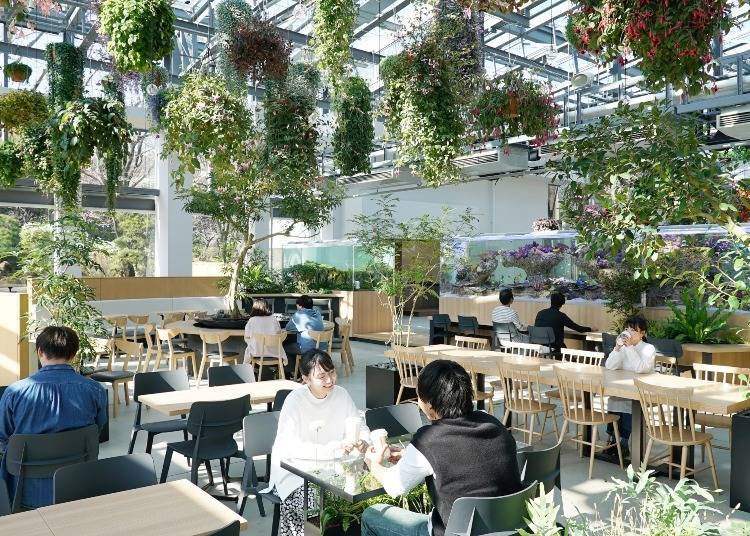 Photo courtesy of Yomiuriland.
Or, of course, you can enjoy sipping a Matcha Cream Frappuccino while basking in the warm natural light, calming your mind within the gorgeous greenery.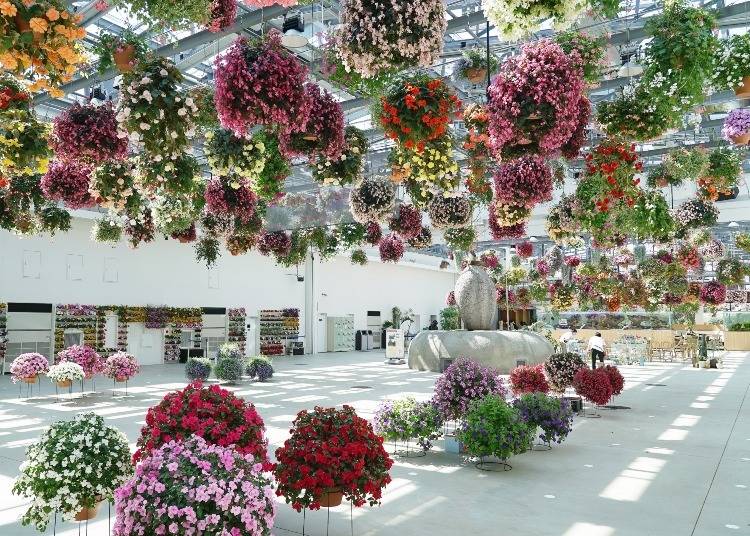 Photo courtesy of Yomiuriland.
The floral fantasy continues even at night. As dusk sets in, the greenhouse space is transformed into an immersive world of gleaming projection mapping complete with sound and fun interactive features that'll make you want to wait until the next performance.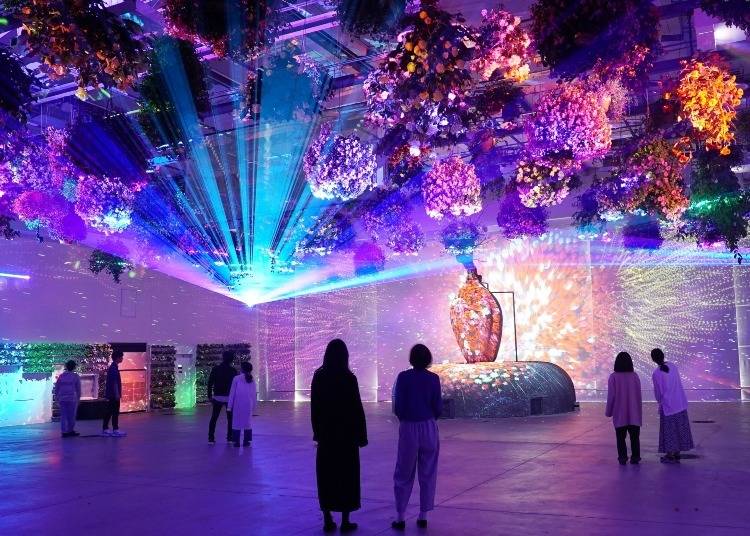 Photo courtesy of Yomiuriland.
While everyone can enjoy this unique Starbucks, as Hana-Biyori is within Yomiuriland, admission is 1,200 yen for adults and middle school students and 600 yen for children. Hana-Biyori is open daily from 10:00 a.m. until 5:00 p.m.
Hana-Biyori

Address

4015-1 Yanokuchi, Inagi, Tokyo 206-8725

Phone Number

044-966-8717

・Hana-Biyori admission: 1,200 yen for adults and middle school students and 600 yen for children.
・Open: 10:00 a.m. - 5:00 p.m. daily
・Website: https://www.yomiuriland.com/hanabiyori/
Written by: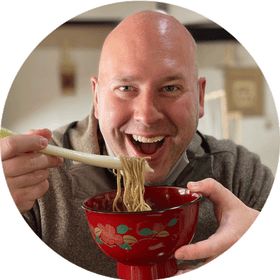 *This information is from the time of this article's publication.
*Prices and options mentioned are subject to change.
*Unless stated otherwise, all prices include tax.
Limited time offer: 10% discount coupons available now!