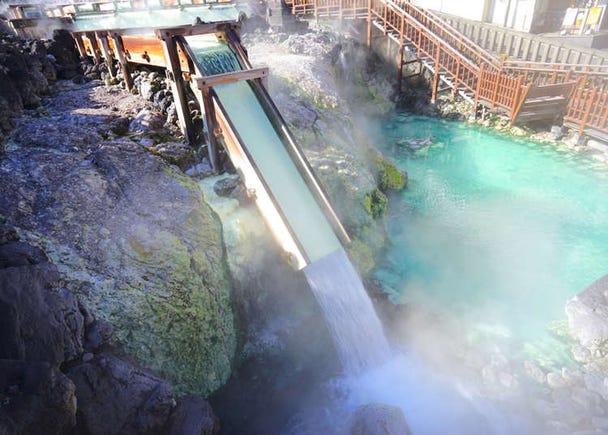 Japan boasts hot springs in all of its prefectures and it's one of the leading countries in the world when it comes to hot springs. More and more foreigners want to try hot springs when they visit Japan. Hot springs are in fact one of the most popular aspects of Japanese culture.

We interviewed one Japanese and two foreigners who love hot springs, and we asked them about their favorite ones, how to choose them, and their personal recommendations.
Profiles of today's women who love hot springs!
The first person passionate about hot springs is 'Mayu', a Japanese woman in her 30s. She works in an office in Tokyo and likes to go to a hot spring anytime she can. Her favorite hot spring seems to not be very well known.

The second person is 'Alice', a 20y/o woman who has been working in IT in Japan for 3 years. Although there is no hot-spring culture in the United States, she says she loves hot springs and she would go every time she gets invited to.

Our third interviewee is 'Sofia', a 20y/o woman from Spain who has been living in Japan for 6 years. She loves hot springs and Japanese culture, and has a mindset that is more Japanese than Japanese people themselves.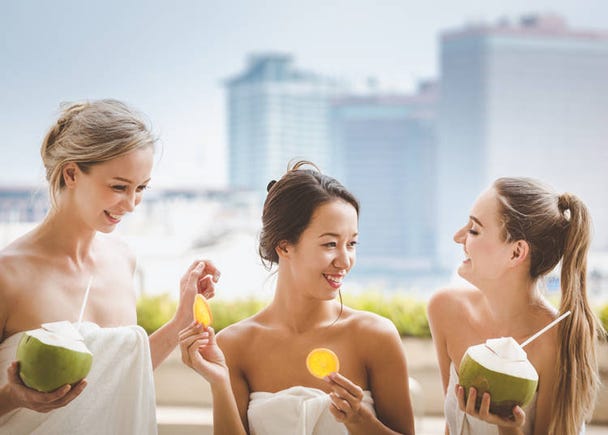 *Photograph for illustration purposes only
Our favorite Japanese hot spring spots!
"Hakone is the first place. You can also go there as a day trip from the center of Tokyo, enjoy cherry blossoms in spring, hydrangea in the rainy season, summer resorts, and autumn leaves." (Mayu)

"I love Hakone! It's easy to reach and it has a great atmosphere. If you search for popular hot springs in English, Hakone will be among the first things you find." (Alice)

"Hot springs are so nice, they may even become your favorite thing about Japanese customs. I like Hakone! It's easy to reach and close, and it's fun to buy ekiben and eat on the train." (Sofia)

Hakone is the most popular among our three hot-spring lovers this time. And why wouldn't it be? After all it is the only place you can enjoy close to the city center and in any season. Hakone also gained popularity thanks to its reputation and word of mouth.

By the way, ekiben - cute bento boxes you can purchase at the train station - are actually one of the fun things you can find in Japan, making traveling by train more enjoyable.
What is your favorite hot spring spot, other than Hakone?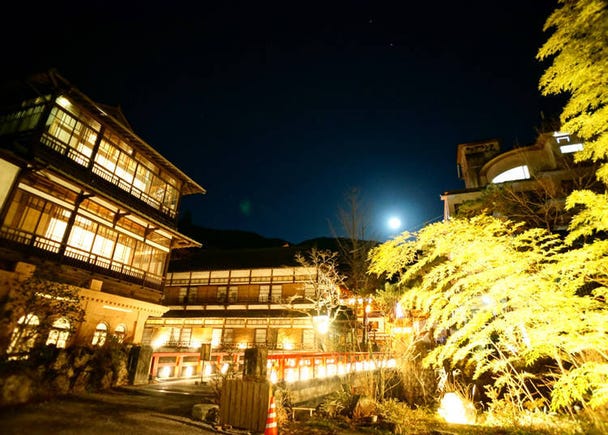 Shiman Onsen
"There are so many hot springs I like, it's hard to choose. A nearby one I like is Atami. It's fun because they also have a firework show in winter.
Also, I like Gunma's Shiman onsen. The fall foliage is very beautiful, and it has an intimate retro atmosphere. There's a dam nearby and I personally like it a lot. You can relax in the open-air baths along the mountain streams.

Otherwise, you can relax in quietness in Niigata's Ginzadaira Onsen, in Okutamami. They close in the winter, due to snow, but it's really a place where you can relax in close contact with nature. It's nice to go canoeing, kayaking, and fishing on the lake. You can also admire a sea of clouds and stars. The view is really amazing. And to top it all off, the rice is delicious!" (Mayu)

"I like Yugawara, it's really nice there. The view was beautiful and it was nice to be in a quiet place, away from the noisy city center. The food was delicious! I also like the local hot springs in Yokohama. The facilities in central Minami and Miyamaedaira are also close to my house, so it's easy to go!" (Alice)

"Misasa Onsen in Tottori prefecture! A Japanese friend took me to a very good ryokan inn and hot spring. In the city center, you can also go to Oedo Onsen in Odaiba, or Manyo hot spring in Yokohama. You don't need to prepare anything and just focus on enjoying your time." (Sofia)

Hot springs in every region are recommended, but having a hot spring close to the city center is always nice. One of our interviewees mentioned that you don't need any preparation or luggage (like change of clothes). Even in the city center the baths are not just hot water. Most of them are actual natural hot springs, so even if you don't have time to travel, you can still enjoy them.
What things should we consider when choosing a hot spring resort?
"The things to consider change depending on the purpose of your visit, but if time is of the essence, of course a main factor would be proximity. If you have time, choose a place where you can relax.
You might also want to choose a place that is not among the very famous hot-spring resorts. I'm not too demanding when it comes to hot springs, but I do like open-air baths! Another important thing to consider is the meals! They are natural but it's better if they are also delicious!" (Mayu)

"Accessibility and proximity are the most important thing. For me it's not too much of an issue because I speak Japanese, but some of my friends told me that it was easier to go where there was English support." (Alice)

"One important thing is how good the food is. I really like ryokan meals. I'm glad that there are many things to choose from. Also there should be lots of nature, and an open-air bath. In the past it would embarrass me a lot to be naked among strangers, but now it doesn't bother me at all (laugh)." (Sofia)

In the end, access is the most important thing. One of the main factors to choose from is how easily you can go. Furthermore, hot springs = relax, so it's also important to choose a place where you can relax and be in touch with nature.

For foreigners, help in languages other than Japanese is also essential. I hear that people often wore swimsuits but were told that they couldn't. Famous hot spring resorts in Hakone and Nikko often have directions in English, so they are more easily accessible to foreigners.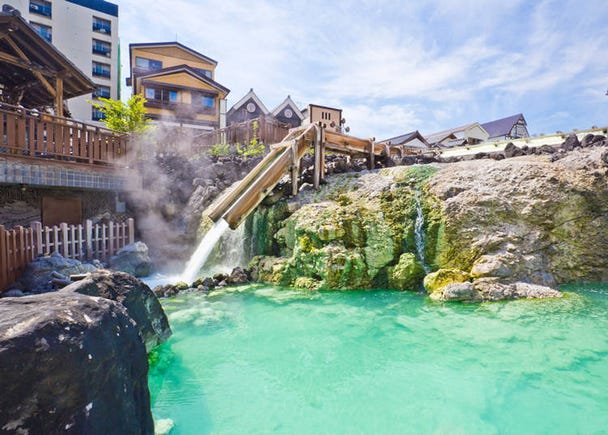 Kusatsu Onsen
Which hot spring do you want to visit and which do you recommend?
"I recommend Hakone and Atami especially to foreigners, since they are easy to reach. Other than those, I think it would be nice to go to Kinugawa where the view along the valley is beautiful, or to Nikko with its shrines and World Heritage sites. I also recommend the hot-spring resorts in Niigata, because they have some of the best rice and liquor." (Mayu)

"It's good to be immersed in nature and relax! I want to go to hot springs where I can see the snow in the colder regions in the north. Also, it's nice to have a private outdoor bath." (Alice)

"I recommend Kusatsu Onsen. It's immersed in THE hot-spring atmosphere, and I think it's a very nice typical Japanese spot. It's hard to see something like this in other countries." (Sofia)

Along with Hakone, Nikko, which is a World Heritage site, is another favorite among tourists. There are famous onsen like Manza Onsen in Gunma and Nyuto Onsen in Akita. Enjoying the hot spring while admiring the fantastic snow scenery is the best part of hot spring in winter.

Kusatsu boasts the largest amount of hot springs in Japan. Yubatake, which is surrounded by hot spring vapors and scents, is a symbol of Kusatsu Onsen, and the beneficial minerals of the waters actually drift in the air.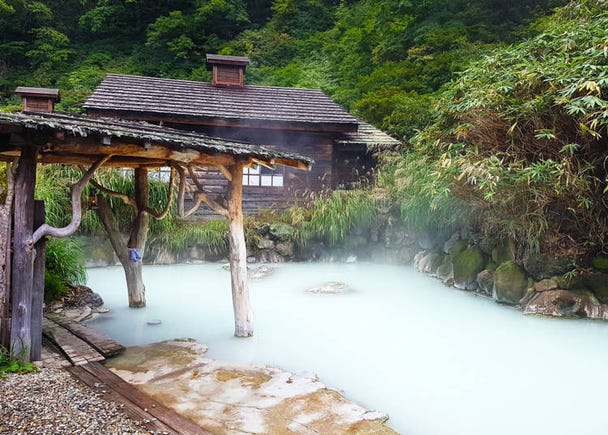 Nyuuto hot spring. (icosha / Shutterstock.com)
Look for your favorite hot springs in Japan!
Did you get good information on hot springs? Recently they have become relatively accessible, with direct buses connecting even remote hot springs with city centers.

Of course the quality of the hot spring varies depending on the hot springs in Japan, but the best part is that you can have always a new experience, thanks to the scenery changing as the seasons change.

It will be hard to choose from the many type of baths, inns, and dishes, but make sure you visit as many as you can.

Written by: Miyuki Yajima
*This information is from the time of this article's publication.
*Prices and options mentioned are subject to change.
*Unless stated otherwise, all prices include tax.