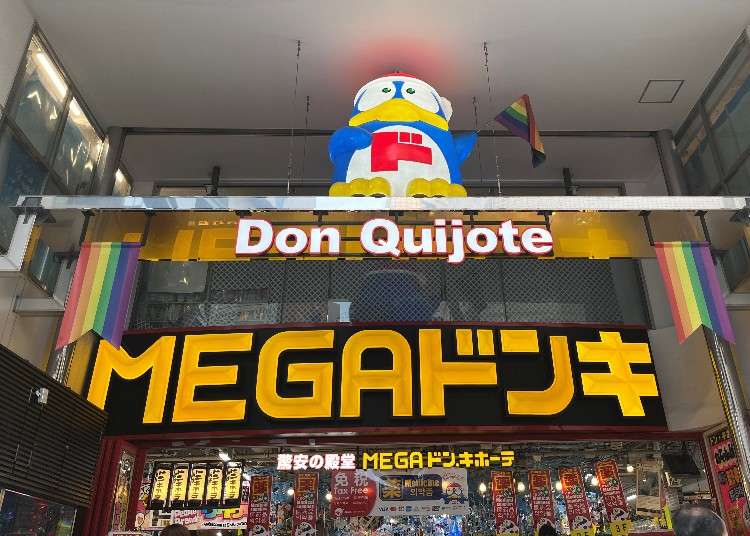 MEGA Don Quijote Shibuya Main Store is a go-to shopping destination for international tourists in Tokyo, offering a vast range of affordable items, from daily essentials to souvenirs. It's one of Tokyo's largest stores and offers tax-free shopping for overseas visitors.

This expansive discount store offers an array of products, ranging from essential daily goods to groceries, home appliances, brand-name products, medicines, and souvenirs, all at incredibly reasonable prices!

This article showcases a variety of recommended products for 2023, curated by the LIVE JAPAN editorial team.
LIVE JAPAN is now offering a coupon for up to 10% Tax-Free and an added 5% off* your purchase at Don Quijote. Tap the coupon below and present it at the cashier.

(*10% tax-free rate + 5% off on purchases of tax-free items of 10,000 yen (excluding tax) or more.)

International Visitors Love MEGA Don Quijote Shibuya's 24-Hour Service!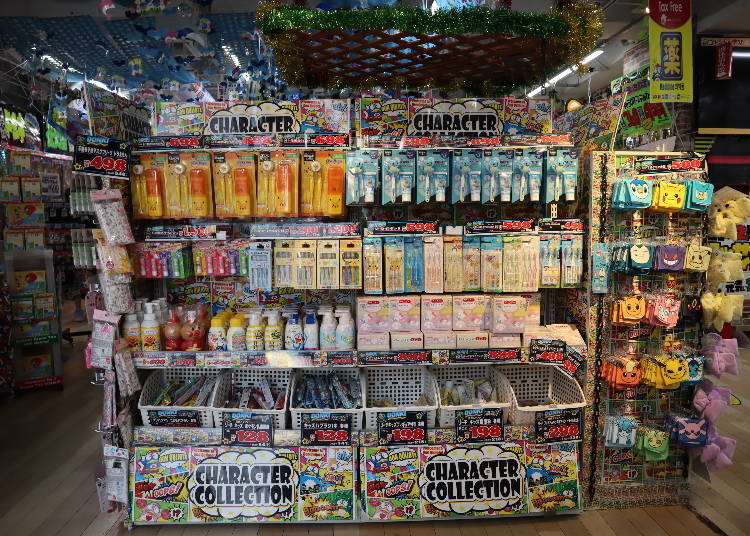 MEGA Don Quijote Shibuya Main Branch is conveniently located in the heart of Shibuya, a must-visit destination for sightseers in Tokyo. Just a short 5-minute walk from the station, this store boasts one of the largest selection of Don Quijote products in the Kanto Region!

The store has eight floors, spanning from the basement to seven floors above ground. Not only will you find food and daily necessities here, but they also carry pharmaceuticals, home appliances, travel necessities, and more. This location's stock is so comprehensive that it's no exaggeration to say there's nothing they don't have!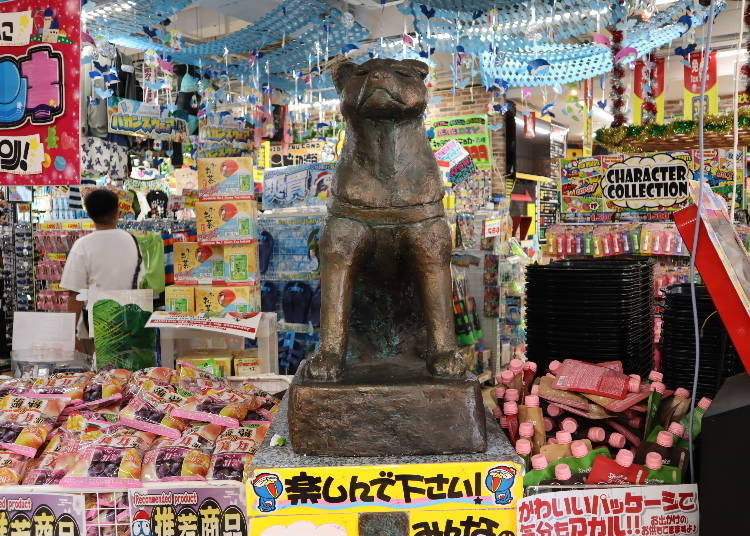 Given the significant influx of foreign tourists, they offer various Japanese commodities that enjoy popularity overseas, including recommended souvenirs and shop-exclusive gift sets.

Don Quijote also carries official brand-name merchandise. Sourcing directly from authorized distributors through parallel imports, they only sell products that have met their rigorous in-house inspection standards. This approach ensures that every purchase you make is genuine, preventing the sale of any counterfeit or unauthorized merch!

Another great perk is the store's round-the-clock, seven-day-a-week schedule, making it exceptionally user-friendly for travelers.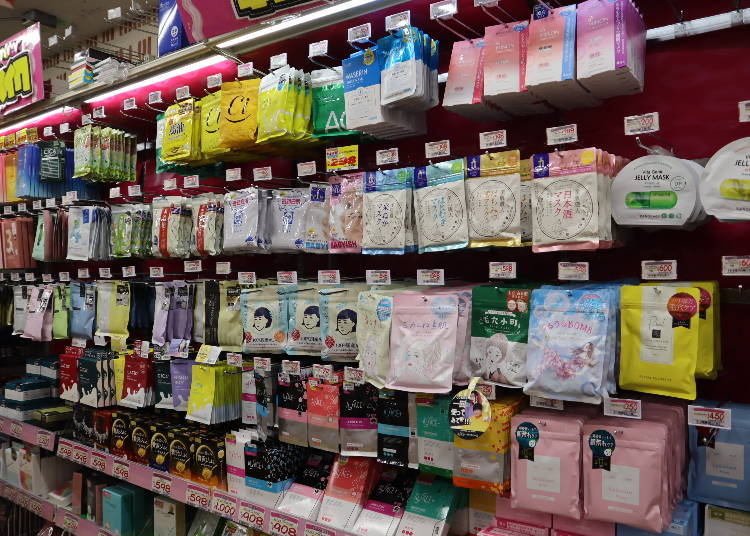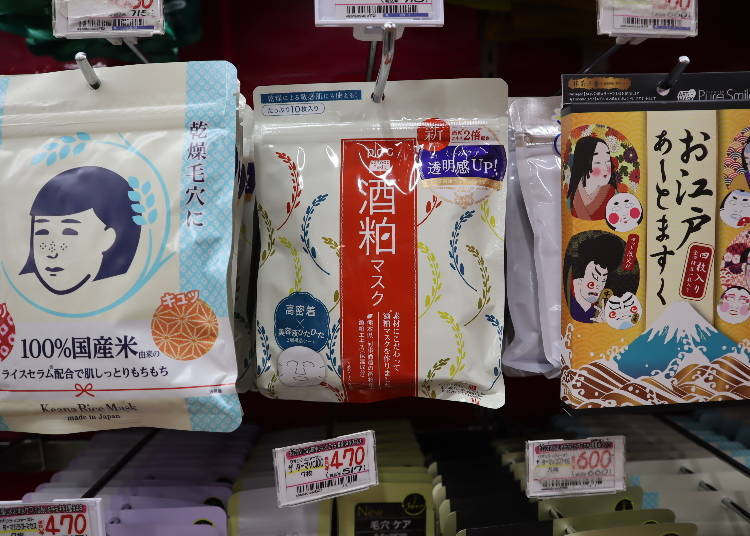 Japanese facial masks, often infused with unique ingredients such as rice bran and sake lees, are among the most popular items. You'll also find artistic masks adorned with fun designs inspired by traditional Japanese art and paintings. We recommend buying a few different types to hand out to your friends as souvenirs.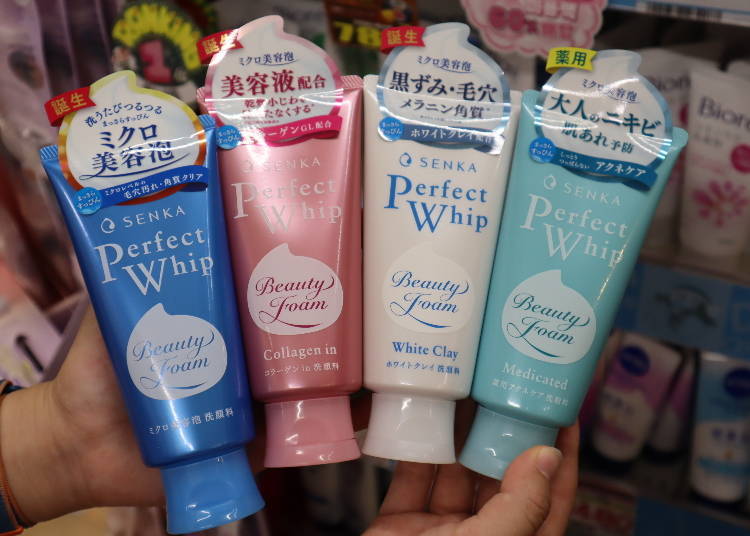 Senka Perfect Whip stands out as a highly sought-after facial cleansing foam, renowned for its high quality and rich lather. Available in a diverse assortment, the blue bottle represents the standard type, while the pink one is a collagen-infused moisturizing and firming type that caters to those with dry skin. The white bottle is a clay type that removes blackheads and keratin plugs for a clear complexion, and the green version targets acne care and skin problems.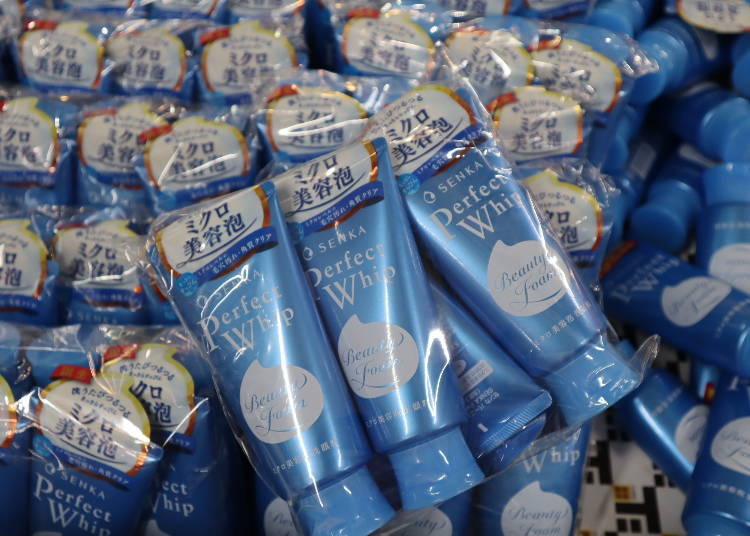 MEGA Donki Shibuya also offers this special 6-bottle bargain bundle!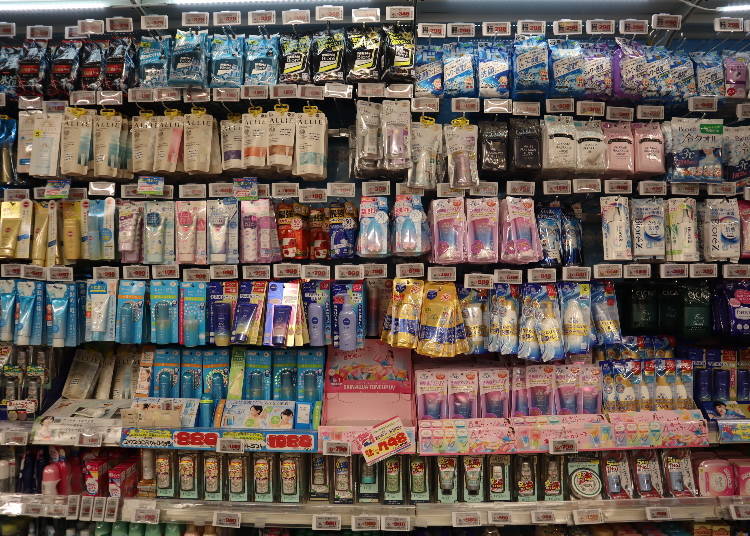 Japan also boasts an impressive lineup of sunscreens in a variety you'd be hard-pressed to find, even in pharmacies. The selection extends beyond standard brands like Bioré and Anessa, to include an array of other products for gorgeous skin. Recent favorites include spray and stick-type sunscreens.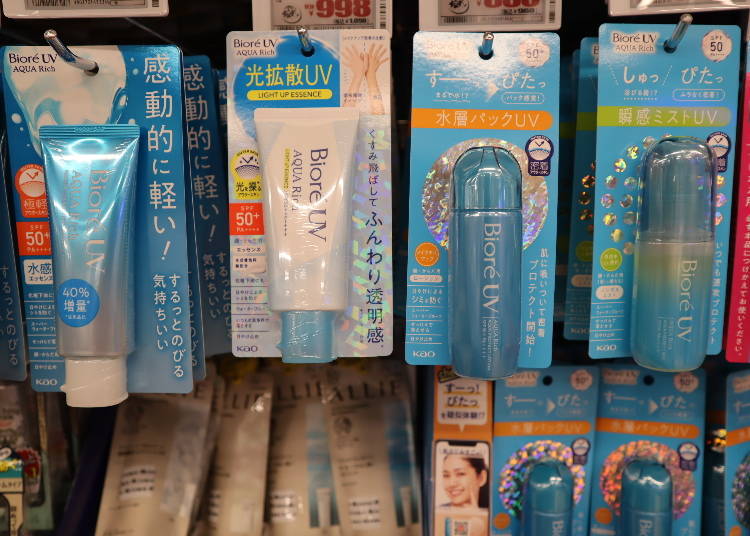 You'll also find a full lineup of products from the Bioré UV Cut series, including Bioré UV Aqua Rich Aqua Protect Mist, which was a hit in Japan earlier this year!
Color shampoos have recently garnered attention for their ability to dye bleached or colored lightened hair through simple shampooing, while enhancing color retention and making your hair appear healthy and sleek. You'll find a variety of products from different manufacturers. Color treatments from Tottimo!, developed by a salon manufacturer, are top-rated for their fantastic quality, and are available in an array of fun colors like Ash Purple, Pink Dip, and Silver Ash.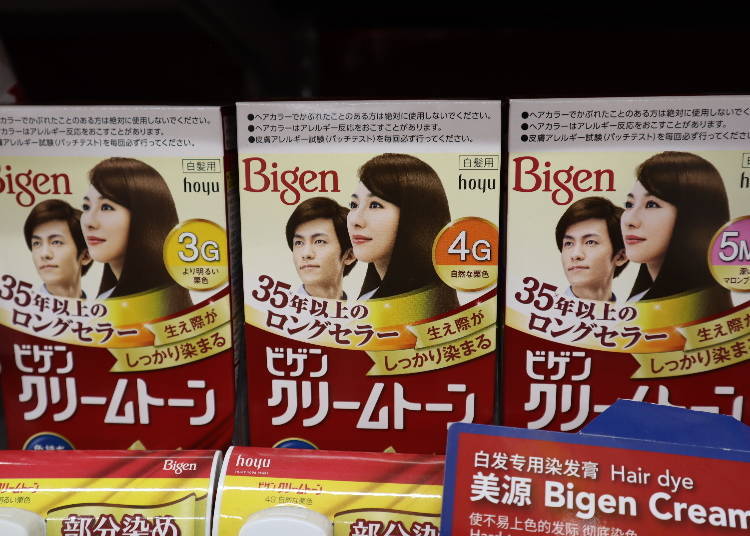 Bigen's hair dye has remained a Japanese market staple for over 35 years and maintains its popularity among many customers. Bigen Cream Tone is an easy-to-use cream-type hair dye that colors thoroughly, and provides a thorough, vibrant coloring, earning recognition overseas as a favorite souvenir choice.
Pharmaceuticals and Health Goods (3F)
1) Standard Popular Medicines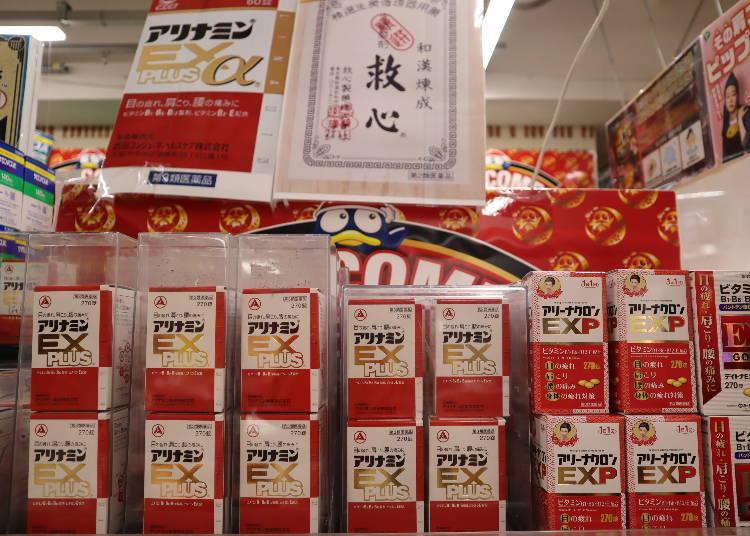 Japanese medicines rank among the most popular souvenirs. MEGA Donki Shibuya has an extensive selection of international favorites, including Alinamin EX Plus, Cabagin, and Ohta's Isan stomach medicine. With their dedicated sales corners at MEGA Donki Shibuya, acquiring any of these should be a breeze!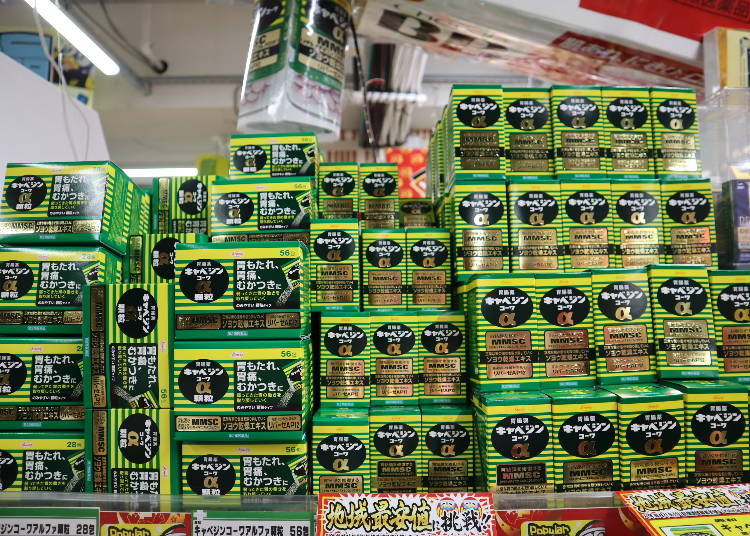 2) Compresses & Adhesives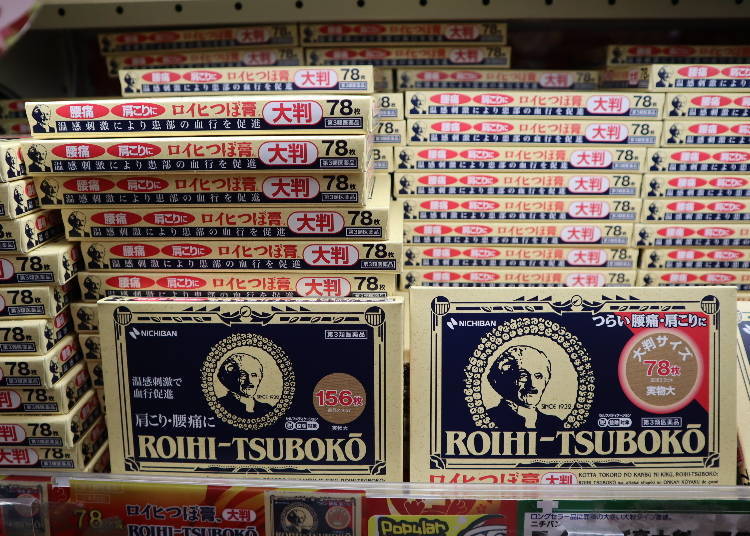 Compresses also enjoy popularity for their wide array of types, including Roihi Tsuboko Ointment, Salonpas, Vantelin, and Pip Elekiban.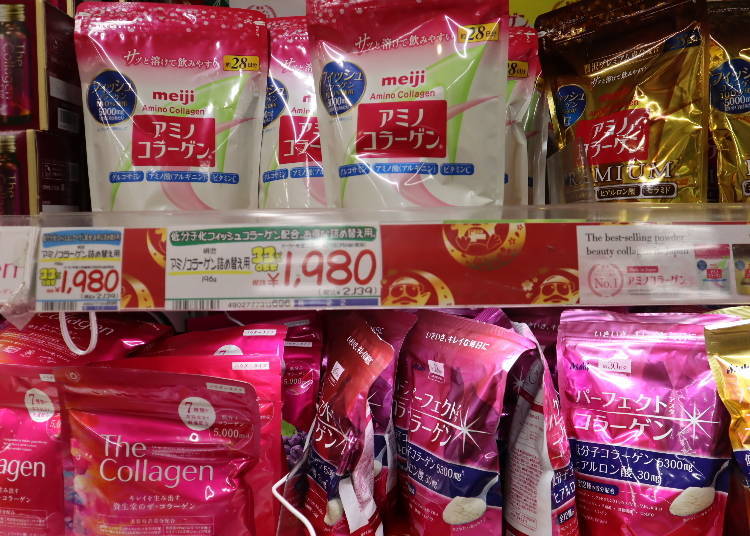 The lineup also includes collagen supplements from renowned brands like Shiseido, as well as Don Quijote's own in-house brand, Jonetz Kakaku. They are available as dissolvable powders to mix into your preferred beverage, pre-made drinks, jellies, and tablets.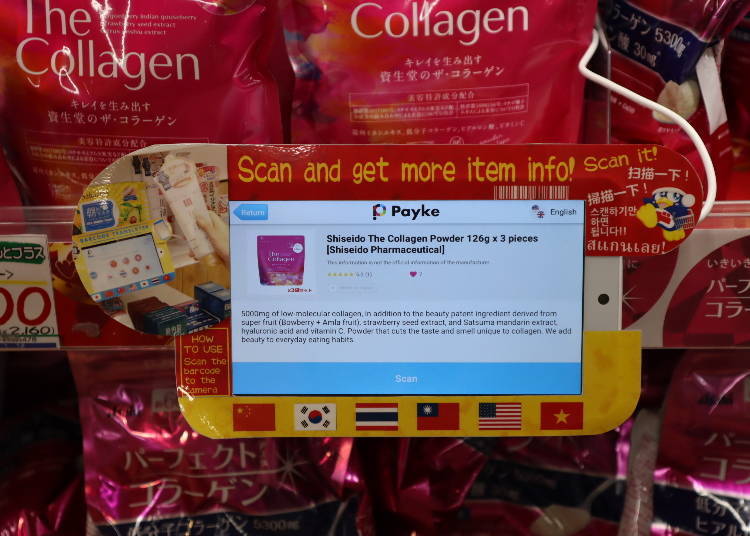 Incidentally, the Payke tablet pictured here is a multilingual device that provides descriptions of scanned products for inbound customers. This allows customers to check the ingredients before they buy, making for a smooth shopping experience, regardless of whether you can understand the Japanese packaging!
4) Skin-Brightening Supplements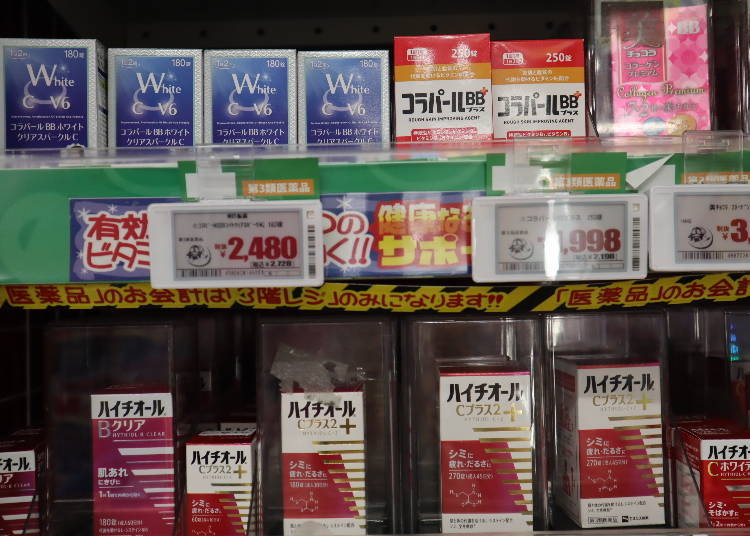 Japanese supplements for skin brightening are another favorite product amongst beauty-conscious international visitors. Major brands and product lines include Hythiol C, Transino, and Chocola BB Lucent C.
5) Foot Relaxation Sheets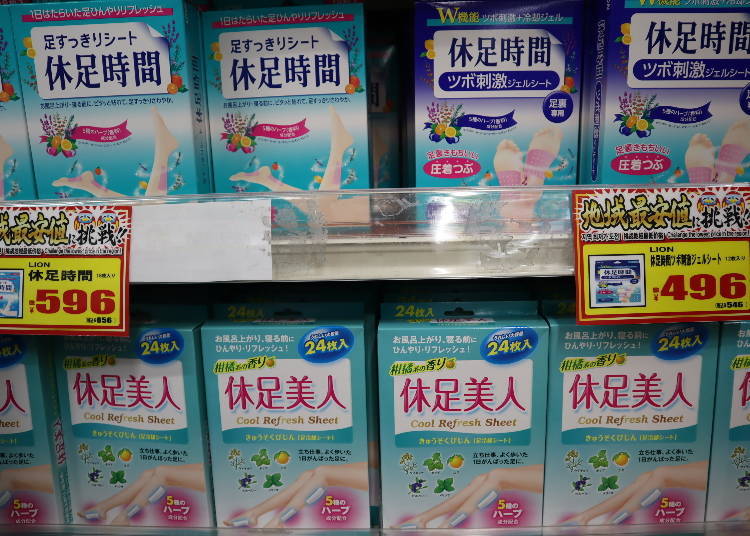 Foot relaxation sheets are essential for relieving travel fatigue. The Kyusoku Jikan variety, including both regular and sole-only options, is highly popular overseas. Don Quijote's exclusive Kyusoku Bijin is also preferred for its generous quantity of sheets and budget-friendly pricing.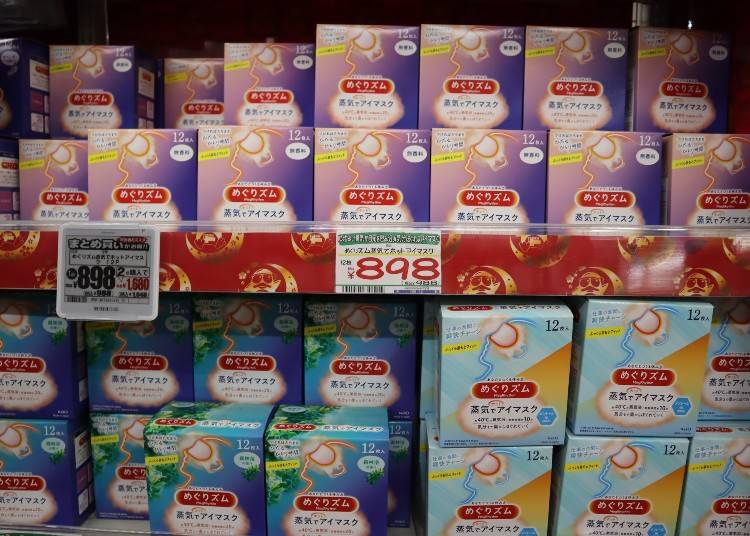 The Megrhythm Steam Hot Eye Mask has remained a long-selling hit in Japan since its launch, and is one of the most popular products amongst souvenirs for those overseas. In addition to the standard unscented version, there are a number of other options, including Forest Bath and Menthol Scent. Another great perk is the discount for buying two or more, or in bulk. Limited-quantity Sanrio character designs are also available.
Electronic Appliances (6F)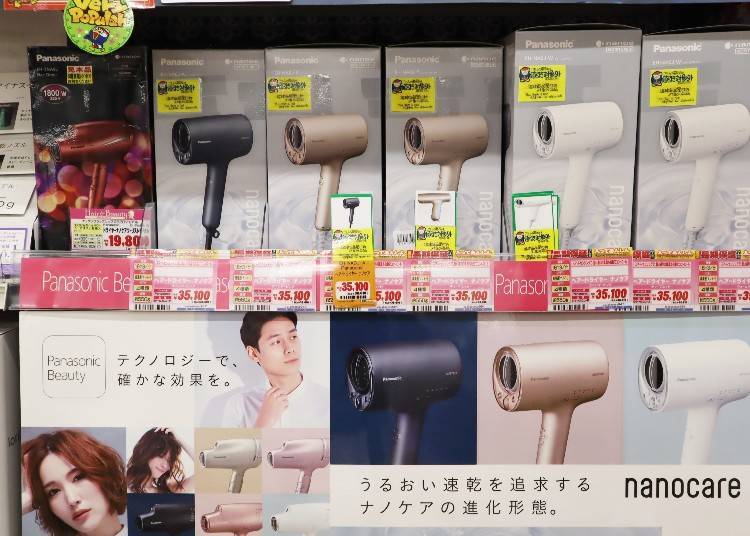 Among the most popular home appliances are high-performance hair dryers compatible for international use, with notable brands like the Panasonic Hair Dryer Nano Care. In addition, there are products from as many (or more!) manufacturers as there are home electronics stores, to suit every budget and purpose.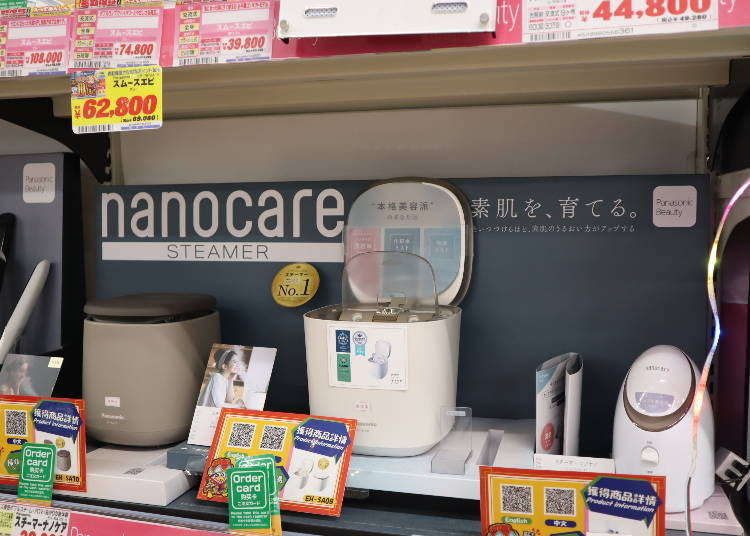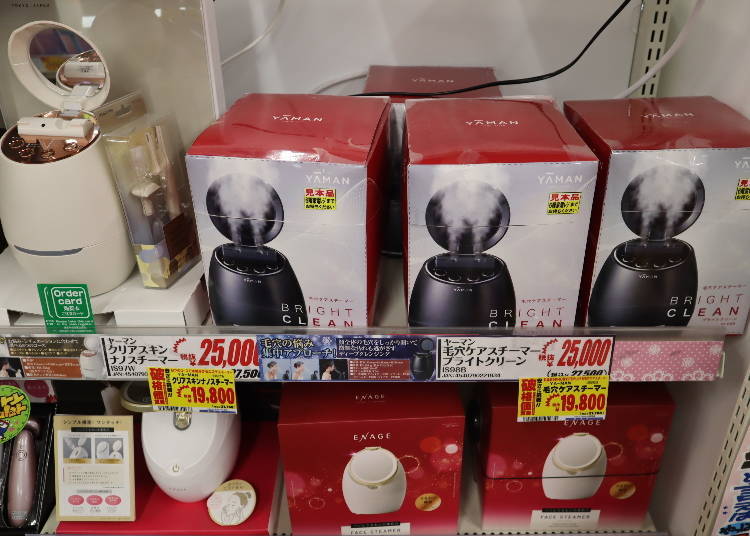 There is also a full lineup of beauty appliances, including Panasonic's Steamer Nano Care and Ion Facial, as well as the Pore Care Steamer from popular beauty equipment brand, Yaman.
3) Shavers & Depilatories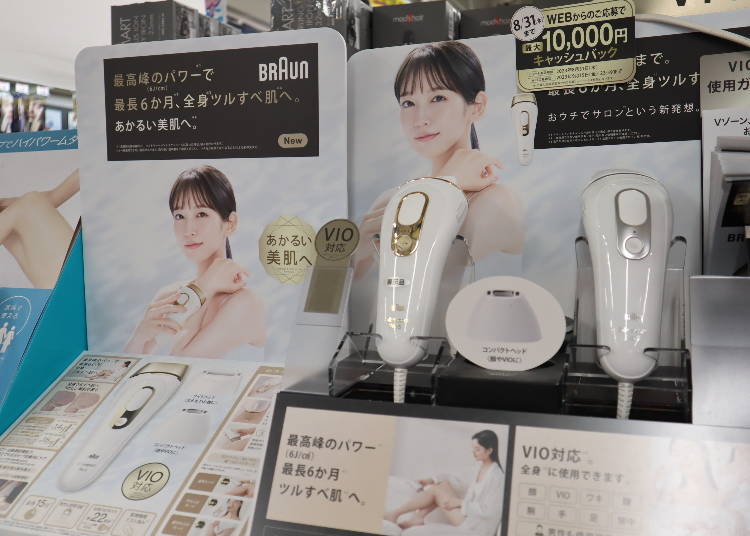 Braun's body epilators offer salon-quality grooming, right in the comfort of your own home!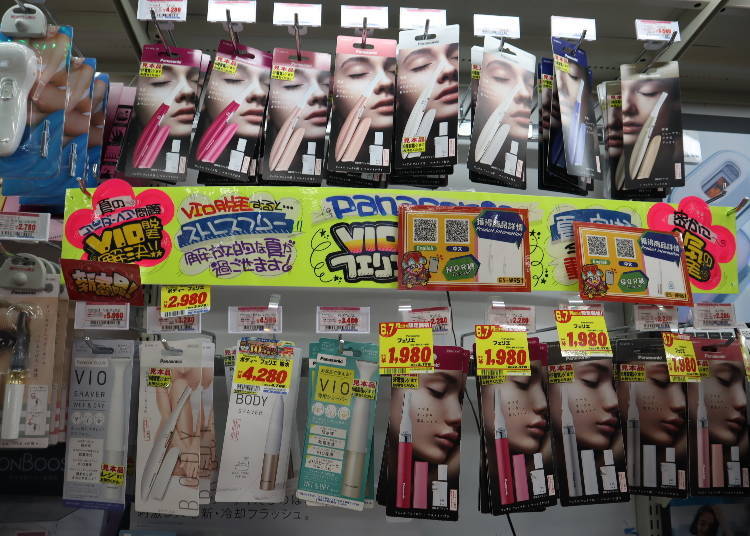 You'll also find the Ferrier Face Electric Shaver, designed to improve makeup application, as well as exclusive VIO shavers.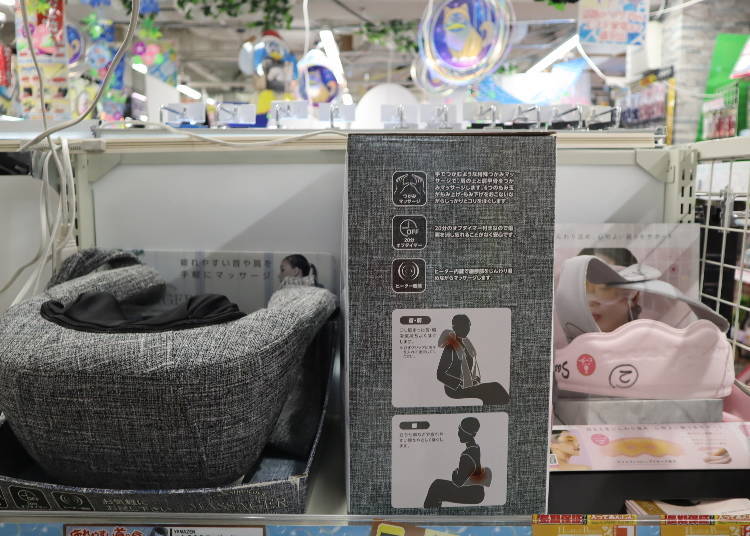 Yamazen's Neck & Shoulder Massager is a compact device that transforms any sofa or chair into your personal massage chair, making it a great souvenir option to bring home. For a more convenient option, we also recommend foot massagers.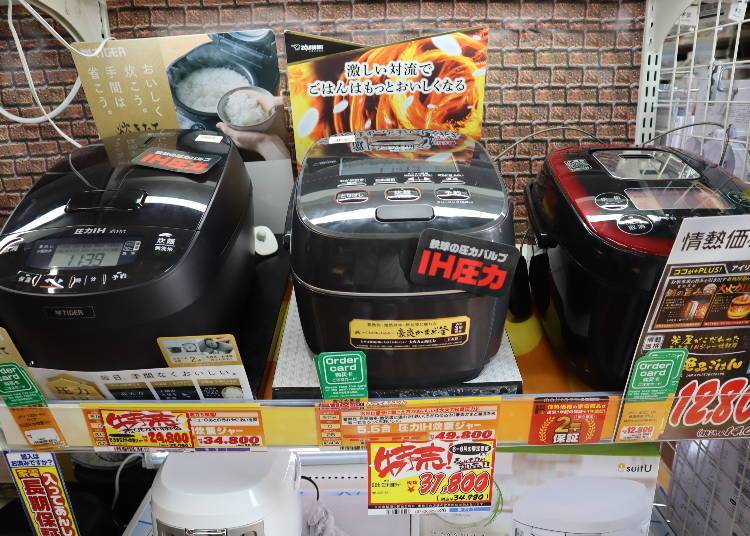 Rice cookers made in Japan are especially popular among visitors from Asian countries, thanks to their exceptional functionality. You'll find famous brands such as Zojirushi, Toshiba and Iris Ohyama, as well as original rice cookers at great bargain prices.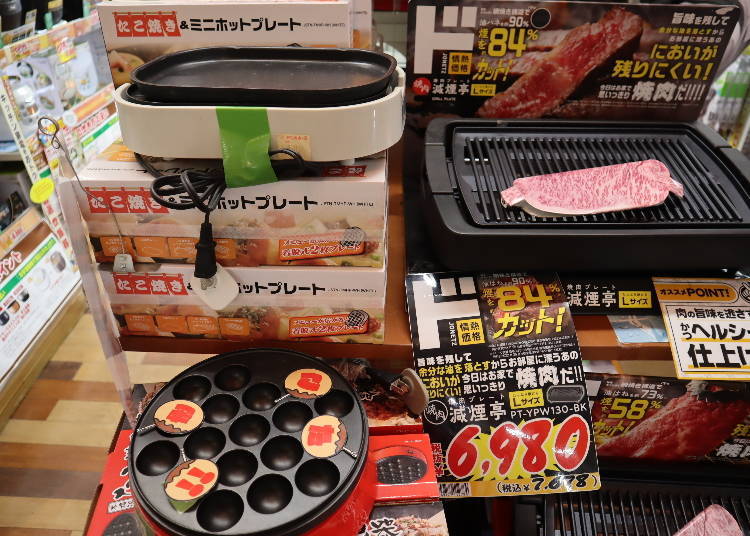 Hot plates gained significant traction during the pandemic when dining out was not an option. Among the assortment of cooking appliances, Japanese-style takoyaki grills are an excellent choice to bring joy to the entire family!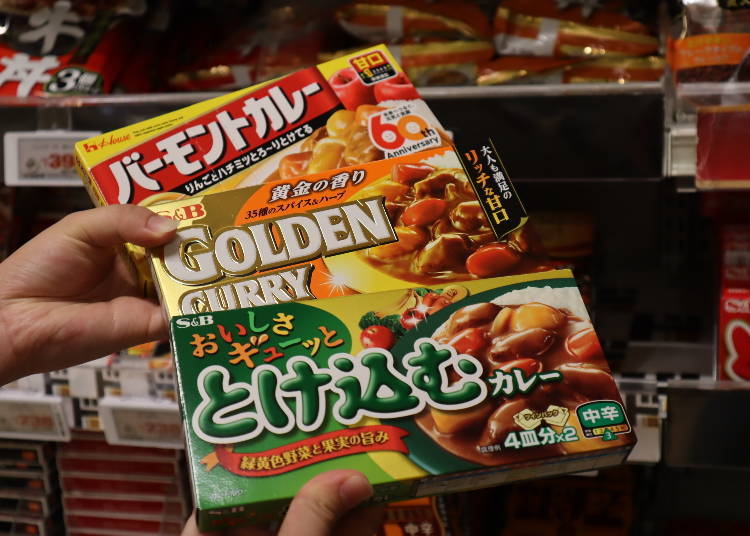 Curry roux is another favorite souvenir, serving as your all-in-one ingredient to prepare a delicious curry meal – just add vegetables! The lineup includes popular Japanese products like House's Vermont Curry and Java Curry, S&B's Golden Curry and Oishisa Gyuto Tokekomu Curry, and many others. It is an easy way to savor the flavors of Japanese home cooking, even when you're back in your own country.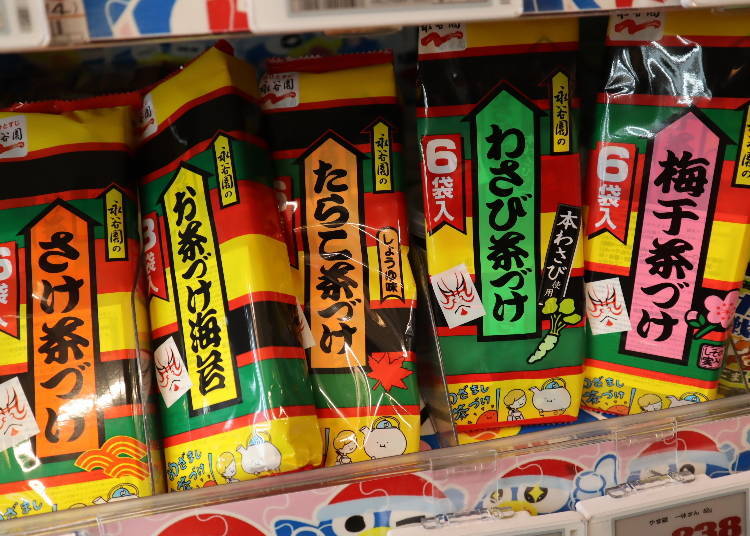 Nagatanien Ochazuke is a staple item in many Japanese kitchens. There are five varieties, including Salmon Ochazuke, Nori Ochazuke, and Wasabi Ochazuke, all of which are ready to enjoy as a light breakfast or evening meal – just add rice and hot water! They also boast a generous shelf life, making bulk purchases a recommended choice.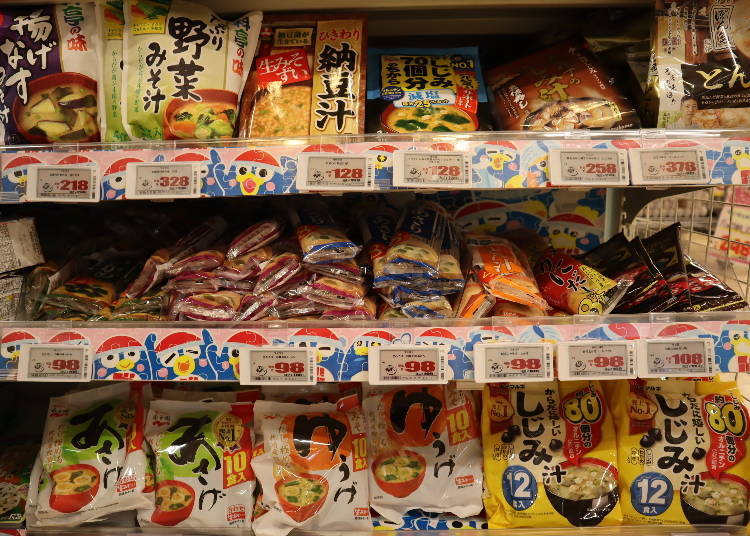 Miso soup is a comforting treat for countless Japanese individuals, and MEGA Donki Shibuya offers a wide variety of instant miso soup options. With over 20 varieties to choose from, including Asage and Yuge by Nagatanien, Ryotei no Aji by Marukome, and Shijimi-jiru by Hanamaruki, you can instantly relish the taste of Japan even after returning home by simply adding hot water.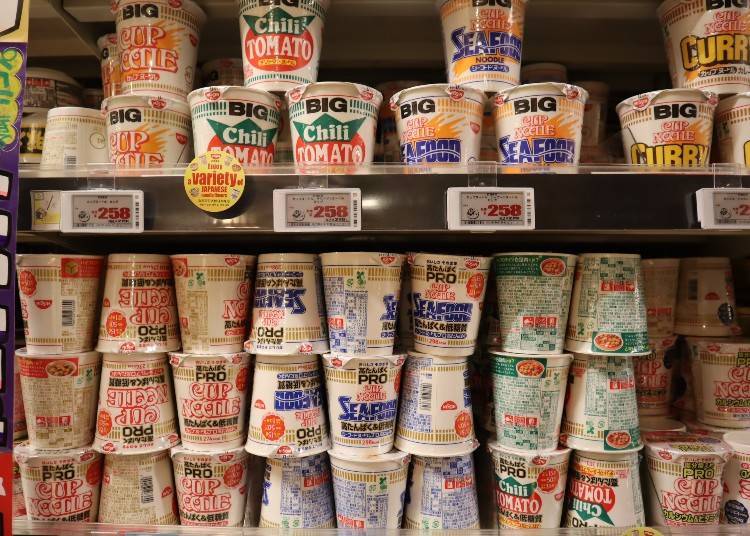 Cup noodles transform into delicious ramen dishes with the simple addition of hot water, rendering them both a great souvenir choice and an indispensable emergency food supply in preparation for unforeseen circumstances.

The lineup includes well-known choices like Nissin Cup Ramen, Donbei, Iekei Ramen, as well as the internationally famous Ichiran Cup Ramen. Why not buy them all and embark on a taste-testing adventure?
Soy milk, recognized for its nutritional benefits, has gained the attention of not only vegetarians, but the average individual seeking more health-conscious options. Kikkoman's Prepared Soy Milks are conveniently packaged in small pouches for easy purchase. They also offer an extensive range of flavors, including matcha, banana, lemonade, coffee, and more. The affordability of these miniature milks also makes them an great item for bulk purchases!
Sake & Alcoholic Beverages (B1F)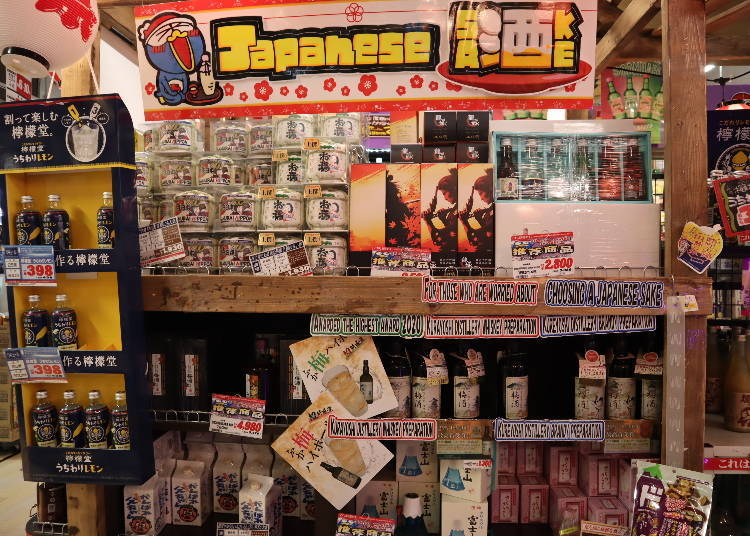 MEGA Donki Shibuya also boasts a fully-stocked sake corner, with a rich selection of sake, hailing from all corners of Japan.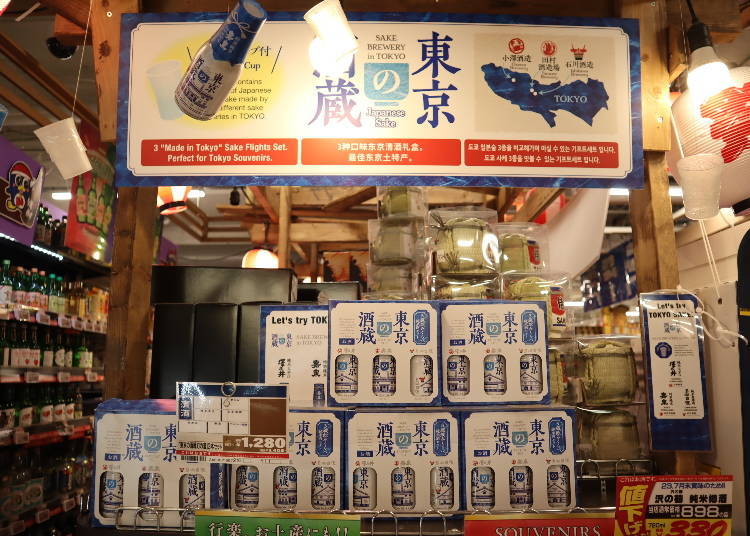 This rare set features sake from breweries in Tokyo, making it a unique item that allows you to sample and compare different varieties.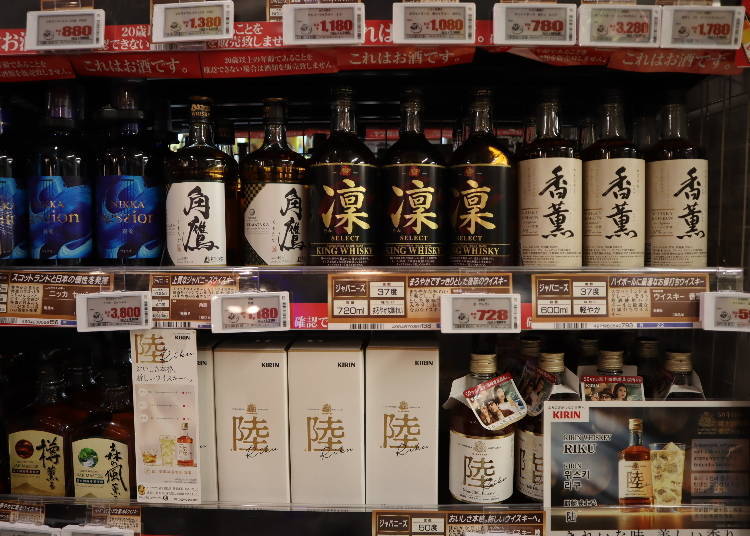 The store also proudly carries a number of Japanese whiskey brands, including Kumataka, Rin, Kaoru, and Riku.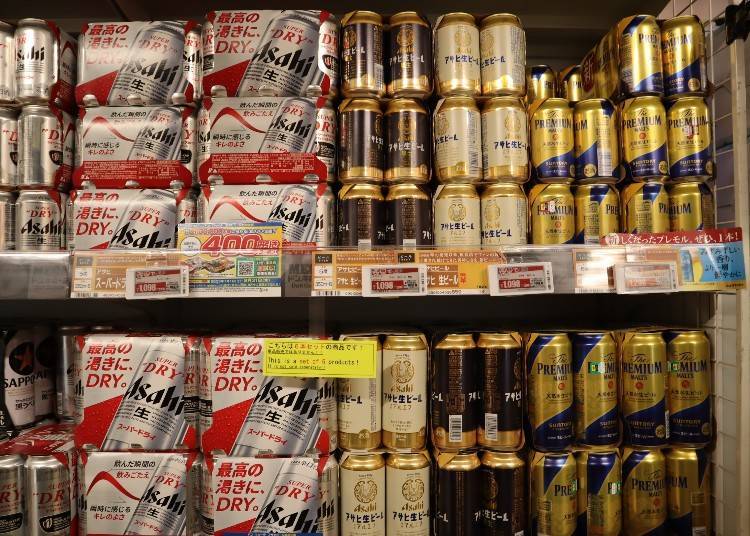 Asahi Super Dry and Premium Malts have gained tremendous popularity in many regions across the globe. A wide range of these beverages are also available in bulk and by the case.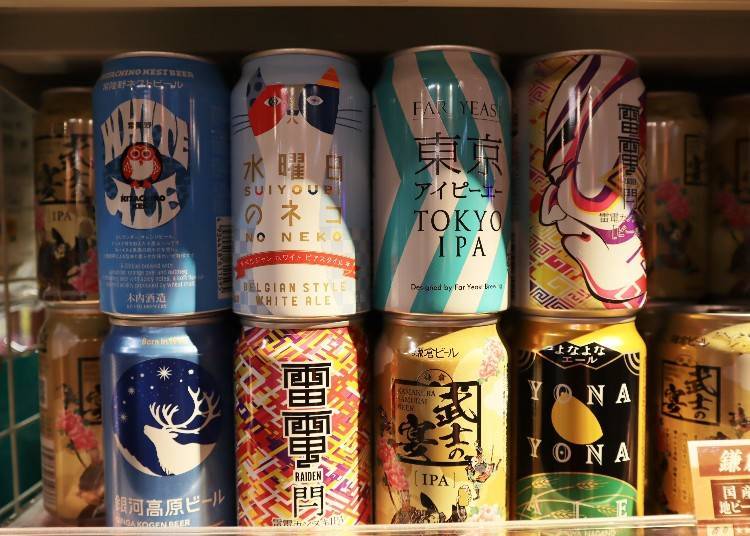 The store also offers an assortment of distinctive Japanese craft beers that have been rising in recognition in recent years, celebrated for their diverse flavors from leading breweries. Many of them are presented in attractive, stylish packaging, making them ideal souvenir gifts, as well.
4) Shochu Highballs (Chuhai)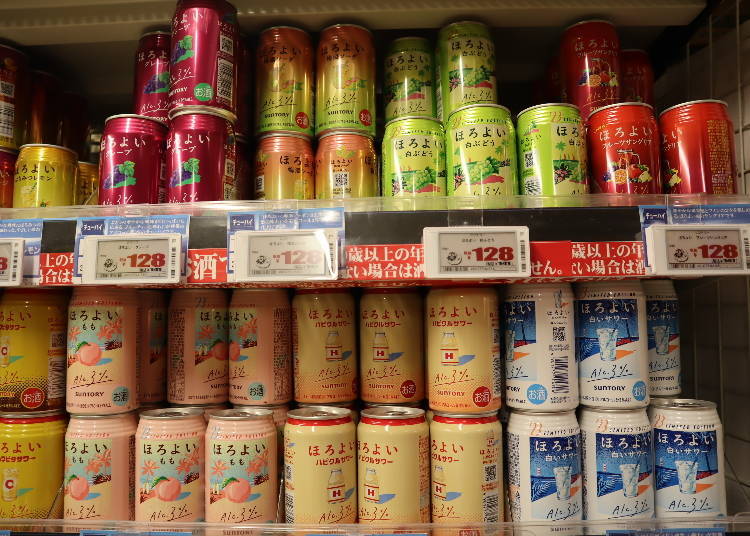 Canned Chuhai, known for its easy drinkability, is a hit even among individuals who don't frequently partake in alcohol. Japan offers a wide array of canned Chuhai, promising an option to satisfy every palate.

MEGA Donki Shibuya offers a selection of classic brands, including Hyoketsu, STRONG ZERO, Kodawari Sakaba, and Kirin Tokusei. The Horoyoi series is top-rated, featuring a diverse range of flavors such as grape, blackcurrant, orange, peach, fruit sangria, plum wine soda, and iced tea soda, presented in richly-colored packaging. In recent years, the store has expanded its non-alcoholic selection, as well, making for a more comprehensive selection, even for individuals who abstain.
Other Recommended Travel Goods & Souvenirs (7F)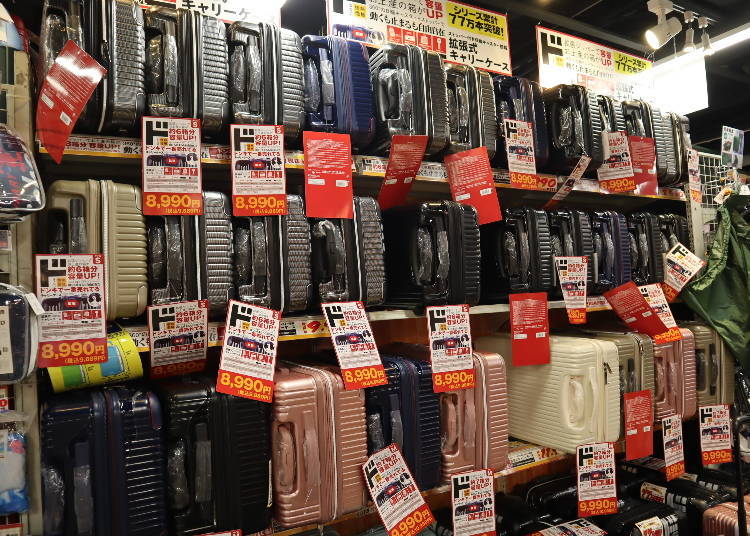 You don't need to worry about accumulating more luggage during your trip. MEGA Donki Shibuya stocks a wide variety of suitcases, from well-known brands to reasonably priced bargain suitcases. Choose from a range of price points, capacities, colors, and designs to suit your specific purpose and preference.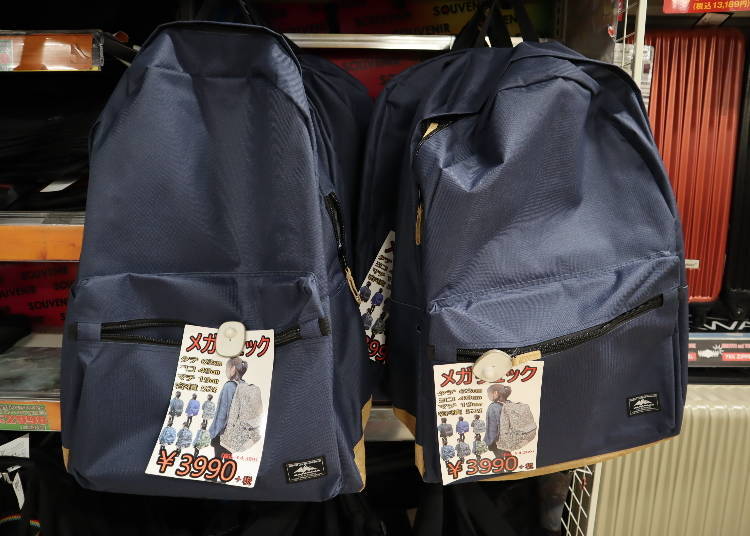 A practical alternative to suitcases is Don Quijote's popular Mega Backpack. As the name suggests, it boasts a super-extra-large size, with a capacity of 52 liters. Despite its size, it is lightweight and easy to carry, making it suitable for 2-3 night trips.
Frixion Ballpoint Pens rank among the most sought-after Japanese stationery products in the world. Once you've experienced one, you'll never want to be without it! Select from a range of thicknesses and colors to your liking. They also make great gifts for your friends and family!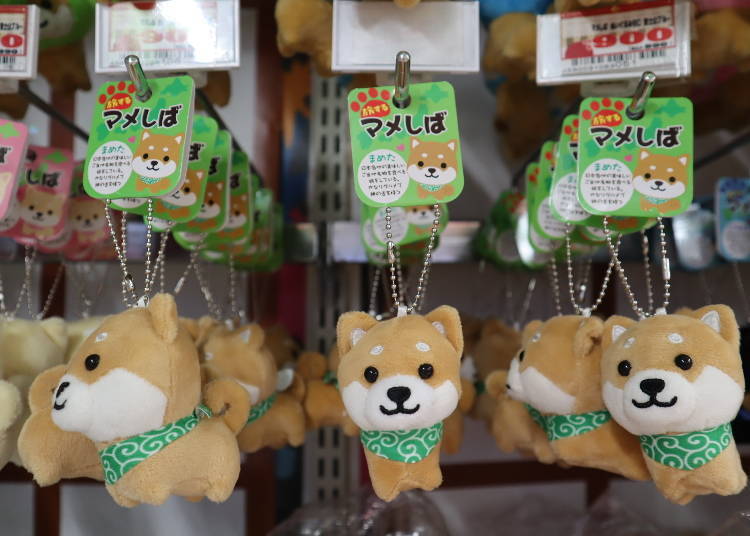 We also recommend MEGA Donki Shibuya as a prime destination for character and mascot goods!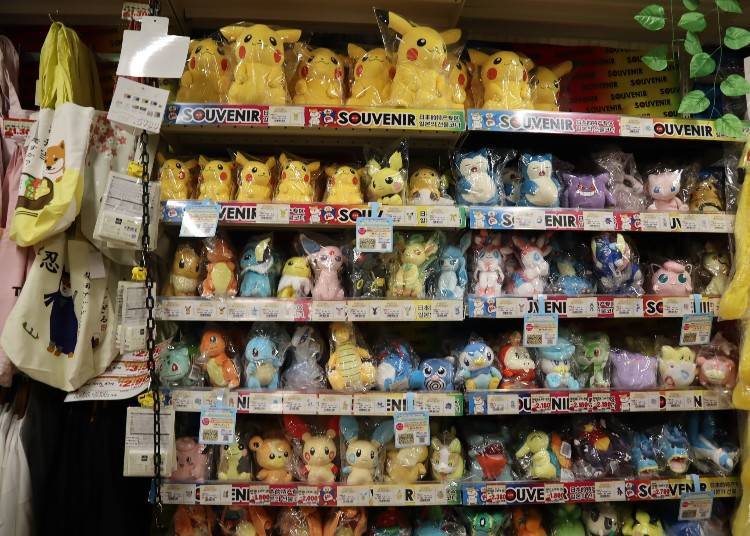 You'll also find an extensive array of plush toys from the ever-popular Pokémon series.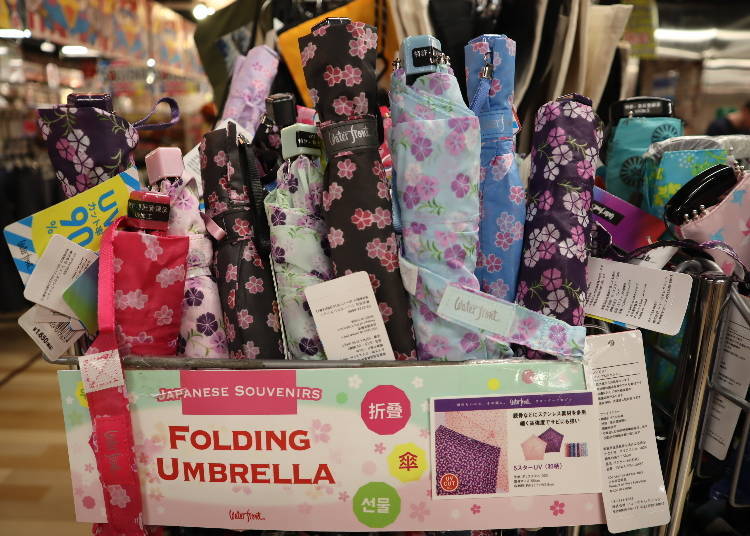 Japanese folding umbrellas are light, affordable, and highly functional. Many of them are suitable for year-round use, in both sunny and rainy weather alike. Japanese-style umbrellas adorned with traditional patterns are especially popular and highly recommended!
6) Hanko (Personal Seal) Vending Machine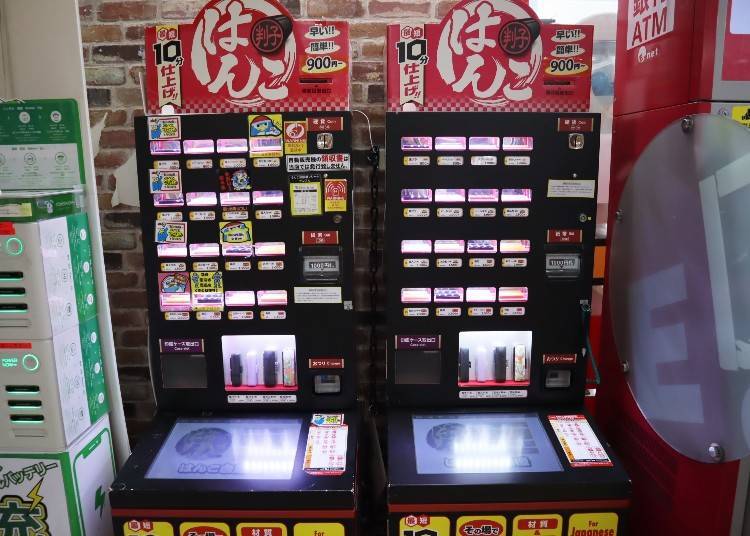 One popular hidden gem of a souvenir is the Japanese hanko stamp, which you can have made in as little as 10 minutes at the hanko vending machine located near the first-floor entrance of MEGA Donki Shibuya. Create your own personalized stamp by writing your name in kanji or katakana for a unique and meaningful keepsake!
Tax Free Counter (7F): Live Japan Exclusive Discounts!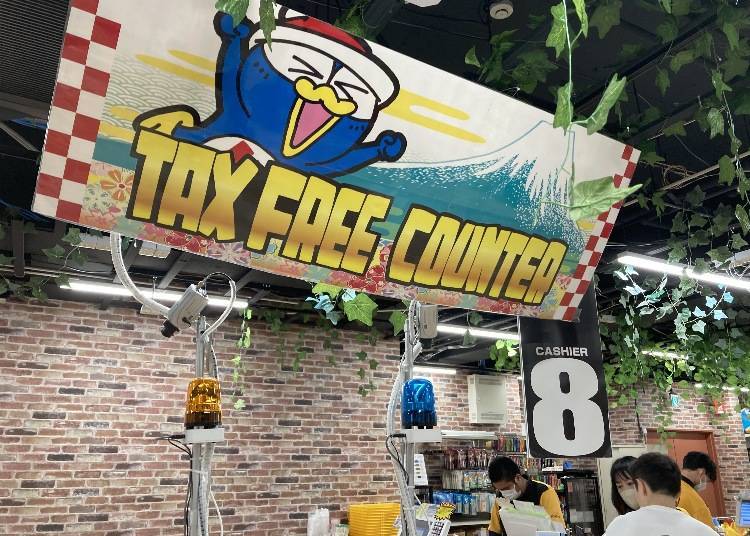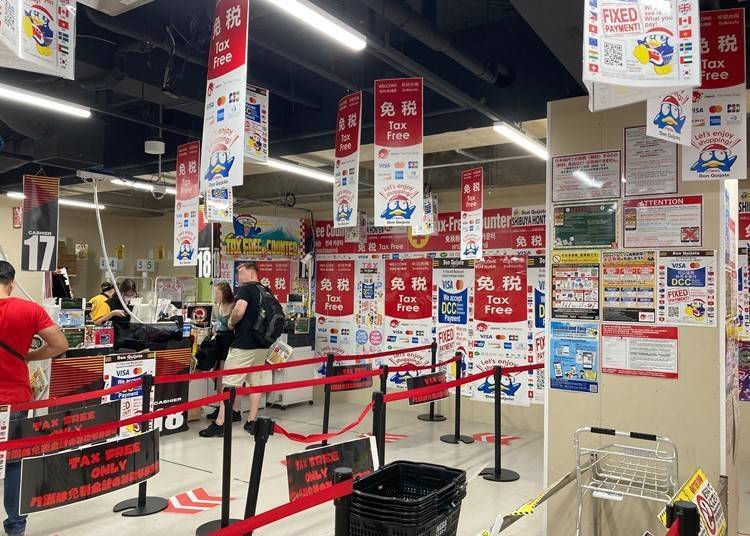 At MEGA Donki Shibuya, all items including food, medicine, and cosmetics are available tax free (note that some consumables cannot be taken overseas). Tax free procedures are available on the 7th floor of MEGA Donki Shibuya, so be sure to pay for your goods at the 7F register. Tax free procedures are available for purchases of 5,000 yen without tax (5,500 yen with tax). Please be careful not to open any food or other items before leaving Japan, as they must remain intact to qualify.
The tax-free counter is staffed with English and other foreign-language speaking staff. If you have any questions about products or services other than duty free, please feel free to ask. In addition, popular products have instructions and information in English, Chinese, Korean, and Thai, and UnionPay cards are accepted for payment, creating a comfortable shopping experience for visitors from all over the world.

LIVE JAPAN is now offering a coupon for up to 10% Tax-Free and an added 5% off* your purchase at Don Quijote. Tap the coupon below and present it at the cashier.

(*10% tax-free rate + 5% off on purchases of tax-free items of 10,000 yen (excluding tax) or more.)

Because of its location in Shibuya, MEGA Donki Shibuya has a full lineup of items that are not easily found in other stores or other mass retailers. If there is something in particular you have been looking for but have trouble finding it, this is the place to go. It's like going on a shopping treasure hunt! MEGA Donki Shibuya is the place to find all kinds of souvenirs from Japan, and lots of uniquely Japanese items at a great price.
Coupons

Address

28-6 Udagawa-cho, Shibuya-ku, Tokyo, 150-0042
View Map

Nearest Station

Shibuya Station (JR Shonan Shinjuku Line / JR Yamanote Line / JR Saikyo Line / Tokyo Metro Ginza Line / Tokyo Metro Hanzomon Line / Tokyo Metro Fukutoshin Line / Tokyu Toyoko Line / Tokyu Den-en-toshi Line / Keio Inokashira Line)
5 minutes on foot


Phone Number

0570-076-311
Interview location: MEGA Don Quijote Shibuya Main Store
Information in article as of August 2023. Please see official website for the latest updates & information.

English translation by: Krys Suzuki
*This information is from the time of this article's publication.
*Prices and options mentioned are subject to change.
*Unless stated otherwise, all prices include tax.
Limited time offer: 10% discount coupons available now!