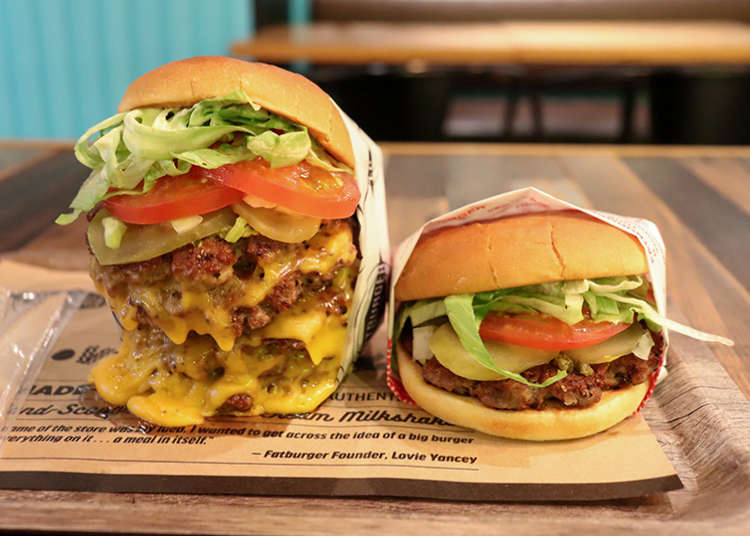 After seeing the world-famous Shibuya Crossing and exploring the area, you're bound to work up an appetite.. So where can you get the best lunch in Shibuya?

The Hachiko Exit is near many shops, and just one minute away by foot is Magnet by Shibuya109, with the food court MAG7 on the seventh floor. The floor is decorated with art while hyping up the mood with popular music, and has many impactful gourmet foods around to enjoy, so let's take a look!

Due to the impact of COVID-19, operating hours and days of the shops may vary.
1. Fatburger: Incredible monster-sized hamburgers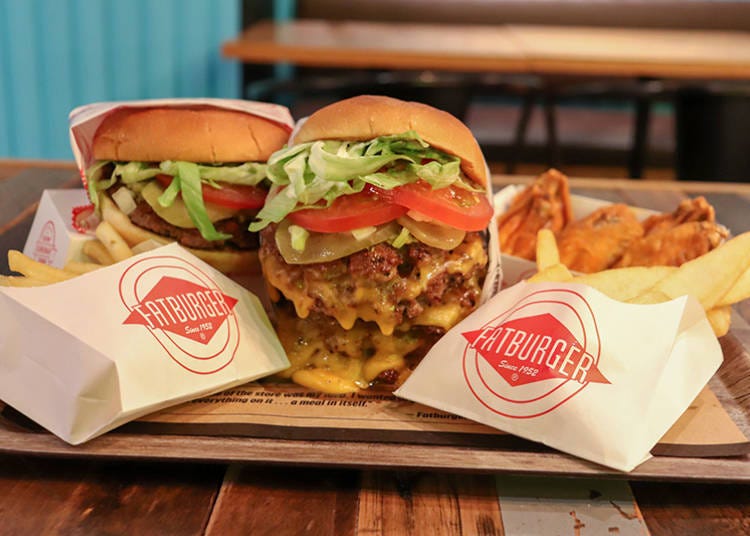 First up, we'll be looking at Fatburger, which serves juicy 100% beef hamburgers. When you're thinking of the best lunch in Shibuya, you might want to consider the amazing US King Burger: with a whopping six patties, it comes in with full points in size and volume.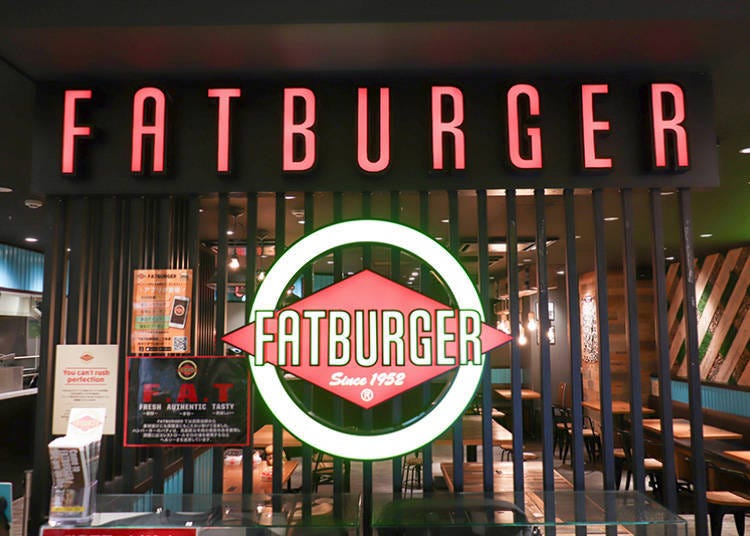 Fatburger was founded in 1952 in Los Angeles, and you can savor some monstrous-looking and monstrously delicious burgers here. Though the name itself may seem like it implies being fat and overweight, it's really an acronym for "Fresh, Authentic, and Tasty."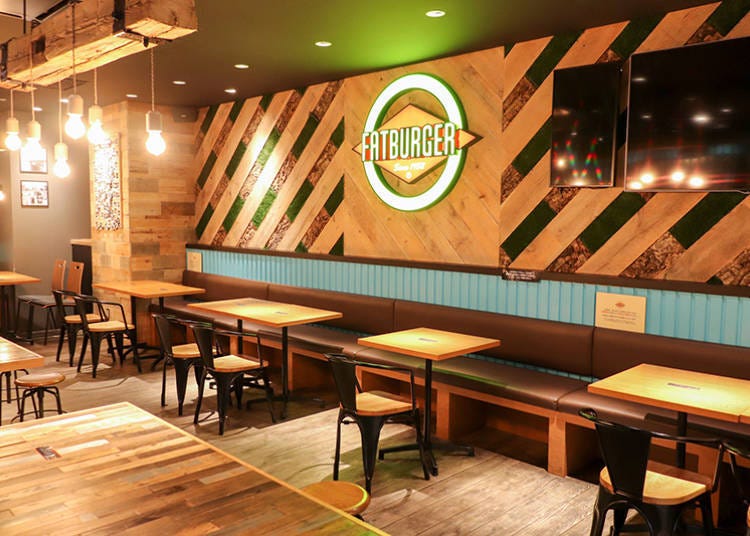 Though the chain has over 200 shops worldwide, the Fatburger in Shibuya is the first in Japan. The vivid shop interior is wide and spacious, and creates a relaxing space for you to enjoy the full taste of the burgers. If you prefer ordering takeout instead, you can enjoy your food at the food court on MAG7 or on the rooftop, and there are many people who prefer to have their food in the park nearby too.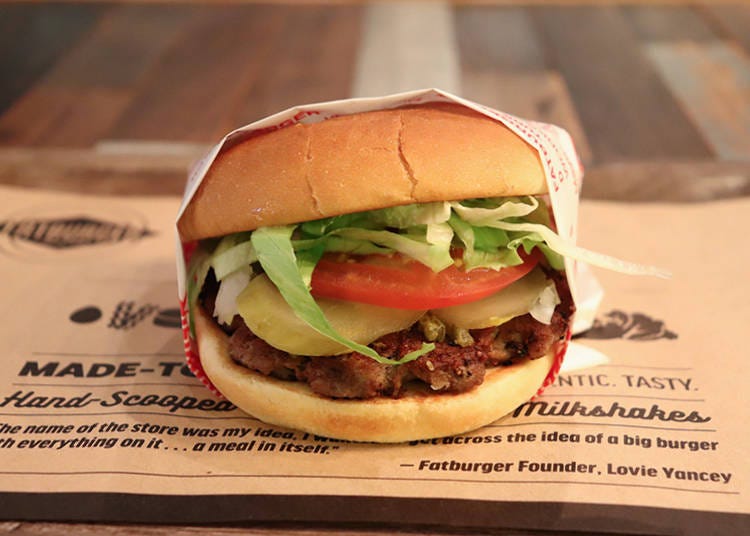 The shop also serves an Original Burger for 680 yen (without tax), which you can use as a base to add your favorite toppings to create a burger that's in your style. The beef patties use 100% Australian beef, and you can taste the fragrant umami of the meat used.

With mustard, relish, onions, pickles, tomatoes, lettuce, and mayonnaise arranged between two buns, this burger is made in the exact same way as at its headquarters. The size is reduced slightly to suit the smaller appetites of the Japanese, but it's certainly big enough to satisfy anyone.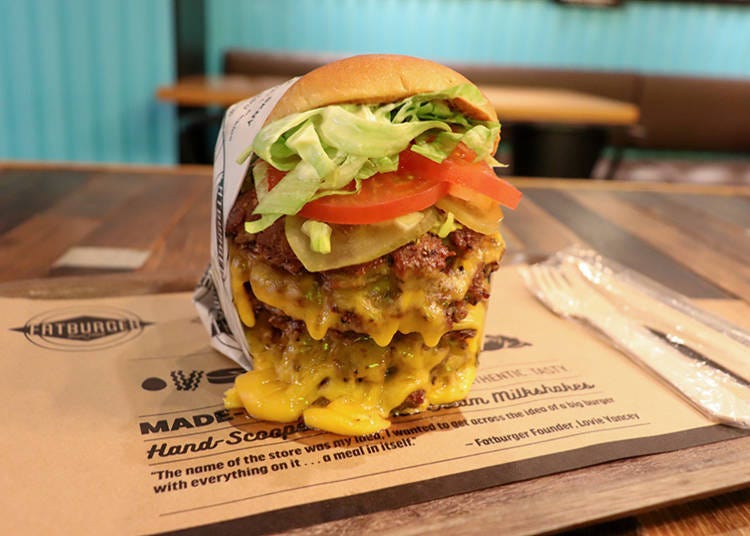 The US King Burger, which uses the Original Burger as a base, comes with six patties and costs 2,560 yen (without tax). On top of that, the cheese topping makes for a very visually impactful menu item, and his impressively large burger is one of the signature items on this restaurant's menu.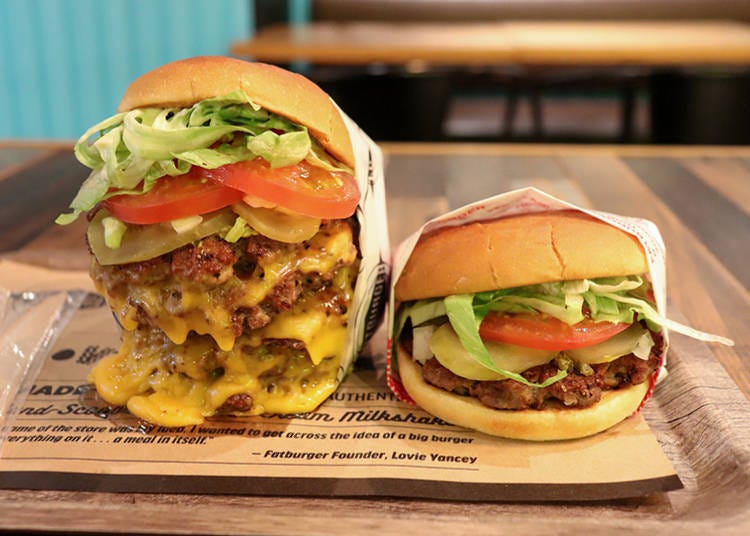 Compared to the Original Burger, the size difference is staggering! The US King Burger has an enormous volume, but many female customers manage to finish it on their own too! The burger has zero cholesterol, and uses soybean oil, making it juicy yet light and easy to eat. Before you know it, you'll have completely devoured it.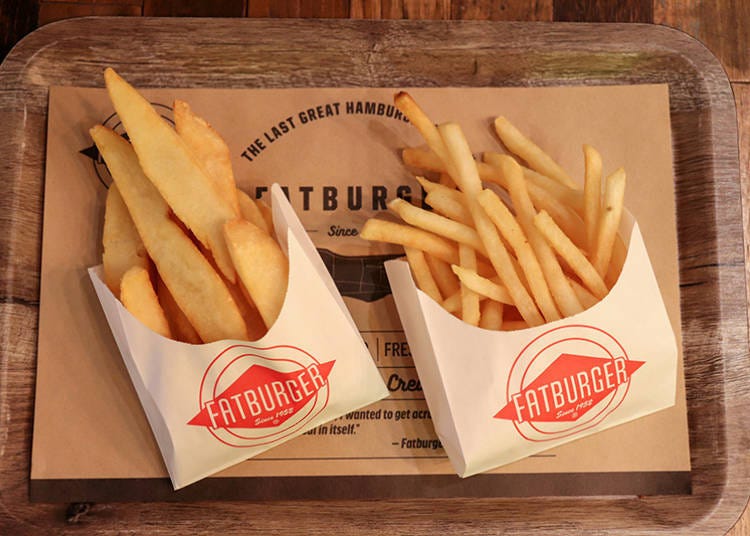 The fries and onion rings set costs 400 yen (without tax). Fat fries, which use thick-cut potatoes, and shoestring style skinny fries are available for you to choose.

All vegetables used in the shop are produced in Japan, and only the freshest and highest quality foods available are purchased. From cutting the onions to making the sauces, everything down to the last detail is prepared and made in the shop! You can indeed feel how FAT (Fresh, Authentic, Tasty) the food is.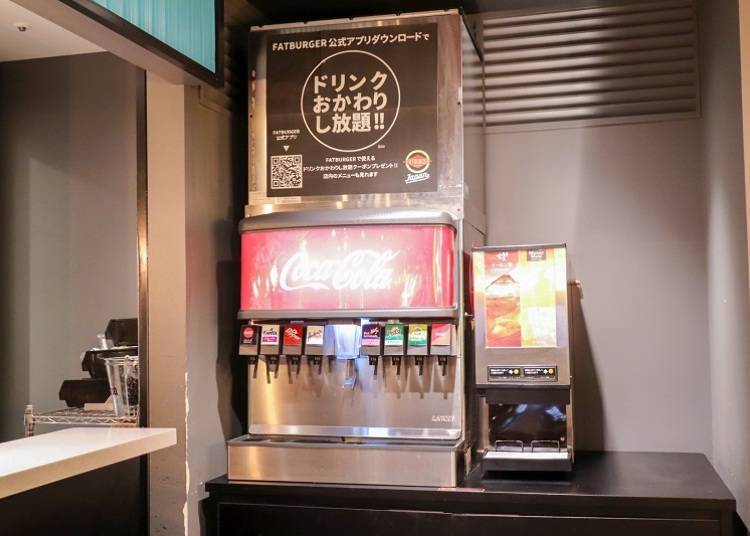 If you download and register on the shop's phone application, you can enjoy free-flow drinks of the ten types of beverages available in the shop. Eight of the drinks are the same as the ones used in the shops in America too! Many of these can't be found in Japan, so it's a rare sight indeed.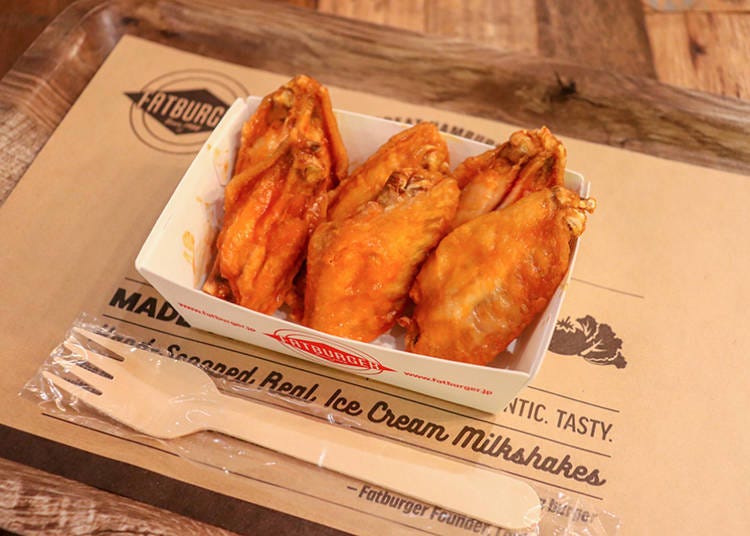 Besides burgers, there are many other items you should try as well. The Buffalo Chicken Wings, which cost 700 yen (without tax), have four levels of spiciness to choose from and are a popular item with burgers and beer. The Chili Cheese Fries, eaten as a combo with the Premium Milkshake is recommended too.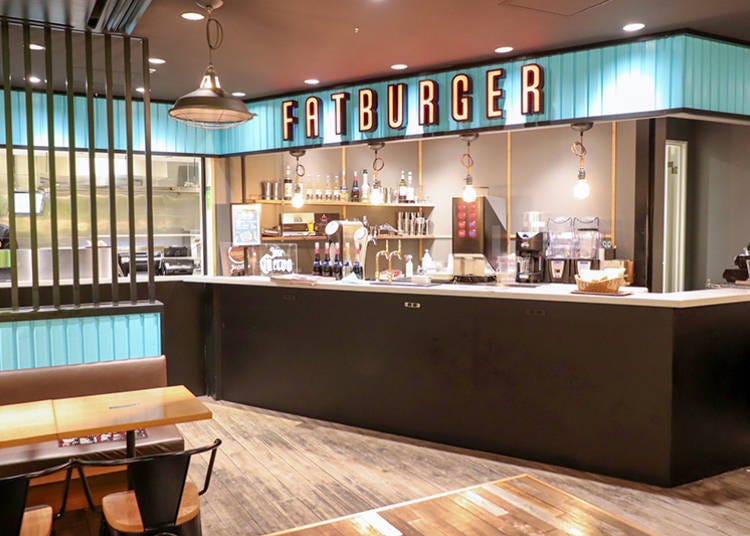 Fatburger, with its fresh, authentic, and tasty food, is an impactful shop in both appearances and flavor.
ファットバーガー 渋谷店

Address

Magnet by Shibuya109, 7F MAG7, 1-23-10, Jinnan, Shibuya-ku, Tokyo-to

Phone Number

03-6455-3200

Business hours: 11:00 a.m. to 11:00 p.m. (last order at 10:00 p.m.)
Irregular holiday (follows the mall's rest days)
* English menu available
2. The Gyorubi: Stuff yourself silly with the wide variety of gyoza available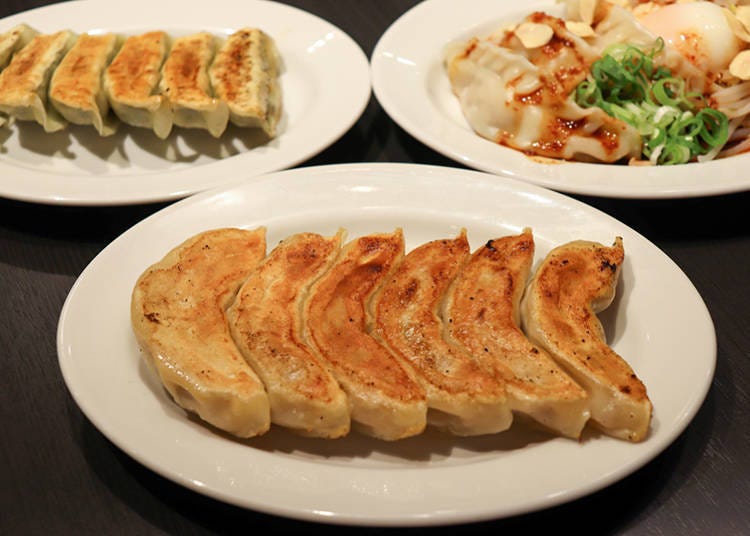 Next up, we'll be introducing The Gyorubi, a gyoza dumpling shop known for its meaty dumplings with impressive size. Set menus are available with some of the best lunch in Shibuya, while alcohol and finger foods are available at dinner, for people living any lifestyle to enjoy themselves.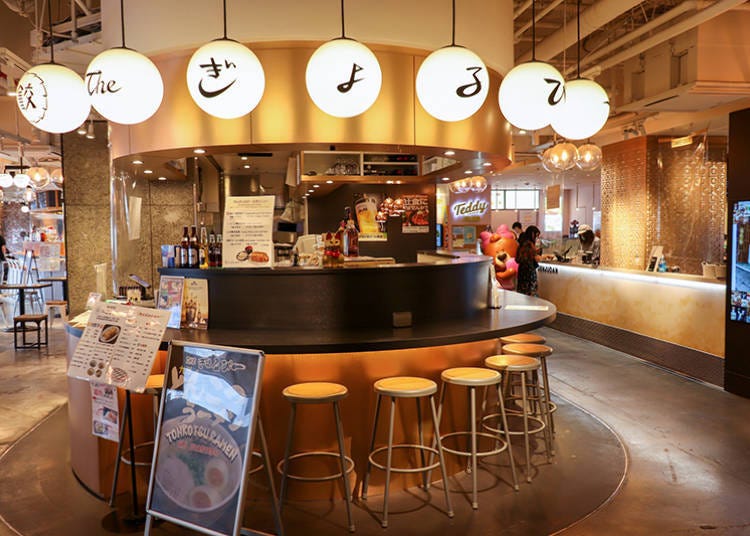 The shop's name, "Gyorubi," is a portmanteau of the words "gyoza" and "beer." Though there has been an increase in the number of patrons ordering set meals, foreign visitors seem to prefer to enjoy their gyoza with beer instead.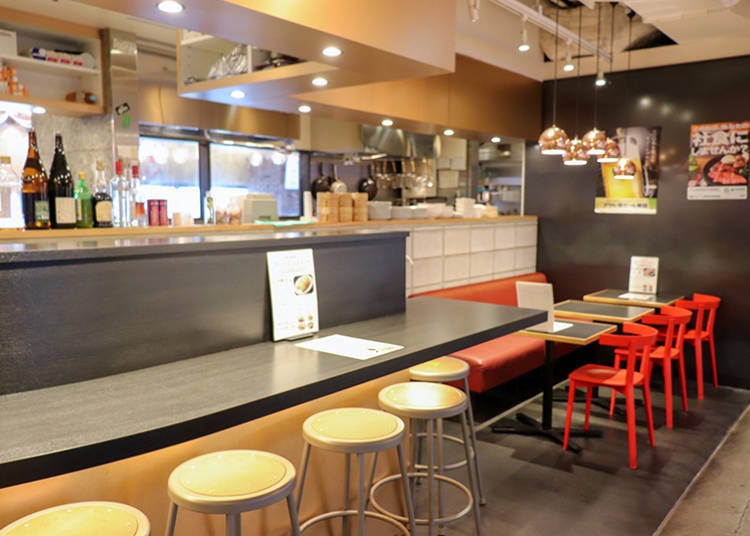 The shop is circular in shape and has both counter seats and table seats available. Being situated right at the entrance of MAG7's food court, many customers choose to have their food at the tables in the food court. This best lunch in Shibuya might seem a little unconventional, but when you want to grab a quick bite before heading on to the next, its lineup is sure to satisfy.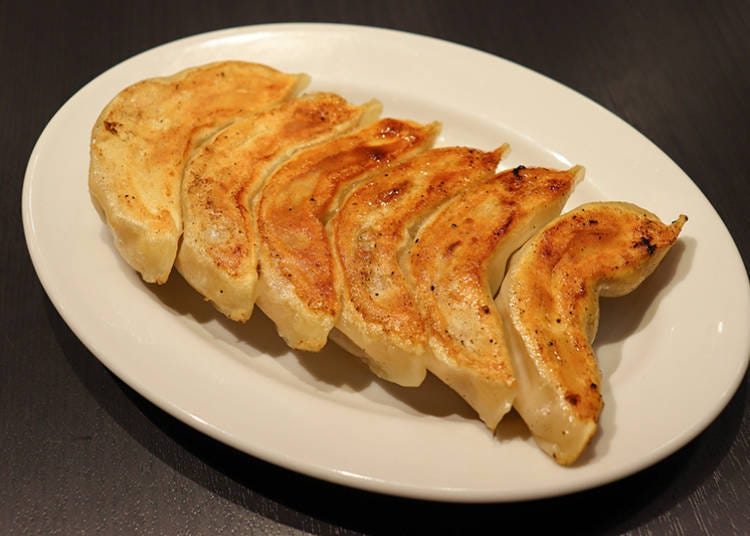 One of the main menu items is the "Nikujiru Yaki-gyoza," a pan-fried gyoza with a juicy meat filling. Though the recent trend is for gyoza to be small with thin skins, each of these gyoza is massive! The meaty feelings are wrapped in a chewy skin, creating a huge impact as you take your first bite.

The "Nikujiru Yaki-gyoza" on its own costs 420 yen for four pieces, 650 yen for six, and 1,200 yen for twelve. When purchased as a set, six pieces with rice and soup go for 750 yen, while the double gyoza portion with twelve pieces costs 1,400 yen (all without tax).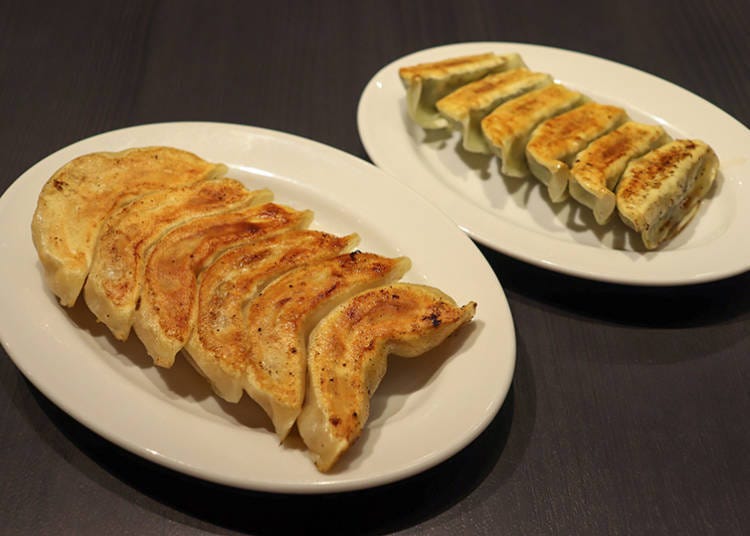 This gyoza was created after over a hundred prototypes through trial and error. The filling uses only head and thigh meat from pigs raised in Japan and is stuffed into a chewy skin. Once you sink your teeth in, you can feel the juices from the meat overflowing, as it fills your mouth with umami.
Besides Nikujiru Yaki-gyoza, there's regular-sized gyoza with the same flavors and filling as well. On the left of the photo is the Nikujiru Yaki-gyoza, while the one on the right is the Shiso Gyoza, which uses shiso leaves. Comparing the two side by side, you can really feel the impressive size of the Nikujiru Yaki-gyoza!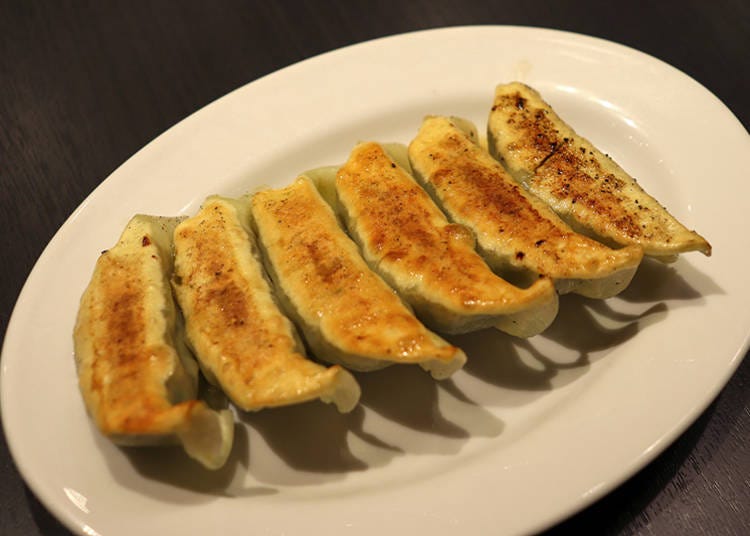 The Shiso Gyoza costs 450 yen (without tax) for six, and is a popular item among Japanese ladies.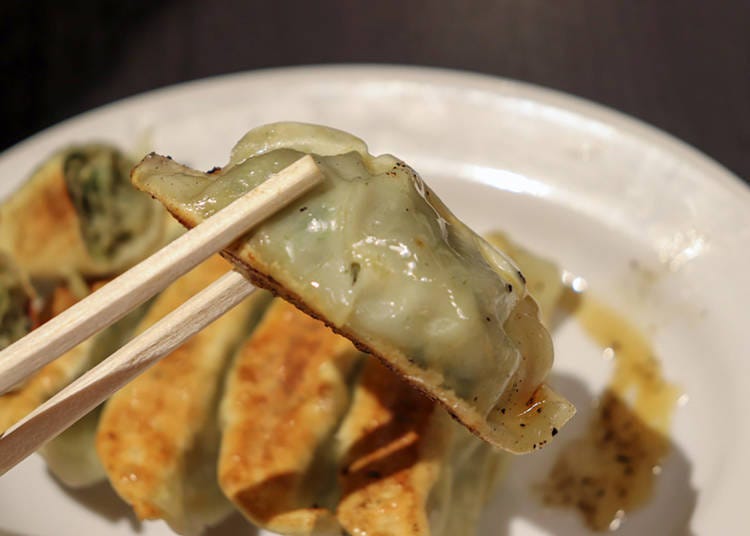 As the skin has shiso leaves added in, it has a tint of green.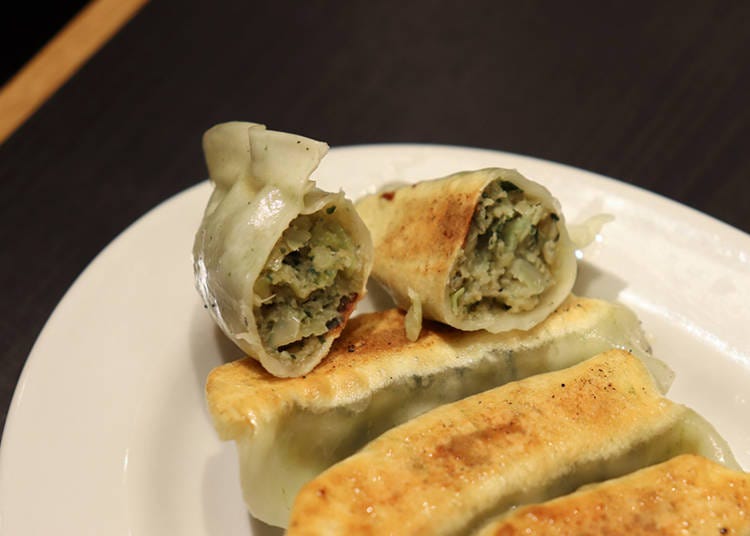 With a larger helping of vegetables in this healthier filling, the refreshing taste and smell of the shiso gently embrace your senses as you chew. It's perfect for hot summer days! You can enjoy other types of pan-fried gyoza, or yaki-gyoza, such as "Mushiebi Gyoza" or steamed prawn gyoza, at three for 690 yen, and "Negi Shio Rayu Gyoza," or salty and spicy leek gyoza, for 580 yen for three (without tax).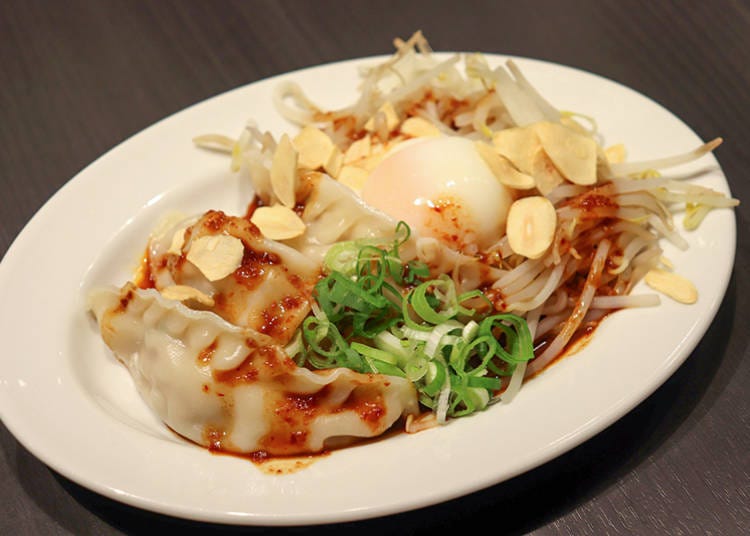 If you prefer your gyoza boiled, our recommendation is the "Ontama Pirikara Stamina Gyoza," at 680 yen (without tax). This dish has the same gyoza as the Nikujiru Yaki-gyoza, and is topped with bean sprouts, leek, garlic chips, and a special sweet and spicy sauce made of spicy bean paste and miso, and completed with a soft-boiled egg. It's a completely different taste from the yaki-gyoza! The boiled skin is smooth and slides down your throat with ease.

Regardless of if they're pan-fried or boiled, the huge gyoza on this shop's signboard menu, wrapped in thick and chewy skin, tastes uniquely delicious with each different preparation! It's a shop where you have to try out both yaki-gyoza and boiled gyoza to compare and enjoy their differences.
餃子専門店 The ぎょるびー

Address

Magnet by Shibuya109, 7F MAG7, 1-23-10, Jinnan, Shibuya-ku, Tokyo-to

Phone Number

03-3477-8235

Business hours: 11:00 a.m. to 11:00 p.m. (last order at 10:00 p.m.)
Irregular holiday (follows the mall's rest days)
*English menu available
3. Rang Mang Shokudo: Karaage that will surprise you on your first bite!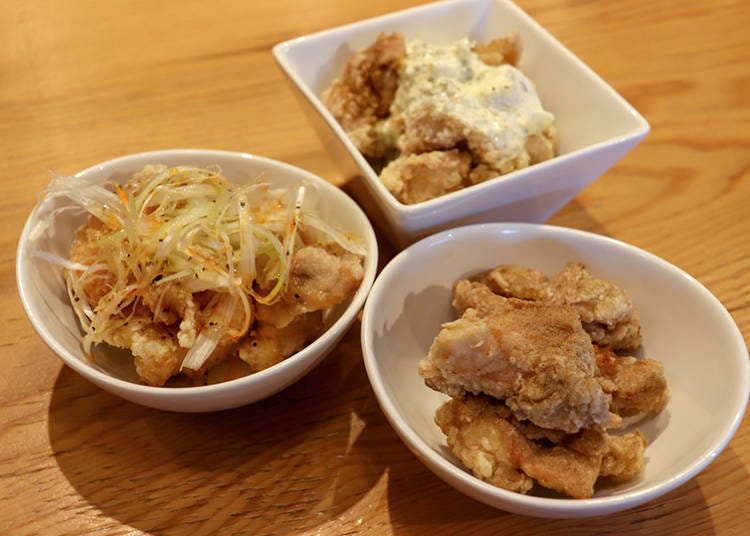 The final item we'll be introducing is Rang Mang Shokudo, with their wide variety of karaage, or fried food, in particular fried chicken. This shop is a karaage specialty shop with other branches in Tokyo, including Ebisu and Nakameguro, and it has opened shops in neighboring Kanagawa prefecture as well. The shop's signboard loudly proclaims "Karaage and Lemon Sour," and it's a shop where you can choose not just the flavor of your karaage, but the dipping sauces too!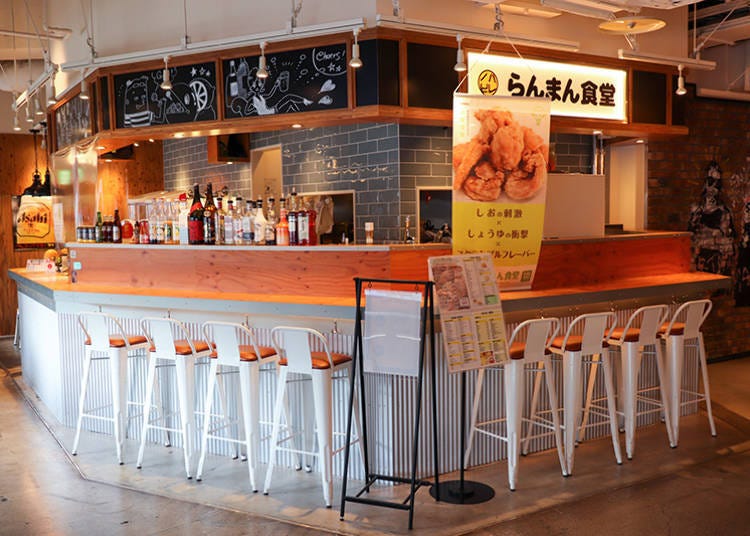 There are seats surrounding the counter, and tables seats are available inside the shop too. It won't be wrong to call it a "karaage bar" with its tremendous and funky atmosphere. As this shop is also right next to the MAG7 food court, many people have their food at the tables in the food court instead.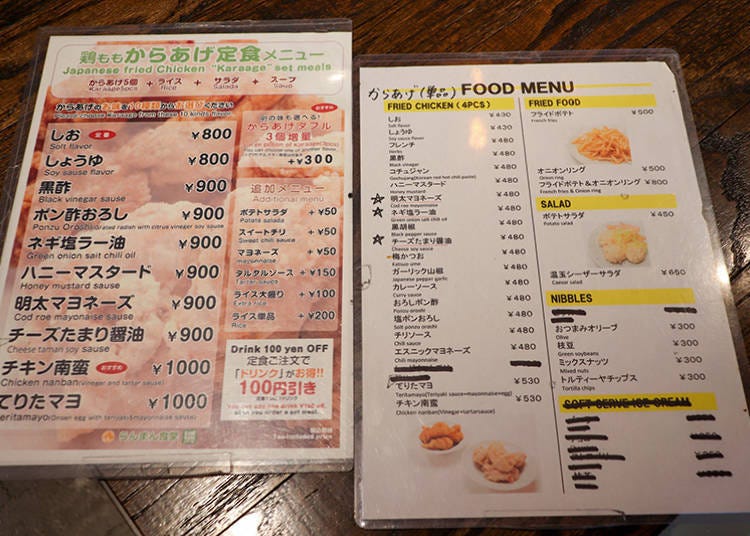 The crowd-puller of the shop is, without a doubt, the astounding range of karaage flavors! The set menu allows you to pick five pieces of karaage from a selection of ten, and comes with rice, salad, and a soup, starting from 800 yen (without tax). There are the usual flavors such as salt and shoyu, as well as mentaiko (spicy cod roe) mayonnaise and cheese with soy sauce, allowing you to enjoy various types of karaage.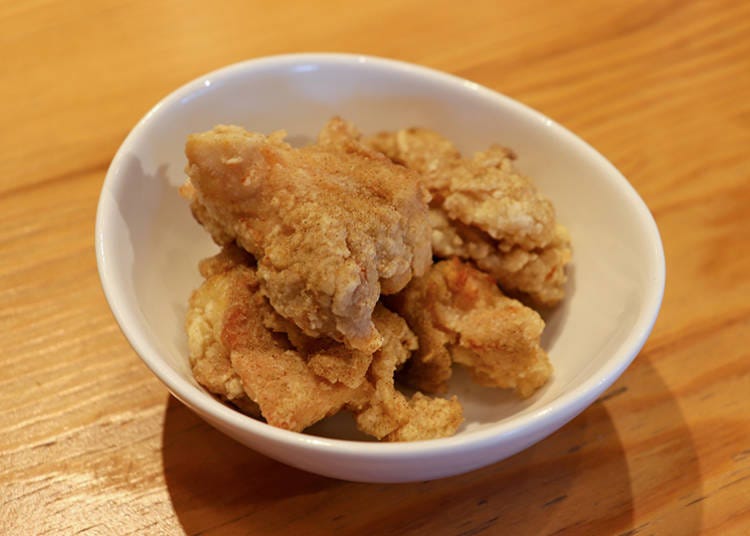 Normally, karaage that has been marinated in garlic, ginger, and soy sauce tend to be brown in color, but one unique point of the karaage made at this shop is that they're usually white. This is due to the chicken thigh being marinated overnight in cooking wine, salt, and garlic, before being fried with potato starch. The base for the karaage are the same, and the flavors are added after they've been fried.

One flavor that is highly recommended is the plain salt flavor. As a side, it costs 430 yen for four pieces, while you can get it as a set for 800 yen (without tax). It's a basic karaage made with the shop's special mix of salt and other spices, and the moment you bite into it, the impact is amazing! The flavor of the karaage is different from what you'd expect, with the tingling spiciness and saltiness giving you a surprising punch. The chicken thigh is also thick with meaty juices, with a succulent texture befitting such delicious flavors.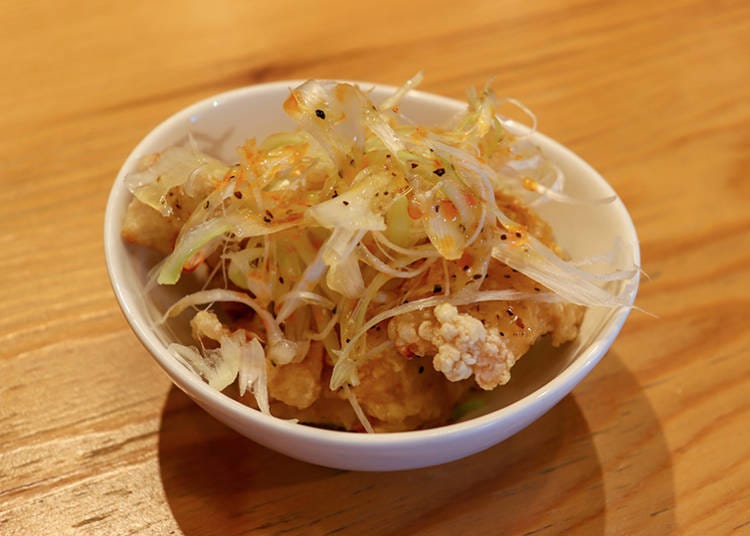 This is one of the recommended alternative sauces, "Negishio Ra-yu," or leek and salt with chili oil. It costs 480 yen for four pieces on its own, while the set meal can be ordered for 900 yen (without tax). The basic karaage is topped with shredded white leek and chili oil, with black pepper sprinkled on top.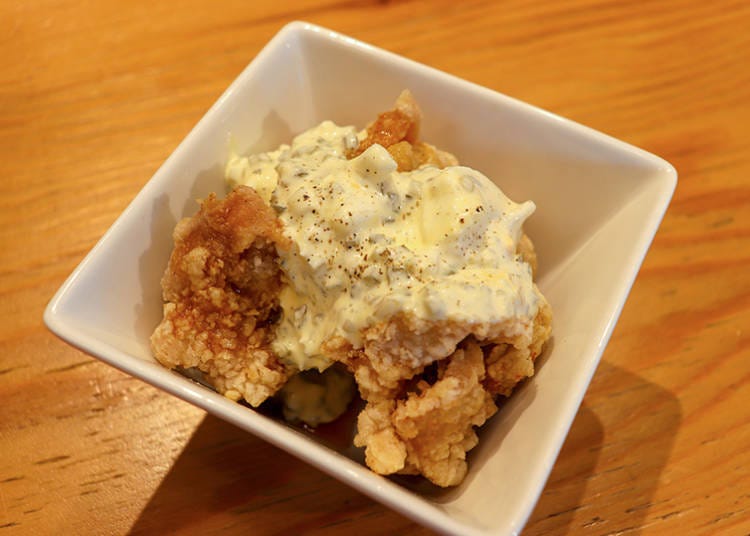 One popular item among foreign visitors is the chicken nanban, which is fried chicken covered in tartar sauce. It costs 480 yen on its own, while having it with the set costs 1000 yen (without tax). A generous serving of homemade tartar sauce is heaped on top.

Besides the above, you can enjoy a multitude of different karaage flavors. Be it as a set meal or with drinks, all the foods you can enjoy here are superb delicacies. The lemon sour here uses Lemon Frozen, a slushie-type drink, and is popular among customers for its taste similar to lemonade. Many people enjoy it with karaage and fries. This is one shop that molds itself to fit the lifestyles of its customers.
Rang Mang Shokudo Shibuya

らんまん食堂 渋谷店

Address

Magnet by Shibuya109, 7F MAG7, 1-23-10, Jinnan, Shibuya-ku, Tokyo-to

Phone Number

03-3477-8232

Business hours: 11:00 a.m. to 11:00 p.m. (last order at 10:00 p.m.)
Irregular holidays (follows the mall's rest days)
* English menu available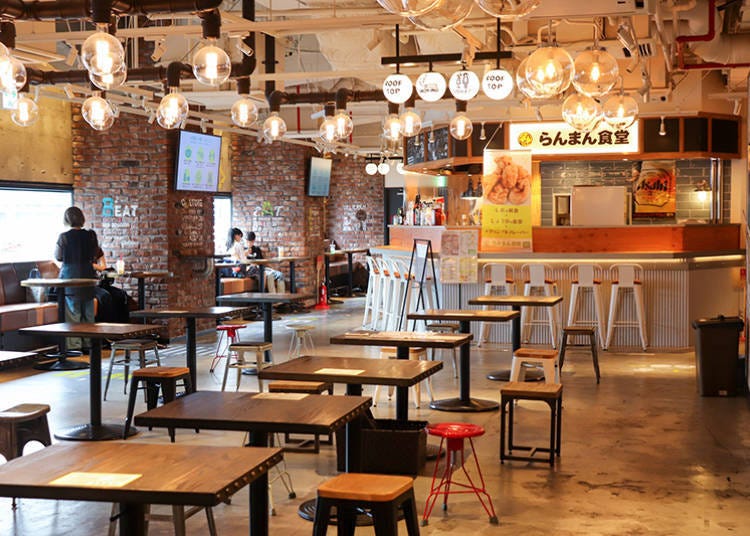 The three shops that we've introduced this time can be found in MAG7, the food court on the seventh floor of Magnet by Shibuya109. The food court has free Wi-Fi, as well as tables with charging stations, allowing you to take a quick break while enjoying takeout from the various shops there.

The shops and food court also have hand sanitizer provided for users, and the staff also wear masks to curb the spread of viruses! Do relax and enjoy the delicious food here.

*Operating hours may vary due to COVID-19.
*Information correct as of July 2020.
Written by Naho Jishikyu
*This information is from the time of this article's publication.
*Prices and options mentioned are subject to change.
*Unless stated otherwise, all prices include tax.