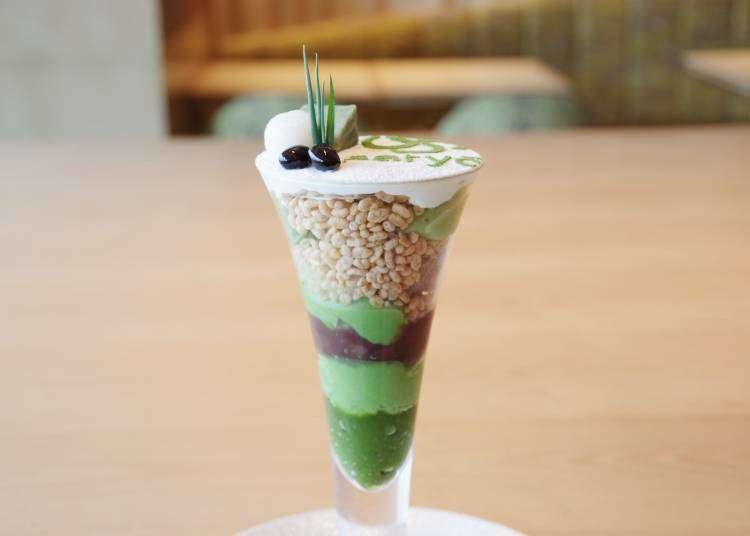 Shibuya Scramble Square, a huge new shopping complex in Tokyo, opened on November 1, 2019. According to the official announcement, over 330,000 people flocked there within the first four days of opening.

Teeming with popular shops, fashion brands, restaurants and more, Shibuya Scramble Square also sports some of Tokyo's most incredible panoramic views.

Keeping with our previous souvenir edition, here we selected 14 shops and spots that the LIVE JAPAN editorial team recommends for Shibuya visitors. From matcha sweets cafes to restaurants with superlative views, and even quirky zakka shops with unique merch, these are all the kinds of shops that can only be found at Shibuya Scramble Square!
A new landmark in Shibuya! What is Shibuya Scramble Square?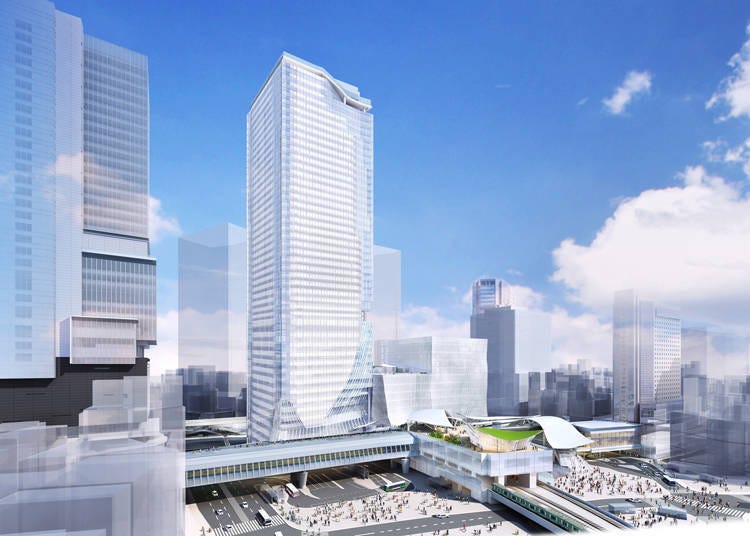 (Provided by: Shibuya-eki gaiku kyōdō biru jigyō-sha)
Directly connected to Shibuya Station, Shibuya Scramble Square is a giant new complex that's 47 stories tall. Brimming with 213 shops and restaurants, it's home to many international brands marking their first debut in Japan - plus domestic brands making their foyer into Tokyo.

The building's observation deck, SHIBUYA SKY, has become a sensation as well, boasting a spectacular viewing space of some 2500 sqm.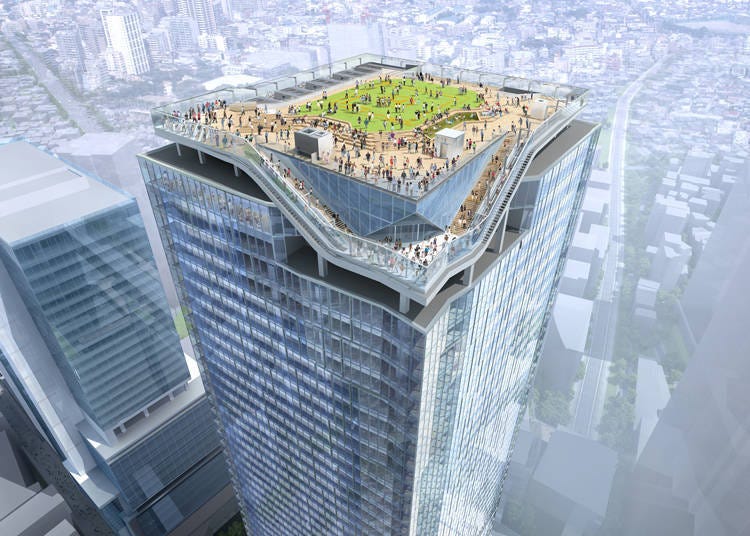 (Provided by: Shibuya-eki gaiku kyōdō biru jigyō-sha)
Having opened on November 1, as a new landmark facing the world-famous Shibuya Crossing, Shibuya Scramble Square aims to be a stage for Shibuya - forming a new culture based on the concept of "Intermixing, creating, and sharing with the world."

With that said, we're happy to introduce some of the must-see shops you need to visit at Shibuya Scramble Square when you're in town!
1. SHIBUYA SKY (45-46 Floor Observatory)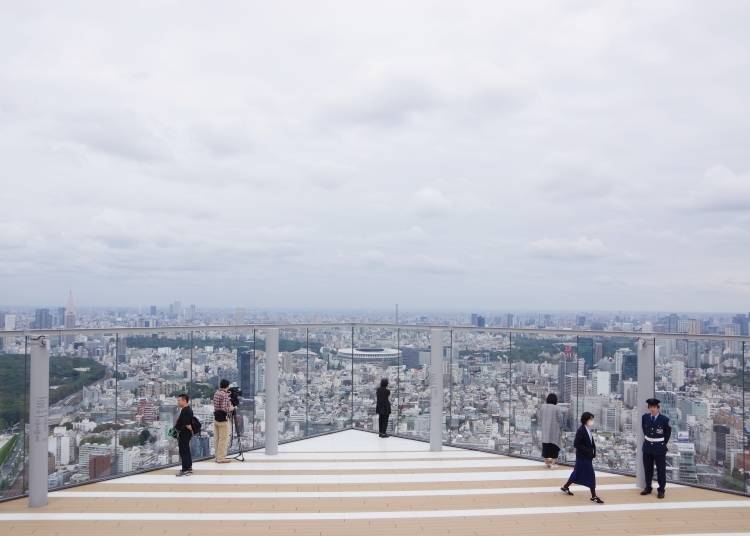 SHIBUYA SKY, located on the 45th and 46th floors, is the hottest spot in Shibuya Scramble Square. Boasting a height of about 230m, the highest in Shibuya, it doubles as Japan's largest rooftop observation space.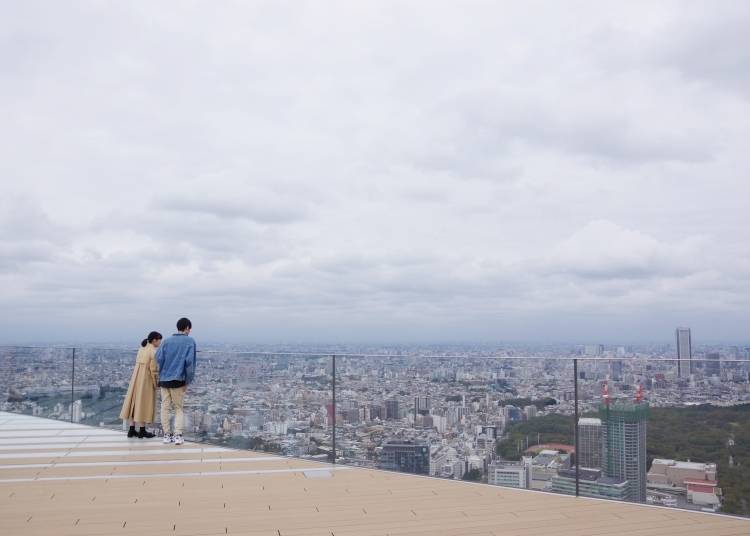 From here you can get a spectacular 360 degree view of Tokyo's famous places such as the Imperial Palace, Meiji Jingu Shrine, and Tokyo Tower from above Shibuya Station. Because it is fully glass, you can enjoy the feeling of freedom as if you are floating in the sky.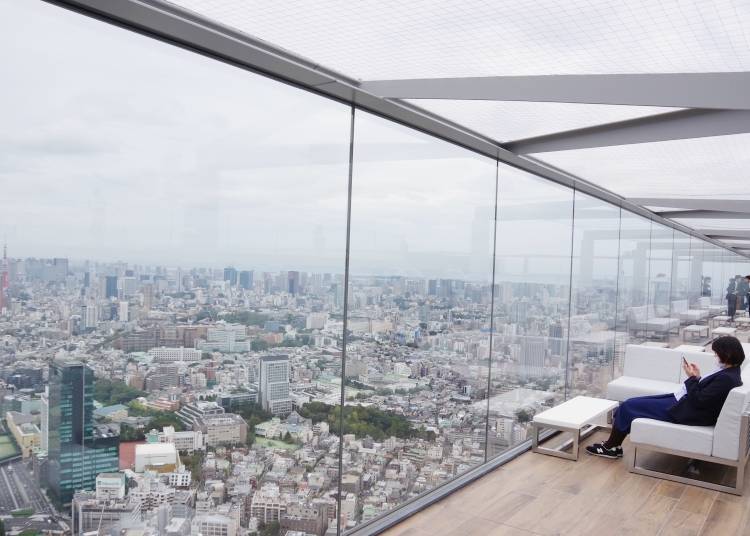 In addition to the CLOUD HAMMOCK space where you can lie on the net and gaze up at the sky, there is also a space where you can sit on a couch and enjoy the scenery. Relaxing at the highest peak in Shibuya, you can enjoy a luxurious time.

There are also smart devices that allow you to view city place names and facility information using a dedicated smartphone terminal, and display CG animations.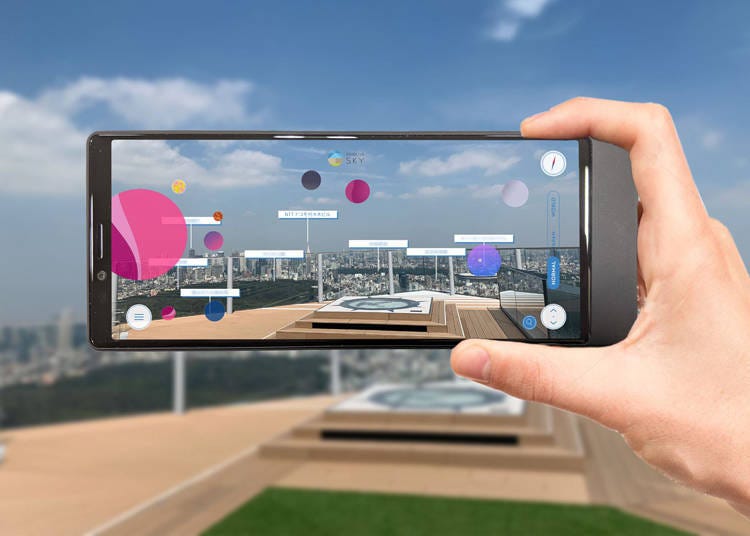 (Provided by: Shibuya Scramble Square)
Business hours are from 9:00am to 11:00pm (last admission 10:00pm). During the night time, you'll be able to enjoy a completely different view from the daytime. The night view of the skyscrapers is breathtakingly beautiful!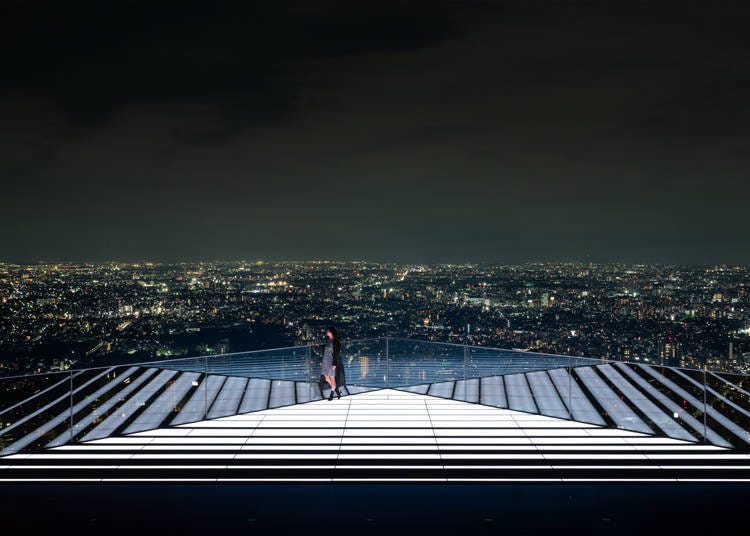 (Provided by: Shibuya-eki gaiku kyōdō biru jigyō-sha)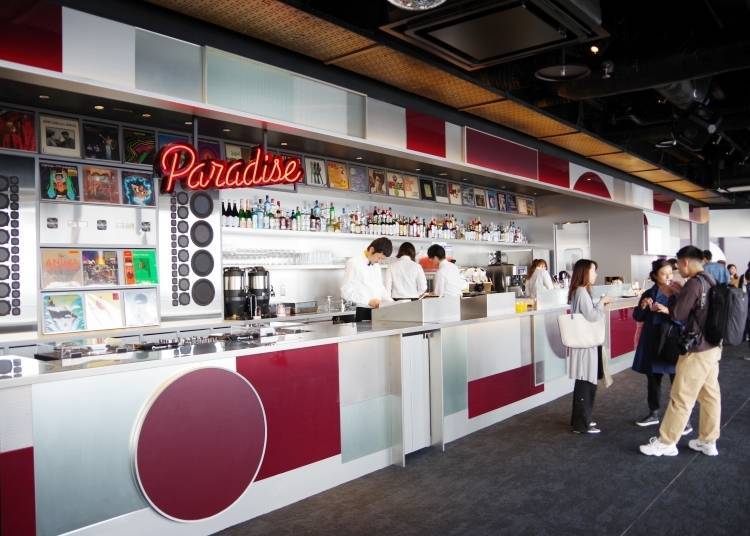 Within the observation space, there is a music bar called Paradise Lounge which sports a sensational panoramic view. Party music selected by Japan's leading DJ and FPM Tomoyuki Tanaka plays, making for an incredibly atmosphere you're sure to fall in love with.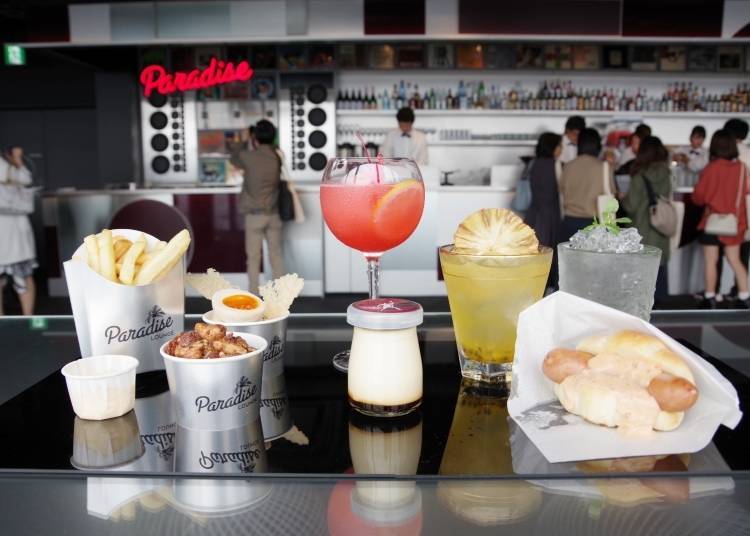 The meal menu mainly includes snacks such as hot dogs (600 yen / tax included) and fried potatoes with Aioli sauce (500 yen / tax included). They also offer drinks that look great on social media, like the Aruba Froze and Lilikoi Gin & Tonic (1200 yen each / tax included).
3. Kagurazaka Saryo (14F)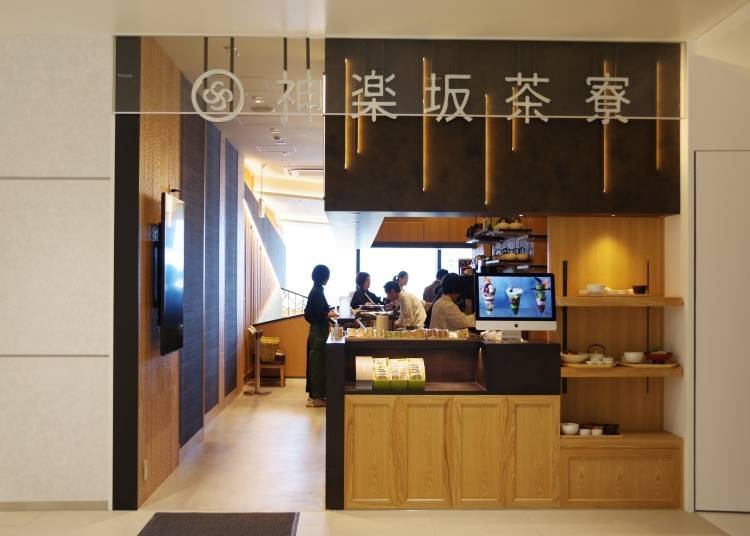 Opening its first cafe in the Shibuya area is the Kagurazaka Saryo, a family cafe located in the old Geisha district of Kagurazaka in Tokyo.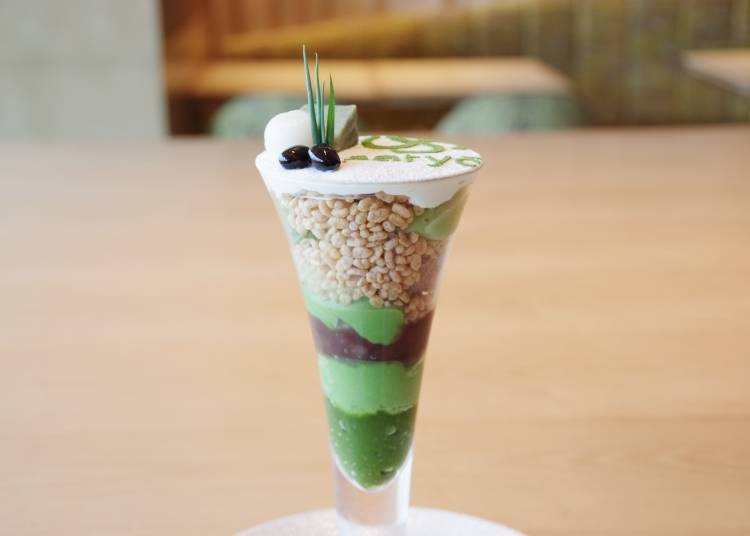 The focus is on Japanese-style desserts that are paired with tea. If you order "Japanese tea set" (1540 yen / tax included) or "Matcha or Gyokuro set" (1650 yen / tax included), you can get a cute, Instagrammable matcha parfait with tea.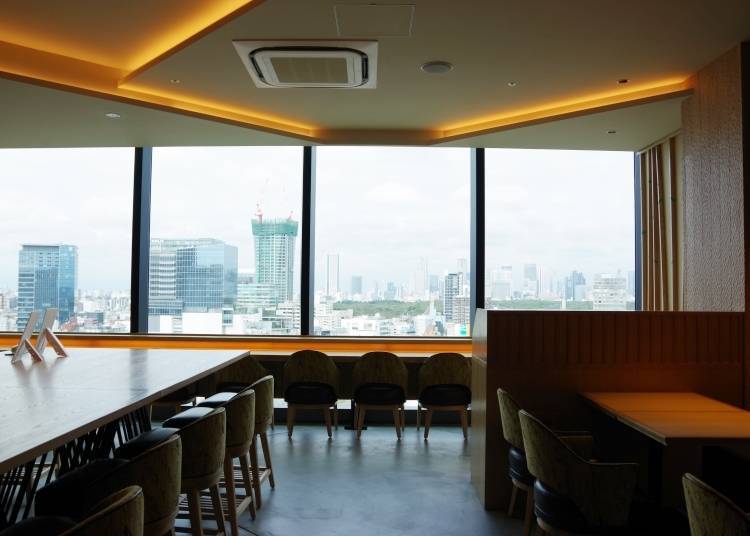 Located on the 14th floor with spacious windows, the view is good. Enjoy spending a blissful time overlooking Shibuya.
4. TsuruTonTan UDON NOODLE Brasserie SHIBUYA (13F)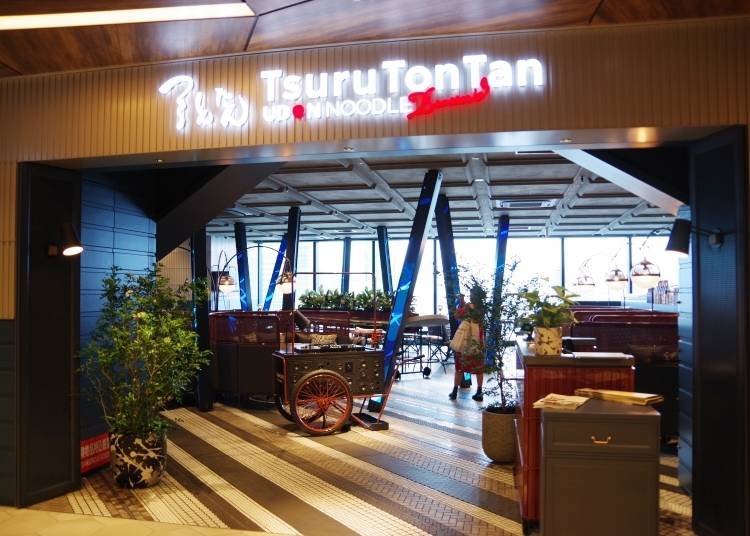 Udon specialty shop TsuruTonTan celebrated its 30th year in 2019, and the TsuruTonTan UDON NOODLE Brasserie SHIBUYA is the brand's first foyer into Shibuya. The waiting space is futuristic indeed, and at first glance you might not know it to be a noodle shop.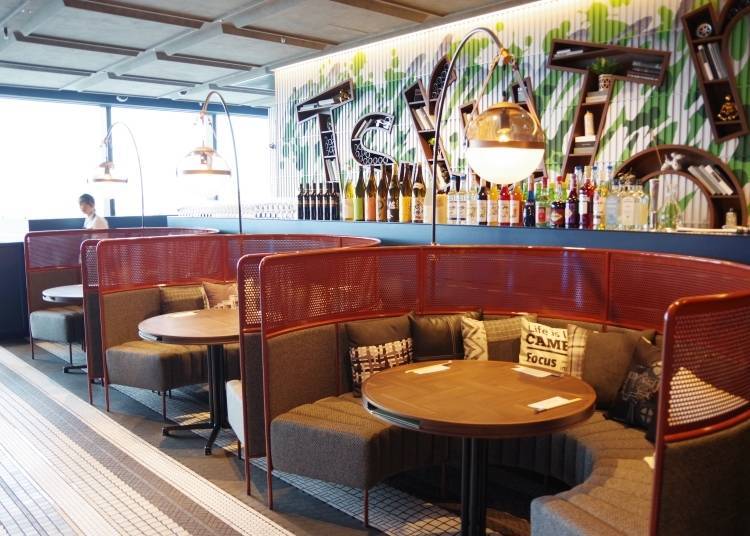 The shop interior is decorated with street art, and it is fully designed with sofas and lighting, giving you plenty of Shibuya culture.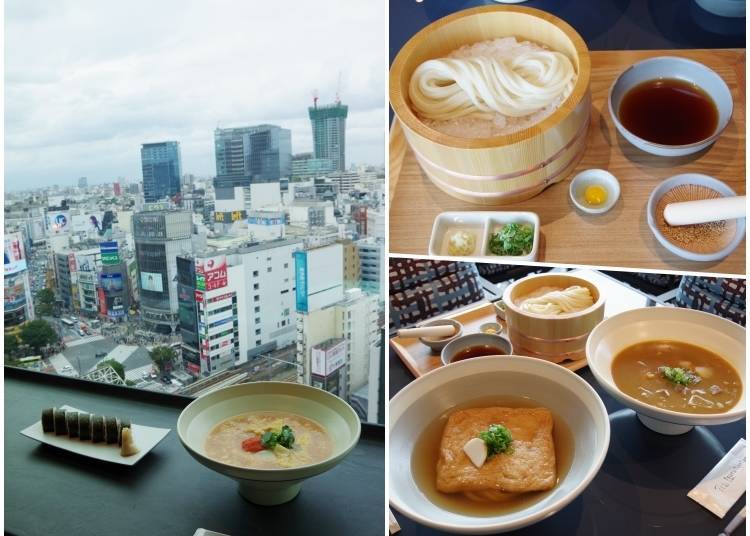 Popular menu items at existing stores such as Kitsune Udon (880 yen / tax included) and Curry Udon (1100 yen / tax included) are also available here. From the counter seat, you can gaze down at the scramble crossing in Shibuya.
There is also a private room (seating a maximum of 14 people). Seat reservations are only available for those who order course meals (starting from 4800 yen), but it is recommended for those who want to avoid lines. Reservations can be made from the official website.
5. Okonomi Tama-chan (13F)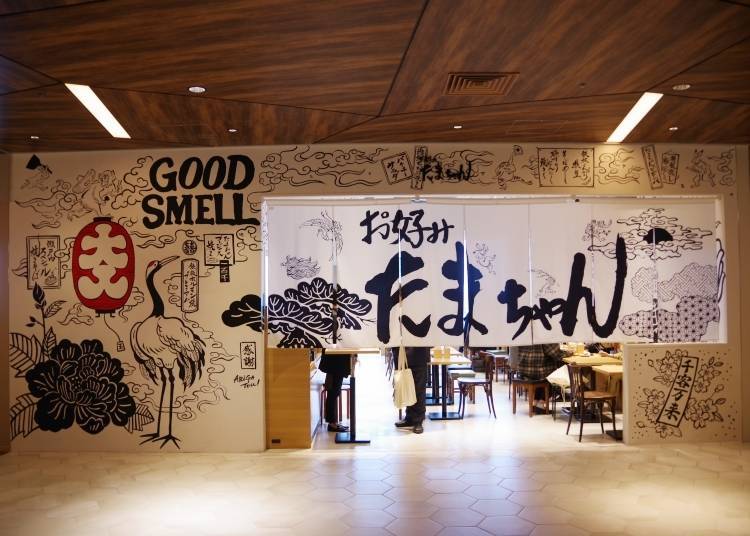 Osaka's soul food and popular okonomiyaki shop Okonomi Tama-chan opens for the first time in Tokyo.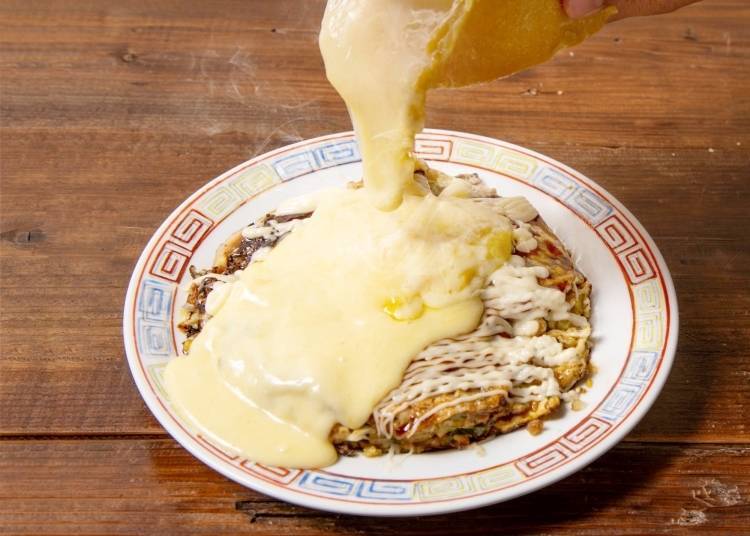 In addition to Tama-chan's deluxe grilled set and grilled offal, "Tama-chan de Kakelet" (980 yen / excluding tax) is recommended. This unique offering is fluffy okonomiyaki and hot raclette cheese.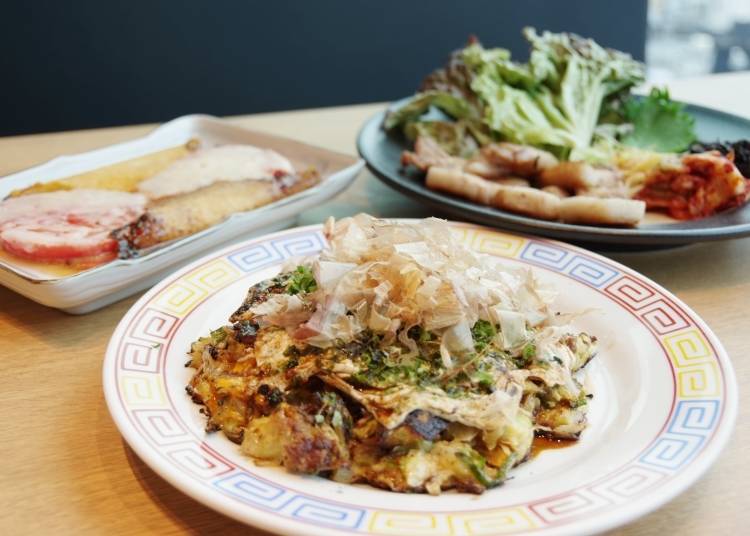 In addition to okonomiyaki, Korean side dishes such as Chapchae and Namul are also offered. They also have a great drink menu too!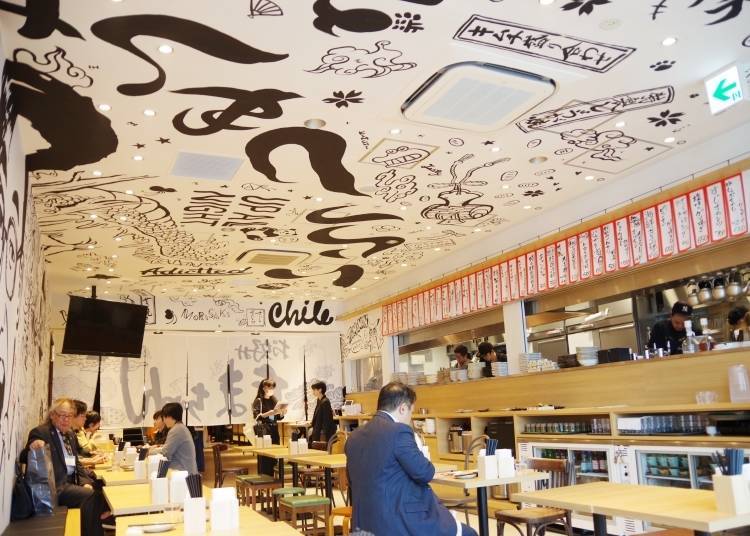 The lively interior space decorated on the wall is the heat of Osaka itself. A store where you can feel the power of Osaka while in the middle of Shibuya.
6. Shabu Shabu Tsukada (12F)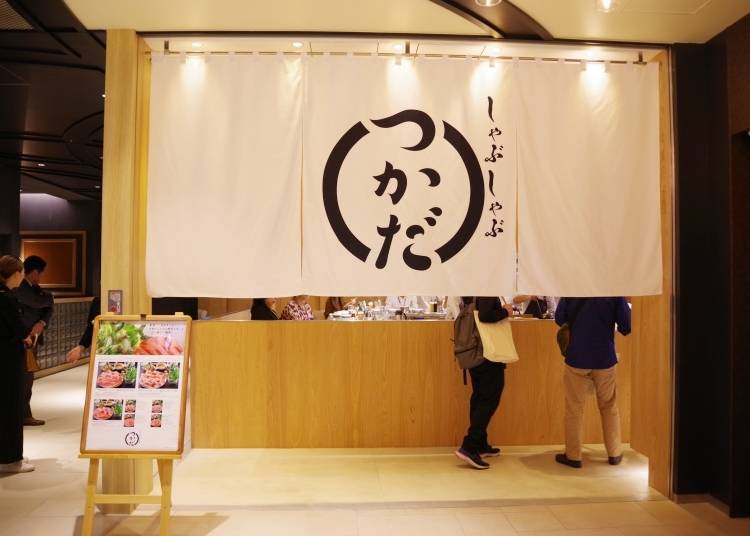 "Shabu-shabu Tsukada" is a "individual-pan" style, where you can enjoy Japanese-style shabu-shabu. This is a new business format for the Tsukada Nojo, a izakaya chain in Tokyo.
A small pot for one person is set up at the counter, where you can keep asking for meat and veggies for your "shabu-shabu". The atmosphere makes it easy for solo visitors to drop in for a bite.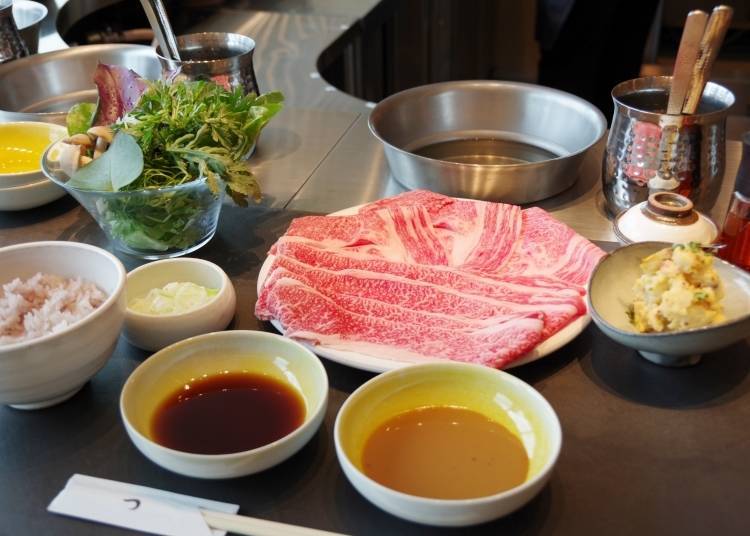 At lunchtime (11:00am-3:00pm), they provide domestically produced ingredients carefully selected by connoisseurs at reasonable prices. You can fully enjoy meat with a fine balance of fat and lean, such as "A4 Japanese Black Beef Brisket and Pork - Yume no Daichi" (1800 yen / tax excluded).
7. Nakagawa Masashichi Shoten (11F)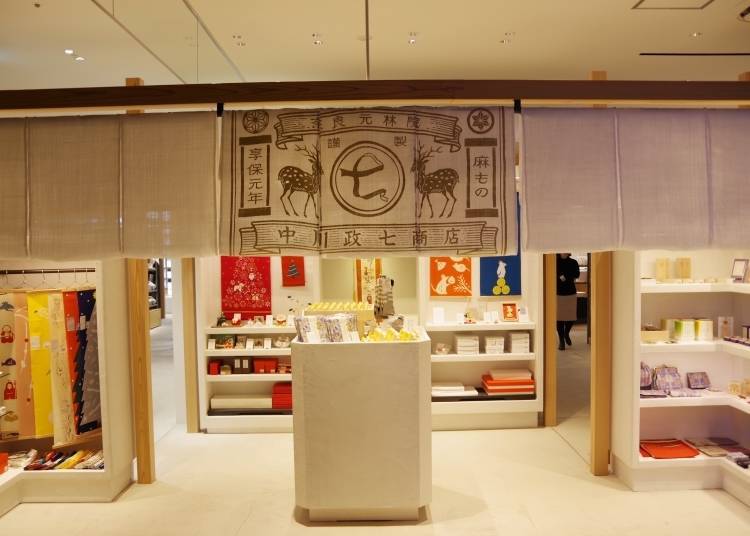 Nakagawa Masashichi Shoten, a store selling a variety of goods for daily life, has been in business for around 300 years. The Shibuya Scramble Square store became its largest flagship shop in Japan, sporting some 4,000 items in stock.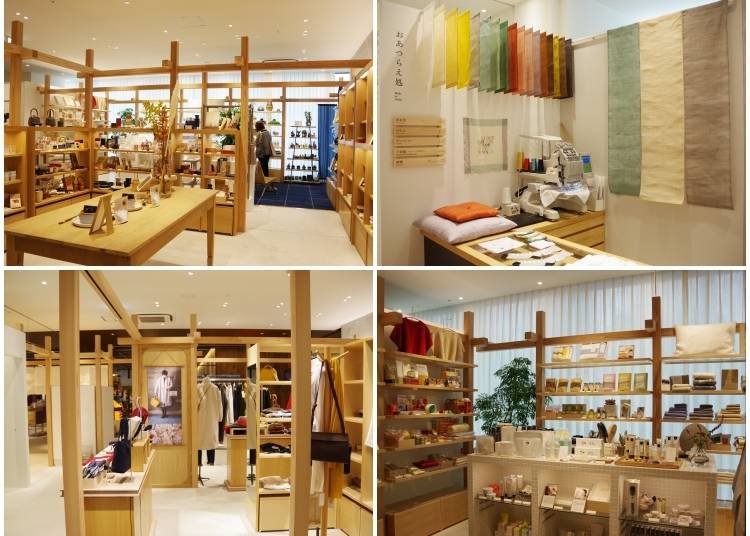 The store's concept is "entrance to Japanese crafts". The sales floor is divided into categories such as towels, food, interior, cosmetics, clothing and decorations, and the atmosphere of the interior changes dramatically. Moving through the large space you'll feel as if you are walking through several small boutiques.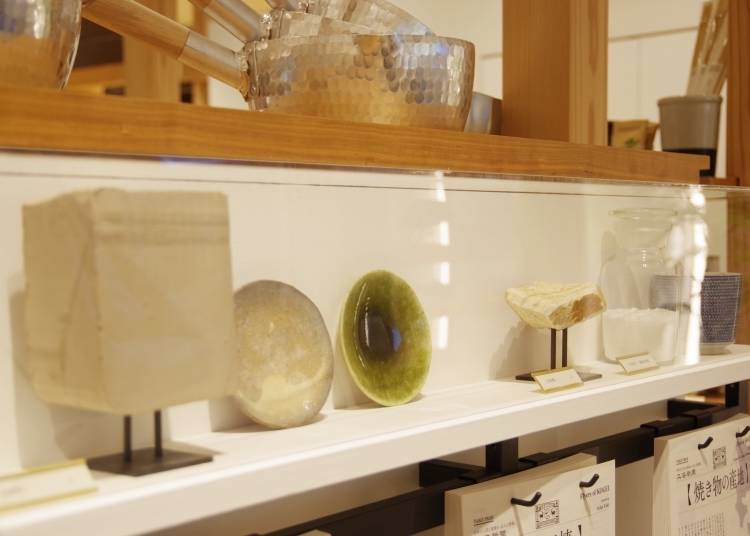 In order for foreign tourists to be introduced to the process and concept of Japanese crafts, videos are shown throughout the store. There will also be an exhibition that touches on the origins of manufacturing, such as the clay used before crafting.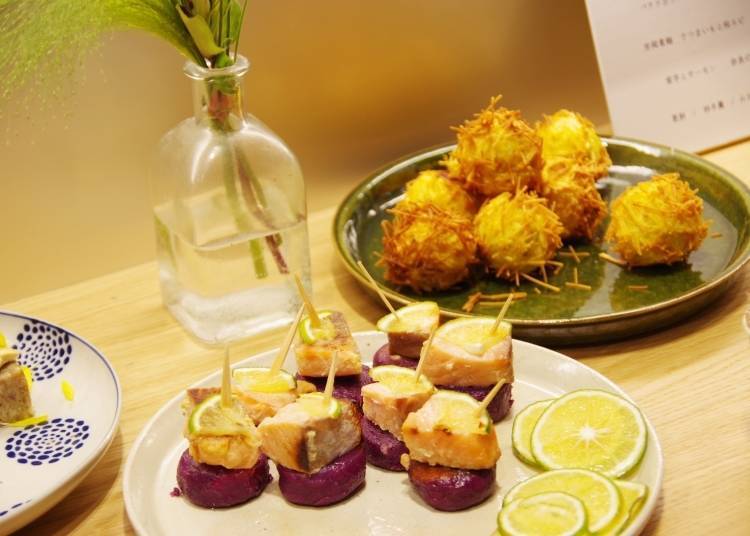 In the food area, there is a space for tasting at all times. The local products produced by Nakagawa Masashichi are all easy to enjoy.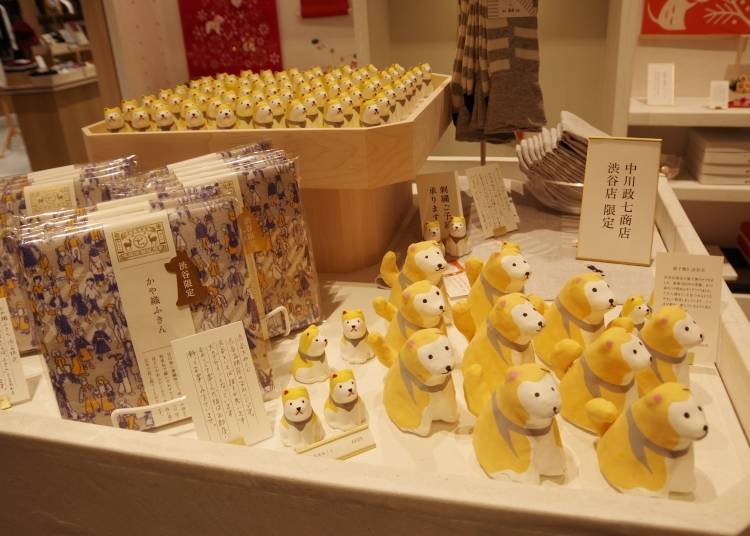 Nakagawa Masashichi Shibuya Shop Limited items are also available. "Kayaori Fukin Shibuya Scramble Crossing" from Nara Prefecture (500 yen / tax excluded), and "Shibuya Inu Mikuji" (450 yen) with a fortune-like message inside, all have Shibuya motifs.
8. TSUTAYA BOOKSTORE Shibuya Scramble Square (11F)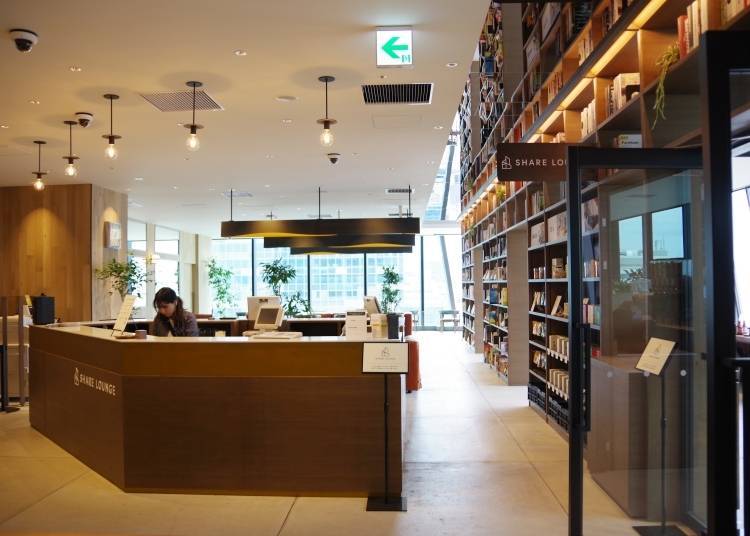 TSUTAYA BOOKSTORE Shibuya Scramble Square is the new business format of TSUTAYA, which has developed many conceptual stores. Here, there is "SHARE LOUNGE", which is the brand's first shared office and lounge in Japan.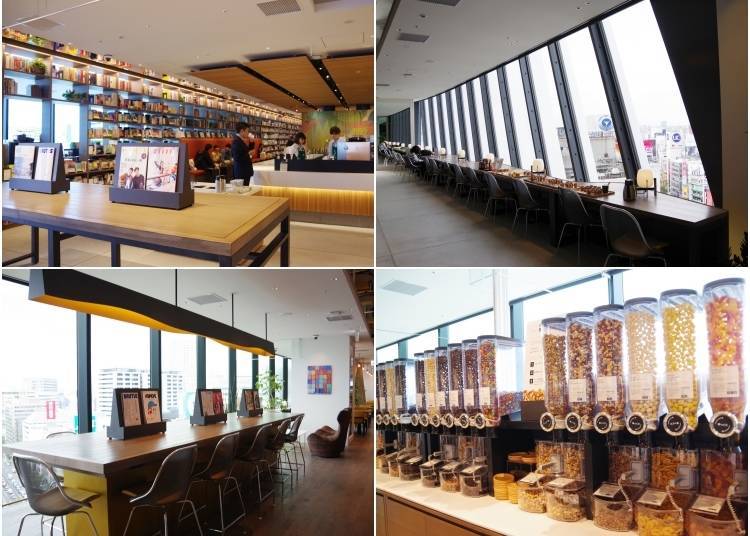 "SHARE LOUNGE" can be used for 90 minutes per person at a rate of 1500 yen (excluding tax). There are counter seats, table seats, sofa seats, and a conference room, and you can see the city of Shibuya from any seat.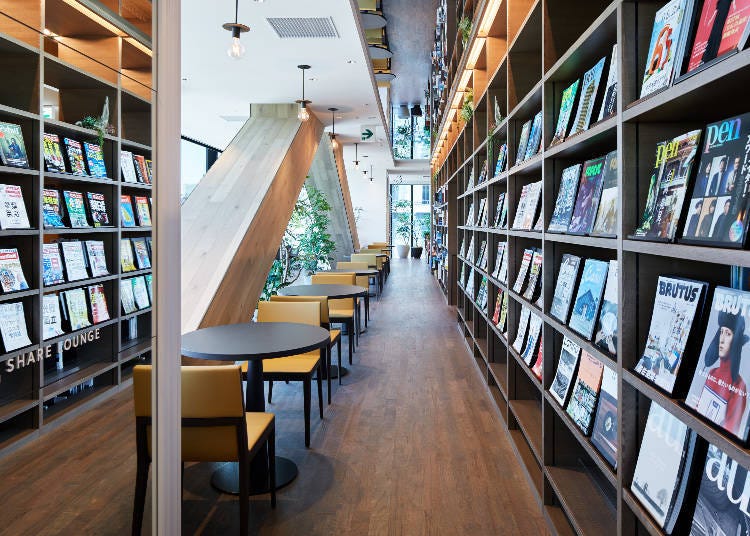 Amenities such as free drinks & free nuts, smartphone chargers and desk lights are also available. Work and study are likely to start.
Outside SHARE LOUNGE, there is "BOOK & CAFE", which has about 20,000 books. You can also purchase a drink at Starbucks and choose a book.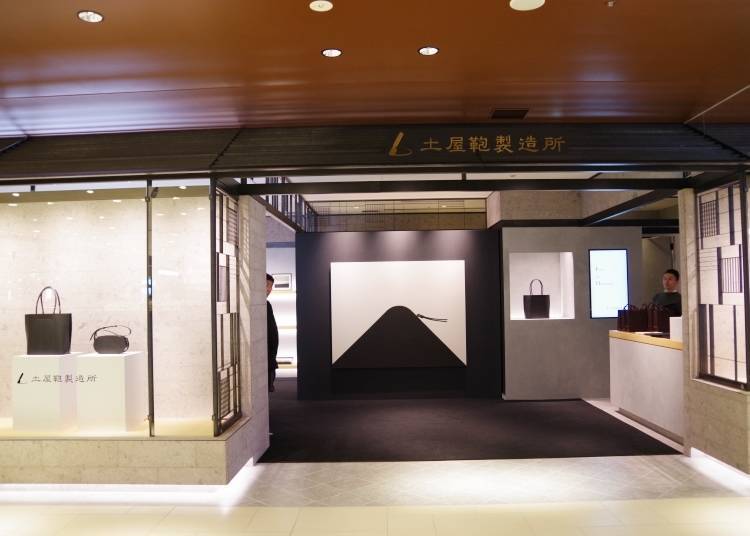 Tsuchiya Kaban, a popular bag brand, also has a store in Shibuya Scramble Square. There are about 350 items in the entire series, including popular randoseru-style school bags, so you can find your favorite.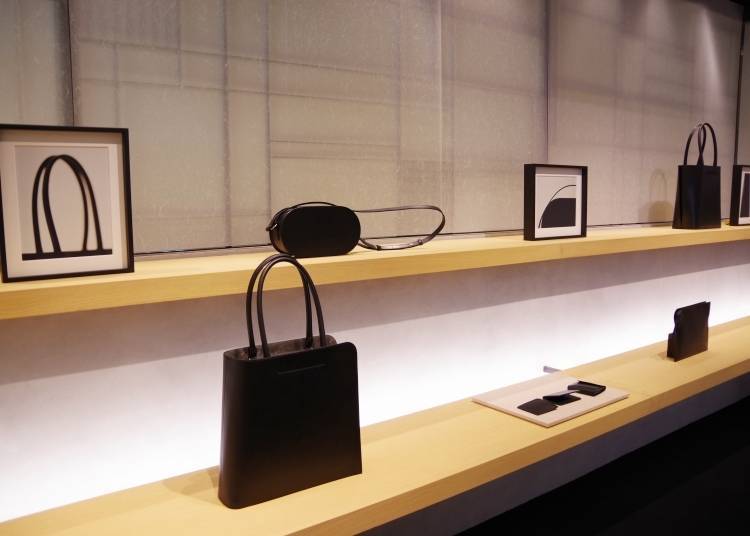 Here, the new series "Black-nume" will be released specially in advance. The strong impression of black is harmonized with rustic leather, which makes it easy to use in everyday life. Tote (89,000 yen / tax included), card case (15,000 yen / tax included), and everything that seems to be active in the business scene!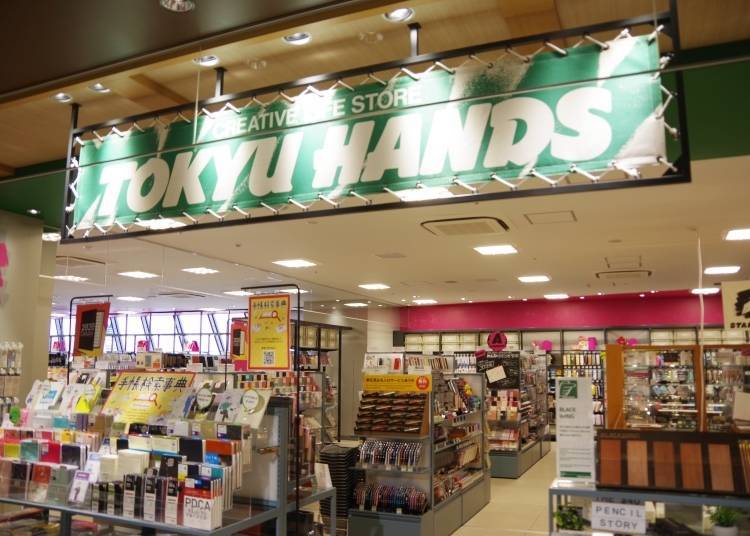 Speaking of Tokyu Hands, the Shibuya store that celebrated its 41st year in 2019 is rather famous indeed; the Shibuya Scramble Square location intends to build on this even more.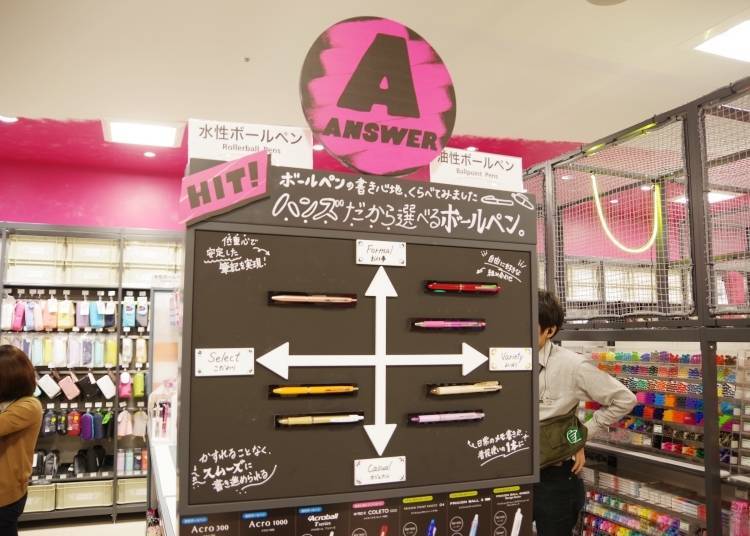 The store sells well-curated items popular at Tokyu Hands, such as stationery, miscellaneous goods, and party goods, all on one floor.

To help customers who might be struggling to decide on a specific product, they have added an important new feature: "ANSWER" boards are installed for each category. Having a glance at one of these curated "lookbooks", can help you quickly decide on a given product - be it a gift or just something for you.
Assuming that many foreign tourists will be dropping by for a visit, Japanese-style items and alcohol are also available. Helpful signs written in English, Chinese and Korean are also scattered around the space.
11. ocha room ashita ITOEN (10F)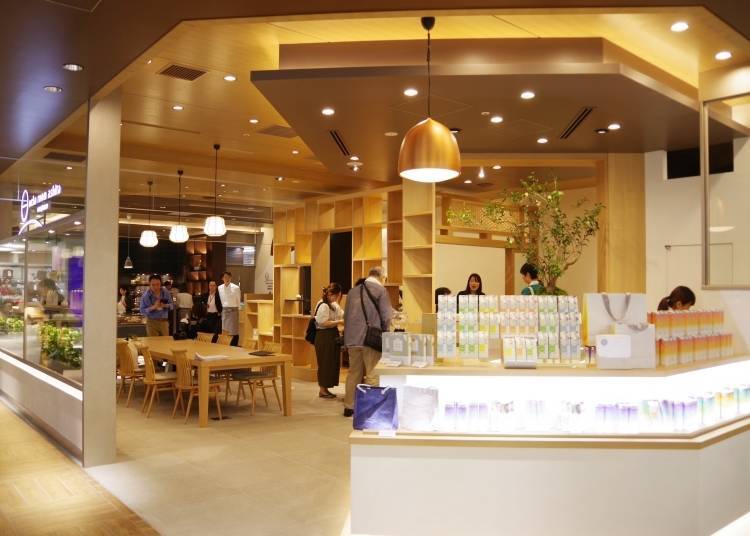 On the 10th floor, there is a tea café by ITO EN, known around the world as a tea company.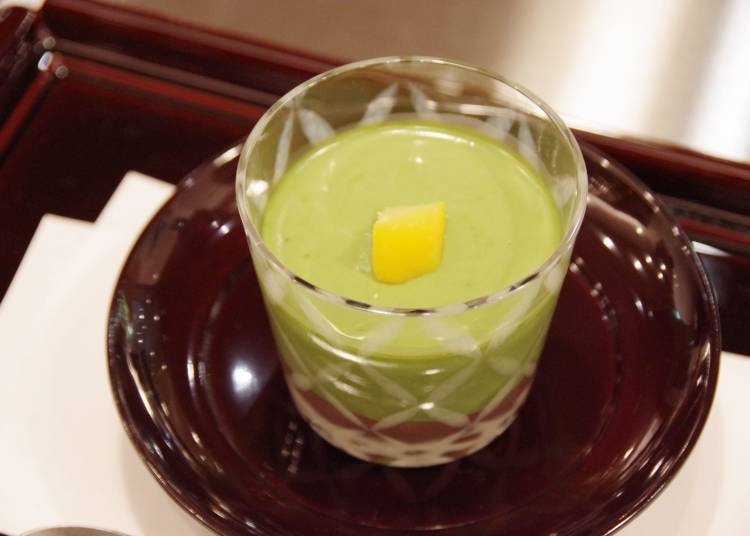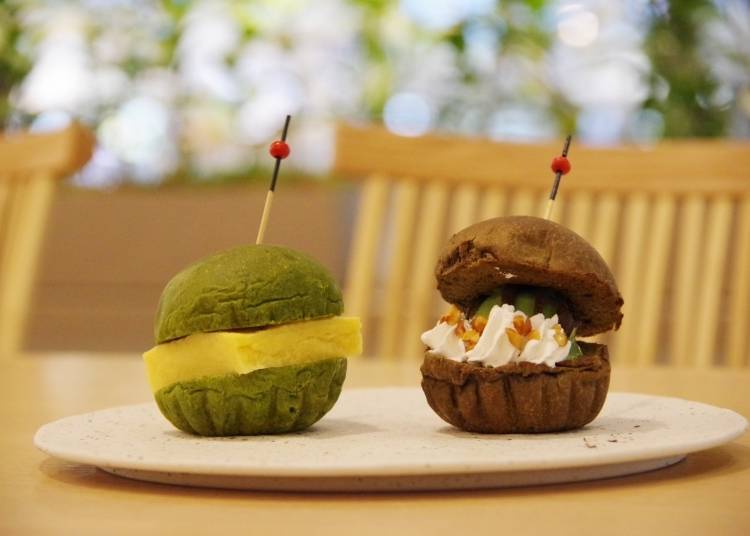 There are many sweets and snacks using only matcha green tea, Japanese tea, black tea, hojicha, and so on. Matcha pudding (with tea) (1320 yen / tax included) is a pudding made with savory green tea for tasting, and has a sweet finish with a hint of sweetness.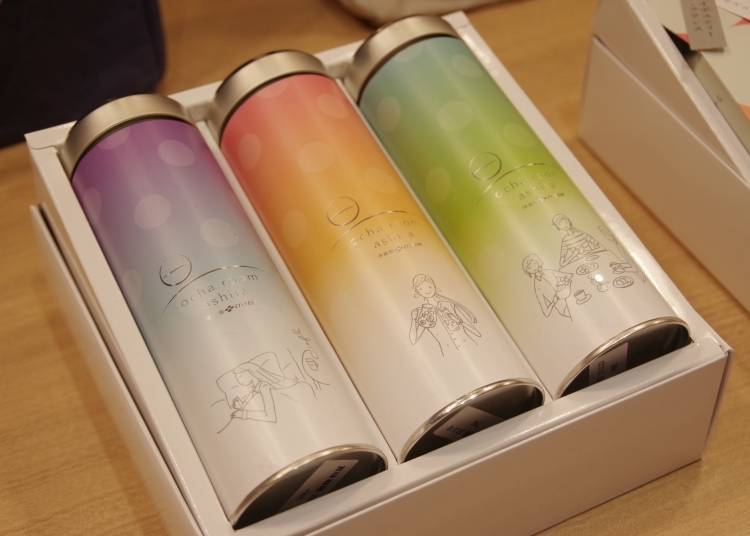 Tea sets are also available as a souvenir. The bottle design is so cute that it's perfect as a gift for loved ones.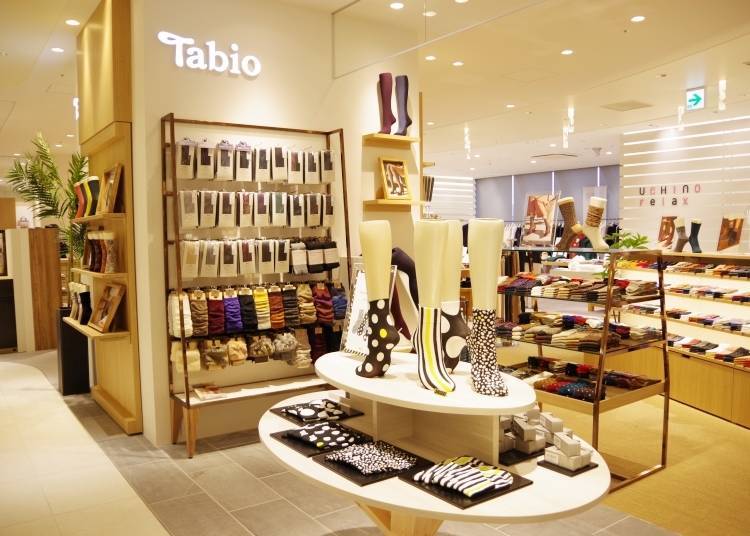 The legwear brand Tabio has many fans in foreign countries with solid materials and craftsmanship. They also sell items commemorating the opening of Shibuya Scramble Square store.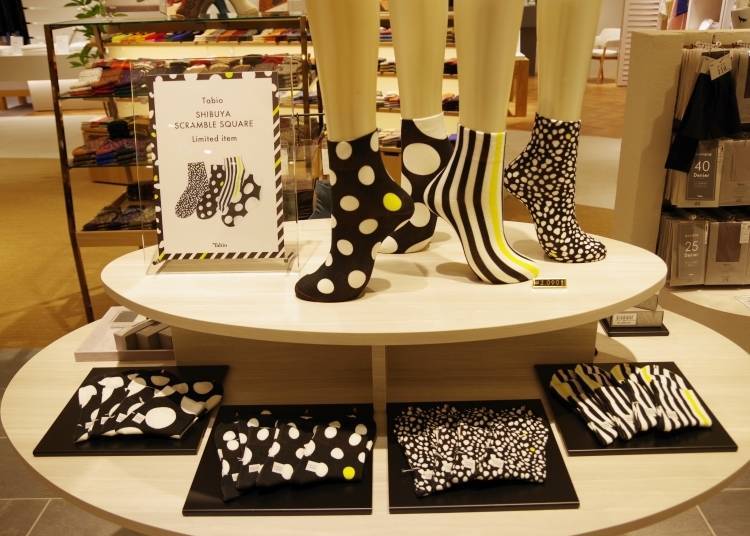 A limited number of original print socks (2090 yen each / tax included) are available in 4 types, with a quantity of only 500 each. You should be able to create a casual sensation, such as black polka dots or stripes with yellow lines.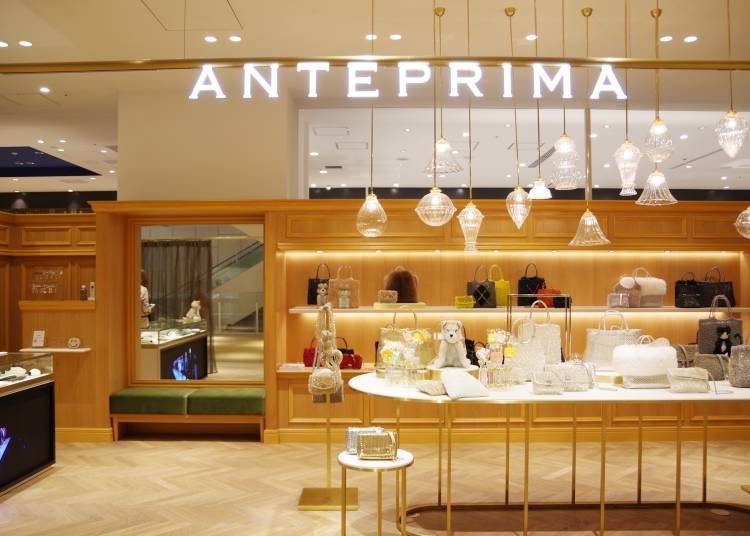 ANTEPRIMA is known for its glittering wire bags. Although it is not the first Shibuya store, there are items only available at the Shibuya Scramble Square store.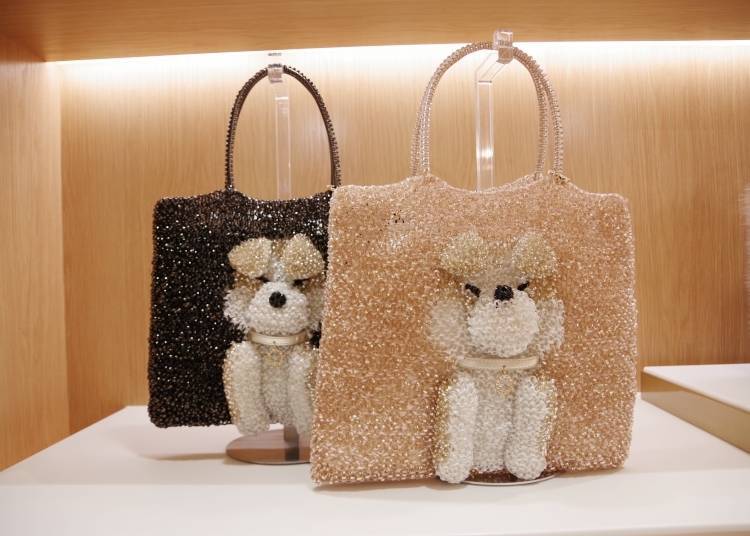 Here it is: a wire bag that boldly designed as an Akita dog - like Hachiko! ANIMALE Akita Inu motif (handbag type) (79,000 yen / tax included) is available in two types: black and powdery pink gold.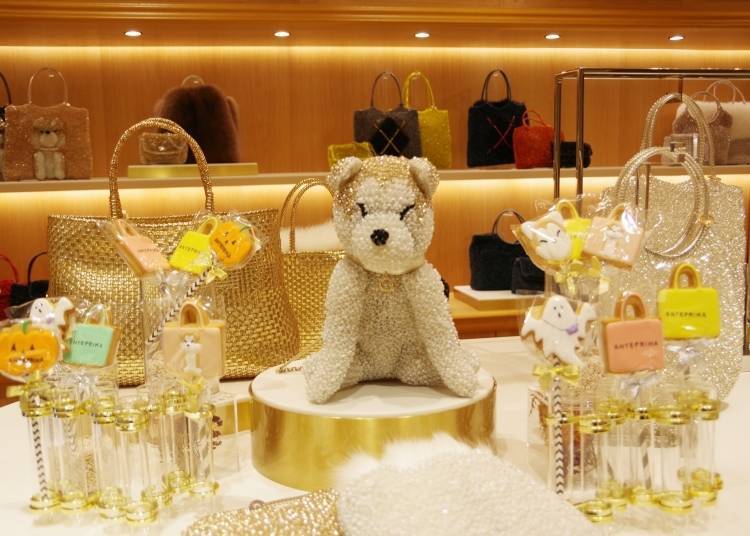 In the center is the ANIMALE Akita Inu motif (3D type) (120,000 yen / tax included) which has a cute appearance - just like a real puppy. Because there is a zipper on the back, it looks less of a bag and more of an elaborate objet. If you hold it by your side, you may even feel like you're taking a stroll together!
14. Gourmand Market KINOKUNIYA (B1F)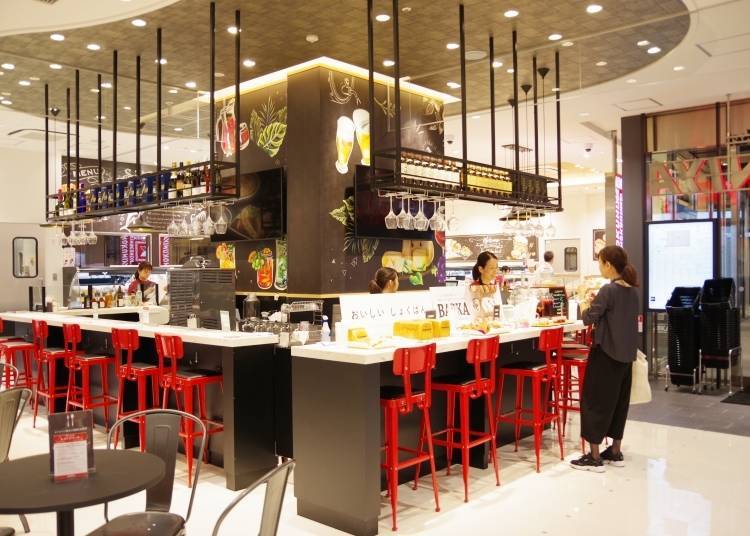 On the first basement floor of Shibuya Scramble Square is Kinokuniya, known as a luxury supermarket. The main point of the store is Kinokuniya's first cafe and bar. In addition to fruit parfaits and sandwiches, they also offer alcoholic drinks such as sangria.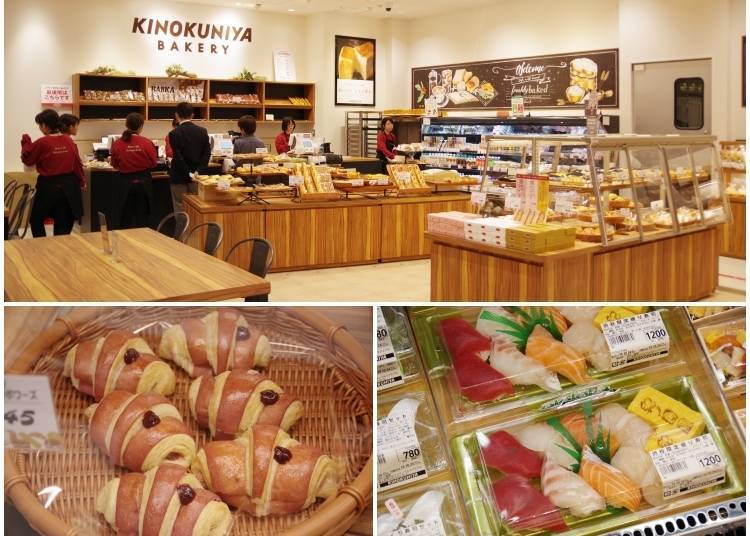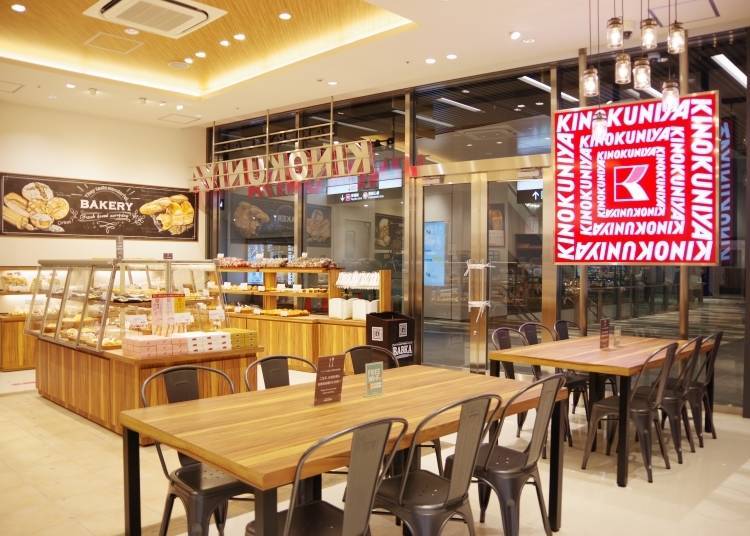 There is a bakery next to the cafe and bar. They also sell lunch boxes and sushi that can be taken out. Both menu items can be eaten in the rest space.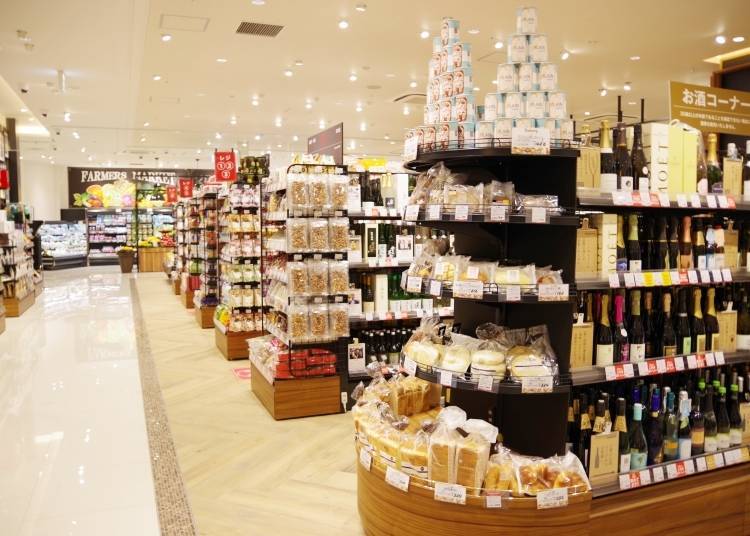 Of course, as a supermarket they also have a huge selection of tasty foods. It looks fun to look around the store looking for souvenirs!

Check out the list we've made so far and be sure to explore Shibuya Scramble Square's featured shops!
渋谷スクランブルスクエア

Address

2-24-12 Shibuya-ku, Tokyo

Nearest Station

Directly connected to JR / Subway Shibuya Station

*This information is from the time of this article's publication.
*Prices and options mentioned are subject to change.
*Unless stated otherwise, all prices include tax.