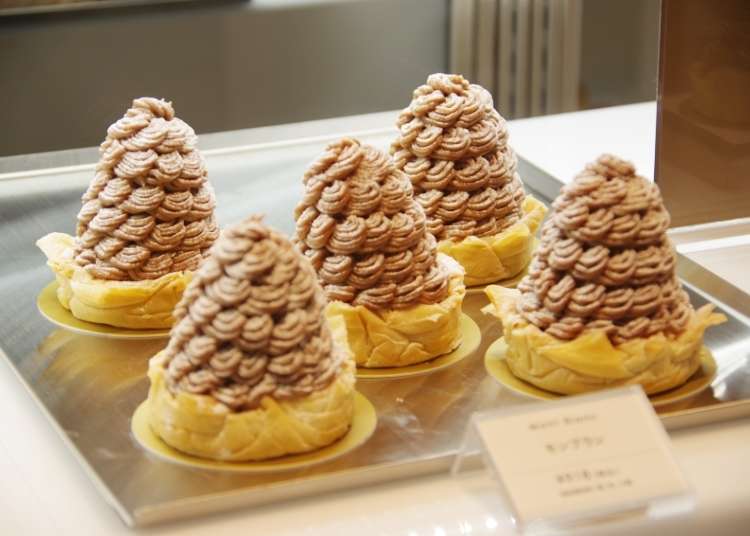 One of 2019's most anticipated buildings, Shibuya Scramble Square, finally opened its doors on Friday, November 1! Directly connected to Shibuya Station, this giant 47-storey complex is teeming with popular shops.

This time, from a total of 213 shops, we've carefully selected the most unique souvenir shops in this list of recommendations. You're sure to find the perfect Japanese gifts for you and everyone else after your trip. Let's dive right in!
1. SHIBUYA SKY SOUVENIR SHOP (Floors 45-46)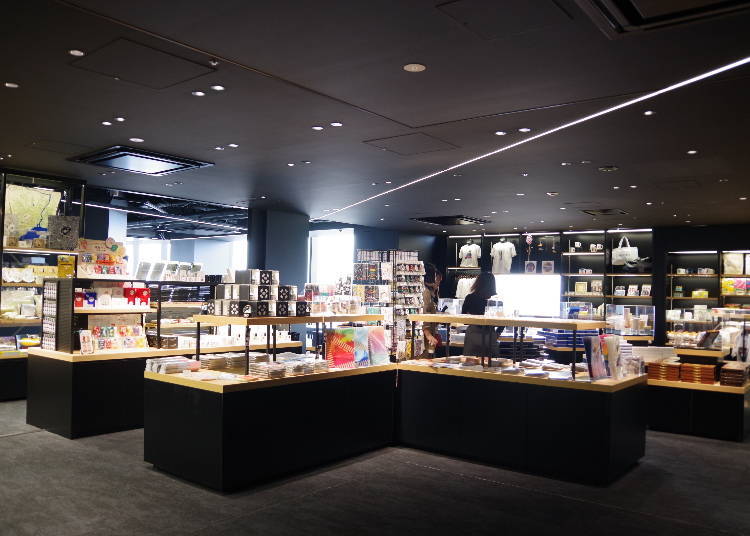 SHIBUYA SKY is the latest way to enjoy watching the surging crowds of Shibuya Crossing - the world's busiest intersection! SHIBUYA SKY SOUVENIR SHOP is directly connected to the experience and offers a fantastic variety of exclusive merch at reasonable prices.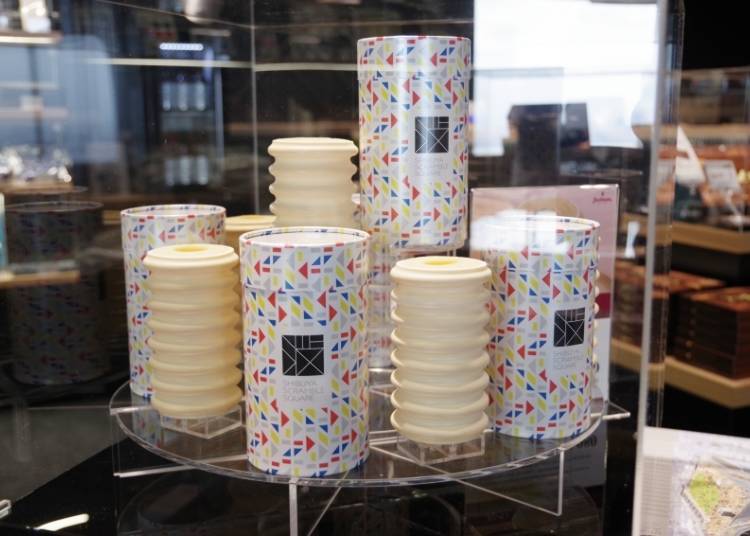 Bring home a taste of Japan! Confectionery Juchheim collaborated to create this unique Baumkuchen (1080 yen / tax included). Coated with white chocolate and featuring a moist, fresh flavor, it's sure to please every palate. The package with its geometric pattern design is also so Shibuya, making it a perfect souvenir.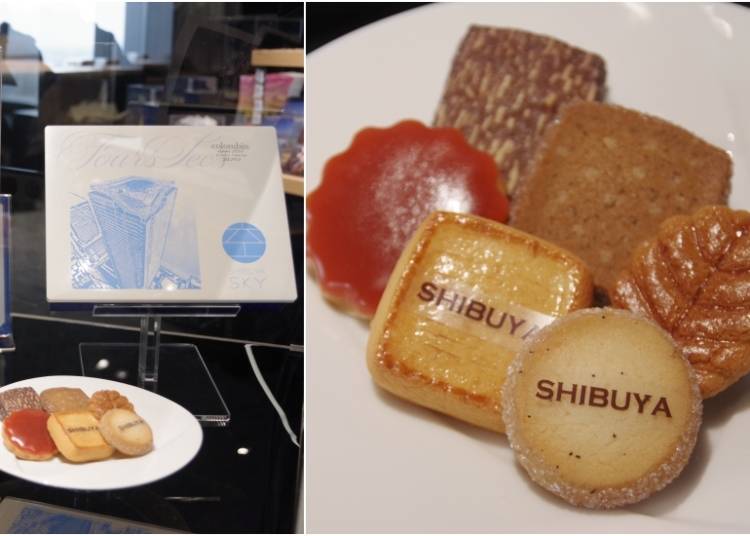 Another confectionary collaboration is with Columbin, a brand boasting a heritage going back to 1924 and Japan's first confectionery products manufacturer. Its Fursec confectionary sampler (1300 yen / tax excluded) is designed with a special "SHIBUYA" theme and is a great way to remember sweet memories of Tokyo's iconic city.
With its roots in the high-fashion center of Aoyama, Yokumock is a Western confectionery store famous for its "Sigar" series of cigar-shaped cookies (1080 yen / tax included). These are available in a gorgeous tin designed exclusively for Shibuya Scramble Square.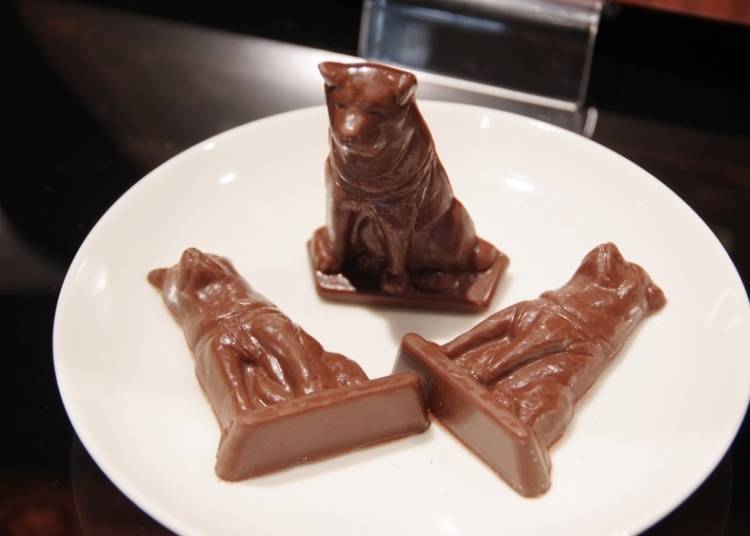 What would Shibuya be without its world-famous Hachiko? The "Shibuya Hachichoko" (1200 yen / tax excluded) recreates the loyal pup in chocolate form and will be released in advance at Shibuya Scramble Square. There will be 8 to a box - 8 in Japanese is called HACHI and has the same pronunciation.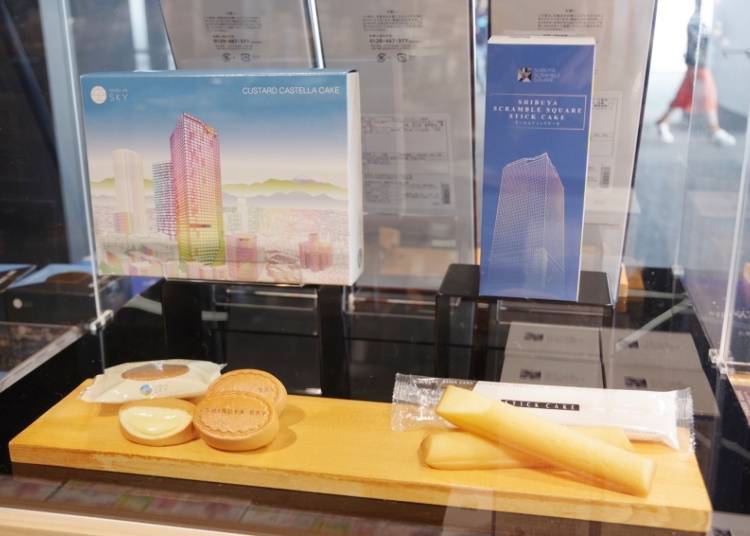 There are also souvenirs from Shibuya Scramble Square itself, like the "Custard castella cake" (left photo, 1080 yen / tax included) and "stick cake" (right photo, 864 yen / tax included).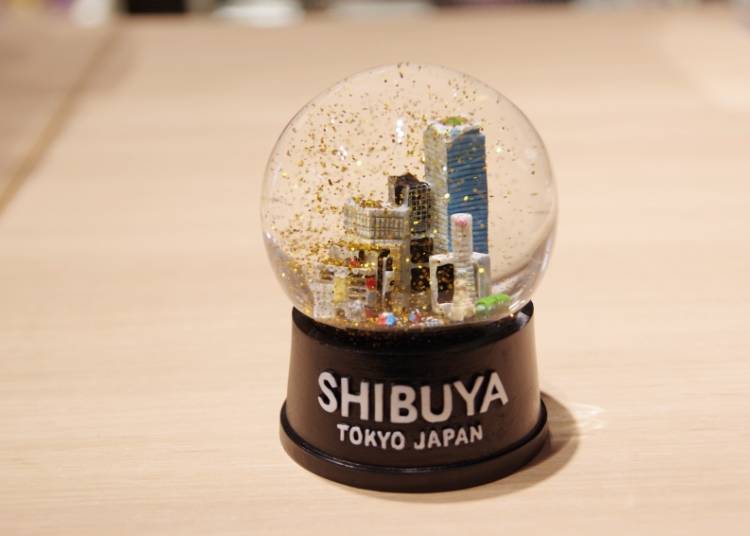 In addition to sweets, there are original goods from Shibuya Scramble Square. This SHIBUYA Snow Dome (2500 yen / tax excluded) is recommended by the staff. Inside are iconic miniatures of Shibuya Scramble Square, Shibuya109 and loyal dog Hachiko statues; shake the dome and you'll be delighted by the golden glitter. Relive your memories of Shibuya with this gorgeous and cute souvenir!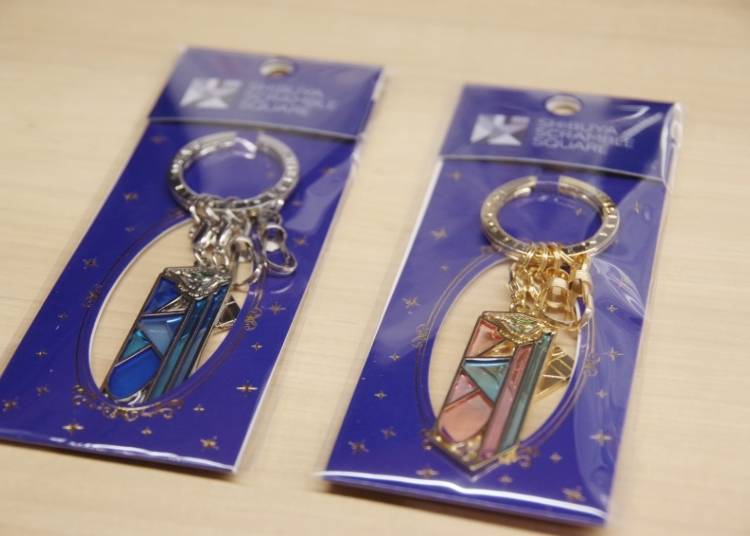 Another recommendation is the limited key ring (600 yen / tax included). Shibuya Scramble Square is done up in a stained glass style as the motif. The keychains come in two colors, pink and blue.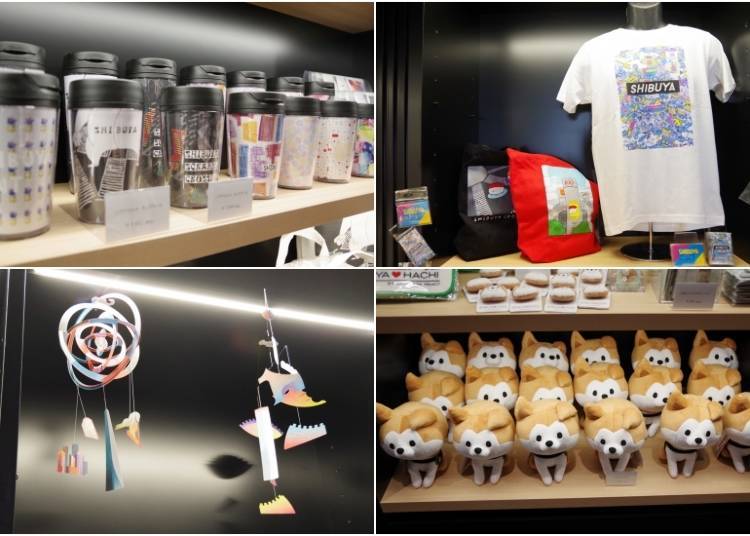 There are a variety of other items with stylish designs that make perfect presents as well, including tumblers, T-shirts, and tote bags.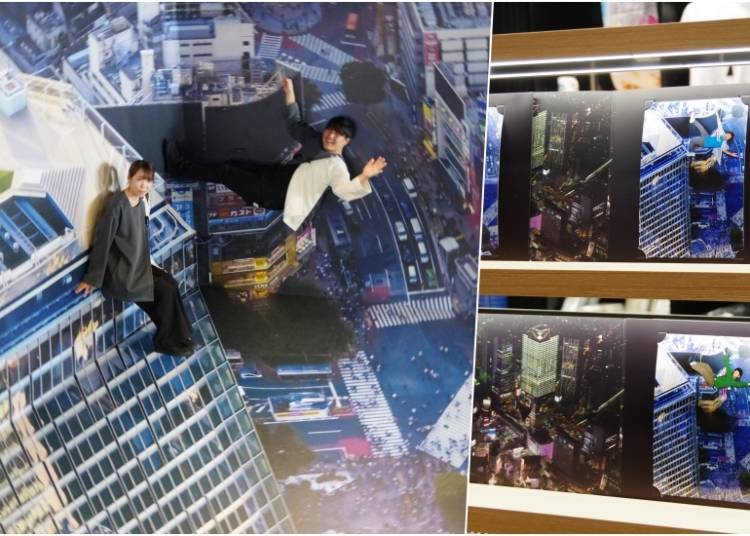 As a slightly different souvenir, the shop also offers a service where you can get photos snapped of you "floating" above Shibuya (1500 yen per photo; currently they do not shoot with your camera or smartphone).
2. MORI YOSHIDA PARIS (First Floor)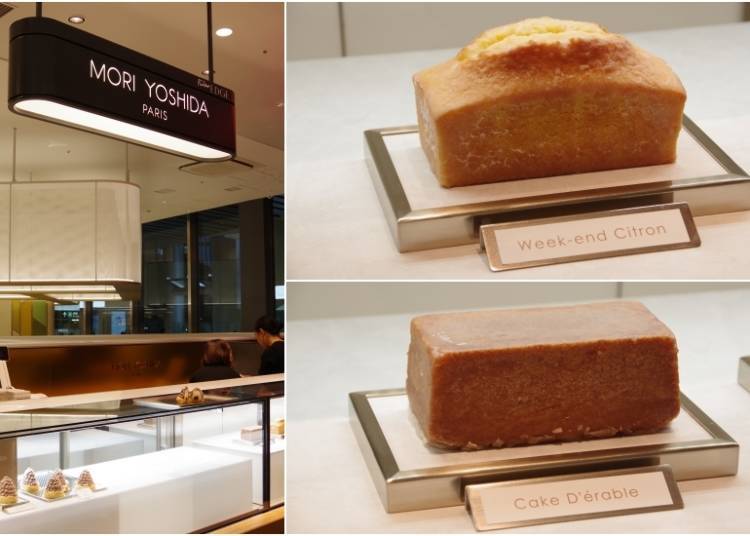 Among the snack and sweets shops on the first floor is MORI YOSHIDA PARIS - a must-visit spot for anyone with a sweet tooth. This is Japan's flagship store of the famous patisserie opened by Japanese pastry chef Morihide Yoshida in the 7th Arrondissement - Paris' quintessential heart. The sweets here are the same class guaranteed to please any Parisian, and have been a hot topic in Tokyo.
Among Shibuya Scramble Square limited sweets is the "Mont Blanc" (918 yen / tax included). Its beautiful drape-like form is impressive, and you're sure to enjoy its simple, somehow familiar sweetness until the last bite.
3. ÉCHIRÉ PÂTISSERIE AU BEURRE (First Floor)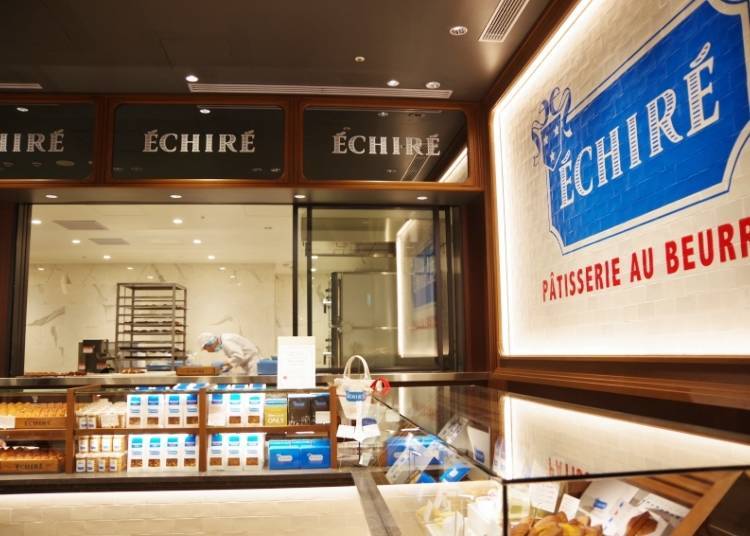 ÉCHIRÉ PÂTISSERIE AU BEURRE is a specialty shop offering a range of baked goods, such as Financier Échiré and Madeleine Échiré, using Échiré, a fermented French butter.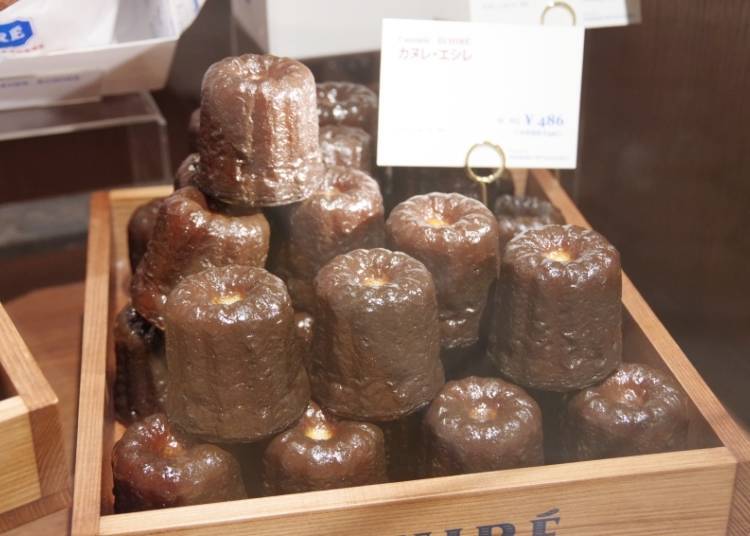 To commemorate the shop's first appearance in the Shibuya area, "Canelé Échiré" (486 yen / tax included) is sold exclusively at Shibuya Scramble Square. As it is baked with plenty of butter, it has a juicy taste that melts on your tongue.
There are three types of sablé sandwiches (324 yen per tax) including boules (butter), rum raisin and pistachio, each packed with copious amounts of delectable butter cream.
4. PRESS BUTTER SAND (First Floor)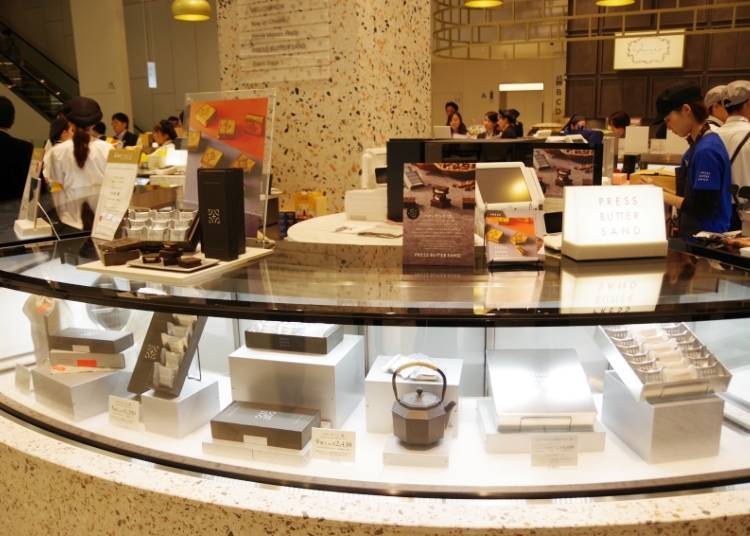 PRESS BUTTER SAND, a patisserie which boasts of baking some 25 million units annually, also opened its first store in the Shibuya area.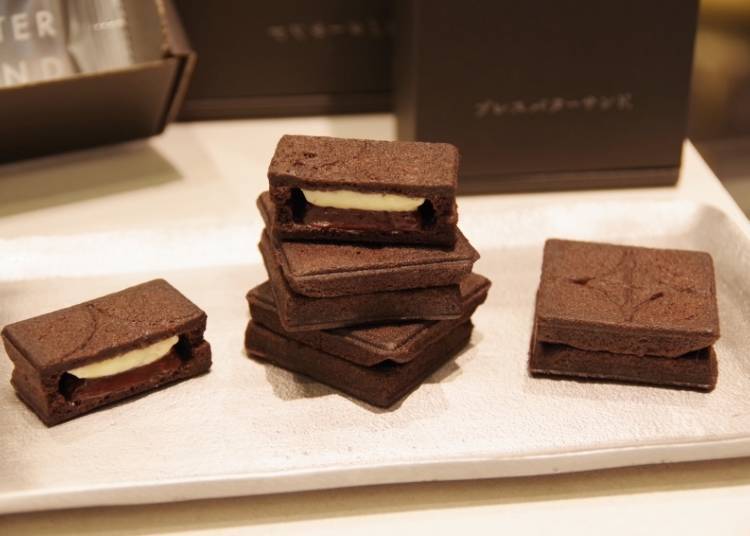 Now the "sand" in Butter Sand is short for "sandwich" and take it from us, these snackable desserts are the bees knees. To celebrate their first shop opening in Shibuya, PRESS BUTTER SAND is retailing an exclusive "Butter Sand <Black>" (1000 yen for 5 pieces / tax included)! This decadent cookie made with cocoa powder is sandwiched between two Colombian chocolates and chocolate caramel.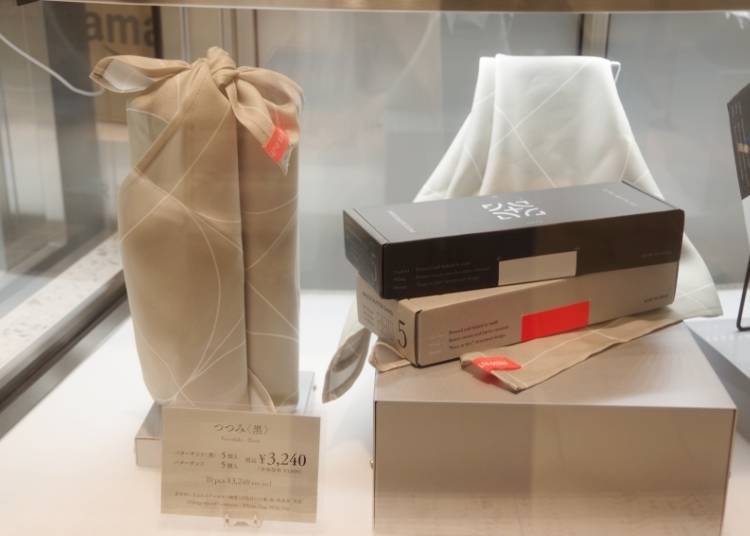 And if you're looking to go all in on dessert delights, you might be interested in the exclusive "Tsutsumi <black>" (3240 yen / tax included) set. This assortment of 5 Butter Sandwiches and 5 Butter Sandwiches <Black> are wrapped in an original design furoshiki. It is a must-choose souvenir for someone special!
5. Apple and Roses (First Floor)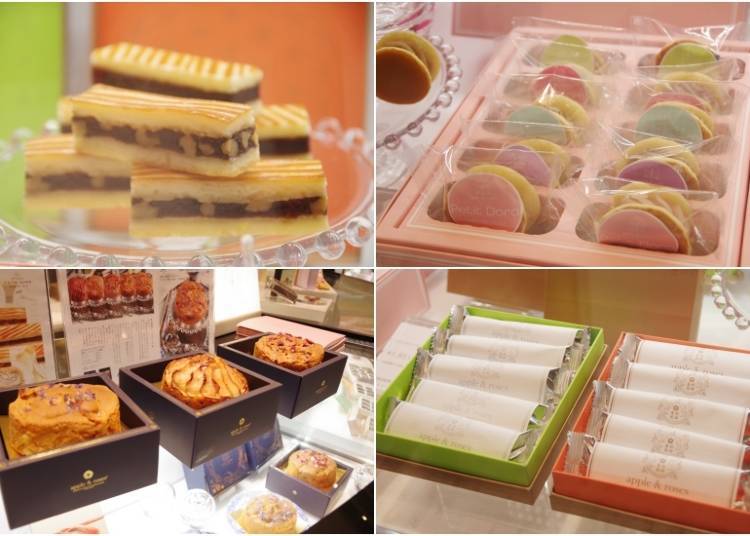 Nagano Prefecture is a famous apple region in Japan, so it's no wonder that Apple and Roses is from here. They offer a variety of popular sweets that use apples, such as rich tarte Tatin (1800 yen / tax excluded) and British-style apple cake (2000 yen / tax excluded).
Cute macaroon-sized "Petit Dora" (5 pieces starting from 1250 yen / tax excluded) are also recommended. You can choose from 5 different flavors, such as apple Tatin puree and framboise. These delights come in 3 sizes: 5 pieces, 10 pieces, and 15 pieces. And since they will last around 7 days at room temperature, they travel well and make a great gift for friends back home.
6. Mels CARAMEL WORKS (First Floor)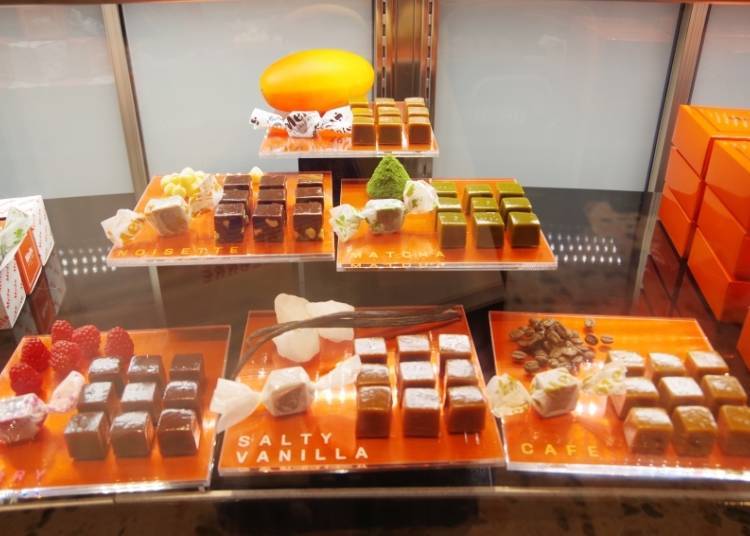 Mels CARAMEL WORKS is an entirely new candy store making its debut at Shibuya Scramble Square. They offer a "raw" texture caramel which comes in matcha and other addictive flavors.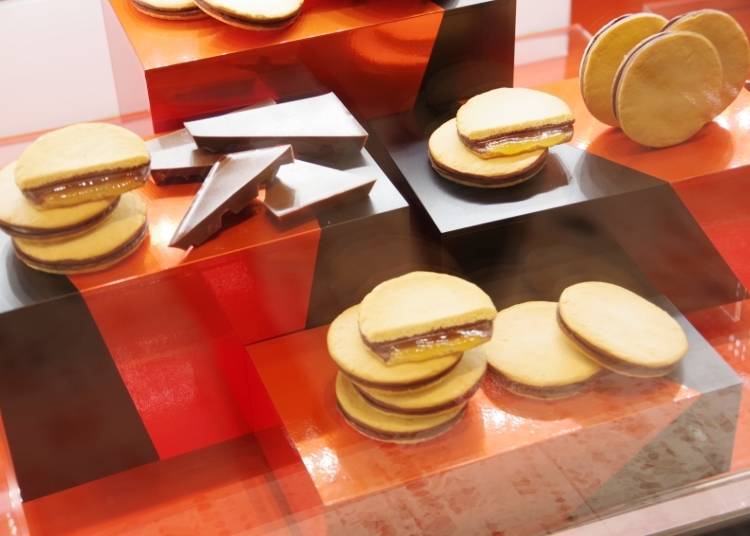 Now if you're looking for a suitable sweet souvenir for someone special, be sure to give the baked confectionery "Mel mel" (6 pieces, 972 yen / tax included) a go. A new-style baked confectionery made with a crisp cookie made from Hokkaido flour and sandwiched with chocolate wrapped in a smooth caramel sauce, it's sure to impress.
The limited box designed with a Hachiko motif is also cute! Because it will end as soon as it is gone, don't miss the chance to get one of your own.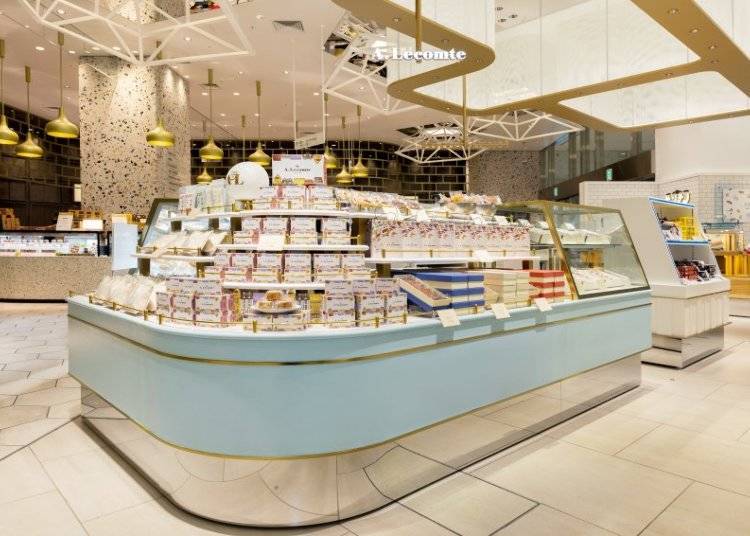 Since its establishment in 1968, the French confectionery specialty store "Leconte" has been committed to traditional French production methods. The pretty interior will surely catch your eyes.
In commemoration of the opening of the Shibuya store, assorted baked goods (1556 yen / tax included) in a limited pouch are on sale. In addition to the classic Madeleine and Julian, be sure to sample the flower-shaped Bisque Fleur cookies.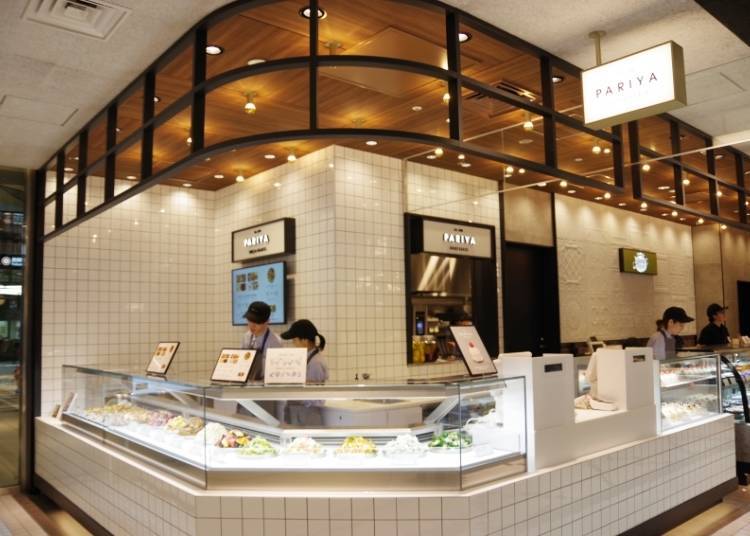 Omotesando's popular delicatessen PARIYA appears in Shibuya Scramble Square under the new name "BBQ & NAMUL".
Speaking of PARIYA, the Strawberry Classic Shortcake (734 yen / tax included), a flagship product, is pretty hot on Japanese Instagram. Of course, they are also sold at the Shibuya Scramble Square store. I love the strawberries on the softly overlapping cream, and it's a perfect souvenir - if it survives your sweet tooth.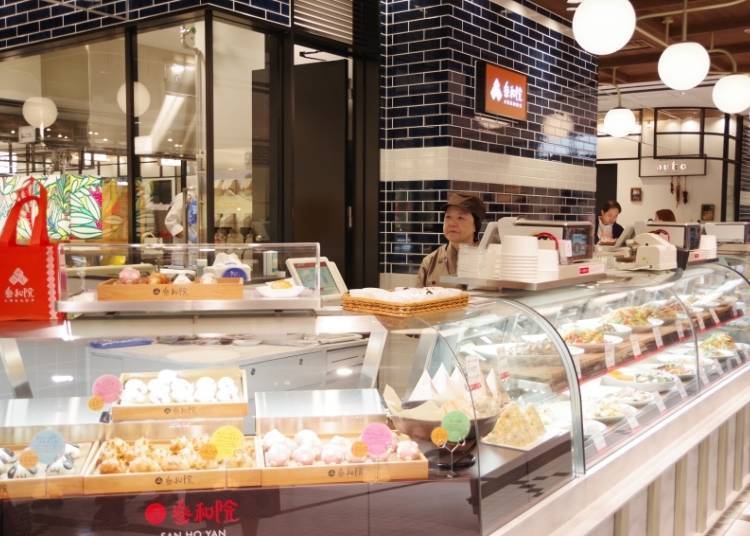 Takeout at Shibuya Scramble Square is not just about sweets! One of the most notable shops in the underground food area is San Ho Yan. A restaurant loved by locals in Taiwan, San Ho Yan made its first landing in Japan as a take-out business.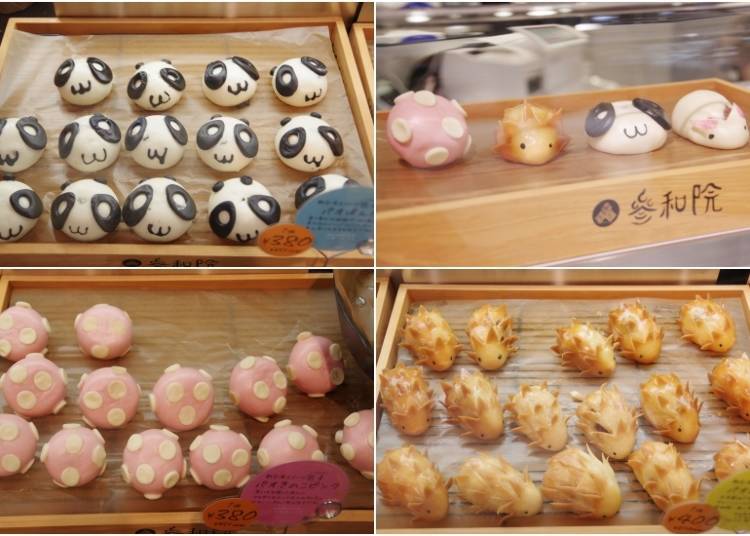 San Ho Yan's main feature lies in its cute character-motif sweets (380 yen / tax included). "Pao Panda" is sesame paste sauce; "Pao Mushroom Pink" is purple potato with macadamia nuts; "Pao Harinezumi" is a fried bun filled with savory pork soup.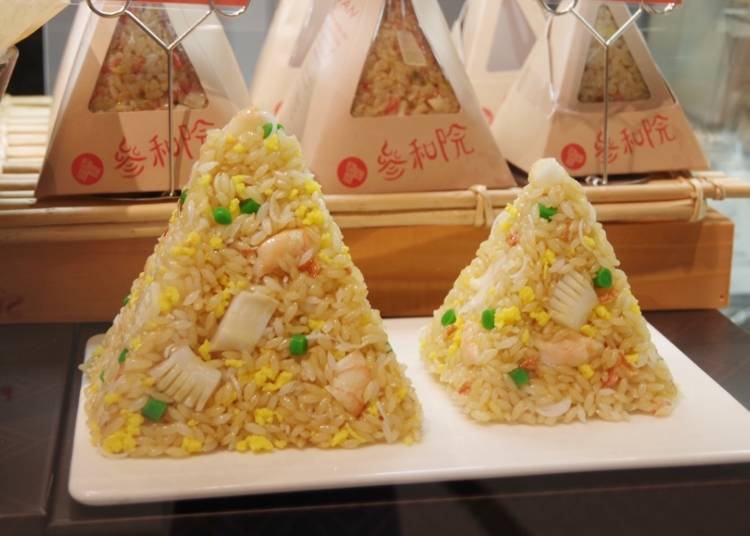 Pyramid fried rice (small 864 yen, large 1491 yen / tax included), a specialty in Taiwan, is available for takeout as well. They're sure to be at the center of attention at your next home party.
10. Kaneko Hannosuke (B2)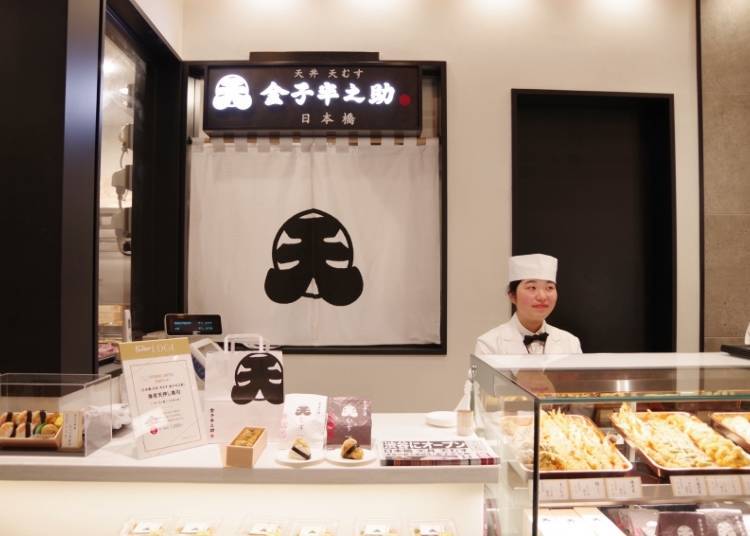 Kaneko Hannosuke, a shop specializing in Edo-mae style tendon (tempura bowls), sees 2-hour long lines virtually every day at its main shop in Nihonbashi, Tokyo. The store, which is visited by foreign tourists every day, opened its first takeout specialty store in Shibuya Scramble Square.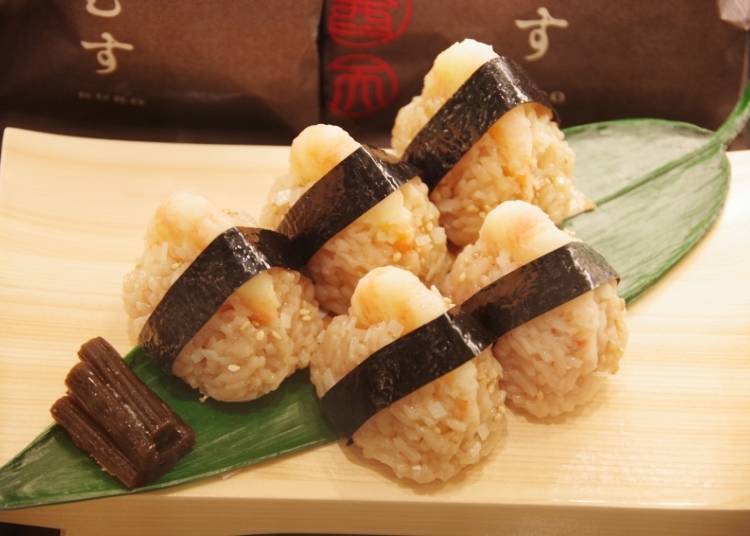 There are two types of rice balls that make perfect gourmet souvenirs. "Tenmusu (White)" is moderately salty, with white pepper, and is rich in flavor. "Tenmusu (Black)" mixes sweet and spicy sauce and gari - pickled ginger (780 yen each / tax included).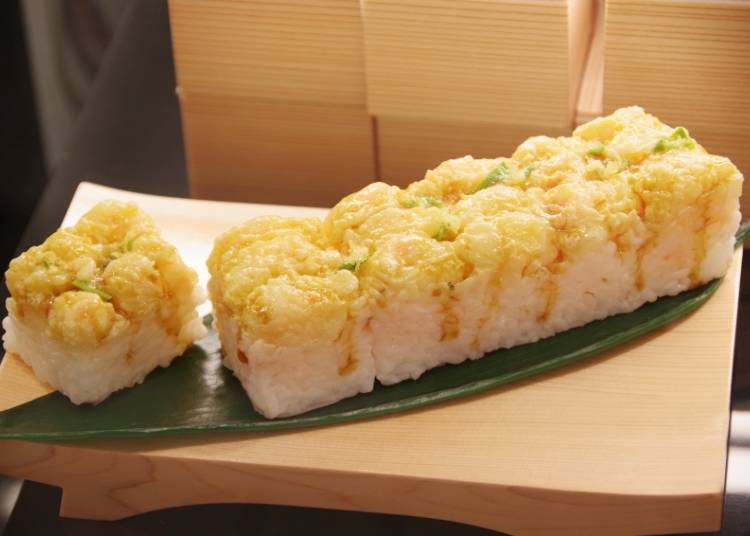 Ebi Tenshi Sushi (1080 yen / tax included) is a sushi-style menu featuring shrimp seasoned with shrimp and deep-fried kakiage. Plenty of luxury comes in this folded box (6 pieces).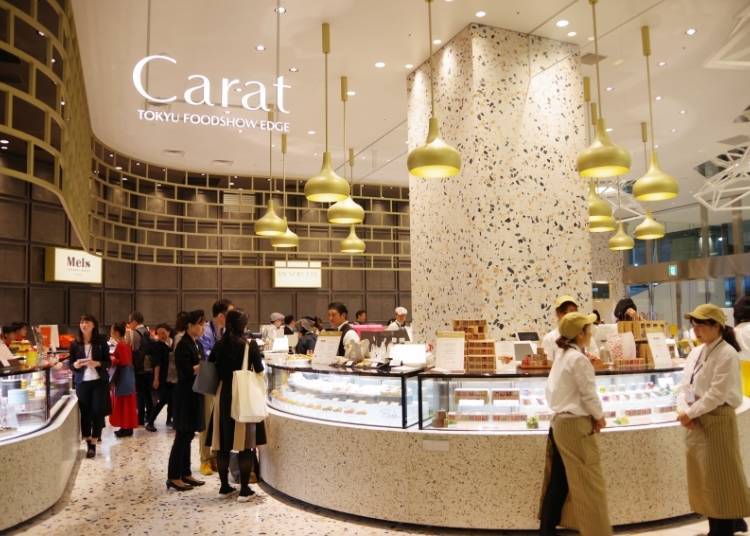 Shibuya Scramble Square has many shops worthy of souvenirs besides the ones mentioned here. Please come and visit us to find a souvenir for yourself or a gift for your loved ones.
渋谷スクランブルスクエア

Address

2-24-12 Shibuya-ku, Tokyo

Nearest Station

Directly connected to JR / Subway Shibuya Station

*This information is from the time of this article's publication.
*Prices and options mentioned are subject to change.
*Unless stated otherwise, all prices include tax.