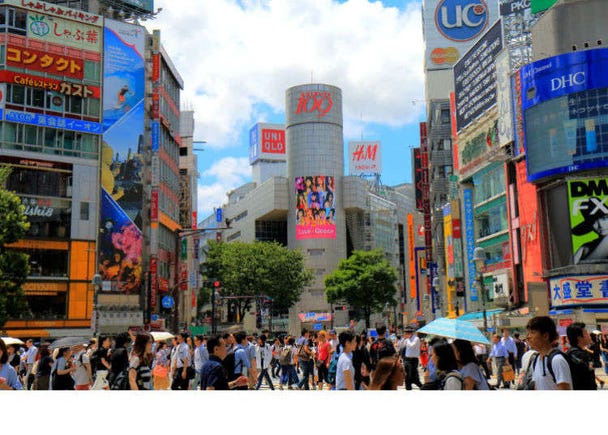 SHIBUYA109 is a landmark. Since its opening in 1979 it has been the building young people go to in search of the latest fashion. In recent years it has been visited by world-famous artists, models, and Instagrammers, further spreading its fame. It is also a destination for many foreign visitors to Japan, garnering it further international recognition. Without a doubt SHIBUYA109 ranks among Japan's fashion buildings that are on the cutting edge with floors overflowing with fashionable goods. In this article we will give you special peek into each of the floors!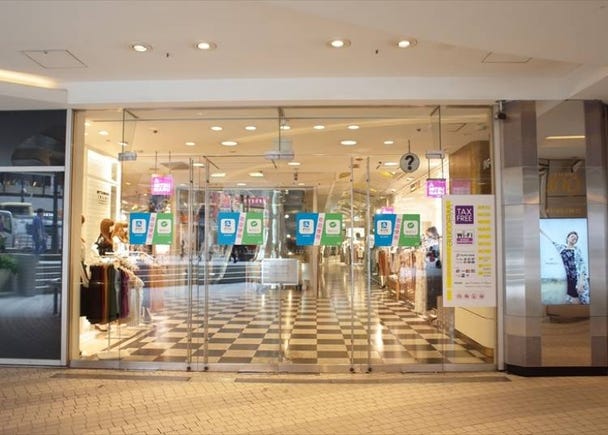 SHIBUYA109 can easily be seen from the Shibuya scramble intersection. Most of the floors from the second basement to the eighth floor carry goods for ladies, such as apparel, shoes, accessories, sundried goods, as well as having a print seal spot and restaurant – about 120 different shops all together. The floors do not carry specific items, but each of them carries a variety of items where emphasis is on the latest trends that are offered at reasonable prices and this further adds to its popularity.

Twice a year, in winter (January 2 ~ 31) and summer (June 30 ~ July 31) large sales are held. During the winter sale at the beginning of the New Year, each of the shops in the building sells fukubukuro (lucky bags) on the second and third days of the month. Long lines of shoppers eager to get one or more of these bags form outside the building even before it opens and this has become a symbolic New Year's scene in Shibuya.

Payment can also be made with UnionPay, ALIPAY, and WeChat Pay; there is language support in English, Chinese, and Korean on each floor. From August 1, 2018 T-shirts with "Shibuya", "Shibuya Gals", and other popular words written in katakana as well as Chinese characters will be offered as popular gifts aimed at Chinese visitors. (*Sales end once the items are sold out.)

Brands offered: One Spo / Gyda / One Way / Sanrio Vivitix Shibuya☆ / DaTuRa / W❤C / Baby Shoop / Spinns.bis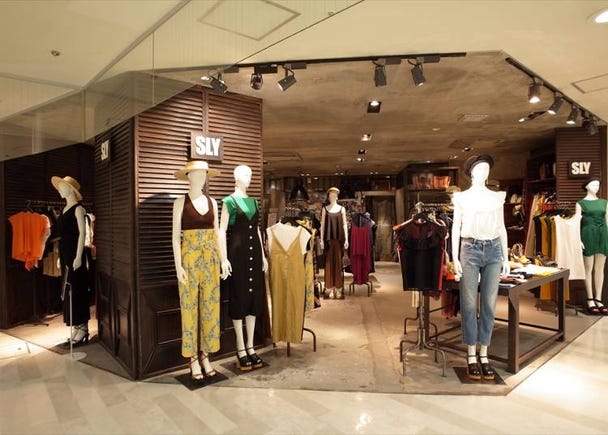 "Sly" is a brand that offers a mixed style of casual wear, feminine and mannish, appealing to different tastes having new sexy for its concept, one that is popular among a broad stratum of Japanese from students to office workers. Here you can find stylish apparel, bags, shoes, and other items designed to evoke a sexy feminine image. It is especially popular with style-conscious ladies who want to stand out a bit.
B2F: Imada Market (Apparel / Sundries)
"Imada Market" has the novel ideal of delivering "now" individual and fashionable brands that have "not yet" been recognized. This is a shop that markets items it has collected from individuals and start-up operations that have yet to establish their own shops or retail outlets. It has a large collection of items that can only be found here.
B1F: Mitsumaru Ariaz (Accessories)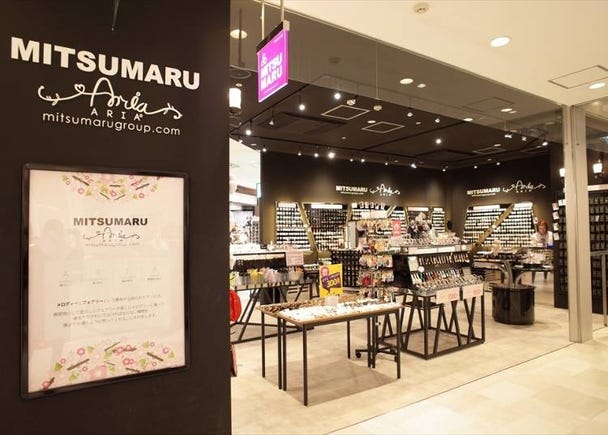 "Mitsumaru Ariaz" carries brand-name accessories of the latest designs and trends. All items in the shop are listed at the easy-to-understand prices of 500 yen, 800 yen, and 1,000 yen. This is a good place to go if you are looking for reasonably priced Japanese accessories.
B1F: Bad Store (Apparel / Sundries)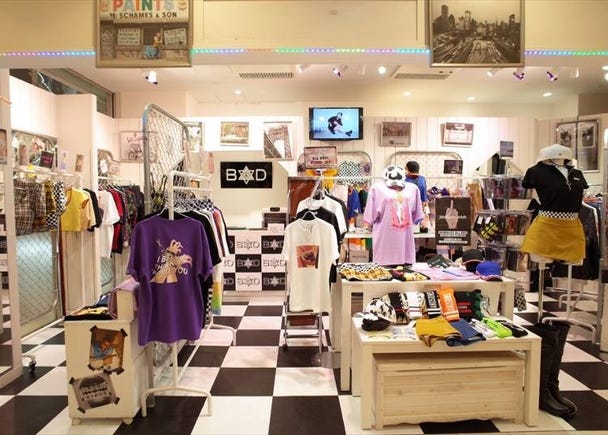 The main items in "Bad Store" are those that have a feeling of the street, appealing to "sweet and sassy ladies not too tough and not too loose who have the energy of New York and Brooklyn." Apparel that brings out your own character in an attractive way and the perfect accessories to go with it are all here. This is shop is popular with younger Japanese who favor a casual street style.
1F: Mitsumaru Allamanda (Apparel)
"Mitsumaru Allamanda" offers a trendy mixed style that is rich and elegant in a feminine way. These brands unquestionably evoke a feminine charm that has a soft feeling. This shop is popular with Japanese women who prefer a feminine feel.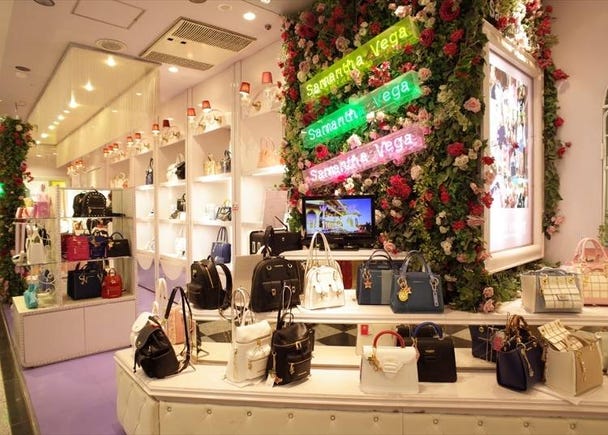 "Samantha Vega" is a sister brand of the Samantha Thavasa brand that enjoys great popularity among Japanese women. The lineup of bags and accessories that are both trendy and functional are based on the concept of "always cute and loved by all women." This is a good spot to look for that particularly attractive bag you have always wanted.
2F: Etude House (Cosmetics)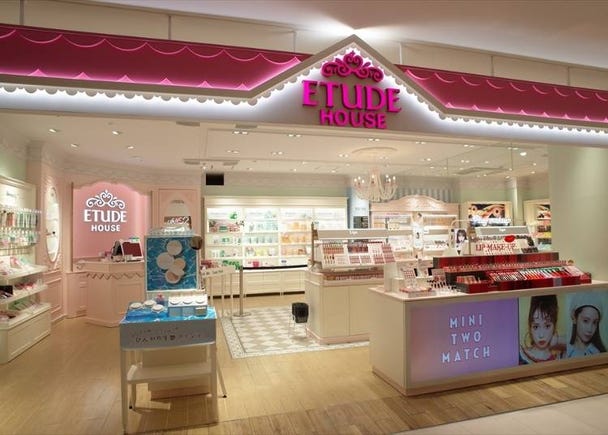 The popular Korean cosmetic brand "Etude House" also has many fans in Japan. It has a large selection of cosmetics in various colors that will make a girl's heart dance with joy having for its concept new ways to have fun with makeup that can be enjoyed every day.
2F: Innisfree (Cosmetics)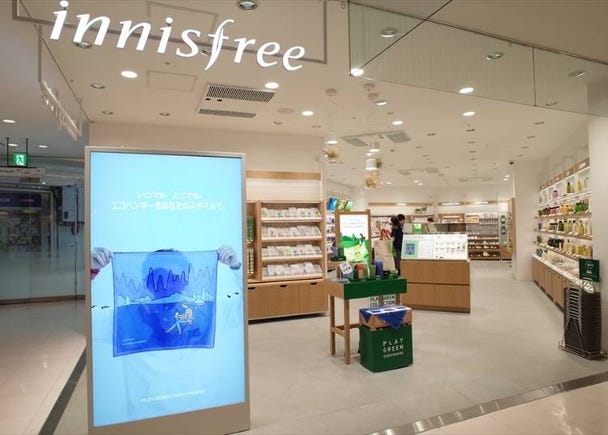 This shop offers a broad selection of the natural style popular Korean cosmetic line of "innisfree" for all age groups and which enjoys much popularity among Japanese women. The cosmetics are made primarily from natural ingredients taken from Jeju Island. Take time to sample the skin care and cosmetic products on display here.
3F: Headstar (Sundries / Hats)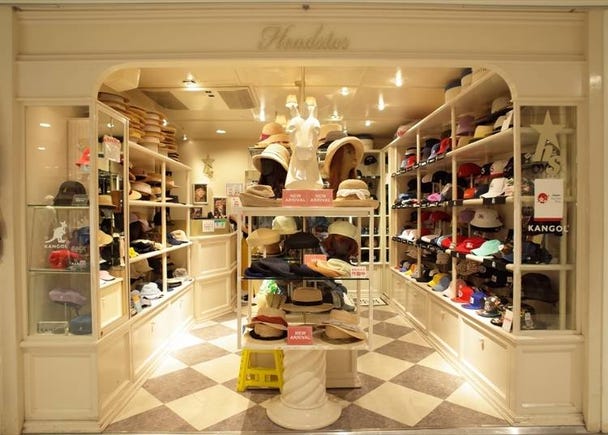 As the name suggests, "Headstar" offers hats and other items for ladies who want to stand out. In addition to hats, there is also a large selection of turbans, headbands, and other head accessories. Here you can without a doubt find the perfect hat or accessory.
"Grandedge" is an accessory shop where the theme is "flashy, yet cool and casual." The shop has a wealth of items aimed at trend-conscious young people. There are many special items that consciously focus on gold and that are on the cutting edge, popular not only with Japanese but foreign visitors, too!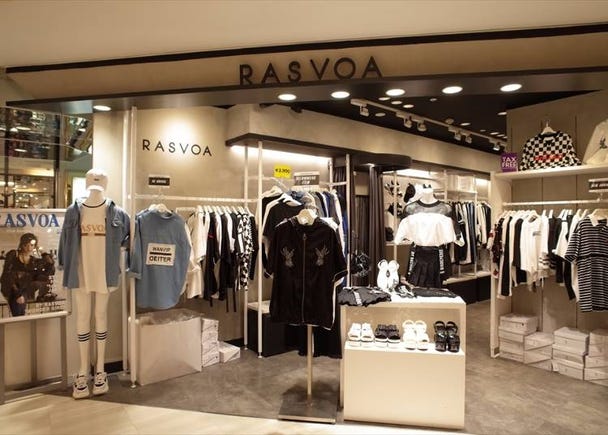 "Rasvoa" offers new styling that does not rely on form for women full of life and zest who enjoy fashions that suit their own individual styles. Here you will find a selection of casual wear unlike that in other stores that is unique for its soft monotones. For ladies looking for a sharp style of their own then this is the place to shop.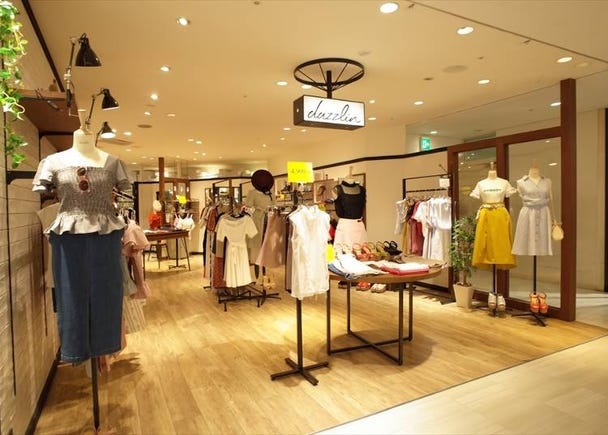 The theme at "dazzling" is healthy sweet casual offering brands popular with young ladies in their twenties who are attuned to the latest charming casual styles. Here there is a selection of designs that succinctly capture the latest trends without being too casual and can be worn for any occasion.
5F: Rodeo Crowns (Apparel)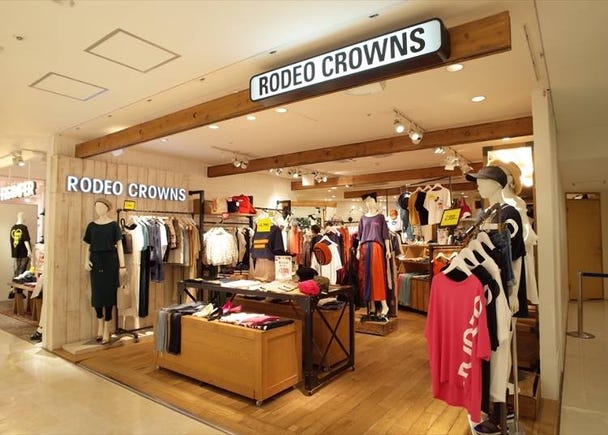 The style at "Rodeo Crowns" is a mix of slightly masculine casual and vintage yet still feminine in appearance. This is a good shop for those who like vintage styles.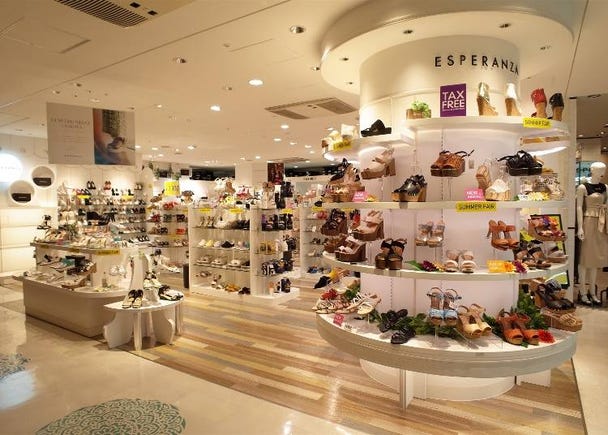 "ESPERANZA" is shoe brand popular mainly with young Japanese. Using its own materials and parts, the shop has a rich collection of colors and designs in shoes noted for their highly unique character. Here you are certain to find a pair that you are bound to like.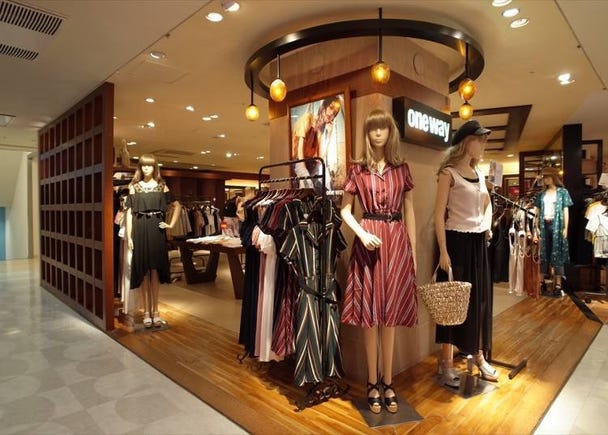 At "one way" women are certain to find design and comfort in the styles offered here. The mood is both girlish and cool and shoppers are certain to find a style that suits their individual tastes.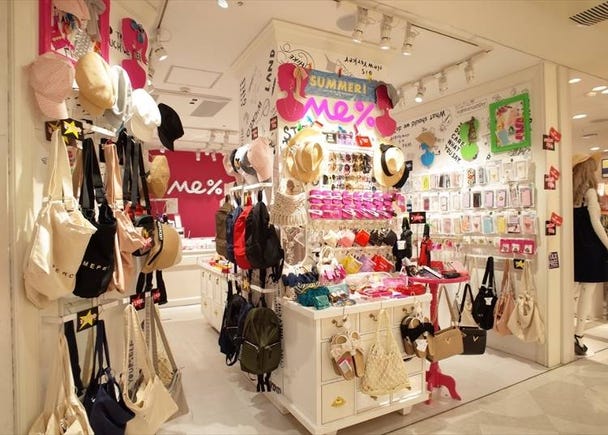 "Me%" has a wonderful selection of accessories that are both pop and cute. The theme is one of "selecting something that matches my daily changing mood" and there are all sorts of tasteful items to enable that. Here there are lots of enjoyable styles and some with a bit of an edge for those seeking that.
7F: Peak & Pine (Swimwear)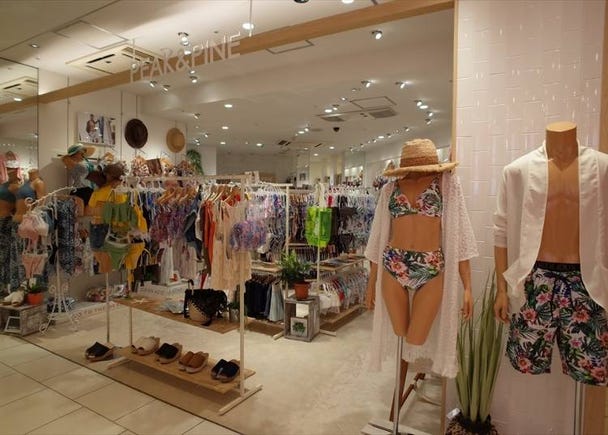 "Peak & Pine" has a wonderful and varied selection of coordinated beach outfits. Be it gorgeous or cute, the various styles to choose from will keep one busy for hours considering which fashionable item would be just right for wearing on the beach without regard to age. Off-shoulder and high-waist one piece outfits are trending in 2018. Here you can find something to fit any shape!!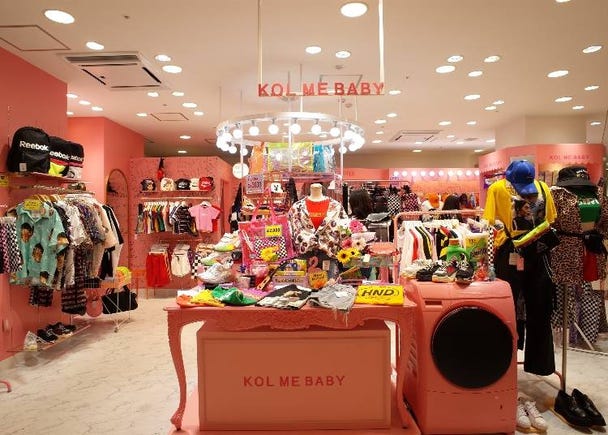 "Kol Me Baby" has a great selection of Korean items that are trendy in Shibuya noted for their colorful patterns and designs, both in apparel and accessories. The concept is one of a "fashionable girl's room" and just browsing the displays is exciting.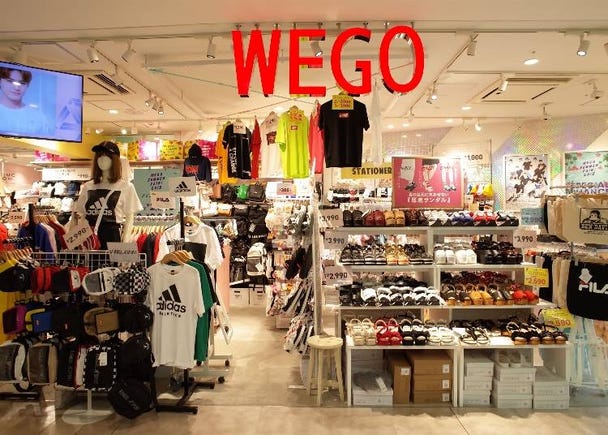 In addition to used and remade clothing, "Wego" also offers a wide selection of original goods which are massively popular with Japanese teenagers. If you like fashion with character, and the latest trend in street styles, then you really must check out Wego. Not only can you find western style clothes here, but also many unique and cute accessories.
Extra: "Moreru Mignon" Located on the 7th Floor is the World's Cutest Print Seal Shop!
"moreru mignon" is a shop specializing in print seals and boasts being the "world's cutest shop". The sweets artist Kunika designed the interior in a motif of cakes, donuts, and candies making it a veritable confectionery heaven. You can't visit without wanting to take photos as evidenced by its popularity as a tourist spot. Many young people stop by here first and take photos before they browse the other shops in SHIBUYA109.


2019 will mark the 40th anniversary of fashion building SHIBUYA109. Yet from its beginning right up through today it has remained on the cutting edge of whatever is trending. All of the shops, beginning with those we introduced above, have a vibrant energy emanating from their inviting and exciting displays. Most of the customers are young women in their teens and twenties, but thanks to the sophistication of the fashions they are popular with all age groups. Keeping pace with the ever-changing trends, SHIBUYA109 always has the latest and most exciting trending fashions. It is a place you will certainly not want to miss!
Hours: 10:00 a.m. ~ 9:00 p.m.
* Café and restaurant
7F Café Ma Maison 10:00 a.m. ~ 10:00 p.m.
7F Chirico di NAPOLI 11:00 a.m. ~ 10:00 p.m.
Closed: January 1st
Access: 3-minute walk from the Hachiko Exit of the JR Shibuya Station
SHIBUYA109

Address

2-29-1 Dogenzaka, Shibuya-ku, Tokyo, 150-0043


Nearest Station

Shibuya Station (JR Shonan Shinjuku Line / JR Yamanote Line / JR Saikyo Line / Tokyo Metro Ginza Line / Tokyo Metro Hanzomon Line / Tokyo Metro Fukutoshin Line / Tokyu Toyoko Line / Tokyu Den-en-toshi Line / Keio Inokashira Line)
0 minute on foot


Phone Number

03-3477-5111
*This information is from the time of this article's publication.
*Prices and options mentioned are subject to change.
*Unless stated otherwise, all prices include tax.