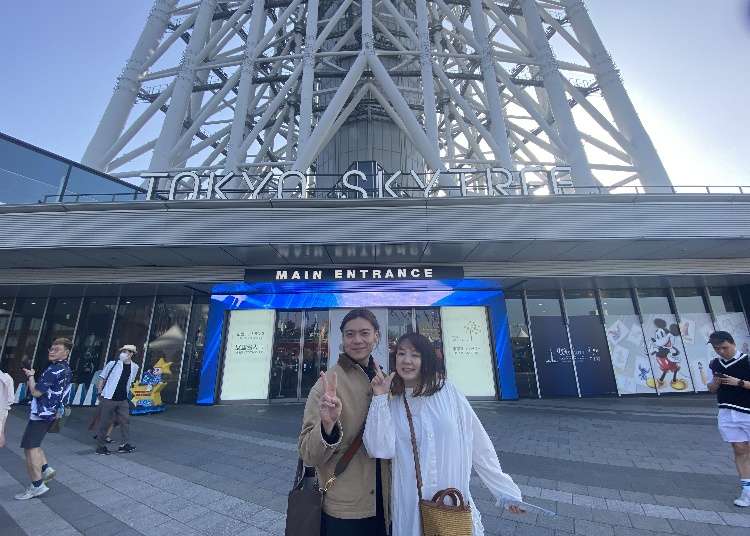 When it comes to Tokyo's top attractions for international tourists, one cannot overlook the enchanting traditional neighborhood of Asakusa, along with the awe-inspiring Tokyo SkytreeⓇ, the epitome of cutting-edge technology.

Rising to an impressive height of 634 meters, Tokyo Skytree proudly holds the esteemed title of the "tallest tower in the world," as certified by the Guinness World Records. Despite the challenges posed by the pandemic, the area surrounding Tokyo Skytree has continued to flourish, brimming with new shops and exciting tourist spots.

We join Ryuuu TV's dynamic duo as they venture into the hidden facets of Tokyo Skytree and introduce you to the newly established hotspots in this highly anticipated area. Prepare to be amazed as we unveil the latest developments that have made Tokyo Skytree even more captivating in recent years. Get ready for an insider's journey into the dynamic and ever-evolving world of Tokyo Skytree!
Introducing the Popular Creators of Ryuuu TV: Ryu & Yuma - Loved in Taiwan and Hong Kong!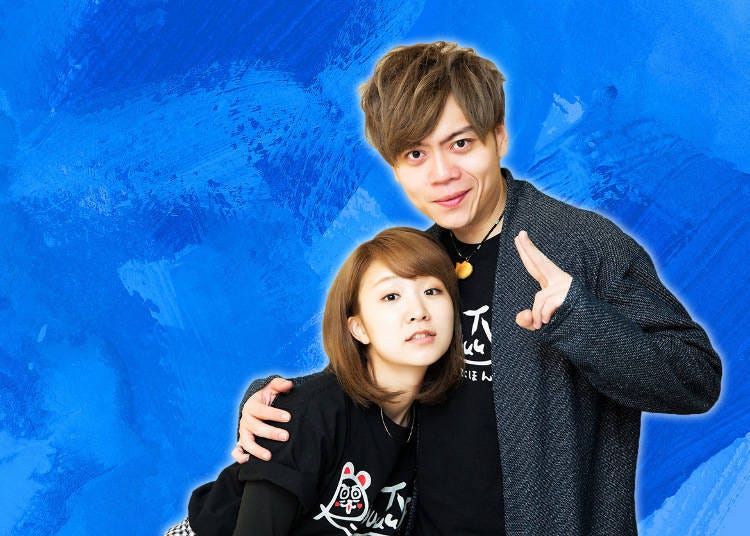 Meet Ryu, a Malaysian native who graduated from a Japanese university, and Yuma, a Japanese local with experience studying in Taiwan. As a couple, they explore and share captivating information about intriguing spots, delectable cuisine, unforgettable experiences, and remarkable journeys in Japan, all under the theme of "Japan's captivating culture and hidden gems that are not easily found through research."

Their content is primarily disseminated in Chinese on Ryuuu TV, where they offer a fresh and distinctive take on Japan.

With over 1.82 million subscribers on YouTube (as of June 2023), Ryuuu TV has become one of the most popular creators among youth in Taiwan and Hong Kong.

"Although we have visited Skytree several times before, the idea of being able to explore normally off-limits areas this time is incredibly exciting!" exclaimed Ryu. Yuma added, "We've heard that many new attractions have emerged since before the pandemic, so we've been eagerly looking forward to it."
Did You Know? Surprising Facts About Tokyo Skytree and Area Highlights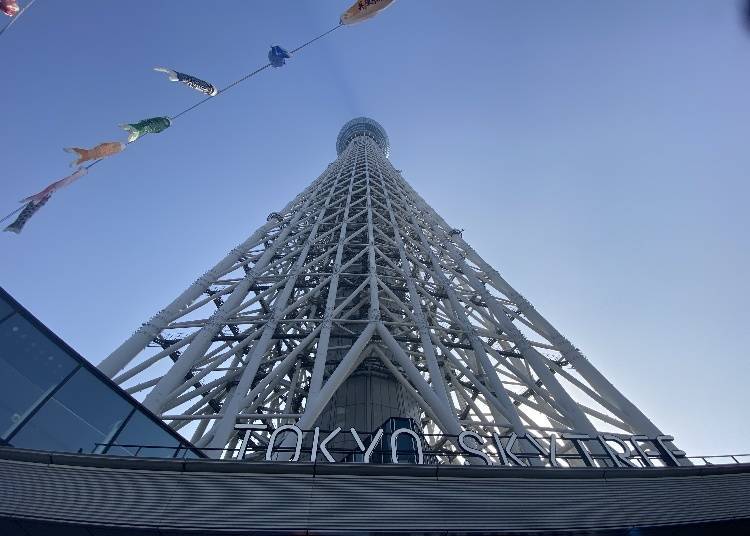 Tokyo Skytree, the world's tallest freestanding broadcasting tower, opened its doors on May 22, 2012. Soaring to a height of 634 meters (referred to as 'Musashi' in Japanese), it proudly stands as Japan's tallest structure.

With the first observation deck located at 350 meters and the second at 450 meters, this spot offers an unrivaled view of Tokyo from the highest vantage point in the country. As a result, it attracts not only visitors from all over Japan but also tourists from around the world, eager to witness the breathtaking panorama of Tokyo.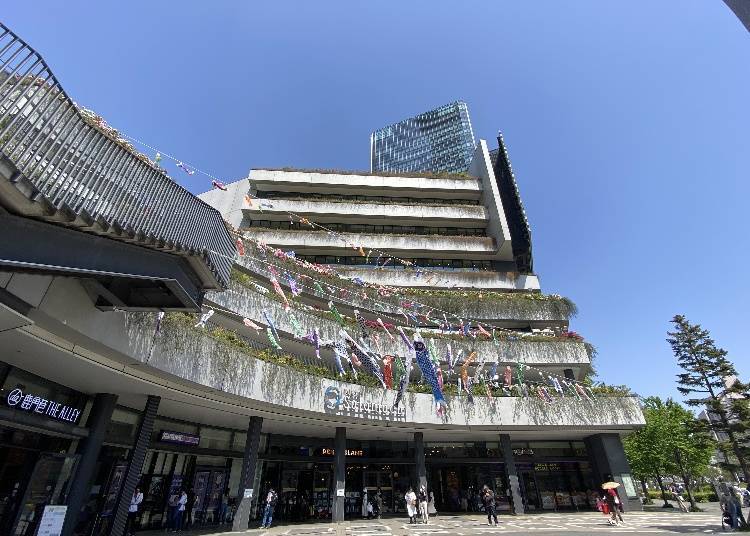 Among them is 'Tokyo Solamachi,' a commercial complex housing approximately 300 shops, including retail stores and restaurants, featuring Tokyo Skytree as its centerpiece. This vibrant hub embodies the essence of Tokyo's downtown charm, offering a wide array of Japanese-themed souvenirs and delectable gastronomic delights sourced from various regions across the country, perfect for foreign tourists.

Furthermore, encompassing office spaces and more, this entire area is known as 'Tokyo Skytree Town,' a bustling district that pulsates with life.
Must-Know! New Hotspots Around Skytree's Vicinity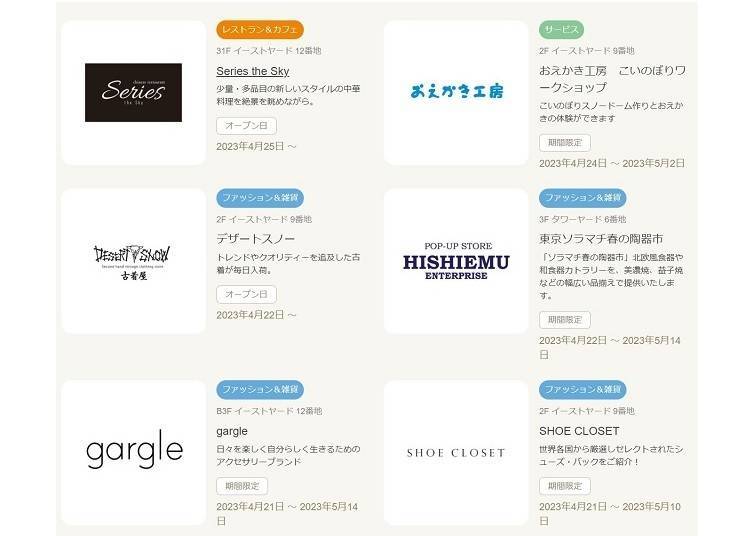 https://www.tokyo-solamachi.jp/shop/
Tokyo Solamachi is home to numerous temporary pop-up shops, ensuring a constant sense of exclusivity and freshness whenever you visit. Amidst the challenges of the pandemic, new shops have emerged, and there are also upcoming openings scheduled for April 2023 and beyond, truly revitalizing the atmosphere compared to the pre-pandemic era.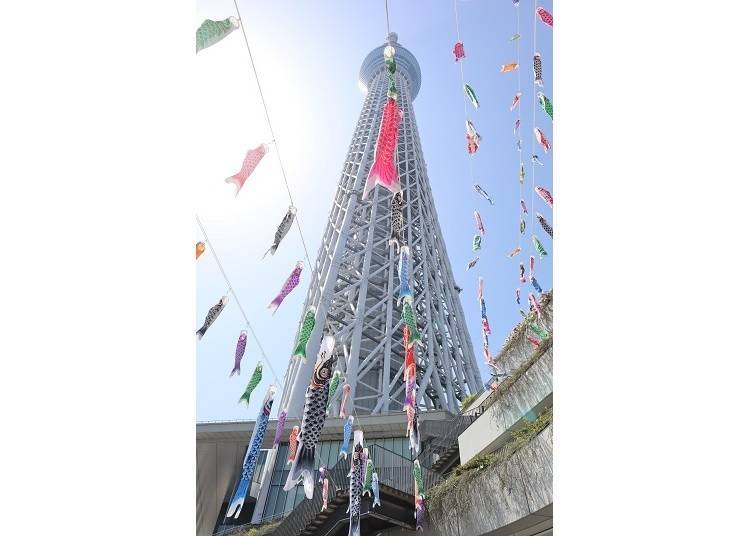 Various events that were canceled during the pandemic are gradually making a comeback starting from 2023. Aligning with seasonal celebrations and annual traditions of Japan, a diverse range of original events are being held, featuring captivating decorations and ever-changing interior designs that perfectly complement the respective themes. Don't miss the opportunity to witness the remarkable transformations in decor and ambiance that occur with each event!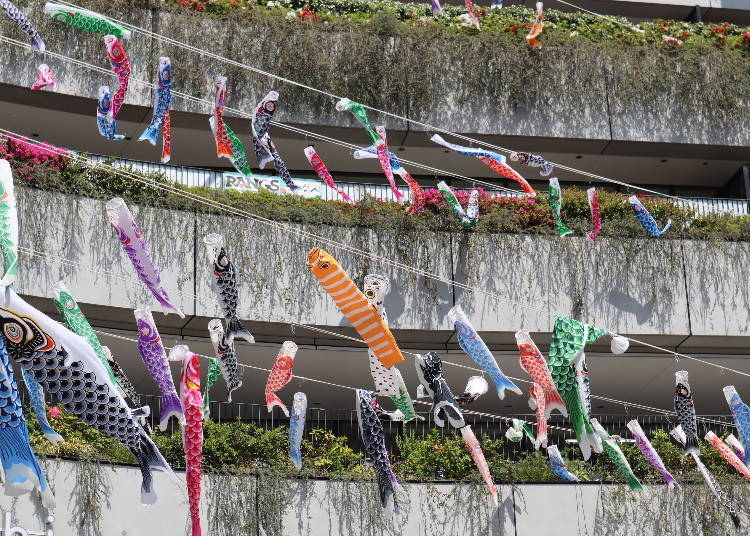 During our coverage in April 2023, the Koinobori Festival was held, adorning the vicinity of Tokyo Skytree with a vibrant display of approximately 1,500 colorful carp streamers. It created a stunning spectacle, breathing life and color into the surroundings.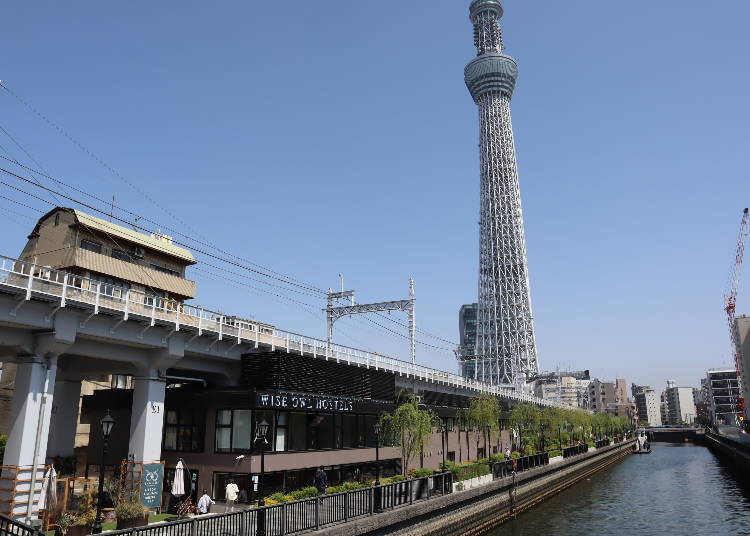 Furthermore, in June 2020, a commercial facility called "TOKYO mizumachi" opened under the elevated railway connecting Asakusa and Tokyo Skytree Town. This establishment offers accommodations, restaurants, and retail stores, enhancing accessibility to Asakusa and making it more convenient for visitors to explore the surrounding attractions.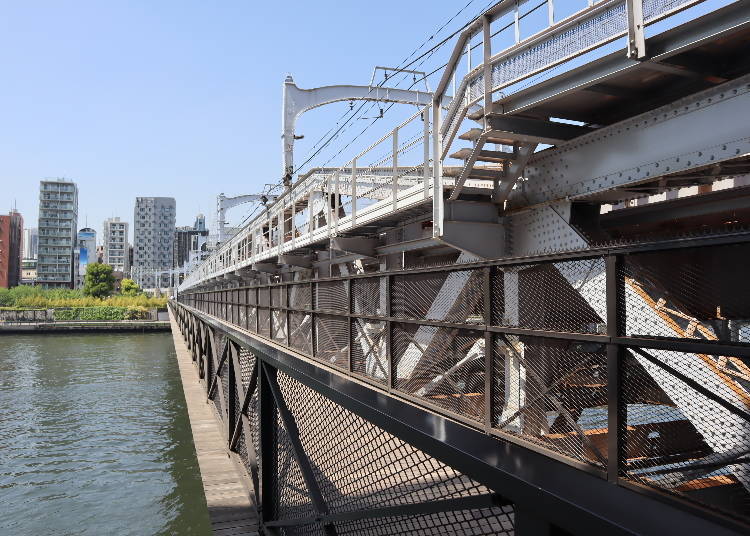 At the same time, the "Sumida Riverwalk" pedestrian bridge was newly completed adjacent to the Sumida River Bridge, more conveniently connecting Asakusa and the Tokyo Skytree area. These developments showcase the ongoing evolution of the area, offering even more attractions and amenities for visitors to enjoy.
Explore the New Gems of 2020: Stroll Along Sumida Riverwalk and TOKYO mizumachi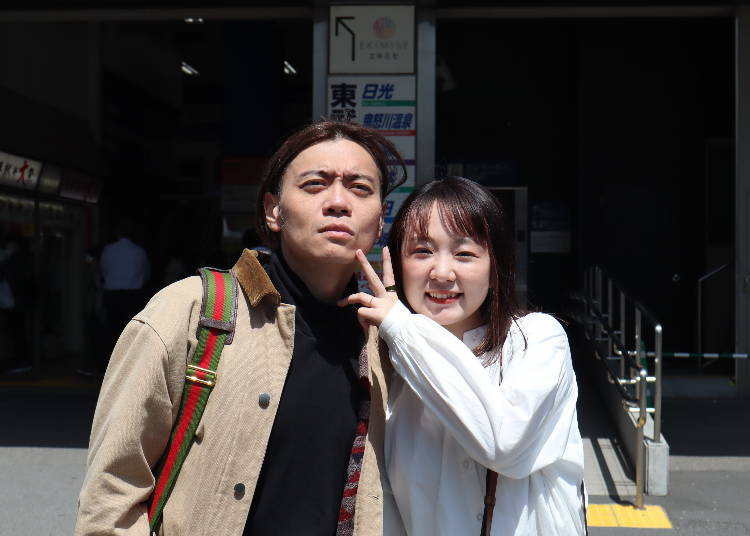 On this day, the dynamic duo of Ryuuu TV embarked on a journey starting from Asakusa Station. They walked through the Sumida Riverwalk and TOKYO mizumachi, experiencing the vibrant atmosphere along the way, until they reached the magnificent Tokyo Skytree.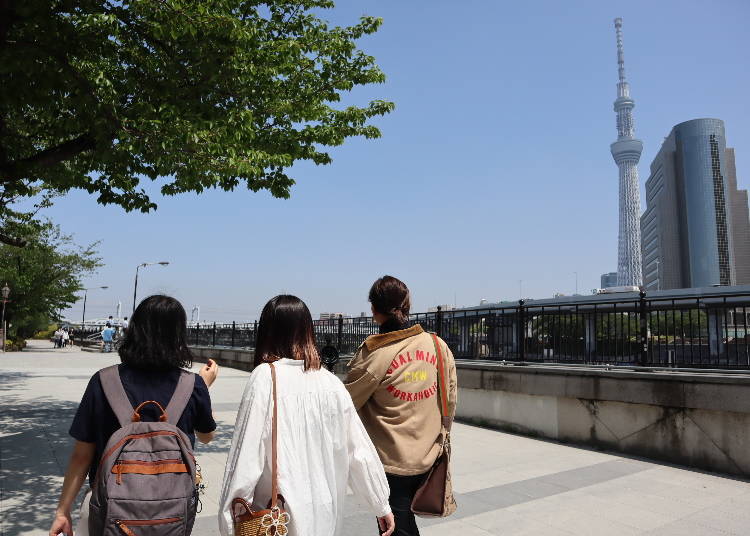 From Asakusa Station to Tokyo Skytree Town, it's a leisurely 25-minute walk. They made their way from the riverside promenade along the Sumida River to the enchanting Sumida Riverwalk.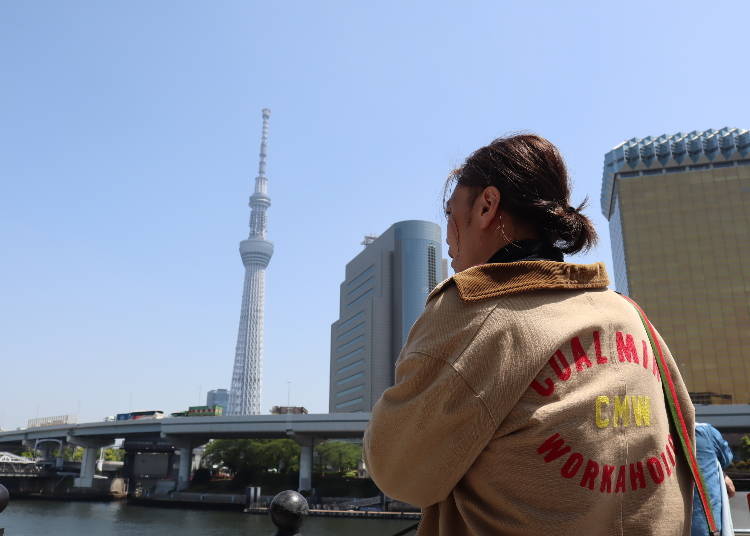 With Tokyo Skytree visible right in front of them, they felt an incredible sense of proximity. "It feels so close that it's really enjoyable to walk without any difficulty!" they exclaimed, taking light and cheerful steps as they began their journey.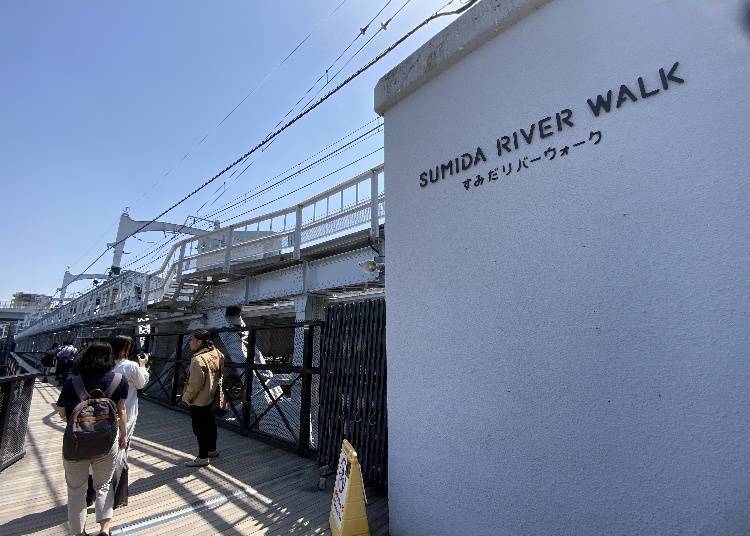 Sumida Riverwalk is a pedestrian bridge built adjacent to a railway-exclusive bridge of the Tobu Skytree Line (Isesaki Line). It offers the shortest route from Senso-ji Temple to Tokyo Skytree, and it is open for everyone free of charge during its operating hours from 7 AM to 10 PM daily (for pedestrians only; bicycles are allowed if pushed by hand).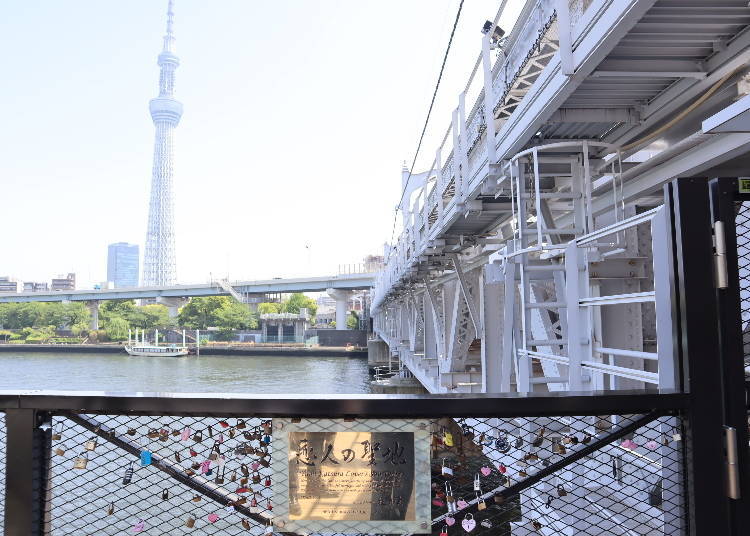 Furthermore, from sunset until the last train, the bridge is illuminated, making it a recommended spot for enjoying the nighttime view along with Tokyo Skytree. It has already gained fame as a "Lovers' Sanctuary," adorned with numerous love locks left by couples as a symbol of their affection.
Being able to enjoy trains passing by so close is a unique experience train lovers will enjoy! The sounds, speed, and immersive sensation are truly captivating, providing a one-of-a-kind encounter.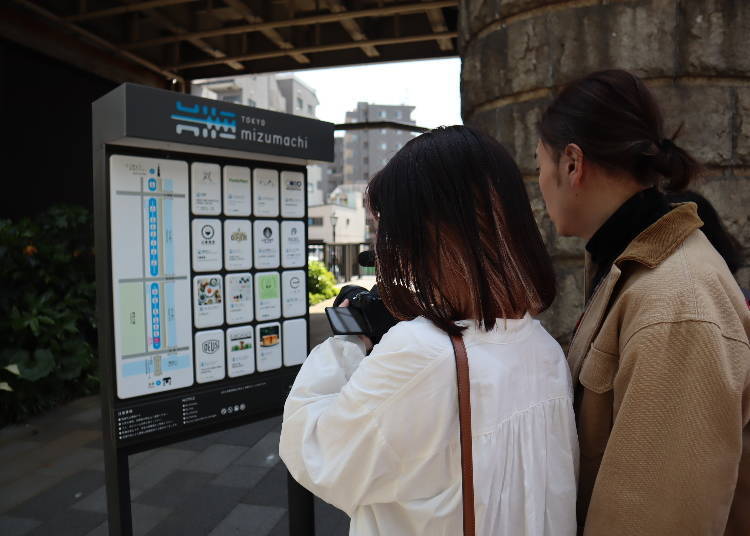 After crossing the bridge of Sumida Riverwalk, they entered the street where TOKYO mizumachi is located.
A collection of shops, restaurants, and more under the elevated tracks, TOKYO mizumachi is home to popular bakeries, cafes, and traditional Japanese sweet shops that are beloved in the heart of the city.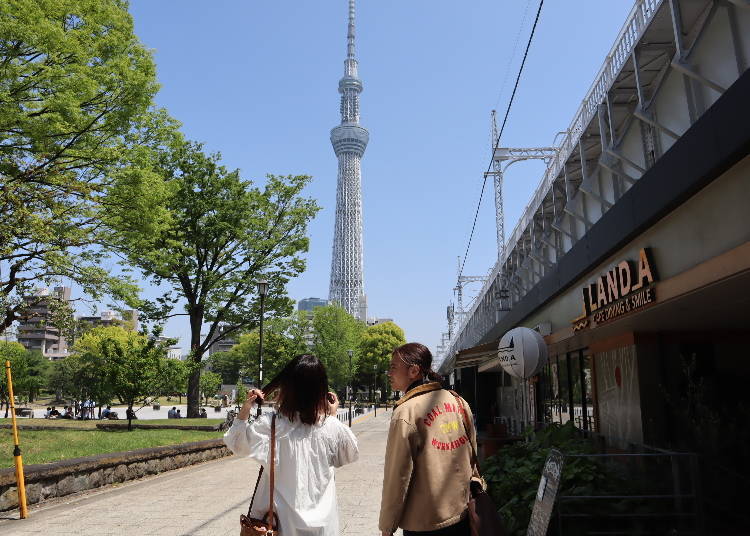 Adjacent to TOKYO mizumachi, a sprawling and magnificent Sumida Park, recognized as one of Japan's top 100 cherry blossom viewing spots, unfolds. It offers a perfect view of Tokyo Skytree as well. "This place is abundant in nature, boasting beautiful scenery, making it an excellent route for a leisurely stroll," they remarked.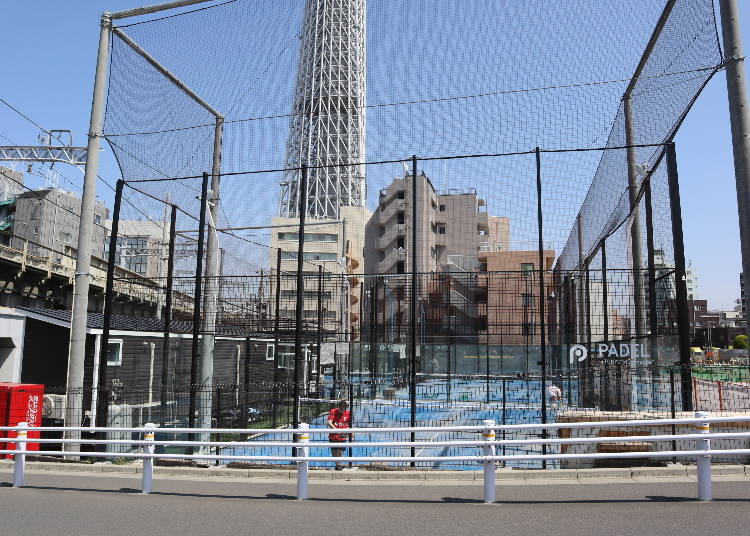 In addition to accommodation facilities, restaurants, and convenience stores, there is also a facility dedicated to the popular Spanish sport, Padel Tennis. It serves as a place of relaxation and recreation, adding to the convenience and enjoyment of tourists in the area.
Finally, to Solamachi! The Spotlight Shines on 'MISOJYU' - A Popular Newly Opened Shop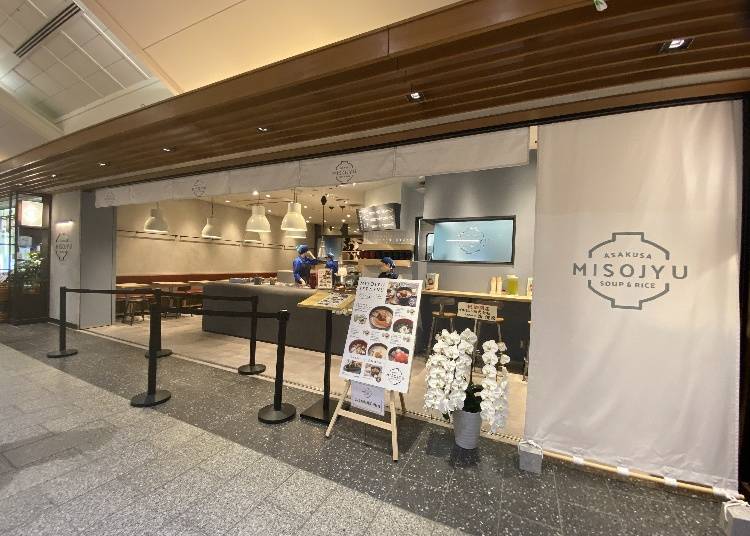 In the lively district of Asakusa, Tokyo Solamachi proudly showcases a wide array of items and flavors unique to Japan. Among the latest additions, "MISOJYU" opened its doors in March 2023.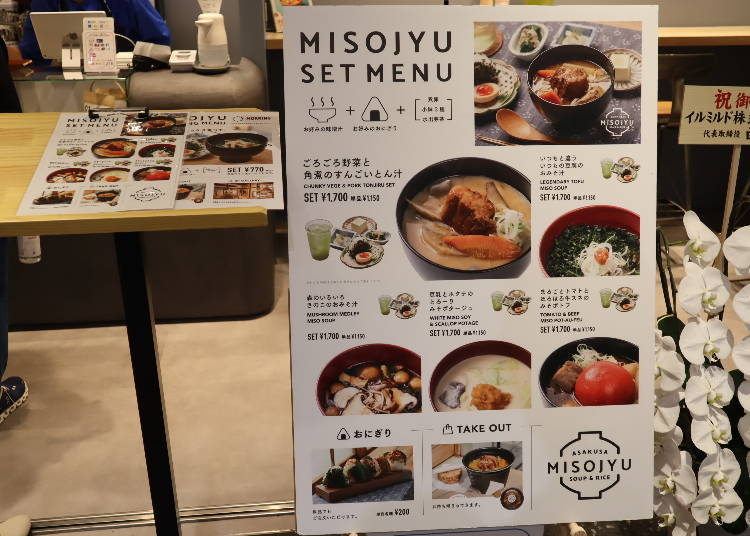 In 2018, with the concept of "spreading miso soup to the world," the first flagship store of "MISOJYU" opened in Asakusa. Led by food director Edward Hames, who is also a photographer, the menu features innovative and unique dishes that revolutionize the traditional image of miso soup. The emphasis is placed on using domestically sourced and organic ingredients whenever possible, reflecting a commitment to high-quality ingredients.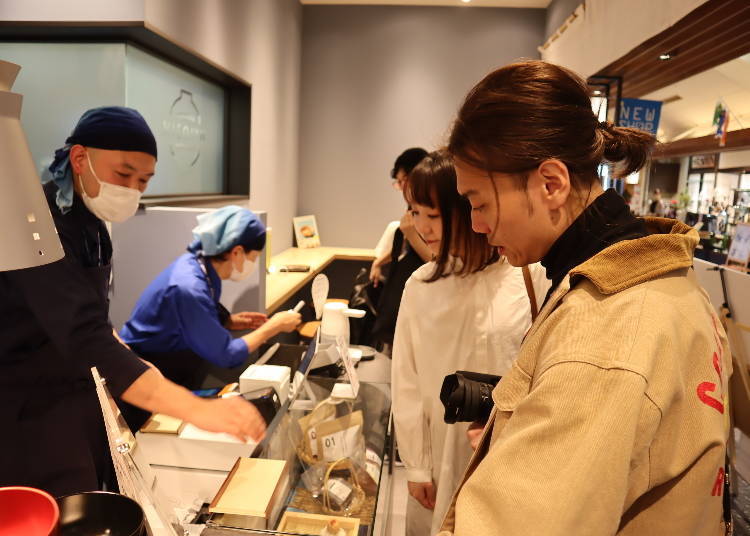 Ryu ordered the set of the shop's most popular dish, the "Gorogoro Vegetable and Braised Pork Belly Amazing Tonjiru (Gorogoro Yasai to Kakuni no Sun-goi Tonjiru)," along with onigiri (rice ball).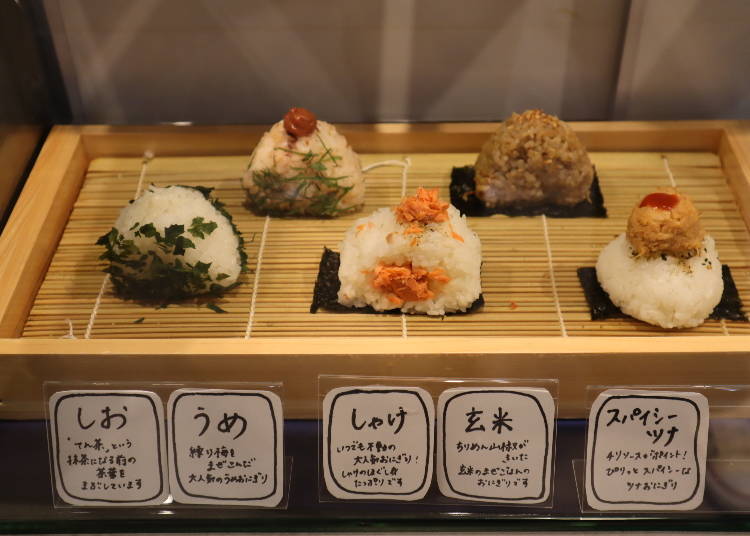 From the lineup of the day, you can choose your favorite onigiri (there were five varieties available on that day).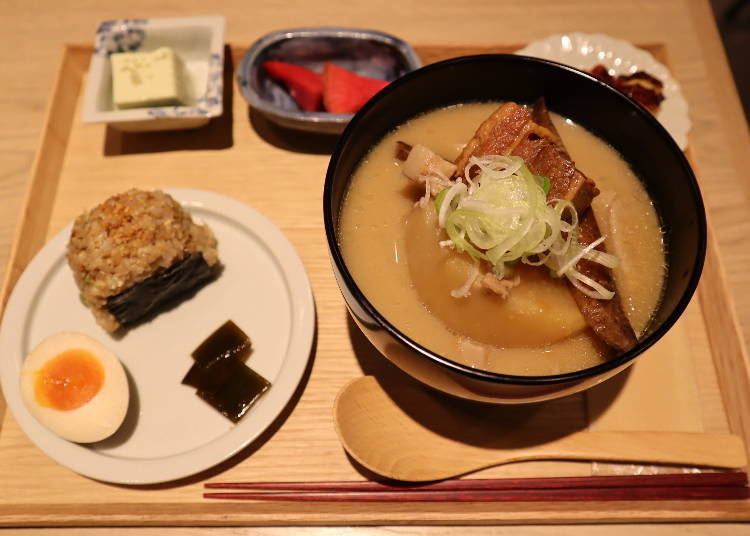 Here is the set of "Gorogoro Vegetable and Braised Pork Belly Amazing Tonjiru (Gorogoro Yasai to Kakuni no Sun-goi Tonjiru)." It includes the main miso soup dish, onigiri, and several side dishes.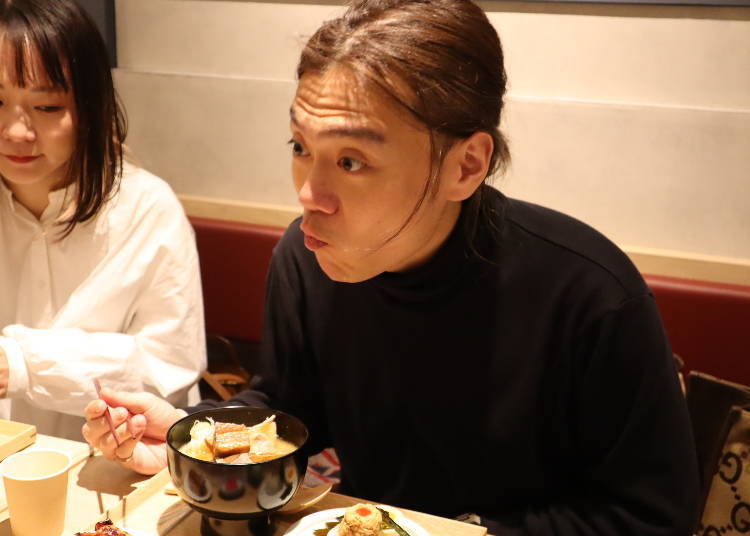 "The braised pork belly and daikon radish in this dish are incredibly generous in size! Usually, miso soup plays a supporting role, and I sometimes forget to drink it (laughs), but with this, it takes the spotlight! The portion size is generous, and the flavor is exceptional!"

Ryu felt the true intention of "MISOJYU," which aims to make the traditional Japanese home-cooked meal, miso soup, the star of the show.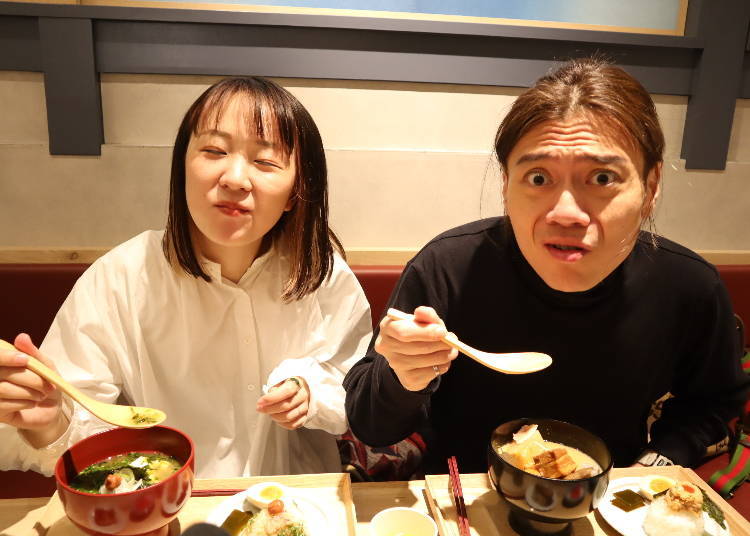 Yuma ordered the set of the "Always Different, Always Tofu Miso Soup" along with onigiri.

"It's called tofu miso soup, but the tofu is completely different here. It's packed with plenty of seaweed, and it's delicious. It's also rare to have pickled plums in it! Miso soup always brings comfort," Yuma explained with a satisfied expression. "It pairs perfectly with the onigiri, and it's incredibly tasty!" added Ryu, sharing the same delighted expression.

Store Information
・Store Name: MISOJYU
・Tokyo Solamachi, 1F East Yard, Stall 11
Selected from 300 Varieties Nationwide! Enjoy Japan's Iconic Delicacies at 'Tachigui Umeboshiya'
Next, the duo at Solamachi was captivated by the "Tachigui Umeboshiya." This unique shop allows customers to taste and purchase a selection of 16 carefully chosen umeboshi varieties while standing. The owner personally sampled over 300 types of umeboshi from across the country to curate this exceptional collection.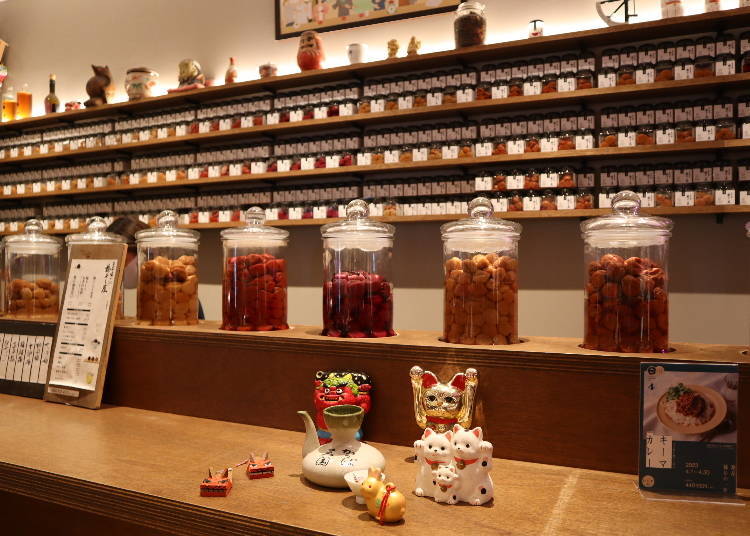 Umeboshi (pickled plums) hold a special place in Japanese cuisine, as symbolized by the traditional "Hinomaru Bento" (a white rice ball with an umeboshi placed in the center, resembling the Japanese flag).

At Tachigui Umeboshiya, you can savor these quintessentially Japanese umeboshi alongside naturally crafted teas and tea-infused alcoholic beverages.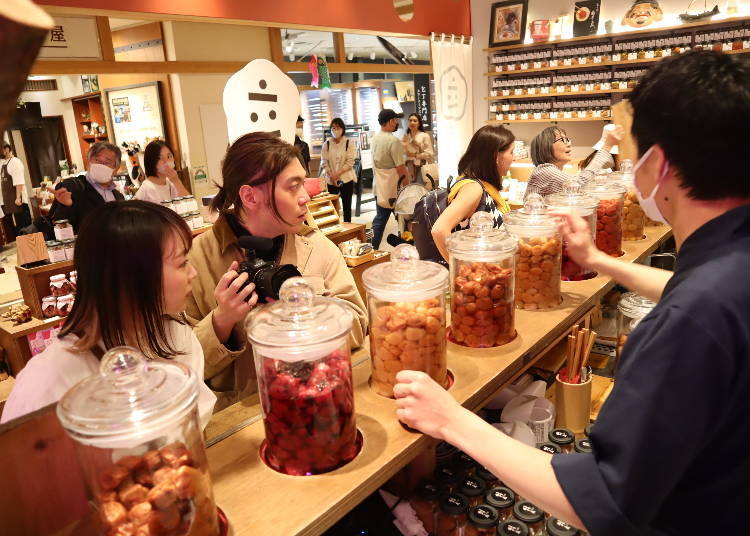 A highly recommended option is the tasting set, which includes your choice of three different umeboshi varieties along with a beverage. With guidance from the staff, you can select the three types that you want to try, creating a personalized umeboshi tasting experience.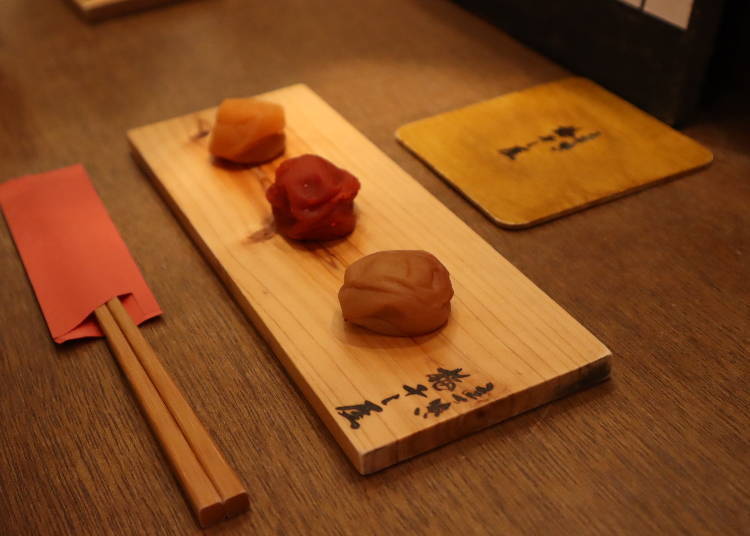 "Having someone recommend umeboshi based on personal preferences, it's like having a sommelier! Since we live in Ibaraki, we'll try the innovative and spicy Ibaraki-made karashi umeboshi and the orange-infused umeboshi," Yuma exclaimed.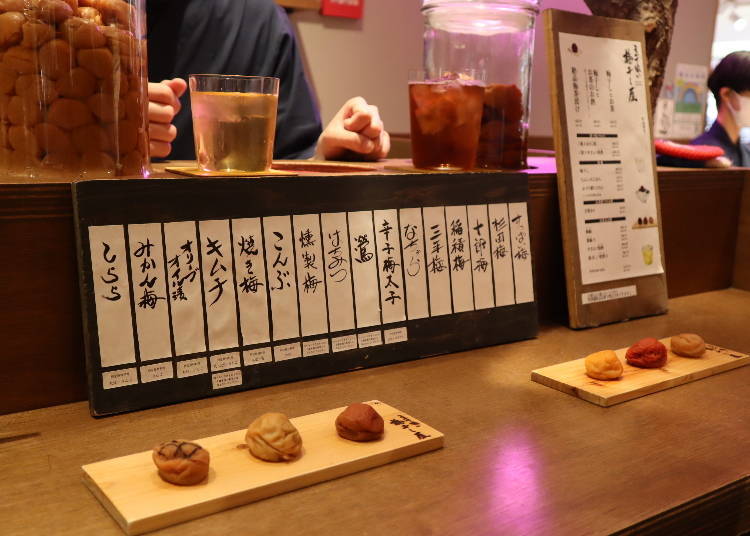 "I'll go for the most sour umeboshi, one with a good balance, and the unique smoked umeboshi," Ryu added with enthusiasm.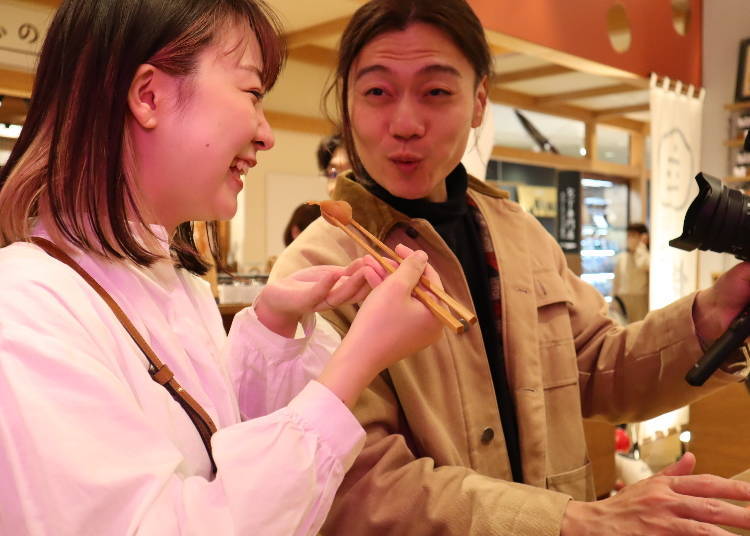 Now, it's time to taste them! "Ohhhhhh!!! So sour!!!" exclaimed Ryu, unable to hide the classic expression of sourness on their face.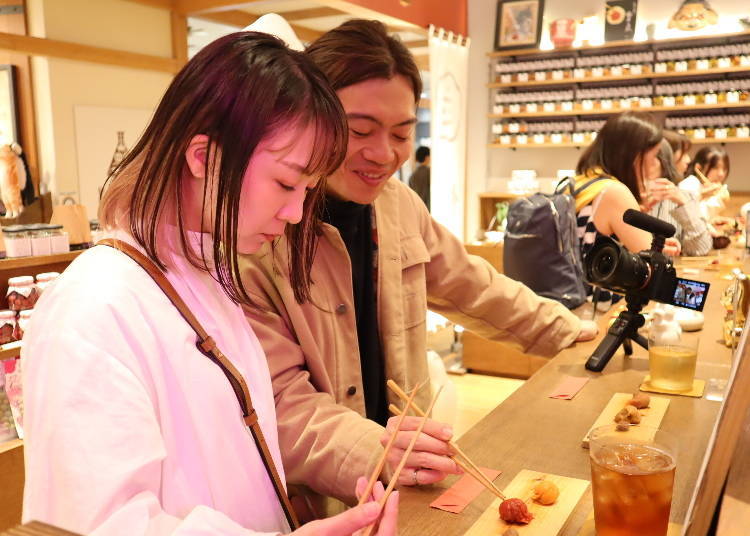 "Such unique flavors! I never knew umeboshi could vary so much in taste... It's quite a discovery. Being able to try different flavors is really fantastic. Plus, it feels like being at the counter of a high-end sushi restaurant. It's so enjoyable!"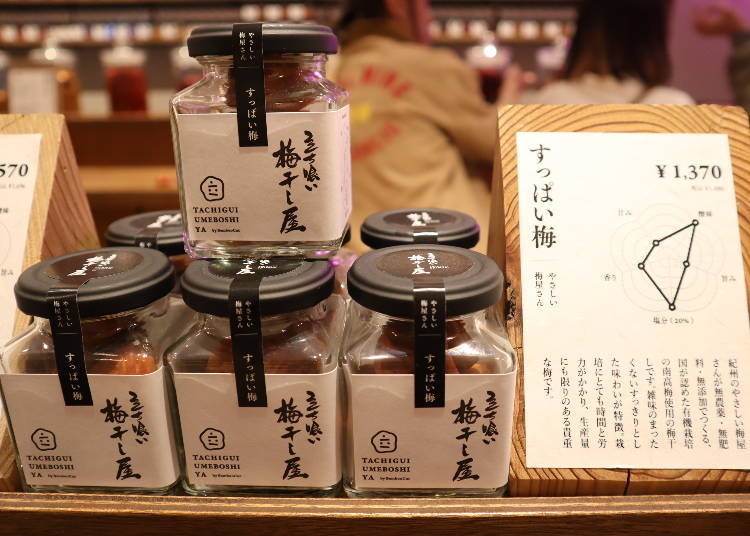 Since you can actually taste and confirm your favorite flavors before making a purchase, even foreign visitors who might be unsure of their preferences can feel at ease. This allows them to buy umeboshi as souvenirs without any worries.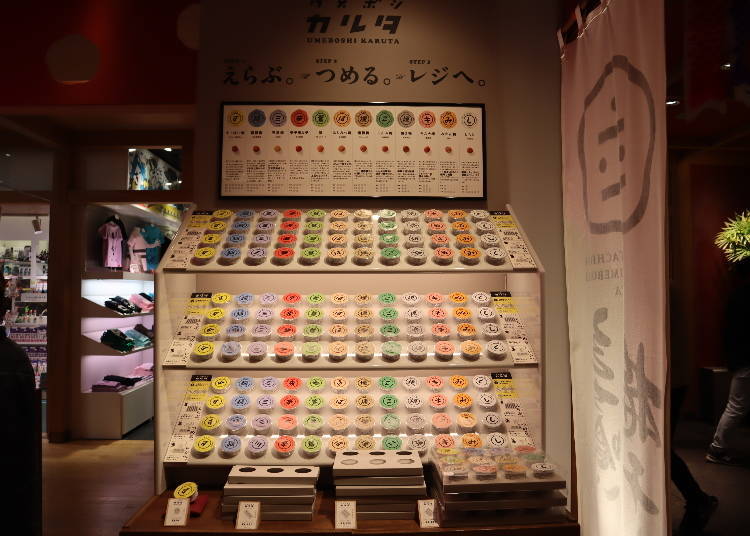 Umeboshi is available not only in bottled form but also as individual pieces, allowing you to purchase as little or as much as you like. Additionally, they offer white rice and ochazuke (rice with tea poured over it), making it a perfect accompaniment for a rice-based meal. Even those who wish to enjoy umeboshi alongside rice will surely be satisfied.

Store Information
・Store Name: Tachigui Umeboshiya
・Tokyo Solamachi, 4F East Yard, Stall 10
Join the Exclusive Secret Tour to Discover the Hidden Side of Tokyo Skytree!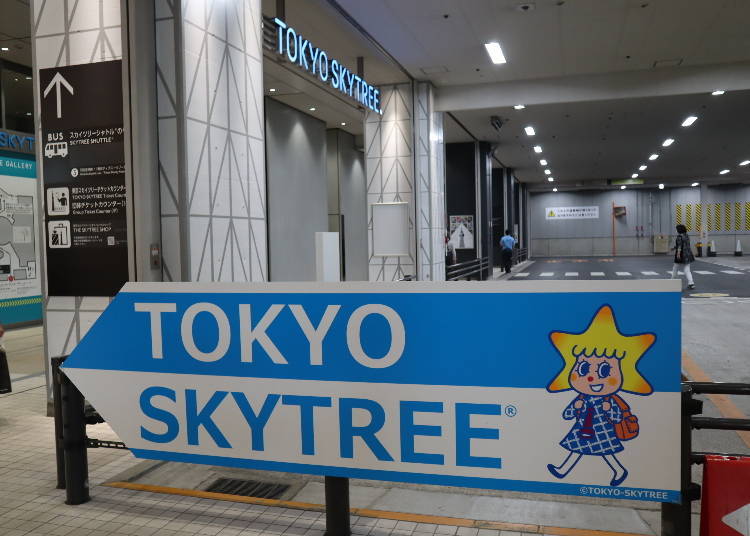 Starting from April 1, 2022, Tokyo Skytree has launched the exclusive "Tokyo Skytree Secret Tour" with limited availability in terms of participants and dates. This tour offers the opportunity to visit special spots that are typically off-limits, along with a guided tour of the Tembo Deck with insightful commentary from dedicated guides.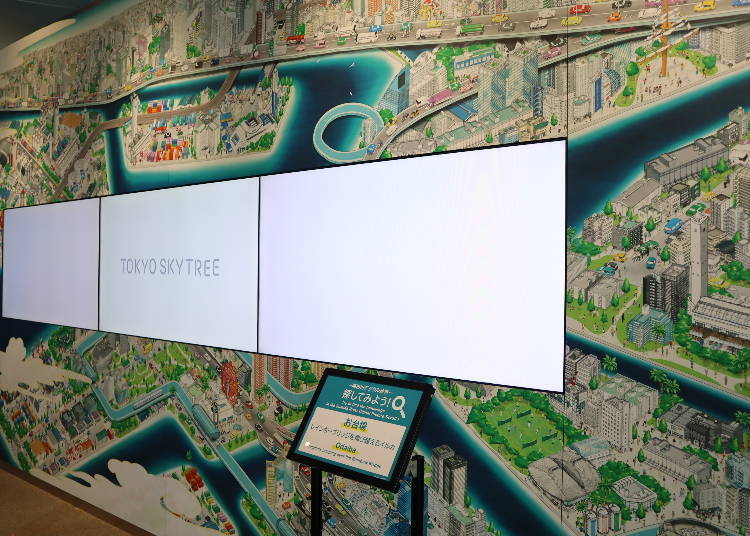 Moreover, the guides will also provide insights into the newly established exhibition area called "SKYTREE(R) ARCHIVES" located on the 4th floor entrance floor. This ensures that participants can fully appreciate the unique highlights of Tokyo Skytree that are not usually accessible, gaining a comprehensive understanding of its attractions.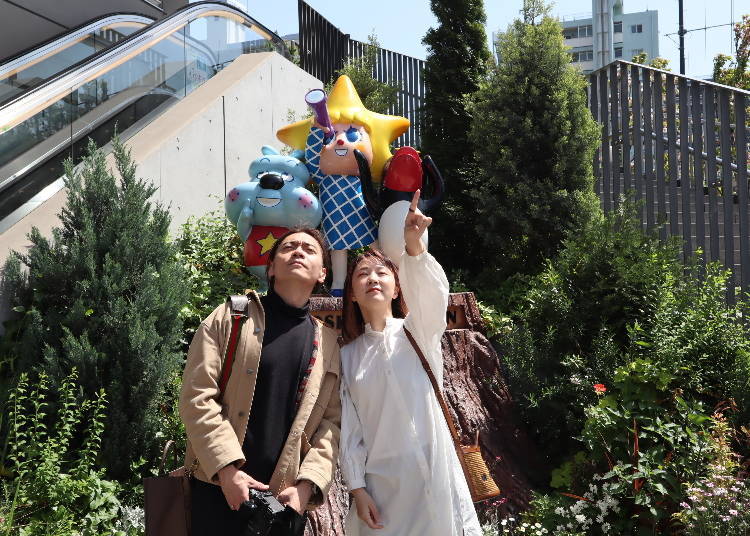 In this instance, they participated in the "Tokyo Skytree Secret Tour" to uncover its mysteries. Excitedly, they exclaimed, "We're off to explore the secrets!"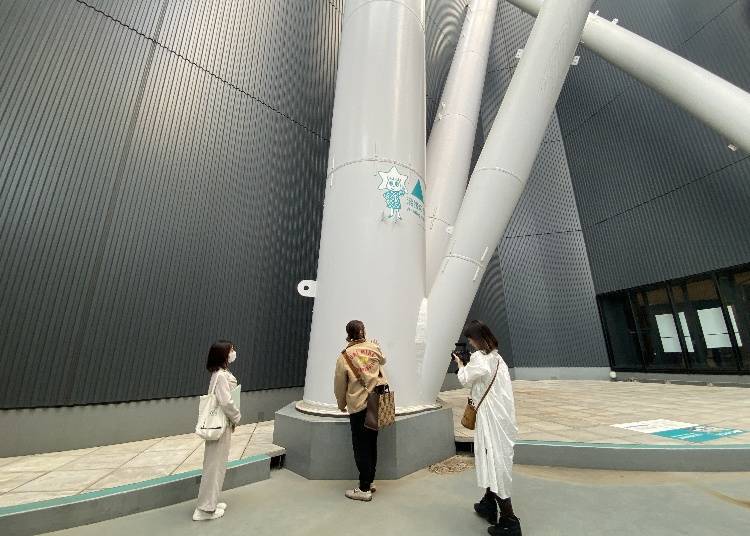 One of the highlights is the opportunity to venture into the normally restricted area at the base of the tower.

"To think that this is what supports such a massive tower... It's truly awe-inspiring and unimaginable," they marveled in astonishment.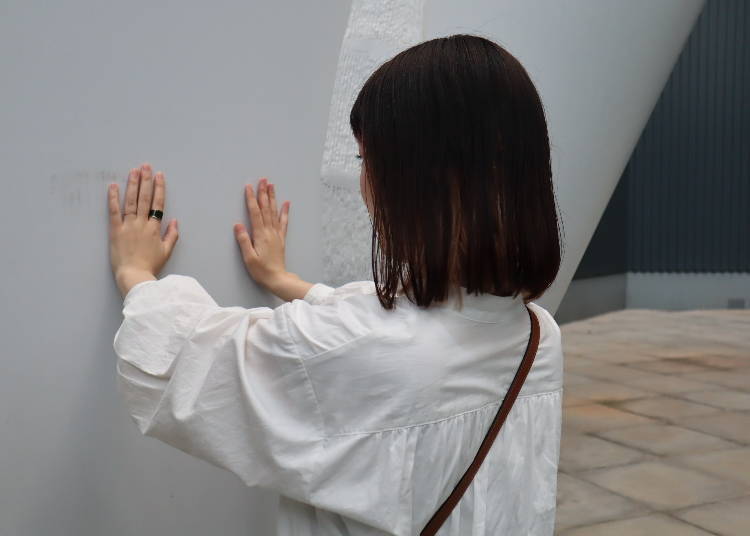 "Actually being able to touch it is super cool!" Yuma exclaimed, as if sensing some kind of power emanating from the structure.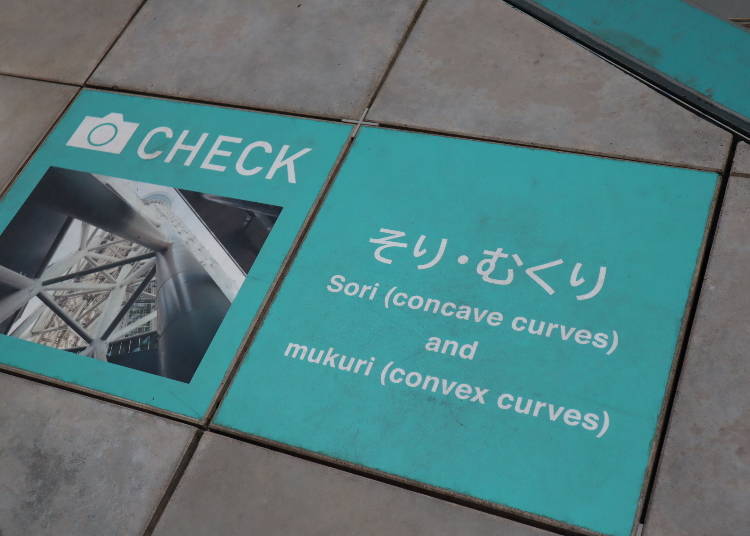 Both of them were simply amazed by the intricate craftsmanship and engineering that went into supporting the world's tallest tower. They couldn't help but admire the meticulous technology behind its towering height.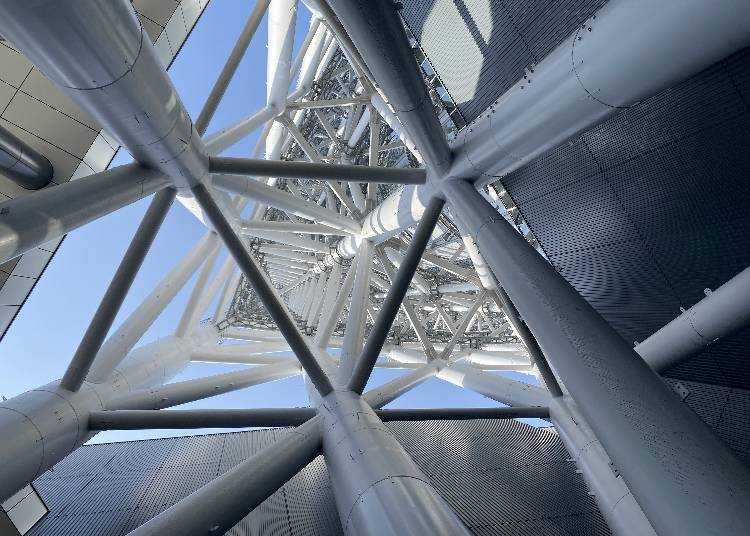 Seen from below, it is more impressive than you might imagine.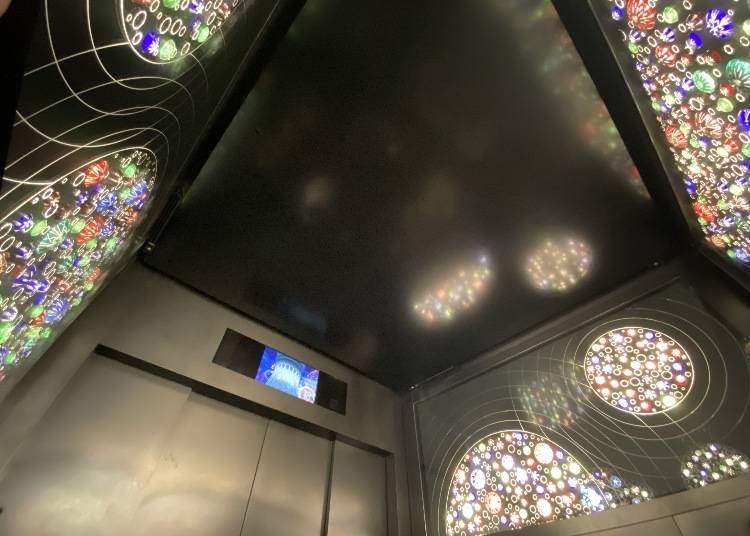 Inside the four elevators, each one showcases visuals representing the four seasons. Today, they boarded the elevator recommended by their guide, which featured the vibrant imagery of "summer."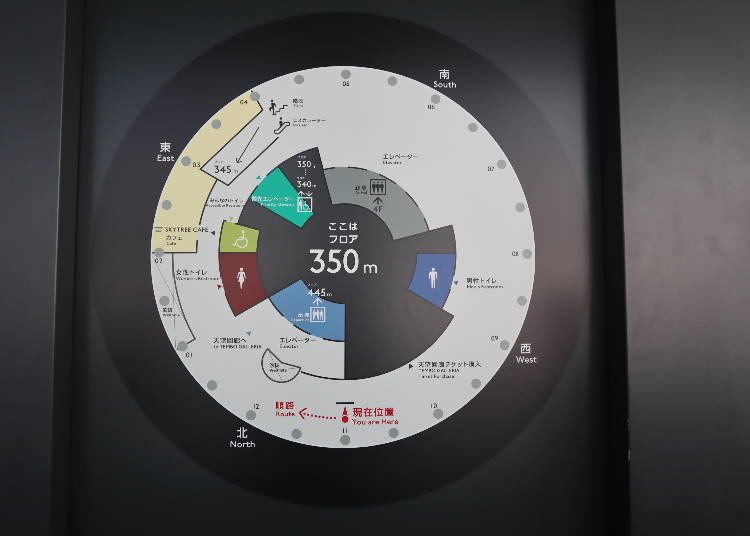 In just about 50 seconds, they reached the first observation deck, the Tokyo Skytree Tembo Deck, located at a height of 350 meters above ground level.
This is the view from the first observatory.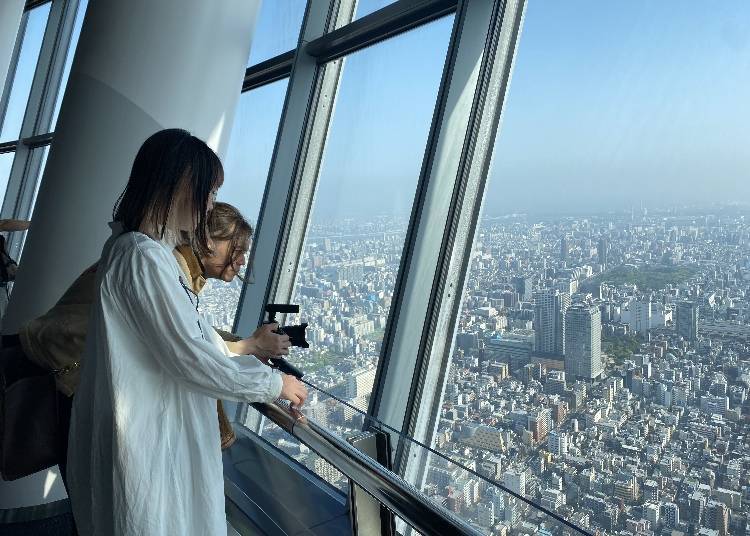 Unfortunately, it was cloudy that day, but you can see Mt. Fuji on a clear day.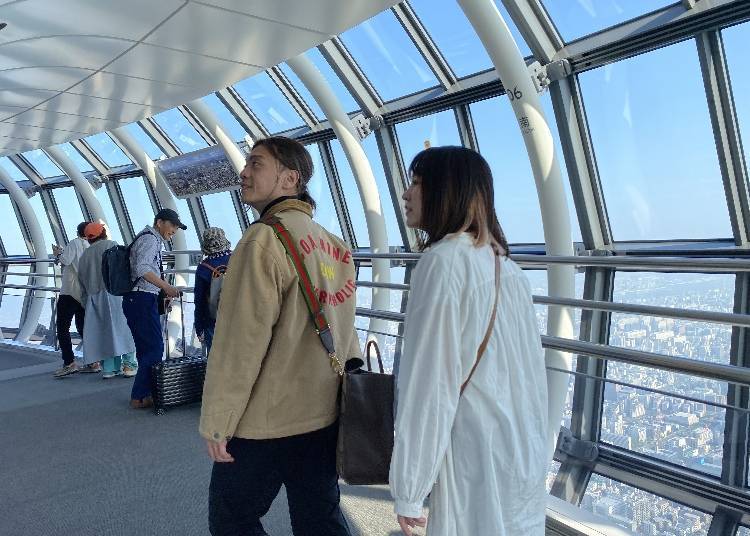 Next, this is the second observatory, Tembo Galleria, which is located 450m above the ground.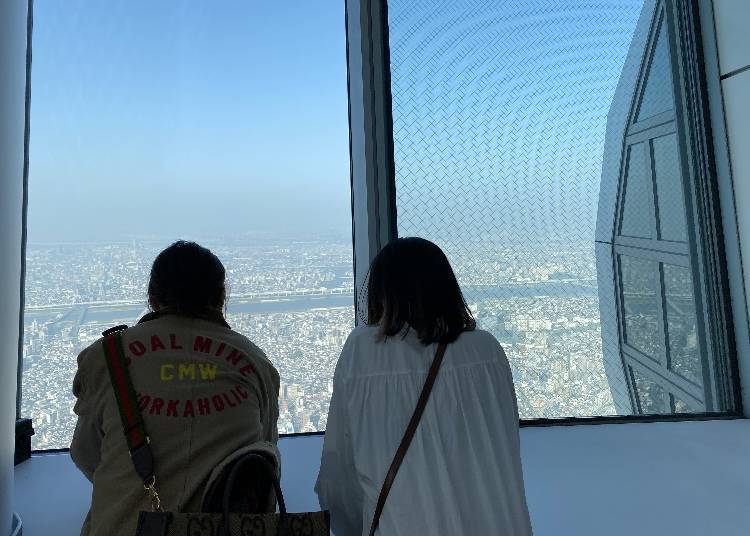 Mesmerized by the view from the highest point in Japan, they couldn't help but be captivated. "It truly is a stunning view," they remarked, in awe of the breathtaking scenery.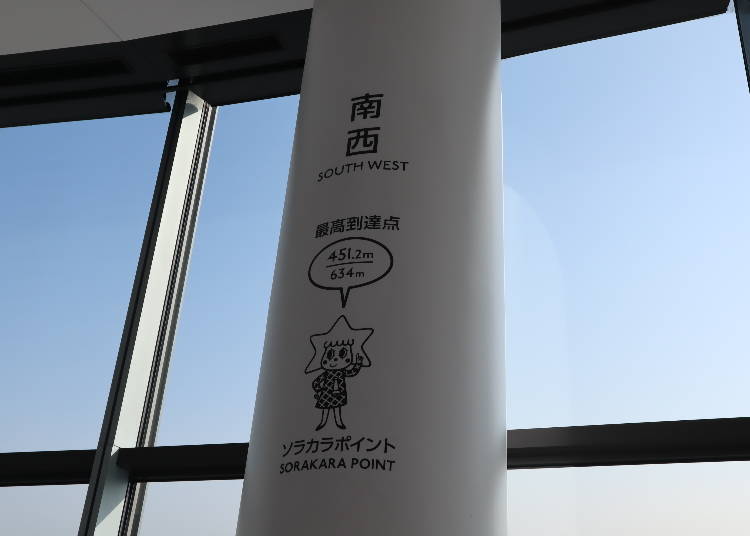 Among the levels of the second observation deck, this spot offers the highest vantage point.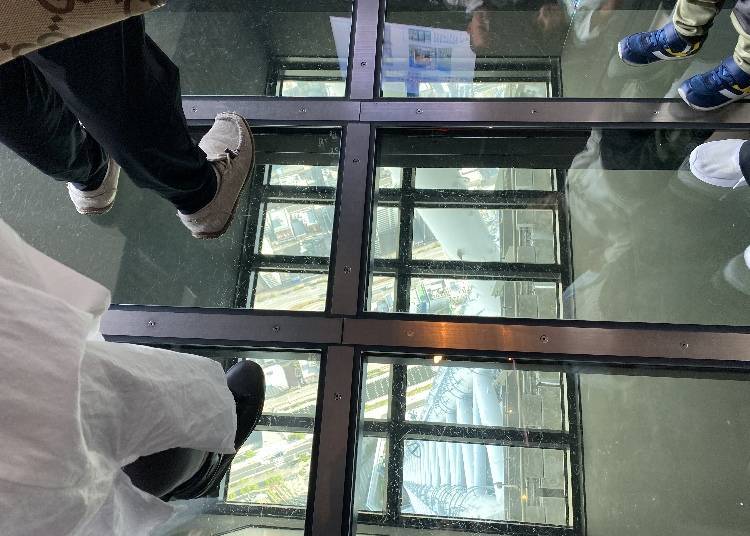 On the way back, at Floor 340, there is a must-see feature of Tokyo Skytree: a glass floor that allows you to see all the way down to 340 meters below. It's an unmissable highlight of the experience.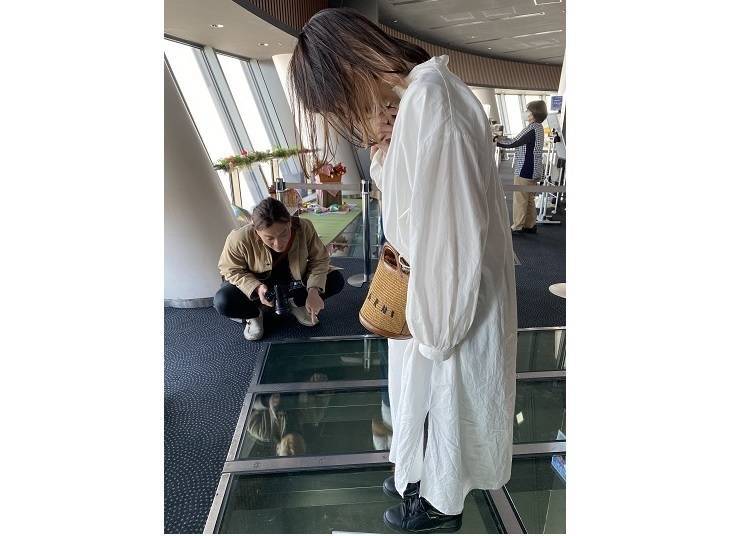 Glancing sideways at Ryu, who appeared a bit startled, Yuma reassured, "Don't worry, there are two layers of glass, so it's surprisingly safe!" Yuma said confidently, with a light-hearted tone.
Impressions of the Two Explorers after Exploring the Latest Skytree Area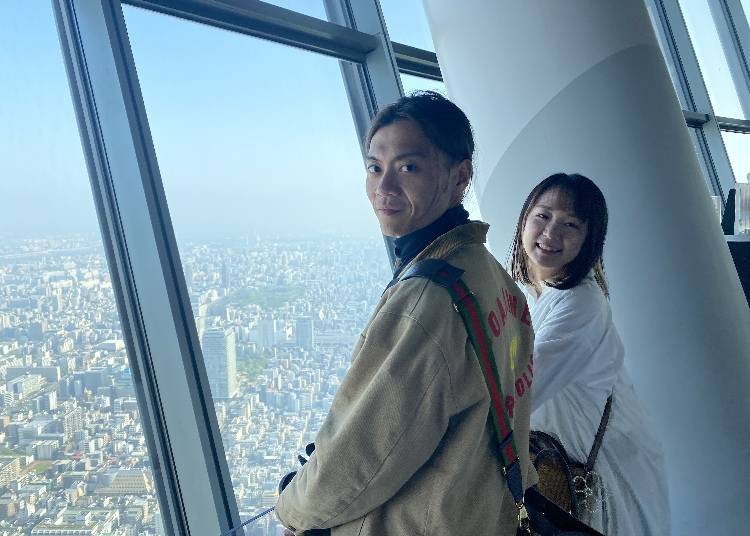 "The two of us took a walk for the first time from Sumida Riverwalk to TOKYO mizumachi and up to Skytree, and it was a wonderful stroll. The charm lies in the serene atmosphere of the traditional downtown area combined with cutting-edge technology and trends, which sets it apart from other tourist destinations. Skytree and Solamachi always have new shops and gastronomic delights to discover, making it a place full of exciting surprises."

While preserving the nostalgic ambiance of old Japan in every nook and cranny, the area never fails to infuse a sense of freshness, ensuring that visitors are always captivated. Perhaps this is the appeal that draws people from all over Japan and around the world to this spot.

The "Asakusa-Tokyo Skytree" area has undergone significant changes during the COVID-19 pandemic. Those who have visited before should come back and see the transformations again and again! For those visiting for the first time, don't miss the chance to experience its awe-inspiring presence by setting foot in this remarkable destination.
Address

Oshiage 1-1-2, Sumida-ku, Tokyo, 131-0045
View Map

Nearest Station

Tokyo Skytree Station (Tobu Isesaki Line (Tobu Sky Tree Line))


Phone Number

0570-55-0634
Written by:
*This information is from the time of this article's publication.
*Prices and options mentioned are subject to change.
*Unless stated otherwise, all prices include tax.
Limited time offer: 10% discount coupons available now!